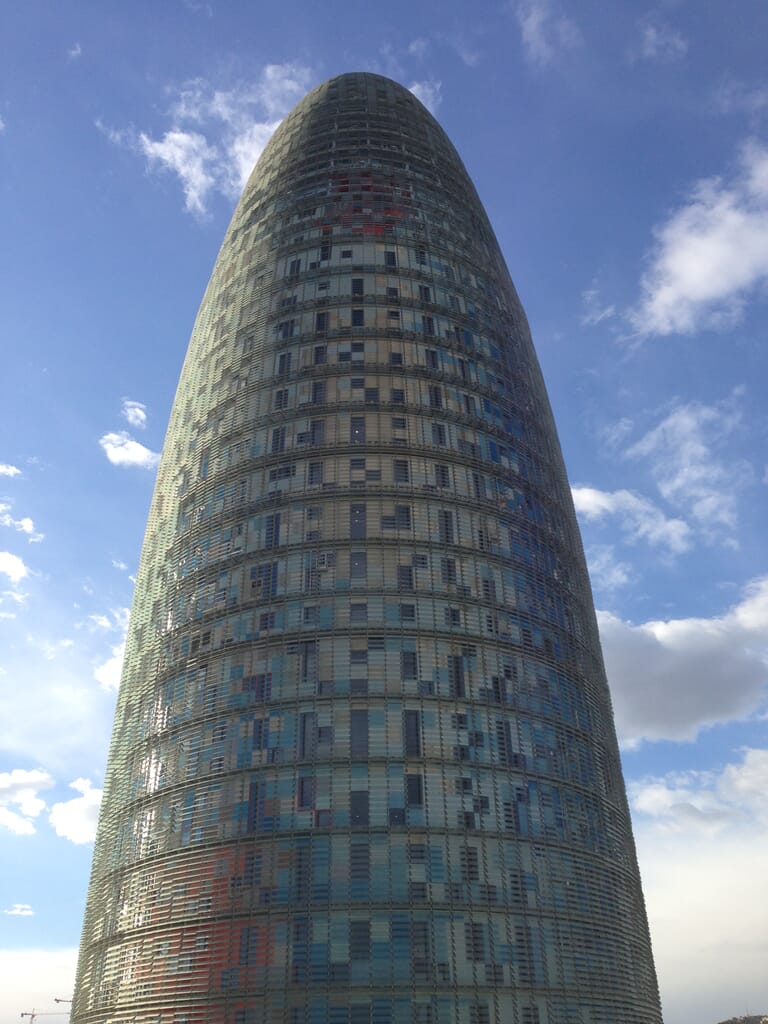 BARCELONA, SPAIN – If you're anything like me, you get nervous booking a new hotel online – despite the honest reviews, candid pics, and detailed descriptions. My first girly trip to Barcelona was no different.
The Silken Diagonal was my hotel and it looked super-handsome on the website (and toot sweet on price) but the real world and virtual world are very different – so would the Silken Diagonal deliver or dive? Drumroll, if you please…
The location
The Silken Diagonal Barcelona is sat right next to Barcelona's famous (and rather phallic) Torre Agbar Tower. In the day, this might not impress you, but pack away the sun and the Torre Agbar Tower shimmies with techno-colour, casting its rainbow glow over the hotel.
With such a glamorous neighbour, you'd imagine the rest of the Silken Diagonal's 'hood' to be as glitzy. But sadly, it's not. It's modern, yes – but this is the business district, so you're not going to trip over a Gaudi as you walk around.
Not that we minded; right across the road is the Glories Tan Shopping complex, packed with restaurants, cafes, and shops (H&M came in particularly handy. Find out why here). Plus, there's also a huge Carrefour supermarket.
The lobby
Believe the photos – the Silken Diagonal Barcelona is as good as it looks: the lobby is plated with polished copper, and designed up to the eyeballs with chic sofas, seductive lighting and other speckles of flashy interior brilliance.
My heart stopped when I first walked in – the lobby has a gin bar you see; it's a nerve centre of neon-blue Bombay Sapphire hubba hubba, where I enjoyed the largest G&T I've ever had (and subsequently spent an entire evening watch Inglorious Bastards in Spanish, without subtitles).
The rooms
The stylish interior snakes its way along the purple-hazed corridors until it reaches your room. Here it bids "adiós" and leaves you in the safe hands of Mrs Modernity.
She'll raise your blinds at the push of a button, tickle your fancy with a jacuzzi (depending on which room you opt for – we had a 'cuboid room'), and, weirdly, leave you blushing courtesy of her ultra-cool – but ultra see-through – glass-walled bathroom.
(Of course, thanks to my a muffin-made supermodel body, I have nothing to hide. But not everyone's as lucky so be prepared for very little toilet privacy.)
The staff
Friendly, helpful, instantly attentive and (praise the Lord) English-speaking (which is perfect for an 'idiot aboard' like me). I didn't feel pressure to tip; I didn't get any disgruntled glances at the amount I tipped (I can never remember the rules, you see).
And, on occasion, the rotation of (male) reception staff meant there was a little eye-candy for us ladies. Always a bonus.
The food
Sadly, we didn't eat in at the Silken Diagonal Barcelona (not for any reason other than we fancied some variety). So the piano restaurant and Tecla Café at the back of the hotel are a gastronomic mystery to me.
Instead, we went a-wandering for our breakfast and tapas. But the piano restaurant DID look delicious, and the menu certainly read well-done. According, to other reviews, the restaurant serves up Basque and Catalonian dishes, as well as gentle piano music.
So would I stay again?
Did you see the size of that G&T!! Of course I would!!! Seriously though; I'm very keen to return to a sunny Barcelona (this trip was in Barcelona's monsoon season – did you know Spain had rain??).
And, when I do, I'll be more than happy to bed my head at the Silken Diagonal Barcelona once more. And next time, if I can peel myself away from the gin bar, I'll also eat in the restaurant (helpfully) and let you know the results. You're welcome.
What: Silken Diagonal, Barcelona
Where: Avinguda Diagonal, Barcelona, Spain
Budget: From £90
Stars: 4
I'd love to hear what you thought in the
comments box below.
Off to Malta?
This Maltese hotel could do the trick