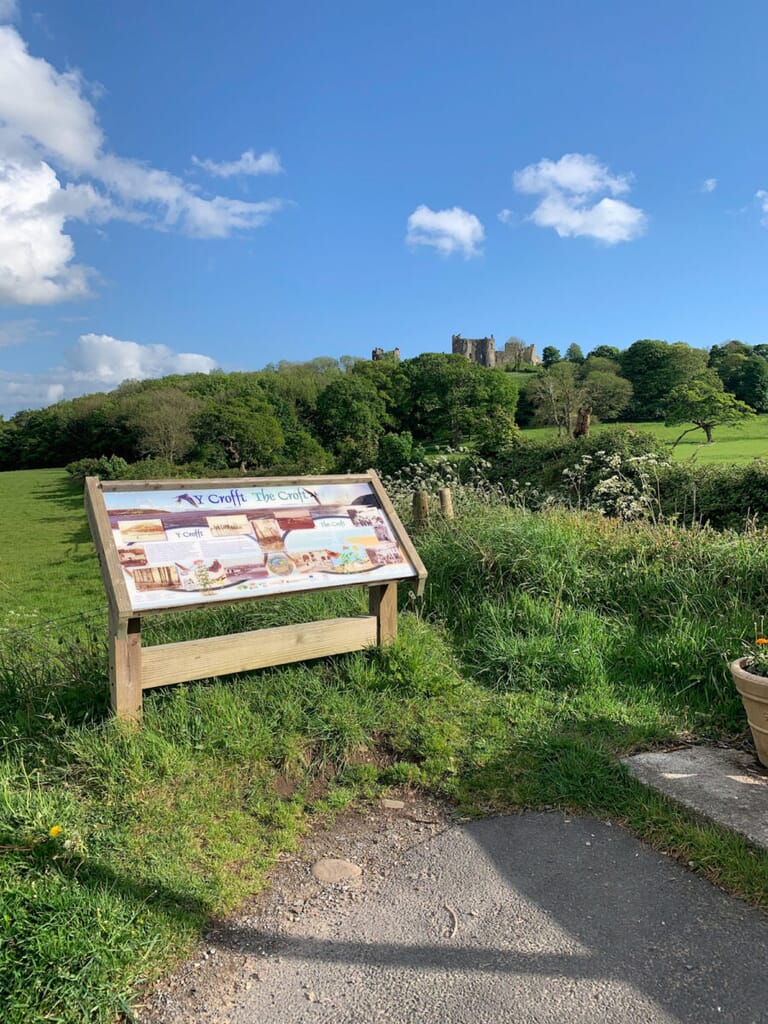 Marooned on a peninsular between two magnificent estuaries, Llansteffan is a little Welsh paradise in South West Wales that's managed to keep itself to itself despite its incredible beauty. Holiday-makers may rush next door to the towns and villages of Pembrokeshire, but this modest Carmarthenshire village has mighty boasts of its own.
First off, there are the magnificent flat, cockle-studded sands of Llansteffan beach; the beach  deserves to be in the pantheon of best South Wales beaches (and is worth visiting even if you plan to do nothing else). Beyond that, there are the enchanting ghostly ruins of a 12th-century Norman Castle rising from the woods, which come with pulse-racing views over the estuaries, as well as the traditional Welsh village to explore.
And then there's one of Llansteffan's most famous claims to fame: local poet Dylan Thomas. Although, he's mostly associated with Laugharne – the town is just across the water from Llansteffan – Thomas visited Llansteffan regularly from the age of 4, right up until he left Wales for America before his death. The village is mentioned in his poem, Fern Hill, and the billowing countryside around Llansteffan was a constant source of inspiration for him.
With so many great qualities, why Llansteffan has remained firmly under the radar is a mystery. Maybe it's the rollercoaster of lanes you have to meander along to get here that puts people off; but, whatever it is, tourists arriving in Carmarthenshire are hell-bent on leaving it behind in favour of beach-perfect Pembrokeshire. Their loss is your gain; Llansteffan makes for a fabulous go-slow weekend break – just don't tell everyone.
---
Do this: Walk Llansteffan Beach
The fat, iron-flat sands of Llansteffan beach are utterly transfixing. Flawless and huge, they run alongside the gaping mouth of the river Tywi as it empties into the blues of Carmarthen Bay.
Technically, Llansteffan beach is a tidal estuary, rather than a beach. As such, it's too dangerous to swim in, although you can paddle in the riverbed when the tide is fully out. Instead of swimming, roam the blonde cockle-flecked sands of Llansteffan beach, pausing over pretty shells and filling your lungs with the emptiness.
You can ramble here for hours, spellbound by the mood of the river and the light that rains from the heavens, shifting and stirring as clouds and sun meet. Just remember that the waters can cover the mirror-like sands and mudflats quicker than you can – so know your tide times before setting off.
We recommend drifting along Llansteffan beach downriver, when the waters have retreated to the horizon, and rounding the crumpled, corrugated headland on your right.  The trees here almost touch the sands with their roots, as Llansteffan castle on the top of the hill looks down curiously and out towards Ferryside on the opposite shore.
After a short walk of about half a mile, you'll reach a hidden cove that's could give the Maldives a run for their money on a sunny day. This is Scott's Bay – here the waters, sand and sky merge into one beautiful incandescent panorama. Although it isn't a swim spot, you won't feel short changed. The sand is soft, clean and ideal for a romantic picnic and remarkably deserted for such a pretty spot; so you can meander here undisturbed, in a trance-like dream.
Parking at Llansteffan beach: There are two large free car parks at either end of the beach, one with public toilets and takeaway fish and chip shop. When we visited (in April), they were very quiet and had a lot of space.
Dogs on Llansteffan beach: You can bring dogs onto Llansteffan beach, but there are restrictions during May – September.
---
Go here: Mighty Llansteffan Castle
The Normans knew how to pick a good spot when they built Llansteffan Castle. It boasts one of the most stunning locations of all the castles in Wales: seated on the headland with awe-inspiring view over the fresh green farmlands and the glittering sands and swirling waters of Tywi Estuary and Carmarthen Bay.
The castle's former medieval might is now a jagged outline of stone towers and battlements with eyeless windows staring blankly and an inner sanctum that's a large grassy space in the main. Even so, you're left in no doubt how impressive, and intimidating, Llansteffan Castle once was and why it was sparred over for so many centuries. Its rough walls, dating from the late 12th century, enclose an Iron Age fort from 600BC and there's a huge twin-towered Gatehouse that looms large as you approach.
Llansteffan Castle can only be reached by foot, so park at the base of the headland and take a slow mindful stroll along the pathway that leads upwards – it's a steep, seemingly never-ending walk to the heavens but worth it. And there's plenty of shade along the tree-lined path as you near the castle to feel cool on a sunny day.
Llansteffan Castle opening times: Daily 10am–4pm, Last admission 30 minutes before closing, Closed 24, 25, 26 December and 1 January.
Llansteffan Castle admission: Free to enter
---
Eat here: Hunger-Sating Llansteffan Pubs
For a pint-sized Welsh village, Llansteffan isn't shy about serving up a decent bite to eat. The two main pubs in Llansteffan – the Inn at the Sticks and the Castle Inn – are companions in arms, sat cheerfully next door to one another and offering a traditionally welcome to weekenders who happen to stop by. They are each worthy of a pitstop, one of lunch and one for dinner – or vice versa, just make sure you try them both.
The Inn at the Sticks
A pub since the 1809 (and almost certainly visited by Dylan Thomas), the Inn at the Sticks has come out on the right side of many reinventions and renovations. Today, it's a friendly forward-thinking gastropub with a convivial farmhouse interior in contrast to severe-looking exterior; which you shouldn't let put you off. The food is hearty, tasty and affordable (mains start at £11.50), with themed nights running throughout the week. If you just want a drink, you can grab a decent pint in the dog-friendly bar next to the restaurant.
The Castle Inn
For large plates of unfussy, wholesome pub grub for all the family, pop into the Castle Inn overlooking the village square. This relaxed, affable pub has a neighbourly vibe with plenty of cosy corners to cwtch up in come winter and an outdoor seating spot to watch the rest of Llansteffan go by during summer. The pub's committed to serving real ale and hosts a number of local community events during the year, including local quizzes and live music.  Dog-friendly with great service and no unnecessary airs and graces, it's a winner if you want to mingle with the locals.
---
Fancy collecting, cooking and eating your own zero-waste, organic lunch on Llansteffan beach? Of course, you do. And popular local coastal forager Craig Evans is just the man do show you the edible and tasty food right under your nose.
There are rich pickings around Carmarthenshire's riveted coastline, and Llansteffan beach is no exception: the sands are freckled with cockles which is why, back in the day, the shores here used to be the heart of the Welsh cockle industry.
Join Craig on a coastal forage the mudflats and sands of Llansteffan beach, discovering the wild delicacies on offer – and, if weather permits, you'll cook-up your finds immediately afterwards to savour the fresh flavours.
Craig offers three coastal foraging courses to pick from: the Classic Course (a rummage around the rock pools and beach for various shellfish and sea veg), the Extremely Low-Tide Course (where you're more likely to find edible crabs and prawns), and bespoke course for groups, including hens.
---
In Llansteffan, visitors can expect a jovial 'bore da' waiting around every corner. WoodLea holiday home goes a step further. Angela and Rod who own the property have wrapped their enormous Welsh hearts around it so that you feel more like one of the family than a guest.
Sleeping 8 people, WoodLea formerly belonged to Angela's grandmother so holds a special spot in the family's heart. They've renovated it tenderly and with pride: the fittings are high-end; the furnishings are expensive; the personal touches show genuine thoughtfulness. If you ask, Angela will regale you with stories of her grandmother's encounters with Dylan Thomas and point out Carmarthenshire's not-to-miss hot spots.
Outside is quite a show-stopper too. This holiday home has a prime position looking down over Llansteffan beach (which is barely a 5 min walk away) and upwards towards Llansteffan Castle. There's an enormous garden to roll around in and you're just a wiggle away from the heart of the village. Tidy.
Min stay 3 nights, from £280pn
---
Comments