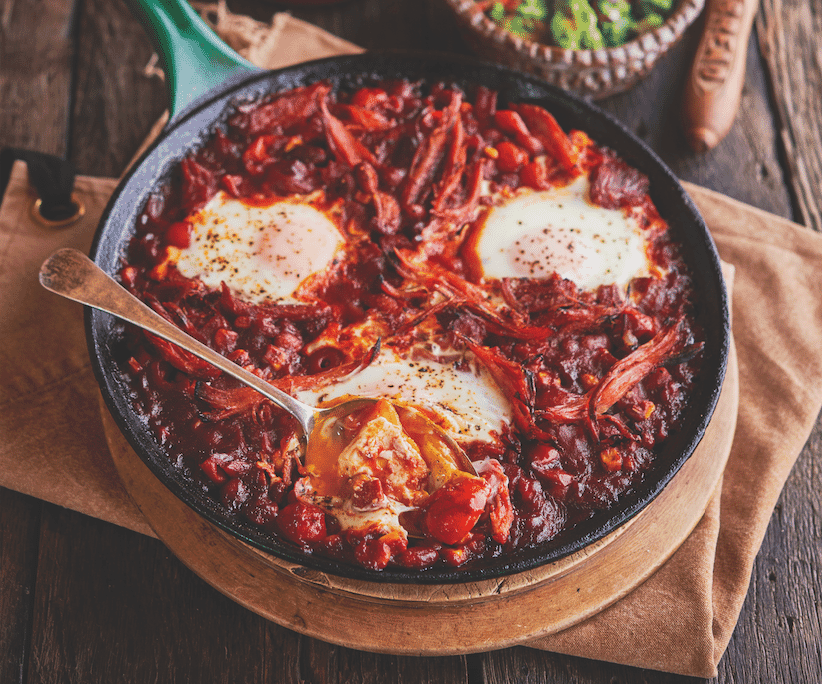 Prep time: 30 minutes | Cooking: 25 – 30 minutes | Serves: 4
A Saturday brunch to add a little spice to your weekend!
These Saturday brunch pots are a great way to use up leftover cooked ham and make a fabulous lunch or an irresistible eat-in-your-pjs' dish, best served with a crunchy ciabatta roll. 
---
To make your Mexican ham and eggs Saturday brunch 
Buy this
Olive oil
100g diced chorizo 
2 tablespoons Hawkshead Relish Black Garlic Ketchup
325g tin of sweetcorn 
200g tin of mixed beans 
400g tin of cherry tomatoes
2 teaspoons Hawkshead Relish Worcester Sauce
400g shredded cooked ham
4 eggs
Fresh coriander
Pinch of cayenne pepper
Black pepper
Do this
Preheat the oven to 180°c and heat a little olive oil in a pan. Add the chorizo and cook for a few minutes, then add the Black Garlic Ketchup and allow it to warm through.
Drain the sweetcorn and mixed beans then add them to the pan along with the tomatoes and Worcester Sauce. Cook for 8 to 10 minutes then fold in the ham.
Transfer the mixture into an ovenproof dish and gently break the eggs on top. Place into the oven and bake for 10 to 15 minutes so that the egg is just cooked. You can adjust the time depending on how runny you like your eggs.
Sprinkle with coriander, cayenne pepper and freshly ground pepper.
To serve
Serve your Saturday brunch ham and eggs with crusty ciabatta and your pyjamas on!  
---
More brilliant recipes and 10% off
This Saturday brunch recipe is just one of the delicious recipes in Embellish with Relish – a new 160-page cookbook is written by Maria Whitehead, co-creator of Hawkshead Relish preserves, chutneys and relishes.
Embellish with Relish launches is available to purchase from Amazon, Waterstones and online from www.mezepublishing.co.uk.
If you fancy getting a copy, you can save 10% with an Weekend Candy exclusive! Simply use the code: Candy10 at the Meze Publishing checkout.
---