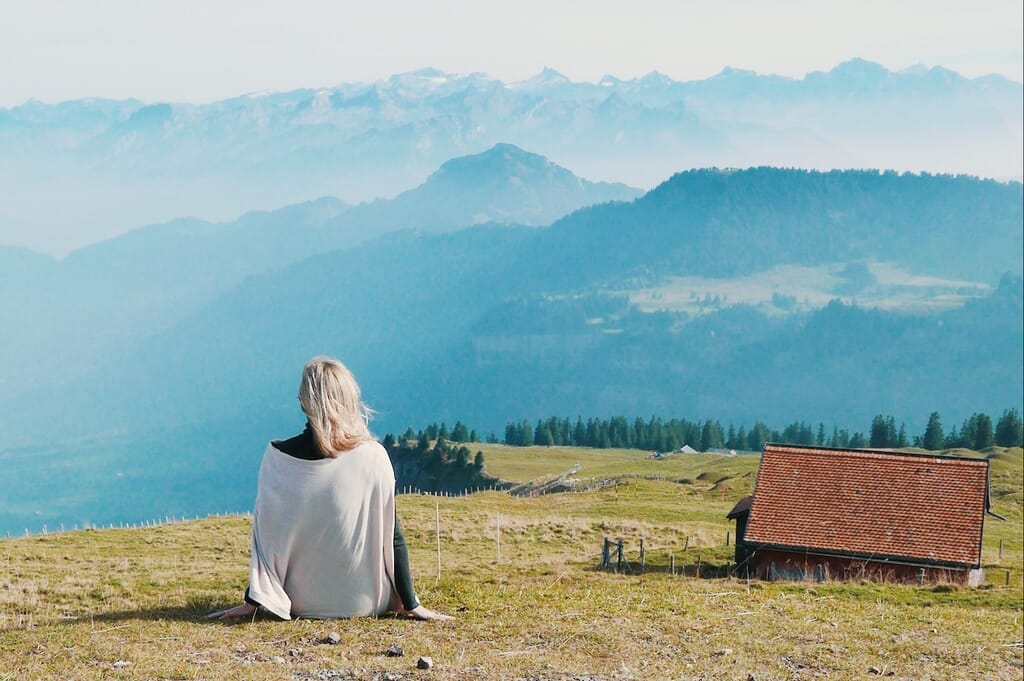 "Welcome to your Switzerland 4 Day Itinerary."
A word of warning, first: 4 days in Switzerland is not going to be enough. This rich, earthy land has more sides to her than a conjurer's coin – enough to send you into a spin whilst trying to figure out the perfect Switzerland itinerary.
On one side, Switzerland is as bucolic as you imagine, boasting ravishing pea-green landscapes, painfully pretty chalets, and topaz lakes reminiscent of the Sound of Music. Then, when the snow falls, she transforms into Narnia. On the other side, Switzerland is edgy and urbane with a vast array of high-octane Alpine pursuits to enchant adventurers and enough contemporary hang-outs in cities like Zurich and Geneva to seduce a trend-setting crowd.
Switzerland is the land of four languages, a place rich in folklore and tradition, and a country laden with avant-garde culture and world-class innovation.
Yes, Switzerland has enough diversity to make you wonder how best to get a feel for her in just 4 days. My advice? Use the Switzerland itinerary I followed; it's 4 days that'll help you experience a little of everything Switzerland has to offer (if you want to stay a little longer, then here's a 10 Amazing Days in Switzerland itinerary for you to use).
And if you truly want to swim in her veins, then forget car hire and take the train. Switzerland prides herself on a remarkable and reliable rail network, with routes that traverse the entire country. Plus, she's only under 2 hours flying time from London, meaning nearly every inch of this country is comfortably and effortlessly accessible for a weekend break or longer. Just remember, long break or short, I guarantee you'll come back hungry for more.
"If Narnia were real, it would surely be Swiss."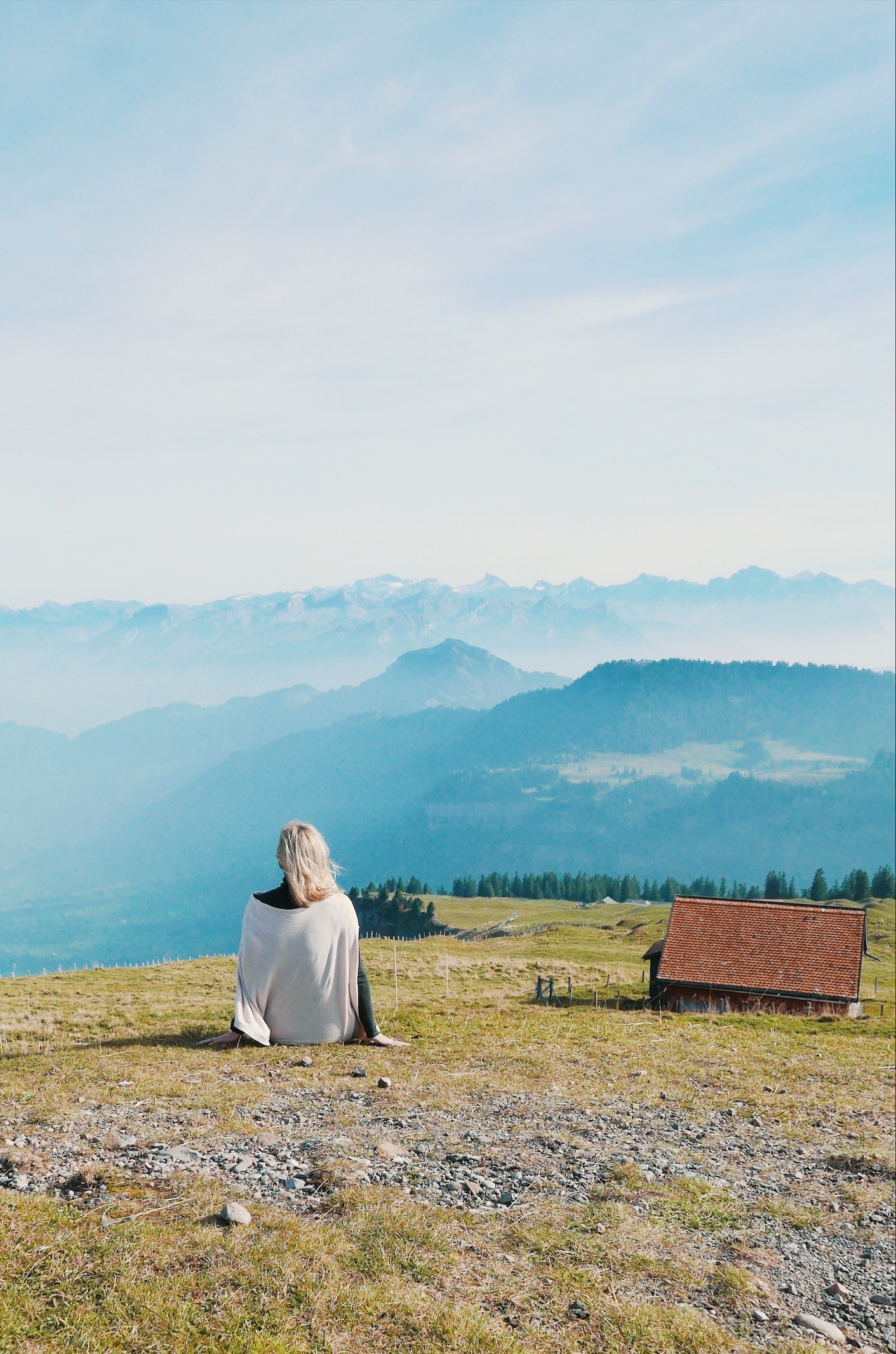 ---
Switzerland Day 1
Zurich – Rigi Kulm
Do this:
Climb Mount Rigi
Arrive in Zurich, ready to go, after a morning Swiss Air flight from Heathrow (flying time: 1h:45m). Skip the urge to check out the city itself until the end of your 4 days in Switzerland. Instead, head for the crisp, clean air of Mount Rigi – Queen of the Mountains – to freshen up.
Rigi is a mountainous area in central Switzerland, with its highest peak, Rigi Kulm (1795.5m), boasting heart-stopping views over 13 lakes, the Mittelland, and the plains all the way to Germany.
Once you've arrived at Rigi Kulm, walk gently up to the summit and then take a few moments to steady your heart. It's almost impossible to believe London is less than 3 hours away from this and from you… standing on top of the world, with the clouds at your feet.
"Head above the clouds for a blast of Alpine air
and a spa experience that's out of this world."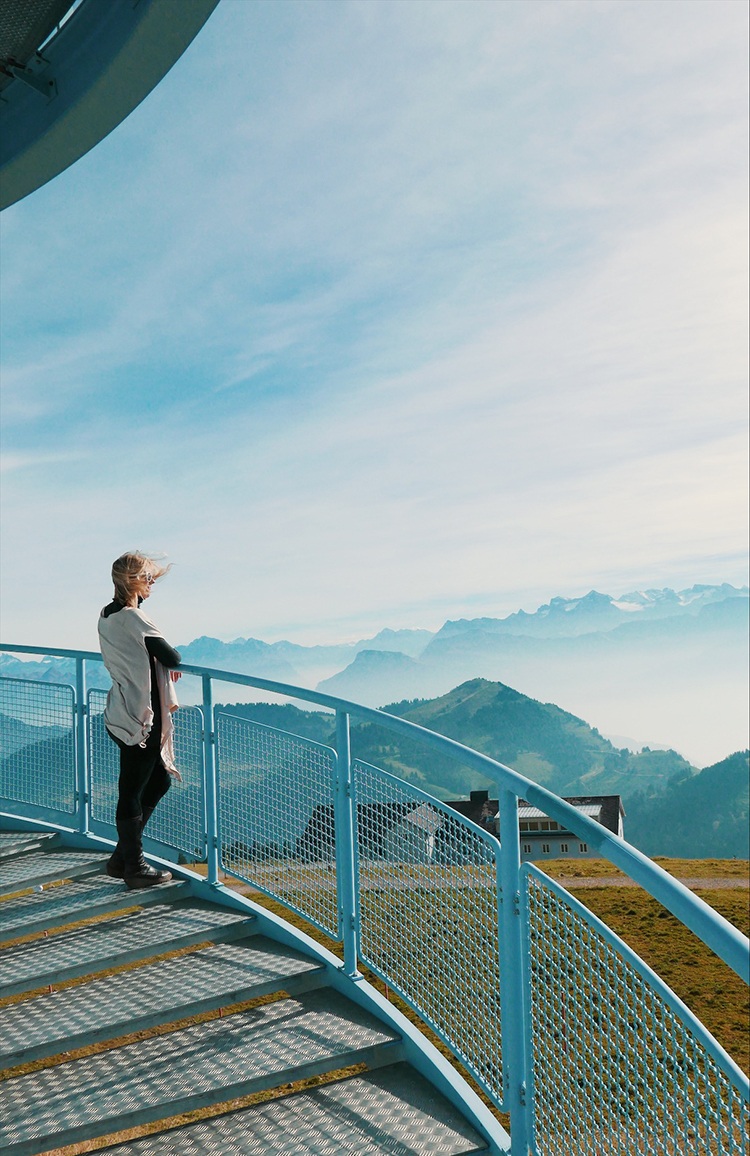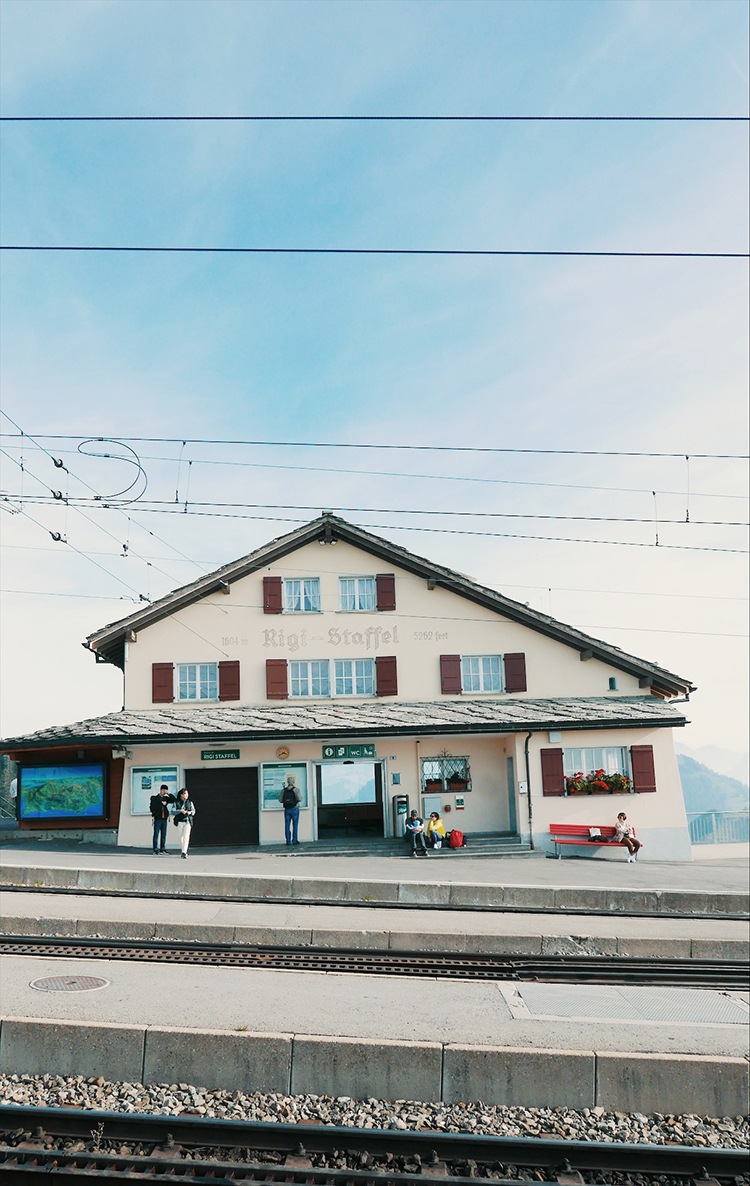 Go here:
BärgGnuss Mountain Restaurant
Drink yourself heady with the incredible mountain views, then begin the slow descent down from the summit to Rigi Kaltbad. As well as skiing, Switzerland is a Mecca for hikers of all ages – and Rigi Kulm is no exception. There are 120km of well signposted hiking trails for gentle walks and mountain hikes, so treat this walk as an easy introduction to the former.
On your way down from Rigi Kulm, stop at BärgGnuss – a mountainside restaurant with Heidi-like charms. Think chopped logs, animal skins and roaring fires. Make your way out to the terrace for tea and homemade cake served with a thick helping of astonishing alpine views.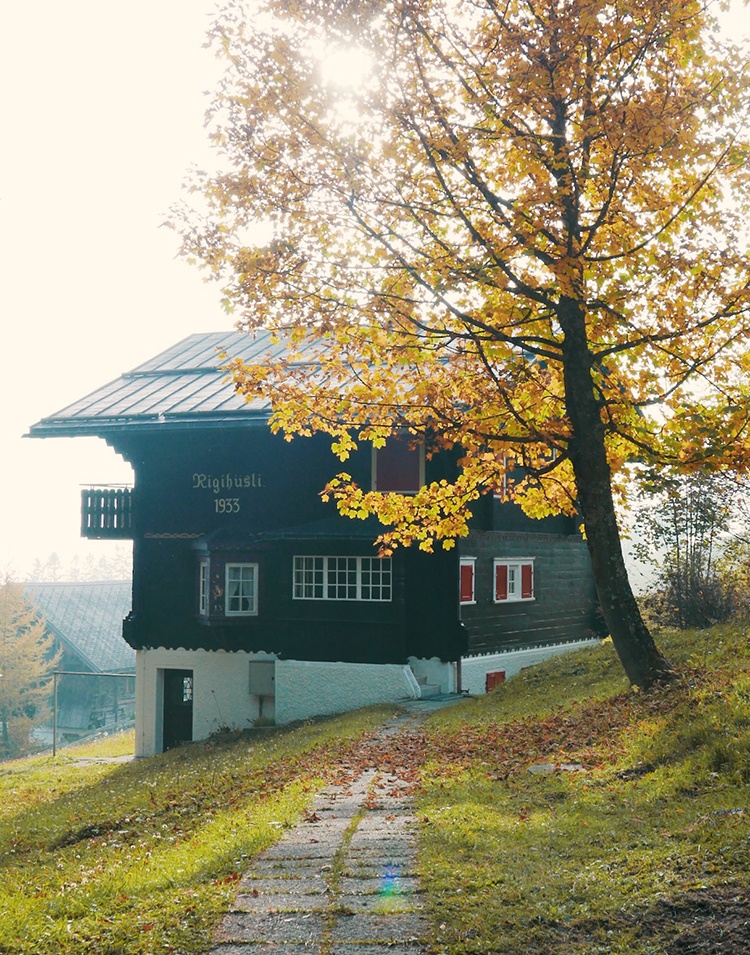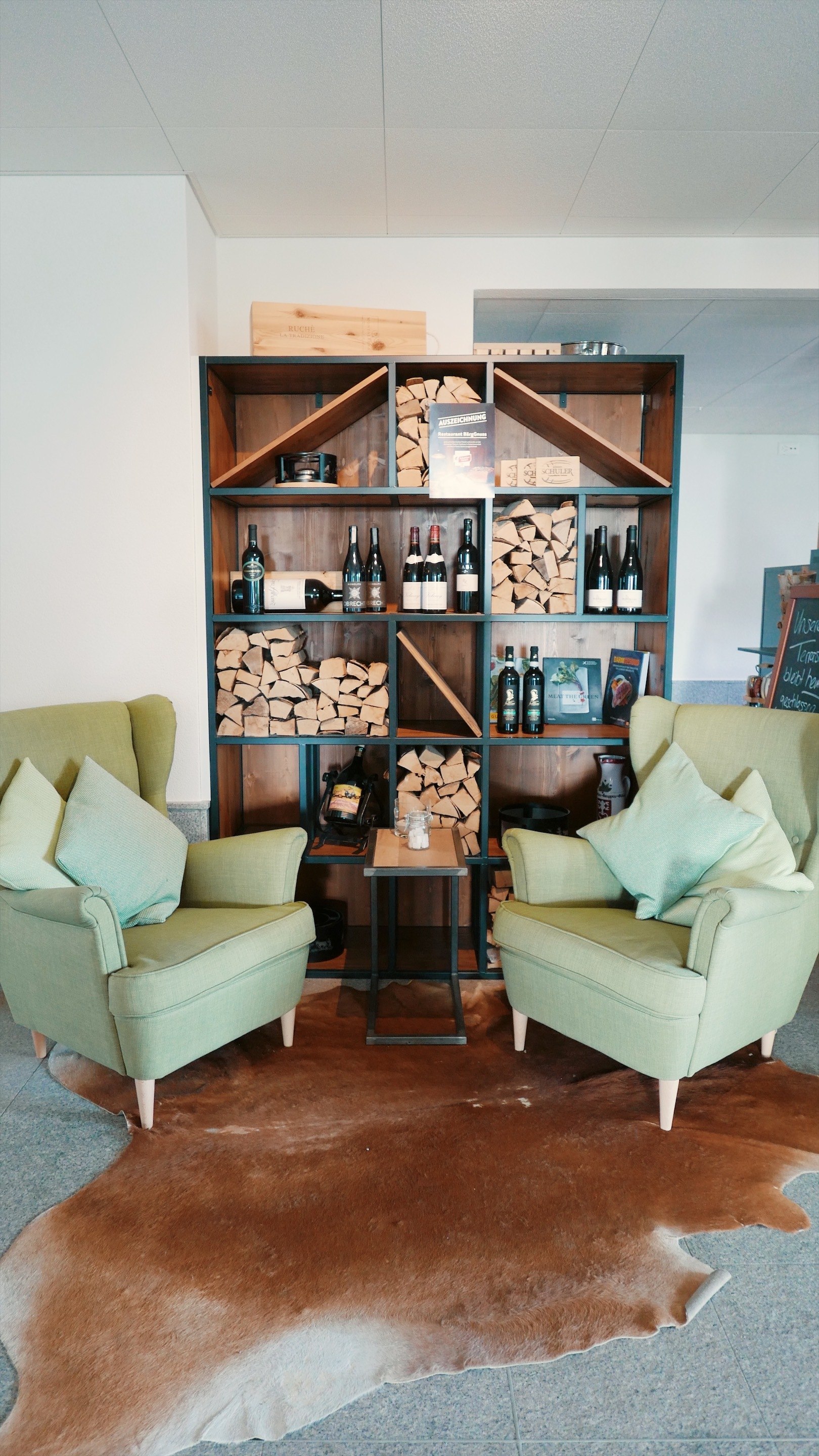 Enjoy this:
Spa at Rigi Kaltbad
A two-tiered mineral spa. Infinity pool views. And the tinkle of cow-bells on the breeze. Rigi Kaltbad Hotel is heaven on earth. The hotel sits high on Kiltbad, one of the most spectacular lookout points in Switzerland.
A mix of modern architecture and traditional Swiss mountain style, it's a sprawling 3-star spa retreat with heart-stopping views over glacier-encrusted peaks and glimpses of Lake Lucerne's glittering shores. It's modern, uncrowded and has plenty to keep your senses tingling until dusk, including a herbal steam bath, shallow-water crystal spa and a sun deck.
Access to the spa is complimentary for guests staying at the hotel (from 8am – 6pm), so get yourself a room: the spa is blissful and worth every penny, even if the rooms lack a little personality.  Swap walking boots for paper-white slippers, then sink into the belly of the hotel to get to the baths.
.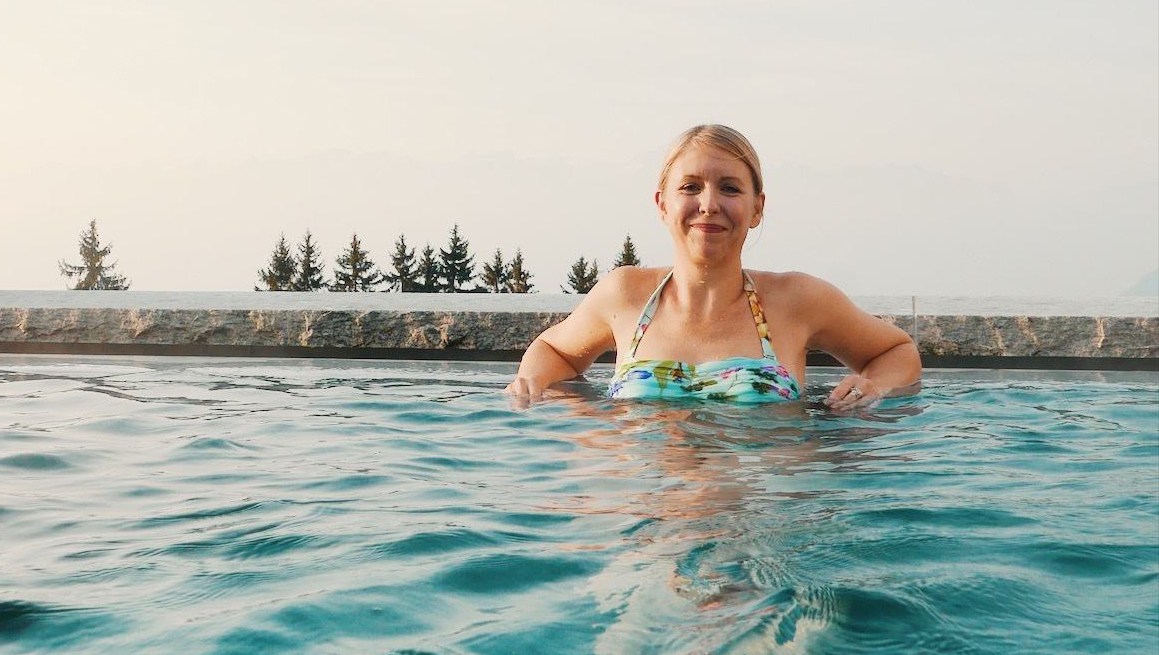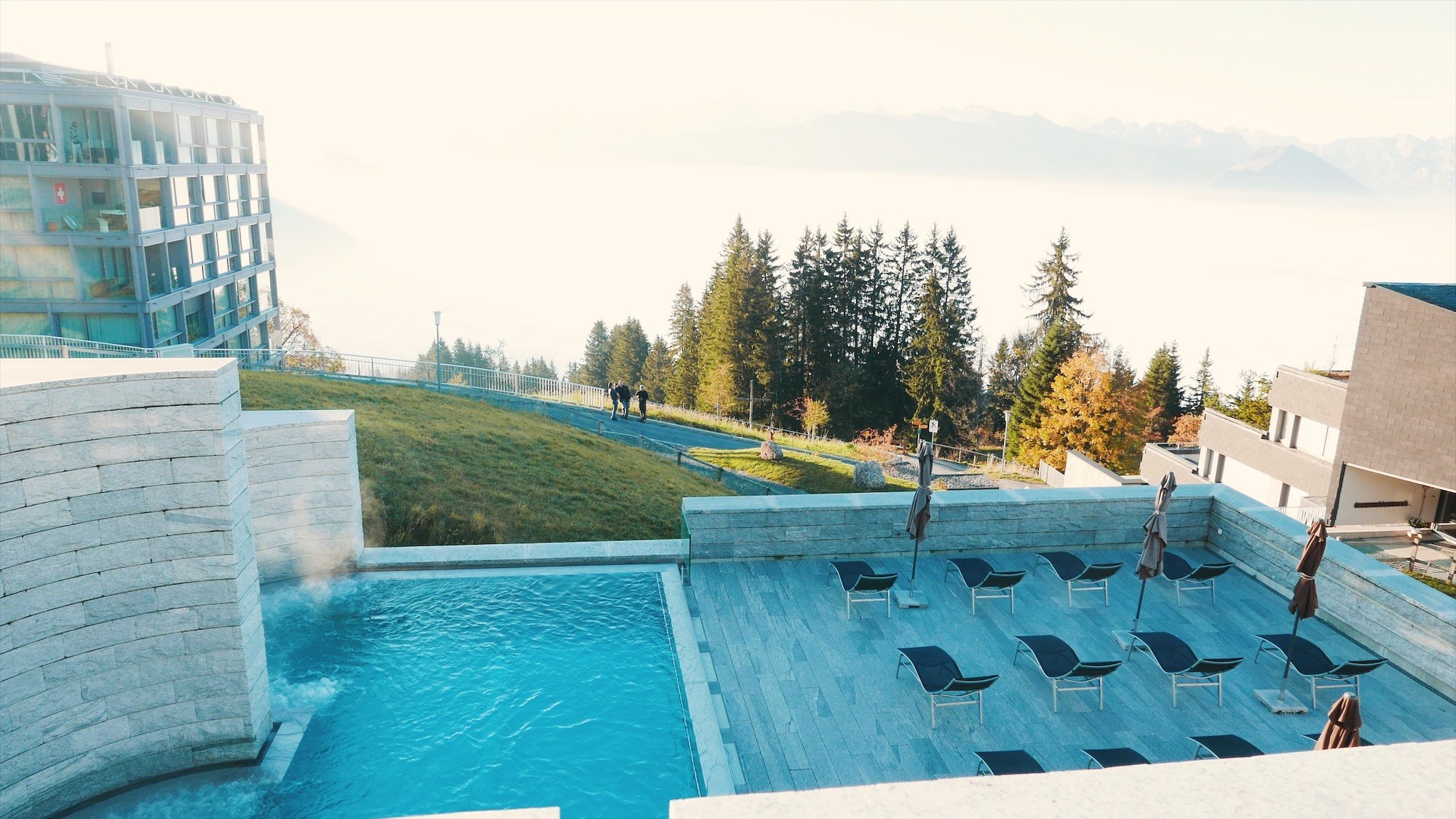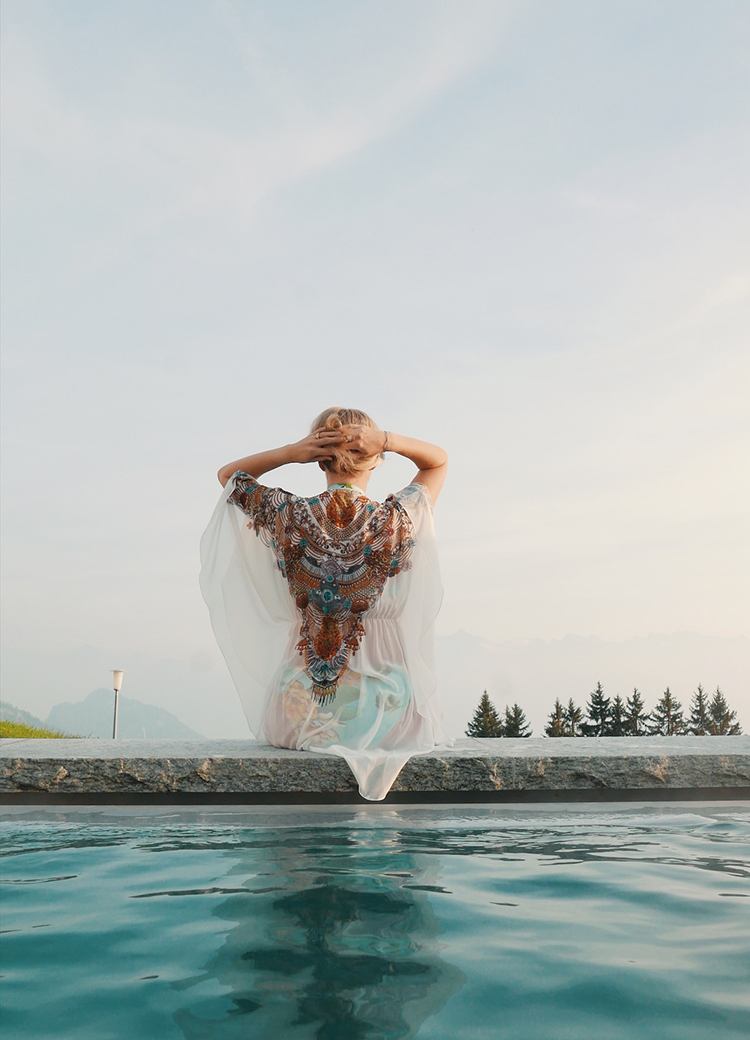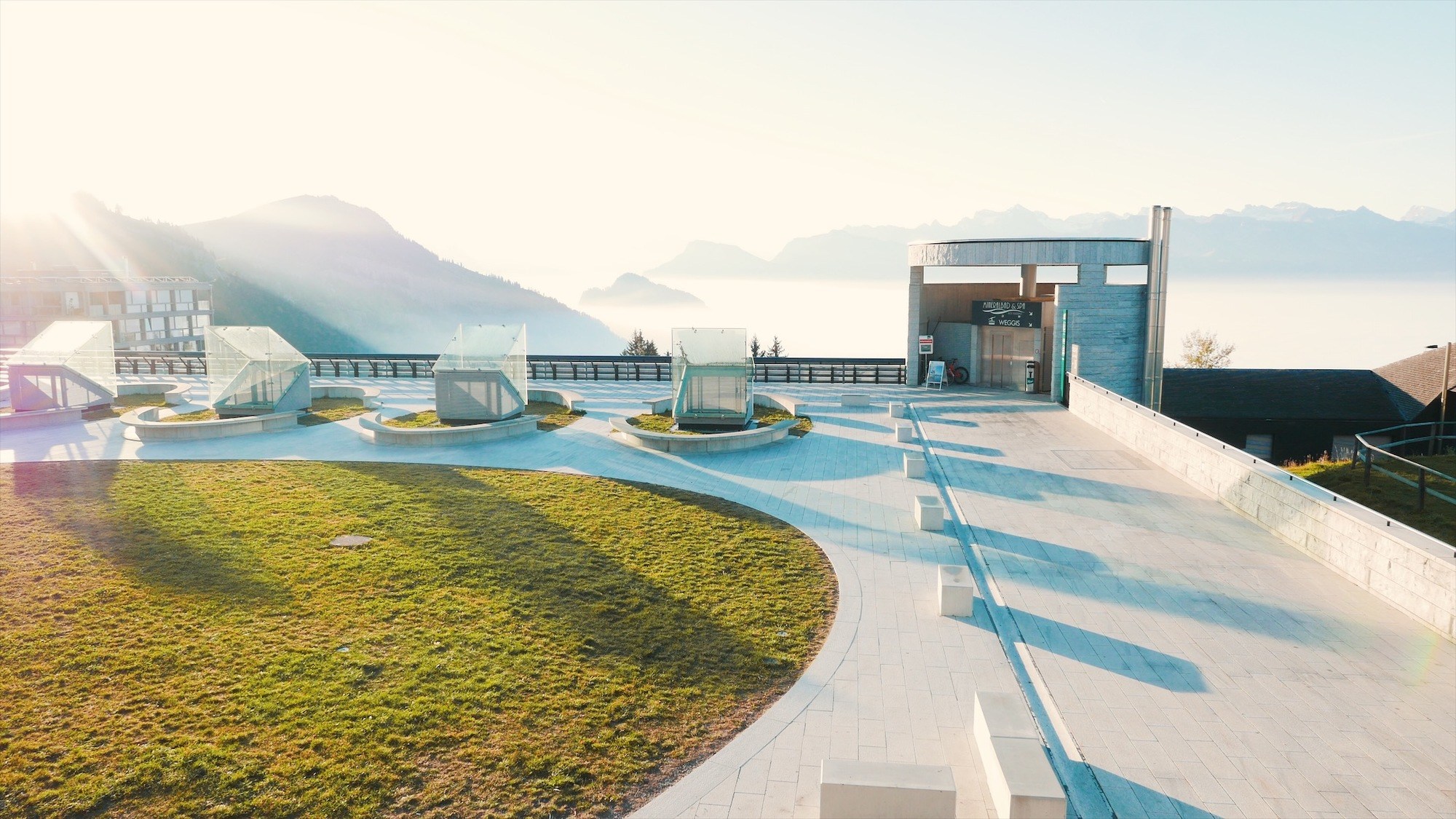 Packing tip: I slipped into a beautiful Acqua and Sale bikini and Forever Unique kaftan sent to me by UK Swimwear. The swimsuit fitted perfectly, holding all the right bits in all the right places and gave me a real boost of confidence as I dropped into the pool. The midi-length kaftan was straight from an A-lister's wardrobe: jewel-encrusted at the waist, diamante on the back – it had more swagger than P Diddy himself and made me feel a million dollars. 
Eat here:
Restaurant Panaroma 
Take your soothed soul for Swiss soul food at one of Rigi Kaltbad's three restaurants: Restaurant Sunset, Restaurant Panorama, or Rigi Stubli.
We ate in Restaurant Panorama, but the sun was down and the night didn't offer much in the way of mountain views. The food, however, made up for it and 3 delicious courses later we were chatting to our Swiss waiter and sampling the infamous Swiss liqueur, kirsch.
It's the national drink made from the juice of cherry pips and boy, it really packs a punch. Prepare to be seeing Alpine stars before you know it.
Travel Essentials
Train – Start your Switzerland 4-day Itinerary with a trip to the Alps by track: take the train from Zurich HB Train Station to Arth-Goldau, then hop aboard the cogwheel mountain train to lift you up to Rigi Klum. It's all downhill walking from then on! The amazing guys and gals at the Switzerland Travel Centre (STC) organised all my flights and travel tickets – and can also put together a 4 day Switzerland Itinerary for you.
.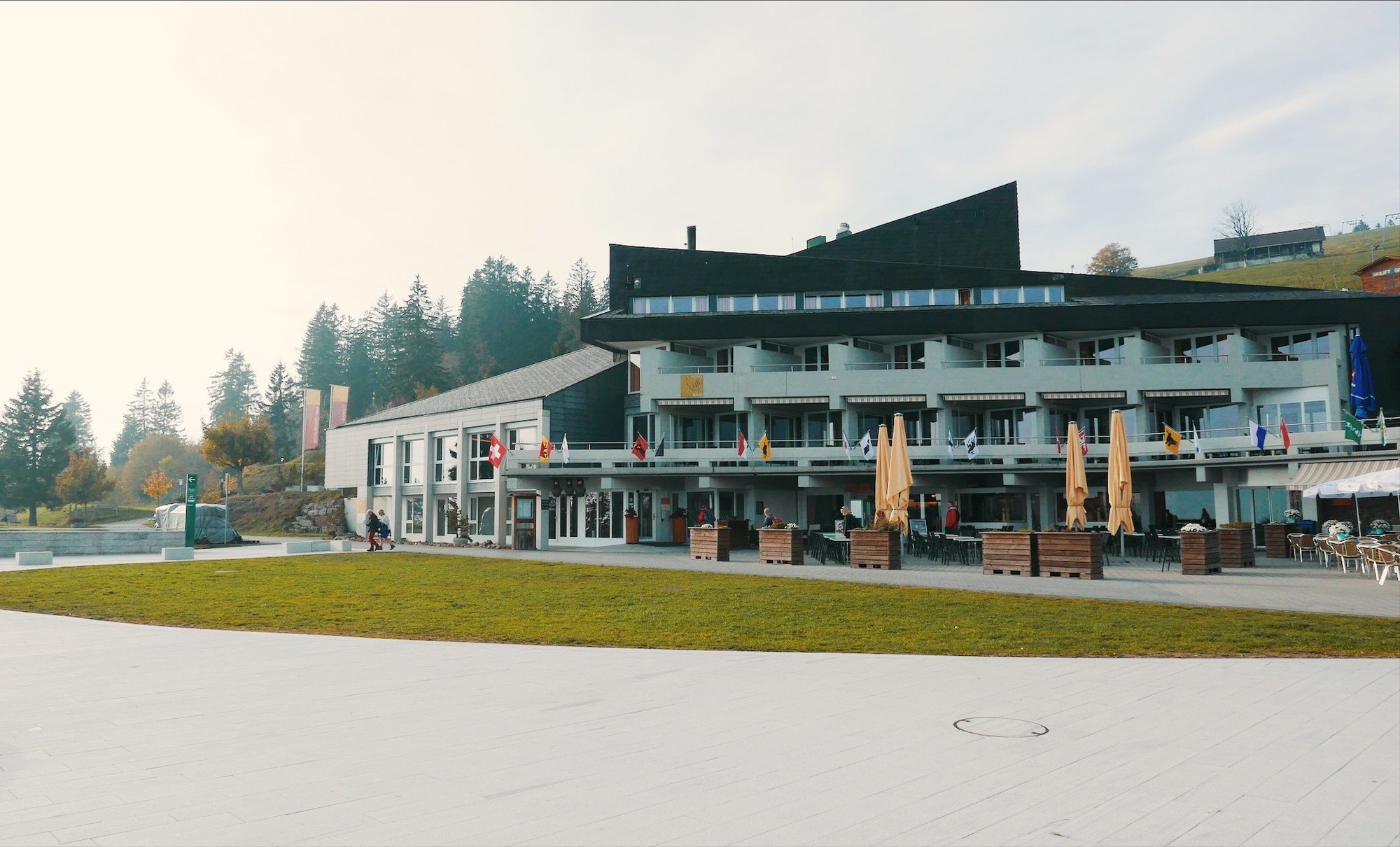 "Prepare

to be seeing Alpine stars before you know it."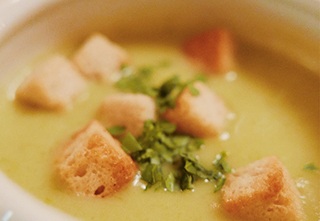 ---
Switzerland Day 2
Lake Lucerne – Bellinzona
Do this:
Horse-drawn carriage ride
Sometimes four legs are better than two, especially after a night on the Swiss kirsch. To ease your aching head, take a horse-drawn carriage ride and let the Alpine air work its medicinal magic. Our carriage ride was organised by STC, who can add the bells and whistles to your Switzerland experience to make it feel even more magical.
We met our steeds in the morning outside the hotel and trip-trotted along a ribboning mountain path for 20 refreshing minutes; knees covered in woollen blankets, hair teased by the wind, and faces flushed with the joy of it all. 
"Drift across ice-blue Lake Lucerne, then settle for the night in medieval Bellinzona, where the people greet you with "Buonasera."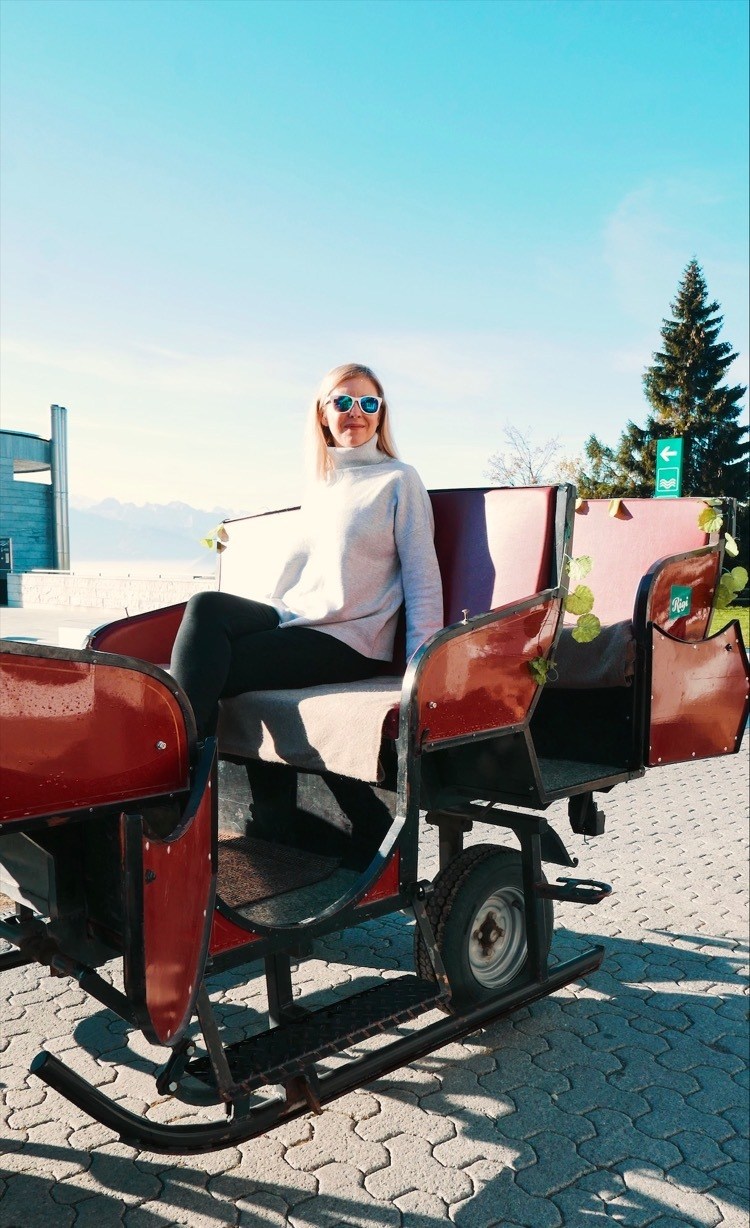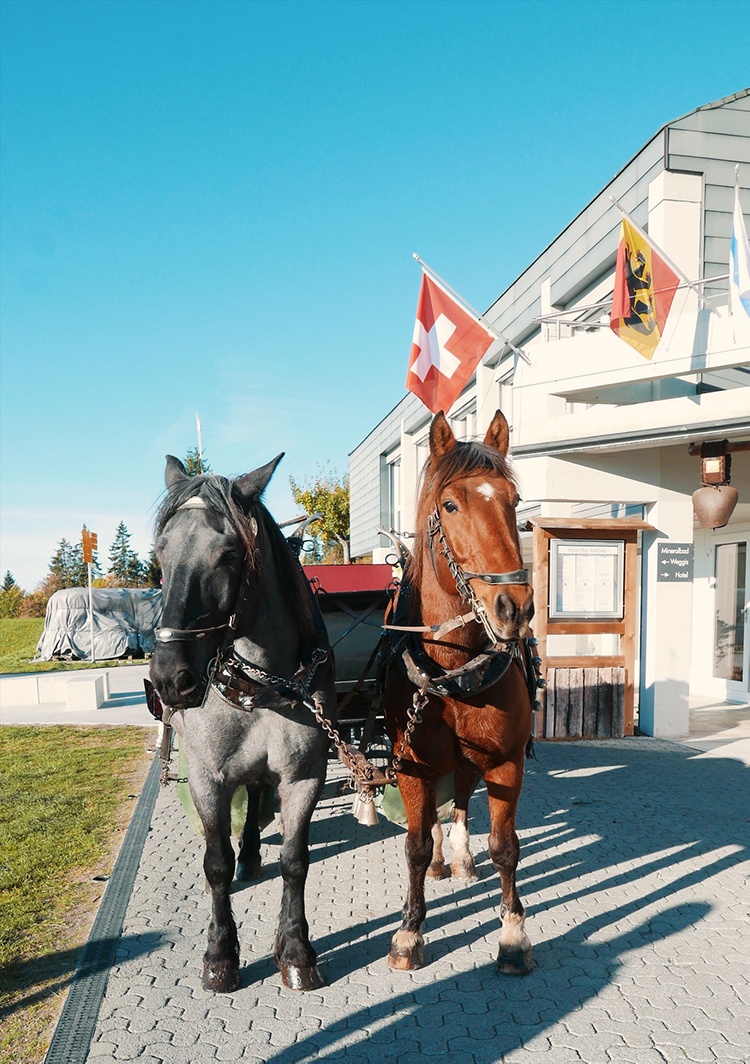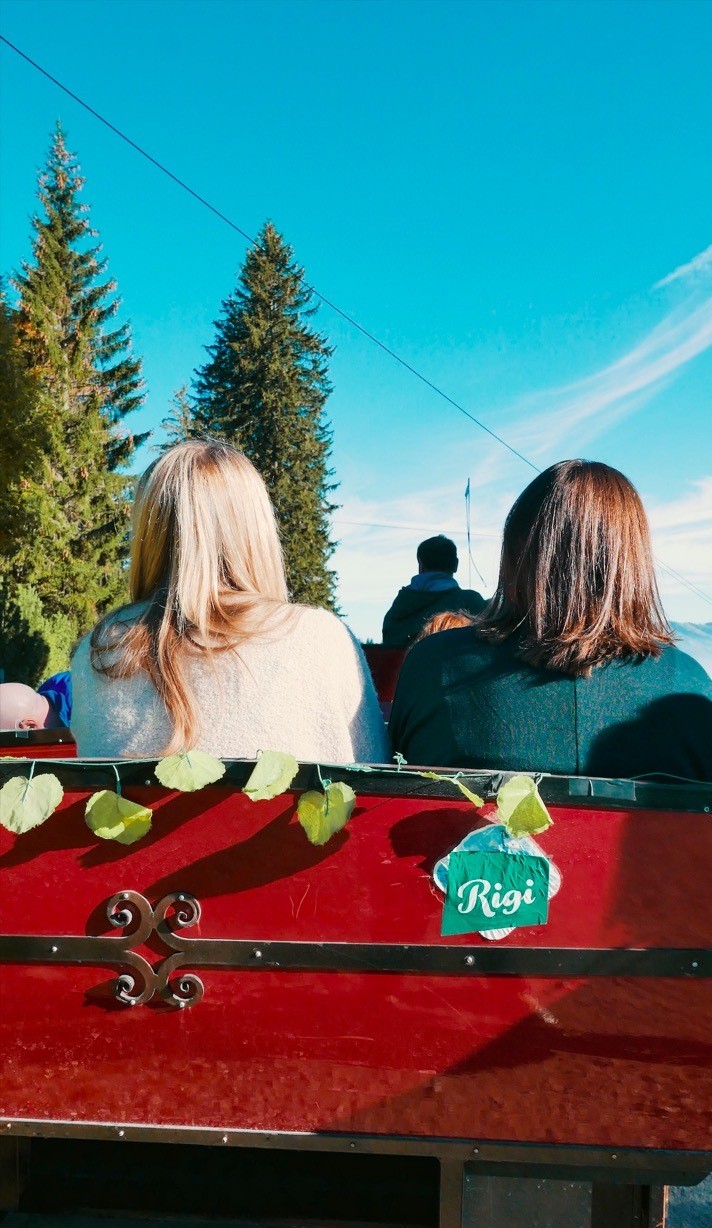 ---
Enjoy This:
Cruise of Lake Lucerne
Alongside its incredible Alpine landscape, the glacial lakes of Switzerland make the country one of Europe's natural marvels.
So, taking to the ice-blue water of one of Switzerland's lakes is a must on your 4 days in Switzerland. Lake Lucerne is the 4th largest lake in Switzerland (Lake Geneva is the largest) and easy to get to from Rigi Klum.
Take the train from Rigi Kaltbad to Vitznau and catch one of the historic paddle-steamers from Vitznau Pier to Flüelen.
The landscape that glides past as you slip through the waters looks more like a Fjord than the mountains you've come just from. Rocky crags tower over the blue, with thick woods clinging to their stony faces.
Whimsical wood-sided chalets sit tidily in green inlets or group together and hug the shoreline, almost dipping their foundations in the melt water.
All the beauty outside is matched by the character of the historic saloons inside the steamer. If you can, book into first class and have a delicious 3-course lunch as you sail.
We enjoyed Swiss Angus beef patties on herb jus with mashed potatoes, followed by original Treichler Zuger Kirschtorte cherry-flavoured specialty cake drenched with Kirsch brandy. Boozy, devilish and delicious.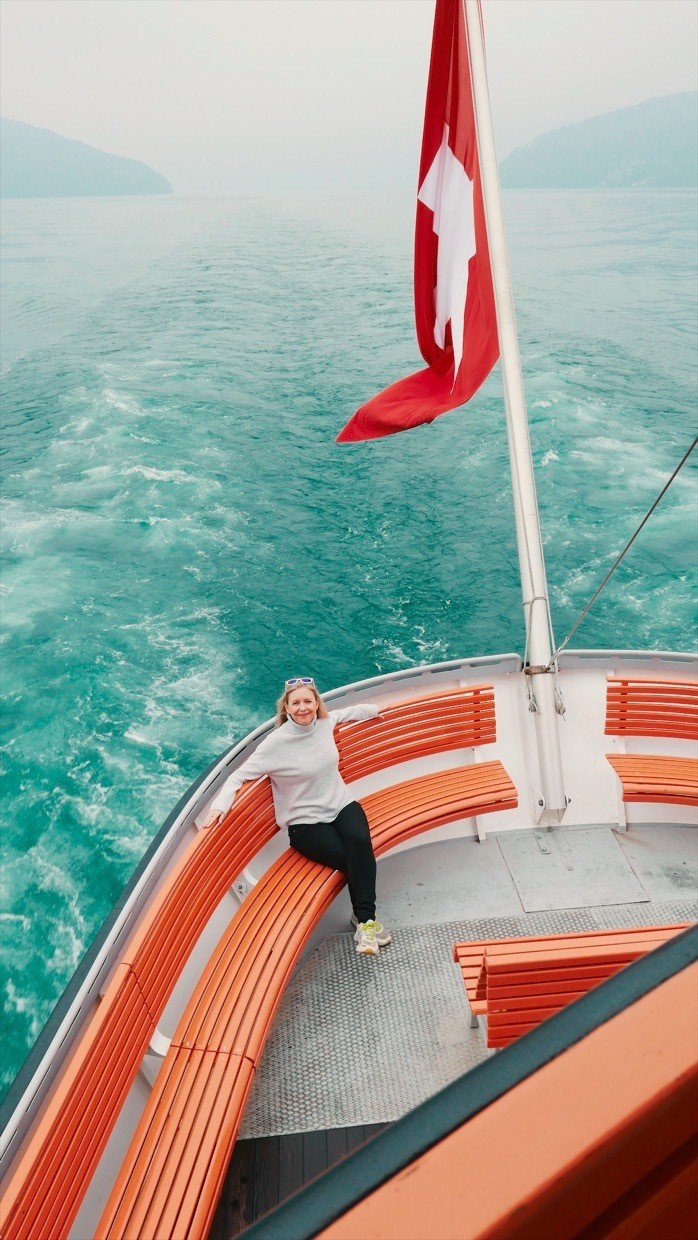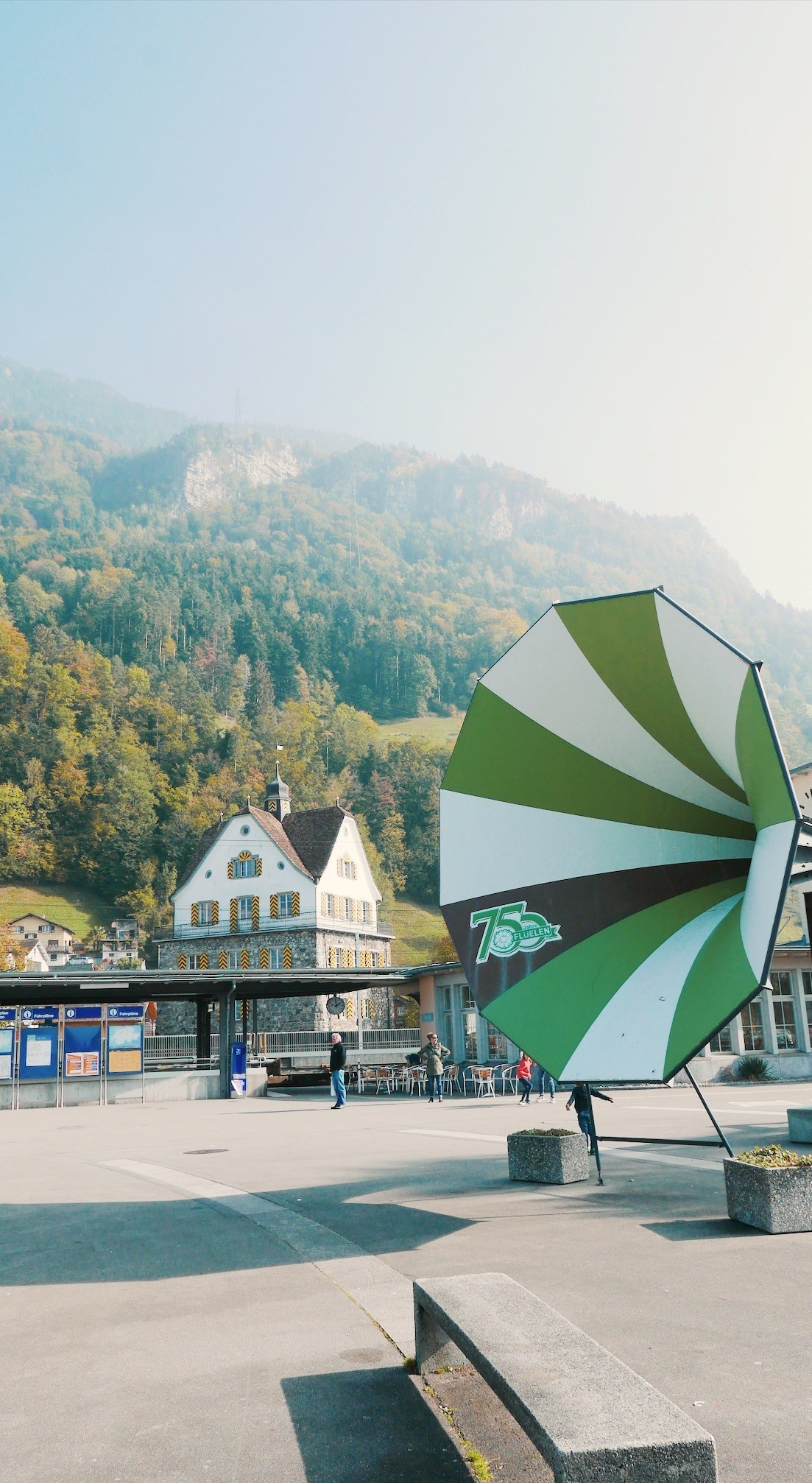 ---
Go here:
Italian-speaking Bellinzona
It'll take you two train journeys and a couple of hours to get to Bellinzona from Flüelen – and on the way you can brush up on your Italian. Bellinzona is the capital of the canton Ticino and the gateway to Italy for those travelling from the north, which means it's more Italian than Swiss in looks, character, swagger and tongue. One glance at its squares, courtyards, frescoed buildings, and churches and its Lombardy patronage is clear. This isn't the Switzerland you imagine it to be.
Look up and Bellinzona's fortified skyline staples the landscape, courtesy of three of the best-preserved medieval castles in the whole of Switzerland – Castelgrande, Sasso Combaro, and Montebello – and listed as UNESCO World Heritage Sites. Before it gets dark, take the well sign-posted 5km walk through Bellinzona. The route gives you the chance to explore the three fortresses just as the day softens and bats swoop overhead. End your tour at Castlegrande, hungry for more.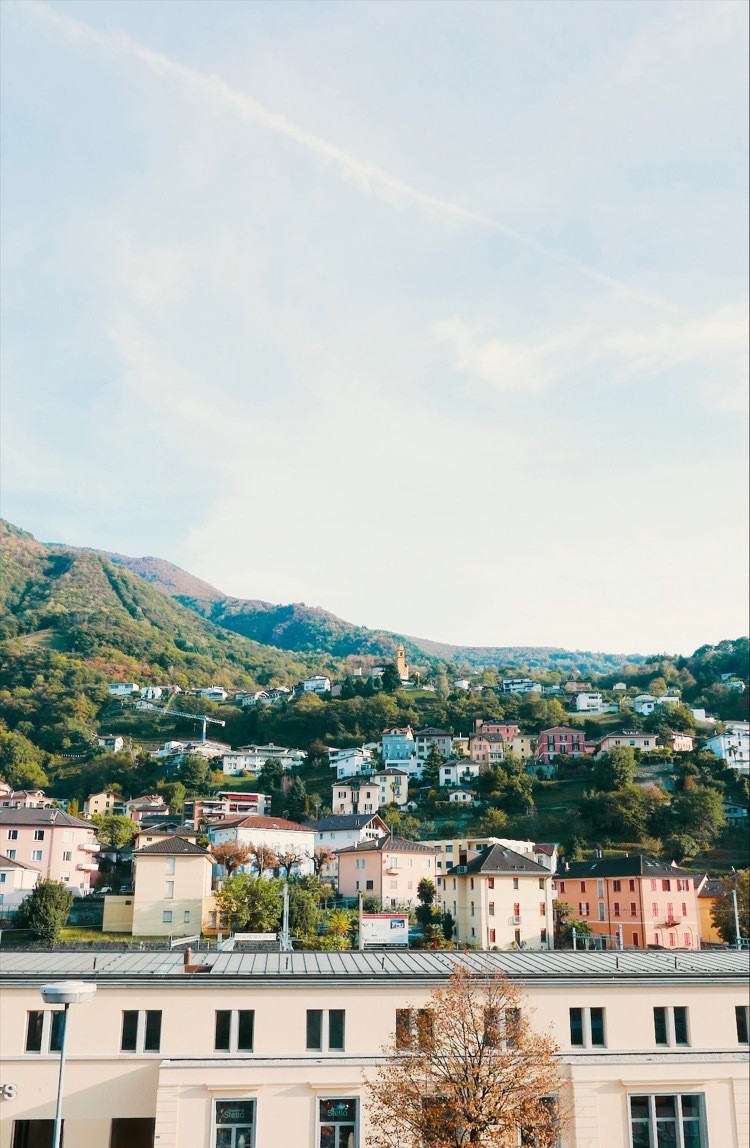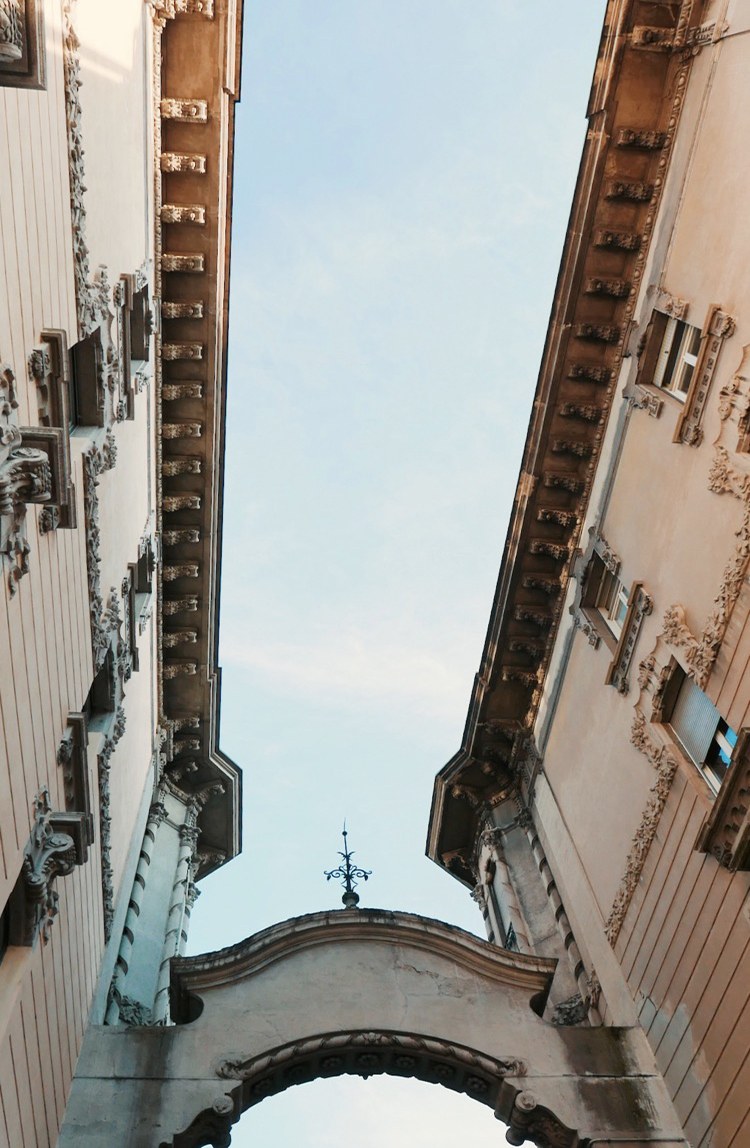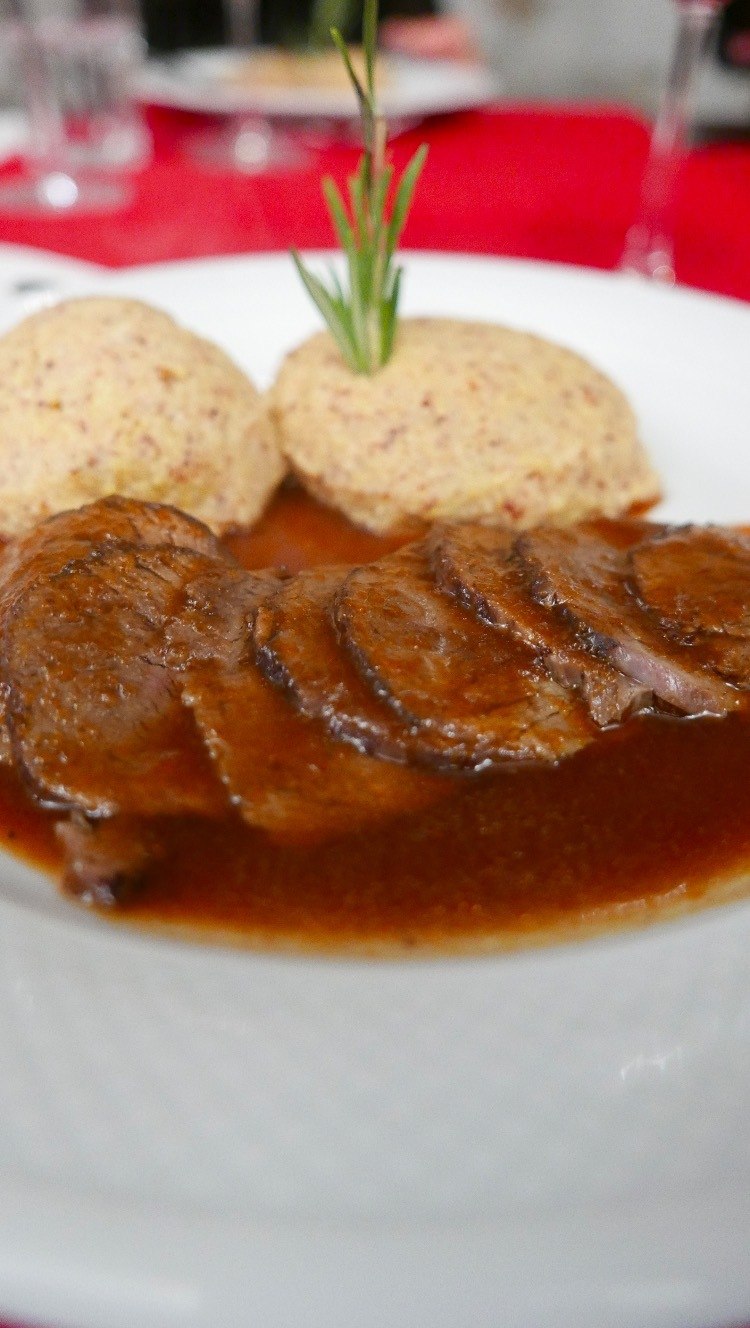 Eat here: Safely tucked away between the thick town walls and the vineyards of Castelgrande, is Grotto San Michele. During the day the terrace offers sparkling views over Bellinzona; at night settle deep within its vaulted grotto to sample some Ticino cuisine, influenced by local ingredients from the mountains, valleys and lakes – and balancing harmoniously Italian and Swiss flavours.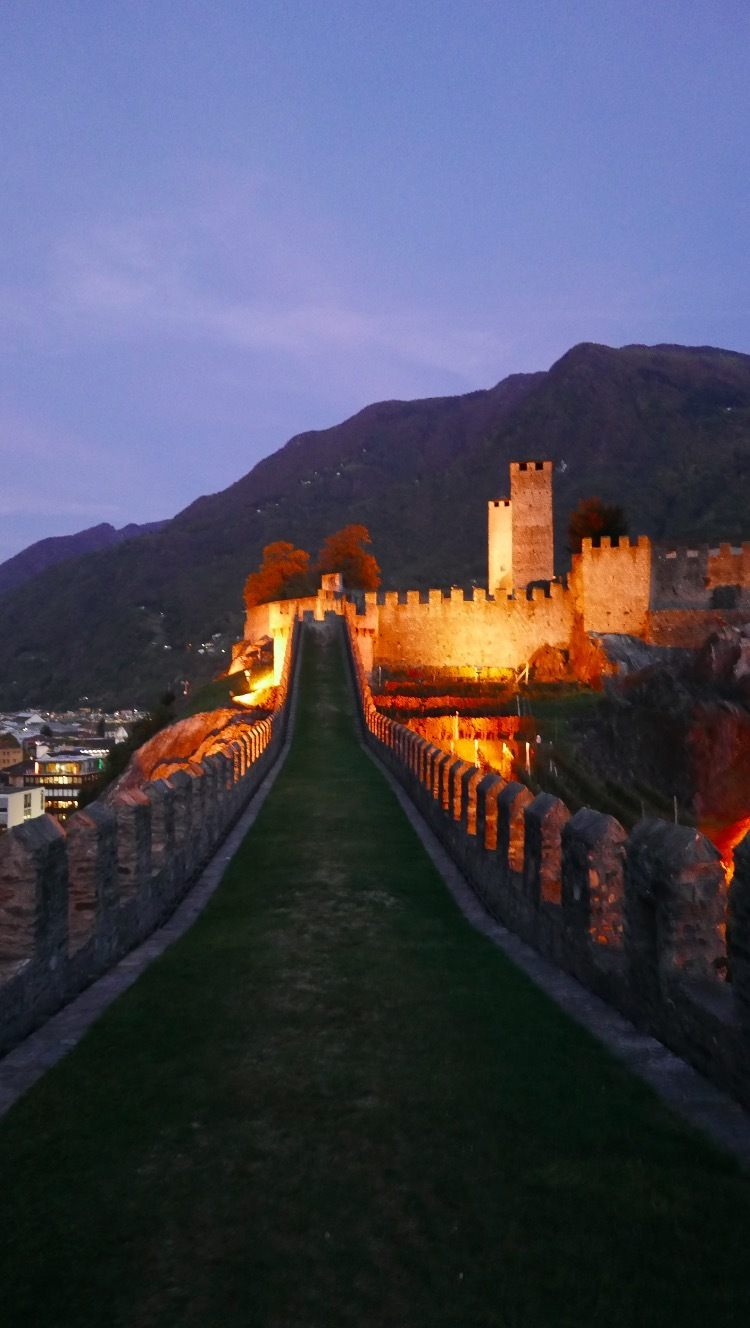 Buy this: For wine-lovers, Ticino comes up trumps because it's the home of Bianco Di Merlot Ticino – white merlot – one of the very few real white merlots produced in the world. Before you leave Switzerland behind, scoop a couple of bottles for your cellar; it's notoriously difficult to get hold of anywhere else.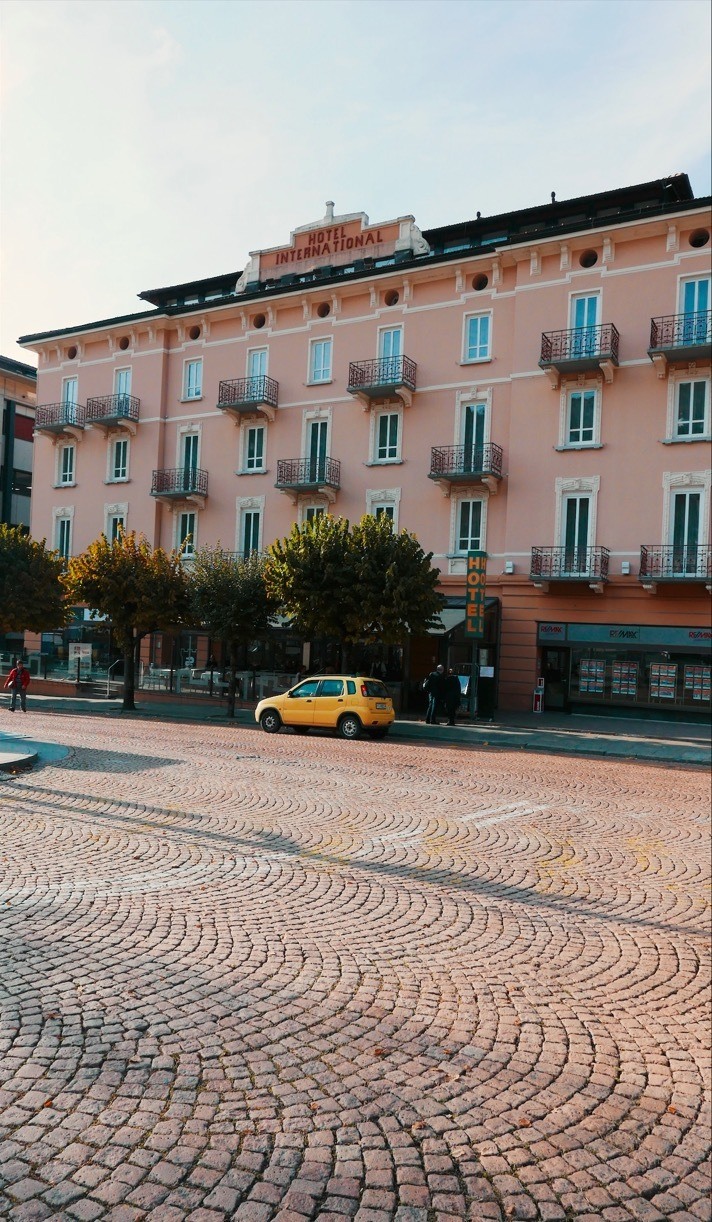 Stay Here: Opposite Bellinzona train station and across a wide cobbled road is Hotel & SPA Internationazionale. This 7-story pepper-pink town house would easily be at home in Milan. With 58 rooms and 3 suites, it towers into the sky, offering a convenient base for many weekenders. Despite its architectural grandeur, inside it's surprisingly intimate and personable with contemporary design sitting imperceptibly alongside the original features. Almost all rooms come with epic views of Bellinzona and 19 have balconies. Bellisimo.
Travel Essentials
Boat – For your boat trip across Lake Lucerne, based on my Switzerland 4-day Itinerary, you'll need to catch a boat with SGV from Vitznau Pier to Flüelen. Your Swiss Travel Pass is valid for this trip.
Train – To get to Bellinzona from Rigi Kaltbad, take the train from Rigi Kaltbad-First Train Station to Vitznau Train Station. Walk 2 minutes to Vitznau Pier. When you arrive in Flüelen, walk 3 minutes to Flüelen Train Station and catch the train to Erstfeld Train Station. Leave Erstfeld Train Station for Bellinzona. Your Swiss Travel Pass is valid for this journey, too.
Ticket Tip: When you stay overnight in hotels, youth hostels and on camping sites in Bellinzona make sure you grab a Ticino Ticket. It gives you free use of all public transport and discounts on attractions for the duration of your stay.
Switzerland Day 3
Bernina Express to Chur
Do this:
Sweep the shores of Lake Como
Rise early on day 3 of your Switzerland Itinerary for 4 days and catch the train to Lugano. It's the largest town in Ticino, lying on the shores of Lake Lugano, surrounded by mountains and Mediterranean flair.
Once you're there, pick up the Bernina Express Bus that'll take you to Tirano, where your Bernina Express journey begins. En route, you'll dip down into Italy and skirt the edges of Lake Como with its glistening waters and the smooth sounds of Dean Martin's 'That's Amore' ringing in your ears. 
Tirano, Italy, welcomes you with a kiss on both cheeks. It's a quiet Lombardy town, with pavements gently bubbling with cafes and coffee drinkers. But its main draw is, what's locally known as 'the red train' – the Bernina Express. 
Lunch here:
Ai Portici, Tirano
Whilst in Italy, lunch in the Italian way. Tirano has many good Italian restaurants to choose from, so you'll be spoilt for choice.
We ate at Ai Portici, a simply furnished Italian serving local fare with lashings of vino rosso and limoncello and a side helping of good humour, considering our excitable behaviour.
Whilst the limoncello flowed, we dined on Pizzoccheri valtellinesi (a sort of fat, short tagliatelle) and left with two complimentary bottles of red.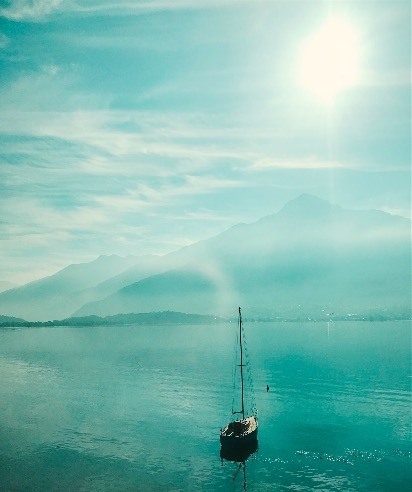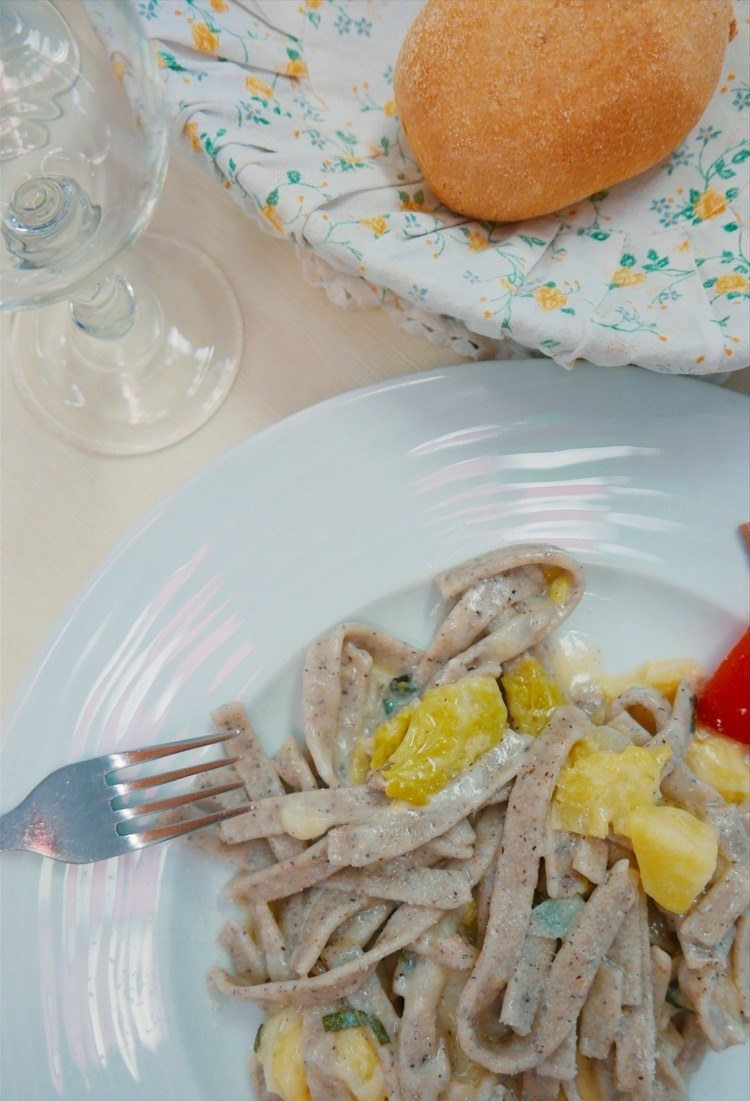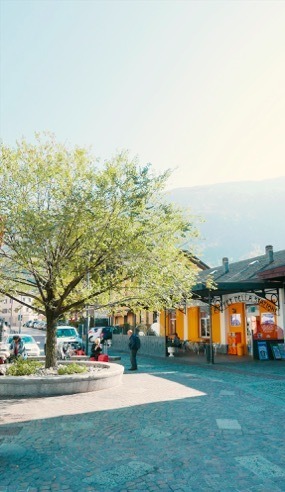 Enjoy this:
A trip on the Bernina Express
With wine-flushed cheeks, board The Bernina Express and settle in front of the curved panoramic windows.
What follows is a 4-hour rail journey that will stay with you for life. Listed as an UNSECO World Heritage site, the railway is a staggering feat of engineering, climbing 2,253m above sea level – the highest railway crossing in Europe.
It runs all year round from Tirano to Chur or the other way around, stopping at 25 different spots along the way, including Davos and St. Moritz.
Along the way, you'll slip silently and deeply into the alps, leaving the palms of Italy behind; gliding over viaducts, ascending peaks, curling slowly around sky-blue lakes, and ribboning past traditional Swiss villages, until you arrive in the Swiss canton of Graubünden.
The Albula and Bernina Passes are just two of the iconic sights you'll see – but don't worry about missing them; this is a journey built for the scenery, not speed, and the wonders are so dramatic, that you won't be able to take your eyes off the outside world.
STC can organise travel on the Bernina Express for you. More time? You could also explore a different route from St. Moritz to Zermatt on the Glacier Express.  
"Cut through glacier-encrusted mountains on one of the world's most beautiful trains journeys: the Bernina Express."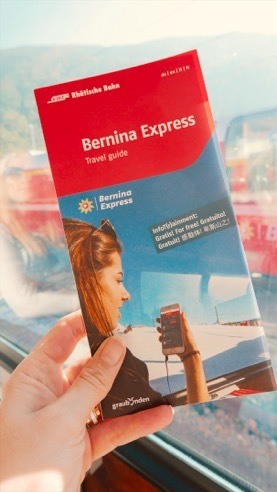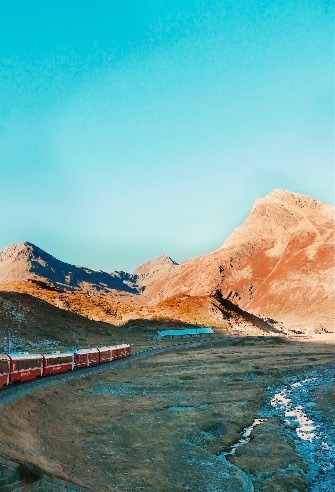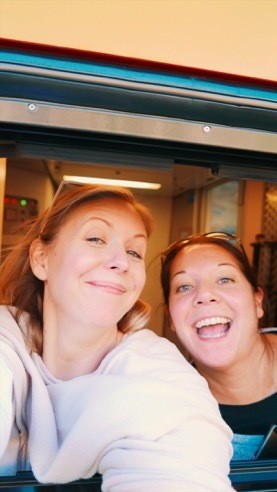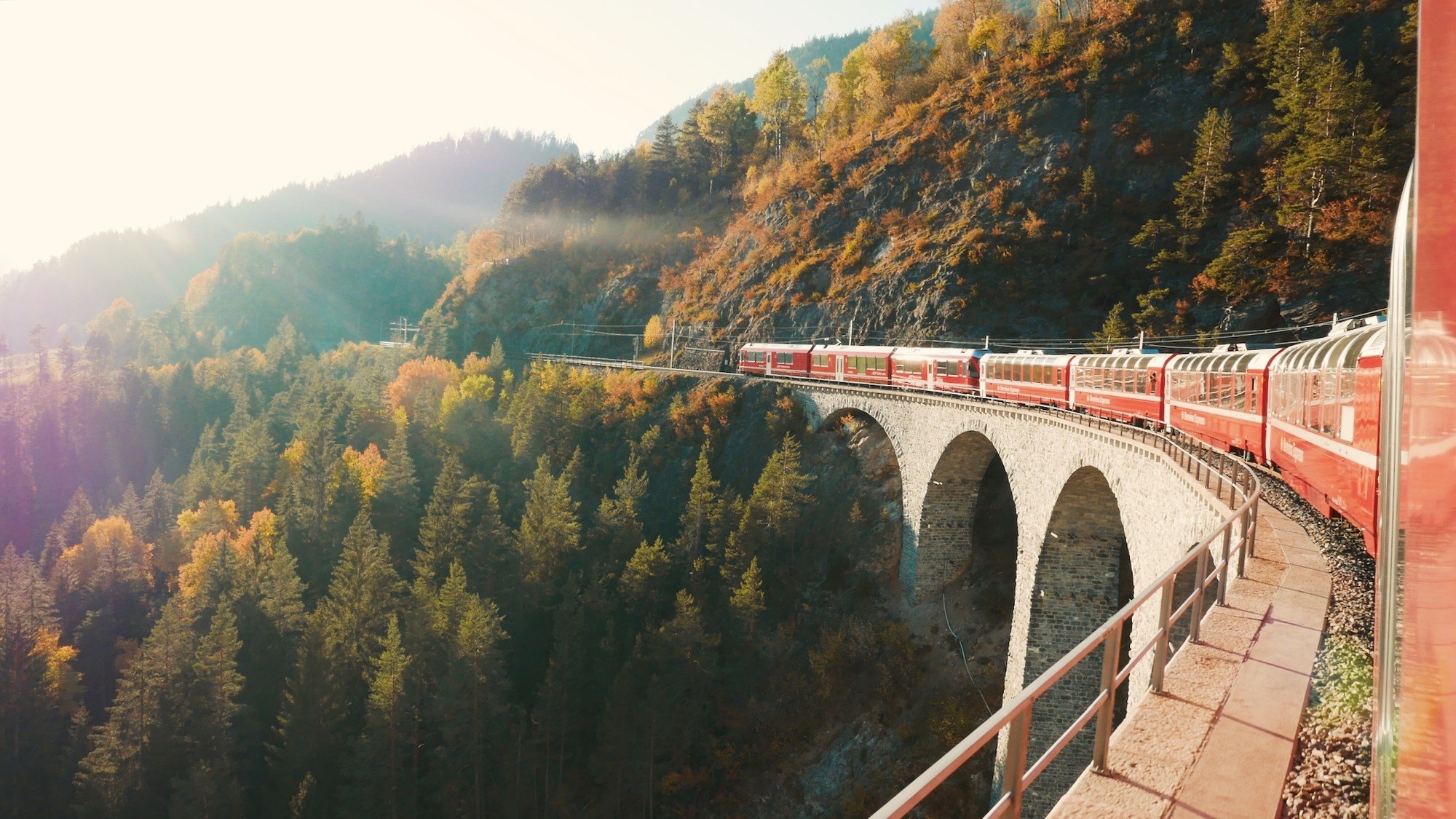 Stay here:
Romantik Hotel Stern, Chur
You may have started the day Italian, but step inside Romantik Hotel Stern and it's Switzerland through-and-through. The leading hotel in Chur, it packs 300-years of traditional Swiss hospitality into one beautiful building.
Behind thick wooden doors, the rooms are comfy, cosy and modestly romantic – with Swiss stone wooden panelling on ceilings and walls. It's the hotel's nostalgic charm and historical roots that makes it romantic; and the hotel adds to the romance with candles, soft net curtains, and elegant wrought-iron fixtures. To heighten the experience further, you're collected from Chur station in a vintage Buick when you arrive.
If you can, resist the urge to go into Chur for dinner, because Romantik Hotel Stern is also home to an exceptional (and well awarded) restaurant, Veltliner Weinstuben. Foodies will love the menu, serving traditional Graubünden dishes made according to classic methods and recipes (try the rösti if you get a chance – an iconic national dish made from potato).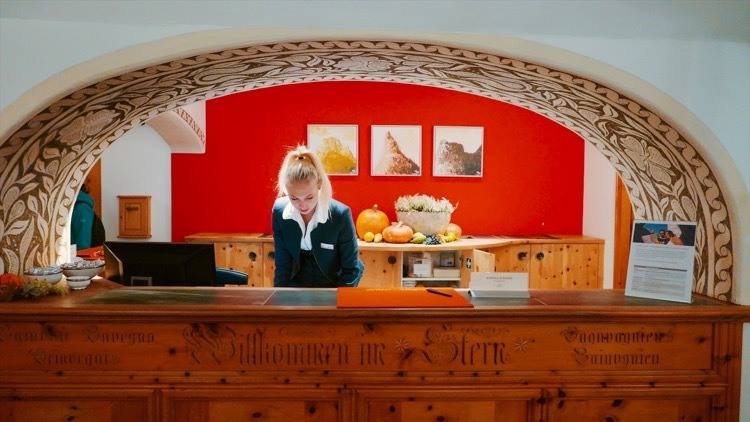 Travel Essentials
Trains and Buses –
Leave Bellinzona Train Station at 9:02 to Lugano Train Station. Then catch the Bernina Express Bus from Lugano to Tirano Train Station. After lunch catch the 14:25 Berina Express from Tirano to Chur Train Station. It's a 10-minute walk to Romantik Hotel Stern.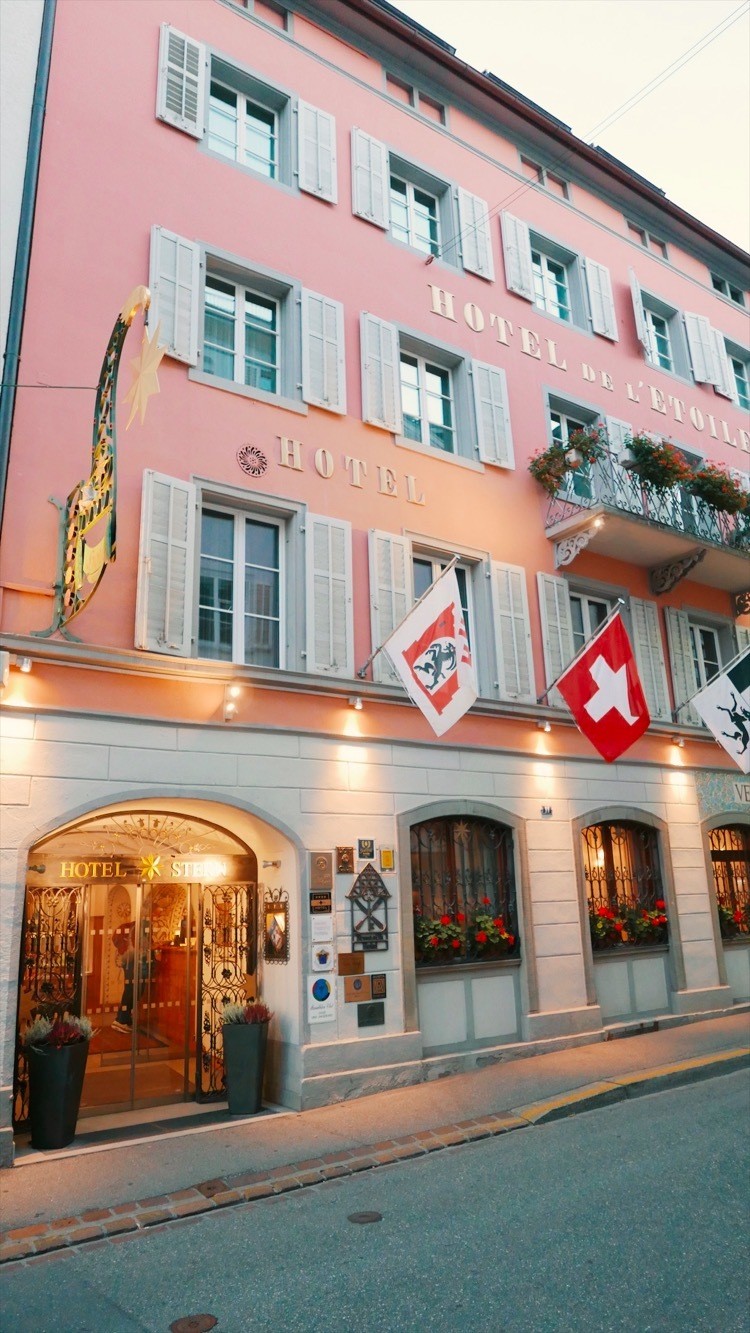 Switzerland Day 4
Chur to Zurich and back home
Do this:
Chur the Old Town
Start the final leg of your Switzerland 4 Day itinerary with a tour of Chur, and in particular the Altstadt (old town) – one of the best-preserved old towns in the country. Chur is the capital of Switzerland's biggest canton (region), Graubünden, and the oldest city in the country, with a 5,000-year old history. 
Like the rest of Chur, the old town is surrounded on all sides by the Alps; they rise up like an amphitheatre, cradling the delicate medieval buildings and ancient alleyways from the snow that can fall silently on the Alpine city in a beat. The old town is virtually traffic free, so it's effortless to wander around and every step feels as if you're walking in another century.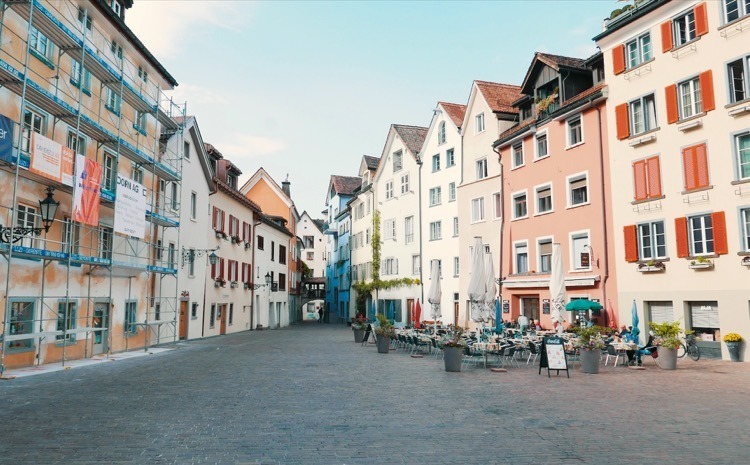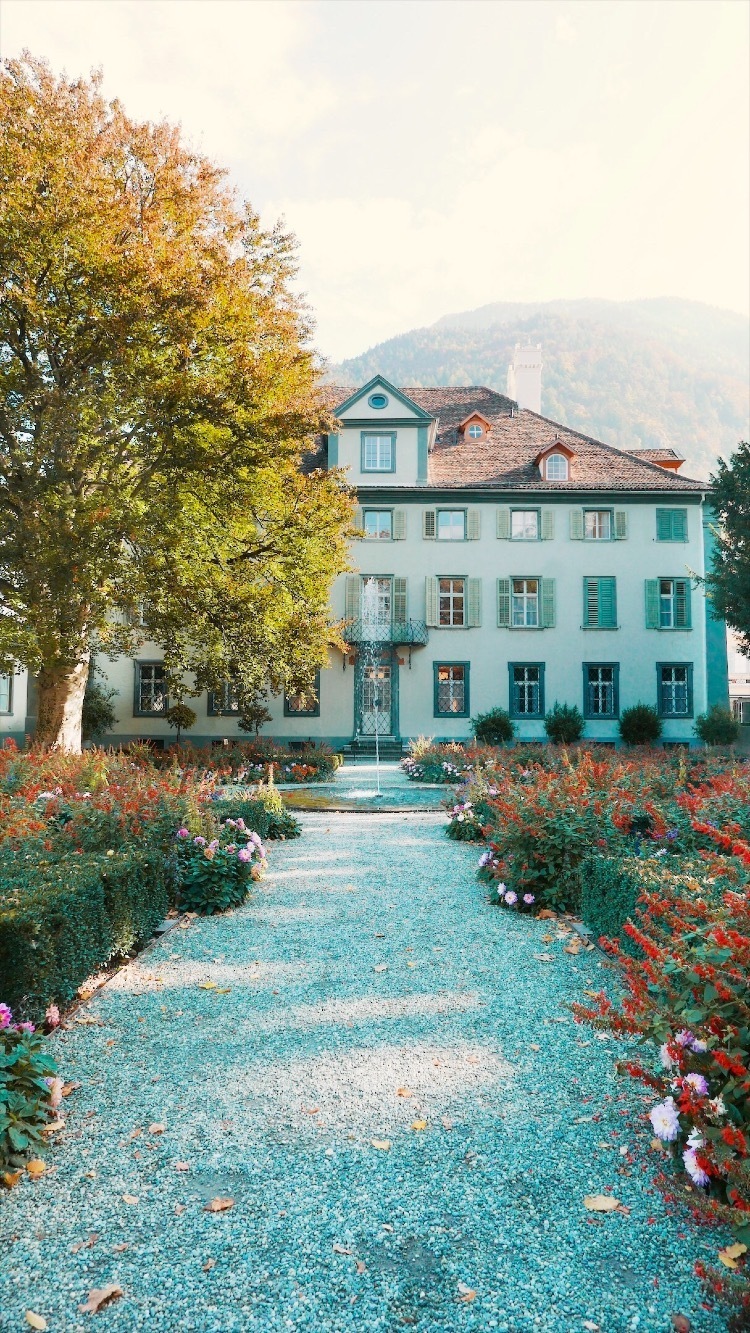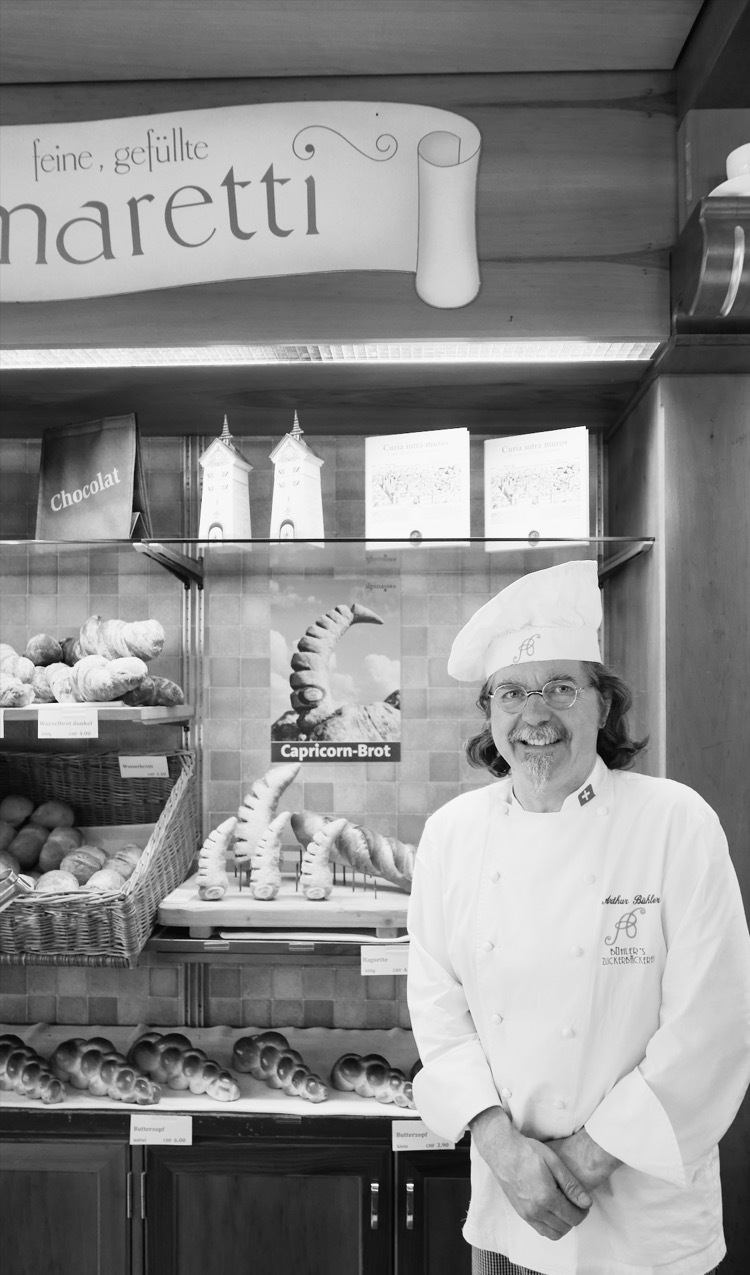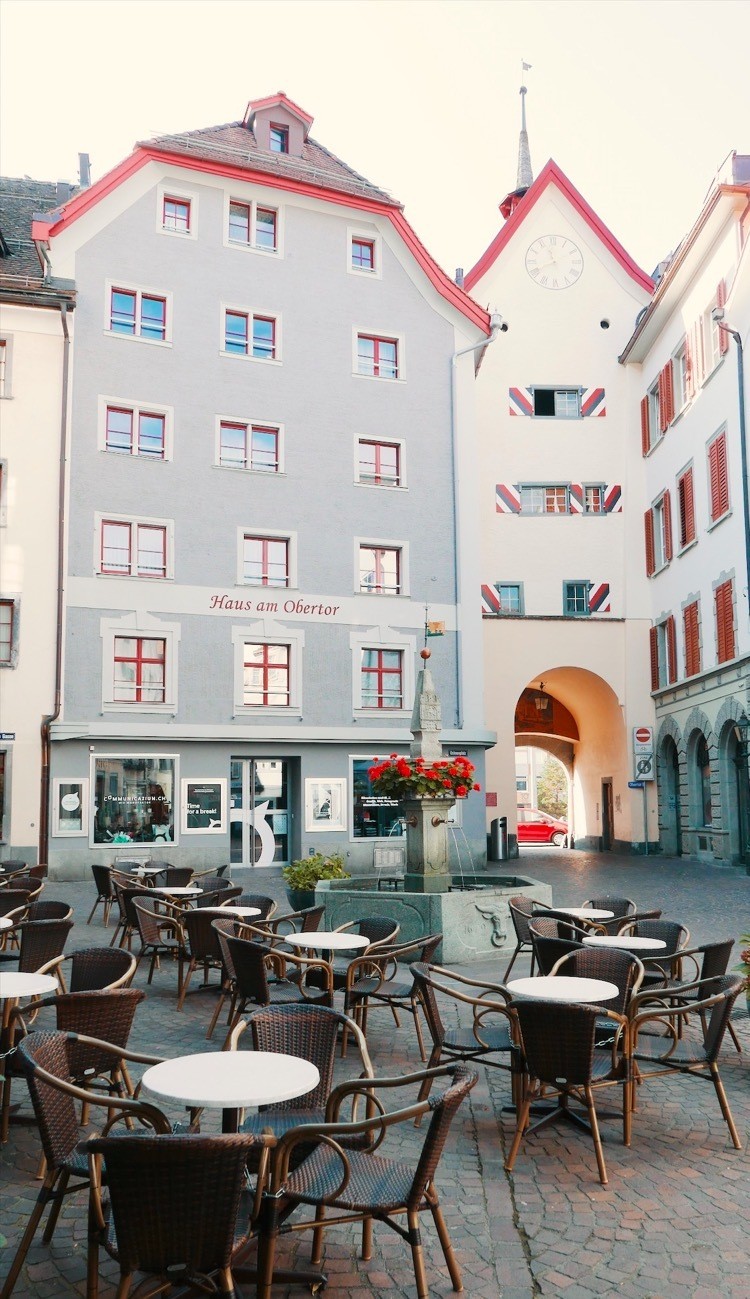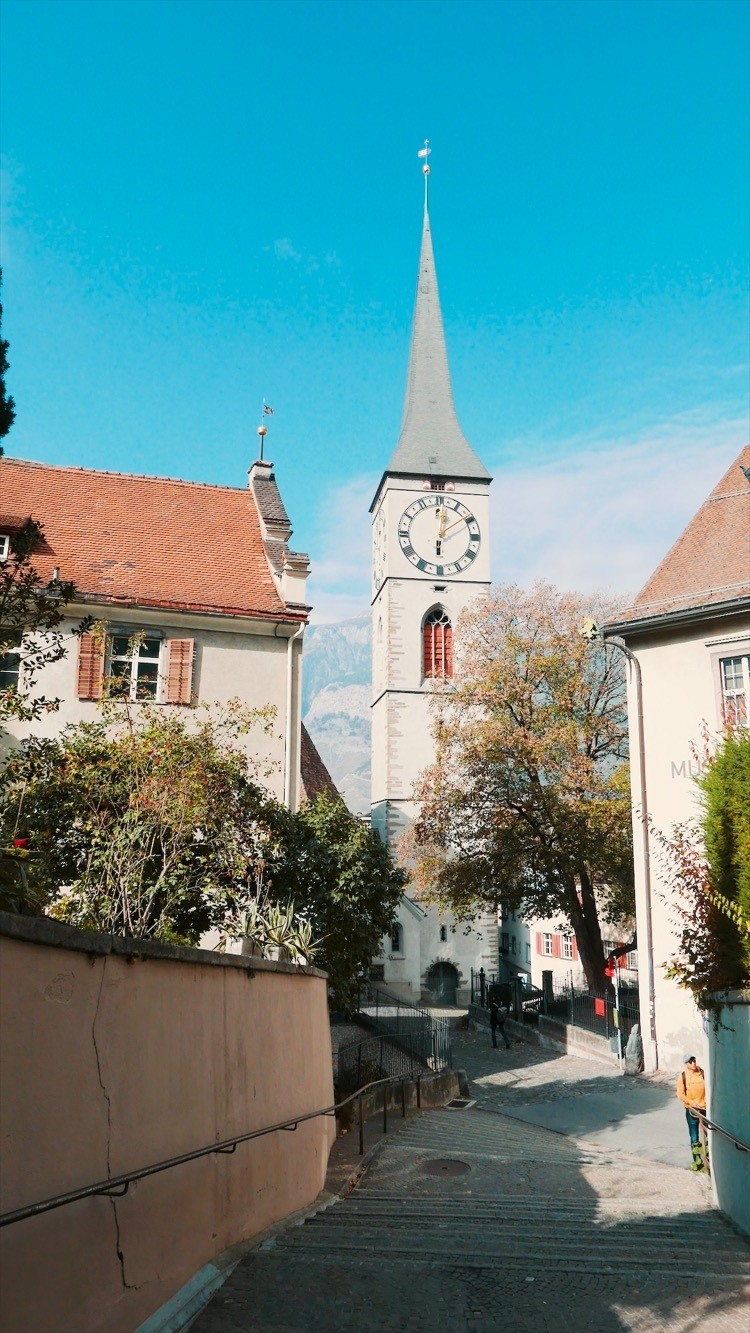 See this:
Bühler's Zuckerbäckerei
Curiously, Chur has one of the most diverse shopping centres between Zurich and Milan. But forgo the leading designer brands in favour of a smaller, sweeter supplier: Bühler's Zuckerbäckerei, a delightful little family-owned confectioner tucked modestly under an awning in the old town, next to the Oberto.
Inside, the charm is dizzying – and the pastry chef, Otto Hürsch-Müller, with his toque blanche and Dali-esque moustache, almost as magical as Santa. Don't leave without trying the Chur speciality, Bündner Pfirsichsteine, a marzipan peach stone invented in Chur by the Hürsch family.
Buy this:
Chur Röteli
One of Graubünden's oldest specialities, Chur Röteli, a Cherry Liquor that's so deliciously light, yet spicy, it makes mulled wine blush.
The recipe has been handed down for generations, but is still a closely-guarded secret, and your taste buds will tell you why.
"End your 4 days in Switzerland with a fairy-tale town before an easy meander back home."
Travel Essentials
Trains – Catch the 14:09 train from Chur Train Station to Zurich HB Train Station. Then hop on the 15:33 train from Zurich HB to Brig Zurich Airport Train Station. This will give you plenty of time to catch a 17:10 flight to London.
Visit this:
Cathedral of Saint Mary of the Assumption
End your time in Chur's 800-year-old Cathedral of Saint Mary of the Assumption. Constructed between 1152 – 1272, it stands apart from the rest of Chur in a fortified courtyard, like a town in its own right.
Strikingly plain on the outside, and only a touch more lavish inside, the Cathedral's grey walls nevertheless carry huge significance: it is Switzerland's only early medieval Episcopal Church and shelters wall paintings and altars from all the epochs, among them Switzerland's most richly ornamented Late Gothic altar.
.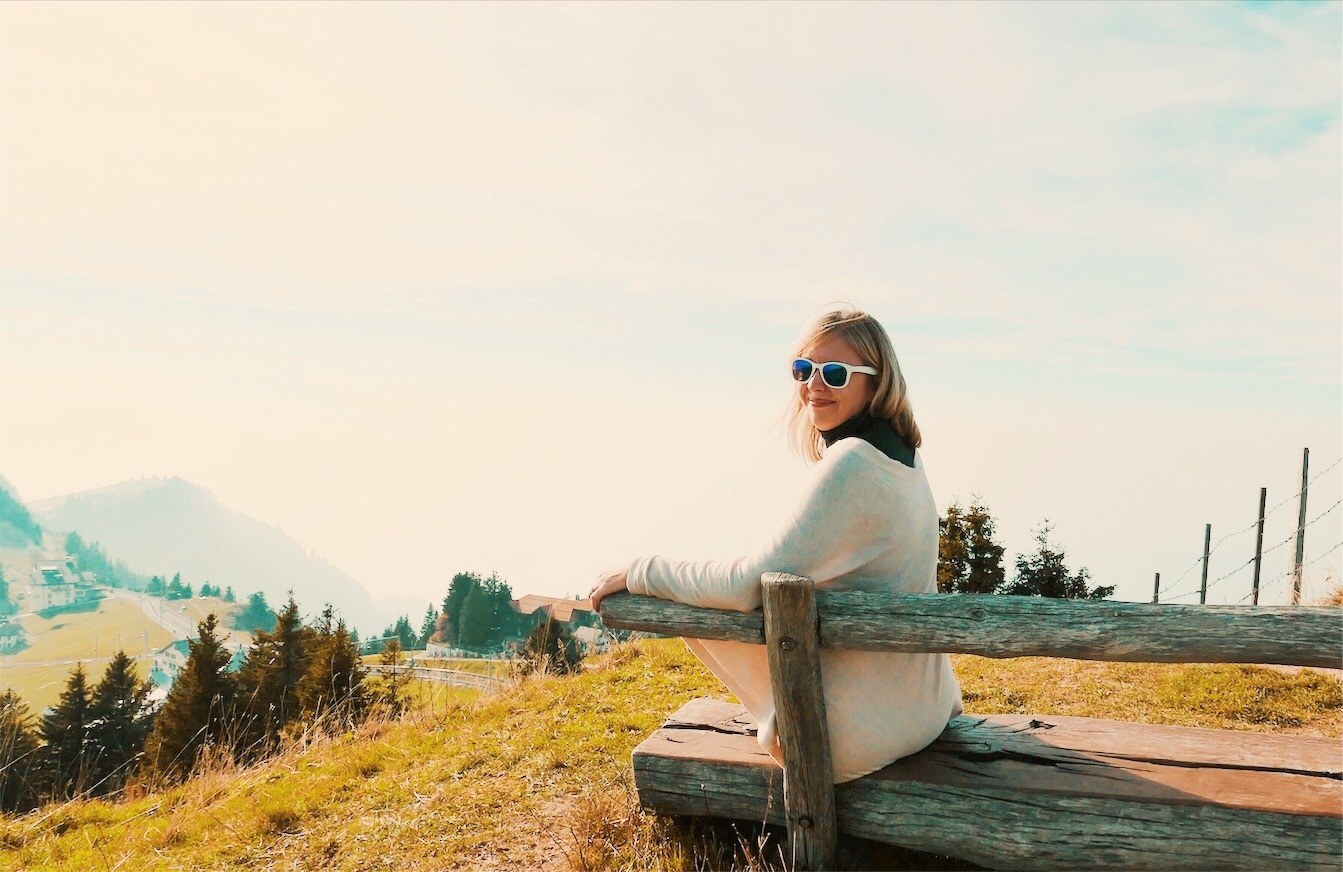 Plan your Switzerland trip 
Flights you'll need
Flights into Switzerland are regular with Swiss International Air Lines; although the affordability depends on when you want to go and what your budget is. Zurich is the main hub with regional airports in Geneva and Basel. I flew into Zurich with Swiss Air, organised by the brilliant guys and gals at the Switzerland Travel Centre (STC), on the 8:40 flight out of London Heathrow. I was in Zurich by 11:35 and heading to the alps an hour later. Effortless and fatigue-free.
Train must-haves
A Swiss Travel Pass is your best friend for a Switzerland Itinerary. It's the perfect all-in-one option, available for different lengths of stay, including 3, 4, 6 or 8 days, and gives you unlimited travel on consecutive days throughout the rail, bus and boat travel network. Best of all, the Swiss Travel Pass also covers scenic routes, local trams and buses in around 90 towns and cities, as well as mountainous excursions such as Mount Rigi, Stanserhorn and Schithorn. For those mountain-top trains and cables that aren't covered, you still get up to 50% off the cost. To get yours, talk to the Switzerland Travel Centre (STC).
Key wardrobe items
Shoes – Walking boots, trainers and a change of shoes for the evening. This Switzerland Itinerary for 4 days includes a lot of trains, walking and mountain railways, so you need to have comfortable footwear, plus something to slip into once you're back at your hotel.
Tops and coats – Layering is key. You'll be in the mountains some of the time and the weather is quickly changeable. I went in October and needed layers to keep me warm, as it was a little chilly in the evenings and mornings. Although it didn't rain when I was there, a waterproof coat to keep you dry makes sense, just in case.
Sunscreen – Up Mount Rigi it could be 25c, so sunscreen is you next most important item.
Swimming stuff – you'll need it for the SPA at Rigi Kaltbad. Check out swimwearuk.com.  
Casual evening wear – for dinner in the restaurants and hotels mentioned, there isn't a dress code. So low-key, casual and comfortable is my advice.
Money 
The currency in Switzerland is the Swiss Franc (CHF). Whilst it is not a member of the Euro, some hotels, restaurants and tours show the prices in Euros to help visitors. Although it's not a cheap country to spend a long weekend, Switzerland can be done affordably. They guys at STC are best-placed to maximise your budget, so my advice would be to talk to them before going and organise any tour tickets or travel passes in advance.
If you're interested in the cheapest way to see Switzerland, Nomadic Matt's article, 'Switzerland on a Budget' has some neat ideas for saving money, as does Anya's post 'Switzerland on a Budget'.
Disclaimer

 – Huge thanks to Switzerland Travel Centre for organising my Switzerland Itinerary for 4 days. I never knew Switzerland had so much to offer and I'm determined to explore more of it soon.
Some of the links in this post are affiliate links, which means I get paid commission if you book via these links. Affiliate income are one of the ways I can carry on bringing fresh content to Weekend Candy.
(function(d, sc, u) { var s = d.createElement(sc), p = d.getElementsByTagName(sc)[0]; s.type = 'text/javascript'; s.async = true; s.src = u + '?v=' + (+new Date()); p.parentNode.insertBefore(s,p); })(document, 'script', '//aff.bstatic.com/static/affiliate_base/js/flexiproduct.js');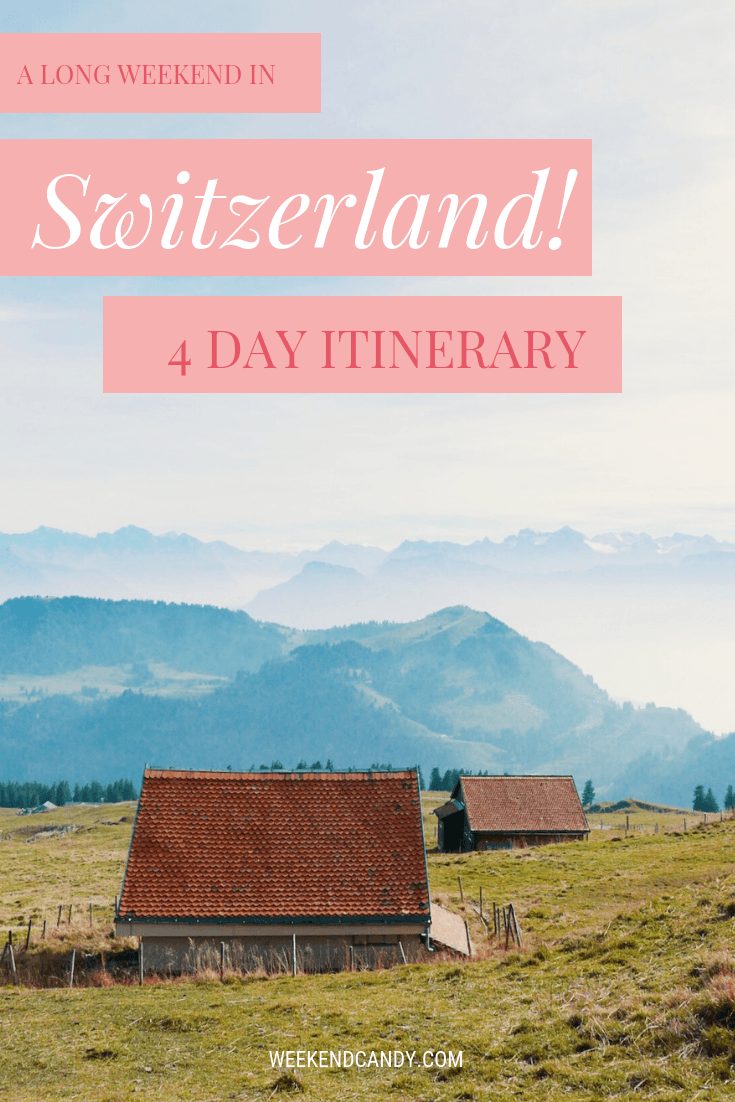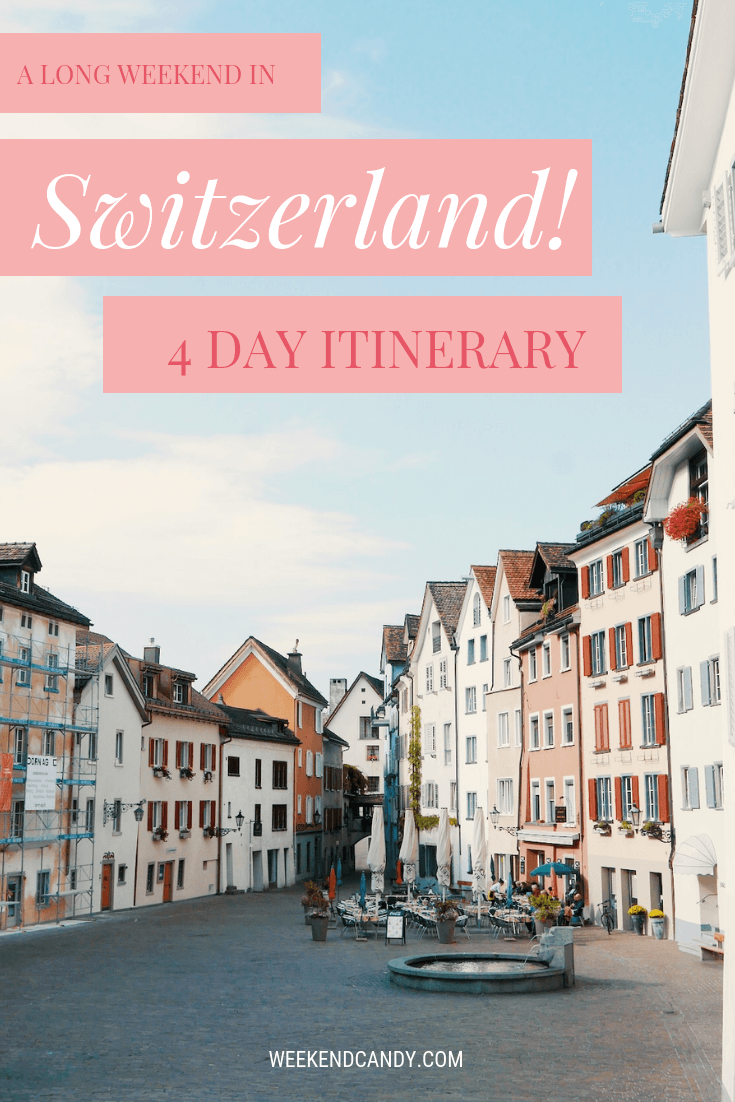 Comments