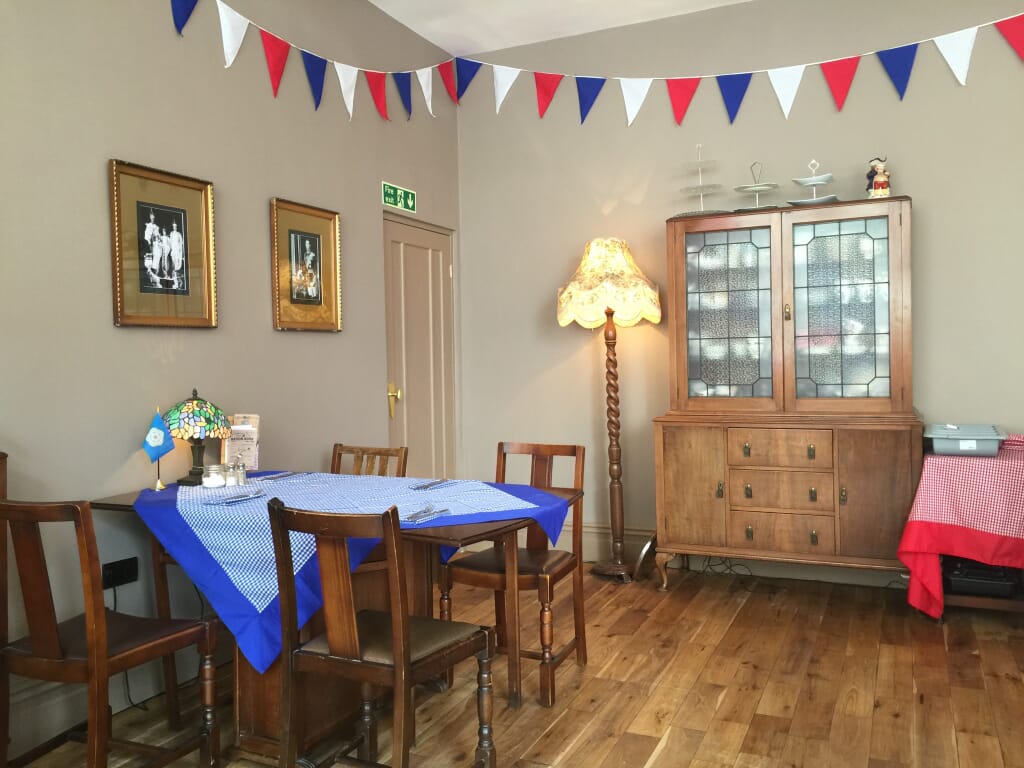 This Yorkshire gem may just be my favourite place I've lunched yet.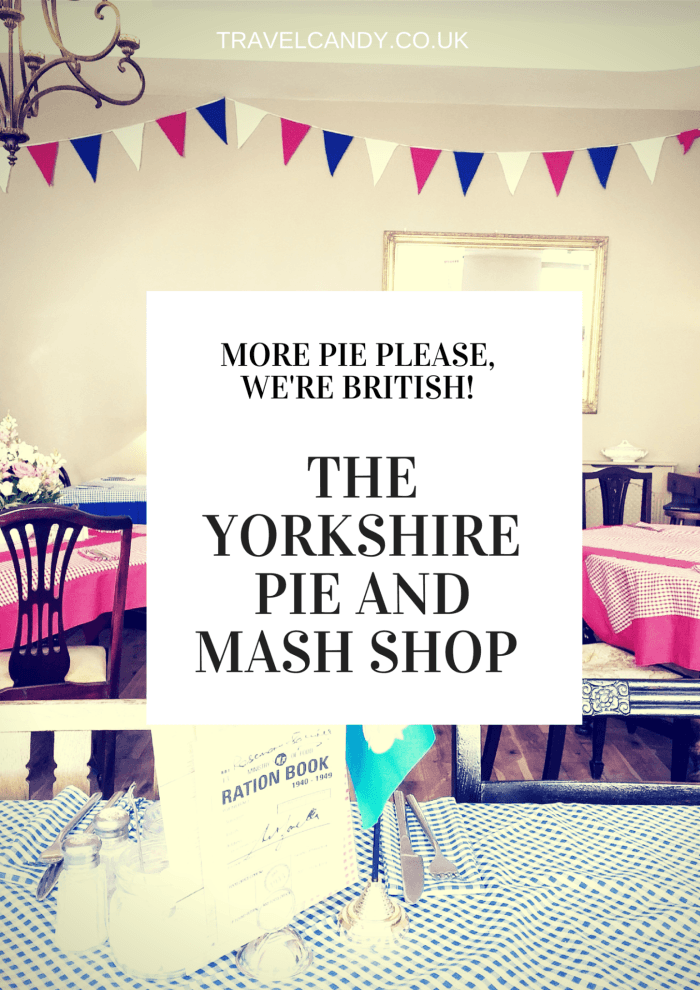 Wander to the corner of Pearl Street, in Saltburn by the Sea, and you'll find it.
Pearl Street – of course, it's written in the stars; because this place is a true gem.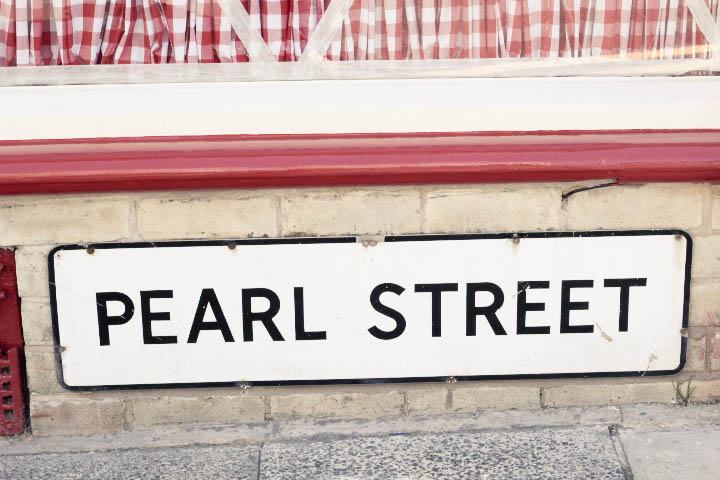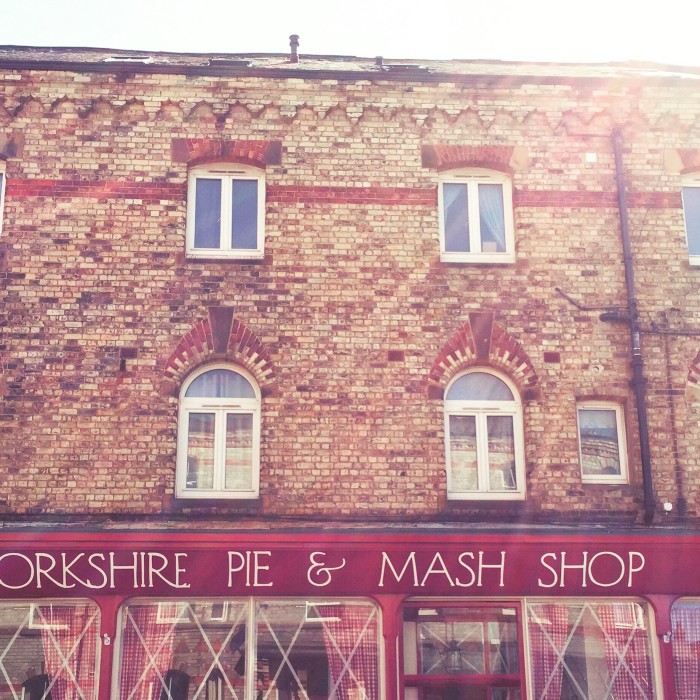 Pretty reds and whites. Checkmate curtains.
But what's that white tape on the windows? Is there going to be an air raid?
The bell on the door jitter bugs as I walk in; and it all becomes clear:
We're not in Kansas anymore, Toto. We're in 1940s' Saltburn.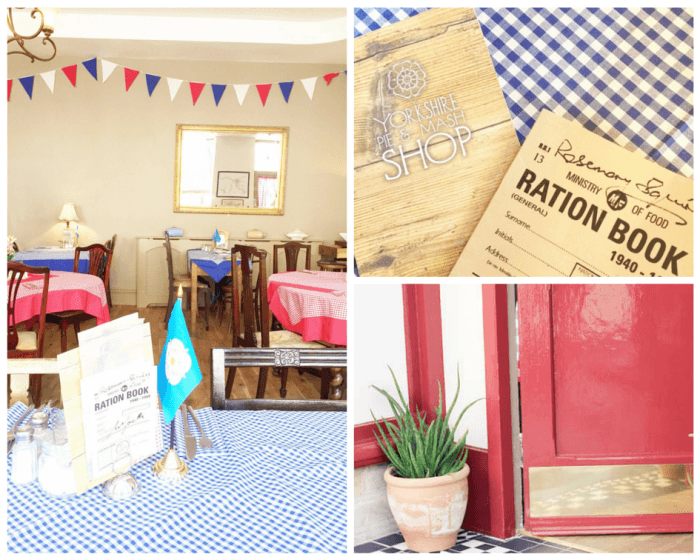 Music from a bygone era dances softly in the background as I'm welcomed in and given a table by the window.
The gold fronds on the scollop lampshade sway as I sit down. I pick up the ration book and turn the pages of a simple, but brilliant, menu.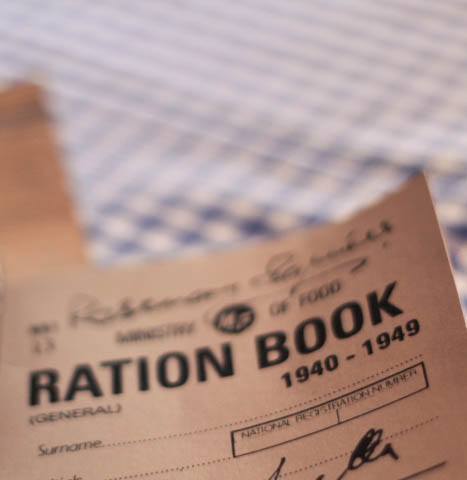 Pork pie. Steak pie. Corned beef pie. Minced beef pie. Chicken pie.
And Woolton Pie. A pie widely served in Britain in the WW2 when rationing and shortages made other dishes hard to prepare.
All made by hand and crusted with Yorkshire Pride.
I choose the chicken pie (I'm vegetarian) with garden peas, creamy mash, gravy and brown sauce. Red was offered – but when in Rome…
…washed down with a chilled Victorian lemonade.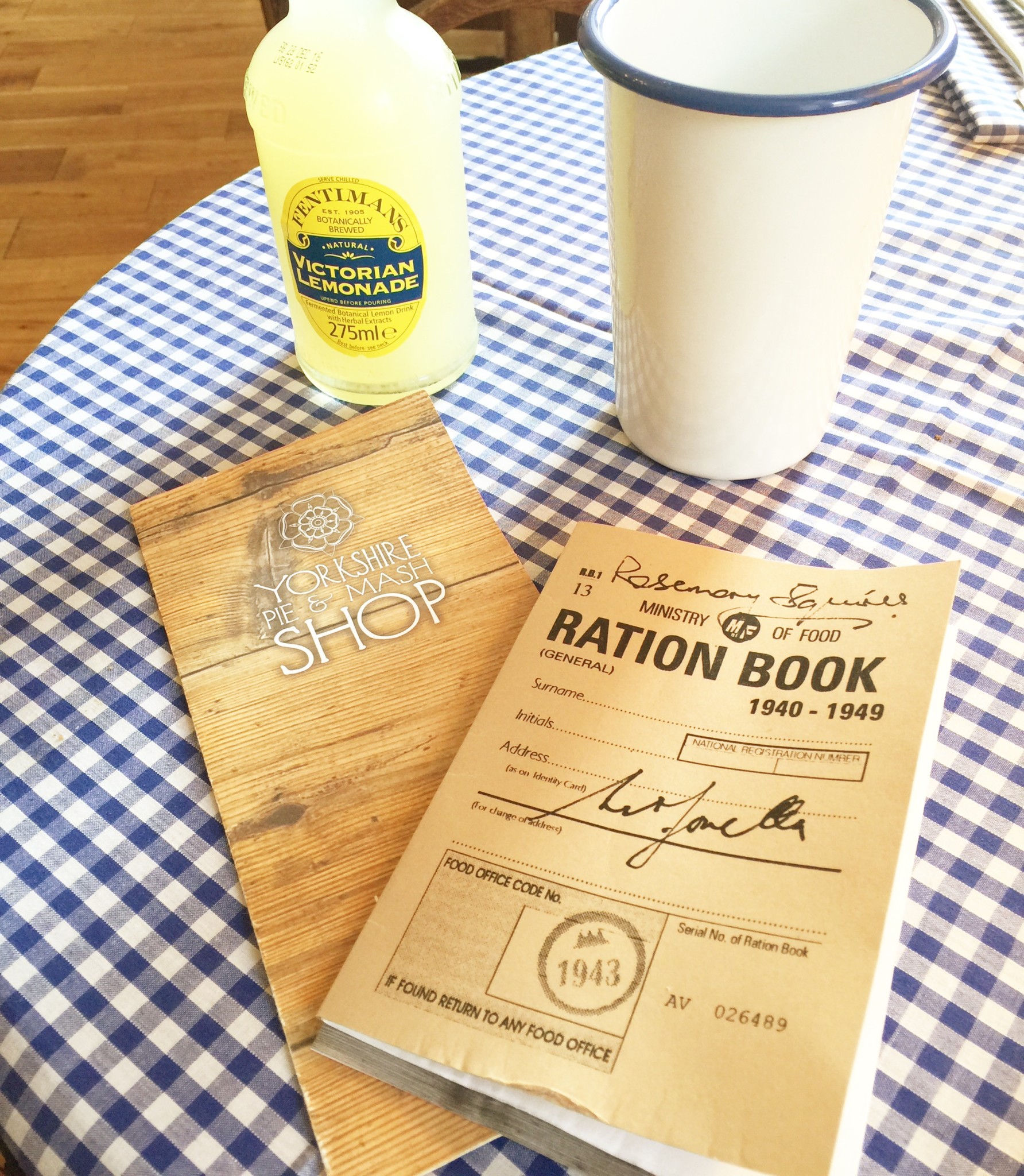 The lemonade comes first; authenticity written all over it. And it's served in a vintage enamel beaker. Attaboy.
A few minutes later, this arrives: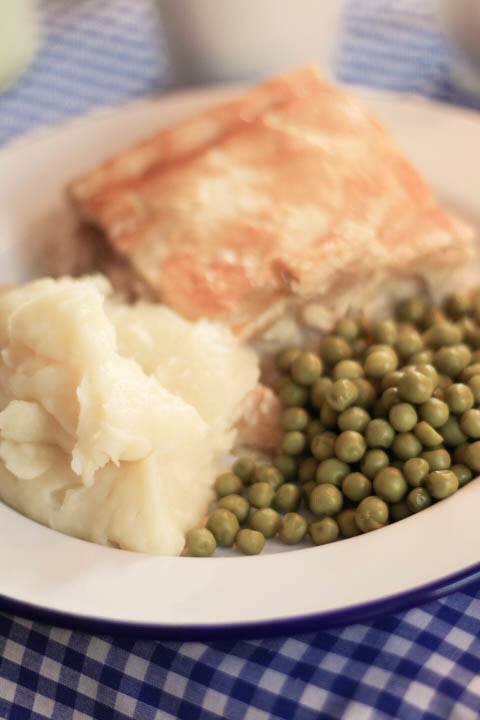 Naturally, I'm really peas-ed.
I'm smitten by the brown sauce, too. In it's own saucy little pot.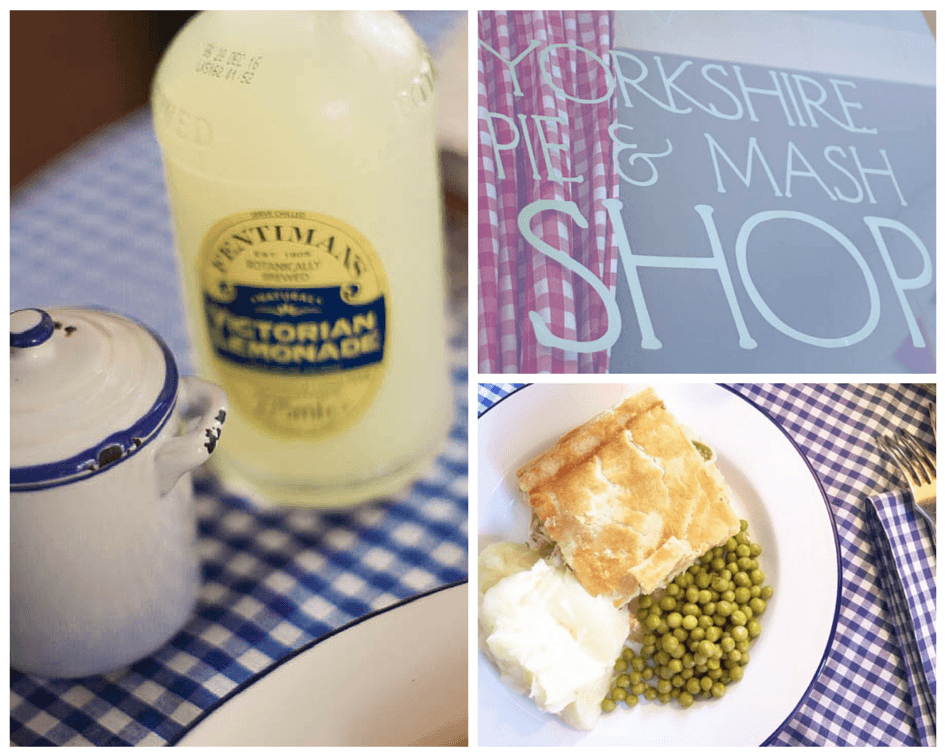 I fill my belly with wholesome, as-it-should-be British grub; the kind nana would make.
Do I have enough room for pudding? I WANT pudding…
Jam roly poly and custard drifts past me, heading for the table opposite. The sweet smell nearly knocks me off my chair.
I open the menu once more. There's treacle pudding. Spotted dick. Bread and butter pudding. And, amusingly, jelly and ice-cream for evacuated children.
But I'm beaten by the pie.
So, instead, I choose this: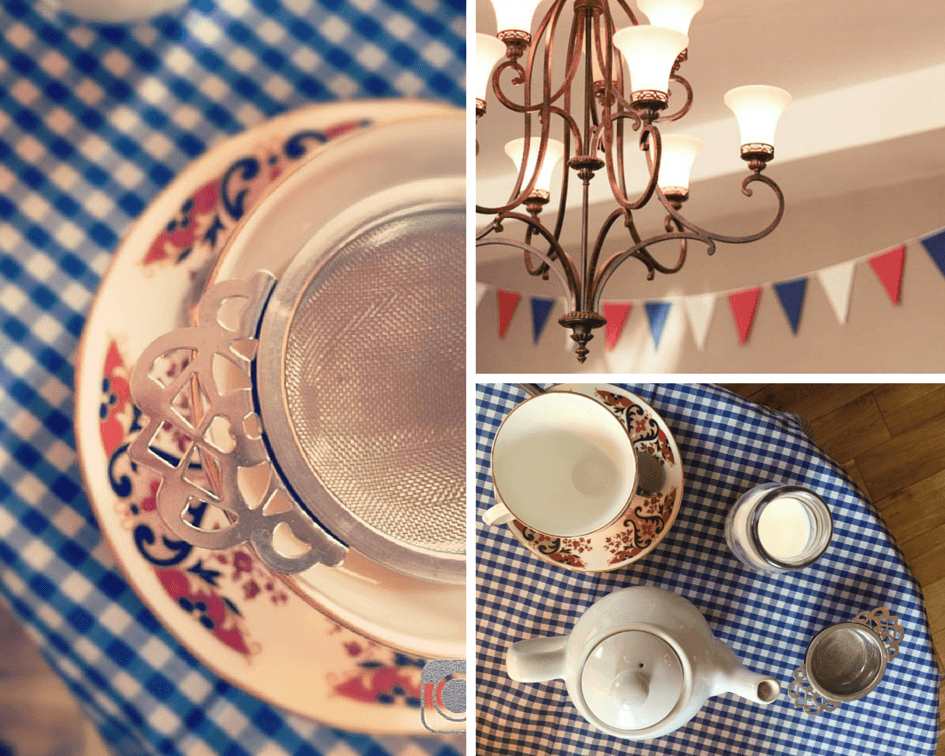 A proper Yorkshire brew, served in a proper china tea cup. With a miniature bottle of warm milk.
One lump or two, dear?
I am head over slingback heels in love with this place.
The beautiful attention to detail that the owners, Rob and Gary, have given The Yorkshire Pie and Mash Shop means it is more than just a themed restaurant.
It is an authentic living, breathing, 1940s' Northern experience, serving comfort food that is so cosy it's like being cuddled by your great gran.
I did not want to go. Fortunately, I wasn't rushed out. In fact, the whole ethos of The Yorkshire Pie and Mash Shop is: take your time.
Scoot away from your table only when you are ready and, if you want to, you can slip into one of the armchairs to relax with the paper before you brace the Northern weather.
There were a couple more surprises when the bill came: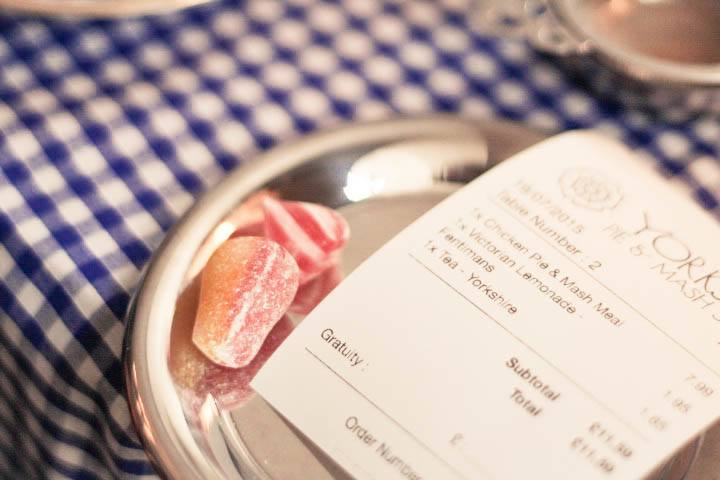 The cost – £11.95.
Gee whizz.
You would NEVER get this kinda food, with drinks, for this kinda price down South.
Surprise number two: pear drops instead of mint imperials. Sweet touch, boys.
I ready my landing gear (legs) to leave and collect my coat.
Outside, I doff my cap to The Yorkshire Pie and Mash Shop – this is one place I won't be keeping under my hat, no matter what Churchill says.
Does The Yorkshire Pie and Mash Shop get your vote? If you LOVE it, please hit one of the social buttons above and share it with your friends. It could be exactly the sort of place they'd like to eat! Thank you—you're the bee's knees (but you don't need me to tell you that)!