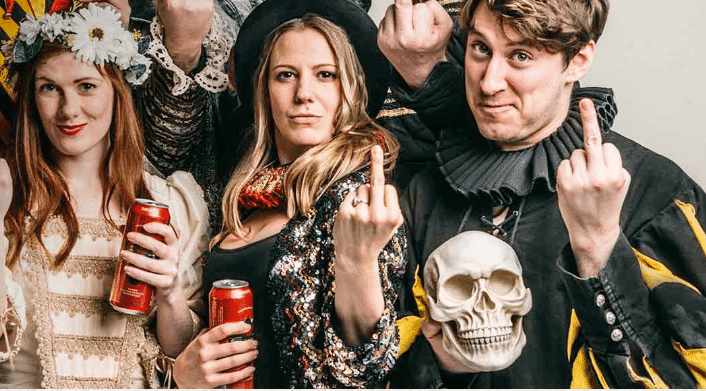 Okay, we spoke too soon: summer is (kind of) coming back for this weekend only, with temperatures set to hit the dizzying heights of the mid twenties. So, unpack that sunhat and make the most of the weekend out and about because there's plenty going on up and down the UK. 
For more ideas on what to do this weekend, there's also my Weekend Directory to visit.  If you do go to any of the events below, swing by the comments below and let me know!
---
Theatre | Sh*t faced Shakespeare: Hamlet, London
Fri 13th – Sat 14th | Tickets: £20.75 – £22.75
Sh*t faced Shakespeare; it does what is says on the tin. A classic Shakespeare tale is performed; however, one cast member is entirely sh*tfaced. Enjoy an entirely serious Shakespeare play with an entirely inebriated cast member.
Prepare yourself for side-splitting improv comedy and a raucous, interactive show. It's already entertained over 45,000 eager theatre goers across the UK and America and was recently at the Edinburgh Fringe. If only drama lessons were this entertaining in our day.
---
Event | Pop up pug café, Cloth Market, Newcastle
Sun 15th | Tickets: £7.50 for pug owners £10 pug lovers
This is the ultimate doggy day out. The pop-up pug café has been travelling the country and lands in the north east this weekend.
Whether you are a pug parent, or you just love pugs, (who doesn't) you won't want to miss out on this one-off event. You get to meet and greet an awful lot of pugs, pet and play with pugs, purchase pug merchandise – it's pug heaven!
---
Festival | The Peaky Blinders Festival, Birmingham
Sat 14th – Sun 15th | Tickets: £67.20 for 2 tickets
The first ever Peaky Blinders Festival will be at Birmingham this weekend! Fans of the show can expect to be immersed into the world of post-war crime.
The festival includes appearances from cast members, panels and discussions on the creation of Peaky Blinders, led by the show's creators. And of course, there will be an homage to the fabulously sexy outfits as the Creative Director of Kent & Curwen will be showcasing their official Peaky Blinders' collaboration. Fans will not want to miss this.
---
Exhibition | The Butterfly Biosphere, Grosvenor Square, London
Sat 14th – Sun 15th | FREE
Enter the Butterfly Biosphere for a unique experiential walk. A Wildlife Guardian will guide you into the enchanting world of butterflies, teaching you about the insects and how they are unsung pollinating heroes we rely on.
There are ample opportunities for selfies in this iridescent dome where you can get up close with the butterfly's flitting all around you. You are also invited to sample nectar which is the butterfly's favourite drink. It's a great, free event for you and the kids to see the delicate creatures up close and learn about their importance in our environment.
---
Event | Historical Pub Tour, The Bell Inn, Nottingham
What better way to spend a Sunday than on a pub crawl? But it's also a history lesson, so that makes it much more cultured and permissible, right?
Tour Nottingham's famous historical pubs. Learn interesting facts about the history of the city and some of its famous past inhabitants – whilst having a pint or two. Explore different ales in many different Nottingham pubs, and even enjoy a tipple in a cave!
---
Want to see your business here?
Do you have an upcoming event that you'd like promoting to our readers? Email us and tell us about it!