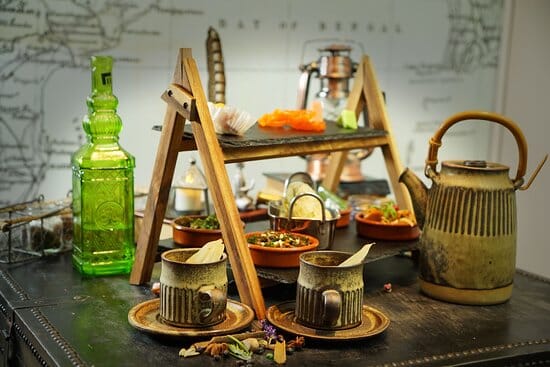 A persistently soggy UK isn't going to dampen our weekend spirits! Let's embrace the autumnal feel with it's chilly mornings, colourful leaves and starry, starry nights, shall we? Here are some cracking things to do this weekend to help you make the most of the autumn vibes.
For more ideas on what to do this weekend, there's also the Weekend Directory to visit. If you do go to any of the events below, swing by the comments below and let me know!
---
Concert | Q The Music: James Bond Concert, Aylesbury, Buckinghamshire
Sat 29th | Tickets: £13 – £27
This Sunday, swap roast dinners and kid's book bags, for a luxe evening of iconic 007 soundtracks.
Featuring all the songs from the James Bond movies, including greats like Goldfinger, Diamonds Are Forever, Skyfall, Thunderball, Live and Let Die, Goldeneye and Licence to Kill – and many more.
With top musicians, stunning dancers and an informative compere, this show has everything you could want for a fabulous night out. Bond girls, let's do this.
---
Event | Wizards and Witches Afternoon Tea, The Exchange, Cardiff
Sun 29th | Tickets: £16.58 – £32.57
Don't let being a mere muggle put you off this wizarding afternoon tea at The Exchange. Fly by for a spot of tea and a selection of tasty treats, including mouth-wateringly magical cakes and savoury sand-witches.
The hotel's very own Grand Hall will be bewitched for the day to look just like the Great Hall at Hogwarts School of Witchcraft and Wizardry, perfect for all those die-hard Potter fans.
While filling your cake hole, your knowledge of the wizarding world will be put to the test, with a potter-themed quiz (with some prizes up for grabs.)
---
Show | The Big Show, Candelriggs, Glasgow
Sat 28th | Tickets: £14.95 – £53
Spend a night watching the biggest and best cabaret show in Scotland! The Big Show will treat you to a night you'll never forget, with a variety of performers from awe-inspiring circus acrobats and side show spectaculars to mind blowing mentalists and dazzling dancers!
Sit back and soak-up the fully-choreographed cabaret show, while dinner and drinks are served. Top off the night with karaoke and dancing till the early hours. Altogether now: "Sweet Caroline…"
---
Theatre | 9 to 5 The Musical, Milton Keynes, Buckinghamshire
Fri 27th – Sat 28th | Tickets: start from £13
Written by the Queen of country Dolly Parton, 9 to 5 the musical tells a tale of three workmates who are determined to shakeup their workplace, inject a bit of fun, and tell their boss' to sod off!
The award-winning soundtrack features over 15 hits, including the famed '9 to 5' and 'Backwoods Barbie'. This show is fresh from the West End where it has received rave reviews, so this one is not to missed. And it gets five stars from us!
---
Event | An evening of live piano at The Gin and Tea Bar, Cheltenham, Gloucestershire
Sat 28th | Reservation: Free
Firstly, a Gin and Tea bar…genius! This Saturday head over for a slightly sophisticated, slash, slightly tipsy evening of live piano, by their talented pianist at Cheltenham's Gin and Tea Bar.
Gins will be flowing, while the classical music plays, making for a very cultured night indeed. The bar will be serving food and of course a vast variety of drinks, especially gins. We recommend you book as this will be a very popular event.
---
Want to see your event here?
Do you have an upcoming event that you'd like promoting to our readers? Email us and tell us about it!