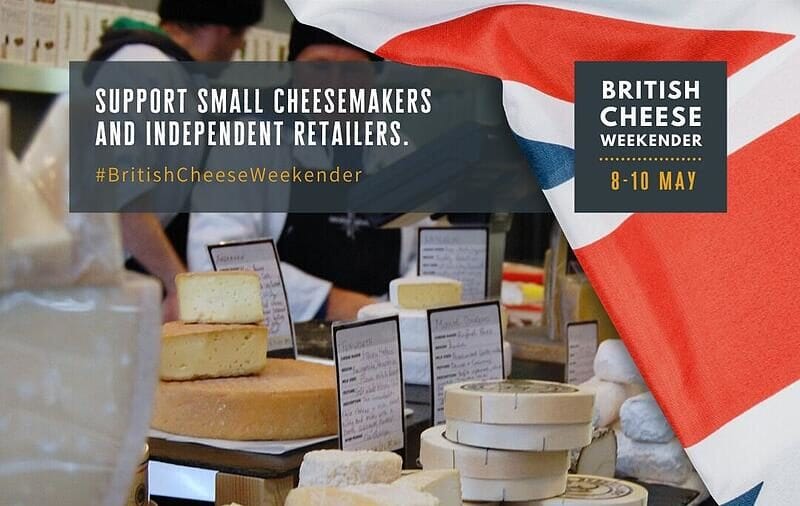 Cheese heaven for UK cheese heads, starts this weekend (8th – 10th May)
Say cheese, friends! It's time to celebrate all things cheesy with the free virtual British Cheese Weekender.
Hosted online from 8-10th May, this inaugural festival of cheese will be live streaming expert talks, farm tours, quizzes and cookery demonstrations from Britain's top cheese experts.
This fabulous celebration has been put together by The Academy of Cheese to help support small cheesemakers and independent retailers during corona:
"The future of hundreds of small farmhouse and artisan cheesemakers in Britain is in the balance after many lost up to 90% of their business overnight when restaurants were closed in the Coronavirus crisis, while many supermarkets focused on factory-made block cheeses. There's a real danger we may lose some of our greatest cheeses if we don't act."
So join in this weekend and help save British cheese! The programme is set to send you crackers – and we've picked some events that you're sure to love:
'How to Eat Cheese' with Patrick McGuigan – 8th May at 8.30pm
Get the insider tips from cheese writer Patrick McGuigan, so you'll be ready to impress people post-lockdown. Simply head to Patrick's Instagram page (@PatrickMcGuigan1) for a live workshop on how to use the Academy of Cheese's 'Structured Approach to Tasting' and how to pair your cheese with unusual drink matches.
'Cheese Etiquette 101' with Tom Chatfield – 8th May at 6pm
Tom Chatfield – international man of cheese – will be demonstrating how to cut, care for and enjoy cheese during lockdown. To join him, head to the British Cheese Weekender site.
'Endangered Cheeses' with Jenny Linford – 8th May at 7pm
Quarantine is the perfect time to get cheesy. On 8th May at 7pm, join food writer Jenny Linford live on her Instagram (@JLinford) to find out why we need to be eating more good cheese.
'Cheese and Wine 101' with Lydia Harrison and Patrick McGuigan – 9th May at 5:30pm
Join wine master Lydia Harrison and cheese-pro Patrick Mcguigan to gain insider tips for the best cheese to serve with bubbly, red and sweet wines. Head to the British Cheese Weekender site to take part.
'Garden Leaves and Cheese' with Mary Quicke – 10th May at 6pm
Transport yourself to springtime Devon for live tips from Mary Quicke of Quicke's Cheeses on pairing your favourite salad leaves with the right cheese. She'll talk about springtime on the farm and her love for home grown salad lettuce. Join her  live session on the Quicke's Instagram page (@quickescheese).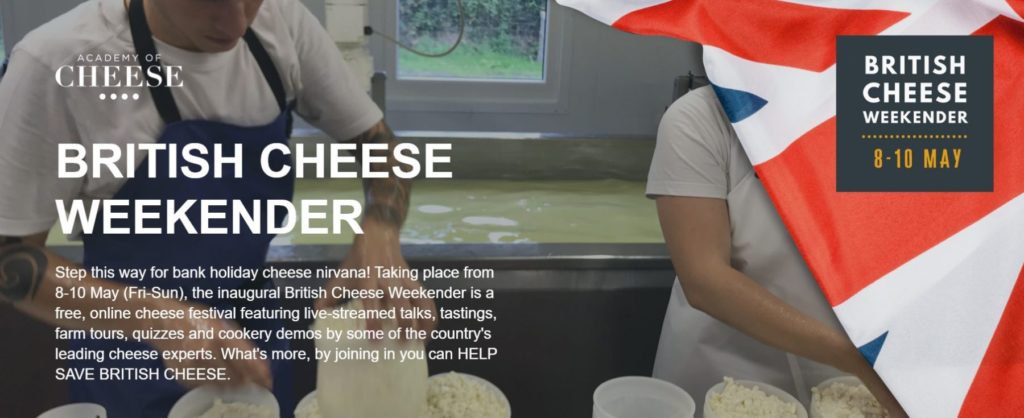 Pic Credit: British Cheese Weekender, Academy of Cheese
---