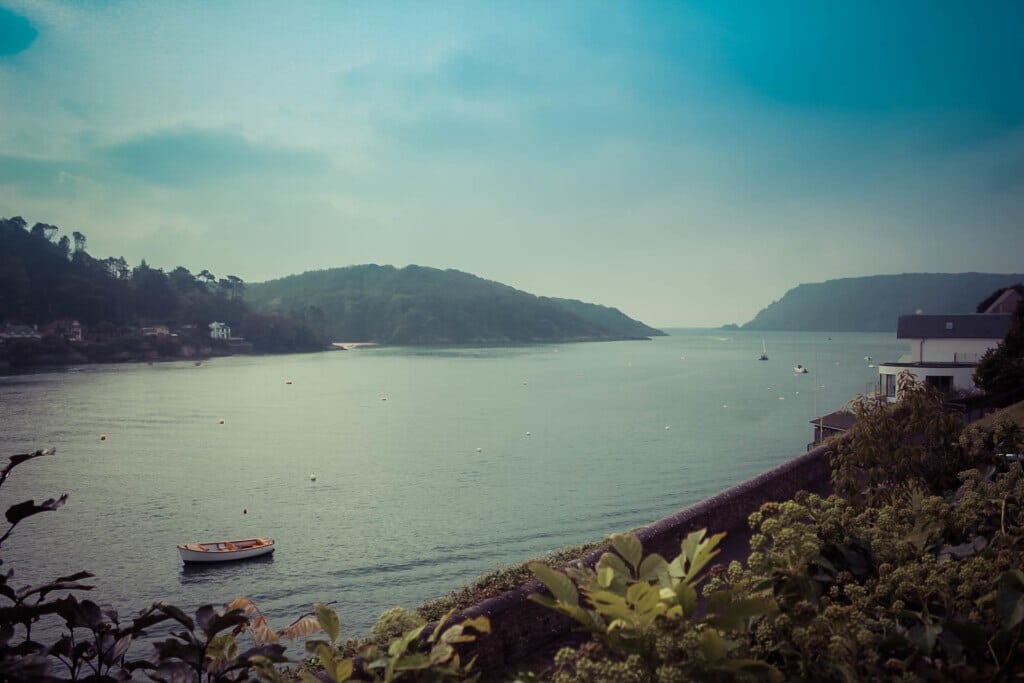 South Devon is a stunning part of the UK to spend your weekend. This weekend in Devon guide takes you to the heart of three of its prettiest spots: Kingsbridge, Salcombe and Bigbury-on-Sea. 
---
START YOUR SATURDAY IN KINGSBRIDGE
The southern-most tip of Devon boasts some of the prettiest towns to visit for the day. Nowhere more so than Kingsbridge. This friendly market town packs a touristy punch for its small size: set on a tranquil slice of estuary in an Area of Outstanding Natural Beauty, it's got waterside good-looks, historic character, old-fashioned charm and a palpable joie de vivre. In other words, plenty to keep you hooked for a delightful Devon day out – as we discovered.
MORNING
To market, to market | 10am
Plan your weekend in South Devon to coincide with the Kingsbridge Farmers' Market, held on the 1st and 3rd Saturday of every month in the town square. Although the market is small, the local spirit makes it feel giant. Faces creased into welcoming smiles as I approached – no-one's in a rush to push a sale or turn icy if you're simply browsing. Among the warmth of the stall holders, were handcrafted gifts, home-baked goodness, and the sizzle and spit of local produce being cooked al fresco. Accompanying it all, and lifting hearts as the sun shone, was the breezy sound of an acoustic guitar. Devon sparkle.
A soulful lunch | 12pm
The Harbour House is a layer cake of meeting rooms, yoga studios, impressive art and organic food. Before lunch, steal away into the house's ground floor gallery and relish the work of local artists. We met artist in resident, Keith Stott, a gentle-mannered pastel painter whose work was so exquisite it was hard to leave empty-handed. Afterwards, climb one flight of stairs to the vegetarian Harbour House Café – a light, airy chill-zone with a small mezzanine overlooking the gallery. Fill your belly with local allotment-grown food (my roasted vegetable hummus was simply divine), washed down with Fairtrade coffee or a splash of organic crush. Soul food to nourish the rest of your day.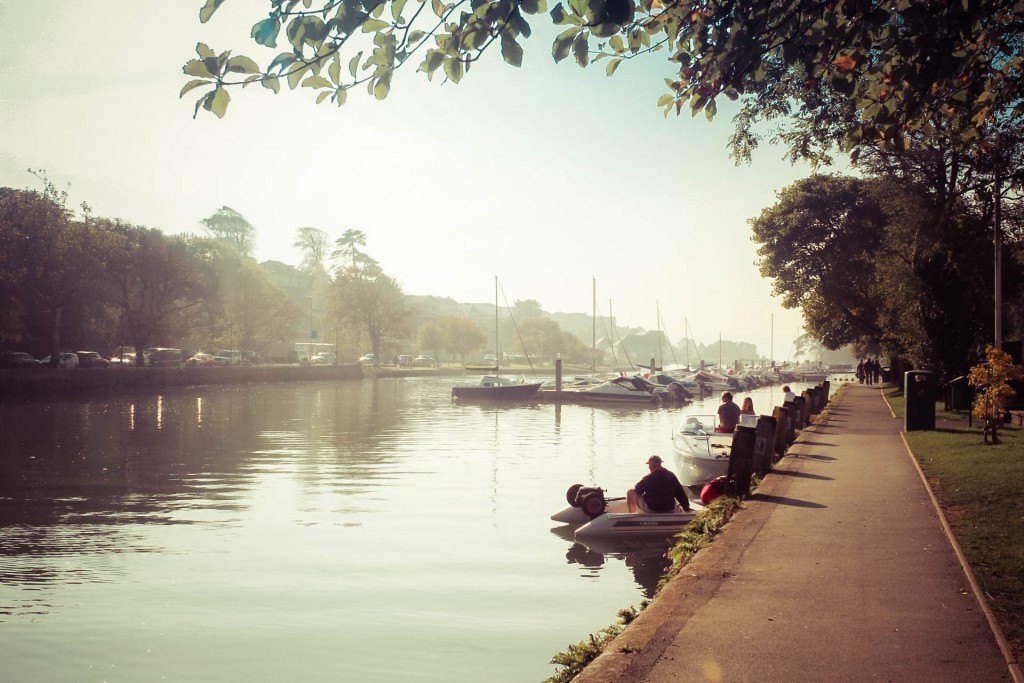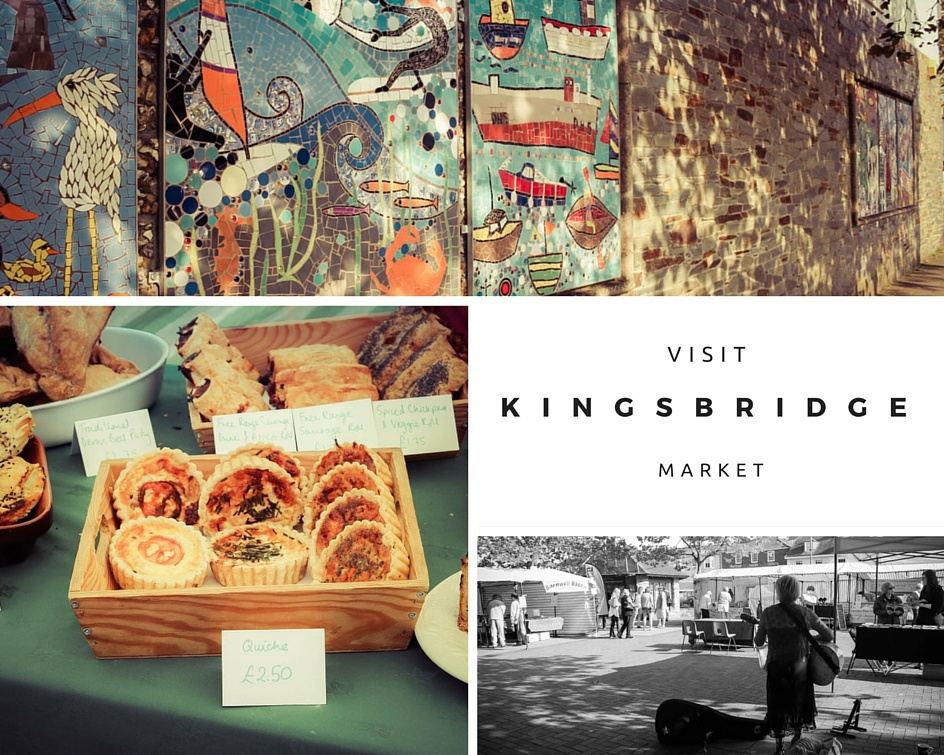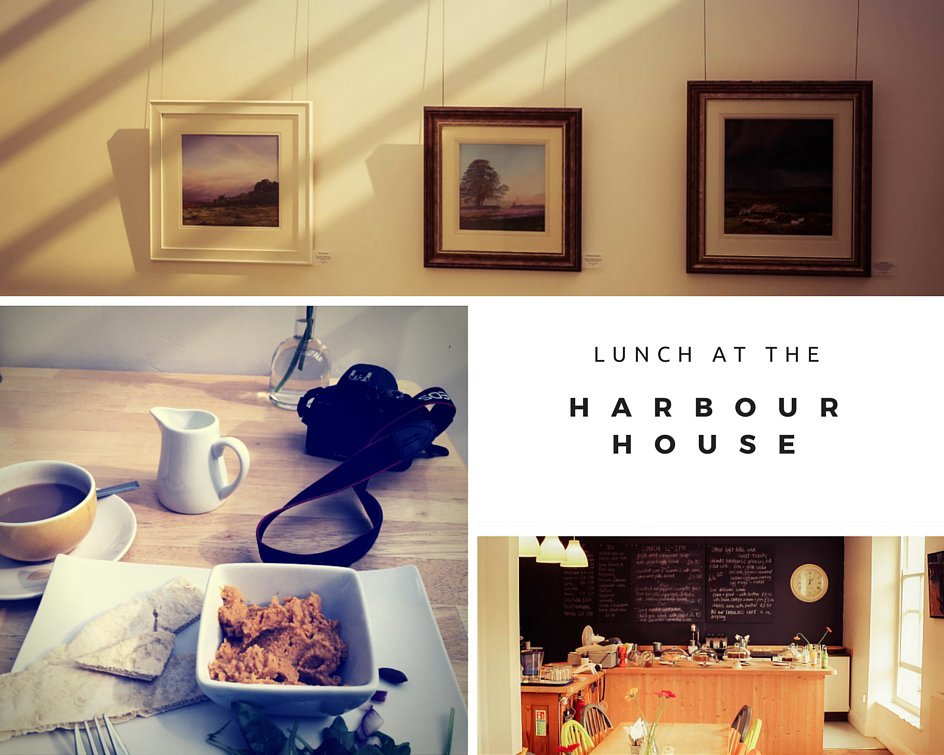 AFTERNOON
Tour the town | 1pm
Kingsbridge formed in the 10th century around a bridge linking the royal estates of Alvington, to the west, and Chillington, to the east. In 1219, the Abbot of Buckfast was granted the right to sell produce and so began Kingsbridge's tradition as a market town. Stroll your way through Kingsbridge's history, following the town trail (pick up a guide at the Tourist Information Centre). It's a gentle, 1-hour long walk that takes you past the town's main sights and sounds: the Old Town Hall, now the Reel Cinema; St Edmunds Church; and the Old Shambles walkway. Along the way you'll notice family-owned drapers, butchers, bakers and hardware shops. This is a town not shy of showing its traditional roots, making shopping here a refreshingly authentic experience during your weekend in South Devon.
Hit the quay | 2pm
Finish your tour at the bottom of town next to the picture-postcard quay. Sidle beside the estuary, a ria (or drowned river) that stretches six miles to the gaping mouth of the English Channel. When the tide is high, boats dot the perimeter like stitching on a seam. When the tide is low, mud flats gleam in coffee-coloured swirls. Sail by breathing in the fresh sea air and admiring the manicured houses that overlook the estuary on the Promenade. If you can, grab an ice-cream from the nearby Salcombe Dairy ice-cream hut – cool creamy bliss and just the sugar rush you need before your next adventure.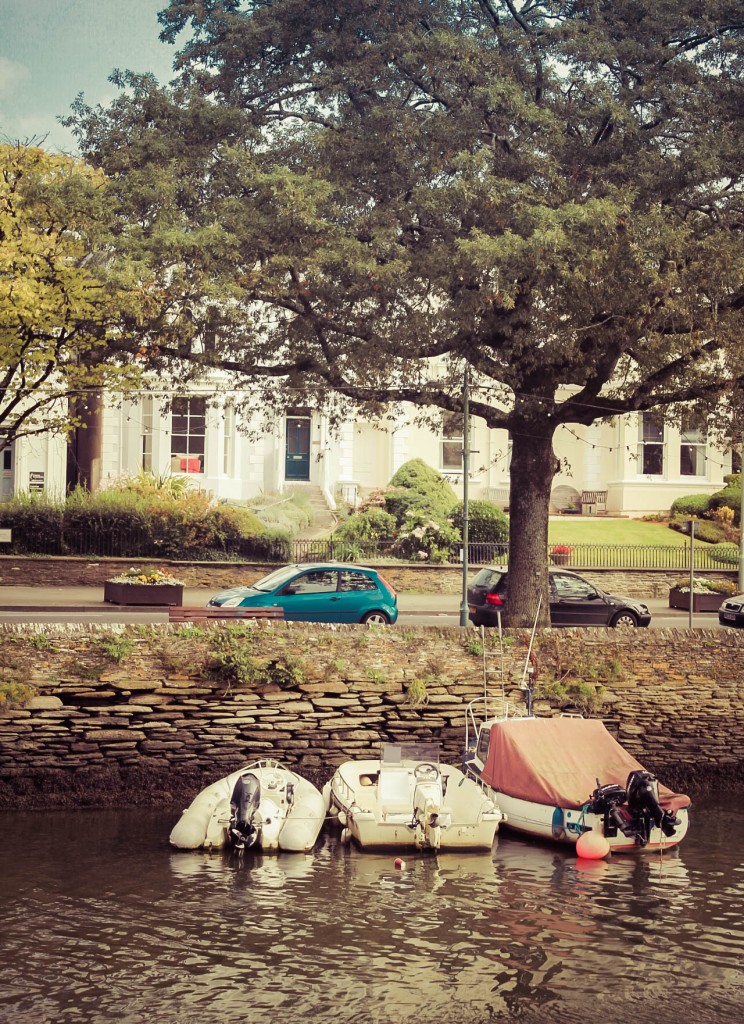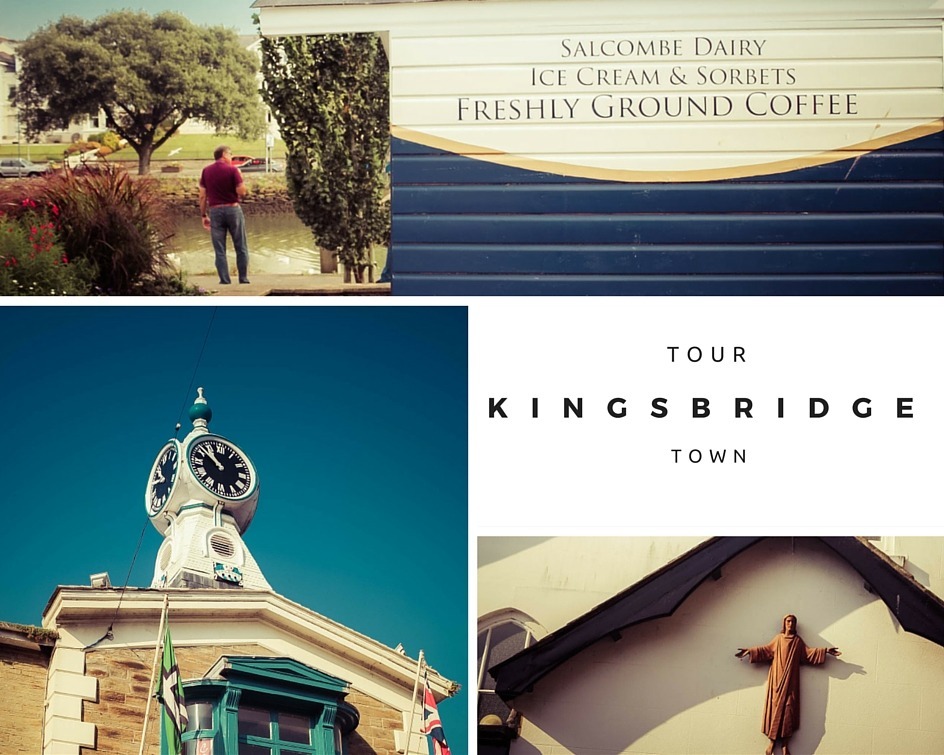 Catch a wave | 4pm
Head west from Kingsbridge to Bigbury-on-Sea; it's time to release your inner Devon surf dude. Expect epic coastal views as you snake down the ribboning back roads to this tip-toe of land where the largest sandy beach in South Devon awaits. Make tracks for Discovery Surf, just below the main car park. For £20 you can slide into a wetsuit, grab a board and receive expert coaching from the school's pro instructors. Our 1-hour lesson was flooded with good vibrations: we splashed, laughed, fell and – wait for it – rode the waves, as we were promised by Discovery Surf. It was insatiably swell. In fact, the saltwater sunk so deep that day we've not stopped talking about going back for more.
Queen of mystery | 5pm
To the right of the beach is a pretty tidal outcrop known as Burgh Island. Sink your best foot forward and head across the silver sands towards the island. If the tide is high, pay your £2 to cross on the towering sea tractor. A one-time haunt of smugglers and pirates, Burgh Island hasn't lost its mysterious charms. The rich and famous used to hide out here in the 1930s – most famously Agatha Christie, who sought refuge in the island's luxury hotel: The Burgh Island Hotel. You can't visit the hotel as a day guest, sadly. You can only stare through art deco gates as it regards you with an arctic gaze. But the thrill of being close to such an icon is worth it.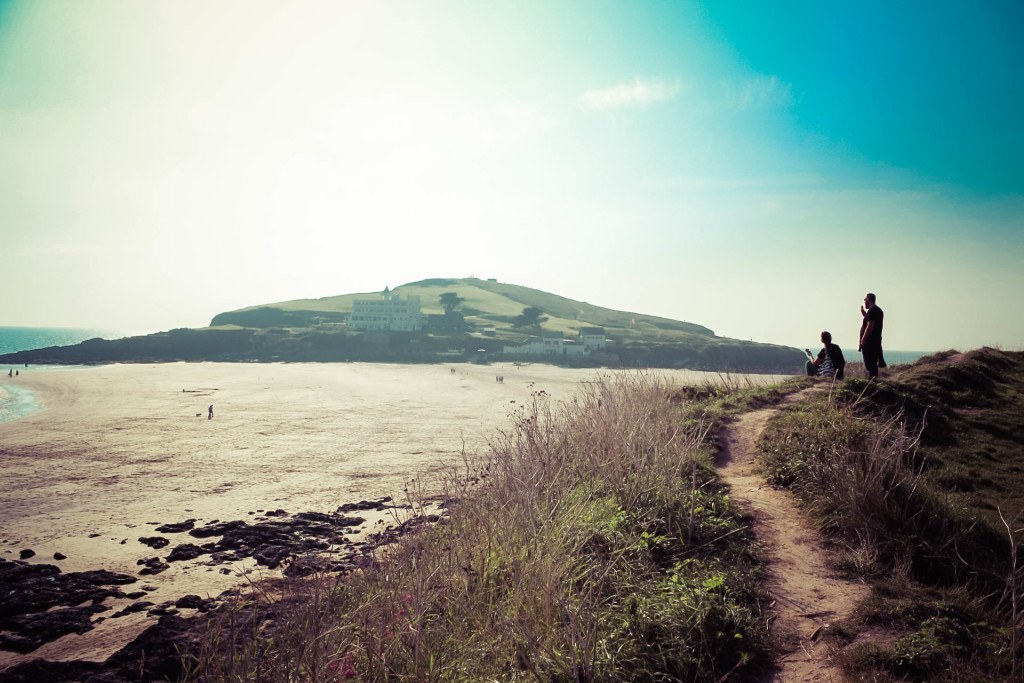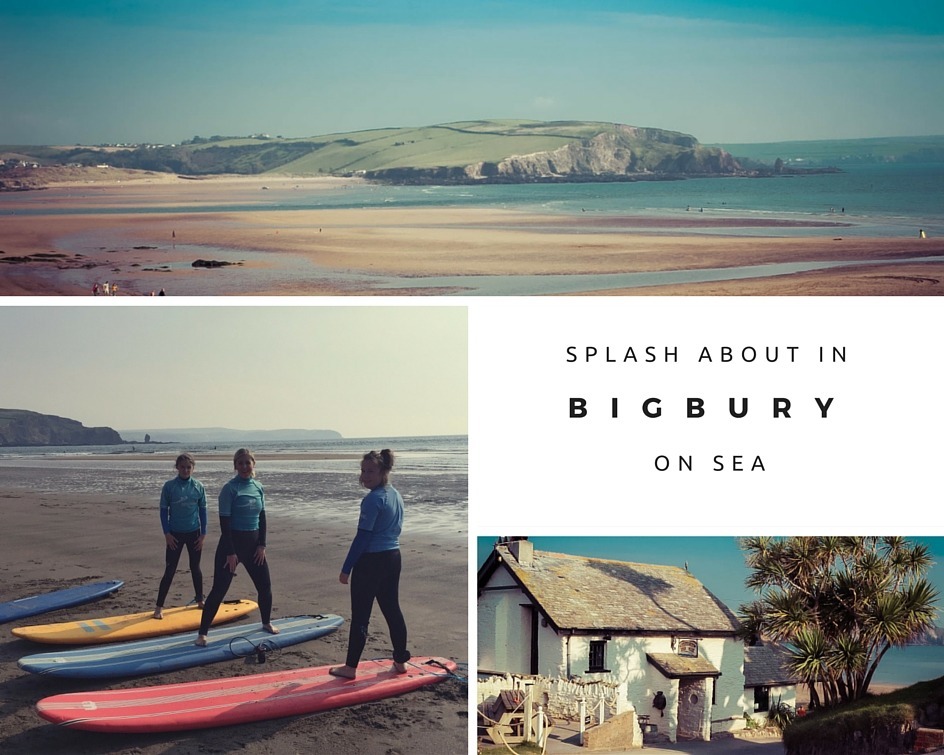 EVENING
A starlet dinner  | 7:30pm
Soar Mill Cove has been owned by the Makepiece family for three generations. During its time, it's played host to many starlets, the most famous being Audrey Hepburn who fell in love with the incredible location and Granny Makepiece's summer pavlova. Winding roads thick with hedgerows take you to the hotel nestled in a spot so secluded, it's a wonder Google maps can spot it. Although fancy, the atmosphere of the Soar Mill Cove restaurant was anything but aloof. On our visit, diners chatted respectfully across tables, sharing tales of Devon with warm smiles. Our waiter was wonderful; nothing was too much trouble and our dinner was sublime (the Hepburn pavlova worth every calorie).
Starry night, night  | 10pm
Holiday cottages are a serious business in Devon. Fuschia Cottage is just 10 minutes from Kingsbridge and played host for our trip, courtesy of Toad Hall Cottages. It couldn't have been more perfect. The décor was fresher than a polo mint, untouched by paying guests – we were the first in since the cottage's renovation. Downstairs, an elegant wood-floor dining room and lounge, complete with a brand new log burner awaited. The kitchen thrilled us all with its heated tiles. And upstairs were two immaculate double bedrooms with sink-soft beds. The location was secluded and serene, and as the night rolled in, we fell into a peaceful slumber. Smiles fixed firmly on our faces.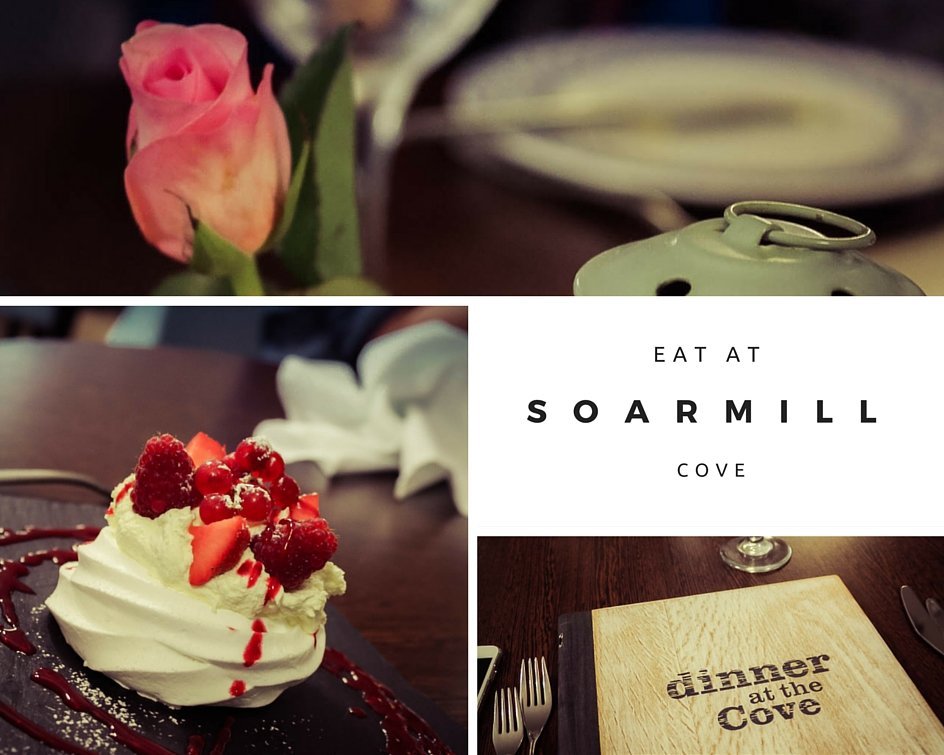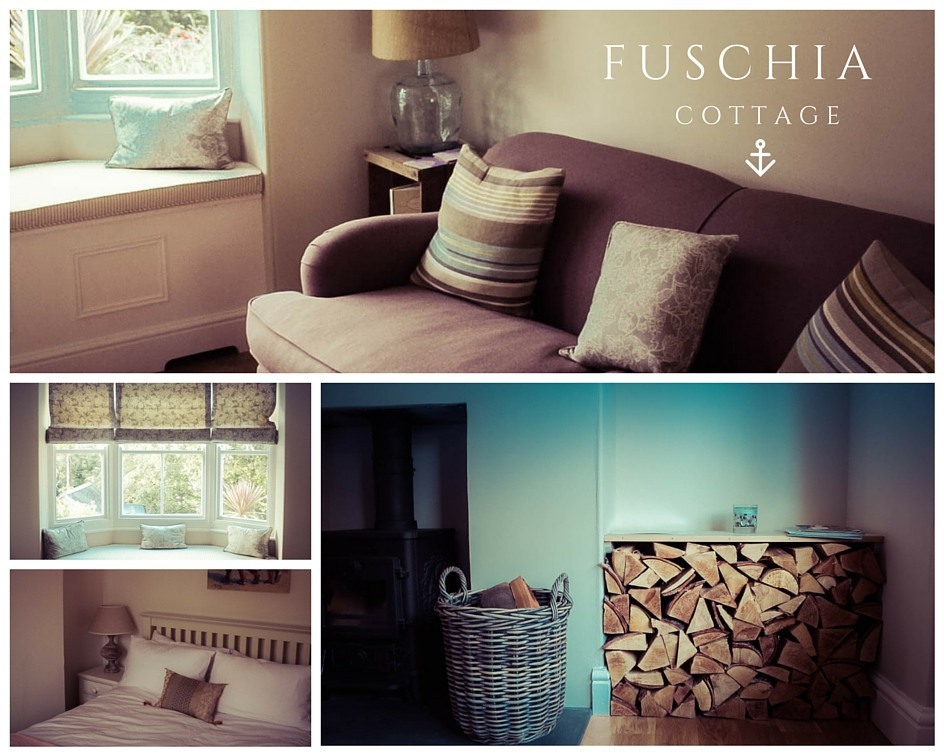 SPEND YOUR SUNDAY IN SALCOMBE
With ice-cream coloured houses, a swirl of pretty streets, and an achingly-pretty coastline lapping at its feet, Salcombe has to be one of Devon's most attractive harbour towns. Stacked daintily near the mouth of the Kingsbridge estuary, sheltered by steep emerald hills, it's the perfect escape for those tired of the crash and grim of metropolitan life. Retreat here for a day of salty chips, bracing cliff-side walks, and sea-scented air – and leave the weary world of mobiles and motorways behind.
MORNING
Word on the street | 10am
Start slow. Lace up comfy deckshoes or walking boots and stroll along Salcombe's colour wheel of narrow streets. It's no surprise that the very first Jack Wills shop opened up here in Fore Street in 1999; Salcombe's sailing heritage is evident wherever you tread, and the yachtie crowd are hard to miss. Make your way along Fore Street, running through the heart of the town, window-shopping as you go. Independent boutiques and cafes mingle with a small scattering of high street brands. Whether you splash your cash or not, the walk is refreshingly pretty and the ambiance friendly.
Hello Sailor | 11am
At the top of Fore street you'll find Sailor V. Pause here for a coffee or fresh OJ in easy-going faux-baroque surroundings. The café is a popular sweet spot, especially for breakfast. On the Sunday I visited, people were hungry for Sunday broadsheets and neatly done eggs and bacon. As well as its much-lauded breakfasts, Sailor V serves home-cooked lunches comprising of a daily-changing specials board and a range of fresh dishes, including crab. Alongside the grub, the drinks list is well portioned: delicious coffee and teas, superstar smoothies and milkshakes to go or drink in. Next time, I'll order sunny side up and definitely stay for longer.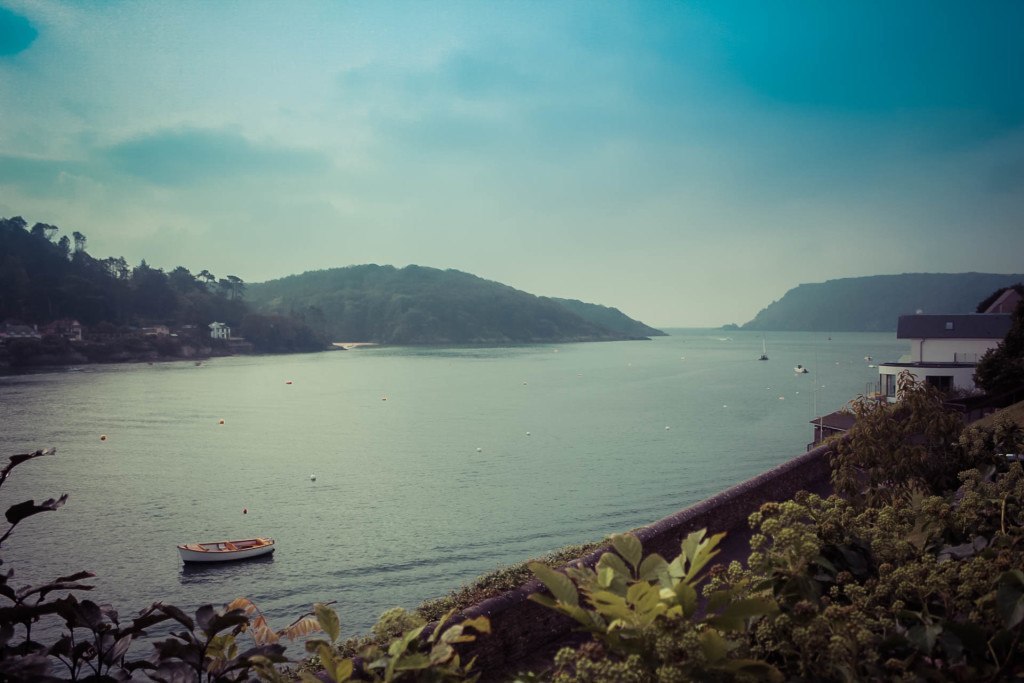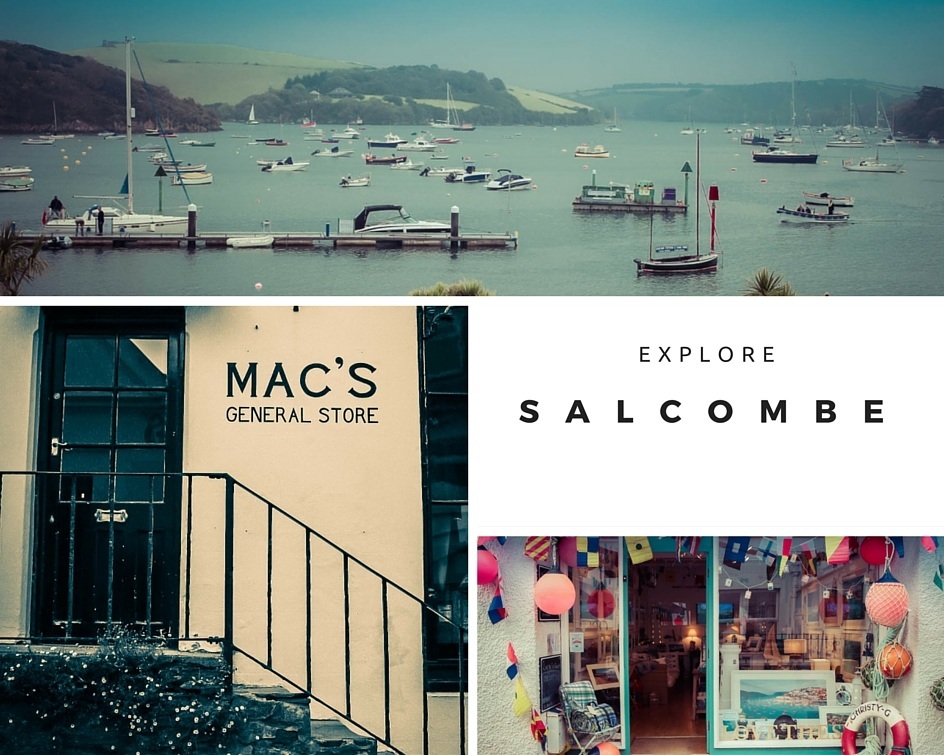 MIDDAY
Sweet treats | 12pm
Don't leave Salcombe without a visit to Cranch's Sweetshop. This candyfloss-pink Aladdin's Cave has been thrilling Salcombe's sweet-tooths for nearly 150 years and boasts the charming mantle as 'the oldest sweetshop in Devon'. Handily positioned next to Salcombe ice-cream shop – on a sort of sugar-rush row – Cranch's Sweetshop is stocked floor to ceiling with every kind of traditional treat. Hardboiled this, dib-dab that – best of all, you order as you would've done 100 years ago: from plastic jars measured by the quarter. Your sugary quarry then comes wrapped and rolled in a pink-striped bag. I left with a bag of liquorice bullets and a very big grin on my face.
AFTERNOON
Ferry Along | 2pm
Jubilee Ferry Pier isn't the easiest to find, which means you'll be jubilant when you do. A flight of crocked steps runs next to the Ferry Inn and the pier itself sits, out of sight, at the bottom. Once here, catch the 'ferry' across the estuary to East Portlemouth – on the opposite side of the estuary to Salcombe. Note: this is 'ferry' done Devon-style. Think fishing tug-boat with a saltdog skipper and you're there. Climb aboard with help from the skipper's strong grip, pay your £2 fee, make yourself comfy on the soft-wood seats, and smile farewell to the colourful crescent of Salcombe town as it sinks into the distance. The views along the estuary, as you cut through the milky-blue, are delicious. This is one commute you won't tire of easily.
Bygone Bays | 3pm
Arrive to the golden flanks of East Portlemouth, with its supermodel views back across to Salcombe. Head up the slipway onto the firmer footing, then turn right as you exit, following the concrete road until it drops gently down to become the serene sands of Mill Bay. This part of South Devon is well-known for its beautiful sandy inlets and Mill Bay is no disappointment. It's a vast triangle of beach, sown into the rock and hemmed by thick woods. There's a car park and toilets to cater for the summer crowds, who undoubtedly flock here when temperatures rise, but out of season Mill Bay is virtually empty save for the odd walker or amateur photographer.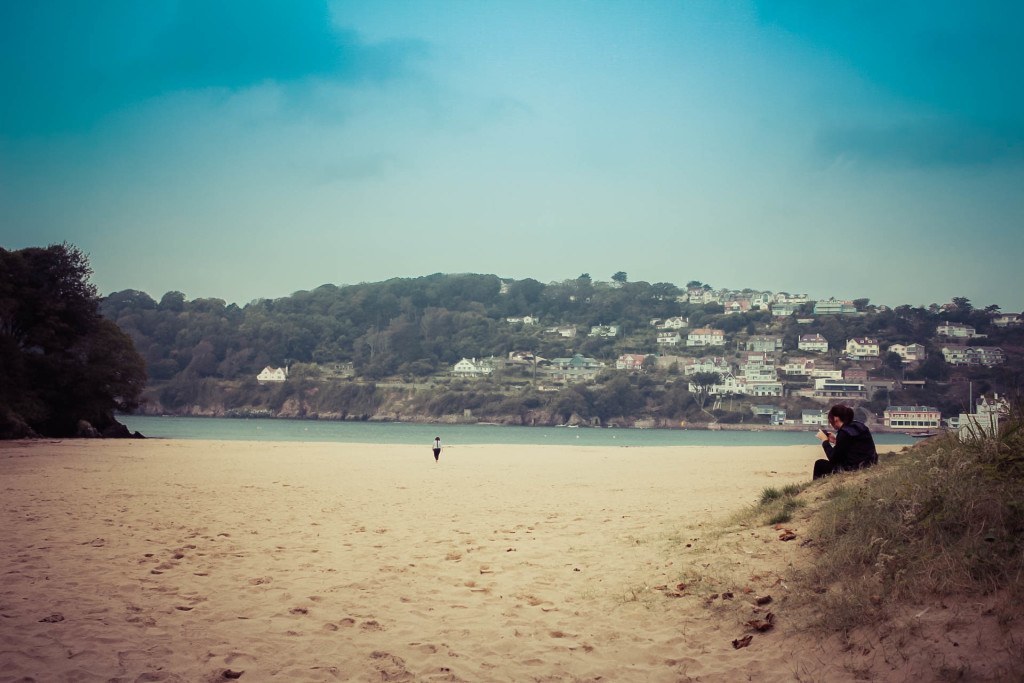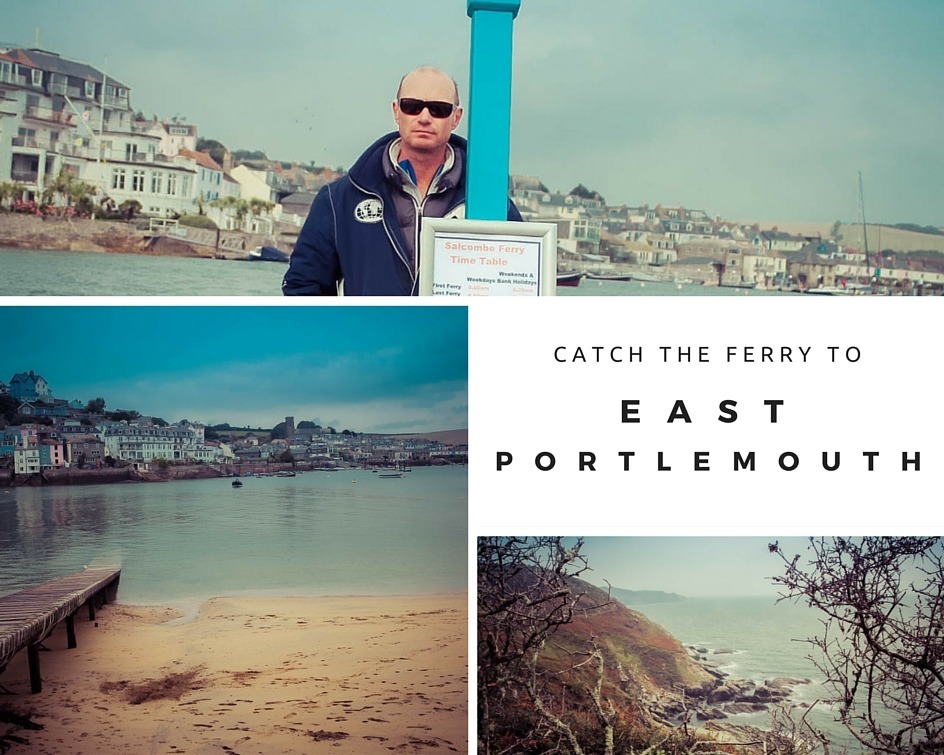 Cliffhangers | 4pm
Follow the National Trust Coast Path from Mill Bay, up through the twists of trees to the top of East Portlemouth. The going is steep, the terrain rocky – so be careful. East Portlemouth is the Heathcliff to Salcombe's Edgar Linton (I'm a Bronte fan, sorry), so you exit the sheltered tranquillity of the woods on top of a jagged hunk of rock and bracken, with the serrated grey of the Atlantic rolling out to the horizon. The hour-long coast walk that follows is rugged, wild, and raw. In some places the paths are little more than uneven ledges with the wind trying its best to knock you off balance and the brittle gorse battling to keep you shielded from the drop. This is a walk not for the faint-hearted. Even the sheep, with their Velcro-like ability to eat whilst balancing on the knife-edge cliff, sent out bleats warning us to step carefully as we tottered past.
EVENING
Rockstar dining  | 6pm
The first sign of life on this wild headland, other than seagulls and sheep, is a thatched white tower announcing your arrival at Gara Rock hotel. Gara Rock started life as a string of fishermen's cottages. In 1909 they were turned into a family hotel and soon became the go-to retreat for the rich and the famous. Completely rebuilt for the 21st century, the building provides dramatic contrast   to its dramatic surroundings: clean lines, white buildings, glass panoramas.  Stop here at café-ODE for a late lunch or dinner (muddy paws are also welcome), taking a seat by the cinematic glass window looking out over the coastal wilds you've just left behind. Café-ODE is a masterful concept: true food, served with first-class sustainable values. Everything is locally and regionally produced, and only the finest organic fare makes it to your table. Food comes not on plates, but in recycled paper trays, which are then composted. The cutlery is also compostable. It's a wholesome experience and the food? Well, it rocks.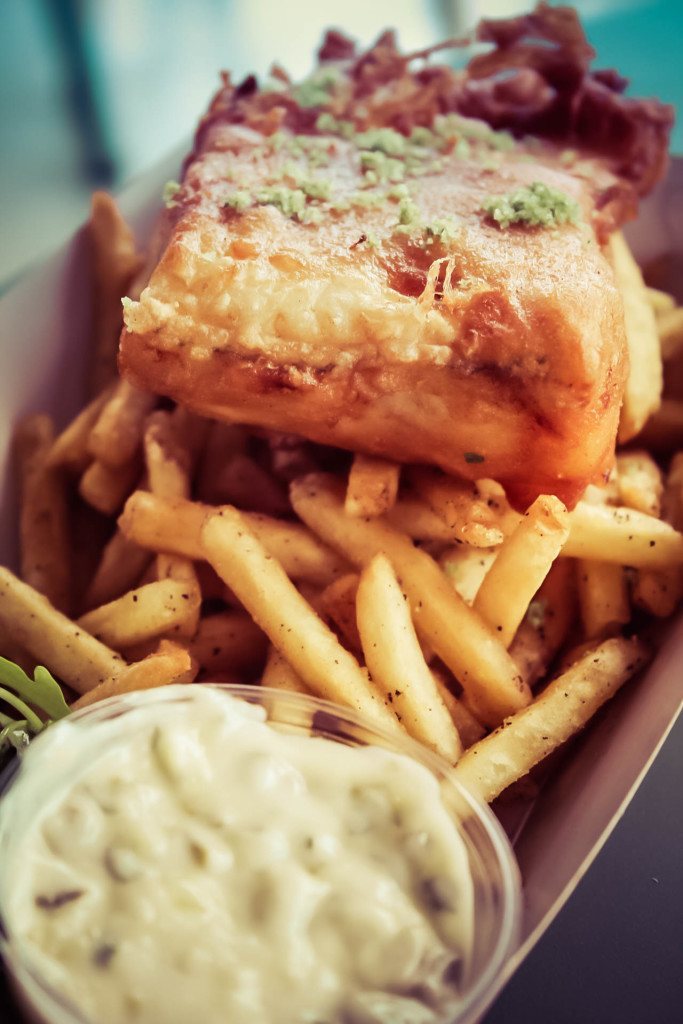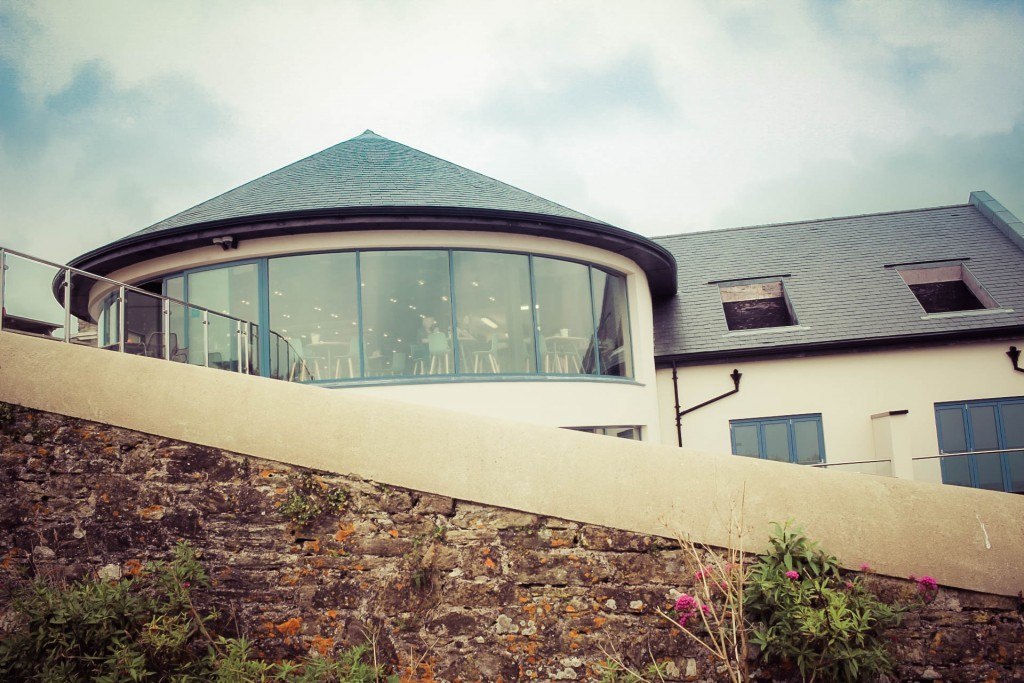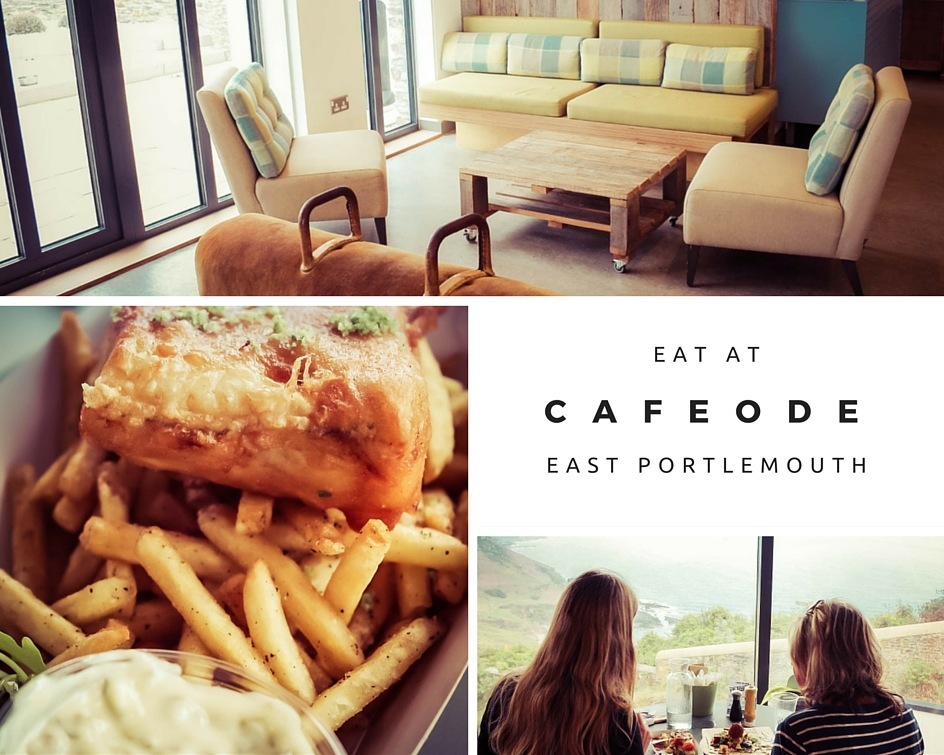 Disclaimer: Our Ed-in-Chief, Claire visited Kingsbridge and Salcombe for a weekend in South Devon compliments of Visit South Devon to write this article. She was kindly hosted by Toad Hall Cottages, Cafe Ode, the Harbour House Cafe, Soar Mill Cove and Discovery Surf.