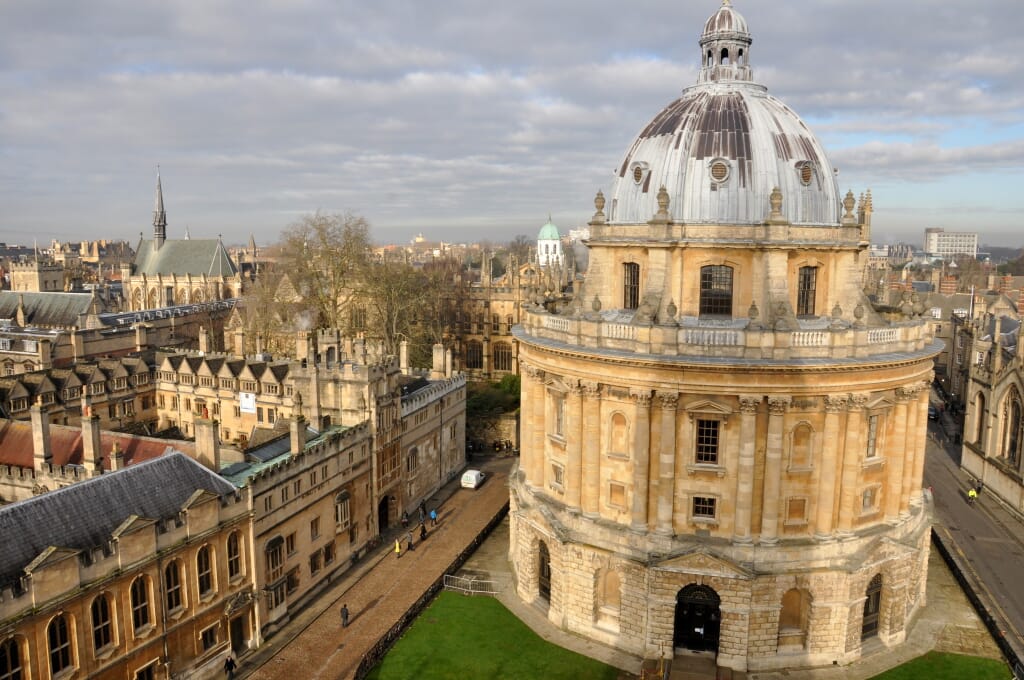 There are not many cities in the world where you can enjoy hot, bubbling pizza in the room Shakespeare slept in. Or drink cold, local beer in the pub where C.S. Lewis and Tolkien found friendship. But on a weekend in Oxford you can.
This city, only an hour and a half out of London, is where the architecture is served so sweet, it quickens the heart; where the world's brightest and most talented float past in black gowns and pink carnations; where philosophers, scientists, authors and politicians have lived, loved and lost.
This is a city that's inspired Hollywood movies and blockbuster literature; a place that'll leave you richer, wiser and happier that you've been, but sad that you're going.
As a self-confessed history and book nerd, Oxford seriously floats my paddle steamer. If you're a nerd, too – then let Oxford in to your life for a weekend and you won't regret it.
Friday Evening | Down by the River
Settle your bags down at The Head of the River pub on Oxford's famous Folly Bridge, opposite the equally famous Salter's Steamers – a boat rental company that's been ferrying families up and down the River Thames since the 1800s (one of its patrons was Lewis Carroll who used to take the real-life Alice and her sisters on boat trips from this spot).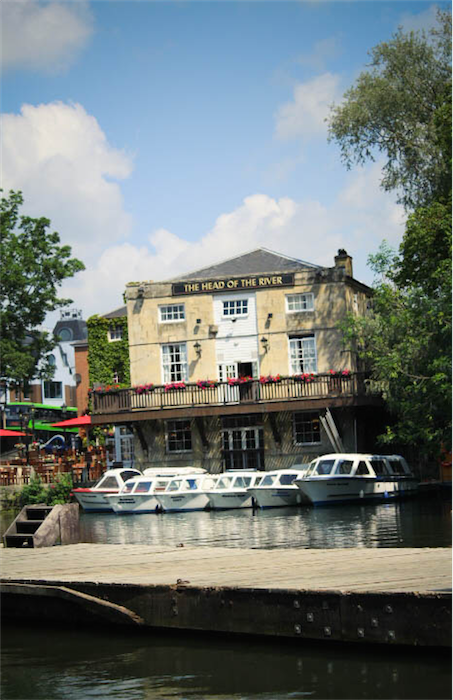 Once upon a time, The Head of the River pub was a boat yard; a glimpse of its nautical past is still rooted to the pub's terrace in the form of an unmoving iron lift.
Today, the boat engines are gone, replaced by a Fuller's pub with 12 B&B rooms, named after notable local folk.
Ours, The Lewis Carroll Room, is smartly dressed, and well-provisioned. What's more, it's not too pricey considering how close The Head of the River is to Oxford's city centre.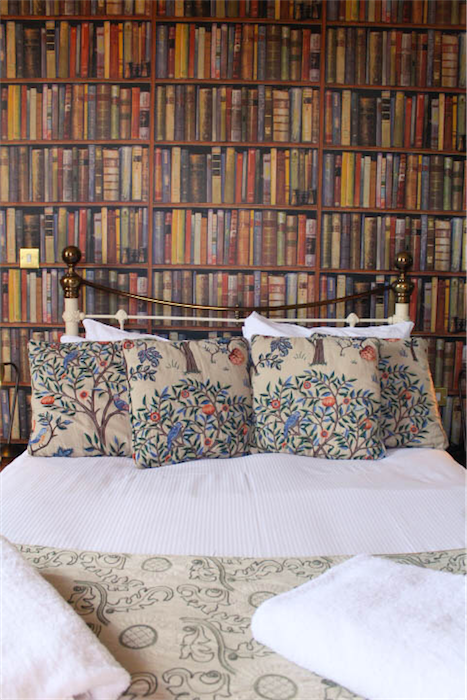 The pub itself, however, is a little more rough and ready. Flat-screen TVs showing sport. Spoons with numbers on. That kinda thing. I'm not a snob – I grew up in a pub. But if it's elegance and peace you're after, you may want to look elsewhere.
Mind you, once your bags are dropped, and you're ready to chill, the Head of the River's riverside terrace is an excellent place to unwind with hearty grub and a splash of something cool.
Nerdy tip: The Head of the River pub is a comfortable, value for money place to stay – and its dead central – compared to the sky-high room rates of other Oxford hotels.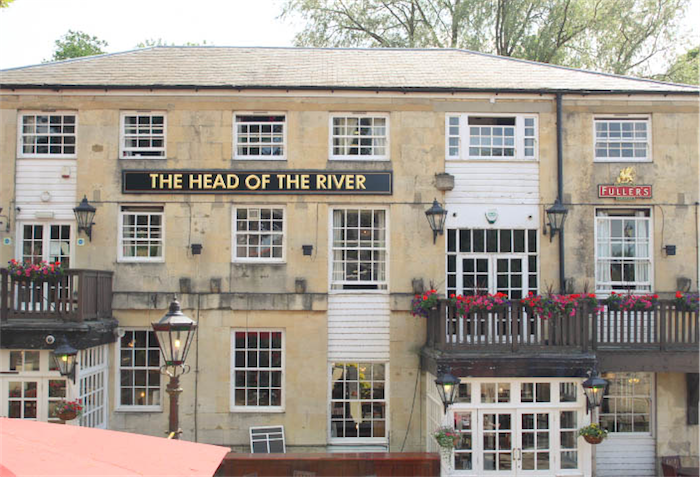 Saturday Morning | Up the History
Oxford is prickled with 'dreaming spires'. And one of the best places to get the city in perspective is Carfax Tower, also known as St. Martin's Tower.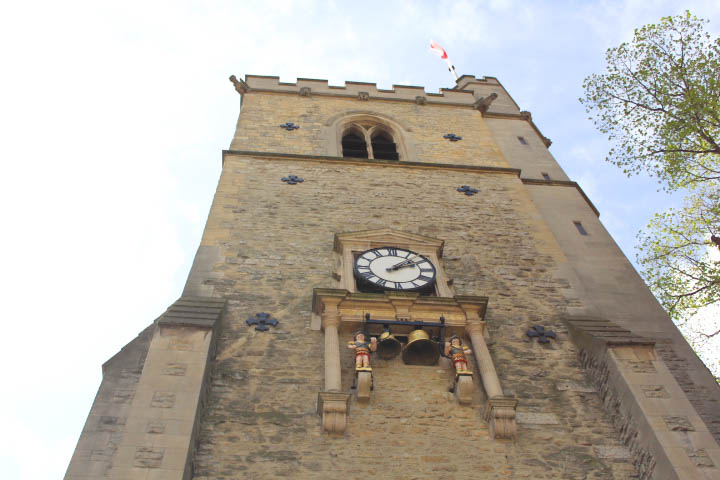 Found at the junction of St. Aldate's, Cornmarket Street, Queen Street, and the High Street, Carfax Tower is traditionally considered the historic centre of the city ('Carfax' derives from the French 'carrefour', which means crossroads).
The tower's 124 twisting steps aren't easy going: Granny would NOT have made it. But once you've paid your £2.20 and climbed a good 23 metres, you can gobble up a scrummy 360 view of Oxford.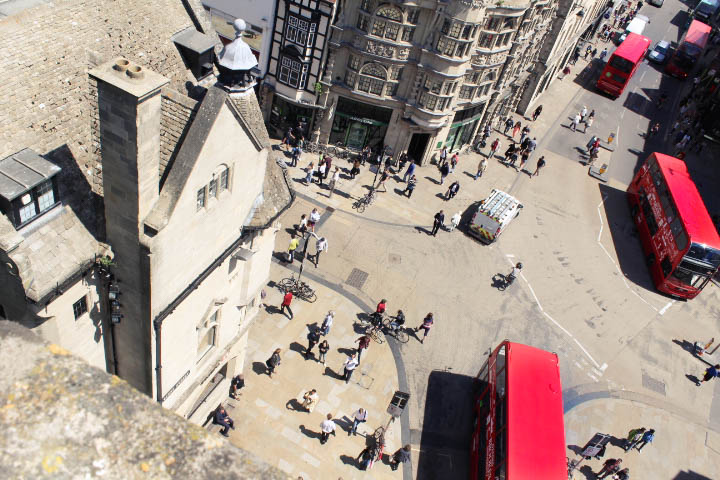 Come back down to earth and head to The Buttery Hotel for coffee.
Set on Oxford's historic Broad Street (known locally as The Broad), a colossal catwalk of striking buildings and bicycle hustle and bustle, The Buttery Hotel offers a people-watching sweet spot to rival Times Square.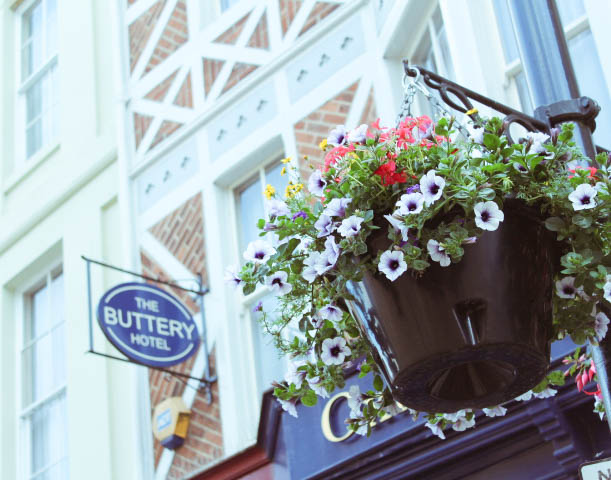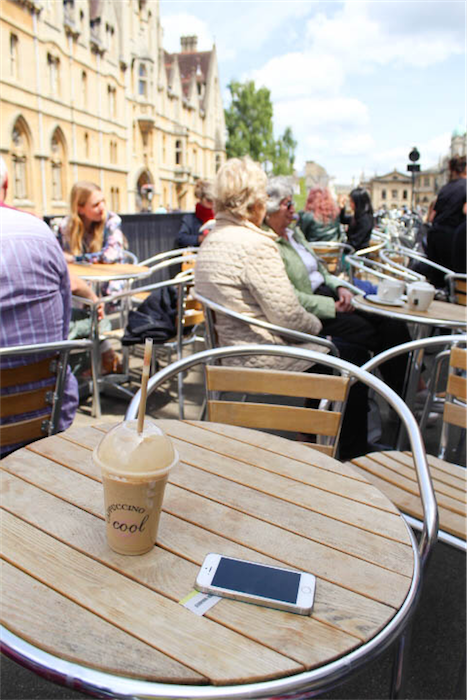 Nerdy tip: Be sure to keep a look out for Antony Gormley's Iron Man sculpture on top of Exeter College, on the corner where The Broad meets Turl Street. It cost £250,000 and is often dressed up by students as Santa in December. Ho ho ho.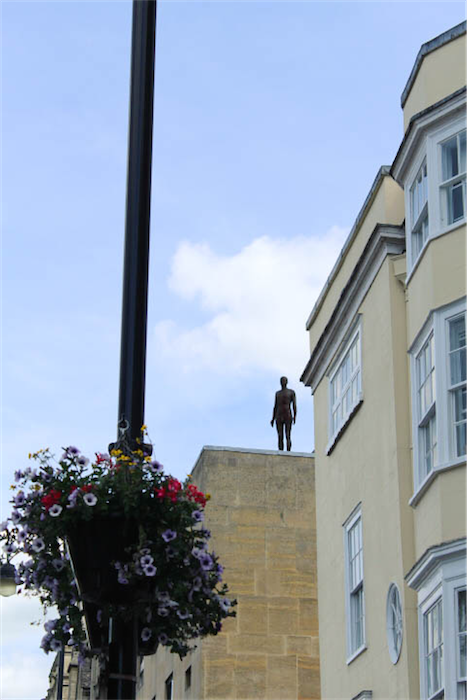 Saturday Afternoon | Back to Lessons
A tour around Oxford University is destined to be etched into memory. So book yourself onto an Oxford Universities and City Tour with Oxford Official Guided Walking Tours for £9.
Oxford University is the oldest English-speaking University in the world, made up of 38 colleges, with the earliest dating from between 1249 and 1264.
The University's history hasn't always been an easy one, with violent clashes between 'town' and 'gown' not unheard of; today, however, 'gown' seems to be winning the battle, owning a vast amount of the city.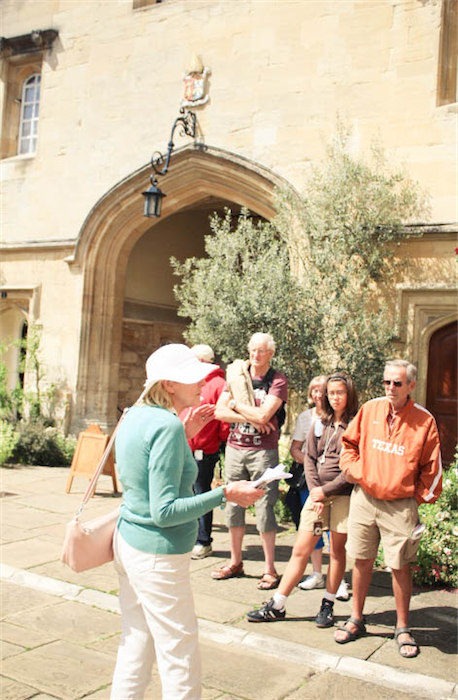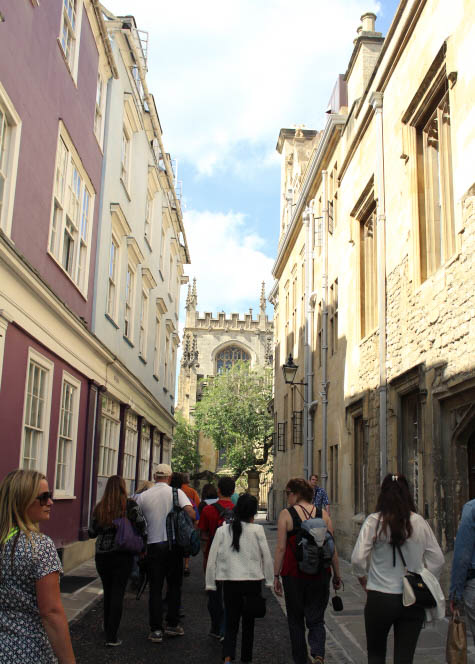 On your 90 minute walk your guide, an old Oxford graduate, will stroll you through the city's history, pausing at its most famous buildings and architectural wonders, before treating you to a student's view of one of the colleges.
(The pace of the walk is gentle, so fear not, you won't be left straddling.)
We sampled the elegantly ancient Corpus Christi College, with its striking cream and gold sundial spilling shadows onto the quad, and took a seat in its 500 year-old chapel to delighted in the hows and whys of Oxford's unique tutoring system.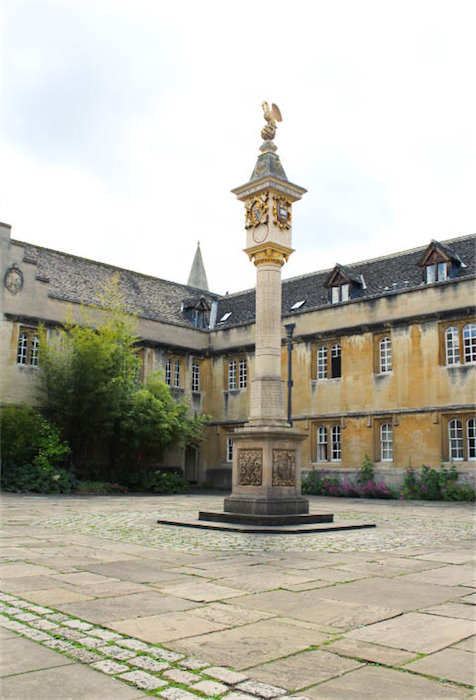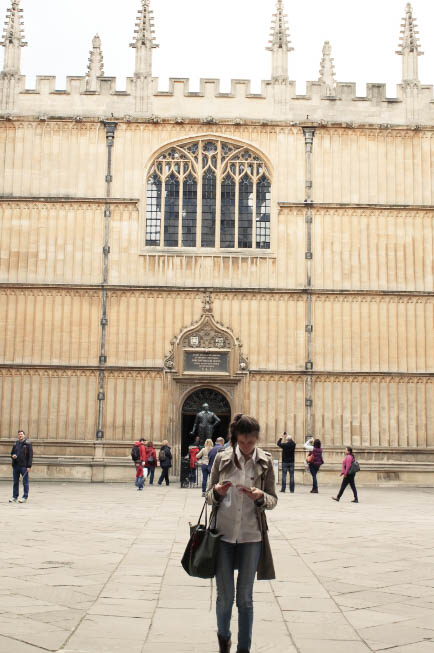 From here, we headed to the Bodleian Library – one of the greatest libraries in the world – and lapped up tales of reformation and revolution in the elaborately vaulted Divinity School (which served as Hogwart's infirmary in 4 Harry Potter movies).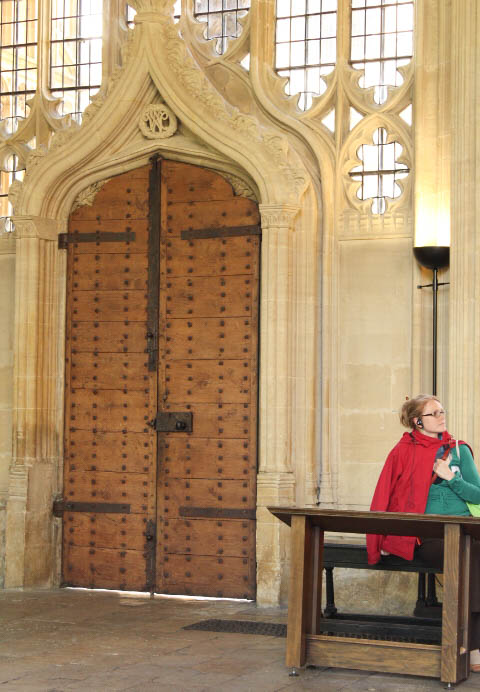 Saturday Evening | Cocktails Al Fresco
Hard walking, done. Time for a hard drink. Squeeze in amongst students and visitors at the sleek Varsity Club, hidden away in The Covered Market (more about that later).
The Varsity Club is Dita Von Tease meets New York loft, with a three-storeys of on-trend lounges and dance floors. Side-step those, however, and head straight for the rooftop bar – The Varsity Club's crowning glory.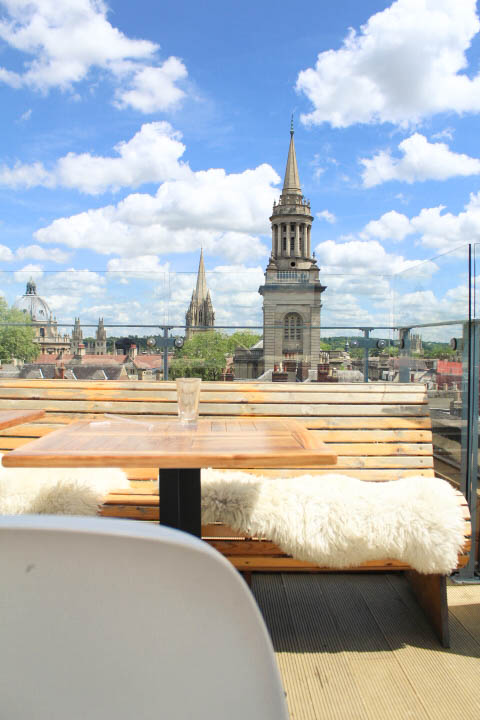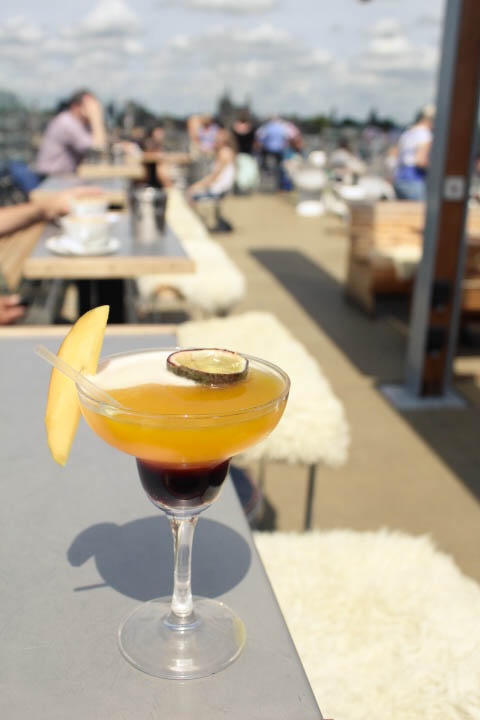 Expect sheepskin rugs, bistro-style high tables, glass-panelled sides, chill-out benches, and, of course, the beauty of Oxford as a dashing backdrop.
Grab a chair and order the Night of Passion cocktail – £7.50. It's a flaming gin kick that'll see you happily through the rest of the night – or next hour or two.
For dinner, Gees Restaurant on Banbury Road is an excellent choice.
Set in a massive 19th century Victorian conservatory, this bright and airy eatery was once a much-loved city flower shop – today it retains the same rustic freshness of its floral past, with moonlight streaming in through the conservatory as you eat.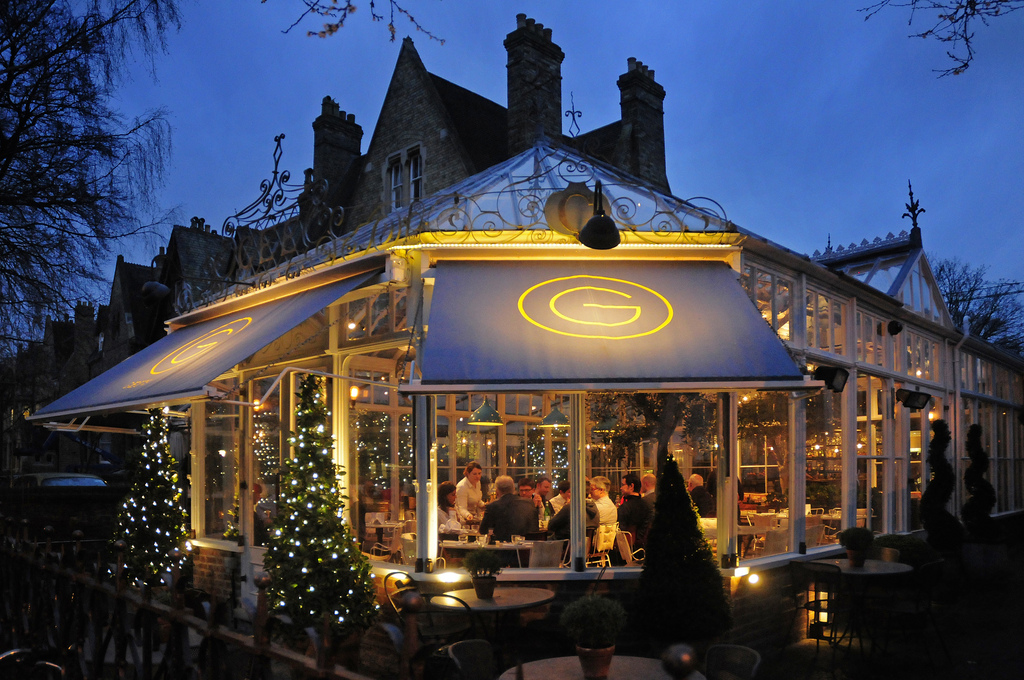 The menu is high-quality seasonal food, sourced from local farms. Impressive and classy, if a little too fussy for this simple chick. However, there is an wood-burning oven and charcoal grill if you just fancy pizzetta. Main courses cost between £16 – 25.
Nerdy tip: Book a table in the conservatory. The outside tables are a little too near the road to be enjoyable and the tables inside the restaurant are a little dark for a summer's evening.
Sunday Morning | Tales from the Riverbank
Do as Lewis Carroll did, start the day with a stroll through Christ Church Meadows followed by gentle punt or cruise along the River Thames.
On the outskirts of town, by the city's famous Folly Bridge, slip down narrow steps into No.1 Folly Bridge Restaurant. From here Oxford River Cruises offers picnic cruises, sight-seeing cruises and private boat hire.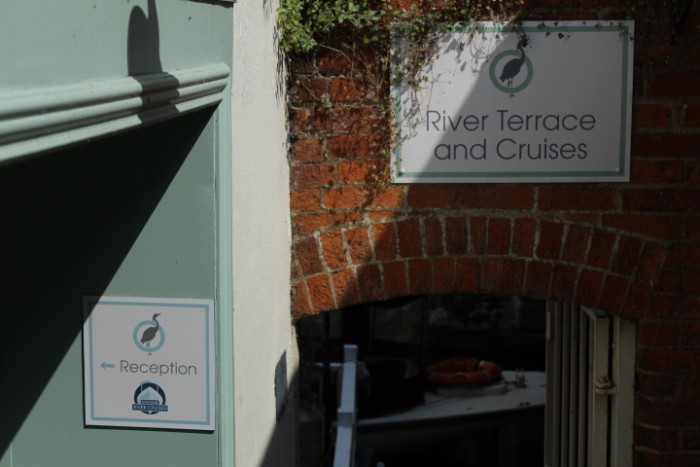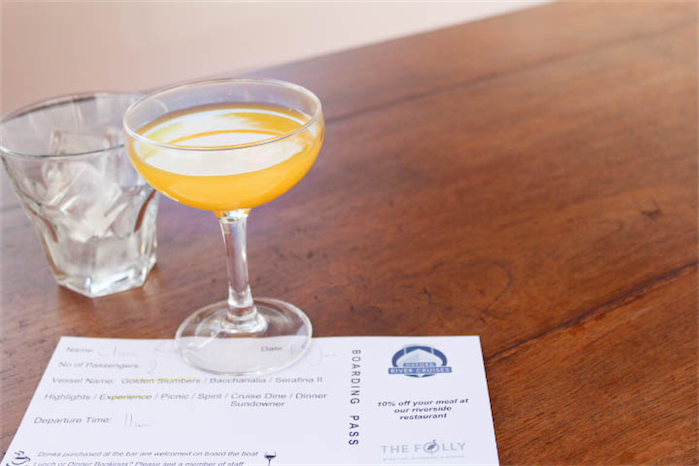 Oxford beginners will enjoy the Oxford Experience Cruise (unbeatable value at £12 per person).
Open with a drink at the bar – bucks fizz passes as a breakfast, so we started there. Then climb aboard Golden Slumbers, an Edwardian style Launch, for 50 minutes of tranquillity.
You'll sail along the Oxford University Regatta course, with a friendly and knowledgeable guide at the sightseeing helm.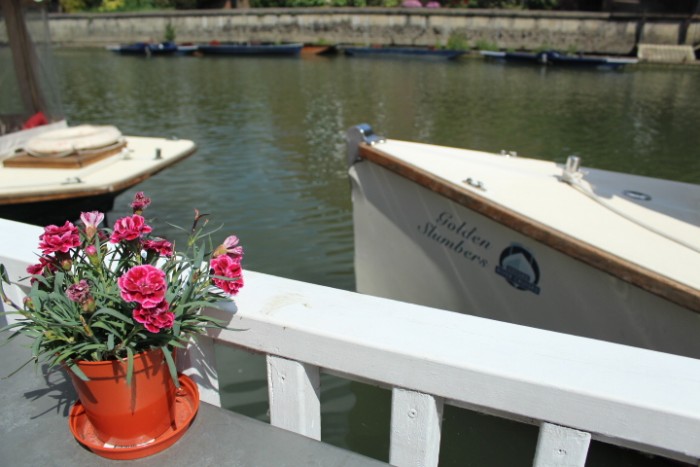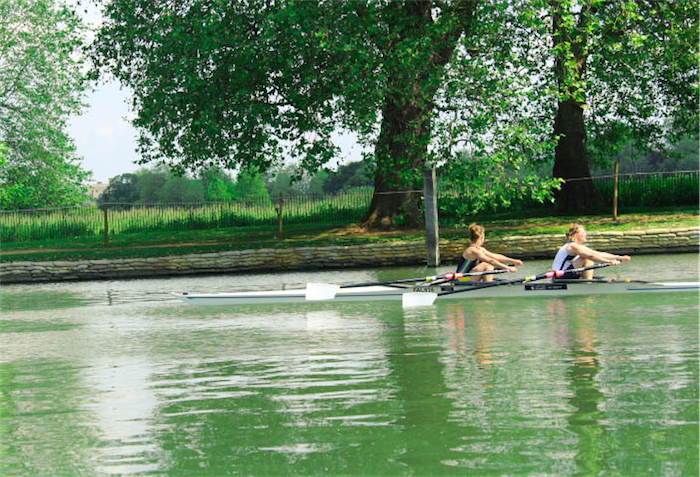 As you go, you'll pass the University's rowing houses; most deserted, some melancholy – pining for the colourful flags and cheering spectators that won't reappear for another year.
Every now and again, a rowing eight will glide past as if on ice, not water.
And the only sounds, the smooth purr of the boat engine, the occasional mumble of a duck and the delectable history of the river, elegantly told by the skipper.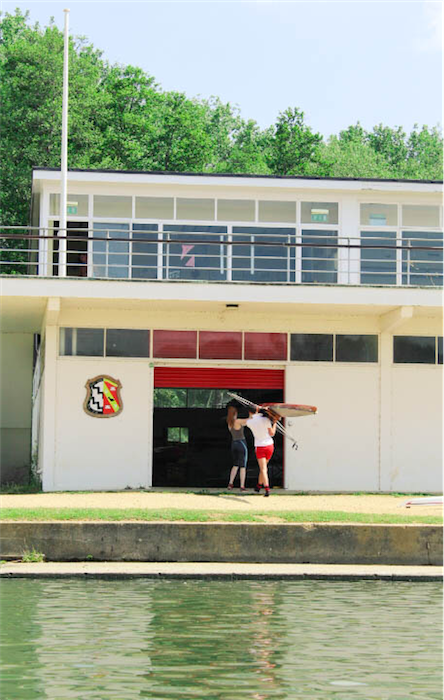 Nerdy tip: Enjoy lunch at the acclaimed brassiere, No.1 Folly Bridge Restaurant, after your boat trip and you'll save 20% off your food bill. Put the champers on ice, please.
Sunday Midday | Market Makers
A visit to Oxford is not complete without stopping off at The Covered Market, which lies to the north of The High Street.
Since 1774 the market has clustered together a lexicon of independent trader stalls; put under cover after a town committee found the street stalls "untidy, messy and unsavoury".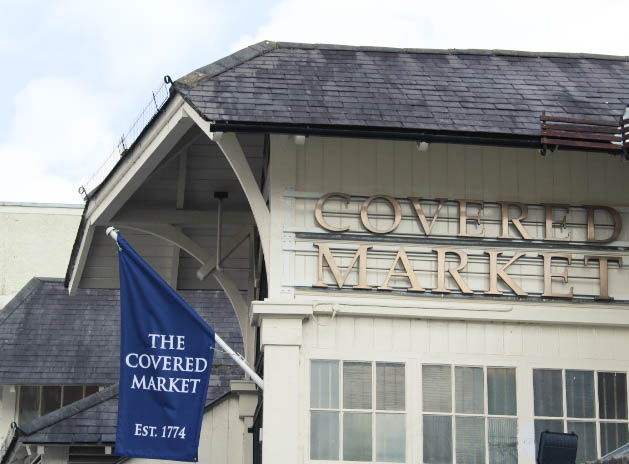 There's nothing "unsavoury" about The Covered Market these days. It is a vibrant village of local excellence, deeply English in character and irresistibly seductive to international visitors.
Traditional butchers, greengrocers, fishmongers, cake makers, cobblers, and locksmiths mingle with tea shops, boutiques, and sandwich shops under a tequila-pink and white timber roof.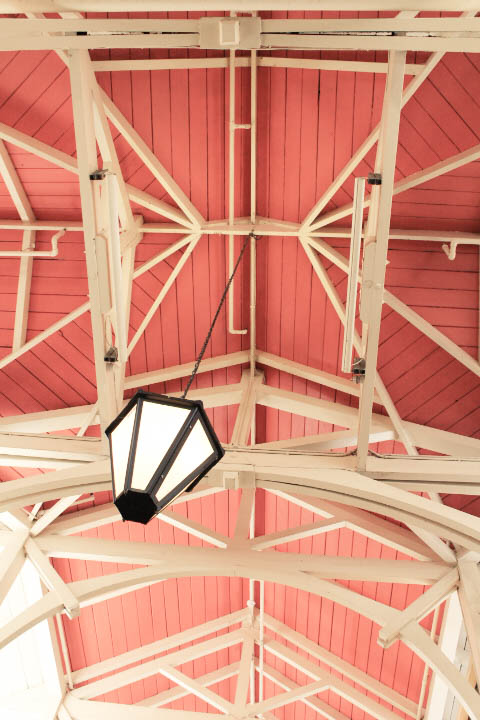 Stroll without purpose to feel the true vibe, then amble your way to Bens Cookies for a freshly-baked, extra-late elevenses.
Try a peanut butter cookie or orange and milk chocolate, or pluck for one of the other 16 flavours – each about the size of a child's head, with chunks not chips to enhance your epicurean pleasure.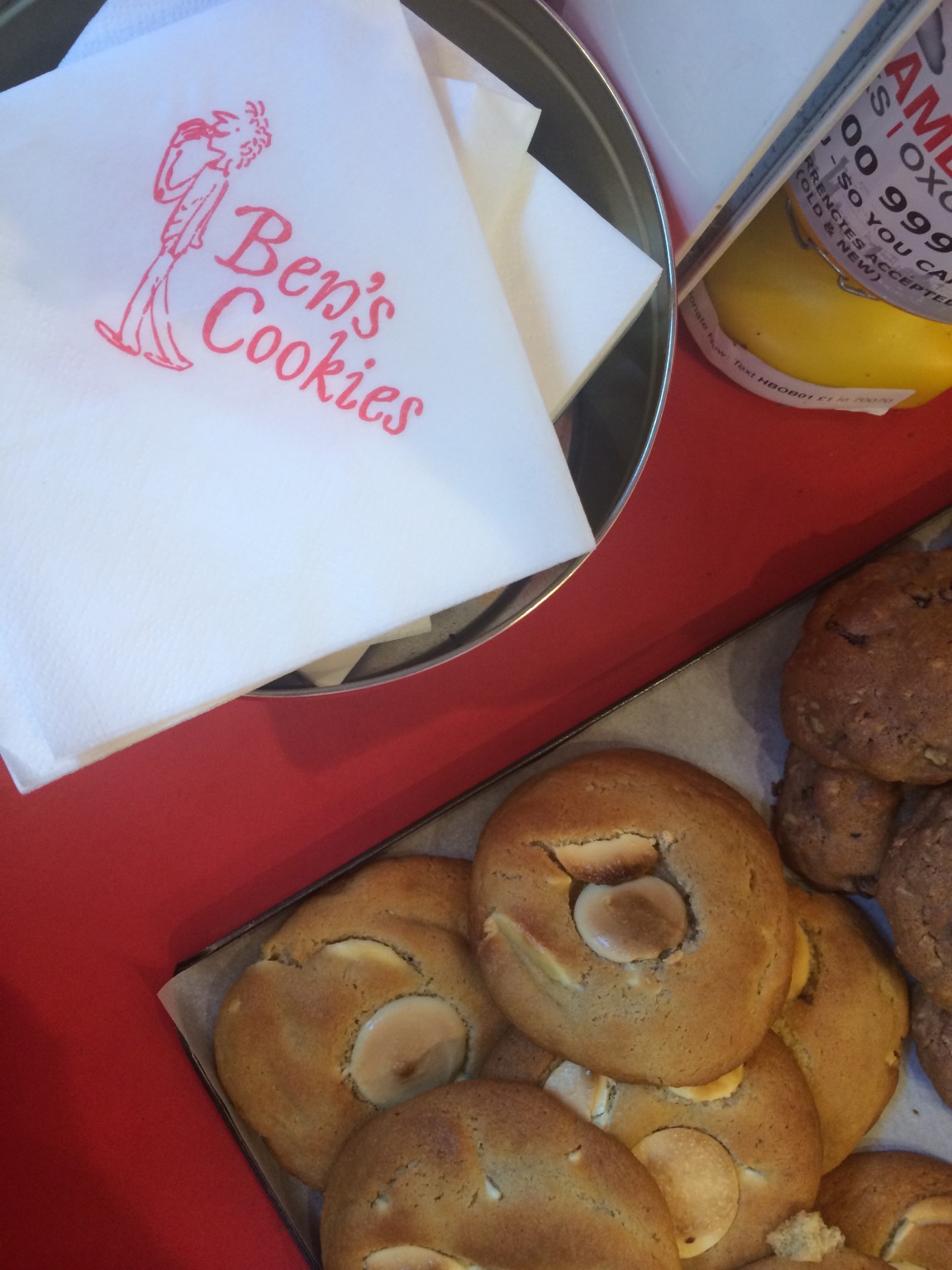 Nerdy tip: Whilst in The Covered Market, slip down one of the lanes to the Pizza Express at the Golden Cross. The restaurant is housed within a 16th century building that used to be a tavern called The Cross Inn.
Pop upstairs and see the painted rooms that were once Elizabethan bedrooms.
Head to the room at the end, with its thick-set fireplace and unsteady floors, and you're standing in the room that William Shakespeare once slept in on his way to Stratford from London.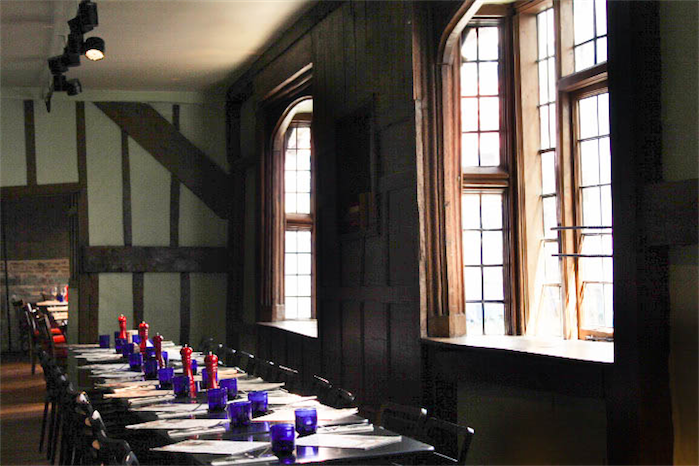 Sunday Afternoon and Evening | Book Madness
It's an unusual tourist hotspot, granted, but well worth a visit. Blackwells Bookshop, on 48 – 51 Broad Street, makes even the most impressive Waterstones blush with shame.
Founded in 1879 by Benjamin Henry Blackwell to cater exclusively for the city's academics, the shop lays claim to the largest single room devoted to books in Europe – The Norrington Room.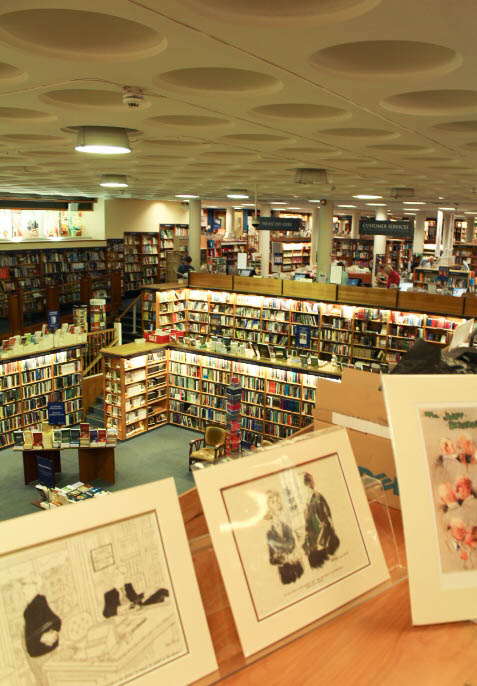 This cavernous book nerd's paradise boasts 3 miles of shelving and 10,000 square feet of titles and extends under neighbouring Trinity College Gardens.
Lose yourself (not literally, although its possible) amongst the titles, then head upstairs for a coffee to rub shoulders with the city's academics and students.
Extend your weekend by a couple of days (go on, dare you) and be sure to take the Blackwells Literary Tour on Tuesday at 2pm, leaving from outside the Blackwells flagship shop.
This was a last-minute booking for me and well worth the price (£8 for adults).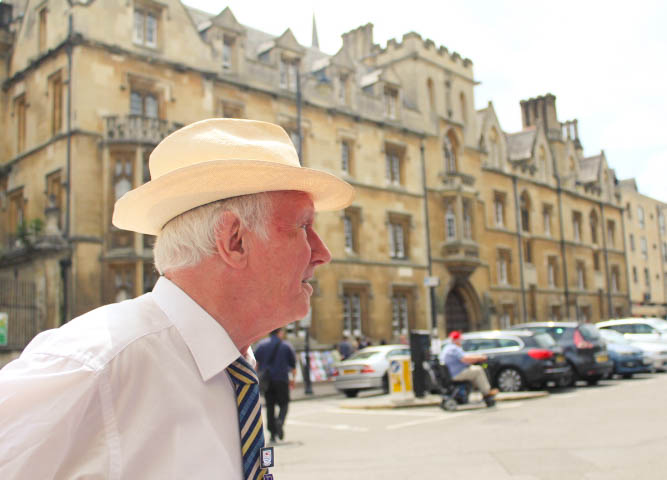 Peter, our guide, was charming and knowledgeable. We followed his footsteps as he showed us the places where some of the greatest minds of the 20th century frequented.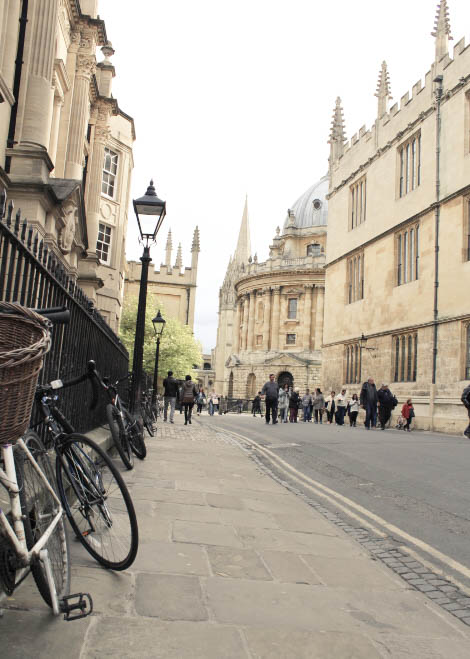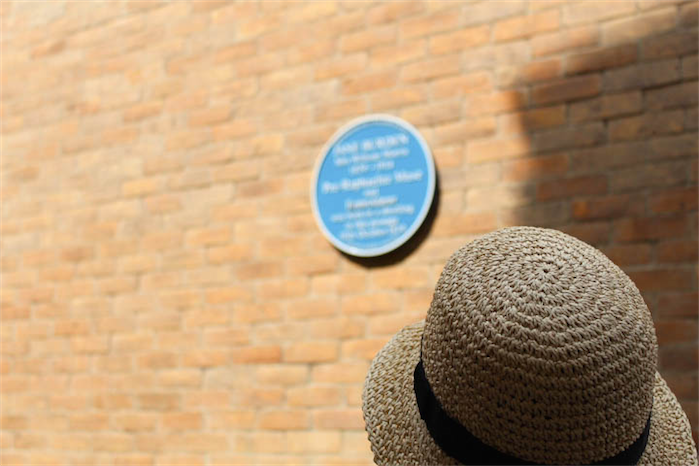 From Magdalen College, where CS Lewis was Professor of English Language and Literature for nearly 30 years, to the historic Turf Tavern where Bill Clinton did infamously "not inhale".
From Exeter College where J.R.R Tolkien studied and where the fictional Inspector Morse collapsed and died, to Christ Church College where Lewis Carroll first met the real Alice in wonderland (you can follow my Alice trail here).
It was a thoroughly enjoyable, eye-opening tour and I can't wait until I can go back to Oxford to try one of Blackwells other offerings: The Inklings Tour.
Yes, I'm a nerd, and proud.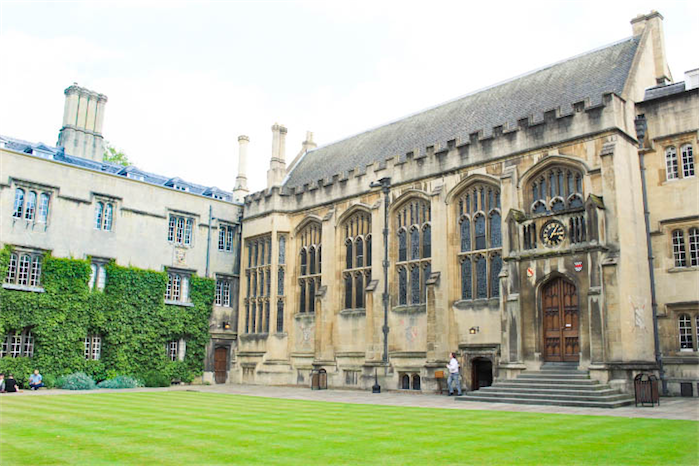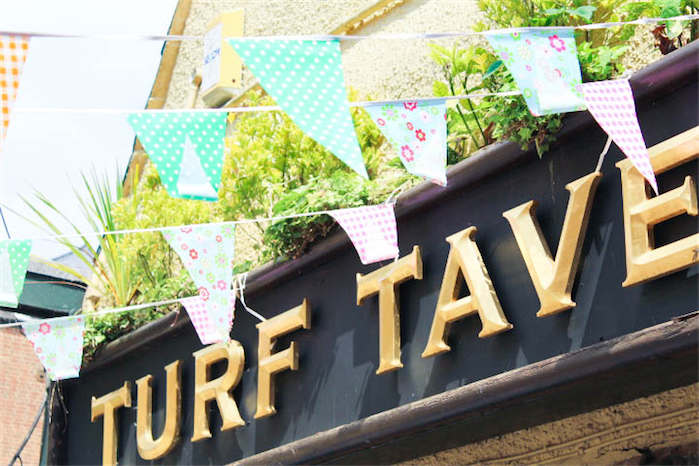 Disclosure
We enjoyed a complimentary Oxford Experience River Cruise and Oxford City and University Tour thanks to Experience Oxfordshire. I also received a discounted rate for a Blackwell's Oxford Literary Tour courtesy of Blackwells. I promise you that this 'ere review is a bonafide reflection of my time in Oxford and my opinion of it – I'm too much of a nerd to lie to you!