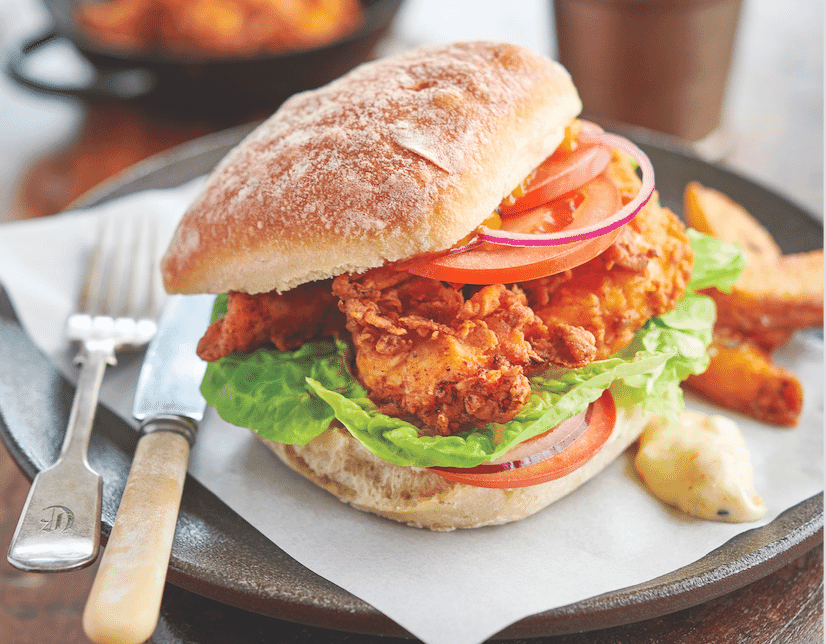 Prep time: 10-15 mins | Cooking: 10 minutes | Serves: 4
Good news: your weekend lunch is sorted thanks to this easy-to-make sarnie. It's a real crowd pleaser for all the family.
While you don't have to soak the chicken in buttermilk, it does make the meat incredibly soft and tender so give it ago if you can. Try it as a salad, too and it's just as good.
---
To make your Buttermilk Fried Chicken Sandwich
Buy this
4 skinned chicken breasts 
350ml buttermilk 
150g plain flour 
2 teaspoons dried oregano 
2 teaspoons paprika 
2 teaspoons onion powder 
1 teaspoon garlic powder 
1½ teaspoons cayenne pepper 
Salt and pepper 
Vegetable oil
4 tablespoons mayonnaise 
1 tablespoon Hawkshead Relish Mango Chutney 
4 crusty rolls
1 red onion
Lettuce leaves 
Do this
Lay the chicken breasts between two pieces of cling film and bash with a rolling pin until they are about 2cm in thickness.
Place the chicken in a bowl with the buttermilk, cover and chill in the fridge for a minimum of 2 hours.
Mix the dry ingredients together in a bowl. 
Drain the chicken and either cut into strips or leave in large pieces as preferred.
Heat the vegetable oil to 175°c while you coat each chicken breast with the seasoned flour mixture.
Drop the first one carefully into the oil and cook separately for around 4 to 5 minutes or until golden brown and crispy (the timing will depend on the size of the chicken breasts). Drain on kitchen paper and repeat with the other chicken breasts. 
Mix the mayonnaise and Mango Chutney together, slightly toast the rolls under a hot grill and slice the onion into rings.
Coat the base of each roll with the mango mayonnaise, top with lettuce, onion and a piece of fried chicken then finish with another spoonful of the mayo. Add the top half of the roll and voila: a delicious weekend lunch.
Serve with homemade coleslaw and fries.
More mouthwatering recipes and 10% off
This weekend lunch idea is just one of the delicious recipes in Embellish with Relish – a new 160-page cookbook is written by Maria Whitehead, co-creator of Hawkshead Relish preserves, chutneys and relishes.
Embellish with Relish launches is available to purchase from Amazon, Waterstones and online from www.mezepublishing.co.uk.
If you fancy getting a copy, you can save 10% with an Weekend Candy exclusive! Simply use the code: Candy10 at the Meze Publishing checkout.
---