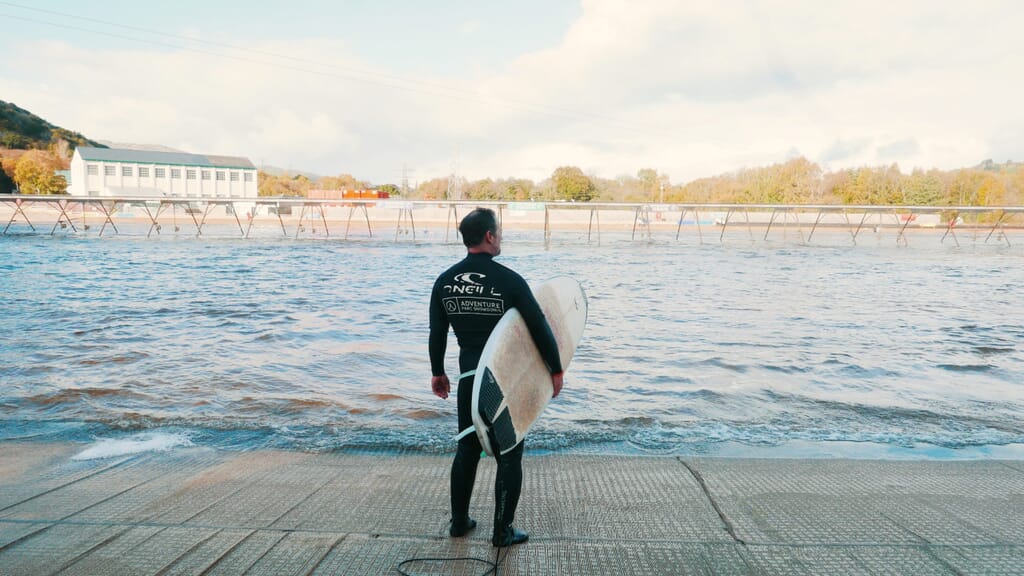 "Slipped perfectly into the dramatic beauty of Snowdonia, Adventure Parc Snowdonia is a weather-proof hub of thrills that'll make your toes tingle, your heart race and your eyes light-up – whatever age you are."
---
The Short and Sweet
What once was a former Welsh aluminium-smelting works in Dolgarrog, is today Adventure Parc Snowdonia: an indoor and outdoor venue of adrenaline experiences built for dare devils of all shapes and sizes. Amongst the thrills on offer is the incredible world-first 300-metre surf lagoon, where you can ride the longest man-made wave in the world – as a beginner or a pro.
Added to that is the new Adrenaline Indoors attraction (opened in August 2019), housing one of the longest artificial caving courses on the planet and a zip-line over the sprawling surf lagoon. On-site you'll also find glamping pods, plenty of food and drink, and the warmest Welsh welcome.
Open daily March – December
Free entrance and parking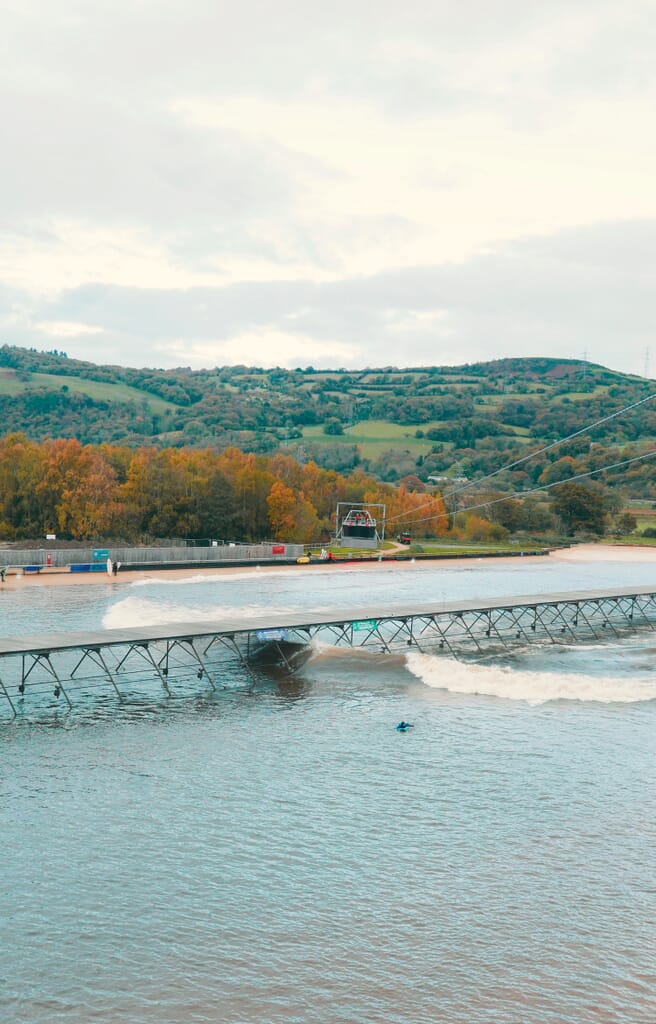 ---
The History of the Parc
Adventure Parc Snowdonia opened in 2015 in the quiet Welsh Village of Dolgarrog under its original brand name, Surf Snowdonia. For the people who live in Dolgarrog, the power of water is known all too well.
In November 1925, two dams in the mountains above the small village failed; the resulting wave (said to be around 70 billion gallons of water) swamped Dolgarrog, killing 16 people. It was the worst flood disaster in Welsh history and might have killed a lot more had many of the villagers not been at the local picture house that night.
Fast forward to the 21st century and the dams have gone; the only water here is controlled by man, the only wave is powerful, but it's been tamed.
And instead of misery, this wave and its facilities bring joy for visitors and jobs for the local community (many of the 109 Adventure Parc Snowdonia staff come from the Conway Valley or from Dolgarrog itself).
In April 2019, the park rebranded from Surf Snowdonia to Adventure Parc Snowdonia and expanded into a new building filled with facilities, Adrenaline Indoors.
---
The Surfing – Surf Snowdonia
"First, there's the stillness. Then comes a soft rushing sound, which builds in tempo, until the water rises and peels, setting loose a wave that sweeps down the lagoon lifting racing hearts into the air."
North Wales' inland artificial surf lagoon is eye-widening. Even if you're not getting in the water, what happens here is mesmerising and thrilling and it's easy to see why spectators line the deck and watch the surfing from the cafe.
The 300-metre surf lagoon is divided down its centre by a pier under which sits the 'Wavegarden' technology that generates the surf wave. Like an underwater snow plough, the machine travels along the pier every 90 seconds, from one end to the next, forcing up a single two-meter wave on either side. As it goes, it sweeps up waiting surfers, then collapses into white water and rushes outwards towards the shoreline, like waves on a beach.
Unlike a beach, however, there is no sand or blue water at Adventure Parc Snowdonia: the brownish rainwater comes fresh from the Snowdonia mountains, pumped down from two reservoirs, and the lagoon lining is a special mesh that's quite slippy to transverse. But nothing is lost because it is artificial. The park is not meant to replicate the ocean, far from it. It is meant to be a safe playground for thrillseekers.
For the pros, Adventure Parc Snowdonia gives them a place to train, practice, play and show off their skills to their peers, without battling the fickleness of the ocean.
For beginners, like yours truly, the regularity of the wave is perfect for building confidence. In fact, during my beginner's surf lesson, I was able to practise and perfect the basics of surfing thanks to my brilliant instructor and the predictability of the wave.
For families and first-timers, the lagoon provides a sound environment to try out surfing; providing an easy, new route into the sport, for those who don't live by the sea or are afraid of it.
Best of all, thanks to the smart staging system in the surf lagoon (every level surfer has their own zones they stick to), pros, beginners and first-timers can surf comfortably alongside one another without gate-crashing each other's wave. Awesome.
---
Surfing Lessons at Adventure Parc Snowdonia
The expert and friendly surf tuition comes via the surf academy, known simply as The Academy. Should you need to, you can hire wetsuits and boards (boards are included in beginner and intermediate sessions) – or you can bring your own. As well as surf lessons, flat-water stand-up paddleboard (sup) sessions are also available.
Surf lessons from £40 child/£50 adult
Waves from £30 child/ 35 adult
Age 5+
---
The Indoor Adrenaline Activities
Next to the Surf Snowdonia lagoon is a brand-new indoor adventure experience: Adrenaline Indoors. It spans more than 1,200 square metres and houses a huge range of brilliant activities and challenges, including an aerial assault course, artificial caving course, a parkour trail, climbing walls, freefall jumps, a soft-play area for younger kids, plus the only zip-line on the planet that flies you directly over the heads of surfers.
It is also home to the UK's only kicker slide – a ski-jump style ride – where you hurtle 2m into the air then land on a giant airbag with an inelegant thud and an extreme fit of the giggles.
"Trussed up in, what essentially is, a potato sack, then loaded into a kicker slide by a man half your age and pushed to, what feels like, your death, is not something I'd usually recommend. But by the time you've stopped screaming, you've landed safely and your limits have been well and truly forgotten."
The place is weather-proof and designed to keep you entertained, so for those who like adventures in the dry, Adrenaline Indoors really fits the bill. Most activities last 60 minutes, and you get a comprehensive health and safety briefing from the staff before you start a new challenge.
I tried virtually all of the indoor activities with the enthusiasm of a ten-year-old during my stay at Adventure Parc Snowdonia. Although my limbs couldn't quite match my mindset, I  climbed up and through and in and out of the Adrenaline Pass (the huge aerial assault course) without having a breakdown. Overcoming netted challenges, swinging punchbags, and multi-level jumps – but boy, did I needed a stiff gin afterwards.
Once that 60 minutes was up, it was on to The Caves: a pitch-black artificial caving system that runs 100 metres under Adrenaline Indoors. Thank goodness for our chipper guide; he kept me cool as I wriggled mole-like through some very tight spots, nose pressed against fibre-glass, my head screaming at me to get out.
Yep, like many of the adrenaline activities at Adrenaline Indoors, the caving was no pushover. In fact, everything here is challenging at some level – it's about testing your strength, stamina and agility (none of which I possess).
Which meant, by the end of the day, my body felt like it'd been put through a mincer. And was ready for good food, Welsh gin and bed!
---
Adrenaline Indoors from £12 child / £15 adult
Indoor Adventure Climb from £12
The Caves from £12
Zip Line from £19
Soft play for babies and toddlers £5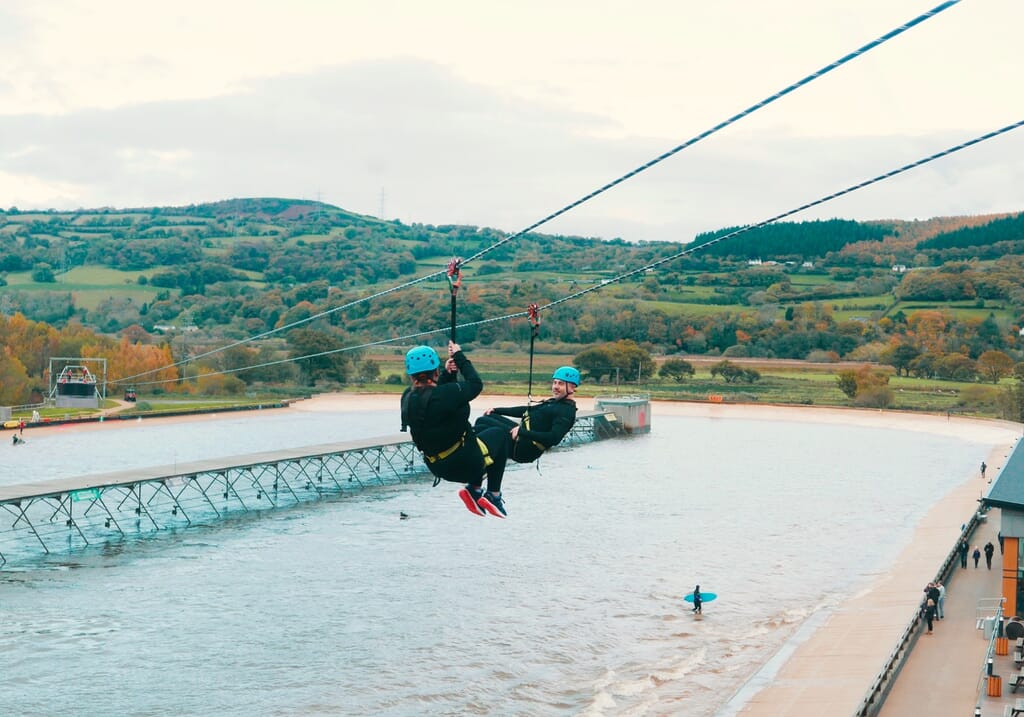 ---
---
The Food and Drink
Surf cool doesn't end the moment you leave the surf lagoon. Overlooking the wave park is Adventure Parc Snowdonia's Surf Side Deli, Bar and Diner. It has a trendy sports bar vibe, so it's not the cosiest venue for a romantic dinner, but it's relaxed and the staff are very welcoming and friendly.
Picture sleek floor-to-ceiling windows and a white and Malibu blue colour palette. It's a space that's been engineered for ocean-lovers to chill-out in during the day or at night, once the lagoon closes.
The food is easy on the taste buds; nothing challenging here, just firm favourites like pizza, cheesy chips, burgers and nachos, done well and with families in mind. And the drinks are similarly reliable: there was no complex gin menu I had to navigate my way around, which was probably a good thing because my energy was spent.
All in all, much like the surf, the food delivered – and was just the sort of fuel we needed after a limit-stretching kinda day.
---
The Glamping
Glamping at Adventure Parc Snowdonia comes without sheepskin rugs, log burners, feather duvets and a pint of Waitrose milk in the fridge. But that's not a bad thing.
Having spent most of the day connected to the elements, I wanted the Welsh equivalent of a beach hut to be my retreat for the night to keep the free-spirited surf vibe alive. One of the Parc's glamping pods was the next best thing.
Adventure Parc Snowdonia's glamping pods are located only two minutes away from the main action on a small site, strung with lights and laced with wood chip pathways. There are also six campervan hook ups, should you want to stay snug in your VW splitty.
Each pod is warm, clean, comfortable and easily sleeps 4 people. There are two rooms, one open space inside the front door and a second space at the back, separated by wall and a blackout curtain.
This is glamping surfer's style: you need to bring your own bits and bobs (mattresses are the exception), but in return you'll stay warm and dry, you'll have hot showers and clean loos at your disposal, and you'll have a deeply restorative night's sleep.
---
The Verdict
Snowdonia has always been a place where daredevils could choose their own adventure. With her mountains, lakes and peaks, she offers something for everyone, at almost all times of the year. And now, with the arrival and expansion of Adventure Parc Snowdonia, she has more glorious strings to her bow.
For me, Adventure Parc Snowdonia not only introduced me to the jaw-dropping beauty of North Wales, it tested and stretched what I thought I was capable of – especially the surfing.
Being in a safe environment, with the added encouragement of exceptional surf staff, I started to feel optimistic about my ability. Don't get me wrong, my surfing was awful – but I came away with the sense that with enough practice, I might someday catch a real wave.
"That's what marks Adventure Parc Snowdonia out in my book. The activities are challenging, but ultimately safe. And the staff really do have your enjoyment at heart. They act as one big, happy team, always smiling, always helpful and always with one thing in mind: making sure you go home on a permanent high.
Which I definitely did."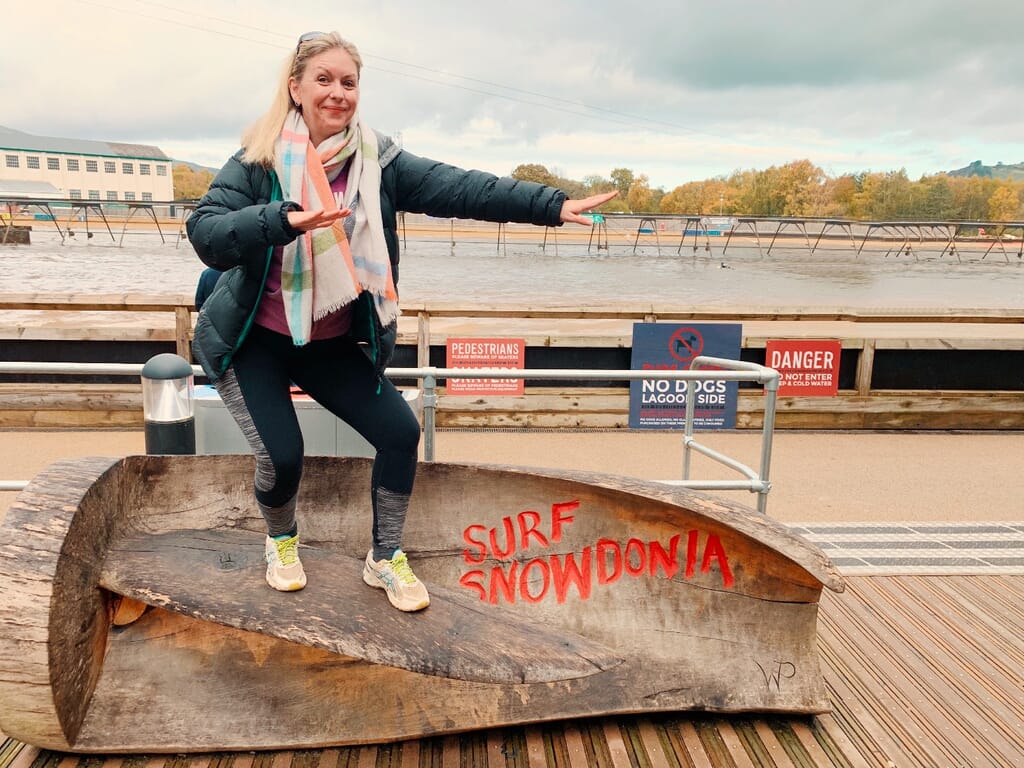 ---
My Open and Honest Policy:
I was kindly invited by Adventure Parc Snowdonia to spend a weekend with them in order to produce this article. As always, this review reflects my honest feelings of the experience and I was in full editorial control of the content I produced at all times.
---
Pin for later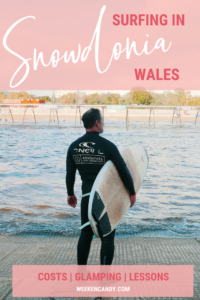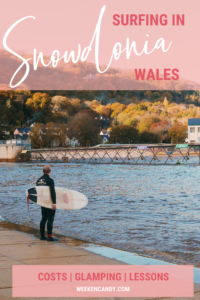 Comments