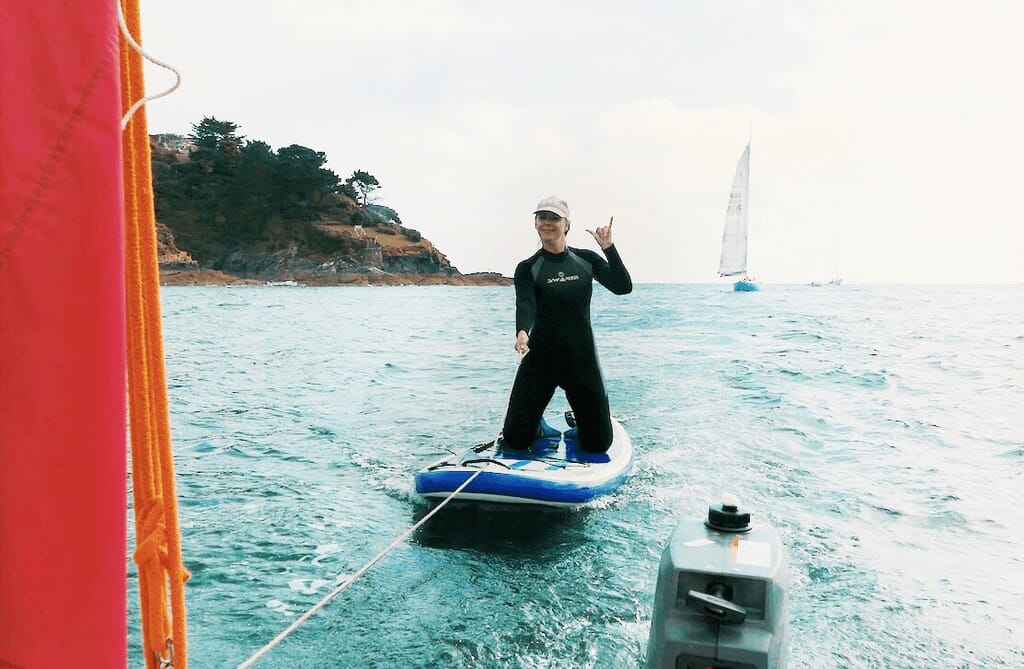 Stand-up paddle boarding (SUP boarding) is a watersport that's growing fast and furiously all around the world, including here in the UK.
Perfect for an adventure weekend for couples, singles, families, and groups, it's easy to learn, affordable, and you don't have to travel to the coast to try it. In fact, thanks to the UK's vast number of lakes, rivers and canals there's bound to be a SUP adventure near you.
Ready to join us for a SUP adventure?
Let's paddle!
---
1. A paddleboarding UK weekend for SUP beginners
Paddleboarding in Wales – with Inspire2Adventure
The magnificent River Wye in Gloucestershire is a great spot for SUP beginners. The river itself runs  15 kilometres from its source on Plynlimon in mid Wales to the Severn estuary. Along the way there are plenty of good launch spots for paddleboarding adventures, as well as pubs for supping a G&T after you've paddled.
I was lucky enough to enjoy a paddle adventure with Inspire2Adventure a few weekends back. They're a fabulous, friendly husband and wife team specialising in outdoor activities for adults, families, stag and hen parties, as well as youth groups and corporates. Along with a group of local bloggers, I headed to Monmouth where Inspire2Adventure met us by the river.
Boards pumped, kit on, briefed and ready, we floated out onto the River Wye – four of us on solo sups, six of us on the McConk Mega SUP (called Monty). Our session lasted 2 enjoyable hours, and saw us wobble our way up and down the river, learning what to do with a few simple team-building games thrown in to build our confidence.
All in all, it was mammoth fun, with brilliant instruction, and I heard a couple of bloggers say, 'how much does a SUP board cost?'. So I thinking SUPing really did float their boat.
Includes: Intro to SUP skills, safety briefing, buoyancy aid, paddle and board
Costs: 2-hour sessions costs from £25pp
Discover more: Inspire2Adventure
[/et_pb_text][/et_pb_column][/et_pb_row]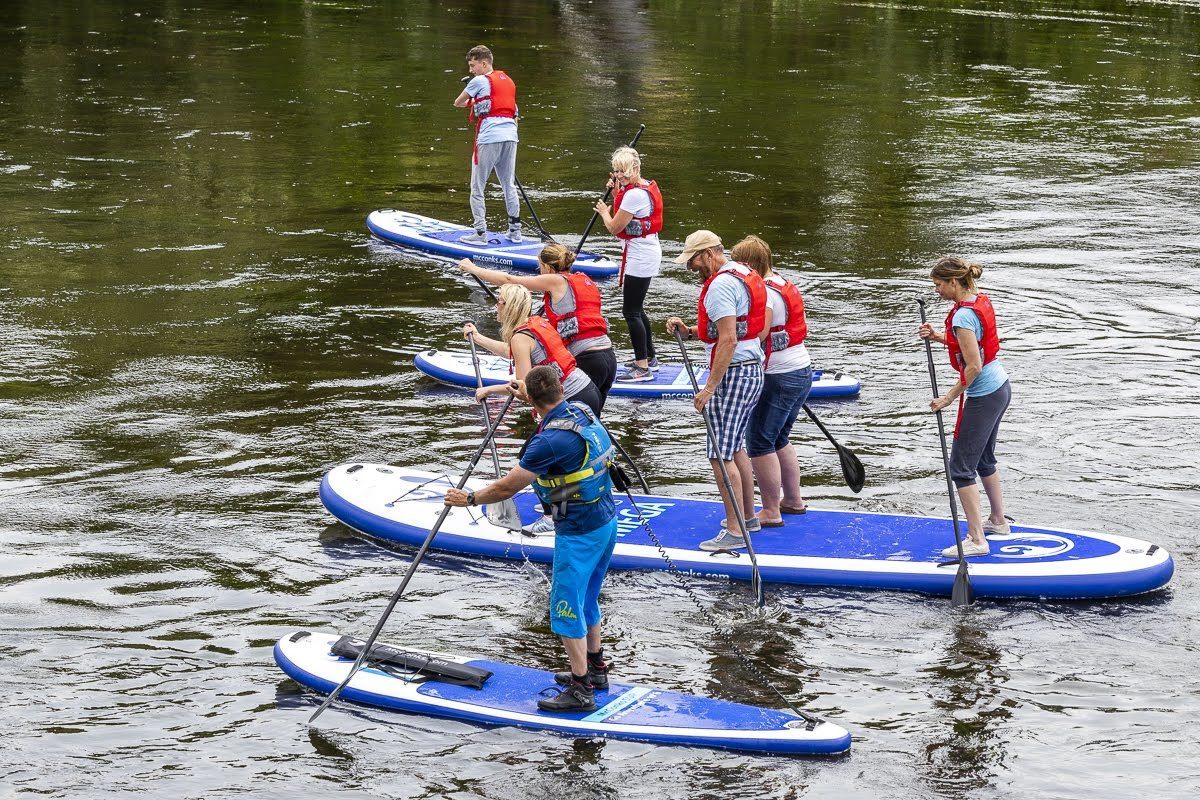 [/et_pb_section]
2. A paddleboarding UK weekend for wildlife lovers
Paddleboarding around Lundy Island – with SUPsouthwest
If it's a bigger SUP adventure weekend you're after, this 2-day trip to Lundy Island fits the bill. Lundy, for those who haven't heard of it, is a 400-foot craggy granite outcrop jutting out of the Bristol Channel, 12 miles off the coast of Devon.
With more sunshine and less rain than the mainland, Lundy is host to a variety of plant and animal life. In fact, the waters around the island were the first marine conservation zone in the UK – so a paddle around Lundy is great for wildlife adventurers who like getting up-close and personal with flora and fauna.
Take a trip with SUPSouthWest and you'll see Lundy from a different perspective. After sailing across to Lundy, you'll enjoy a packed lunch before boarding your SUP to explore the east side of the Island, including Gull Rock, Gannets' Bay and Seal Rock. Camp overnight on the island then awake to another day of paddling around the west and north west of the island, exploring Surf Point, Black Rock and all the bays around the North West Point.
Includes: Boat crossing to Lundy, SUP boards, tuition, breakfast, lunch and dinner.
Costs: £350 pp for 2 days
More details: SUPsouthwest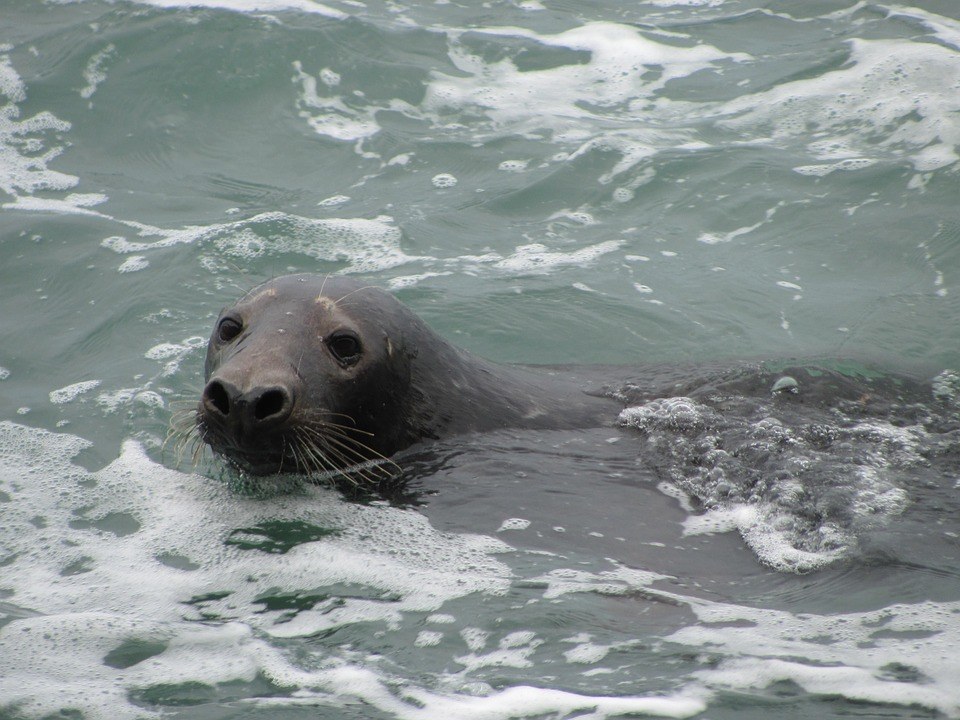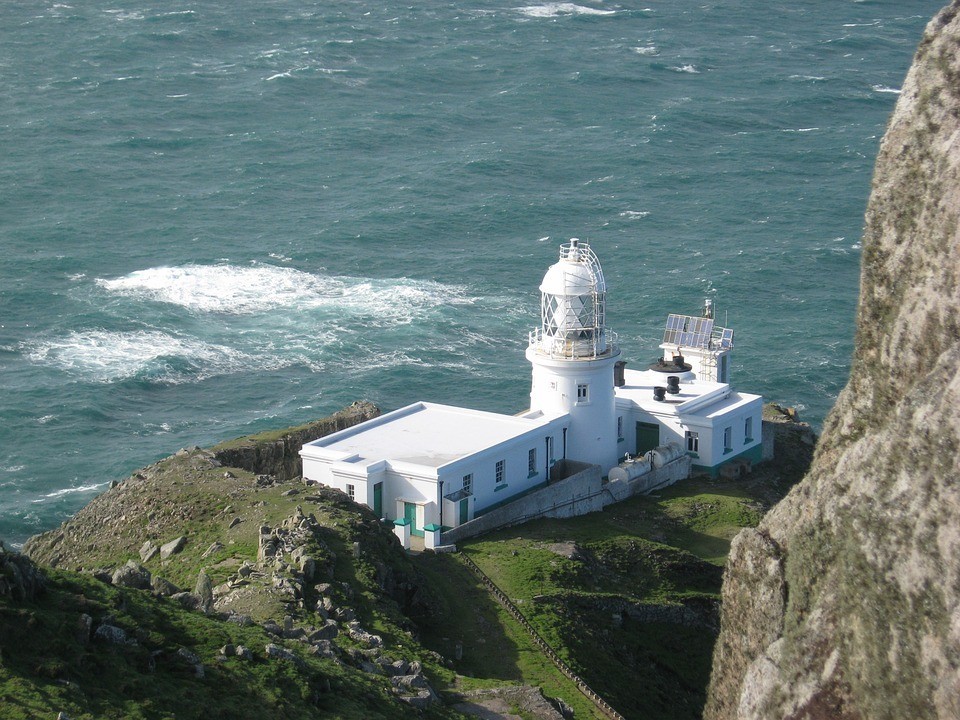 3. A paddleboarding UK weekend for night owls
Paddleboarding during the day is one thing, doing it at night under the stars with the light of the moon reflecting off the water is another thing entirely! If you fancy this kind of adventure, then book in with Psyched Paddleboarding who host all manner of SUP experience in North Wales.
Their 2-hour Night SUP takes place on a sheltered lake in the beautiful Snowdonia National Park, which is classified as a Dark Skies Reserve (1 of only 11 that exist in the world) so you're sure to have an incredible experience.
All equipment and instruction is provided – along with a hot chocolate and biscuit to warm your cockles after the trip! Although you get expert tuition from a qualified SUP guide, this is not an adventure for beginners; some prior SUP experience is necessary.
Includes: Paddleboard, safety equipment, guided tour, and post-SUP hot chocolate.
Costs: £50 pp for 2 hours.
More details: Psyched Paddleboarding
[/et_pb_code]
4. An paddleboarding UK weekend for gin lovers
Paddleboarding in the Cairngorms – with Daffy's Gin
As you may know, gin is my favourite three letter word. The other is SUP, so a gin paddle-boarding adventure has me pretty damn giddy. The beautiful wilds of the Cairngorms in Scotland is where to head for this adventure weekend, which has been conceived and hosted by Daffy's, a small-batch award-winning Scottish gin distiller based in the Highlands.
You take to the waters of the local lochs for two glorious highland hours on RED Paddle Boards, foraging for the perfect gin botanicals with the help of a resident botanist. After filling your wicket baskets with flowers and herbs, you paddle back to Daffy's recently launched gin-making school where you get to play at gin alchemy in a copper-pot filled lab.
Luckily there's accommodation nearby, courtesy of the Distillery Cottages, so you can leave your gin to macerate and either head to bed (as if) or enjoy a cheeky and well-earned gin cocktail in the Distillery bar. Next day, you decant your gin and leave with a gold-framed certificate and a cork-topped bottle of your very own gin. To SUP on the way home.
Includes: Paddleboard, safety equipment, tuition, breakfast, gin-making.
Costs: Gin-making and foraging start from £120pp, with £40 supplement for paddle-boarding. Self-catering accommodation from £145 per night in Distillery Cottage
More details: Daffy's Gin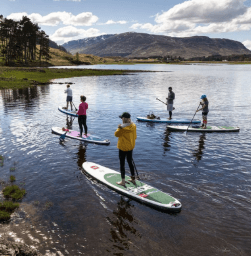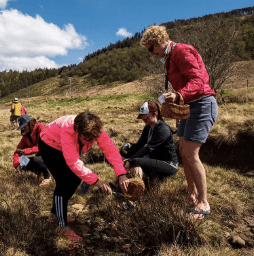 Stand up paddle boarding: the basics
Stand up paddle boarding looks easier than it actually is, believe me!
Here are a couple of my favourite SUP beginner videos to help you master the basics before you take to the water. Enjoy!
Comments