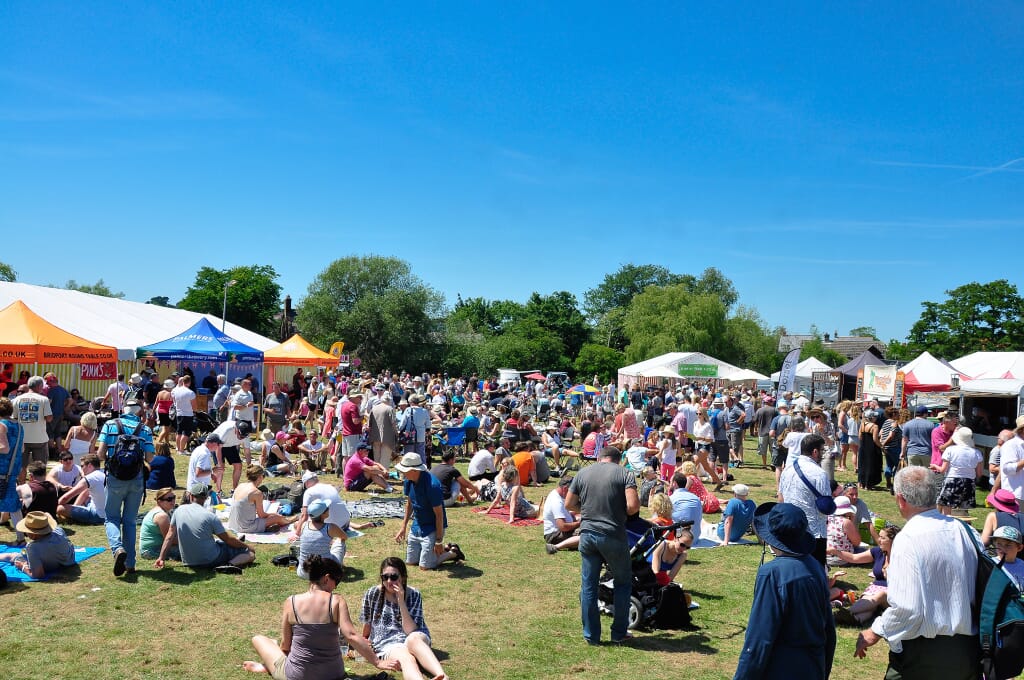 An unremarkable field, in an unremarkable part of an otherwise pretty Dorset market-town, and four large marquees flap in the mid-June breeze.
Apart from the yellow signs wired onto lampposts bellowing 'FOOD FESTIVAL PARKING', the white peaks of the tents are the only indication from the outside that something is cooking.
Bridport Food Festival is on – and I'm going to check it out for the first time to see if it's as tasty as they say.
---
---
I pull off the main road, and am greeted by a breezy girl in a Bridport Lions Club tabard (I LOVE a tabard). I pay her £2.50 – yes, seriously, that's the entrance fee – and park in a leafy corner spot. Uh-oh.
There are plenty of spaces left, and my mind starts racing: am I about to crash a flat-lining party, with a depressed DJ and one man sobbing into his pint of homemade cider? Surely, a festival that costs less than a morning Americano can't give me the equivalent buzz? Perhaps I should – you know – wheelspin outta here…
Thankfully, I don't. Car parked, I walk the spine of marquees that make up Bridport Food Festival and, as I near the festival entrance, the stillness of the field behind me slowly vanishes.In its place a muffled soundtrack of happy chatters, clinking glasses, hissing hot plates, and the beat of Wessex FM. Things are looking up.
What to expect at Bridport Food Festival
Bridport Food Festival has been running for well over a decade. I confess – I had to Google that. Because, despite having grown up in Bridport and fondly returning as often as I can, I had no clue Bridport had a food festival or that Hugh Whitting-What's-His-Chops set it up in 2004. Since then the Festival has blossomed into a well-loved and hugely popular event, regularly attended by over 3000 visitors. And is a much-loved fixture in Bridport's food calendar. Clearly need to pay more attention.
As the meadow comes into view, I see why Bridport Food Festival has some many years behind it. The field is popping and fizzing with picnic parties, sun-soaking seniors, fun-fuelled families, and bouncing kids. I blink in disbelief, camera dangling limply at my side. I wasn't expecting THIS.
---
What makes the Bridport Food Festival special
Bridport Food Festival is the most compact, yet vibrantly HUGE food festival I've been too yet. I challenge anyone to get lost here (except you Dad), because you can walk the entire site easily inside five minutes – but what it lacks in size it more than makes up for in choice.
As you wander the field grinning like an idiot, the pull of the outdoor food vendors is overwhelming: wild game pies, Provençal pancakes, Spanish pastries, Thai curry, wood-fired pizzas, Caribbean chicken, Jurassic seafood, hand-ground coffee, fresh artisan bread… then there's the Food and Drink Marquee.
It's a giant straw-scattered selection box of Dorset's chunkiest and tastiest sausages, pies, burgers, pizzas, cheeses…believe me, even if you'd just had lunch (which stupid here had), you'll find it impossible not to go ga-ga in le tastebuds. It's all fresh. It's all local. It's all so delicious a fiver clearly isn't going to be enough. (Sad face.)
Inside the main tent, there's quite a crowd compared to the frothy nature of the meadow.
Wedging in amongst those who know what they're doing, I try the creamiest Matcha I've had yet, courtesy of Comins Tea House, (hello), chat to the folks at Bridport's Living Tree (remember me?), and generally bump into people, until I finally stumble (or was I pushed?) outside into the blinding sunlight.
Alongside the 'food-to-go' stands outside and the 'fill-your-boots' pick-a-mix inside, there are also stalls selling fresh flowers, home-made preserves, and Dorset honey, as well as a collection of charitable stands, including the Butterfly Conservation and the Bridport Young Person's Action Trust.
So leaving with gifts for those at home and a warm fuzzy feeling inside is possible.
As for kids, they have their own corner of the Bridport Food Festival, which you can't miss. It's the one headed up by a 35-foot inflatable Mickey Mouse slide, served with side order of flashing fairground rides, and finished off with a sizeable children's marquee hosting free cooking activities for little chefs. Entertained, they definitely will be.
Even the portaloos have been well thought out: they're sat behind the second-largest tent in the meadow, where the local cider producers are hastily pouring pints for the throng of bearded men (and their wives). So you can neck a pint o' Purbeck in under a second, wobble a few yards far for a jimmy-riddle, and stride back to the cider tent for another. Piddle business logic, clever.
---
If I was to come here again (which I most certainly will) I'd bring two things: a stack of greens (as Jessie says in Breaking Bad) and an empty tum. I'd also sling canvas picnic chairs over my shoulder, a rug over my arm, and catch the bus or get a lift so that I could pop a bottle of fizz and pretend to be posh (not that Bridport Food Festival has a snooty air, mind you – I just like Cava. Lots of Cava.)
Of course, had it not been for the sun, this whole experience might have turned out a little damp. Therefore, a stash of wellies in the boot and a brolly in your man-bag, is probably a wise move – just in case.
These days every Tom, Dick and Harry town seems to have a food festival. So I was a bit nervous for my hometown as I headed to it; would my seaside 'go-to' be hitting with the big boys, or cowering with the daisies? The answer is as plain as the food I cook: Bridport Food Festival is proof that size doesn't matter, but what you do with it.
Where: Bridport, Dorset
When: Every June
More Details: Bridport Food Festival