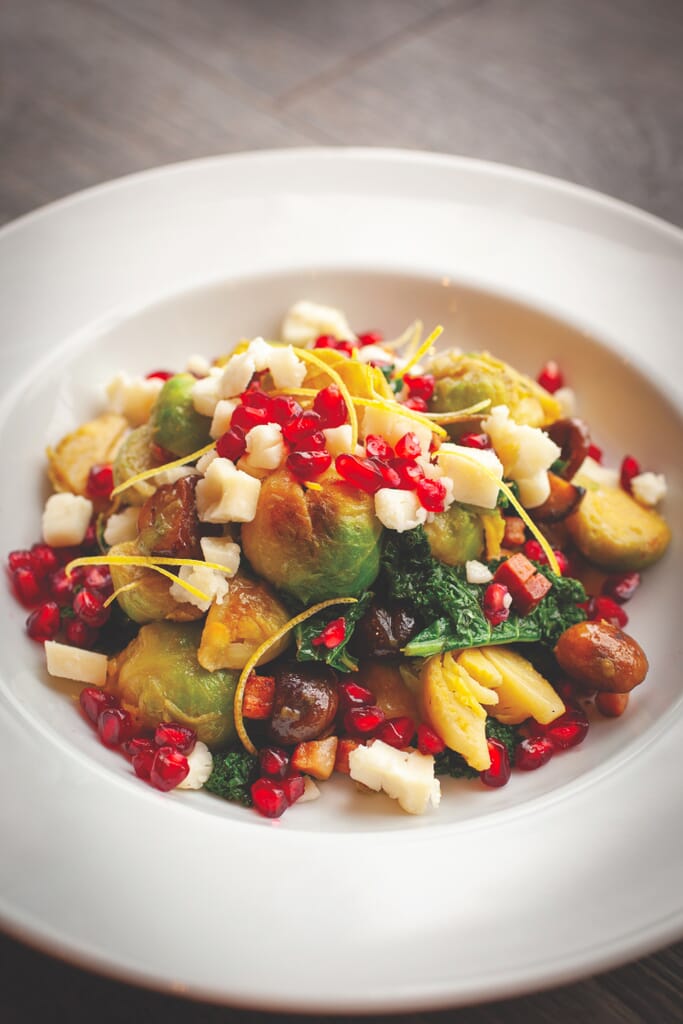 Preparation time: 5 minutes | Cooking time: 15 minutes | Serves: 4-6
Brussels Sprouts Salad with Chestnuts and Smoked Pancetta Recipe
Sprouts, boring? No way, not on our watch. Get a load of this: sprouts fully pimped-up to bring you crackerfuls of 'ooos' and 'aaaahs' as you serve these little beauties up this year.
It's an easy and delicious sprouts salad recipe, ideal as a winter starter, side or a main.
And it comes to you from the shores of Loch Leven, in Perth, Scotland – courtesy of head chef, Brian Padmore, of wonderful Loch Leven's Larder.
Twist and sprout!
---
To make your Brussel Sprouts Salad
Buy this
500g brussels sprouts
200g cavolo nero (black kale) 
200g smoked pancetta lardons
200g tinned chestnuts, drained
50g unsalted butter 
1 sprig of rosemary, leaves stripped from the stem
1 lemon, zested
To serve (optional):
Crumbled goat's cheese
Pomegranate seeds
Do this
Add a pinch of salt and 2 litres of water to a large saucepan, and heat to a rolling boil. Meanwhile, peel the sprouts and use a sharp knife to make a shallow 'x' across the bottom of each one. Blanch the sprouts for 2 to 3 minutes, then remove and plunge into cold water. Drain the sprouts then cut them in half and set aside.
Tear the leaves from the stalks of the cavolo nero and roughly chop them. Blanch in the boiling water for 1 minute, drain and then press out any remaining water using a cloth. 
In a large saucepan, gently fry the lardons on a low heat until the fat has melted and the lardons are dark and crispy. Remove and discard about half of the fat. Take the lardons out of the pan (leaving the remaining fat in) and spread them out on a paper towel to absorb any fat. 
Turn the heat up to medium and add the drained sprouts to the fat. Stir gently for 
2 to 3 minutes to ensure the sprouts are cooked evenly. Add the chestnuts and fry for another 1 to 1½ minutes. Add the butter, cavolo nero, rosemary leaves and grated lemon zest then cook for another minute.
Add the cooked lardons then give everything a good mix before serving.
---
More delicious Scottish recipes and 10% off the cookbook!
This fabulous brussel sprouts salad is just one of the delicious recipes in The Edinburgh and East Cook Book – celebrating the best of the area's food and drink scene.
It features over 25 recipes contributed by a diverse selection of restaurants, bars, cafes and small producers across Edinburgh and the east coast of Scotland.
Among this line-up are The Newport, a fine-dining restaurant by MasterChef winner Jamie Scot
The Edinburgh and East Cook Book is available to purchase from Amazon and online from www.mezepublishing.co.uk.
If you fancy getting a copy, you can save 10% with an Weekend Candy exclusive! Simply use the code: Candy10 at the Meze Publishing checkout.
---
---
Pin for later: