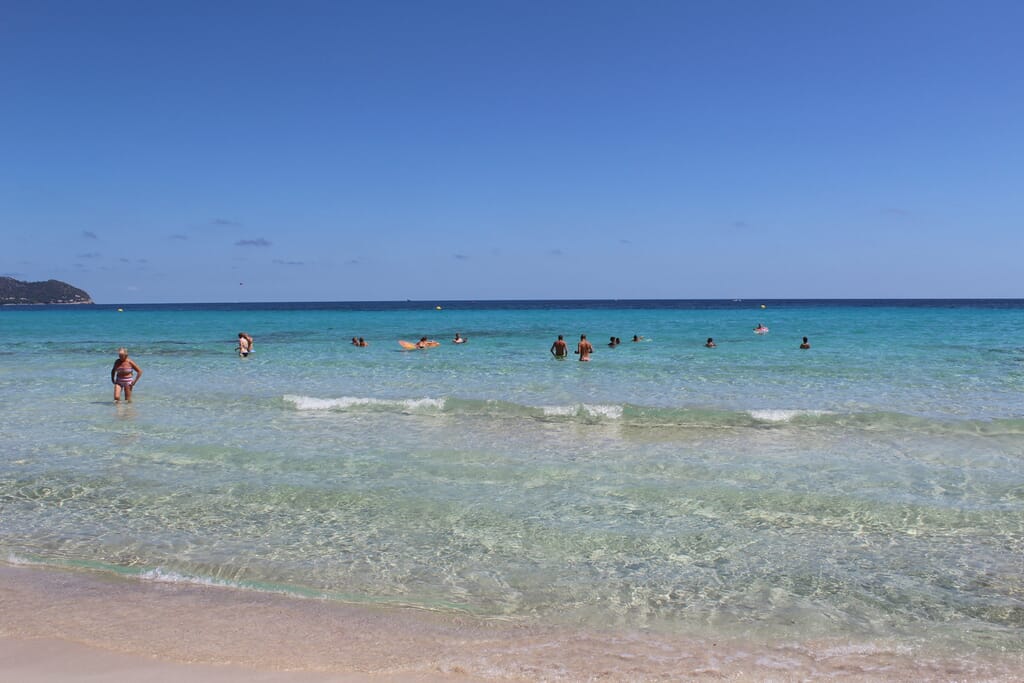 The Good
There's no doubt why Germans and Brits flock to Cala Millor every summer. This rugged north-eastern Mallorcan bolt-hole is a drool-fest for those who love a good beach (me included).
The wide 6 kilometre sweep of sand is large enough to hold an August crowd without territorial disputes erupting over sunbeds and sand-turf.
Whilst the blue-eyed waters of Cala Millor are warm, clear, calm, and as electric-charged as they look on the postcards – with only a few rocky areas darkening the blue (which are great for snorkelling over).
We spent an enjoyable day on this beautiful Mallorcan beach and it never felt crowded – we rented two sunbeds and a parasol for €12.
The only thing that stopped our return the next day was a small pink jelly-fish floating over the rocks, inches from our goggles.
We didn't spot any jelly-fish warning signs on Cala Millor beach before we hit the water, so threw caution to the wind and threw ourselves in the hotel pool the next day instead.
The beach of Cala Millor is within easy walking distance of almost all the hotels that line its edges, and there are a lot of water-side activities to suck your wallet dry: banana boat rides, paragliding, an inflatable water park – to name a few.
Great for: Families, couples and solos who want to swim, snorkel or just soak-up the rays. Here's more picture proof of Cala Millor's sunshine side.
Best of all: The water is clear and clean, there's a life-guard present, the sand is powdery and soft, and the beach never felt too busy.
The Bad (in my opinion)
Beyond the beach's good-looks are Cala Millor's cafes, bars, restaurants and shops. Down our end of Cala Millor beach – the western end – they were tame and inviting.
Head into the main strand of Cala Millor, however, and they are a stereotypical Brit-fuelled pick 'n' mix: bars named after pubs, restaurants serving dirt-cheap cocktails, and shops where you can buy wooden dick bottle-openers.
*Baffled face*
Now, I am not a snob (seriously, I'm not – I don't have a butter dish). I like a good slice of home and an out-of-context font just as much as the next person, but this pedestrianised wall of cheap and cheerful stole from the natural beauty of beach-front Cala Millor.
Going to a new place simply to seek the things you have at home surely goes against the whole idea of exploration? At least, it does in my book (but my book usually has words in I don't understand, so I'll leave it there).
We did enjoy picking up souvenirs and gifts in this section of Cala Millor, and we also munched on a very yummy, very big pizza for tea one night.
But post-pizza, as the Cala Millor shops closed for the evening, the beer-binging seemed to be taking shape and small child and I felt the need to take a walk back to Cala Millor's tamer side for a cuppa and bed.
Great for: Souvenir shopping in the day, ice-creams to go, and a bite to eat for lunch.
I wish I'd know: At night, it's a mecca for young couples and groups of friends who want to drink up the holiday atmosphere and sing karaoke until the sun comes up. If that's your bag – cool.
The Ugly 
Super-sized fun is the name of the game in Cala Millor, which is great. And to help float your fun-side it's easy to rent an electric scooter, commandeer a segway or tear-up the bike lanes in a pedal buggy.
No problem with that.
Except: when you have a bike lane with a constant rush of lads on scooters, couples on Segways, and families in pedal buggies running alongside a busy pedestrian walk-way, separated by a slight shift in Pantone colour, accidents are going to happen.
So often on our Cala Millor trip we saw hapless holiday-makers (me included) straying into the fast lane and nearly losing a limb to an eight-year old on a scooter.
Worst of all, one night we saw a small boy bolt into the bike lane just as a family's four-seater pedal buggy hit the same spot.
The boy ended up horizontal under the front wheels, screaming, whilst his mother shrieked blue murder; luckily the wheels hadn't run over the boy's windpipe, but one did twist his ankle.
I'm not sure what the answer is to this problem; but I do know it was an ugly event to witness – and I'd hate to see it happen again.
Great for: Flying up and down the Cala Millor strip quickly with the sun-tipped breeze in your hair.
I wish I'd know: The beach boulevard can get crammed with pedestrians and the constant zip of scooter/bike traffic, which may spell danger if you're not careful.
---
Comments