🛌 Sleeps 2 adults in a king-sized bed  | ❤️ Stylishly converted railway carriages | 🌳 Off-grid glamping for pure peace  | ⛰️ Stunning valley views | 🍕 Pizza oven bolt-on | ⚡️ Wooden deck over the brook | 👉 Min stay two nights | From £110pn | Tried & Tested by our Claire, Chief Weekender
---
Exclusive Offer: 5% OFF (quote: Llanthonyweekend)
---
Why we love Llanthony Castaway Glamping in the Brecon Beacons
"In a sea of Welsh farmland, two beautifully converted railway carriages rise up, like a paradise island. Here, tucked away with no other soul to disturb your solitude, you are cast adrift from the pressures of the adulting world. The only trouble is leaving Llanthony Castaway behind and returning to shore."
Forget Wifi or 4G. You don't need them here. Llanthony Court Castaway connects you to something modern living strips away: enough peace and quiet for you to hear the sound of your own heartbeat.
In fact, we make no bones about the seclusion and privacy you get when you stay at Llanthony Castaway. It's blissfully rural here: rumble along a single-track road through the Black Mountains to reach it and don't expect to see people. Sure, you might spot Bryony, your host, on her quad bike with Flash, the sheep dog, alongside her; but that's it. The nearest building is across the valley and with it, civilisation.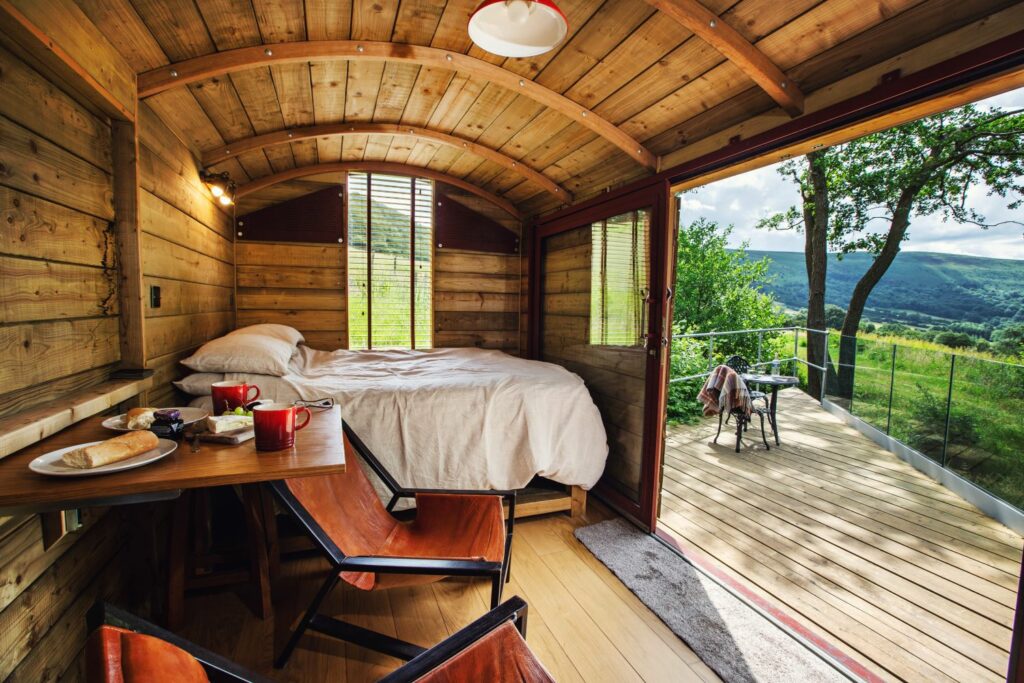 The Inside
The timber beamed railway carriages that make up Llanthony Castaway, have been skilfully and carefully renovated. What were former goods wagons are now a cosy, rural glamping nook for two with many features of their former life still visible. Rustic, yes Llanthony Castaway is rustic – but not at the expense of your utter comfort and enjoyment.
There's a king-sized bed with feathered duvet, pillows and crisp linen. There's a log-burner for warmth even in the coldest months. There's a full kitchen with a two-ring electric hob, an oven, a grill and a fridge. And, in carriage number two which adjoins your main living space, there's a lovely bathroom with a heated rail, drench shower, proper flushing loo and local shampoo and soaps.
Llanthony Castaway is not over-designed or fussy. This is Brecon Beacons' glamping that's simple, understated but excellently thought through. As one recent guest described, "Honestly, [this is] the most perfect little hideaway imaginable. Immaculately designed and with everything you'll need."
The Outside
The glass sliding door at the front of Llanthony Castaway gives you a front row view of the mountains. The valley folds itself in through the doors every morning; meaning you can stay in bed yet roam the peaks with your imagination.
Then, at night, the solar system comes out to play. You see, Llanthony Valley sits within the Brecon Beacons' Dark Sky Reserve – one of 18 in the world – so the night skies here are stunningly clear and, thanks to Llanthony Castaway's clever design and aspect, you get the best of them.
Breathe in all the surrounding landscape offers simply by sliding open the door. You'll find a wooden deck with furniture outside, pointing forward like the bow of a ship.
Taking breakfast here in the morning is blissful – made effortless thanks to the fresh farm eggs, bread, butter, milk and tea and coffee Bryony leaves for you. In the evening, you can wrap up warm and toast marshmallows on the nearby firepit or cook up a BBQ with homemade burgers and sausages bought from the farm.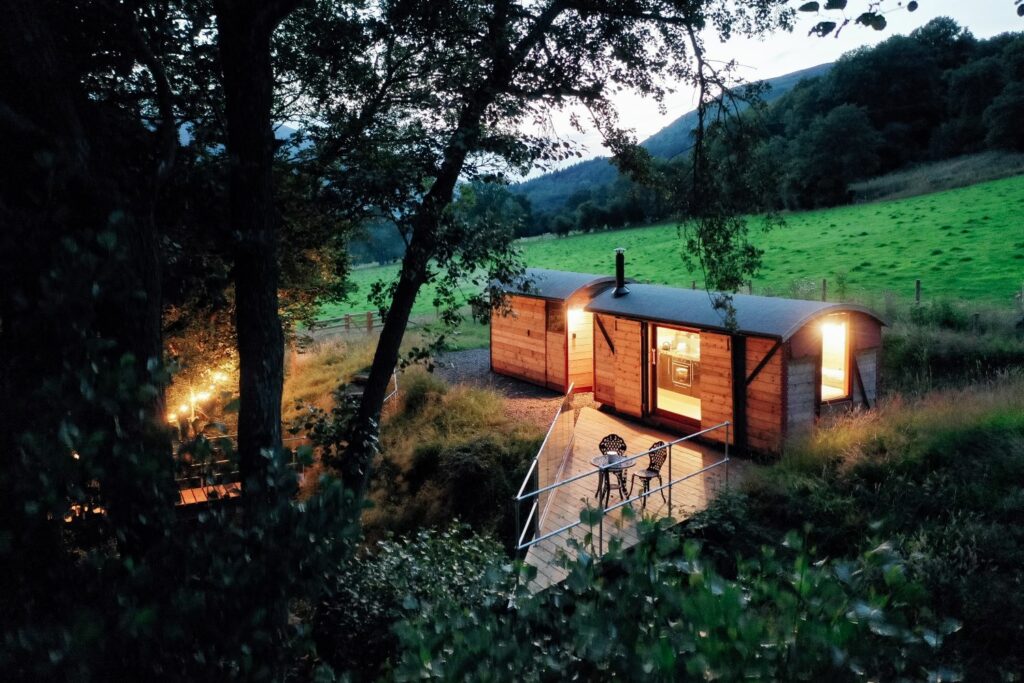 The Experience
Llanthony Castaway sits at the Eastern edge of the Black Mountains, within the Bannau Brycheiniog National Park, near the English-Welsh border. Should you want a walking weekend, you've really landed on your feet here.
You're surrounded by streams to wade across, old drovers' tracks to explore, and endless moorland to walk in. The historical Offas Dyke Path is not far away and you can easily reach the 12th-century ruins of Llanthony Priory by foot in just 10 minutes. Be sure to stop for a drink in the Crypt bar next door if you go.
Wander just a few minutes more and you'll find the local pub, which serves good food alongside a friendly atmosphere. If you're ready to explore further, there are award-winning restaurants just half an hour away by car, as well as the fabulous town of Hay-on-Wye, famous for its bookshops and literature festival.
Should you crave a solo weekend of writing or painting, Llanthony Castaway is perfect. Llanthony Valley, which surrounds you, has long been the muse for painters and writers throughout the ages, including JMW Turner and Eric Gill – all you have to do is look up and be inspired.
The Essentials
Beautifully upcycled and converted glamping railway carriage within Llanthony Valley in the Brecon Beacons
Sleeps two adults in a king-sized bed
Reached via a private farm track with your own dedicated parking spot
Cosy all year round thanks to the log burner and underfloor heating
Wooden deck outside perfectly positioned for soaking up the views
Swing seat with incredible views over the valley
Separate shower room with hand basin, hot shower and flushing toilet
Complimentary breakfast starter hamper of milk, bread, butter, farmyard eggs
Tea and coffee and a selection of condiments are provided
Fully equipped kitchen, including oven and 2 hobs, fridge with small freezer
Fluffy towels, toiletries, bedding, books and games provided
Set in the fields of a working farm but you are far away from any buildings so its secluded and private
Firepit (logs provided) and BBQ (with homemade burgers and sausages available to buy)
Add on the 'pizza package' and make your own pizzas in the DeliVita wood-fired pizza oven
No WiFi or 4G, which is part of its charm
Featured in The Times' 30 Epic Escapes list for 2021
Not suitable for pets as it is located on a working farm with livestock
Abergavenny is only 20 mins away by car
Eye Candy