🛌  20 rooms | 🌳 In the Forest  |  🐶  Dog friendly | 🍽  Award-winning restaurant | 🥂  Unique packages 
Find it: ///glorified.mammoths.surface | Tried & Tested
Why we love the Tudor Farmhouse Hotel for a weekend
At the heart of the Forest of Dean, in the timid village of Clearwell, is a quiet, unpretentious rural boutique hotel: Tudor Farmhouse. It's here, amongst the greenery of Wye Valley countryside, that you can truly rest, relax and recharge.
As the name suggests, Tudor Farmhouse was once a working farm. Today, it's been transformed into a boutique destination that still retains its homespun warmth and charm. Complete with a variety of gorgeously comfy bedrooms and a restaurant that showcases the best produce of the surrounding regions, you won't be in a hurry to leave this countryside haven any time soon.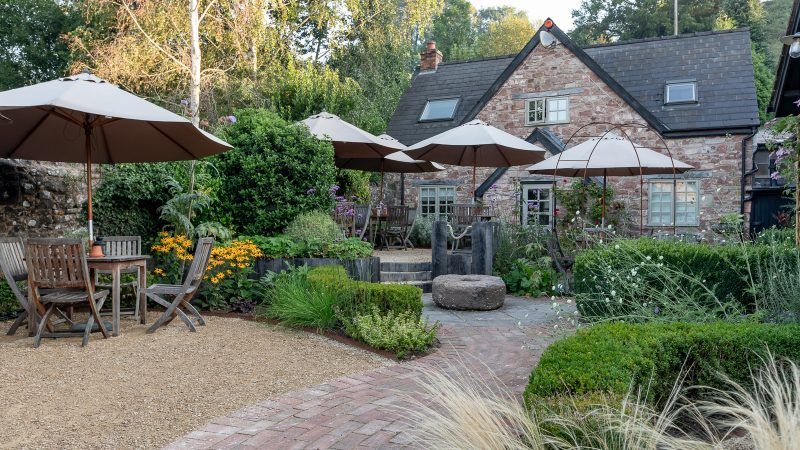 Stay and Sleep
A collection of 20 chic rooms can be found scattered about the farm in various converted farm buildings, each offering their own characterful features and designed for dreamy long lie-ins. They are categorised by size and comfort – the 'pecking order' as Tudor Farmhouse call it: Hatchling Rooms, Hen Rooms, Cockerel Rooms, and Suites.
Flashes of exposed stonework and ancient beams are blended with fresh neutral colours, oozing country house charm. Even the entry level Hatchling rooms are homely, with modern décor, cute cottagey feel and stylish monsoon shower bathrooms.
"Thick beams and wood burners. Rustic prints and chic farm portraits. Hunter wellies lined up in reception to borrow. Tudor Farmhouse is not letting go of its agricultural charm anytime soon."
When we stayed, our room was The Nest – it was as large as a self-catering apartment, with blissful fresh décor and cute cottagey feel, a separate lounge area with a sofa bed, a luxury bathroom with a walk-in monsoon shower, and a very pleasant view across the hills beyond the farm – all tucked into one of the farm's 16th century outbuildings.
You can expect delightful duck feather pillows and crisp linen duvets as standard in all rooms, plus Nespresso machines, minibar fridges and Bramley bathroom products. Travel higher up the pecking order and you'll find additional luxuries including roll top baths and enticingly soft waffle dressing gowns.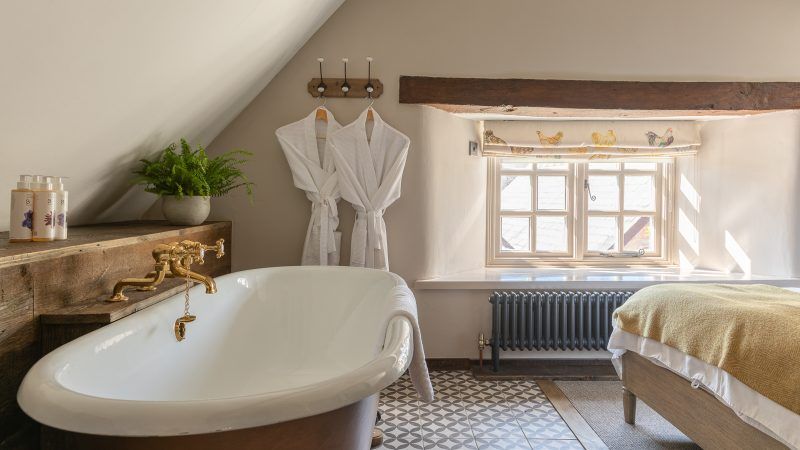 Eat and Drink
Well known for the quality of its food and drink, dining at Tudor Farmhouse Hotel means your dinner will be so much more than a simple farmhouse-kitchen comfort meal. The restaurant serves homely yet inventive dishes, passionately celebrating seasonal and locally sourced produce. You can pair your menu choice with an alluring selection of cocktails and award-winning wines.
Indeed, it's only when you sit down for a meal that the 'farmhouse' part of Tudor Farmhouse slinks into the background. Replaced, instead, front and centre, by an haute cuisine menus that garnered some serious press accolades (according to Tatler Magazine Tudor Farmhouse is a 'culinary oasis'). This isn't cottage pie and chips eating – not that there's anything wrong with farm-kitchen comfort food. It's just that this restaurant has ambitions that stretch beyond its thick stone walls. It's the home of sauces, jus, truffles, tuiles and caramelisation – perfect for those who want fine dining without London prices; not so perfect if you're with a teenager who wants simple food with recognisable descriptions. Feathers ruffled. Lesson learnt.
As you'd expect from a kitchen with impressive foody awards and a focus on using local produce (the eggs, veg and herbs are from the farm's garden; the rest sourced from within a 20 miles). As well as dinner and lunch menus (tasting and grazing options are available), Tudor Farmhouse serves up Afternoon Teas between 2pm – 5pm, and a cracking breakfast that's included in room prices – and worth rolling out of bed for.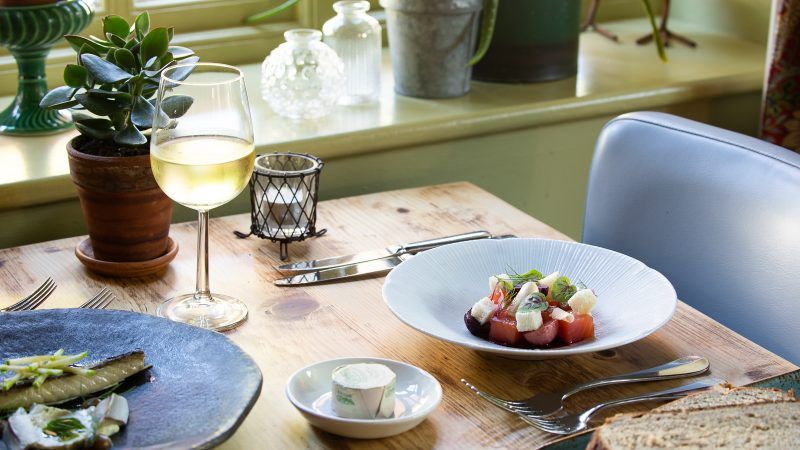 Offers and Experiences
If fancying an afternoon activity or inspiration to make the most of your glorious location, Tudor Farmhouse Hotel has a number of fabulous bolt-on experiences which go above and beyond to make your stay as memorable as possible. Ranging from foraging trips and stargazing safaris to jewellery making and flower arranging, there is something for everyone. You can also choose one of the hotel's 2 or 3 night packages, including:
Forest Awakens – a 2-night revitalising escape, exploring the mysterious beauty of your local surroundings in the Forest of Dean and Wye Valley.
Summer Escape – a 3-night break which can be tailored to your choice of adventure – choosing between an incredible wildlife safari or SUP river experience.
E-bike Safari – a 2-night biking break designed for riders of all abilities to explore the bountiful paths and roads of the Gloucestershire countryside.
The Essentials
20 luxury bedrooms
Hatchling rooms start from £129 per night – low season
A 2-night weekend stay Fri – Sun in Hatchling room peak season starts at £394
A minimum stay of 2 nights on Saturdays from Easter to the end of October and selected bank holidays
Restaurant offering all-day grazing
A minimum stay of 2 nights on Saturdays from Easter to the end of October and selected bank holidays
Plenty of add-on extras with unique experiences and offers
Dog friendly rooms available
Stunning rural location
Friendly and dedicated staff
In the peaceful village of Clearwell
Eye Candy
You Might Also Like