Sleeps 2 | In the Woods | East Sussex | Hot Tub
Deep in a private patch of East Sussex woods, there's a log cabin waiting for two of you. Steam rises from the out door hot tub, a fire crackles softly in the fire pit, and the air stirs with birdsong. This is Coddiwomple Cabin, and it's yours – for the weekend or longer.
You'll feel the strain melt from your body the moment you see Coddiwomple Cabin waiting in a small glade surrounded by trees. This beautiful log cabin for 2 sits in its own private coppice just an hour outside of London.
Every aspect of Coddiwomple has been carefully thought-out to ensure your stay here is restful. The cabin faces into the woods, sheltering you from the fields beyond; the large bedroom and king-size bed look out onto the aspen and silver birch, so you can watch the local wildlife come and go.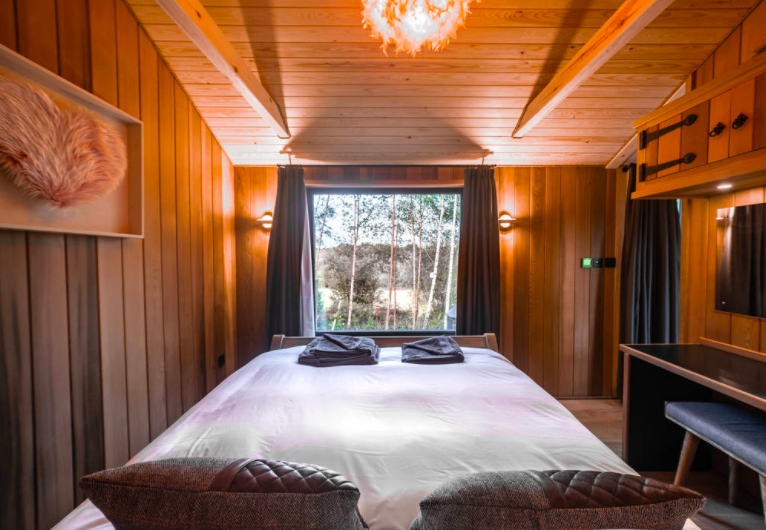 The soft natural tones of the cedar-clad walls inside Coddiwomple heighten the sense of tranquility and peace. And the interior – comprised of a kitchen, bedroom, living space and ensuite shower room – is furnished with simple minimalism. The owners have added considered touches of luxury and design to enhance the intimate space, not clutter it.
There are pebble-grey curtains, pillows, towels and window frames – all echoing the earthly tones of the wood perfectly. There are bedside lamps made from vintage cameras and one made from stag antlers found in Downash Wood. Whilst the underfloor heating, smart TV and bluetooth speakers serve as a reminder that the outside world is not far away.
Moving from your bed to the log-fired hot tub takes less than two minutes. Simply slip open the bifolding doors and step onto the wooden decking where you'll find the hot tub, two chunky wooden recliners, and a BBQ firepit. All ready for you to spend a dreamy night under the stars or a relaxing day bathing in the forest that surrounds you.
This Sussex log cabin sits in your own private coppice next to Downash Wood – 5 acres of deciduous private woodland brushing the Kent border
Sleeps 2 adults
Fully-equipped kitchen, ensuite hot shower and flushing loo, no wifi but good 4G on most networks
Firewood for the hot tub and firepit provided, as well as kindling, cardboard, newspaper, firelighters and matches
Private parking area two minutes' walk away
Tea, locally-roasted coffee (Bean smitten), hot chocolates, locally-produced milk and fruit juice, plus a little treat, on arrival.
A locally-sourced day or breakfast hamper can be provided by local farm shop Eggs to Apples
Next door to Bewl Water Reservoir, the largest stretch of open water in the South East
Three great pubs and a local convenience store all within walking distance
Gallery