🥂 1-bedroom woodland log cabin | 🛌  Sleeps 2 adults  | 🌳  Secluded Rural Location  | ⏰  Open All Year | 👙 Hot tub  | 💦 Next to Bewl Water Reservoir  | Min stay 2 nights
Why we love Willow the Wisp Cabin for a weekend
This curvy little burrow has a cwtch-up interior that will set romantic hearts racing. Swaddled by trees and a juicy-green meadow, Willow the Wisp is just the place for a couples' retreat where all you want to hear are the birds and the bees, and all you want to feel is deeply connected to the one you love.
Willow the Wisp Cabin sleeps 2 adults and was added to the five peaceful acres of Downash Wood in 2019 (which is also home to the treehouses Tinkers and Oakey Koakey, and the cabins Hidey-hole Cabin, Coddiwomple Cabin and Daisy Chain Cabin). Since then, it's been luring couples month on month who love the peace, seclusion and chance to knit themselves back into nature.
More bucolic burrow than cabin, Willow the Wisp Cabin is a sweet self-contained space, ideal for two adults who want to be nuzzled up next to one another (or a solo traveller who wants space to think and be).
The soft, thick double bed fits snugly into the cabin yet leaves plenty of leftover space for a kitchenette (with a sink, kettle and toaster), underbed storage, bookshelves and a 24-inch TV. There's also a bathroom with a hot shower and flushing toilet.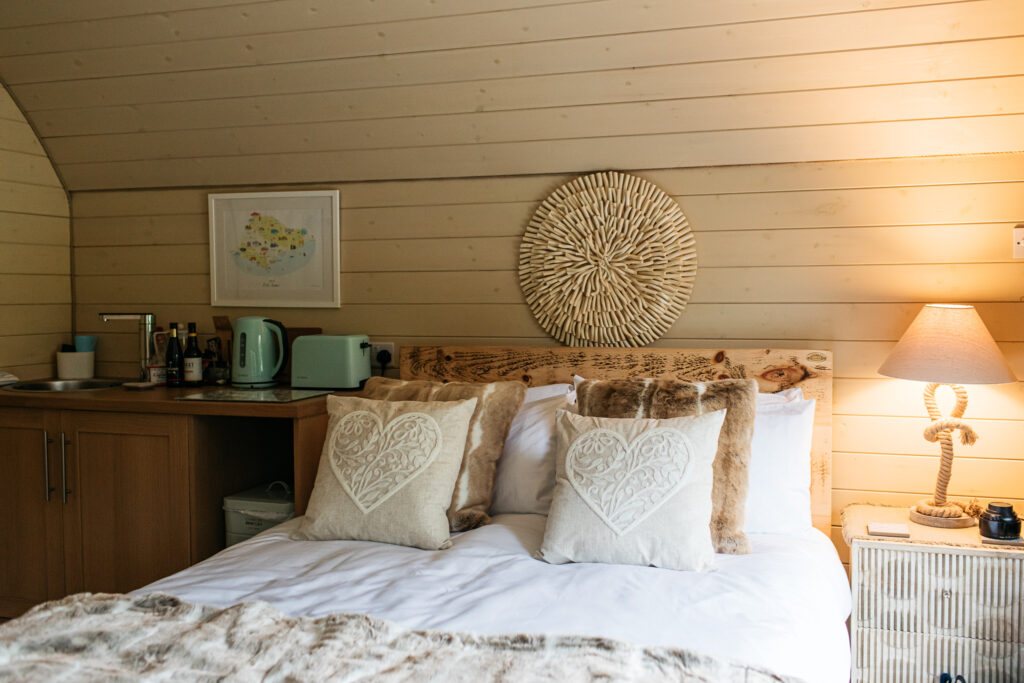 But the real gem is the outdoor hot tub, sitting on a private wooden terrace, which is fired by freshly chopped wood, the sounds of laughter and the recurring gentle 'pop' of corks.
The beautiful Bewl Water reservoir is a mere hop, skip and jump from Willow the Wisp, as are several inviting country pubs in Ticehurst. Should you want to explore further afield, you're deep in the heart of the High Weald Area of Outstanding Natural Beauty, so have some of the south east's most gorgeous attractions and delightful scenery stretching for miles in all directions.
Adults-only Hobbit-style woodland cabin with 1 double bed, sleeping 2
Only 2 hours from London
Small kitchenette with double plug-in electric hob
Toasted and kettle included
Teas, instant coffee, milk sachets, cooking oil, salt and pepper included
Shower room with complimentary toiletries
Private hot tub on a secluded terrace
BBQ firepit with pull out grill
Free parking on-site
No WiFi but there is good good 4G on site dependent on your network
No children or dogs
Within easy walking distance of the local pub, The Bull Inn
Eye Candy