Under foot the sand is soft; in the distance the waves ebb and flow – and with them, so do you. You move gently and softly, guided by your yoga teacher, Pip, who is here not only to give you a love of yoga that'll last, but to help you feel the beauty of the Jurassic coast from within. 
Maitri Yoga in Dorset does something other yoga classes don't do; it brings yoga to you. You select the time and the setting and your instructor, Pip, will do the rest.
Yes, you can choose the beach near where you're staying or you can choose a different setting – inside or outside: in the garden outside your front door; in the living spaces of your accommodation. Wherever there is space to practise, Pip can make it happen: she's happy to travel anywhere in West Dorset or East Devon to bring yoga to you.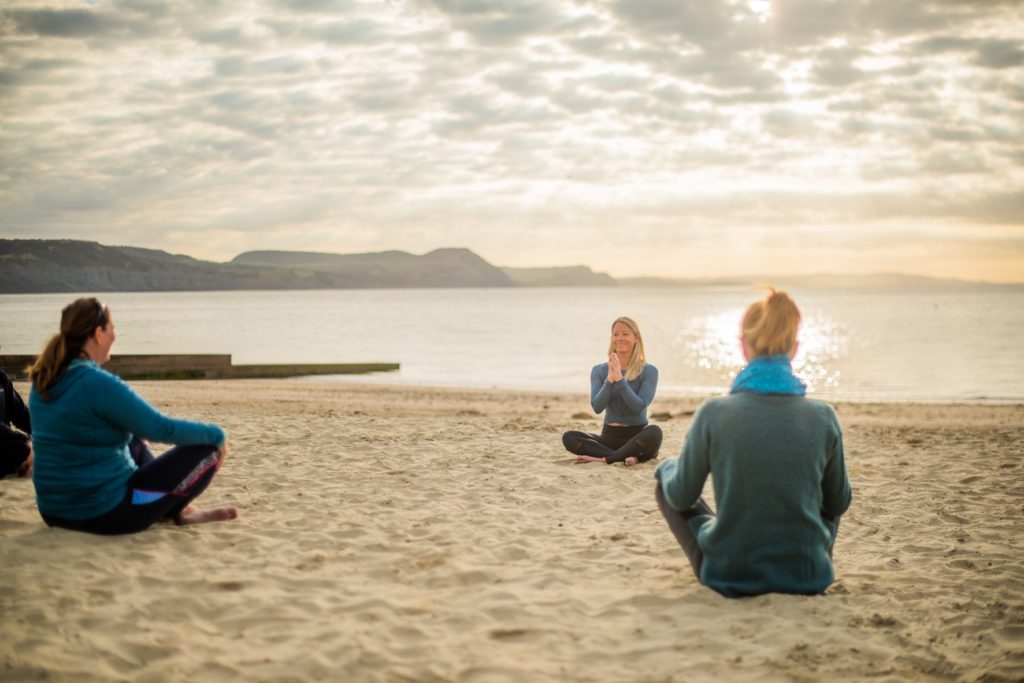 Pics credit: @nick.ivinsphoto
You don't need to be experienced to enjoy her bespoke Dorset yoga sessions either. Maybe you've aways wanted to try yoga but never had the time or confidence to join a class? Perhaps you would like to have some dedicated space to learn something new, such as arm balances or heart-opening backbends?
Pip will discuss what you'd like before your session and design a bespoke practice to help you nourish your wellbeing and empower you to move, breathe and connect with yourself and your surroundings.
She can even adapt her yoga style to suit you: from traditional to contemporary, from spiritual reflection to hot and sweaty – you just tell her what you want to achieve. Whichever style of Dorset yoga you choose, you can be certain that Pip's warmth and compassion means you will feel truly supported in your session and feel serene and grounded whilst on your mat.
Best of all, after your session you can carry on your yoga journey with Pip thanks to the on-demand digital content library she's created. This is yoga for the modern world built around your wishes and desires – and, trust us, you're going to love it.
Bespoke yoga brought to you from £60 for a 60-minute session
Pip is Yoga Alliance accredited and a dedicated yoga practitioner
She teaches Ashtanga but also Rocket, Hot Yoga, Alignment Anatomy and Vinyasa Flow
Pip also runs regular group sessions in Lyme Regis on Thursdays and Dorchester on Fridays
Regular classes in the most beautiful settings: on Lyme Regis beach and in the botanical oasis that is Passiflora Wellbeing
Regular class sessions cost from £8
Digital content library so you can continue your yoga journey afterwards
Gallery