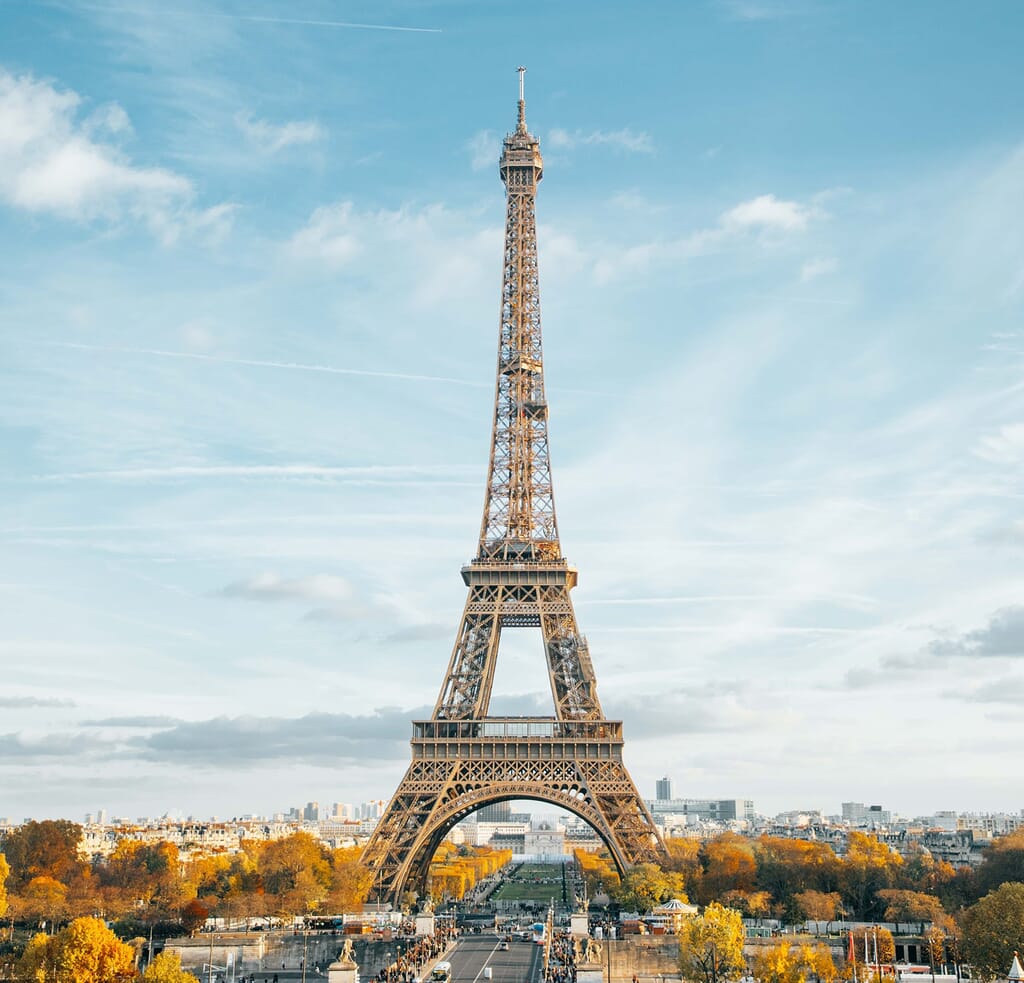 Amsterdam, Barcelona, Paris and Vienna – 4 European cities that you probably don't expect to be good value for money due to their popularity as short hop destinations.
However, according to some new city breaks and stopovers research carried out by HSBC (and shared with yours truly to pass on to you), these 4 city-break beauties do have affordable surprises in store for us short break seekers.
In fact, I was rather surprised to discover that Paris actually has the cheapest 3-star hotels on offer compared to the other city break alternatives. As well as the cheapest public transport. Zut alores. So, for you, here's a public service post on Europe's best value city breaks – to help your weekend budget go even farther. Sweet.
PIN FOR LATER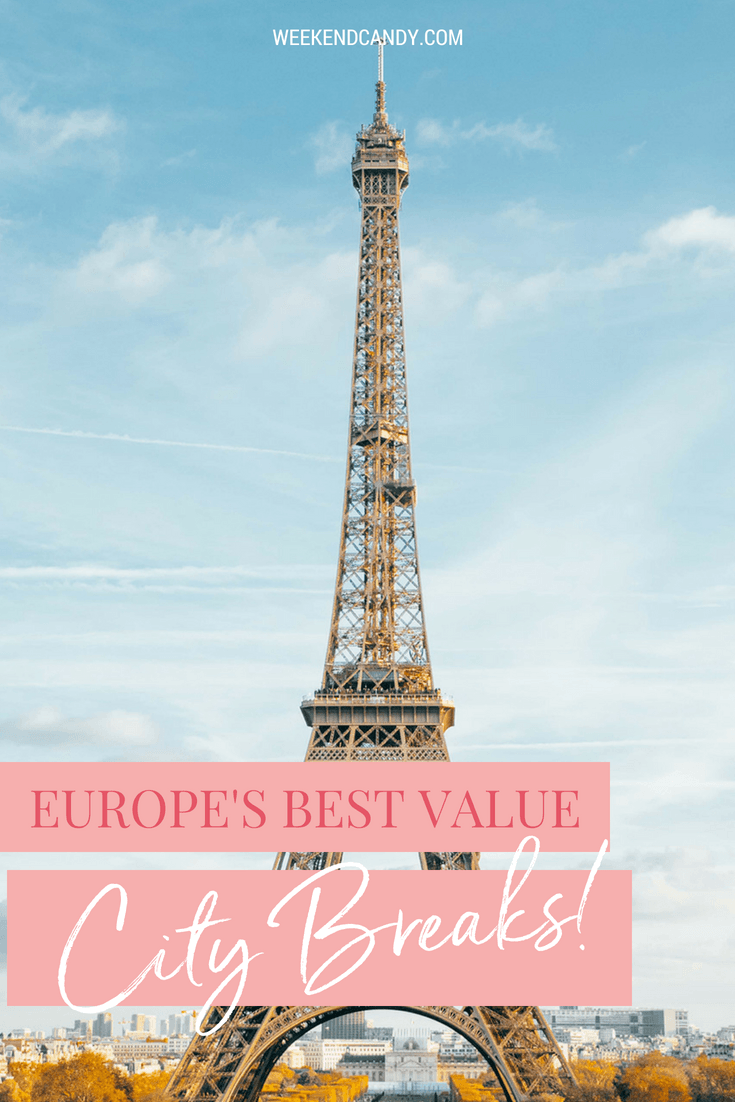 PIN FOR LATER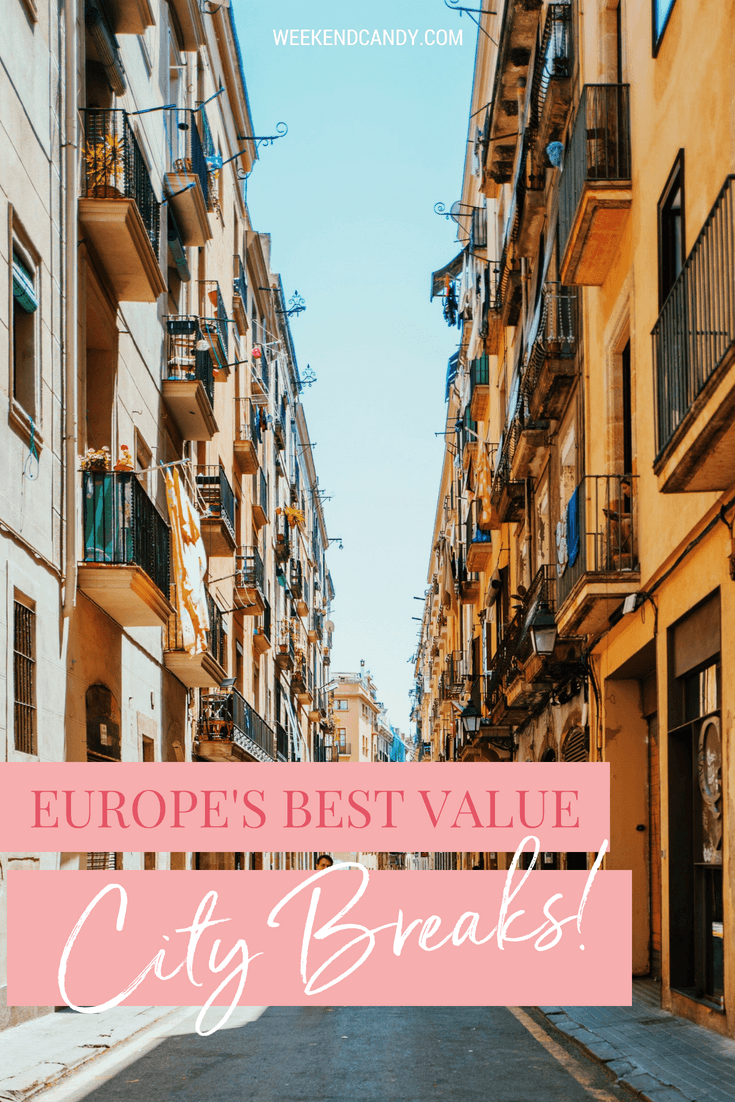 Barcelona
Cheapest for food and drink
3-course meal for £35.21
According to the research, Barcelona is the best city in which to enjoy a 3-course meal. Of course, eating out on a budget and dining in style is only going to happen if you know where to go. If you don't, you can get stung by Barcelona's string of mediocre restaurants serving overpriced, average meals.
My advice? While there are some fantastic Michelin starred restaurants in the city, if you want your budget to work hard for you, plan ahead and choose from this list of wallet-friendly options.
Affordable places to eat in Barcelona:
Tallers 76 – Find it at the heart of the city, on the trendy Calle Tallers. Expect hip sandwiches, made with artisan breads with fatly-packed fillings. Sandwiches start from under €6.
Mosquito is a tiny little restaurant in the trendy Born district, serving Asian fusion tapas and delicious dim sum. Dumplings start from €5.
Grup Andilana La Rita  is a Catalan food restaurant serving a variety of dishes. There's a daily lunch menu from Sunday to Thursday for €15 per person with a starter, 2 main dishes, dessert, a drink and bread included.
La Boqueria  is the most famous market in Barcelona where you can find any kind of food, gourmet ingredients and great quality of fruit and vegetables. The most famous bar in la Boqueria is Bar Pinotxo.
A bottle of wine for £4.40
Being the al fresco city that it is, Barcelona has many outdoor cafes and bars that are buzzing during the day and alive as the sun sets. And during the summer, many flock to the chiringuitos, the beach bars that are erected when the weather starts getting hot.
Whether it's beer you fancy, a nice bottle of red or a cocktail, Barcelona has plenty of options to choose from – that won't break the bank if you do your research beforehand. Luckily, you don't have to because I've done it for you.
Affordable places to drink in Barcelona:
L'Ovella Negra – A barn-style bar located just off Las Ramblas in the heart of Barcelona. Grab a 1/2 litre of San Miguel for just €3!
Espit Chupitos – The mother of all cheap bars in Barcelona, serving over 200 shots (chupitos) costing a mere €2. Find it in the Eixample neighbourhood of Barcelona.
33/45 – A lively, inexpensive bar in the Raval neighbourhood, popular among locals and tourists. Tends to get very busy at weekends.
Dow Jones is a bar with a stock market style experience. Drinks' prices vary depending on supply and demand. Sometimes there's a crash and all drinks suddenly turn cheaper. Beers usually start at around €2.50
Paris
Cheapest for hotels and attractions
A 3-star hotel for just £82 pn
Yes, it is possible to find somewhere stylish and affordable to stay in Paris – for under €100 a night. Honestly. Inexpensive, chic hostels and hotels are, thankfully, not rare in Paris these days as the city capitalises on the budget traveller and weekender market. Anyway, why splurge on a posh hotel when you're going to be out and about enjoying all Paris has to offer? Instead, save on your accommodation and spend the rest on crêpes.
Cheap accommodation in Paris:
Mama Shelter started the trend for design on a budget when it opened in 2009. Close to the Père Lachaise cemetery and the hip Belleville district, it has 172 bedrooms as well as a laidback restaurant, which offers a number of dishes from Michelin-star chef, Guy Savoy. Doubles from €79, room only. 
Citadines apart'hotels give you the best of both worlds when you're in Paris for the weekend: hotel service with self-catering flexibility. I stayed in Citadines Prestige Saint Germain des Près, in the Latin quarter, but there are other 17 other affordable choices. Prices from €94.
Hoxton is one of the coolest places to be and be seen in Paris. Beyond the Hoxton's 172 stylish rooms, the hotel's Jacques bar is a destination in its own right for a stylish evening out. The staff are friendly and attentive and the location is top-notch with the Louvre Museum and Pompidou Centre both under a mile away. Doubles from €99, B&B.
Idol hotel puts the party in Paris! This disco-themed hotel comes with rooms named after classic dance tunes such as "Ma Cherie Amour", "Light My Fire" and "Lady Soul". It's bold and kitsch and perfect for music fans and party animals. Doubles from €90, room only.
Attractions for just £12.00
Tourist spots abound in Paris, but not all come with a tourist-inflated price tag. Indeed, Paris has many things to do that are either free or very low cost, making it more affordable than Barcelona, Vienna and Amsterdam when it comes to city attractions. Here's a snapshot of some cheap things to do in Paris that will help you make the most of the city.
Affordable things to do in Paris:
Free Sunday Put it in your diaries now: every first Sunday of the month in Paris the city's national museums, including the Louvre and the Orsay, open their doors to the public for absolutely no charge. Remember also, Paris' free outdoor attractions like Palace des Vorges and Jardin de Plantes.
Paris Museum Pass Place one in your wallet and you'll get free or discounted access to over 60 museums and monuments around Paris. A 2-day pass costs €48 and easily pays for itself after a few attractions.
Free walking tours of Paris's central sights are available from several tour companies. For a personal view of the city, try Paris Greeters – where you make friends with a local who leads you on a free tour of their city.
Amsterdam & Vienna
For under £200
Affordable Amsterdam
Fly with: Many budget airlines fly to Amsterdam's Schiphol Airport, but easyJet seems to have the widest choice of flights. From £60 return, excluding charges for checked-in bags.
Stay here: Hotel not Hotel is quirky, cool with fascinating design. Located on Piri Reis Square, which is walking distance from the tram No 17 stop. Unique rooms start from €50 per night.
Eat here: Hap Hmm – Dutch grandma cooking served up in this canteen with a living-room feel. Find it near Leidseplein. Fill up on meat and potatoes for not much more than €6.
Do this: Visit the famous floating flower market for free and enjoy all the colorful flowers with wonderful smells. Alternatively, take a free tour of the city with Sandeman's New Amsterdam Tours – guides work on a tip basis.
Travel by: Forgo taxis and public transport and instead rent a bike starting from around €5 an hour or €10 a day.
Affordable Vienna
Fly with: The cheapest flights I found for a long weekend in August were with EasyJet. £157 return from Bristol.
Stay here: Hostel Ruthensteiner has the cleanliness of a 5 star hotel with the vibes of the perfect hostel. Private rooms from approx. €60 pn.
Eat here: Taste some traditional Viennese dishes for a cheap price at Buffet Colosseum, with nothing costing more than €8.00.
Do this: You haven't really seen Vienna without a trip to Schönbrunn Palace. Tickets are a little on the pricey side, use what you save elsewhere. Take the Grand Tour, an hour for €17.50.
Travel by: Foot or by bike – Vienna is friendly for both! For free biking, using CityBike. It's free for the first hour, then €1.00 for the next hour, €2.00 for the 3rd hour and so forth.
Disclaimer: This post was kindly sponsored by HSBC and is based on research conducted about best value city breaks by the bank. To see more of the research, check out the HSBC infographic opposite. HSBC also offer a 4-step travel money service so you can get your Euros for your city break quickly and easily online.  Sweet.
Read next:
Save for later
At-a-glance city break infographic