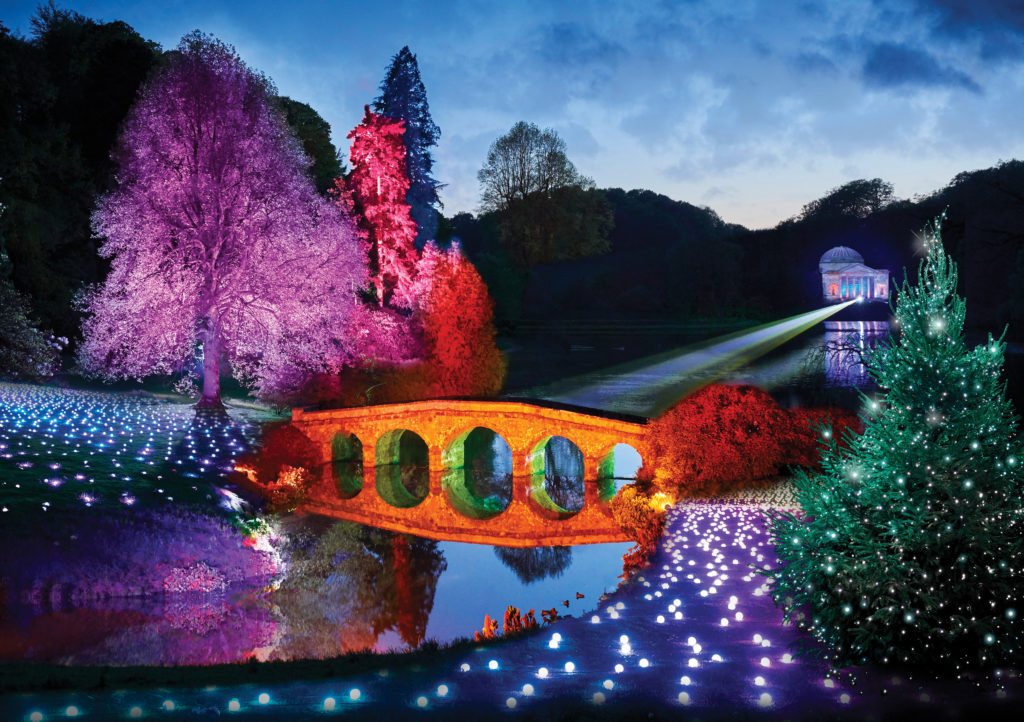 It's the most wonderful time of the year to stay in and drink mulled wine or get out and see the Christmas light trails near you – or do both (hey, you do you). For the latter, My Christmas Trails have channelled the magic of Christmas and created illuminated trails, choreographed to your favourite Christmas classic, at six sites across the UK.
Hosted in palaces and botanical gardens, the mile-long Christmas lights trails are straight from the pages of a winter fairy tale and feature twinkling lights, glowing flowers, colourful trees and amazing illuminated installation from international and UK artists. Santa may make an appearance, too – ho, ho, ho. They'll take 1-2 hours to complete so make sure you wrap up in your toastiest clothes.
PS: Full social distancing will be maintained throughout each site, face masks are encouraged, and the outdoor trails will operate as one-way systems.
Pics credit: My Christmas Trails
---
CHRISTMAS LIGHT TRAIL AT KEW, LONDON
4 December 2020 – 3 January 2021
The Royal Botanic Gardens at Kew's sell-out Christmas trail is returning for its eighth year this Christmas. The stunning after-dark feast features old favourites and brand new installations in an music, artwork and illuminations extravaganza.
Expect eyes to light up as you take the enchanting winter trail through the illuminated Rose Garden, for the very first time. There's also a glittering tunnel of bells, where giant glowing seed heads and trees bathed in light will guide you to the treetop waterfall, with its beams of light creating a breath-taking aerial dance.
The much-anticipated Palm House Pond finale returns with a stunning light show playing to a memorable soundtrack of festive classics and you'll be greeted by fiery sculptures aglow with flickering flames in the scented Fire Garden.
Cost: Tickets start at £19.50 for adults
---
CHRISTMAS LIGHT TRAIL AT DUNHAM MASSEY, CHESHIRE
3 December– 30 December 2020
The National Trust's Dunham Massey in Cheshire is home to a gorgeous Georgian house, landscaped garden and an ancient deer park. This Christmas enjoy the sparkling trail as you explore the beautiful festive grounds.
Majestic, sparkling tree canopies, colour-changing lake reflections, an aerial kaleidoscope of giant snowflakes and a fire garden are just a few of the stunning displays you'll see on this Christmas trail.
Cost: Tickets start at £20 for adults and £13 for children. Money raised will help to fund the maintenance of Dunham Massey.
---
CHRISTMAS LIGHT TRAIL AT BEDGEBURY, KENT
3 December – 31 December 2020
Bedgebury National Pinetum & Forest in Kent is home to a world-leading collection of confers – could it get much more Christmassy than that? This year, its glittering after-dark Christmas trail returns to the High Weald AONB countryside for seasonal surprises including the Neon Strings and The Electric Forest.
Also watch out for Father Christmas as you explore the woods and the light maze and waterside displays. Finish the trail in cosy style with a mug of hot chocolate or mulled wine.
New for 2020
Neon Strings
The Electric Forest
Light Maze
Cost: Tickets start at £19.50 for adults and £13 for children.
---
CHRISTMAS LIGHT TRAIL AT BLENHEIM PALACE, OXFORDSHIRE
4 December 2020 – 3 January 2021
Blenheim Palace in Oxfordshire will be lit in full glory this year as its popular Christmas Light Trail returns more breath-taking than ever before.
Wrap up and wander under Christmas canopies between the trees, decorated with baubles and stars; grab a mulled wine or hot chocolate and stroll through colour-changing neon tunnels guiding you to the lake; warm your hands in The Fire Garden as the flames crackle and spark. And don't forget to watch the illuminations dance across the façade of Blenheim Palace as they move in time to festive hits.
New for 2020: 
Blue Neuron – Created from reworked heat-treated plastic bottles, Blue Neuron is a beautiful kinetic light installation with a mesmerising blue light which fizzes and dances through the branches.
Heart of Stars – This stunning, magical lighting effect scatters thousands of tiny refracted beams across the path leading to the Rose Garden immersing visitors within fantastical, swirling and changing patterns.
Water Terrace Fire Garden – Walk between pea-lit Christmas trees towards a magical mix of fire and water as the pools of the lower Water Terrace dance with the shimmering reflections of flickering flambeaux and large flame-filled sculptures.
Cost:Tickets start at £19 per an adult and £13 per a child.
---
CHRISTMAS LIGHT TRAIL AT BELTON HOUSE, LINCOLNSHIRE
4 December 2020 – 3 January 2021
Head to Belton House in Lincolnshire for a spellbinding after-dark Christmas trail around its formal estate and gardens. This National Trust 17th-century country house is beautiful all year round but extra special at Christmas with its festive illuminations.
Follow the Christmas trail to find the meadow of light, giant glowing flowers, larger than life candles and snowflakes and magical colour-changing trees. Father Christmas and his elves may also make a visit.
New for 2020
Meadow of Light
Laser Garden
Tunnel of Light
Larger than Life Candlesticks
Cost: Tickets start at £19.50 for adults and £13 for children.
---
CHRISTMAS LIGHT TRAIL AT STOURHEAD, WILTSHIRE
4 December 2020 – 3 January 2021
Stourhead, Wiltshire, is famous for its stunning gardens, which appeared in Pride and Prejudice (2005). And now, for the second year running, this wonderful  National Trust stately home has a Christmas trail that's not to be missed.
Wander through trees wrapped in lights, see glowing reflections dance on the famous lake and giant luminescent sculptures rising high into the night sky. Festive treats and refreshments will be also be available to purchase on site.
New for 2020: 
Field of Crocuses – Discover giant luminescent flower sculptures rising high into the night sky, bursting with light, colour, energy and imagination.
Giant Lily Flowers – Watch reflections of giant lily sculptures dancing playfully on Stourhead's famous lake.
Origami Cranes – This new sculpture work represents these mystical creatures in Japanese culture that are said to live for a thousand years, denoting good fortune and longevity and are a symbol of hope and healing through challenging times.
Rudolph Nose the Way – Suspended up between the trees, Rudolph's cheery, shining red nose and antlers will guide you on your way through the trail.
Heart Walk – Stroll along the Heart Walk, framed by larger-than-life colourful glittering hearts in the trees around you.
Cost: Tickets start at £19.50 for adults and £13 for children.
---