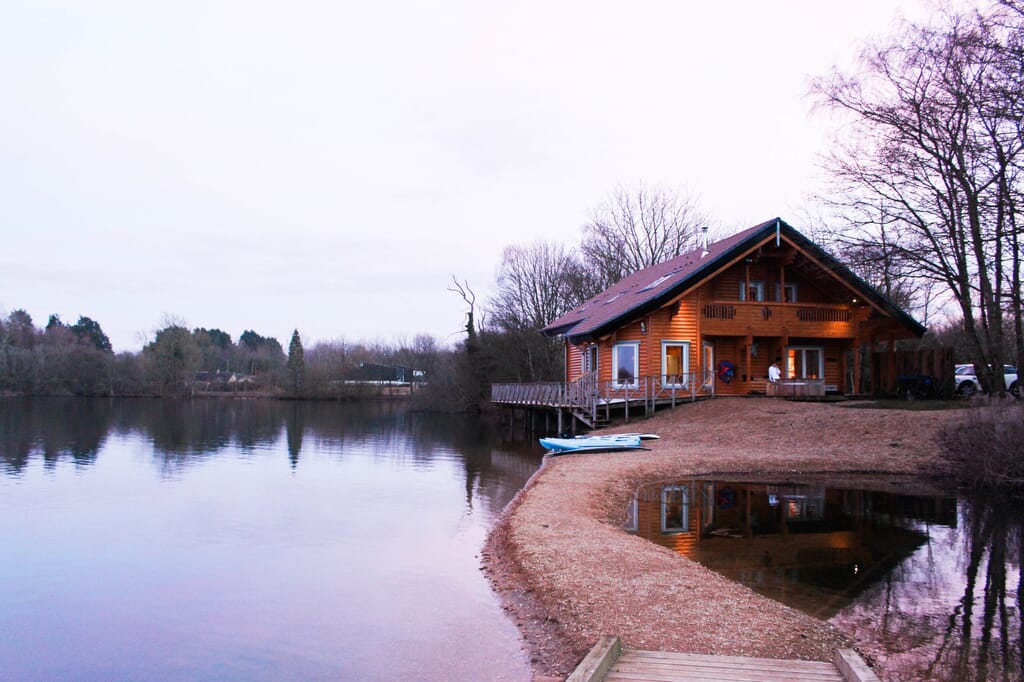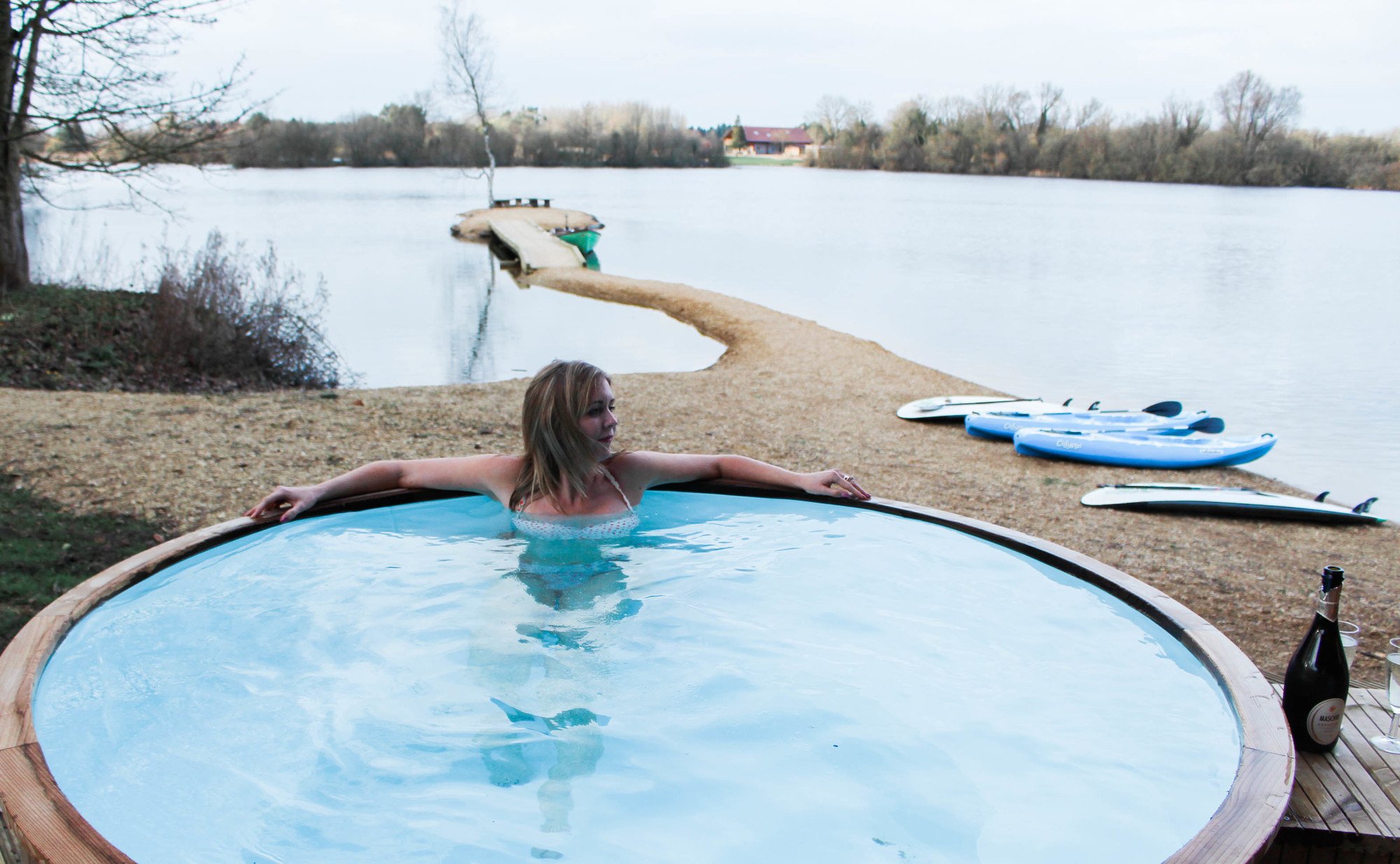 Welcome to Moondara at Log House Holidays, Cirencester
Moondara is a lakeside Finnish log cabin that is impressive on an almost heart-stopping scale. With the solidness of a mountain, it holds its own against an unspoilt watery landscape; the second largest lodge in the eight-strong Log House Holidays selection. This selection unrolls peacefully over 130 pine-lined acres and includes four-person cabins, two six-person cabins, the eight-person Moondara that I was to call home for a few days, as well as one mighty 11-person lodge.
"It was as if someone had slipped a bell jar over the lake and lodge; the outside world stilled by the glass. Never have I felt so deliciously cut-off, yet so connected to nature."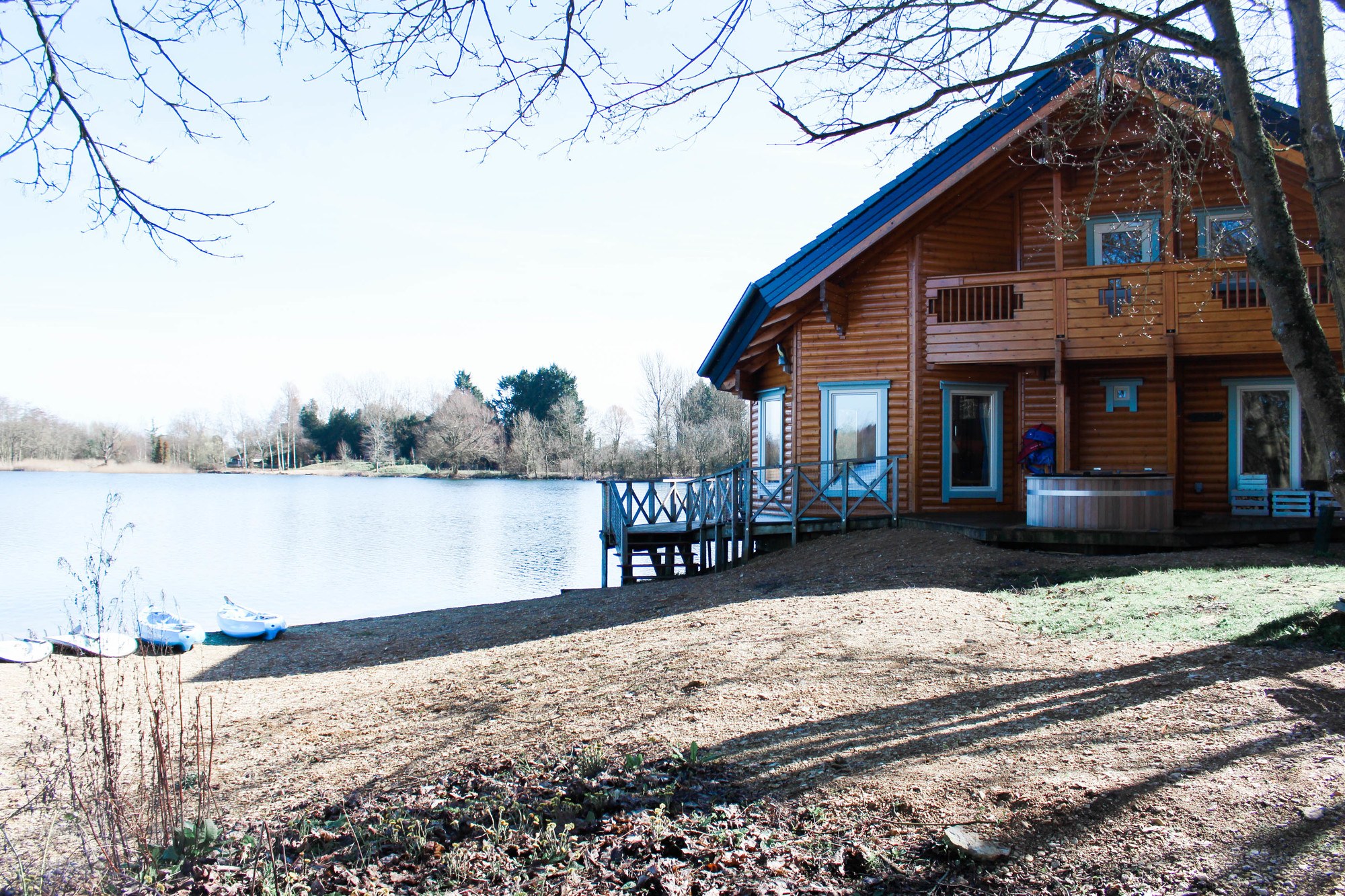 About Moondara at Log House Holidays
Log House Holidays, for those who've yet to hear of it, is a sustainable family-run business in the Cotswolds – and Moondara – like the other lodges, is a work of Finnish brilliance sprung from the passions and sheer physical graft of the owner, Anthony Edmondson and his son, James.
When I unlocked the door to Moondara, I was overwhelmed by its Noah's Ark proportions. The lounge, kitchen, and dining room unite as one massive co-living, eating and cooking space that is as lofty as it is beautiful. Head up the thick pine stairs to the second floor and three of Moondara's four huge double bedrooms await (the fourth is on the first floor) offering sublime space and privacy within heavy Baltic pine walls.
But it's outside where Moondara hits the hardest: a wrap-around wooden veranda catwalks the huge glassy lake with views to the horizon; lapping the lake is your own private beach, complete with a jetty and rowing boat; and, as if that's not enough, sitting quietly on the outside deck, in a nook all of its own, is an authentic Finnish hob tub.
"Take to the hot tub once the stars appear and I promise,
you won't want to be anywhere else on earth."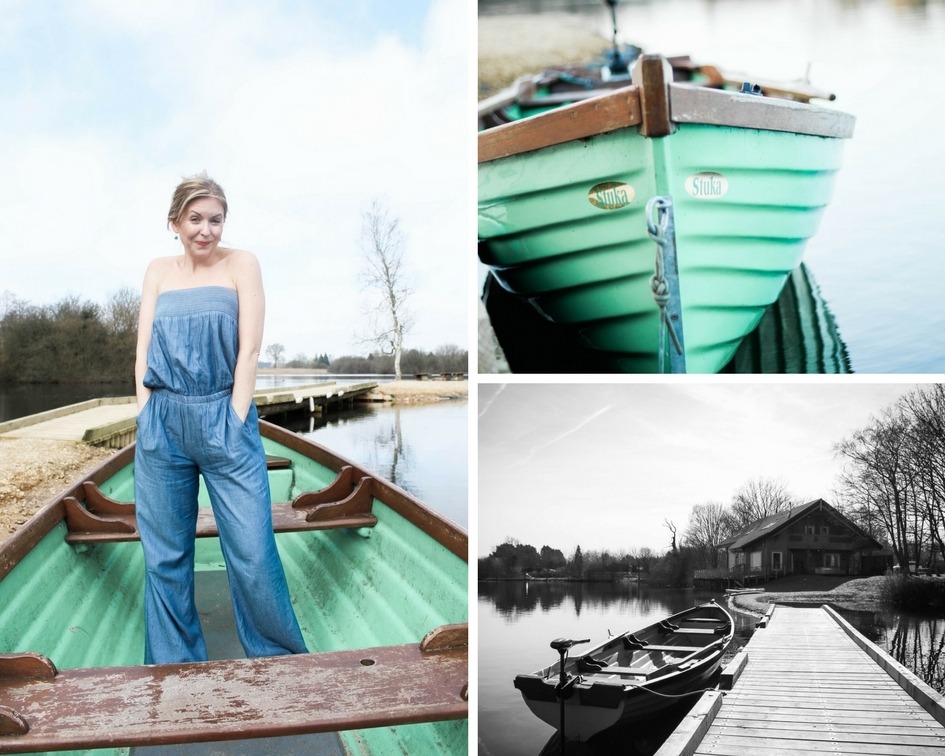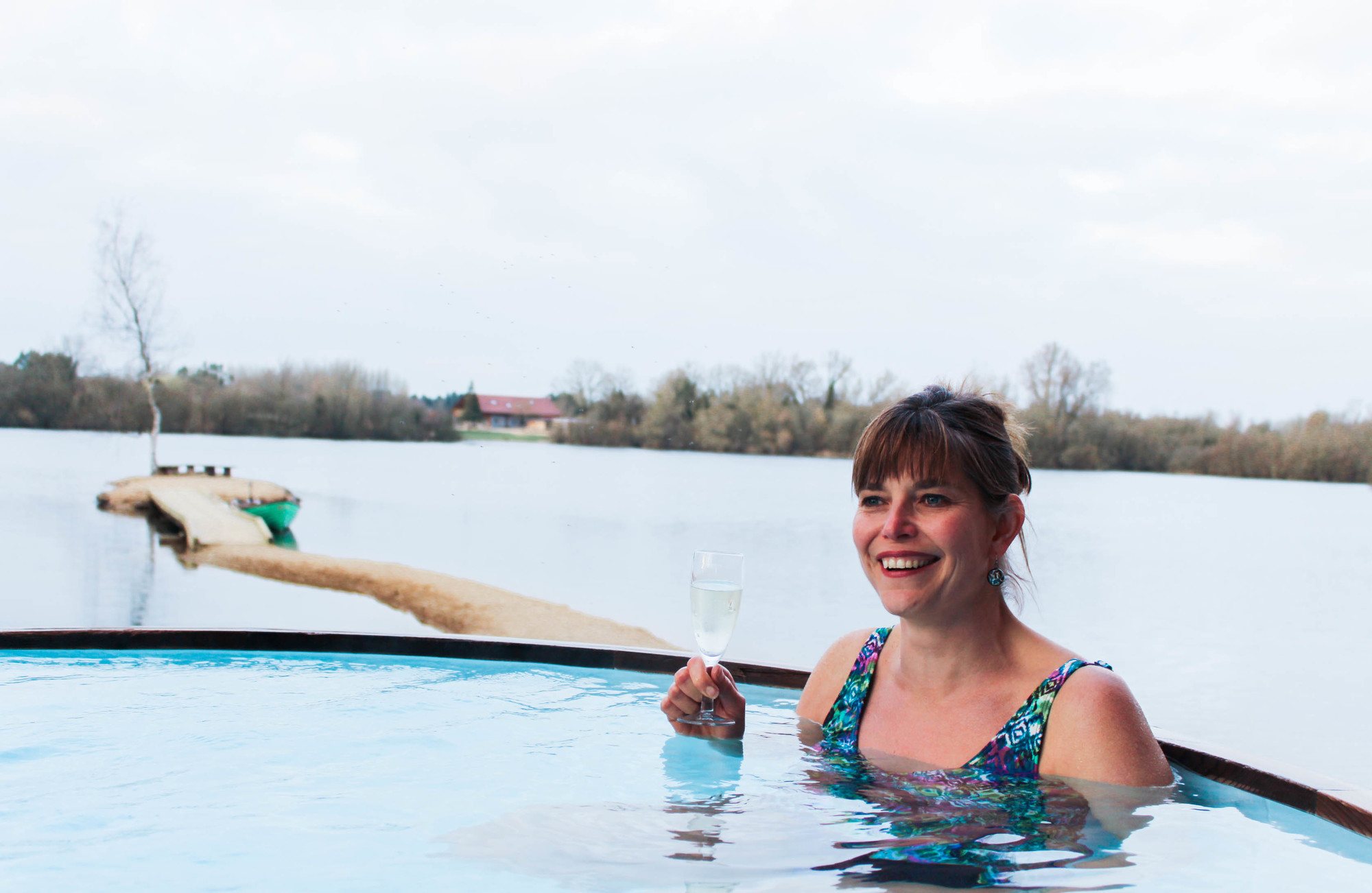 Who Should Go to Log House Holidays
Moondara is able to satisfy differing needs and ages, effortlessly. So everyone, and I mean everyone, will feel at home here.
For kids who climb and splash and run and jump, there's a range of water-based and woodland activities on offer (think kayaks, bikes, paddleboards and yomping through wildflowers on a bear hunt).
For adults who crave a noisy, large get-together, Moondara has the right internal and external dimensions and to guarantee no fall-outs over shared bathrooms or fights for the best view.
For couples who want romance, it has all the peace, home comforts and luxurious additions they could wish for (including spa treatments that come to you, no neighbours to bicker with, and a firepit where you can toast marshmallows with your beau).
And for those of us who twitch on the side, there's fist-loads of wildlife charms just outside your window: the herons, kingfishers, and swans are you nearest neighbours, alongside a family of otters who share the lake with you.
"Arriving at Moondara is like falling into Swallows and Amazons; all your adult sensibilities disappear and the kid inside you bursts forth, high on fresh air, wood smoke and adventure."
When to Stay at Log House Holidays
Each cabin at Log House Holidays is built to withstand the toughest Nordic winter. The walls are made from slow-growing Finnish pine, then thickly insulated with recycled paper pulp, whilst the floors come with under floor heating, powered by ground-source heat pumps. This means a winter, autumn or early spring break in Moondara, or one of the other cabins, is not going to leave you cold.
My break was in March and strangely we were blessed with blue skies and out-of-character heat, which brought the very best out of the landscape and lodge. But had the rain poured or the thunder rumbled, without a doubt Moondara would've kept us happy and safe.
Of course, when spring or summer arrives, these Nordic lodges have another trick up their sleeve. Their thick wood cools and they become refreshingly chilled. Keeping you and, more importantly, the Prosecco cool.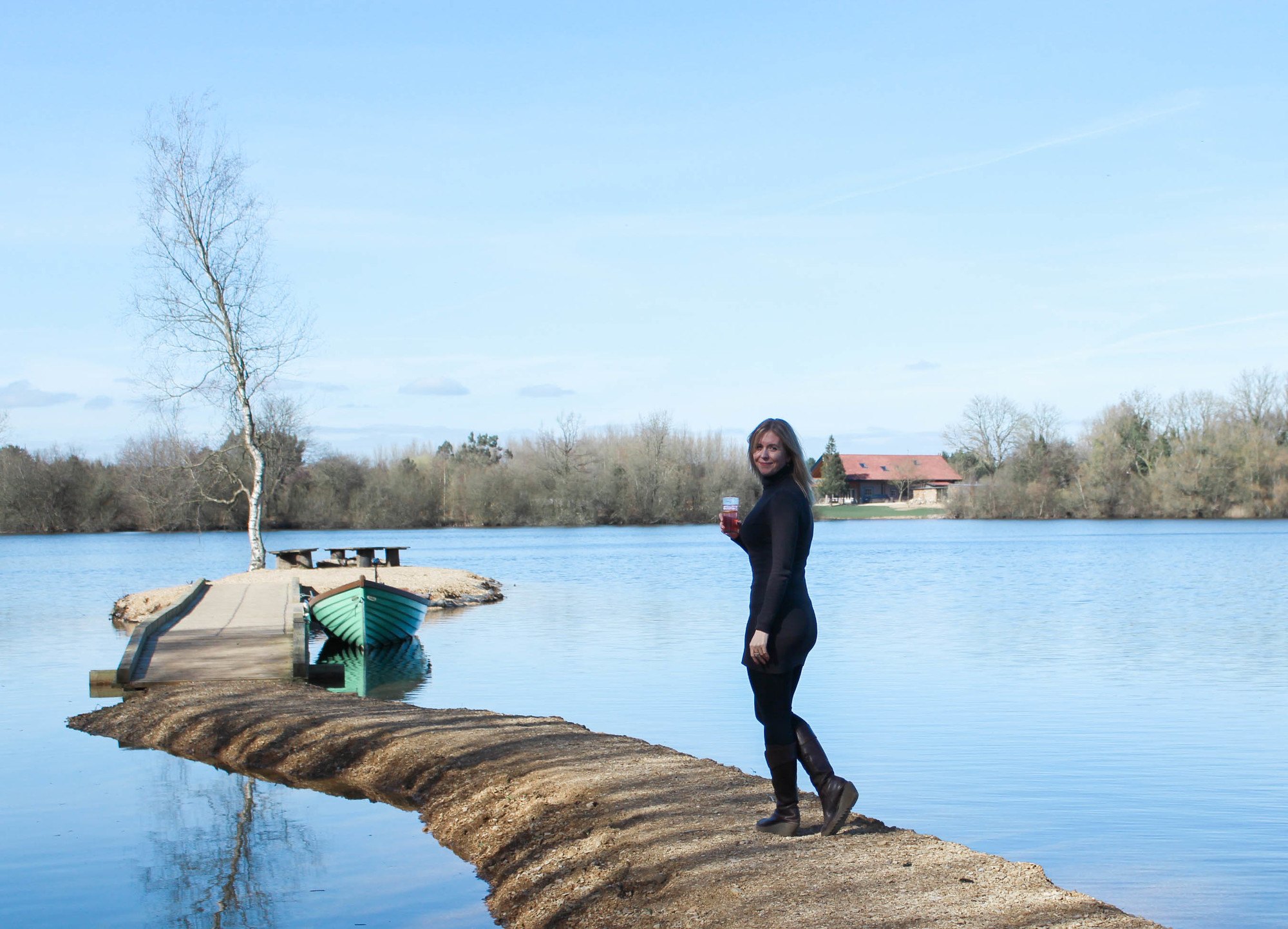 "This Narnia-styled lodge can be both summer hideaway and deep-winter snug. A place to escape Jack Frost or embrace the heat of Mother Nature."
The Location of Log House Holidays
The Log House Holidays lake and cabins are set in a secluded corner of the Cotswolds Waterpark and easily accessible from London or the North and South.
When the 130-acre Log House Holidays site was bought in 1980, by its current owner Anthony Edmondson, it was little more than an industrial wasteland of disused gravel pits and a smattering of wildlife.
Over the years, Anthony's passion for conservation has entirely transformed this slice of waterpark into an eco-haven for wildlife and for people. The site has been designated a Site of Special Scientific Interest and is as well balanced as nature herself: wildflowers grow with joyful abandon, whilst 44,000 hand-planted trees keep prying eyes out. Not that there are observers, in reality.
Each cabin is set hundreds of yards apart from its neighbour, so seeing another living sole during your time at Log House Holidays – that isn't a goose, a dragonfly or a swan – is both a shock and a surprise. Although, if you crave a little bustle or need a Prosecco top-up, don't worry; Cirencester is a simple stone's skim away.
"Be in no doubt, this is not your Centre Parcs' cram them in and bleed them dry' style of break. This places is as authentic as you'll get this side of Little House on The Prairie."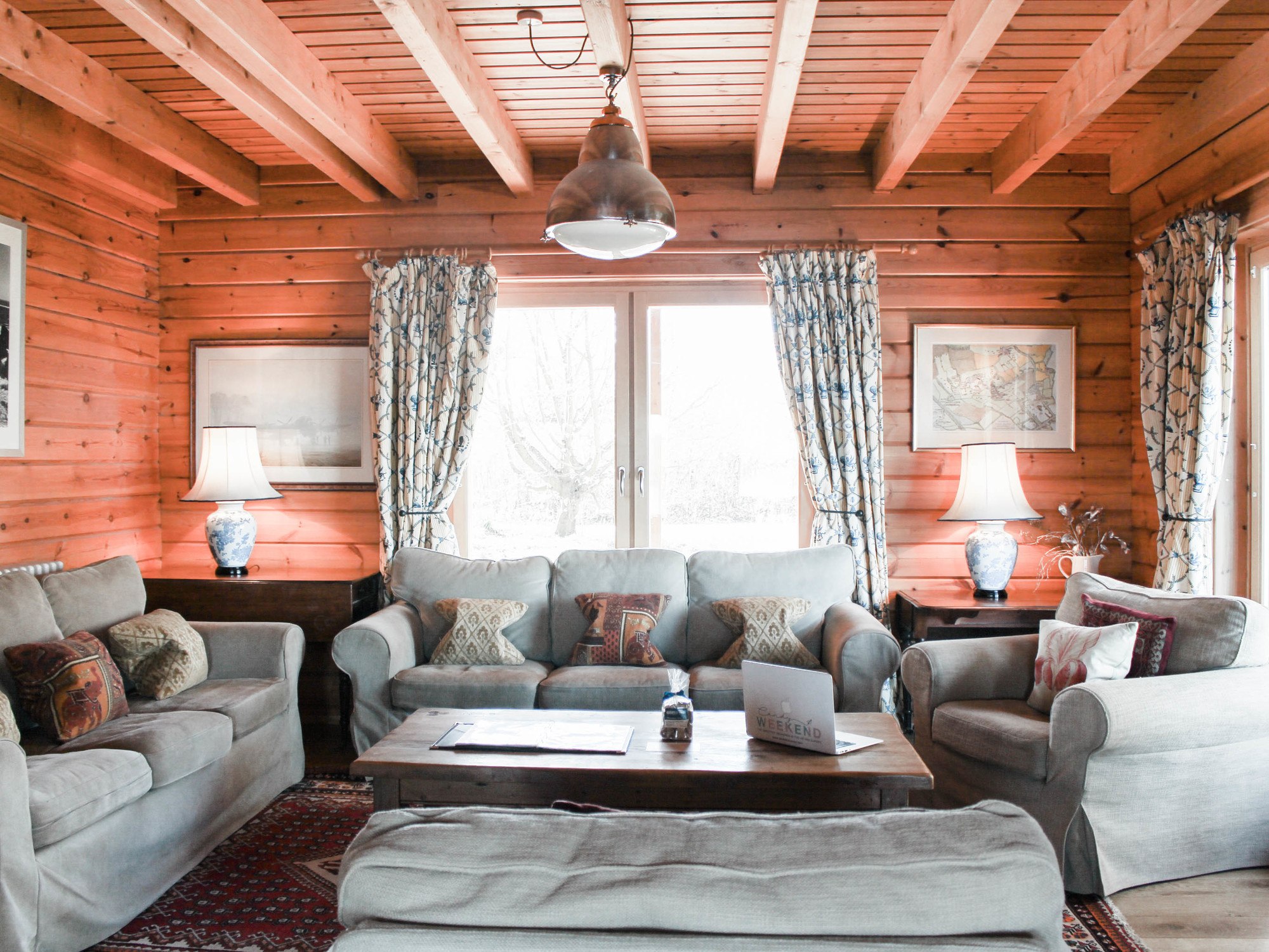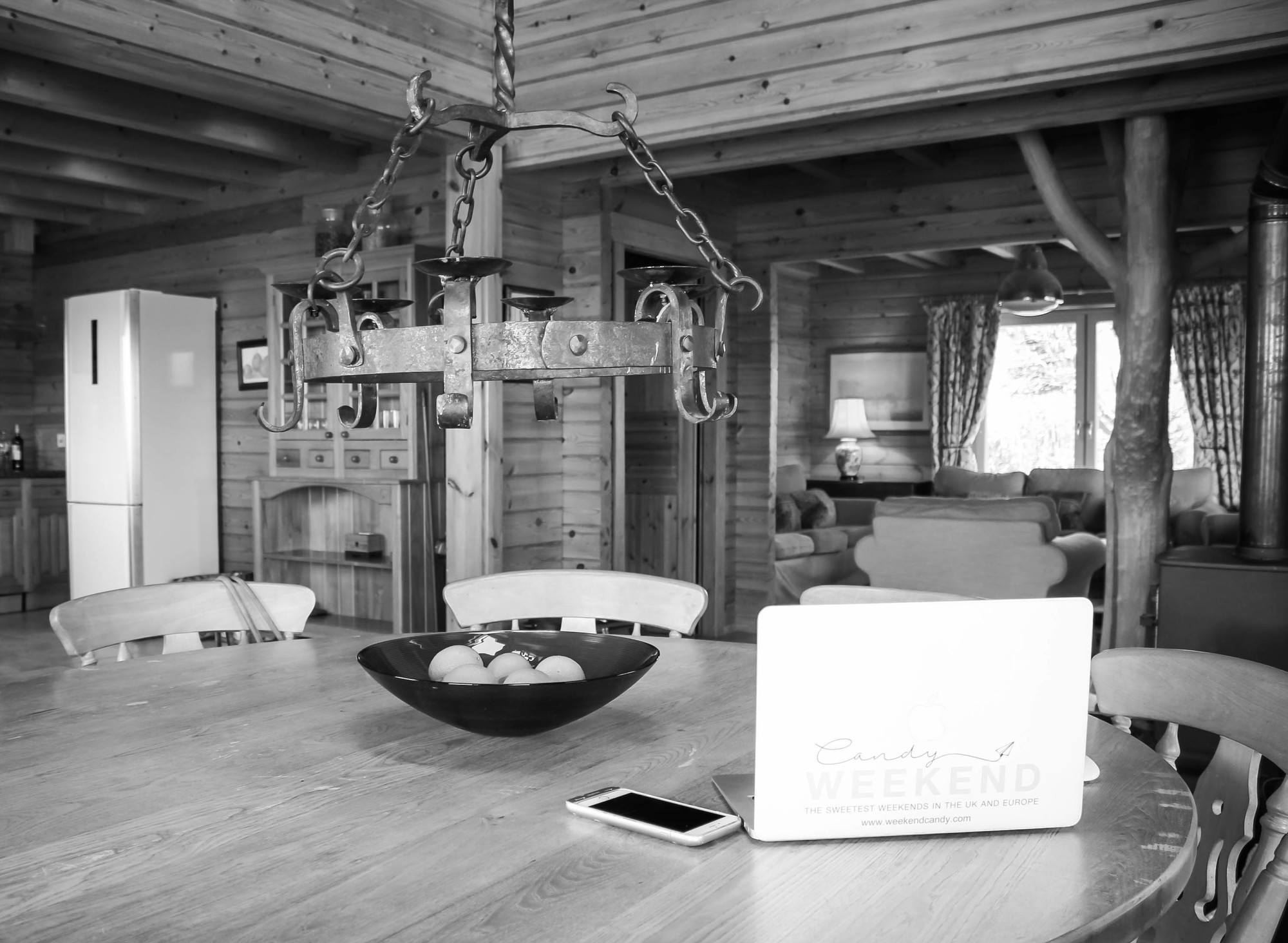 It's hard not to gasp when you enter Moondara for the first time. It's not opulence that waters the eye – the luxury here is Scandinavian in flavour: minimal and modest. Instead, it's the cavernous Baltic beauty of the downstairs that hooplas the heart.
The wooden entrance lobby leads to the hallway and on to the lounge and dining room. Both unfold attractively around a striking maple tree and a neat log-burning stove – with matches, kindling and firelighters provided.
The lounge itself is large; the generous space softened by sofas you'll sink into and made snug with natural-coloured cushions, lamps and a large rug to warm the wooden floor.
"Imagine Hygge with a farmhouse twist and you won't go far wrong."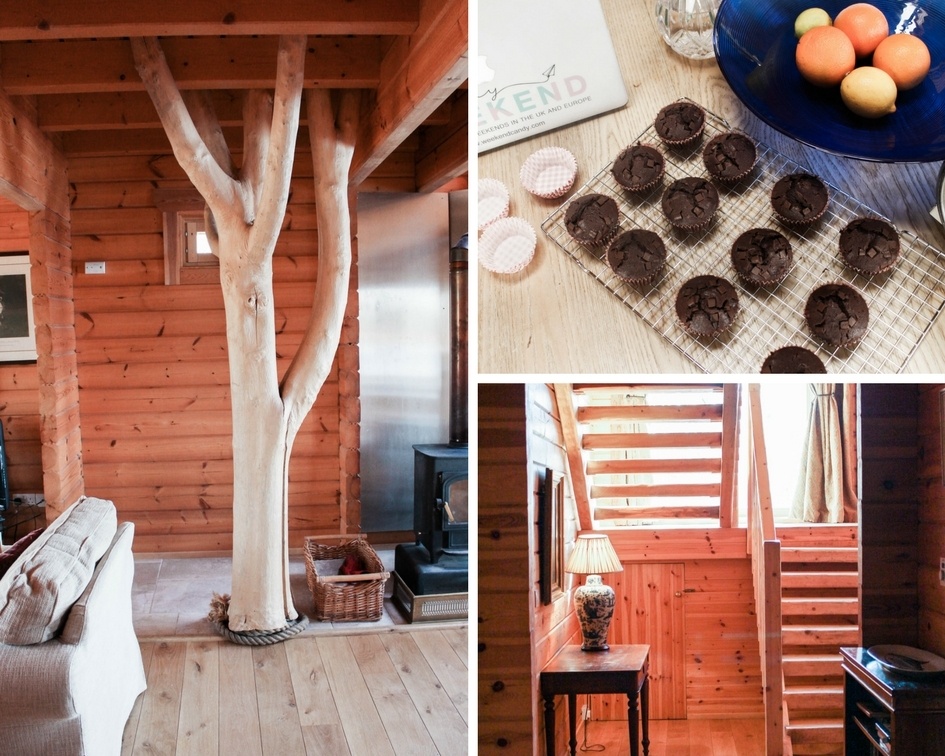 The Kitchen and Dining Room
The kitchen is equipped with military-style precision and detail. There are enough plates, glasses, knives and forks, pots and pans, to accommodate the next Masterchef contestants. And enough workspace and floor space to ensure no Gordon Ramsey type tantrums. We missed nothing, but gained plenty of calories.
Next, comes the open-plan dining room. The dining room is the core of the lodge, with floor-to-ceiling windows offering a dramatic panorama of the lake, dimensions that rocket the eye to the second-floor mezzanine, and a back door that begs to be left open to let the outside world in. Which we did until sundown, day after glorious day.
It's here, in the dining room, that life in Moondara happens. We found ourselves in this space the most – changing out of or into wetsuits, chatting over a brew, sharing stories, good food and fizz, and generally pinching ourselves just to make sure it wasn't all the hallucinogenic effects of the wood smoke.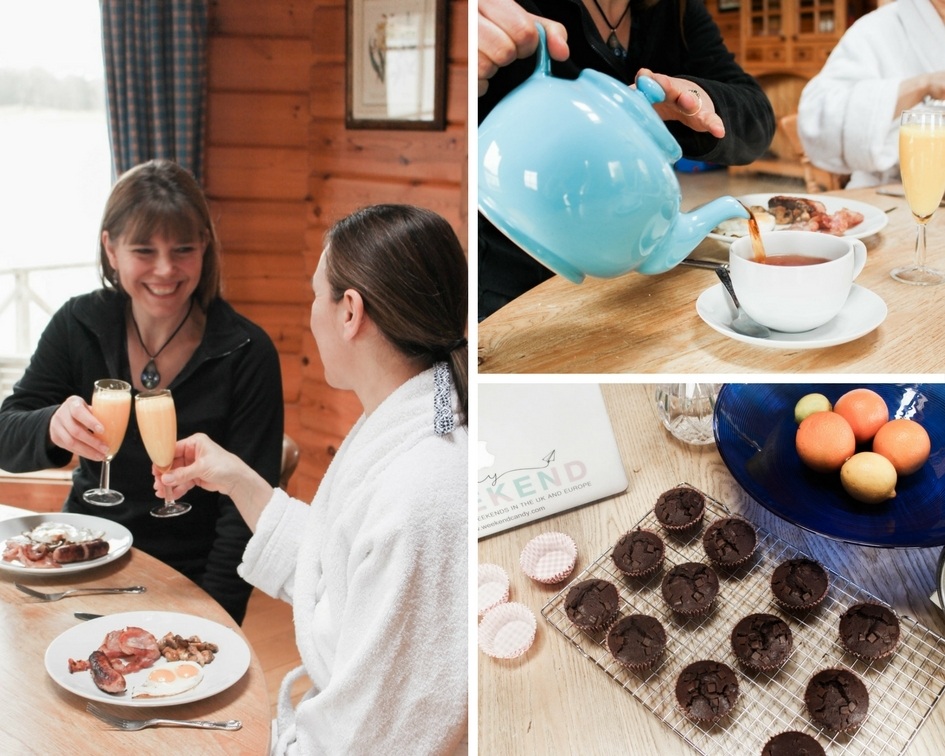 Moondara's four bedrooms have no reason to envy one another. Matched in size, they're all roomy and come with antique beds that can be made up with Egyptian cotton as single, twins or doubles. The silky lavender pouches placed on each pillow, a thoughtful touch.
One of the four bedrooms sits in the wheel-chair friendly downstairs, opposite the biggest wet room I've ever seen, with a gorgeous vista of the lake that'll keep you in bed with your morning cup of tea until supper time.
The remaining three bedrooms are upstairs, furnished in a similar way and equally privy to the views of the lake. The master bedroom has a mezzanine balcony overlooking the dining room and an outside veranda that faces the lake; rise early, grab the guest binoculars, and start the day as I did… watching the dance of two great-crested grebes with lungs full of dewy air.
You're thoroughly spoilt with the bathrooms, too. One is en-suite to the master bedroom, but both come with fat, fluffy robes (which sadly are an extra cost) and freestanding slipper baths, perfectly positioned under large Velux windows.
Exchange one hot tub for another, run yourself some bubbles, open the Velux, sink into the warm water, and let the moon soothe your soul before bedtime. Sweet dreams? Heck, they come as standard at Log House Holidays.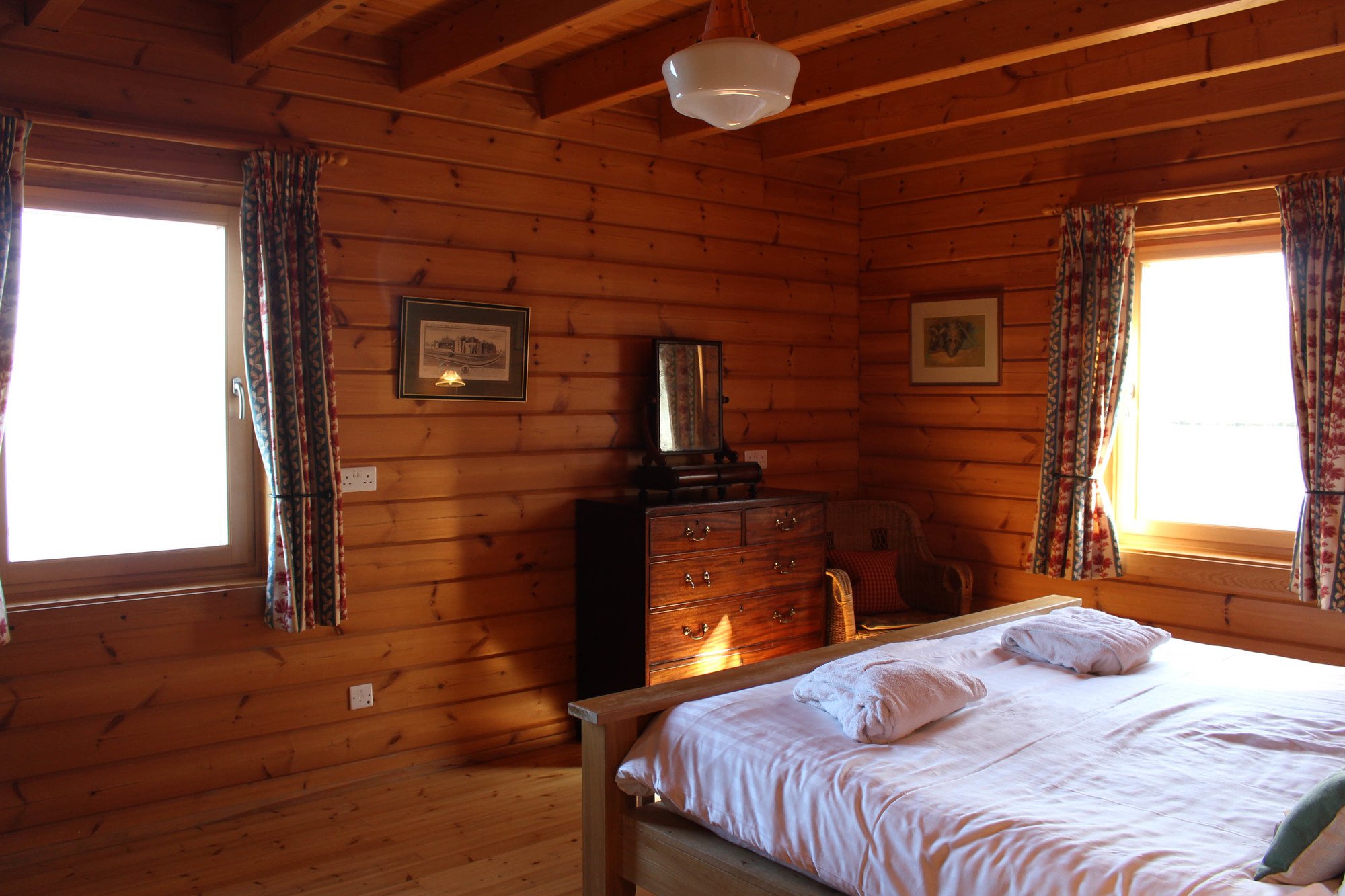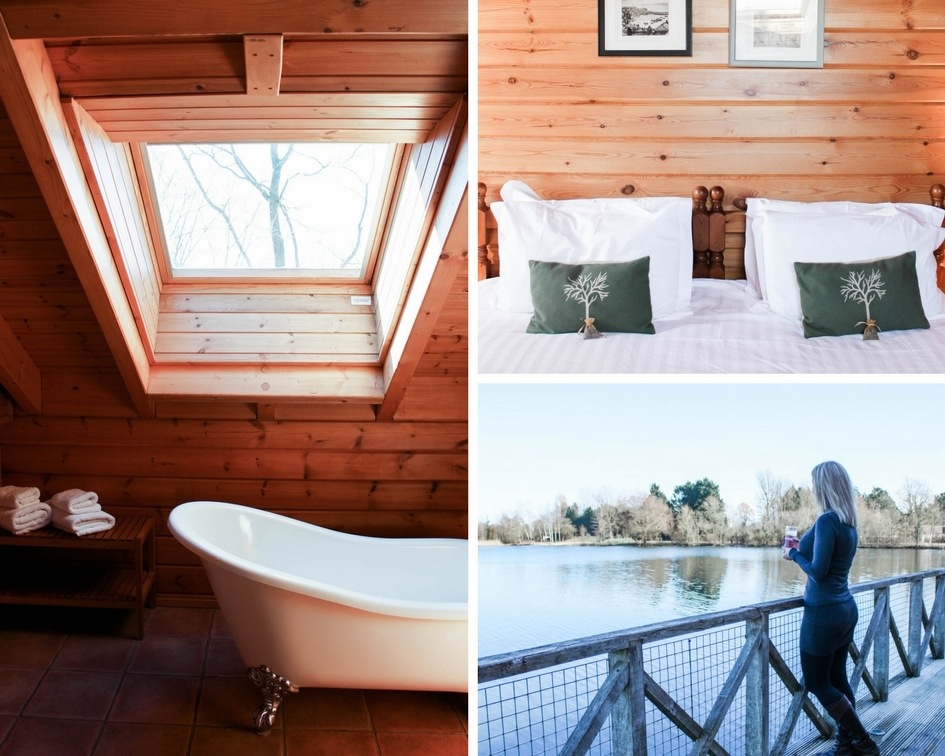 Moondara is one of the most special places I have stayed; and 'yes', I would go back in a heart beat. Because this wonderful place gives you space to choose your own adventure.
If you want to pick up a book, sit on the veranda and not move until teatime, you can. If you want a glass of fizz in the hot tub with friends at 2pm, that's ok. If you want to leap into the lake for a morning swim or fall from a paddle board, no-one is going to laugh or frown. Life here is your choice. How you fill your days, your whim entirely.
"You simply park your car outside on the gravel drive and begin. Now that's my kind of holiday."
Disclosure:
I was hosted on my 4 days at Moondara courtesy of Log House Holidays. I'd like to thank James and Anthony for their outstanding hospitality, providing us with bikes, kayaks, and paddleboards without charge and use of the hot tub, also. Log House Holidays was one of the most sublime breaks I've had and I'm pleased to be able to share my experience with you all. If you get the chance, go. You will not regret it.