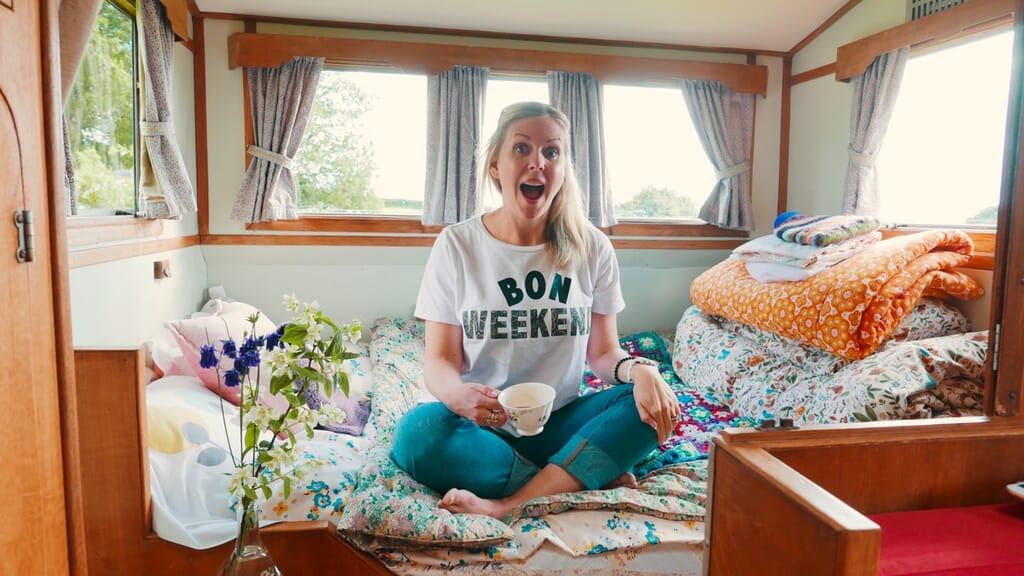 Glamping is big business. Every man and his shed is joining in with the craze these days, so in order to really stand out, you need to add more than soft furnishings and a log-burner to your glamping experience.
You need to sprinkle a little magic on proceedings… which is precisely what Mad Dogs and Vintage Vans Glamping in the Forest of Dean has done.
---
The short and sweet:
Mad Dogs and Vintage Vans is run by Sacha and Jo, two friends who opened their glamping site in Herefordshire in 2013. The site is a simple meadow, swimming in cow parsley, just outside the town of Ross on Wye.
As soon as you leave your car and step into the meadow, the modern world falls away. Helped no doubt by the off-grid nature of Mad Dogs and Vintage Vans. Yes, if you want electricity to juice up your phone, then head back to the car park. Until then, it's candle light and headlamps that guide your way.
Amongst the greenery, you'll find four vintage vans – Monty, Sybil, Gertie, Elsie – sleeping between 2 and 5 people. Each has its own character, its own personality, its own name (ours was Sybil) and its own secluded spot. Woodchip paths rush vein-like through the site, leading you to your van, the wooden toilet and wash block, the tennis court, and the large mess tent, which often plays host to hen-party activities and girls' weekends away.
There's even a massage tent, marshmallow in shape and colour, to add an extra special touch (literally) to your Ross on Wye glamping experience.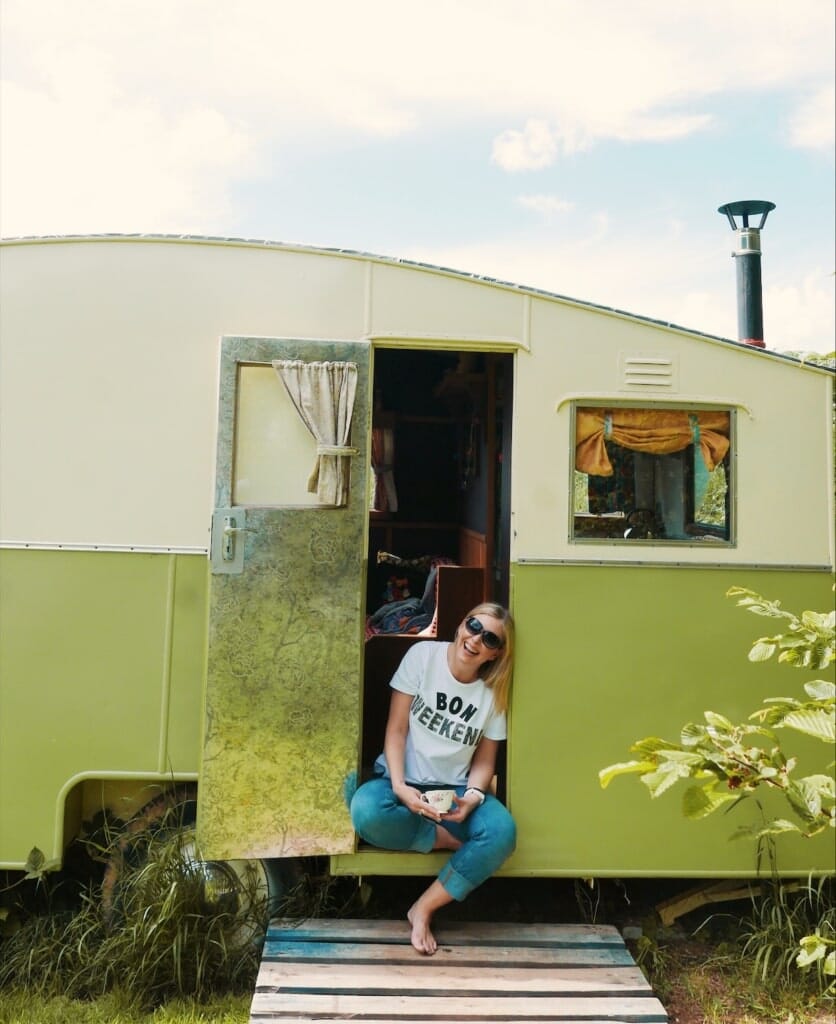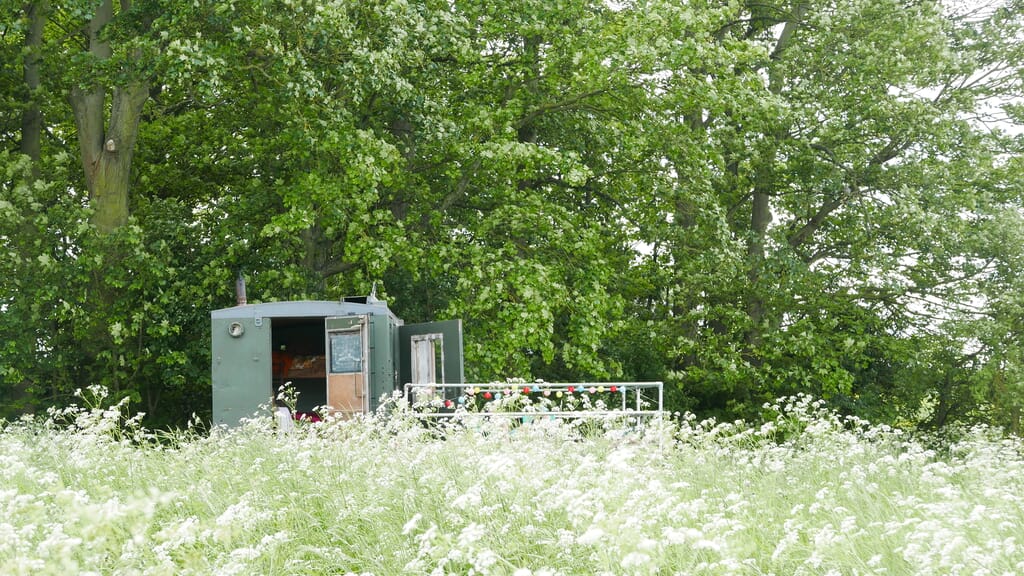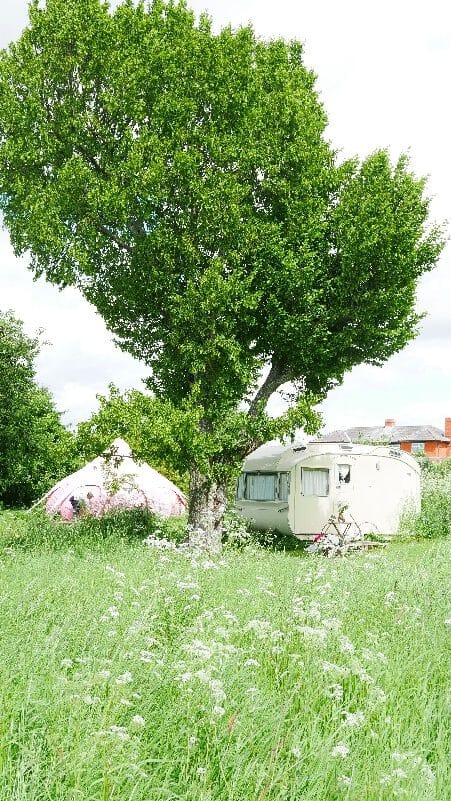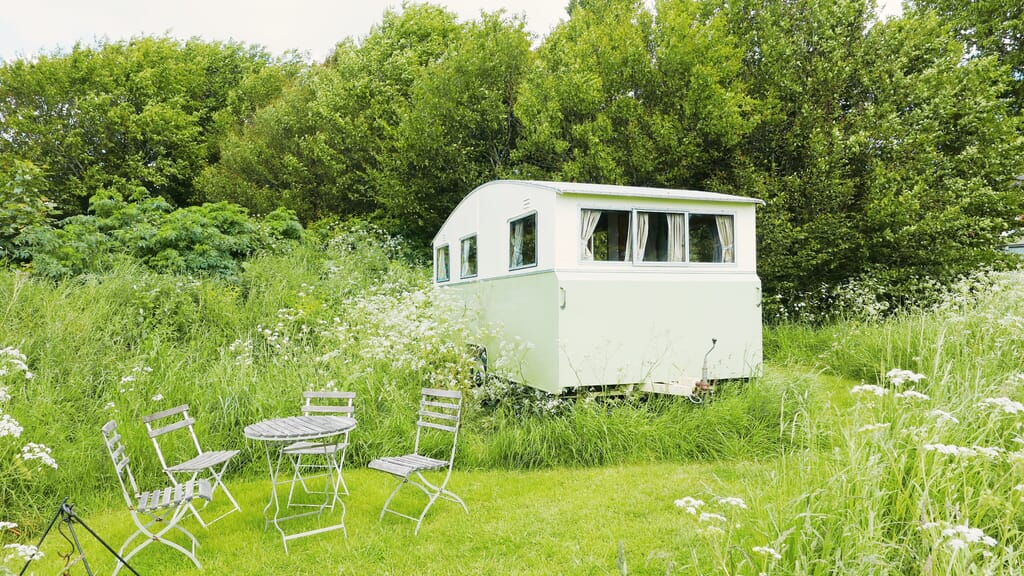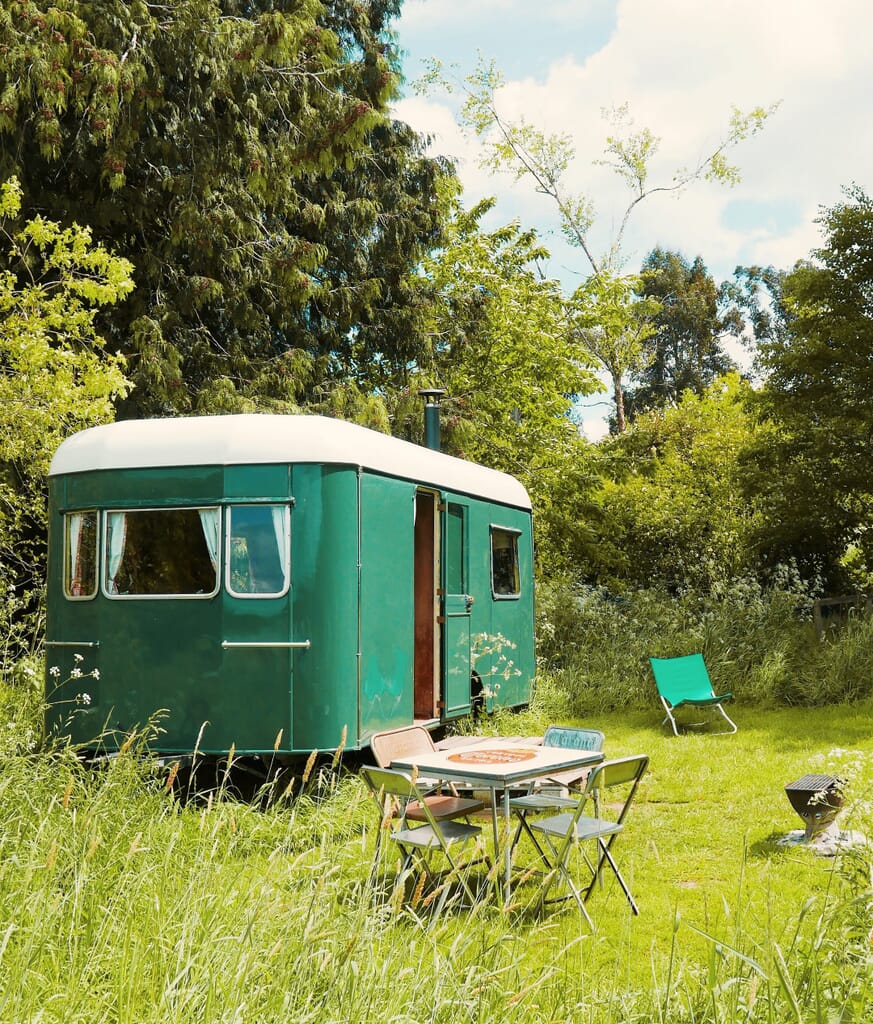 ---
---
The location:
You'll find Mad Dogs and Vintage Vans glamping in a secluded patch of leafy Herefordshire in near Ross on Wye. The site is small and secluded, so don't be surprised if you miss the turning at first (I did) and sits at the back of Jo's family home, a grand Georgian building that she's lovingly restored.
There's parking for a few cars and a make-shift shed-shop selling buckets of kindling for the log burners and campfires, as well as a good range of local produce: sausages, bacon, chutneys and jams. Should you need more options, the pretty town of Ross on Wye is nearby, which you can easily walk to in 30 mins.
For entertainment, a good book will be enough to keep you happy, I promise – the vibe here is serious downtime for you and your soul – but if you need a bit of buzz, the River Wye isn't far away, where you can hire out sup boards, kayaks and canoes.
---
Our van:
Sybil is as delightful as her vintage 1940s' name. Mint green and cream on the outside, with ditsy-print curtains dressing her small windows, she's tucked into a neat spot at the bottom of the glampsite – alongside a small fire pit and a table and chairs.
Inside, she's warm and cosy thanks to a claret-purple and cream colour palette and a sprinkling of fairy and tea lights.
At one end of Sybil, there's a comfy double bed, layered thick with brightly crochet blankets and a fresh flower duvet (Sacha even added meadow-picked flowers for us just before we arrived). And at the other, there's a small galley kitchen where a wood burner crackles and pops and a kettle whistles when it's time for tea.
Between the bedroom and the kitchen, there's a heavy red wooden table, which was neatly laid when we arrived for the homemade afternoon tea that would soon follow (it's served complimentary to every new guest). When it's time to turn in for the night, the table comes apart to make the second double bed – and believe me, it's no less comfy than the first.
In truth, Sybil was utterly perfect. We didn't need running water and electricity to feel at home; she was warm, cosy, and charming – and came with a heavenly ability to slow. Time. To. A. Stop.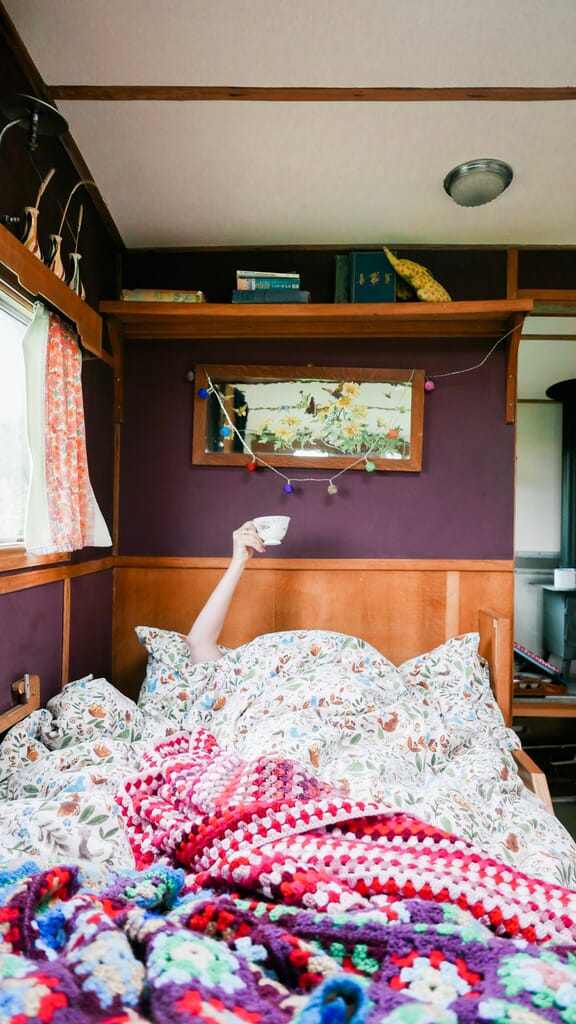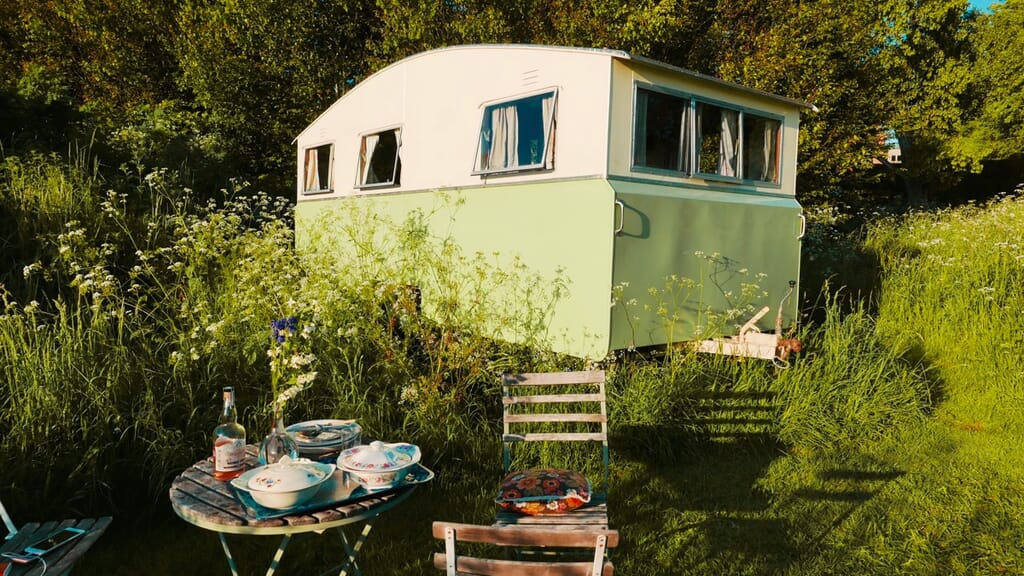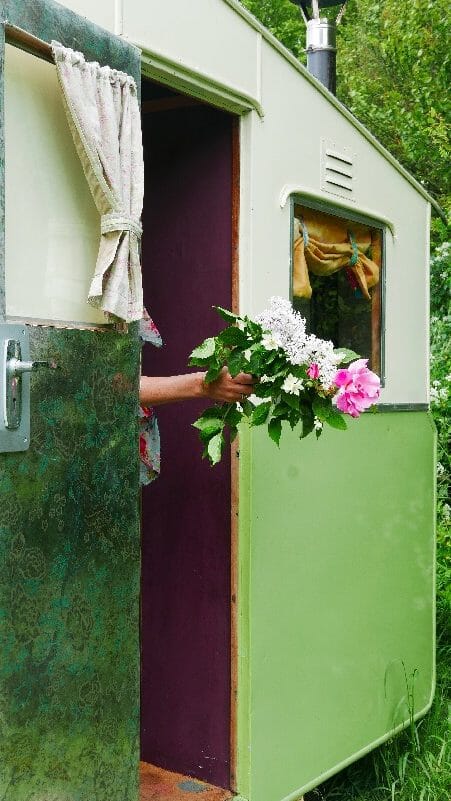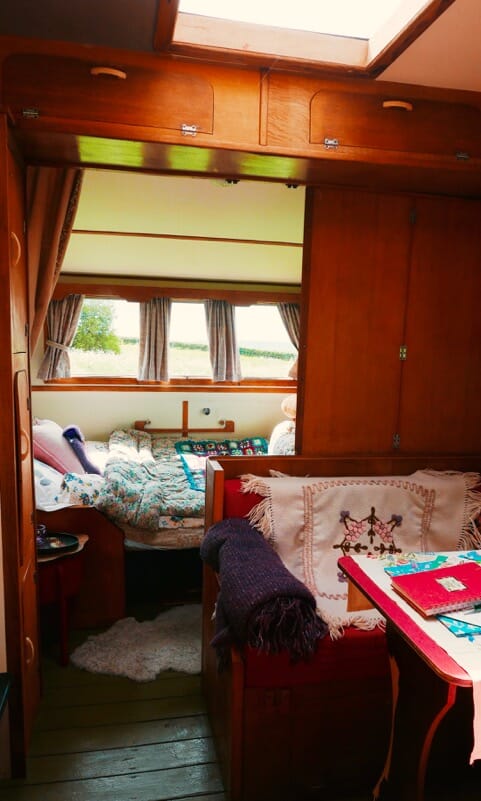 ---
The facilities and extras: 
The charm of Mad Dogs and Vintage Vans runs throughout the entire glampsite: from the vans with their personal touches like fresh meadow flowers, to the mess tent with its old plump sofas, bunting, and lanterns, and the wash block itself with its stained glass window and pastel pink sink.
I wouldn't be surprised if Sylvanian Families were partly to blame for the vibe here.
Beyond the fixtures and fittings, Sacha and Jo have added activities for hen parties, a delicious complimentary afternoon tea, local food to buy and cook over your campfire, and homecooked food straight from the kitchen (should you want to rest after a day's hard resting).
We ordered the Thai green curry on our second night (£15 per head) and it didn't disappoint. It came steaming hot in pretty china casserole dishes, delivered by Jo who'd cooked it up, along with her warmth and blessings.
All in all, eating the curry as the sun set, hidden in our own private glade, was one of the most wonderful and memorable glamping evenings I've had.
In fact, the whole experience unplugged us from the 21st century in a way that we just were not ready to leave behind. And if we could turn the clock back, we'd relive that glamping weekend near Ross on Wye over and over again.
---
The verdict: 
Mad Dogs and Vintage Vans glamping near Ross on Wye feels like a love note to history. Sacha and Jo have captured the ease, whimsy and innocence of a vintage age in a small, modest patch of land – and gifted it for us all to enjoy.
The vans themselves have a combined age of over 300 years, but they could've just stepped out of yesteryear with a hippy flick of their hair. And it's this, I think, that makes Mad Dogs and Vintage Vans Glamping so enchanting; so hard to leave behind.
When you stay at this glampsite, you're staying in vans where many happy memories were created in the 30s and 40s; where families came together for their annual holiday and laughed and joked and smiled. It would've been easy for Sacha and Jo to over-theme the vans or modernise them, thus removing the emotional residue from those holidays so long ago.
But they haven't; they've just tidied around the edges, adding a lick of paint or a cushion here or there.
And because of this lack of interference, they've done something wonderful: they've kept the heart of the vans alive.
---
---
My Open and Honest Policy:
I was kindly invited by Sacha and Jo of Mad Dogs and Vintage Vans to spend a weekend with them for review purposes. This review reflects my honest experience and feelings. I did not receive payment from them, but the weekend was gifted. I was in full editorial control of the content I produced for Mad Dogs and Vintage Vans at all time, including this review and my social media content.