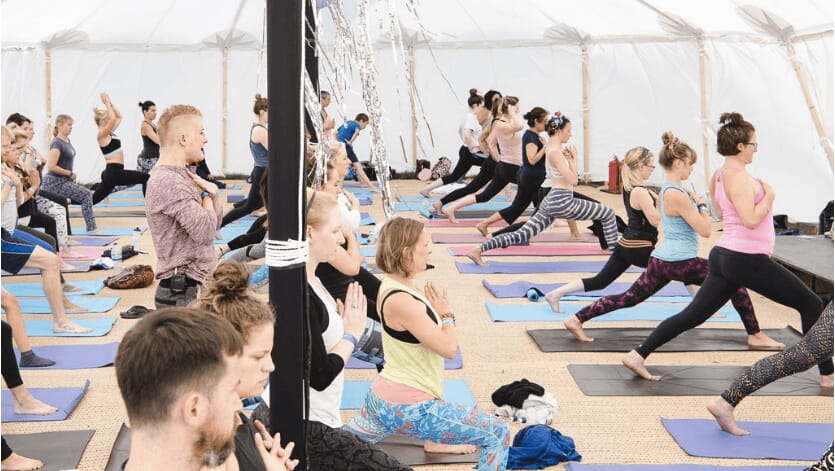 "An immersive escape from the world and a chance to retreat through nature back to a simpler, carefree and more joyful life."  Matthew Miller, Creative and Media Director of Soul Circus Festival 
The weekend:
The Soul Circus Yoga and Wellness Festival, Cotswolds.
The weekend cost:
£200 for a weekend ticket, including tent pitch, parking and all classes.
The short and sweet: Soul Circus Festival is a 3-day festival extravaganza of yoga classes, meditation sessions, wellness experiences, nutritious food and nourishing music – all housed under Cirque de Soleil-style tents in a peaceful Gloucestershire meadow.
The festival is the brainchild of Ella Wroath, who owns a yoga studio in Cheltenham. She wanted to put wellbeing, not music, at the heart of the festival experience – and so Soul Circus was born. As with any new kid on the (yoga) block, there were a few lumps and bumps to the inaugural festival. But in essence, this small event – attracting around 500 people – rebalanced and realigned almost everyone I met. And, most importantly, laid the karmic foundations for an even bigger and better 2017 bash.
---
By its very nature, Soul Circus attracts an open-minded bunch, from all parts of the country. As well as the Cotswolds' yoga crowd, many travelled from London for the chance to escape into nature.Yes, there were hard-core yoga fans at the festival, alongside acclaimed yoga teachers that the uninitiated (me) may not have heard of, but the prevailing vibe was love and acceptance. No-one sneered at my wobbly warrior or poked fun as my pigeon flopped. What's more, the programme of classes (18 a day) was mindful of all levels of experience. So whether you were a yoga beginner, improver and pro, Soul Circus had something for you.
Soul Circus is about challenging our modern-day conventions and peeling away accepted wisdom to help us tread a healthier path where mind, body and spirit are aligned. If that sounds like horseshit to you, perhaps cross Soul Circus 2017 off your list!
Let's face it, the Cotswolds are never going to be a disappointment, even in the rain. Lush fields, undulating hills and a natural lake is probably one of the best festival backdrops you could wish for (just ask The Big Feastival's Alex James). Thus the Soul Circus Ringmasters chose wisely when they opted for Elmore, Gloucestershire. Bucolic and easy breezy to get to: just off Junction 12 of the M5 and well signed-posted by the organisers.
The festival site itself was compact and bijou – like a well-toned yogic bum; perfect if you've young children who you want to keep an eye on, brilliant if you're attending solo and keen to make new soul mates, excellent if you don't want to spend your yoga journey walking from pillar to pranayama.
The car park was also, happily, a hop, skip and a jump away from the festival's entrance – with chirpy car park attendants to help you get parked. Likewise, the camping field, both the glamping side and regular pitches, were a stone's throw from the main performance. As were the posh loos and showers – slumming it at Soul Circus simply wasn't an option.
Once on-site, you were greeted with a 'ring' of tents, organised into 3 distinct yoga practice areas: The Main Tent, The Hot Tent and The Experience Tent. Each tent was only a few metres from the other.
And sitting snug alongside them were a small selection of local traders (glitter face – check), a main music stage (featuring home-grown talent from the Fat Hat Collective), a Liz Earle pamper tent, and a healthy café-come-party tent, ran by Jay Halford of The Core in Cheltenham.
Two-minutes' walk from the main site brought you to a small lake, haloed by deck-chairs (gotta love British optimism), outdoor hot tubs, and a sauna. It was a natural haven to tame well-stretch muscles – and had I have packed a costume, I would've been in the hot tub quicker than you could say 'Vinyasa'.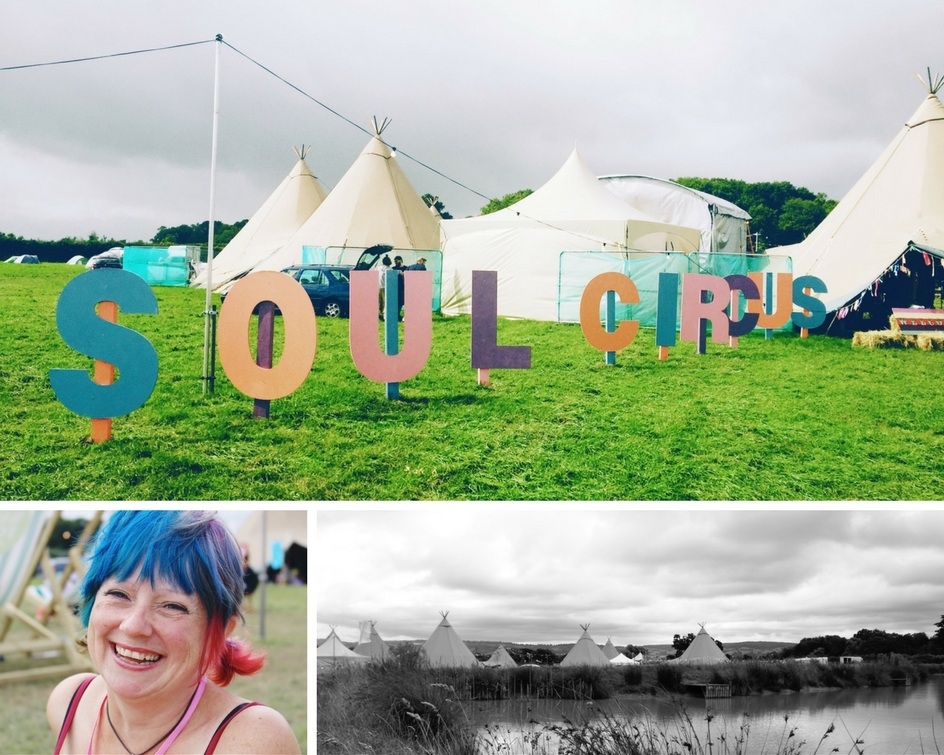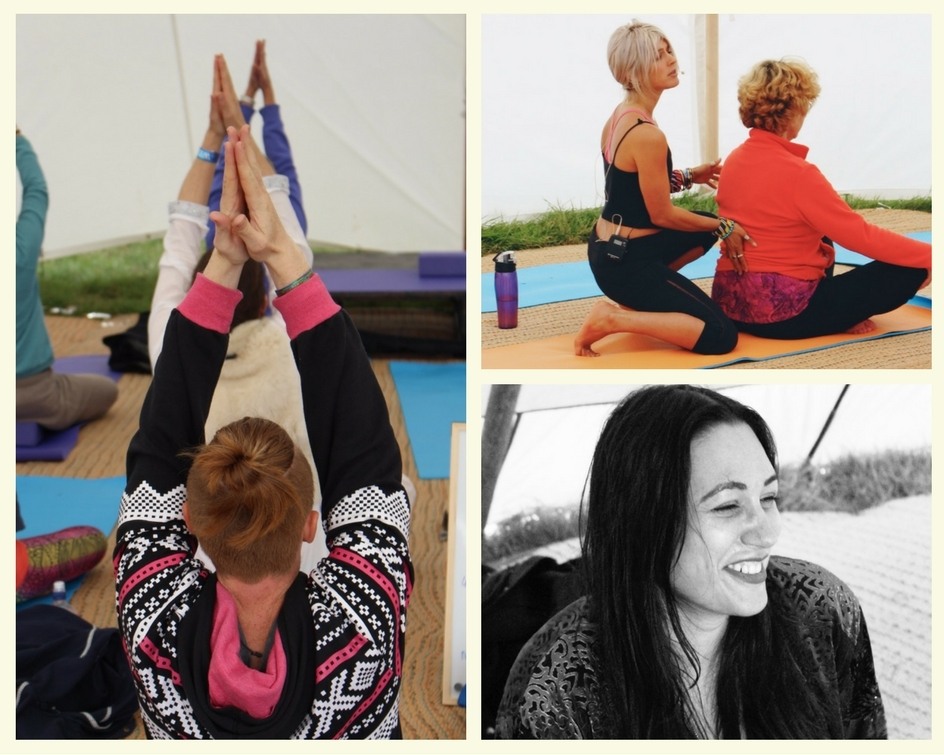 What can you do at Soul Circus?
Soul Circus was a brilliant cornucopia of mind, body and spirit experiences for adults and kids. The yoga came thick and fast each day in a variety of flavours – Yin yoga, acro yoga, hypnoyoga, hot yoga, liquid yoga, Broga – expertly delivered by internationally-famed teachers and local practitioners.
Added to that were the meditative experiences: sunrise meditations, chakra openings, mindfulness sessions, light therapy, martial arts flow. And talks, workshops and master classes, as well as dining experiences and tastings – courtesy of Jay Halford, Rude Health and The Little Gin Company.
For such a small festival, the programme was fully-loaded – in fact, on 'day one' I spent most of the time working out what I wanted to do on 'day two' (perhaps if I had have received the programme before arriving, I could've planned better?).
When day two came, I: A) took a mindfulness class with the beautiful Hope Bastine of Fresh Perception, B) sweated beads of joy in the Hot Tipi with Mary Grinstead's beginner's yoga, C) heard the inspirational goddess, Mel Wells, give a talk about healthy body image then D) devoured dairy-free ice-cream – without giving a fxxk.
I love you, Mel.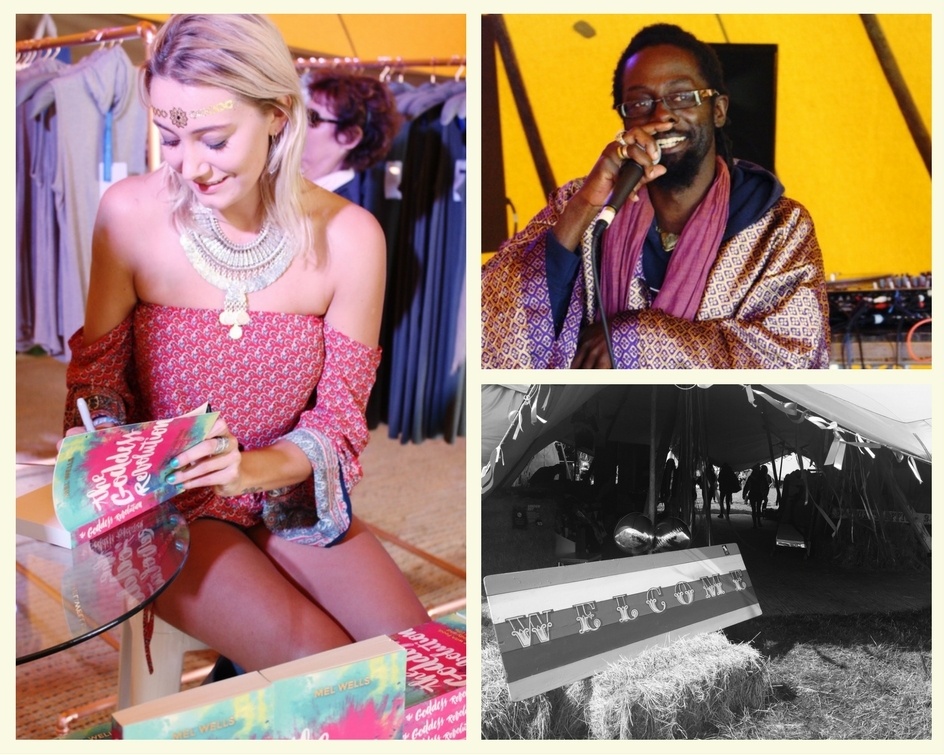 What was the food and music like?
Show up hungry at Soul Circus and you won't be disappointed. Hand-picked food vendors meant plenty of sustainable, organic choice to satisfy almost all appetites.
Alongside Jay Halford's communal café (where the smoked salmon, poached egg and avocado on rye instantly made friends with my heart), was The Croquette Co, TandooriQ, Positivitea, Asparagasm and Ice Green.
The gastronomic experience further gathered pace with evening VIP dining experiences and two hands-on foodie workshops run by Jay: a chocolate-making masterclass (how I missed this I do not know) and a vegan sushi masterclass.
"Food is nourishment, it's about giving people the knowledge they may not have access to so easily." Jay Halford
Nourishment also appeared in the form of show-stopping tunes from the Fat Hat Collective – a group of bands from the South-West who joined together to promote peace and love.
The bill was certainly eclectic: reggae, drum 'n' base, and jungle and jazz put smiles on many of the festival-crowd, even in the rain, with my personal favourite, Binbag Wisdom, hip-hopping their way onto my 'must-see-again' list.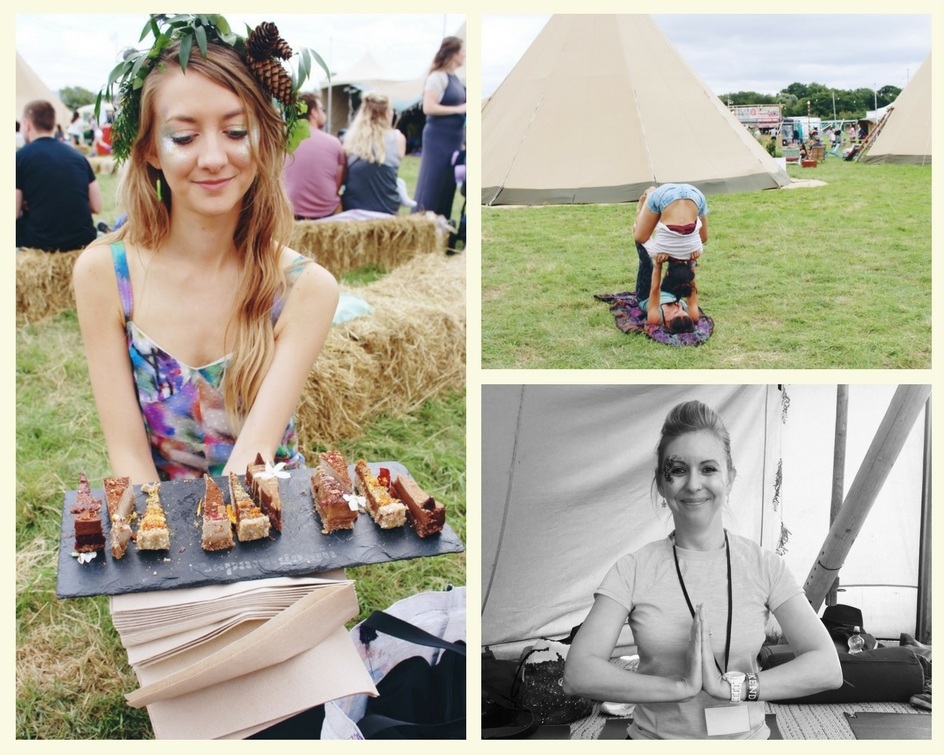 Unfortunately, small did become an issue at Soul Circus: try as I might to get a free back massage (or free anything) at the Liz Earle tent, I was turned away each time because they were so busy – although I did receive a Liz Earle goodie bag as an apology, which I LOVED.
What's more, to get into many of the yoga classes you had to be super-early because places were limited and very popular. At one point, I considered using a rolled-up yoga mat to joust my way into some of the sessions. But my inner voice prevailed and I took to a hay bale to eat beetroot and chocolate cake instead… so every cloud…
The only other downside was the way the music on the main stage breached the yoga tents. 'Om' became 'erm' in one of the classes I attended, as the beats rolled in elbowing my inner calm in the face. But like I said earlier, a festival in its first flush of life is bound to have growing pains – so all is forgiven.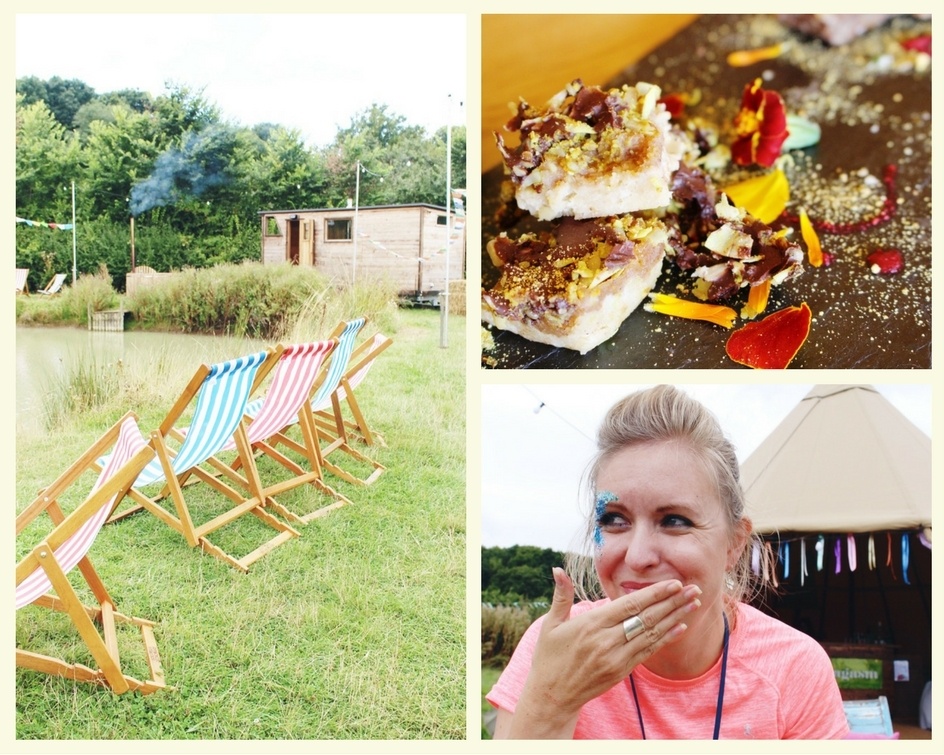 Yes, for sure. Soul Circus is an intimate festival where you downward dog with the yoga elite and drink organic smoothies alongside fitness luminaries. If, however, you prefer your festivals with seismic grandeur and eye-popping variety, Soul Circus may not tickle your tipi.
For me it was an inspiring and uplifting festival; a safe place, amongst like-minded souls, to reaffirm my desire to be and do better. Soul tonic. And I look forward to the tightened, toned and tweaked Soul Circus 2017 – with more classes, more food and a better-planned music schedule (so you can yoga without interruption).
Namaste.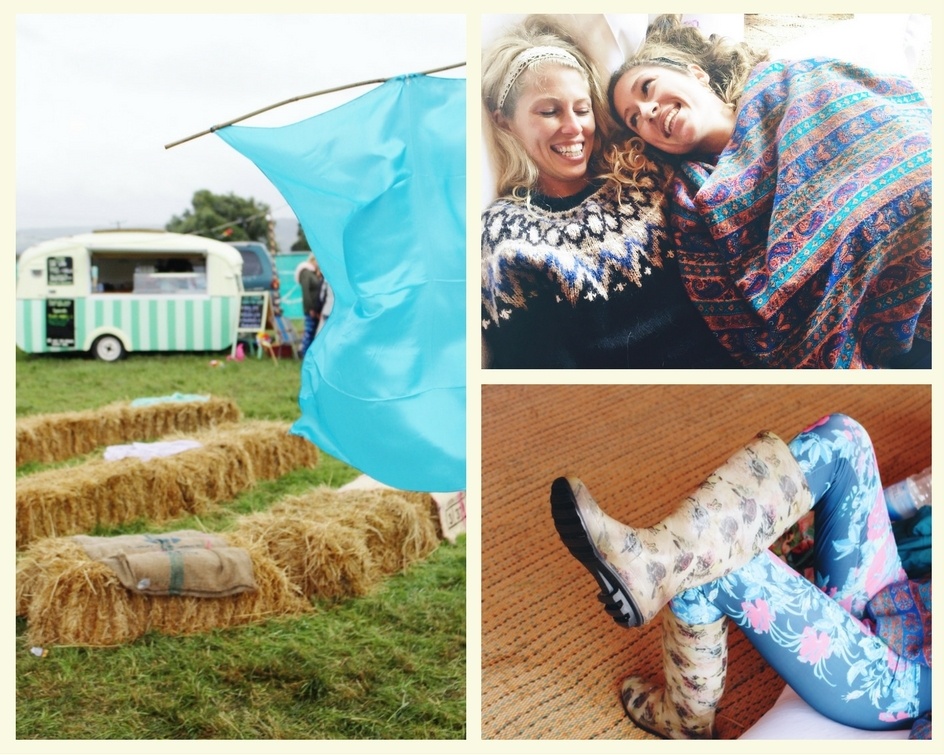 Disclosure
Our Editor-in-Chief, Claire, enjoyed a complimentary weekend ticket for the Soul Circus Festival in order to produce this review. This review is a bonafide reflection of her weekend at the festival and her opinion of it.