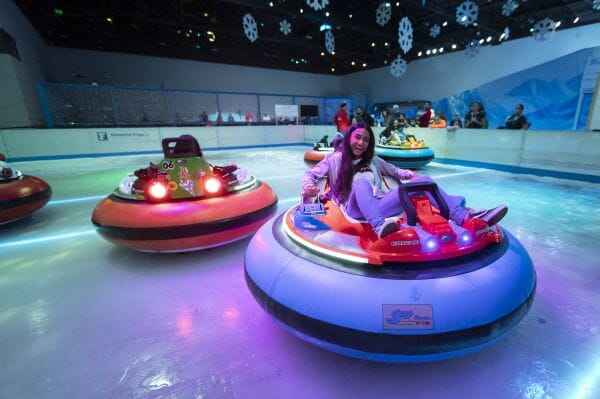 Brrr. We're over half way through November, people, and Jack Frost is reeking havoc. But before Christmas hits us and our wallets like a sack of presents, we are going to cherish our wintery weekends. Which is why we've found some fun things to do this chilly weekend coming.
PS: for more ideas on what to do, there's also our Weekend Directory to visit. Oh, and if you do go to any of the events below, swing by the comments below and let us know!
---
Event | Perth Christmas Switch On Party,  Perth
Head up to the lovely Scottish town of Perth to see the festive lights being switched on this weekend. There will be live music across three stages to enjoy. Plus, lots of entertainment for the kids and funfair rides. If you fancy some street food, there will be lots of vendors and vans serving up all sorts of yummy options for dinner.
Naturally, Mr. Clause himself we be in attendance. And for mums and dads, you can celebrate all things gin and chocolate at the Chocolate, Gin and Things Market which is going on in the streets before the lights switch on. Talk about getting into the Christmas spirit.
---
Event | Mum 2 Mum Market, Well Springs Centre, Taunton
This Mum 2 Mum pop-up market is an amazing way of getting some great, nearly new items for a super cheap price. So, if you are looking to shop for some bargain kid's stuff, or you have a load of items you want to sell, then come along to make some cash or save some cash.
The Taunton Mum 2 Mum market runs from 2pm – 4pm – but if you can't make it to Somerset, fear not: there are Mum 2 Mum markets happening all over the country this weekend, i Weston-Super-Mare to Derwent Dundee. Check out their website or Facebook to find a market near you.
---
Theatre | Lost Voice Guy, Braintree, Essex
Winner of Britain's Got Talent and all-round funny man, Lee Ridley, AKA Lost Voice Guy, is back and he's performing live for all you wonderful people. Lee is the first stand-up comedian to use a communication aid. His cutting-edge material combines the political and personal with razor-sharp observations about disability and daily life.
Starting in Essex this weekend, the tour brings with it lots heaps of laughs from one of the UK's most original comedians. Over 14s only!
---
Activity | Blood and Guts: the Twists and Turns of Edinburgh's Medical History,  Surgeons' Hall Museum
16th Nov | Tickets: Adult £10.50 children £9.50
Who's ready for some blood, guts and gore? Then join Surgeons' Hall Museums on their 5-star walking tour through Edinburgh's old town. They'll take you through the highs and lows of Edinburgh's world-renowned medical history.
Hear tales of disease, dissection and curious methods of treatment, as well as little known accounts of iconic writers, chloroform tea parties, pioneering women, and grave robbing. The tours last approximately 70 mins and include free museum access from 10am-5pm on the day.
---
Activity | Alnwick Garden Winter bumpers,  Northumberland
16th Nov – 5th Jan | Tickets: £3 per person
Have you ever tried driving an inflatable boat on land? Well, now you can at the beautiful Alnwick Gardens. Winter Bumpers are fun, bumpy, inflatable land boats that collide and bounce (like squishy bumper cars) and are tons of fun for everyone!
Each Winter Bumper seats one person, secured with a harness to ensure safe bumping. Promising to be a bumpy and bouncy jaunt, this outdoor ride will have you skitting along on ice, laughing uncontrollably.
Other upcoming festive treats on offer at The Alnwick Garden this year include a Winter Playground (with real snow) and an after-dark Winter Light Trail featuring sound and illumination.
---
Want to see your event here?
Do you have an upcoming event that you'd like promoting to our readers? Email us and tell us about it!