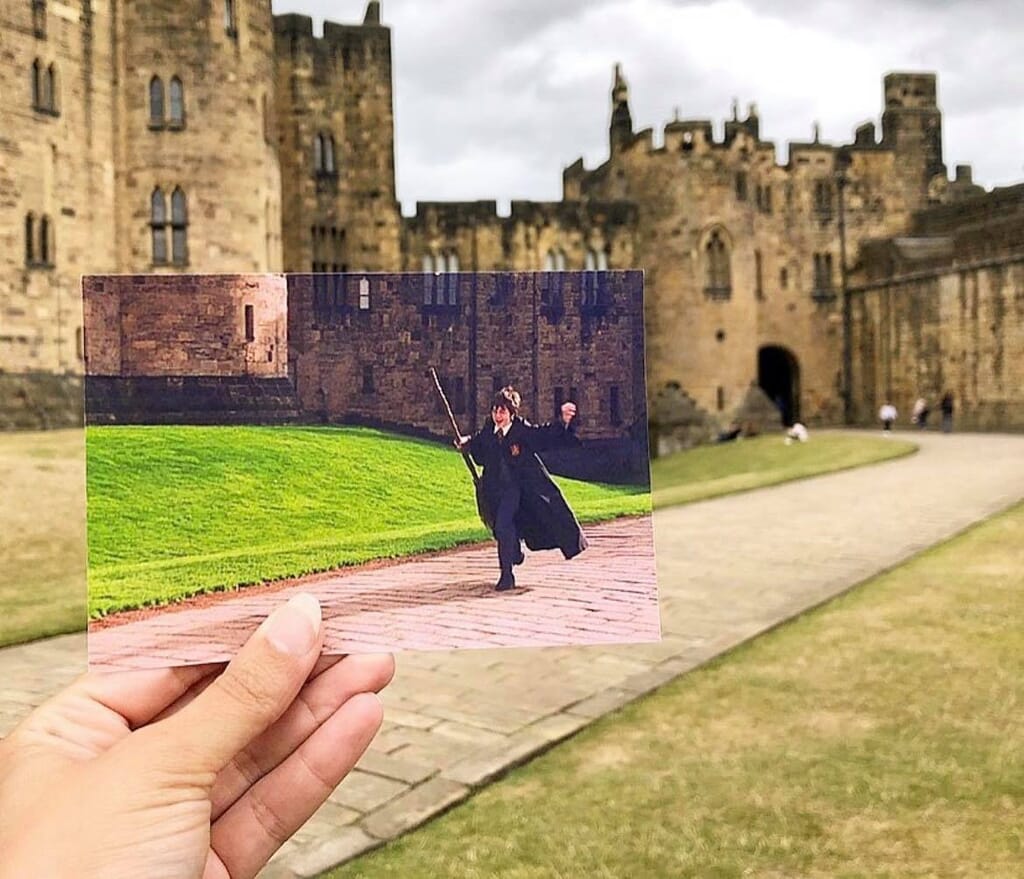 Spellbinding Alnwick Castle gets top marks for beauty, grace, sophistication and, of course, wizarding fame. As any Harry Potter fan will know, 11th-century Alnwick Castle in Northumberland was used as a filming location for the first two Harry Potter films, filmed in autumn 2000: Harry Potter and the Philosopher's Stone and Harry Potter and the Chamber of Secrets (2002).
Ergo, it's an absolute must-visit if you're weekending in Northumberland and are Potter mad. Even if you're not into magic, Alnwick Castles is worth a detour; with its chiselled medieval good looks and fascinating history, it charms muggles in an instant. We went to take a closer look.
(Main Pic Credit: Shields Agency)
---
Alnwick Castle | Harry Potter Filming Location
Getting to Alnwick Castle
Alnwick Castle is just off the A1. If you can, approach Alnwick Castle from the east – that way you'll get a view of its stately good looks in profile on the hill, surrounded by green meadows, woods and parklands designed by Capability Brown.
Wind through Alnwick town, and follow the signs for the castle and gardens – they're obvious, so you won't find it difficult. The main castle car park is situated just off Denwick Lane (B1340), and the postcode for the car park is NE66 1YU. Once there, you'll find ample parking and an all-day parking ticket for the castle costs just £3.
From the castle car park, head across the road and into the castle and garden grounds. The first thing you'll see is the Alnwick Gardens' Treehouse, which is a magical sight in itself.
---
Alnwick Castle | Harry Potter Filming Location
The Alnwick Garden Treehouse
With wobbly suspended walkways and a higgledy-piggledy construction, the Treehouse at Alnwick Garden is a sprawling cedar and redwood construction nesting 60 ft up, deep in the thick branches of a copse of lime trees. The treehouse was built in 2004 to accompany the redevelopment of the extraordinary Alnwick Gardens – and is one of the largest treehouses in the world.
Head onto the main deck and you'll find plenty to do: you can grab a quick bite to eat either in the Potting Shed or savour something a little more lah-de-da in the stunning – and world acclaimed – Treehouse Restaurant.
Our top tip: visit the treehouse at night-time, when twinkling fairylights add even more magic to the scene. Until then, resist the temptation and carry on past the treehouse to Alnwick Castle.
(Pic Credits: Alnwick Gardens)
---
Alnwick Castle | Harry Potter Filming Location
About Alnwick Castle
The path to Alnwick Castle is long and sweeping. But the walk is gentle, giving you time to notice the other-wordly stillness that surrounds it. Like other castles, Alnwick Castle comes with a bloody-stained history. It was first built in 1360 to control and protect the border, symbolising status and power for the new Norman barons across the country.
Unsurprisingly, it was a target for attack over the centuries but stayed relatively unscathed; since then its undergone various renovations to preserve its historic structure (although the castle you see today has remained virtually unchanged since 1865). Despite its savage history, the walls, the grounds, and the entire castle ambience doesn't feel weighted with violence – it is peaceful and beautiful, even on a rainy day.  Today, it is home to the Percy family (and has been for over 700 years) and is the second largest inhabited castle in England, second only to Windsor Castle.
(Pic Credits: Weekend Candy/Alnwick Castle)
---
Alnwick Castle | Harry Potter Filming Location
Filming Locations at Alnwick Castle
Walk through Alnwick Castle's yawning Norman entrance, Lion Arch – it's the first Harry Potter filming location you'll come to. It was here that Harry, Ron and Hermione walk out of the castle to Hagrid's hut and the Forbidden Forest. Take your pictures then continue on into the main grounds inside the castle to explore. The grounds themselves are English-rose pretty – the lush lawns are as flat as bowling greens, and the towers and turrets as neat and un-craggy as an architecture's drawings.
The Inner Bailey is is where Ron and Harry crashed the flying Ford Anglia car into the Whomping Willow. Carry on around to the other side of the main castle keep and you'll find the Outer Bailey, where Madam Hooch taught the young Harry Potter to ride a broomstick in Philosopher's Stone and Oliver Wood taught Harry the rules of Quidditch.
Broomstick lessions: If you fancy learning to ride a broomstick yourself, then you can do so in the Outer Bailey on the very spot where Harry had his first flying lesson (permission to lick the ground, granted).  Broomstick lessons take place at intervals throughout the day, weather permitting, and last approximately 25 minutes.
After you've explored outdoors, head indoors to Alnwick Castle's State Rooms. Although the castles interiors weren't used as filming locations for Harry Potter (the movies were shot in various locations around the UK), they are beautiful and demand a peek. Step inside and candelabras glisten with the power of a thousand polishes; crystal glasses sparkle as if they were afraid of being ignored; white marble fireplaces stand as elegantly as Italian gentlemen; whilst the priceless works of Titan, Van Dyck, Turner and Dobson look jealously at the Louis XIV Cucci cabinets.
Add to that are the Downtown Abbey costume displays (the Christmas special was filmed at Alnwick Castle), and its hard not to feel you should courtesy every time you walk into a new room.
(Pic Credits: Alnwick Castle)
---
Alnwick Castle | Harry Potter Filming Location
Alnwick Castle Essentials
Ticket cost: You'll find the main ticket office along the gravel path opposite the Alnwick Treehouse and facing the entrance to Alnwick Gardens. All standard tickets are automatic annual passes entitling you to free re-visits for 12 months from the date of your first visit. A ticket into Alnwick Castle costs £18.50 for adults and £9.75 for children (5 to 16 years). Under 4s go free and you can get a Family ticket (2 adults and up to 4 children) for £50.50.
Opening times: Alnwick Castle is open March – Nov. Castle Grounds – 10:00am – 5:30pm (last entry at 3pm)
10am – 4pm Sunday 31st October (last entry 2pm). State Rooms – 10:30am – 4:30pm (last entry at 4pm)
10:30am – 3:30pm Sunday 31st October (last entry at 3pm).
---
You might also like
---