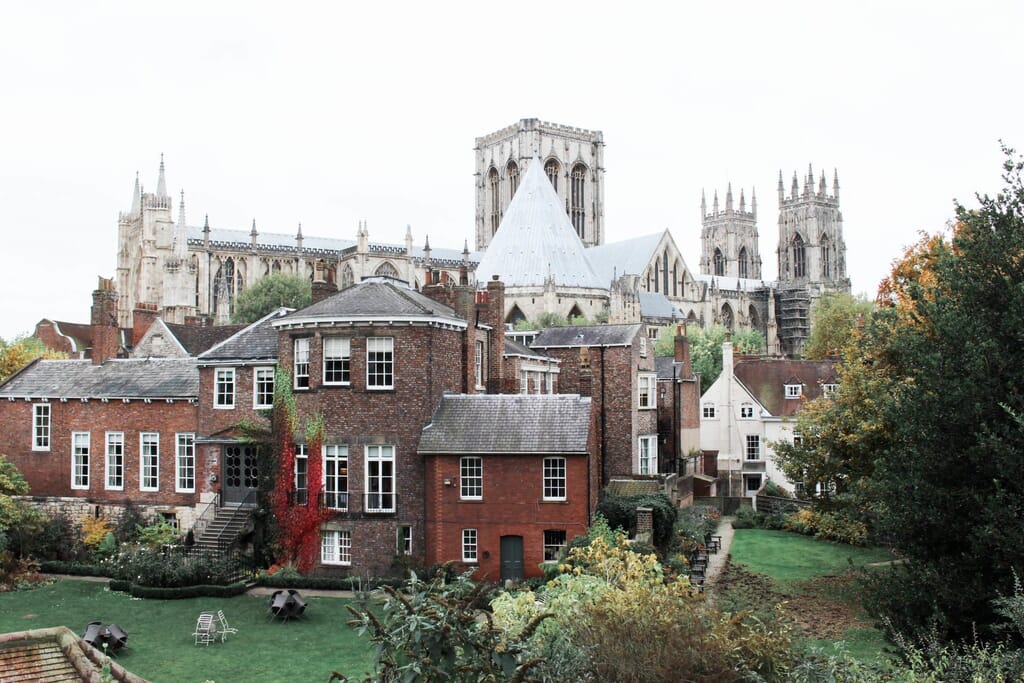 Travelling to Yorkshire for the weekend easily feels like time travel. As the motorway slides out of sight behind you, the clock on your dashboard decelerates and that incessant 'rush, rush, rush' that crackles your every day, starts to fade. In its place comes slow ribboning up-hills, heather-clad Wolds, and pretty market villages that beat to a steadier tick-tock of life.
I'd set aside a weekend to visit Yorkshire (particularly North Yorkshire), and by the end of my three days there I'd felt like I'd been away for years.
Take it from me, this place distorts time. It elongates your weekend, it dissolves it from the week that has gone, and buffers it from the week to come.
It is a tincture, an antidote to the frayed edges of life.
What's its secret? A plethora of adventures all conveniently stacked side-by-side. From the wild romance of its moorland, to the dark delights of its gothic coastline. From sedate market towns to the historic melange of its principle city, York – all accessible within a short drive of one another.
Which means, as you journey from one place to the next, a fresh adventure starts to unfold, propelling you so deeply into the moment that clock-watching simply isn't possible. Leaving time not to run you, but – for once – you to run time.
Before you go – Make sure you buy the York Pass. It's a sightseeing pass that gets you exclusive discounts, money-off and free entry into attractions in North Yorkshire, including over 30 attractions in York city.
WATCH THE VIDEO:
---
FRIDAY
Start your adventure on the moors

The Town
Helmsley is the only market town in the 554 square miles of North Yorkshire Moors National Park – making it the perfect foothold for walkers, horse riding and cyclists. It's a quintessential English idyll filled with lashings of Yorkshire warmth and characterful architecture (51 buildings in Helmsley are listed).
Spend the morning exploring the market square, Helmsley's handful of galleries as well as its independent shops, where you'll find everything from antiques and second-hand books to designer jewellery and clothes. Mercifully, you won't see any high street chains here because all the cafes and boutiques are privately owned and run.
Next, walk beside the town's babbling stream and make a detour for Helmsley's All Saints Church – it's an achingly pretty building, especially when autumn baths its grounds in reds and oranges.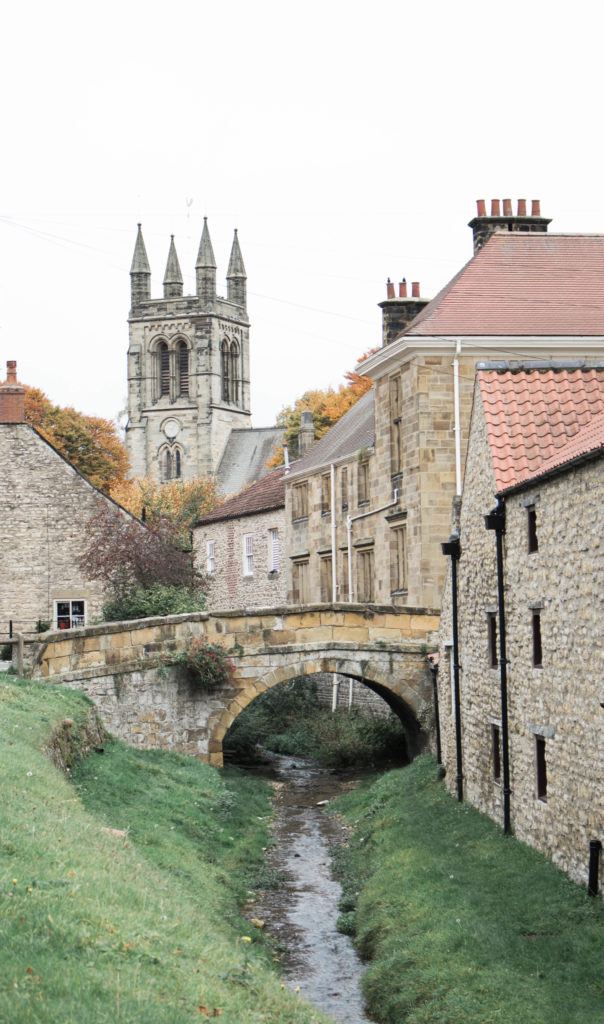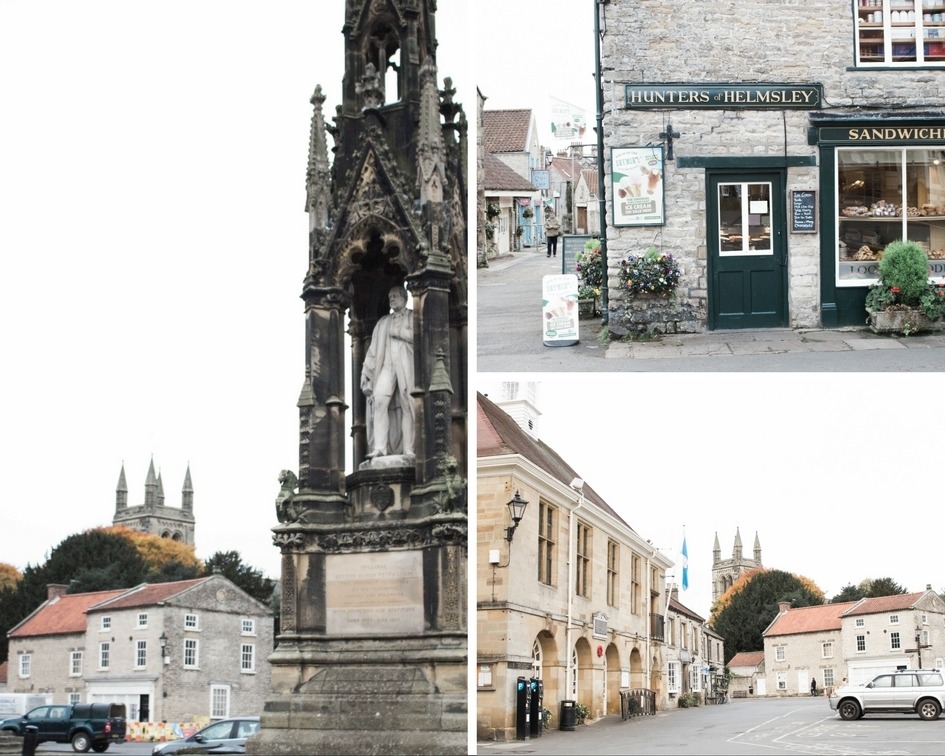 ---
The Castle
Helmsley Castle's skeleton ruins are a short walk from the market square and give no clue whatsoever of their former majesty. Once a mighty medieval fortress, then a luxurious Tudor mansion, they now stand silently and still on a hillock, casting shadows like a romantic landscape painting.
The Castle is run by English Heritage who do a fine job of bringing back to life the Castle's 900-year heritage with audio tours and a small hands-on exhibition. Use your York Pass for entry into Helmsley Castle so you can admire the ruins up close.
Alternatively, enjoy them from beyond the entrance fence or, for some of the best views, make your way to Duncombe Park.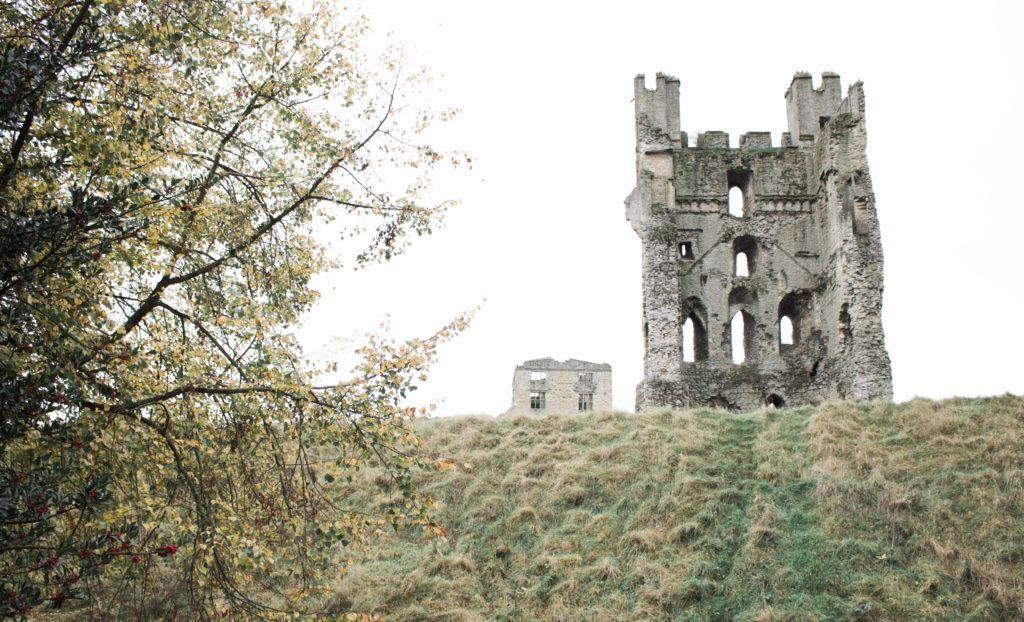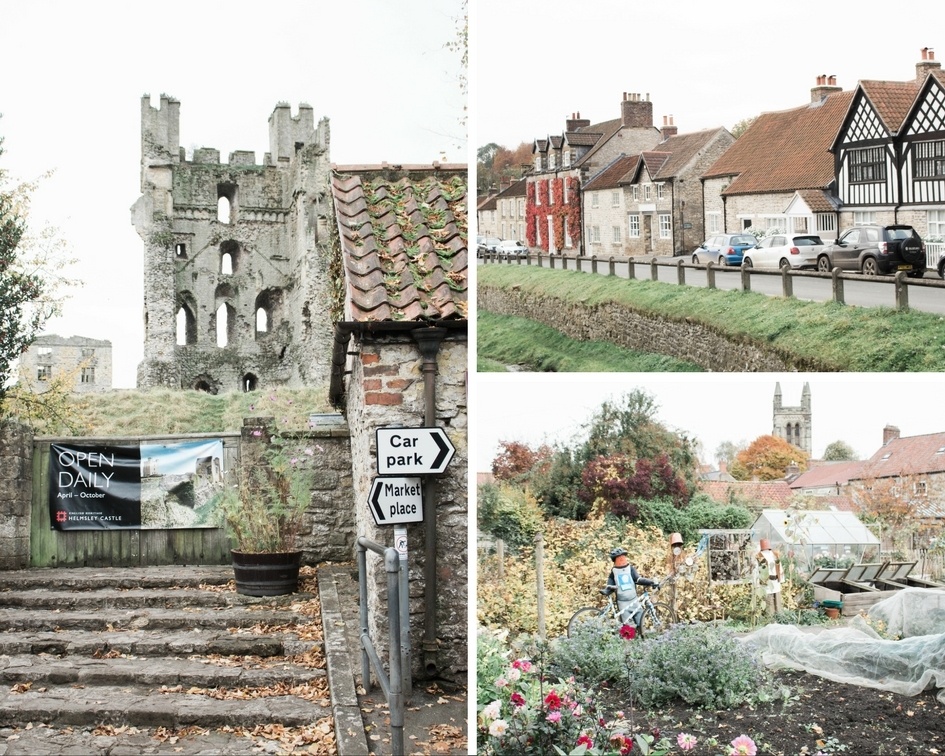 ---
The Park
Home to the Duncombe family, Duncombe Park is one of Yorkshire's foremost historic houses and estates. Although the house is closed to the public, the surrounding 18th century parkland – complete with neo-classical temples and a variety of walking trails – is open to visitors and definitely worth the trip, even if it's just for a half-hour fresh air fix.
Easy to get to from Helmsley – a two minute walk from the centre – the parklands are divided into four areas: the lowlands, encompassing the grass slopes up from Helmsley; the river valley to the east and south of the house; the Fallow Deer Park, on the plateau to the west of the house, and finally the Red Deer Park, south west of the Fallow Deer Park.
---
The Hotel
Standing pumped and princely at the top of town, commanding attention like a sentry, is the cosy four-star Black Swan Hotel. Nest-up here and you won't be disappointed; the Swan is everything you want a North Yorkshire hotel to be: oak-panelled, crooked-floored, log-fire cosy, and delightfully affordable (rooms start at £120 B&B).
A combination of three houses and styles – Tudor on the left end, Georgian in the middle and Elizabethan on the far right – the Black Swan has a long place in the town's history, serving as a coaching inn since the 18th century. The Elizabethan section, for example, was once the stopping place of the 'Helmsley Highflyer', which passed three times a week en route to Leeds and York.
There are 45 individually styled bedrooms on offer: classic, feature and superior, some of which are in the oldest part of the hotel. Mine was the hotel's only single room, Number 12. A homely oasis with the comfiest of beds, the luxury of Molton Brown toiletries, and a pleasing view over the market square.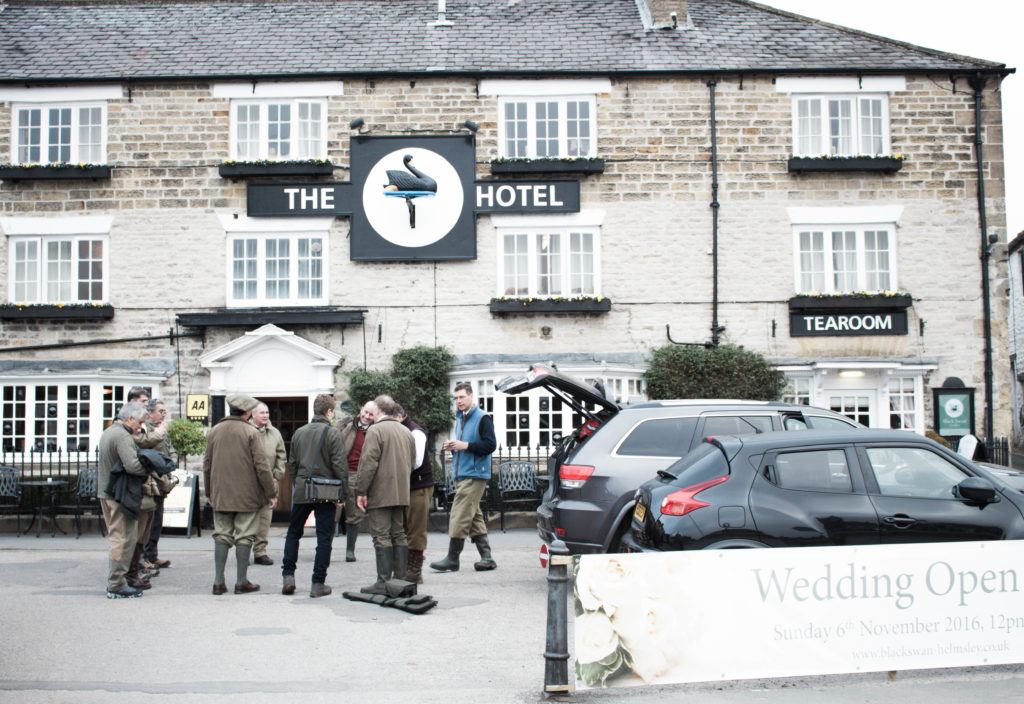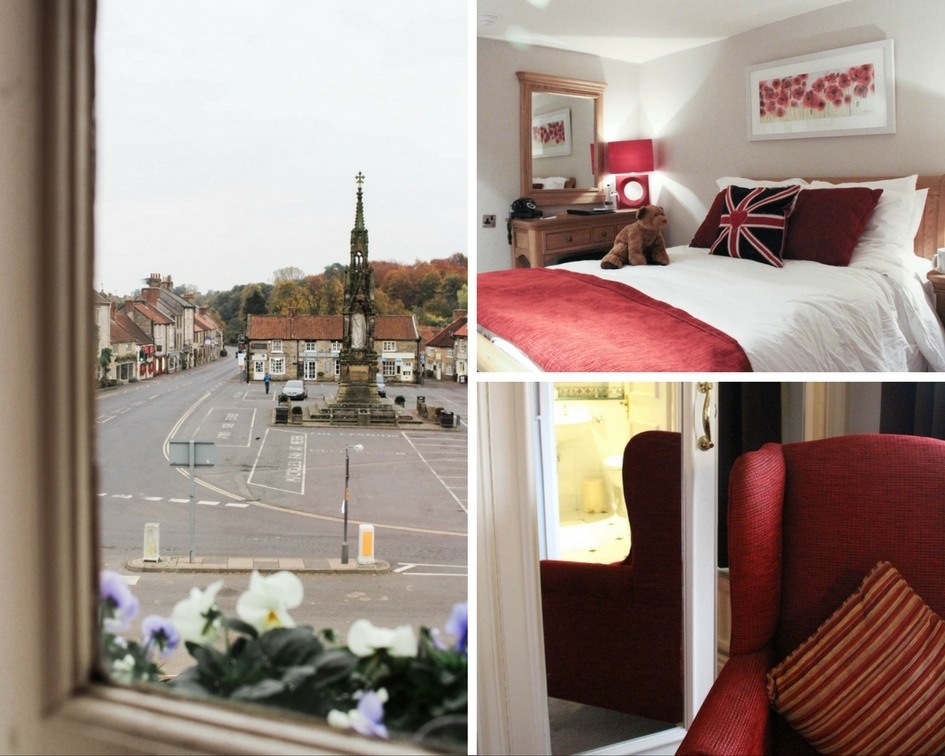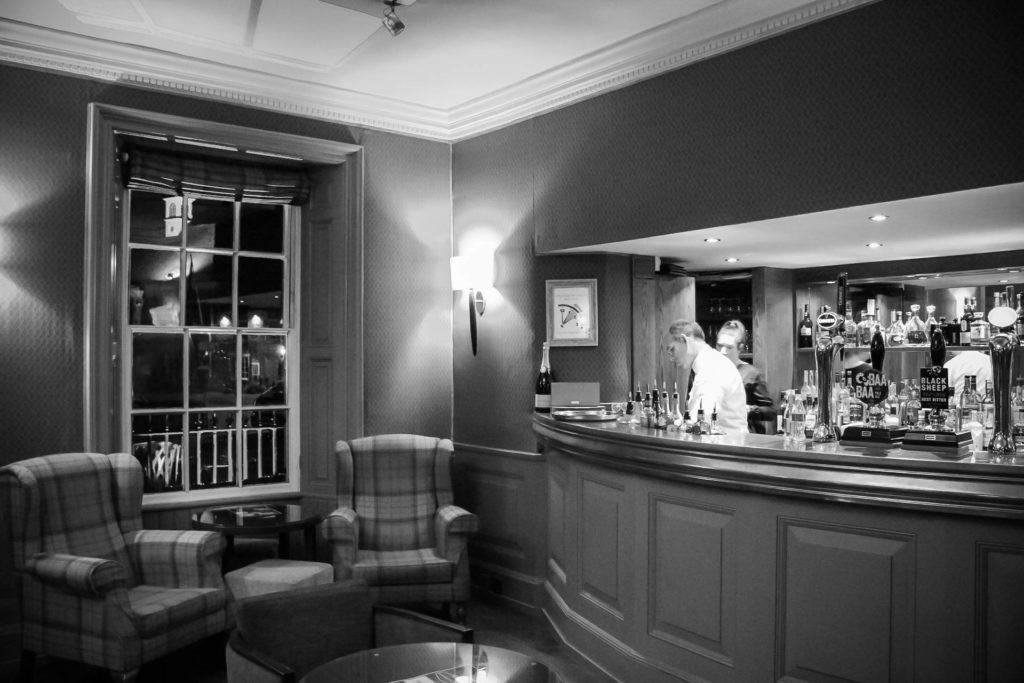 ---
The Restaurant
The Gallery restaurant in the Black Swan Hotel is so named because, throughout the day, it holds the North's most important commercial collection of art. Come the evening, the artwork on the walls takes second place to the artwork on the plates as Yorkshire's finest ingredients show off their talents on your tongue.
The restaurant is highly-awarded and wears its 3 AA rosettes proudly as it serves up a range of menu options created by award-winning Head Chef Alan O'Kane: A la Carte, Grill, Market, Dinner and Sunday Lunch. For the undecided, which included yours truly, the Six Course Tasting Menu is the best of all worlds.
Priced at £65.00 per person, with the additional beverage pairing priced at £40.00 per person, the menu cascades you from dish to decadent dish, venturing through a universe of tastes and textures.
My feast included: Turnworth cheese, pan-fried cauliflower floret with cauliflower puree, truffle and finished with a rye bread breadcrumb; pan-fried Orkney scallop garnished with samphire and wild garlic on a bed of parsley puree, served with an incredible artichoke veloute; Texel lamb, nettle puree ewes curd and blackened onion; intense chocolate mousse with a crunchy coating on a bed of roasted white chocolate, served with a creamy peanut ice cream and finished with gold leaf and frosted hazelnut. Sublime.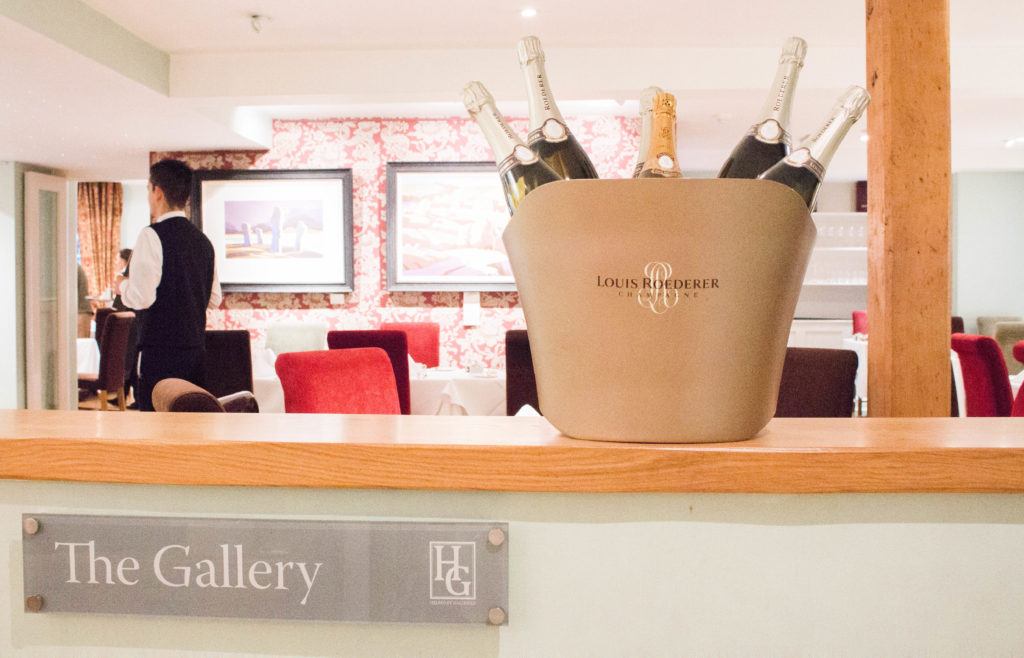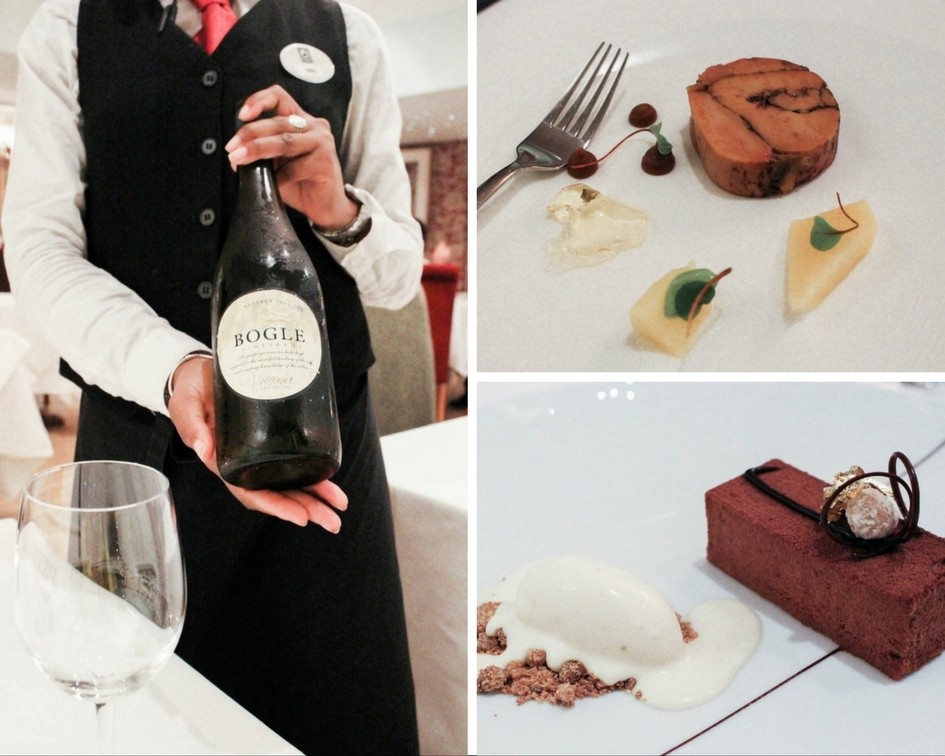 ---
SATURDAY
Take the train to Dracula's coast

The Journey
Less than half an hour from Helmsley is another historic market town: Pickering. Head not into the town itself, but to Pickering Station – a must-see 1930s' terminus with a traditional tearoom, vintage newspaper vendor, and magnificent 18th-century replica roof.
From here climb aboard the North Yorkshire Moors Historical Railway – one of the world's greatest heritage railways – heading to Whitby, (tickets are free with your York Pass).
A trail of steam marks your journey across the Yorkshire Moors and up the attractive Esk Valley, as you chug past grazing sheep and sowester-smartened walkers, watching the world from your antiquated carriage. You'll need to set aside a 1hr 45mins for the trip, but it's the only way to travel to Whitby, in my opinion.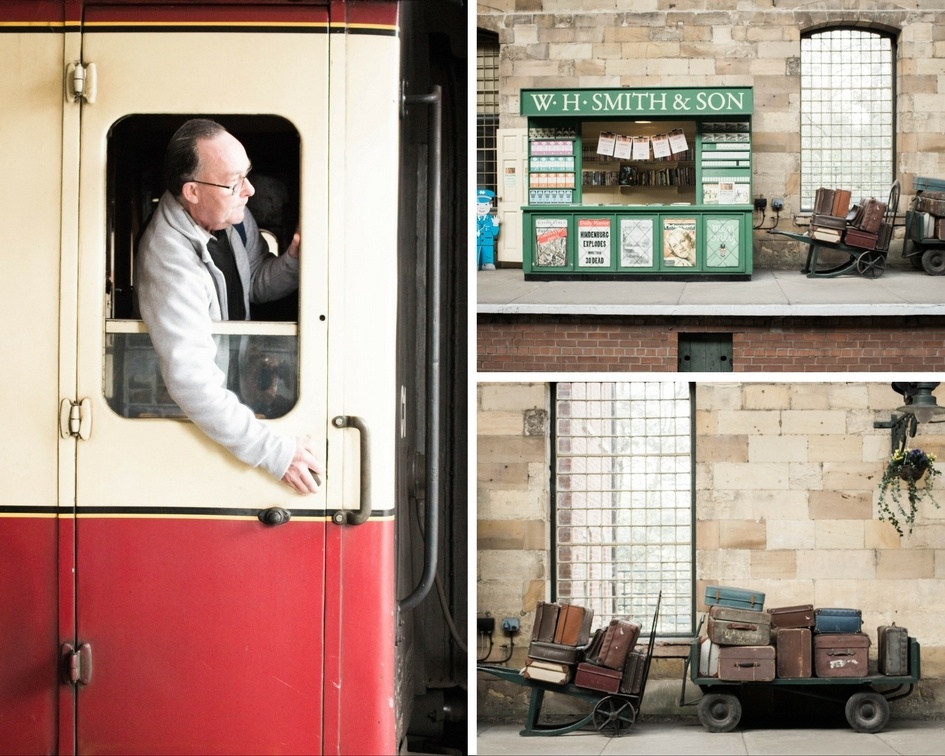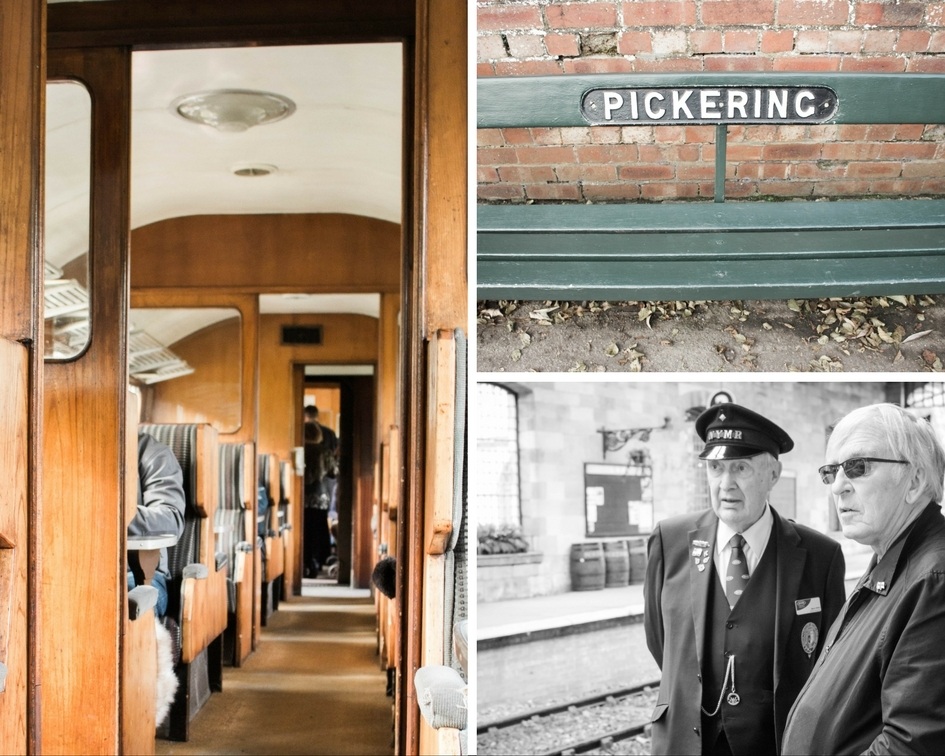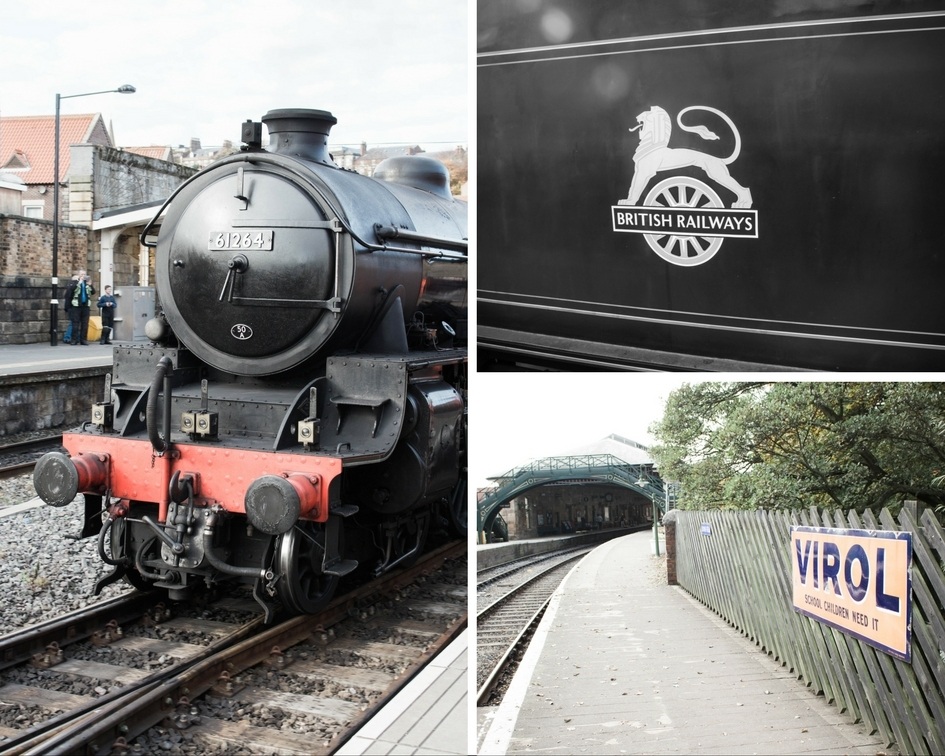 ---
The Town
Ever since Bram Stoker's Dracula came ashore here on a stormy night, the Yorkshire fishing town of Whitby has been a magnet for fans of all things gothic and ghoulish. Tourists of all persuasions cram the town's bunched-up medieval streets year in, year out, but during Halloween Weekend (when I visited), it's the Goths who take up pavements.
They come to stand in the famous shadows where Count Dracula once lurked and to explore the graveyard of tiny St Mary's Church where Stoker, it is said, dreamt his spectre into existence.
The medley of people in Whitby is bewitching a sight enough, even without the added thrill of Whitby's most iconic wonders: the Abbey that looms over everything, the jet shops patronised by Queen Victoria, and the gun-barrel grey sea, which made Whitby a thriving whaling port it its heyday and started the career of the great explorer, James Cook.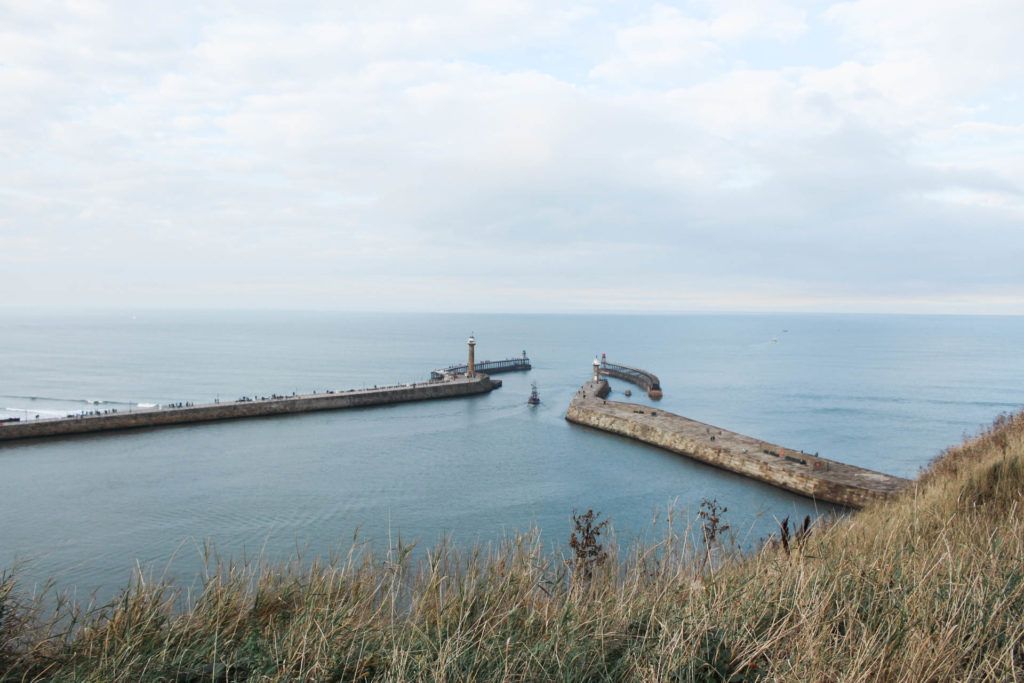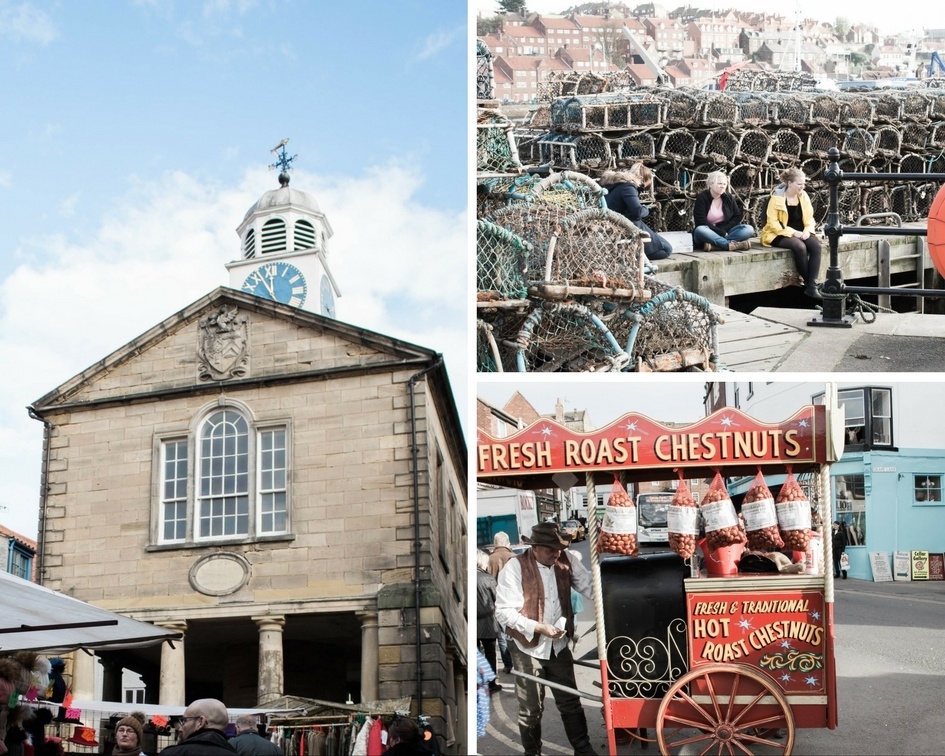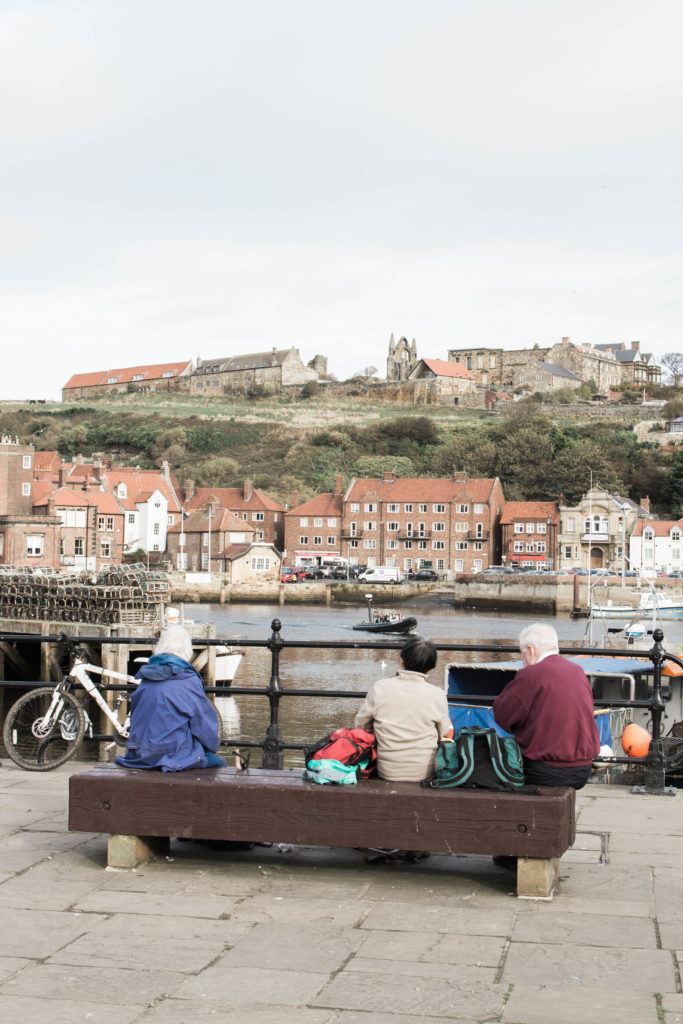 ---
The Sight
199 steps take you up Whitby's jawboned East Cliff to come face-to-face with the haunting remains of Whitby Abbey. As those you've read Stoker's novel will know, Dracula, in the guise of a black demon hound, ran up the steps when he arrived in Whitby to hide in the Abbey's cloak of darkness.
Even in the daylight you can see why. The splendid ruins run long shadows over the grass, with towering arches and weather-beaten columns hiding centuries of monastic secrets.
Call into the English Heritage Visitor Centre and you'll discover items from throughout the abbey's Anglo-Saxon and medieval history. Wander the abbey itself and it's impossible not to feel inspired – not only did this place spark Stoker's imagination, 400yrs before it was also the setting for the artistic awakening of Cædmon, the first named English poet.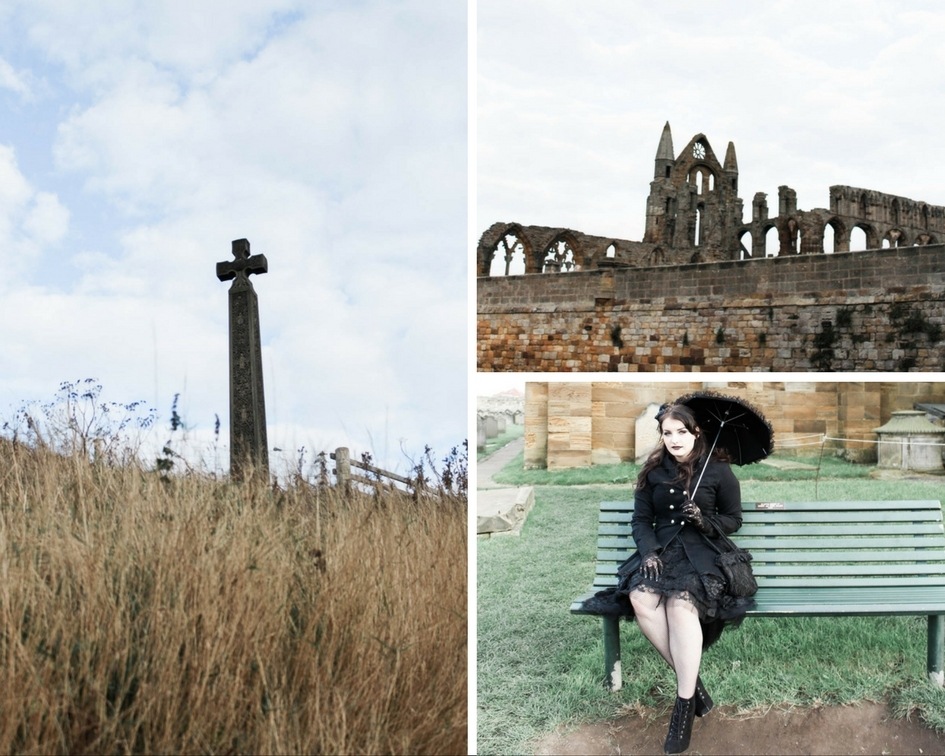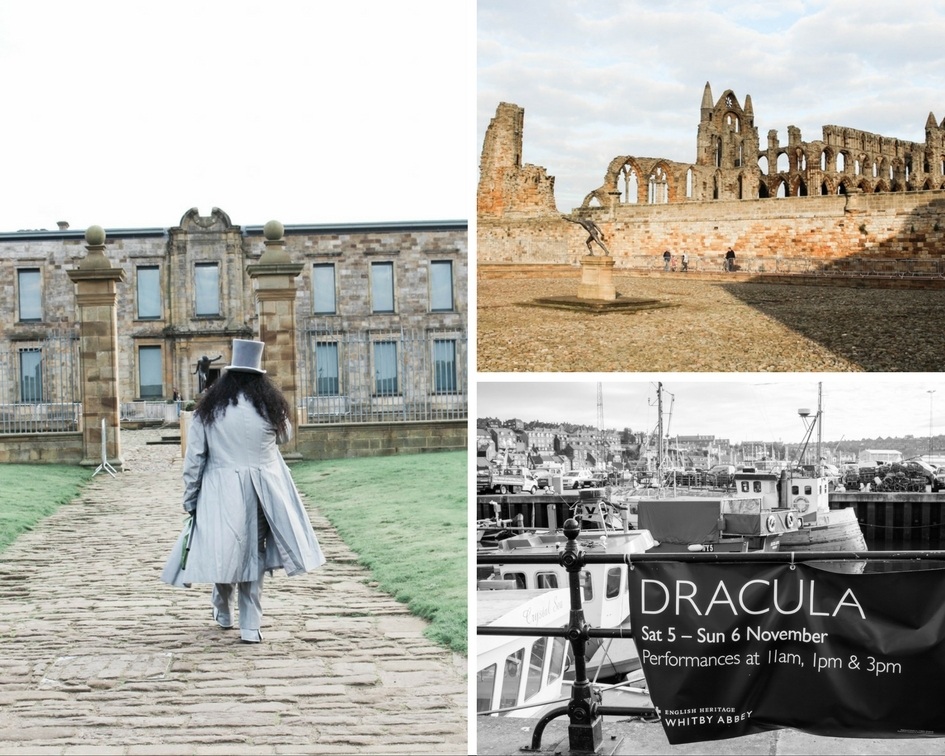 ---
The Café
Alongside the Gothic grit that so grips the town, Whitby is a marvellously British seaside resort. Candyfloss and buckets 'n' spades find their place here, as does amusement arcades and England's fish and chip tradition.
For the latter, Hadley's on Bridge Street has been serving its fish suppers since the 1930s and was once claimed the crown as the 'Best Fish and Chips in Whitby' as voted by Whitby's residents.
Sit in Hadley's fresh, welcoming restaurant and order the 'Traditional Yorkshire Tea Meal Deal' (from £8.00). Cod or Haddock, chips, bread and butter, plus a proper Yorkshire brew on the side, is Whitby rocket fuel for the rest of your day.
---
The Shops
Church Street, to the east of the River Esk, which splits Whitby in two, is where you'll find Whitby's old town and a string of curiosity shops. Meander the cobbles passing everything from Victorian photographers and traditional sweet shops to punk rock and gothic alternative clothing.
Of course, this part of town is also famous for its jet shops. Jet (fossilised wood) has been mined from Whitby's sea cliffs for centuries. This smooth black substance was popularised in the 19th century when Queen Victoria took to wearing mourning jewellery made from Whitby jet.
The oldest surviving jet shop in Whitby is W Hamond, found at the foot of the famous abbey steps. Opened by a local man in 1860, it's a boutique swarming with jet-set treasures, including Gothic collections inspired by the town's most infamous tourists.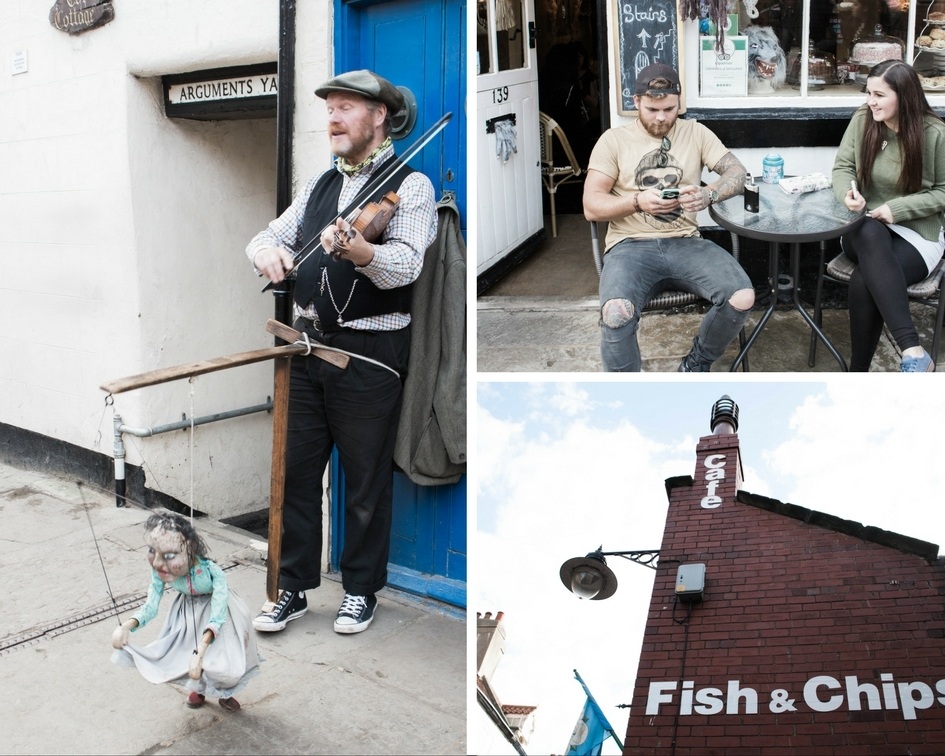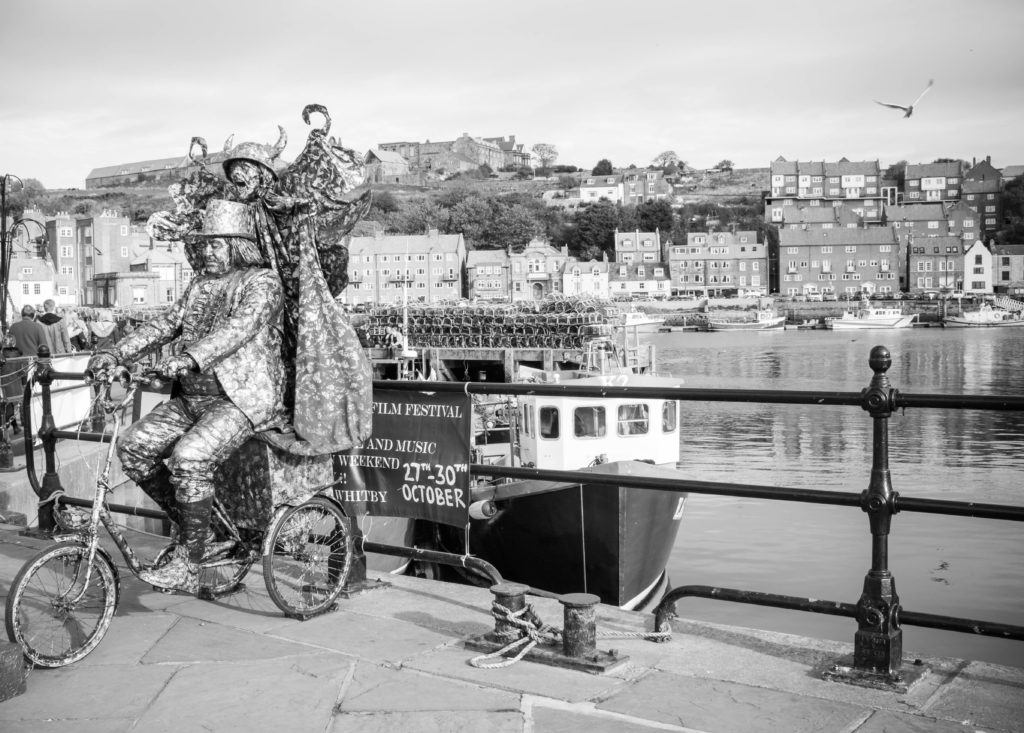 ---
SUNDAY
Explore Britain's most beautiful city

The City
York is the North's most compelling city, yet it is one that eludes singular definition. There are many different Yorks. York for history lovers. York for paranormal enthusiasts. York for literary fans. York for foodies. York for museum buffs. It is a city of plurals, of tiers, of layers. But when you consider York's 2000 years of history, it's no surprise why.
York started life known as Eboracum, capital of the Roman Empire's northern European territories. After the Romans came the Anglo Saxons, followed by the Vikings who invaded in 866, naming the city Jorvik. The Normans followed them, then King John, the Tudor and Stuarts, and the Georgians and Victorians, right up to you and me.
Remarkably little of this pre-industrial potpourri has been lost today, which gives the city its multi-dimensional character. Walk York's streets, explore its buildings, listen to its stories and, it could be thought, you actually explore "the history of England".
That said, you'll need more than a day or weekend in York to sink beyond its epidermis, so be prepared for a return trip.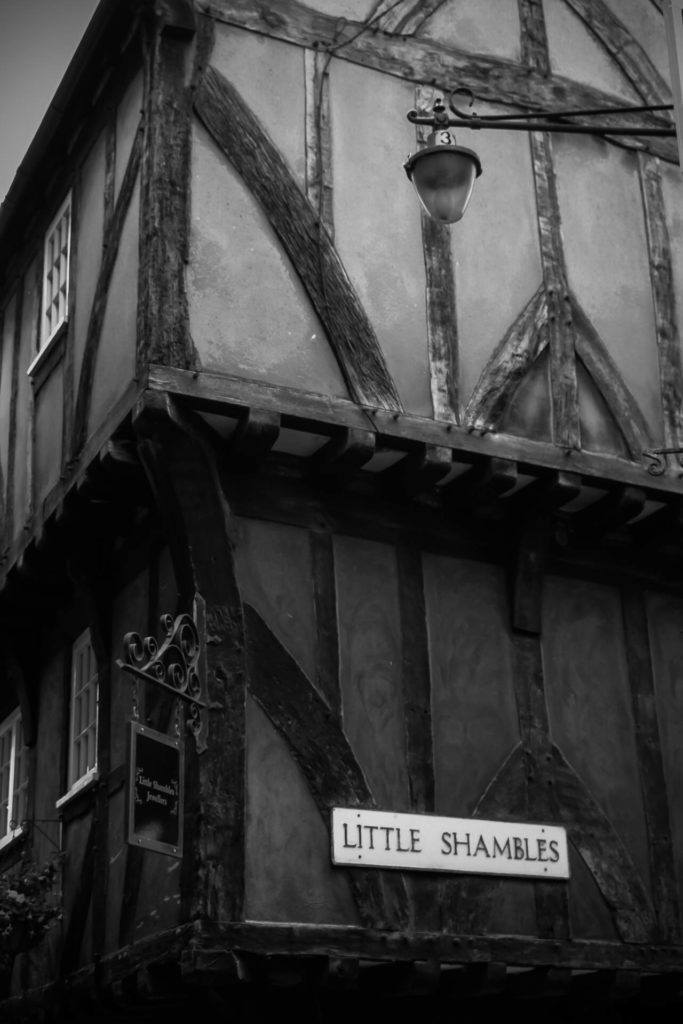 ---

---
The Walk
York's medieval streets are encircled by 13th-century walls. Follow the ancient circuit – 3.4 kilometres – and see the city's most enduring treasures from a new angle.
The entire route takes around 2 hours to walk, and on the way you'll pass five main bars or gateways, one Victorian gateway, one postern (a small gateway) and 45 towers.
Alternatively, choose a shorter section, like I did, and walk from Bootham Bar behind York Minster, to Monk Bar. Once at Monk Bar, venture into the Richard III Experience, using your York Pass to get in for free.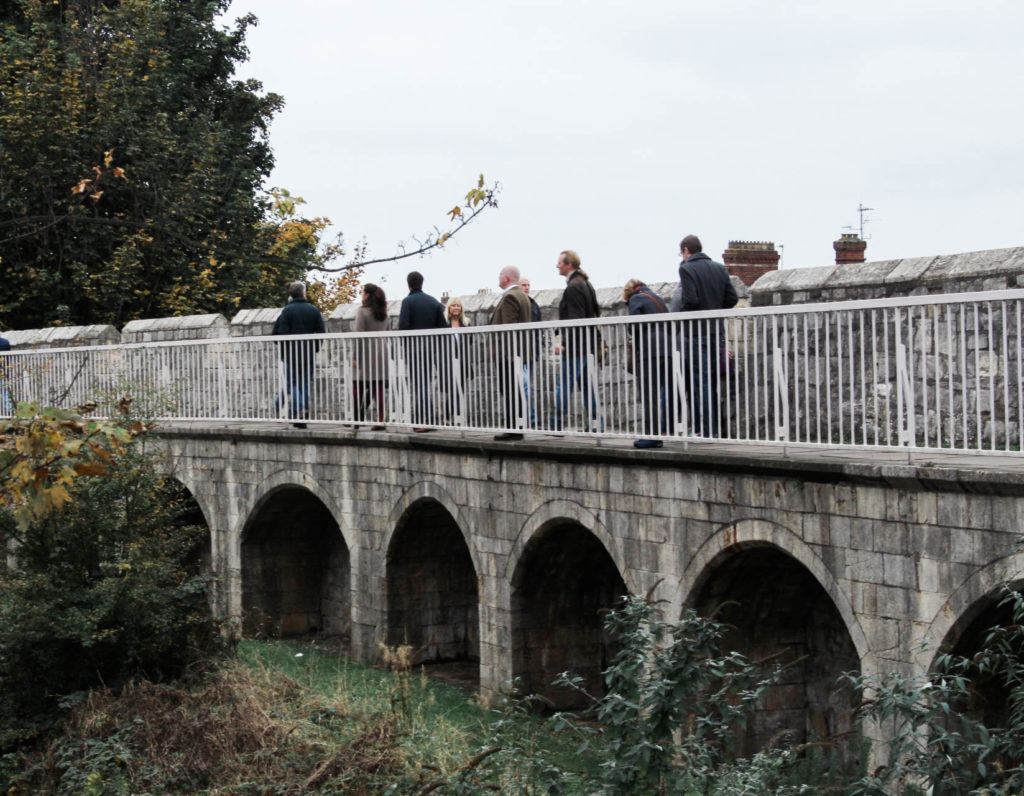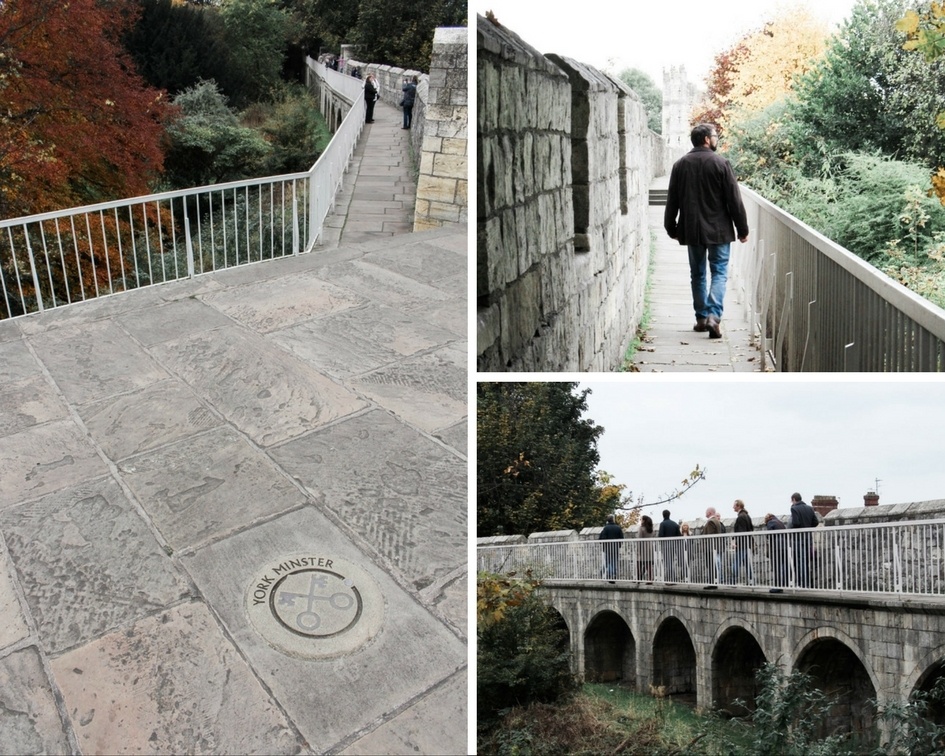 ---
The Sight
At the York's heart lies its most awe-inspiring sight – the muscular towers and Gothic points of York Minster. In fact, you can see York Minister from virtually every corner of the city, making it an ideal compass point during your York weekend.
York Minster is one of the most beautiful cathedrals in the world, with measurements that immediately qualify it for heavyweight heavenly status: over 500 feet in length, 100 feet wide and with a central tower 200 feet high. So mighty is York Minster that it took 250 years to build, finally completed in 1472.
Step inside to see some of the oldest and finest stained glass windows in Europe, with the newly restored Great East Window boasting the largest single expanse of medieval stain glass in the country.
Also, seek out the Great West Window with its heart-shaped stone tracery; legend has it that kissing your partner under the heart guarantees a match that'll last forever.
Guided tours are offered at the Minister on a daily basis, except when services are on, and climbing the main tower for unparalleled views of York is, I'm told, worth every one of the claustrophobic 275 steps it takes. (Again, you get free entry to the Minster with your York Pass).
You might also like: Free things to do in York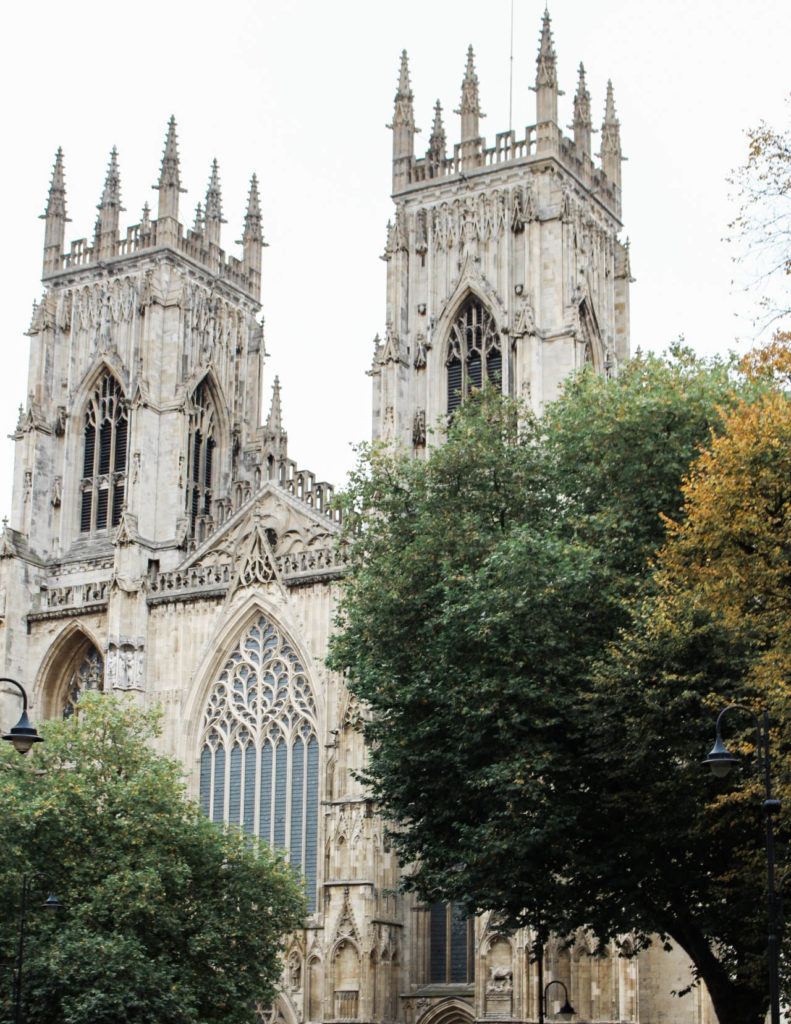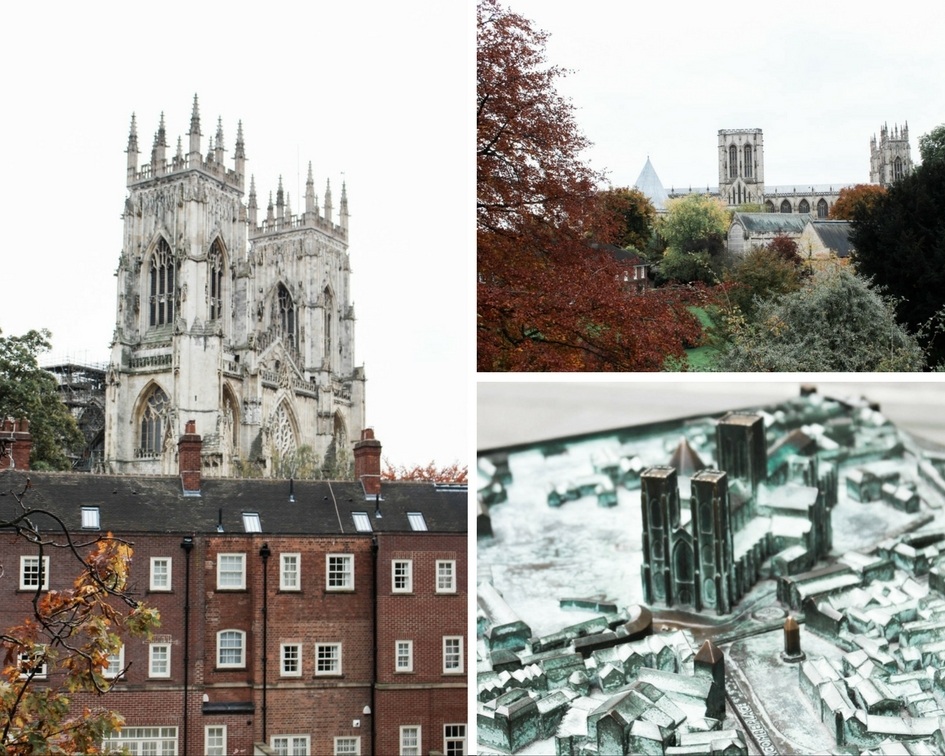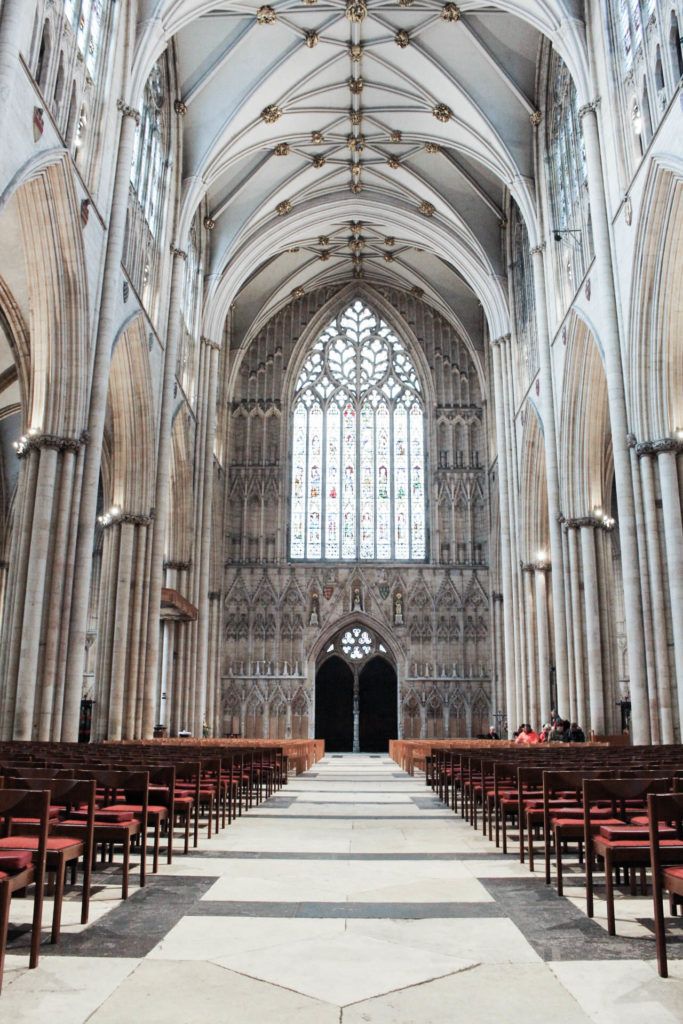 ---
The Tour
York's Treasurer's House is eponymously named. The former home of wealthy industrialist and Yorkshire man, Frank Green, it's filled Axminster-to-chandelier with an arresting array of furniture, memorabilia, ceramics, art and textiles.
Every room inside the Treasurer's House is an Aladdin's Cave of discovery, but the real gems, for me, lie beyond the room's eclectic menagerie.
Up until 1547, the Treasurer's House was home of the Treasurer's of York Minster. This long history makes it one of York's most haunted spots and the setting for one of the most famous ghost sightings of all time: the Roman soldiers who were seen in the cellar by plumber, Harry Martindale, in 1953.
Join the free cellar tour and sink into the underbelly of the building. Expect your spine to tingle as your guide perfectly recounts the bewitching story of Harry's frightening experience before leading you through a narrow tunnel into the cellar where the soldiers appeared.
Shadows are abundant in the ghostly light, but, on my visit, fortunately, the ghosts stayed silent. Once again, your York Pass gets you free entry in The Treasurer's House.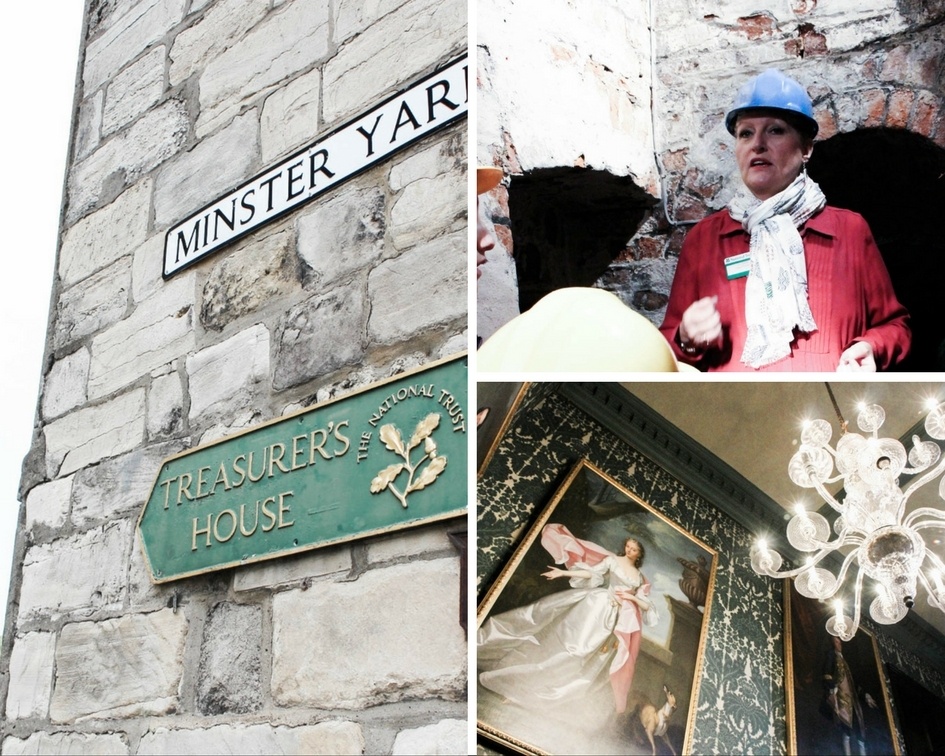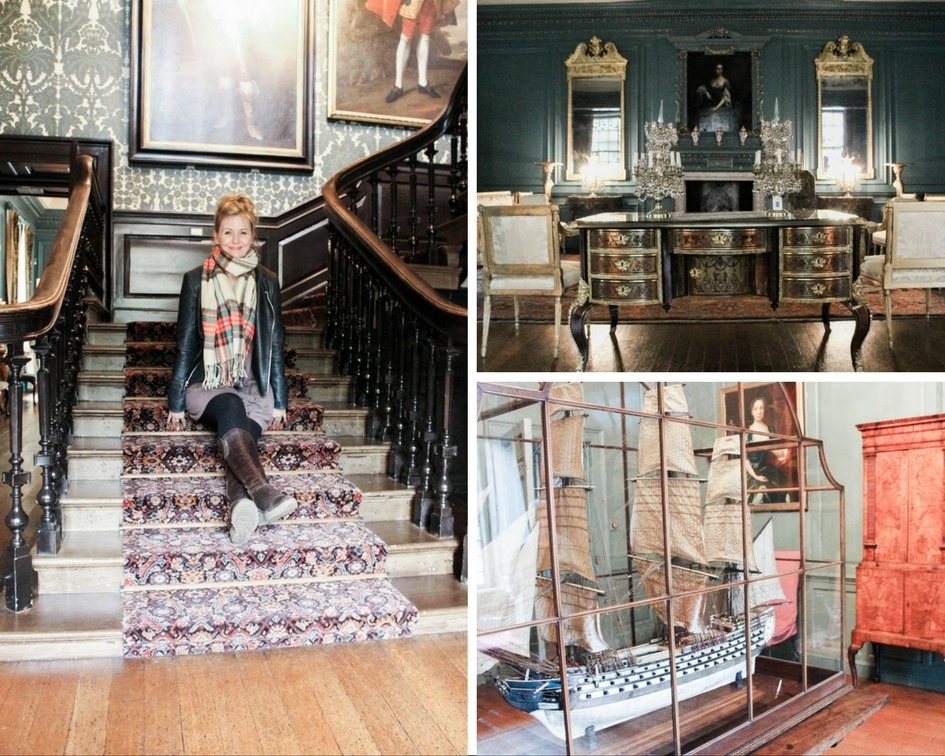 ---
The Café
Whilst other Northern cities were building their wealth on wool, cotton and steel, York built its golden ticket on chocolate. Kit-Kat, Smarties, and Aero all began life in York, so a visit to York isn't a visit without a chocolate dip.
The York Cocoa House is an unexpected and enchanting pit stop. A vintage cash register greets you on arrival, as does tray upon tray of chocolate and truffle treats, ribbons, gold boxes, and cellophane.
Side step the goodies, for now, and settle in the chocolate café to the right of the main shop. Order from the extensive chocolate menu, both savoury and sweet dishes and drinks are on offer.
My tip? Try the 'Fire and Ice' hot chocolate (chilly chocolate flushed with peppermint). Believe me, you'll descend into a Wonka-style bliss that you thought only existed in fiction.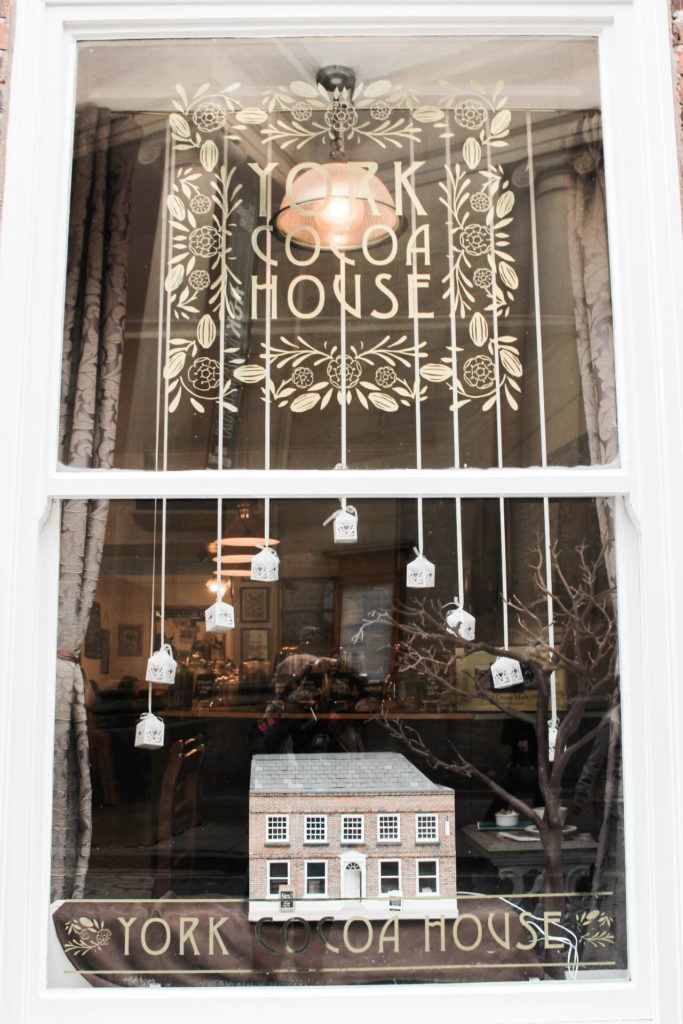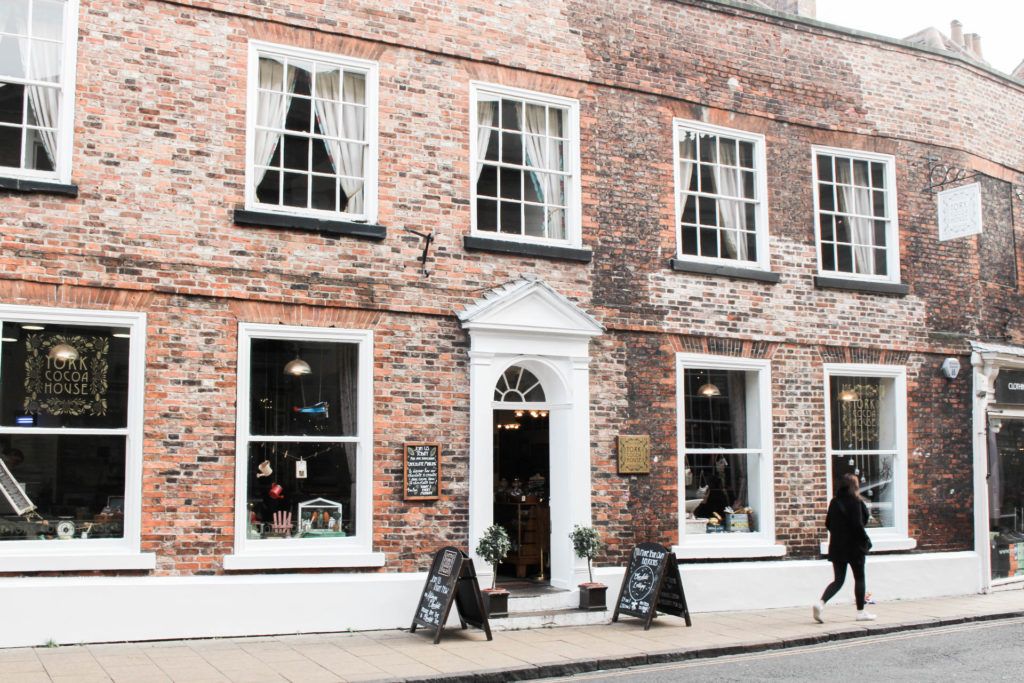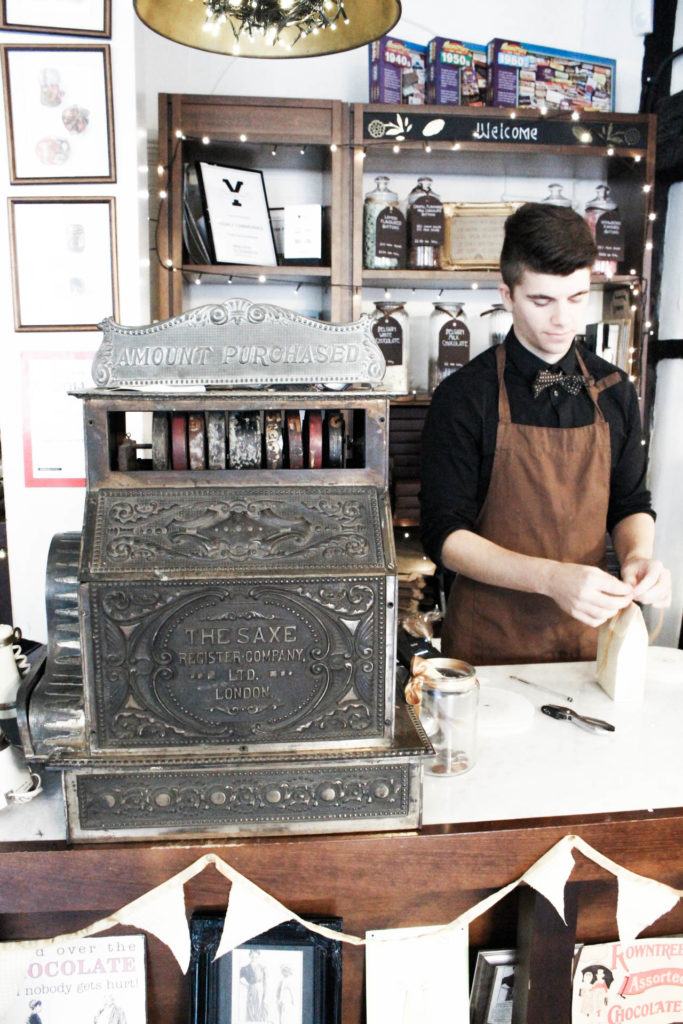 ---
The Hotel
What was once the headquarters of the North Eastern Railway Company, is today York's only 5-star hotel and spa: The Grand Hotel and Spa – excellently placed within York's city walls, with a view of the Minster on the skyline, and only a five-minute stroll across the river to the city centre.
Believe me, grand isn't an exaggeration. The building is vast; impossible to ignore with its impressive red brick and golden stonework and turn-of-the-century metropolitan grandeur.
Magnificent outside, equally as intense inside: the Grand manifests Golden Age drama at every turn. Glacial marble floors, corridors wide enough to sail a ship down, mighty staircases and lofty arches, all loaded with the additional glamour of the building's heritage. Indeed, the washrooms are from the age of the Empire; when railways dominated rather than despaired.
The rooms, of which there are 107 of them (from classic to penthouse), come more sedate than the public areas. My room was more corporate than I expected and used a moderate colour pallet compared to the hotel's opulent and glitzy Grand Bar and Whiskey Lounge. But what the room lacked in style, it more than made up for in size and amenities – the artisan welcome chocolates were an excellent touch that didn't last long.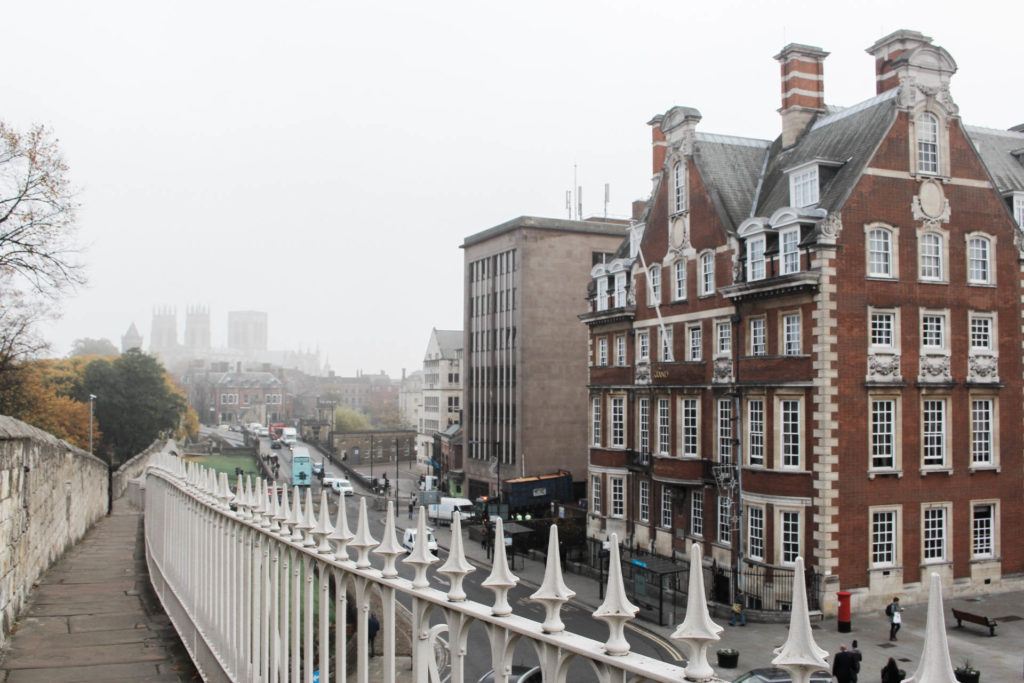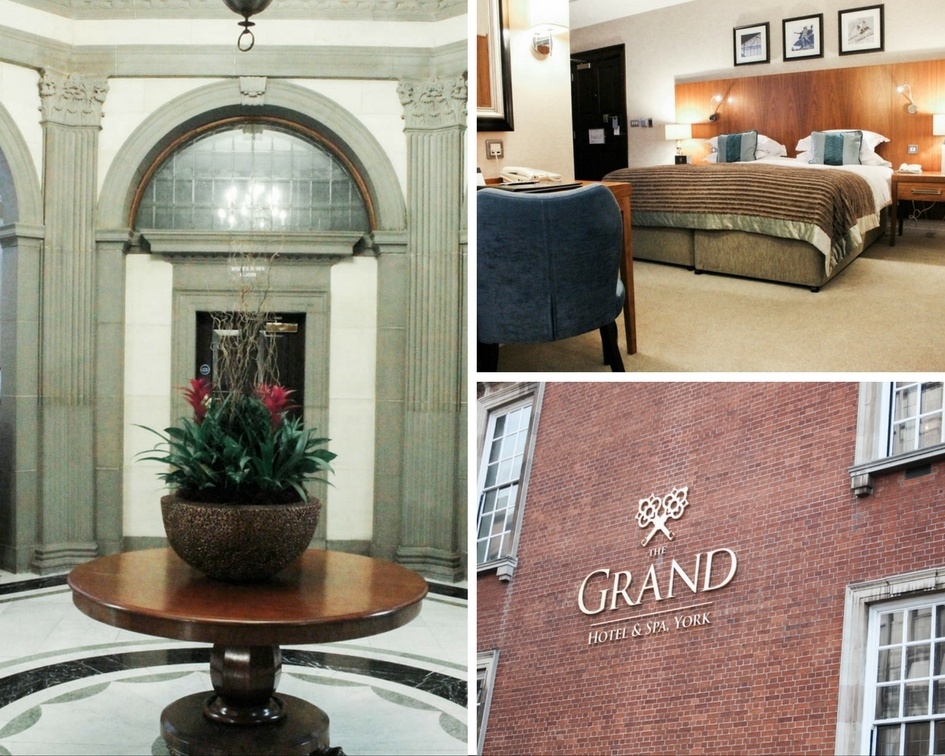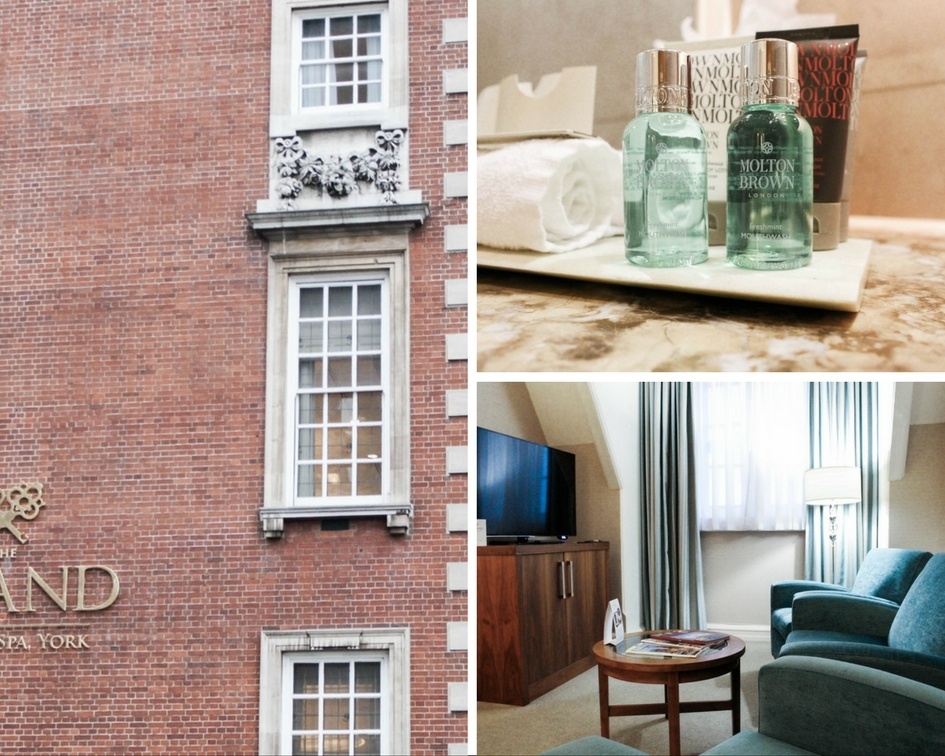 ---
The Restaurant
End your North Yorkshire adventure in the hotel's Hudson fine-dining restaurant. Named after York's Victorian 'Railway King', George Hudson, the restaurant is an exceptionally classy affair, with solid service, and a 7-course tasting menu that's a veritable gastronomic storybook.
Like stepping inside an edible version of Midsummer Night's Dream, the menu seduces and tantalizes your taste buds with the finest local and seasonal produce, taking you from chapter to chapter as skillfully as any narrator.
For a superb price – £65 per person without wine pairing – Hudson's Head Chef, Craig Atchinson, has created an astonishing experience: Cryogenic Mojito to start, followed by Autumn Vegetables – served pixie-style on a log slice.
Closely afterwards we taste-stepped through English Milk-Fed Veal, North Atlantic Stone Bass, 28-Day Salt-Aged Beef Sirloin, then finished our meal sweet side up: Meadowsweet Ice Cream and Blackberry and Douglas Fir.
It was an exquisite expression of culinary talent; the perfect finale to a weekend that will stay with me for a very long time.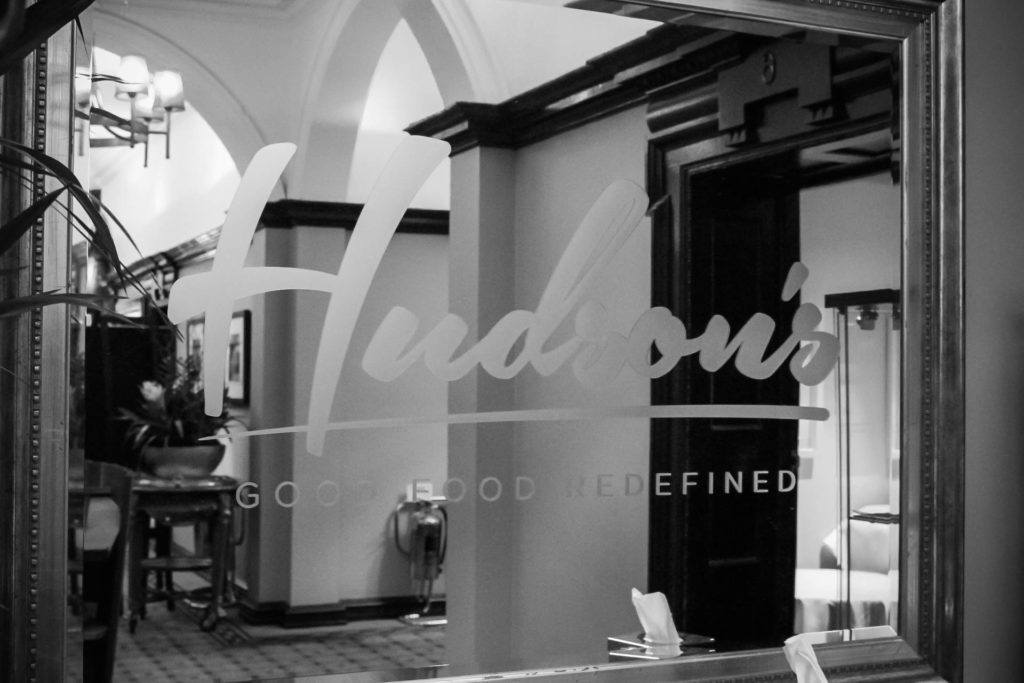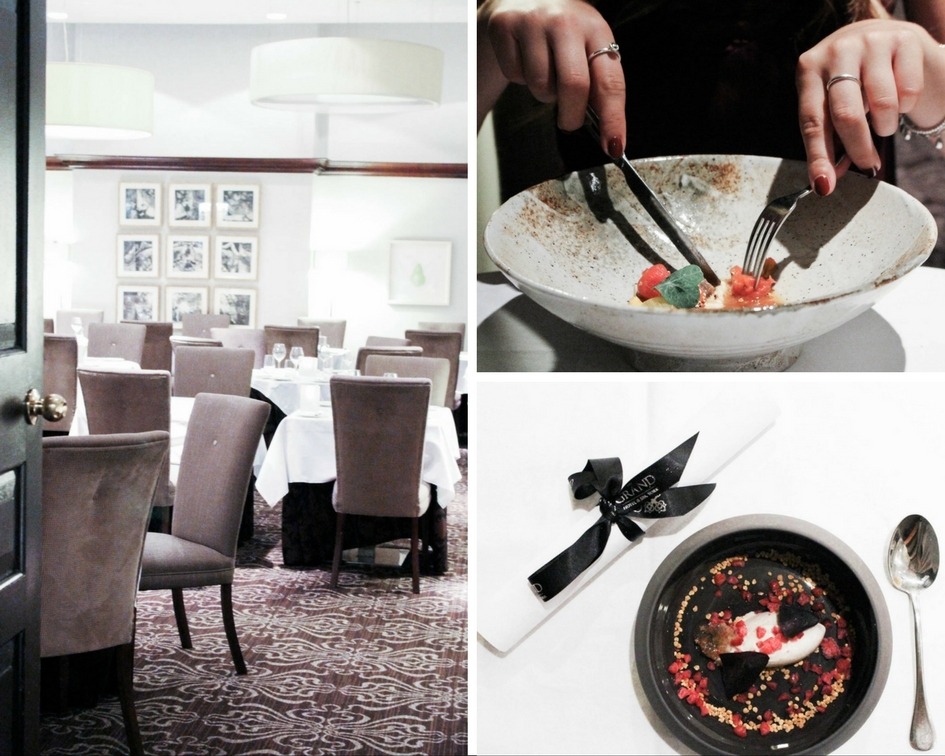 Disclosure: I enjoyed a Weekend Adventure in North Yorkshire courtesy of Visit York as part of its Original City Adventure campaign – you can find out more about what' the adventures you can have in York and beyond here. I had the most amazing time, made up of lots of mini adventures, so everything you read here is a true reflection of my North Yorkshire weekend. If you're keen to watch more about York, check out Visit York's Youtube Channel.