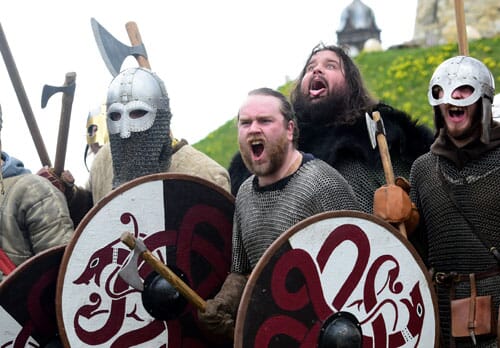 Love is in the air! Yes, it's the official weekend of love, there's no getting away from it. So if you're anti-Valentines, then look away now. If, however, you're pro-mushy then we've 5 wonderfully unique ways to celebrate this weekend that'll make you swoon. 
As always, for more weekend ideas and inspiration, check out the Weekend Directory. And if you do go to any of our recommendations, swing by the comments below and let us know!
---
Event | Valentine's at the Natural History Museum, London
Sat 14th Feb | Tickets: £35
Calling all love bugs! Are you ready to do it like they do on the Discovery Channel? Then head to the Natural History Museum in London after hours on the 14th Feb for an unusual night of romance.
During the evening, you and your beloved will learn how the animal and critter world 'does' romance. From their extravagant courting displays to their unusual romantic rituals (some even mount their intended's head, which we definitely wouldn't recommend).
As part of your ticket, you'll also see the Wildlife Photographer of the Year exhibition, have the chance to learn salsa, listen to a fascinating talk about the strange world of animal sex, and visit the world of LGBTQ natural history.
And the best part is, you can do it all with an alcoholic drink in your hand. What a win!
---
Event | Gloucester Cathedral Valentine's Tower Tour, Gloucester
Frid 14th – 15th Feb | Tickets: £15
On this weekend of love and romance, why not include a little bit of history into your date by heading to Gloucester Cathedral? It is hosting tours to the very top of Gloucester Cathedral's tower.
Join other lovebirds and make your way to the top of the cathedral via a medieval staircase. Apparently, it's well worth working those leg muscles, because you can see up to forty miles of stunning Gloucestershire countryside from the tower on a clear day. You'll also be given a glass of prosecco to sip on arrival. Ding dong.
---
Festival | Jorvik Viking Festival, York
Sat 15th – 23rd Feb | Tickets: Free and paid events available
Calling all vikings who snarl at the thought of romance! We're heading back to the 9th century this weekend for the 36th Jorvik Viking Festival in York.
The entire city comes alive at this famous annual event with historical re-enactments, evening entertainment and electrifying combat performances, transporting you back in time. And this year, the theme is Voyage of the Vikings.
As well as watching the performances, you'll be able to treat yourself at the markets, listen to the animated talks, or join in at the workshops. It'll be mud, sweat and hairy Norse beards all the way, with no Romeo or Juliets in sight. Grrr.
---
Festival | February Fossil Festival, Torquay
Sat 15th Feb | Tickets: £5.95
Here's something for all you big and small dino-lovers this weekend: a fossil festival. Make your way to Dinosaur World in Torquay and enjoy a day of discovering everything dino!
Get some great pictures for the 'gram as you put your head inside the jaw of a fossilised T-Rex, before sitting down to test your knowledge at the Fossil Festival Quiz. Afterwards, head to the sands to try and find your very own dinosaur fossil. There's also the chance to win a Dinosaur Expert Certificate and your very own 160-million-year-old fossil.
---
Event | Songs from the Musicals for Valentine's Day, Liverpool
Frid 14th Feb | Tickets: £24
You're in for one sophisticated evening at the Royal Liverpool Philharmonic Orchestra, as West End singers take to the stage to sing some of the most romantic and best-loved love songs from the theatre.
Songs like 'My Funny Valentine', 'Falling in Love with Love' and 'If I Loved You' are sure to give you goosebumps as incredible voices and tones of the singers fill the beautiful Liverpool Philharmonic Hall. Tickets include a glass of fizz on arrival.
---
Want to see your event here?
Do you have an upcoming event that you'd like promoting to our readers? Email us and tell us about it!