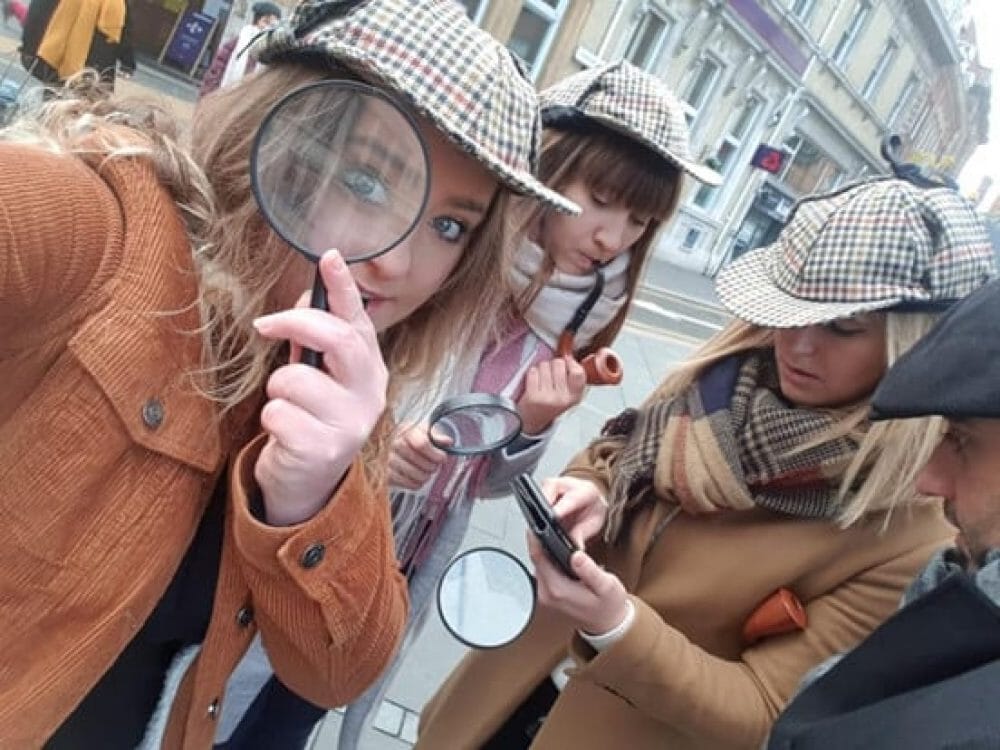 February half term, we see you over there on the horizon! For those of you taking the whole week off: we salute you. For those of you working through: we feel your pain.
Before then, it's time to let your hair down because the weekend is knocking. And we've a heap of things for you to get up to this February weekend. Of course, for more imaginative ideas and inspiration, check out the Weekend Directory.
And if you do go to any of our recommendations, swing by the comments below and let us know!
---
Event | Cheltenham Detective Day, Cheltenham, Gloucestershire
Sat 8th Feb | Tickets: £36 per team
Do you have what it takes to catch a killer? Are you a regular Poirot? Then your time has come. CluedUpp is an exciting outdoor detective game that's basically a giant human version of the board-game Cluedo – and it's happening in Cheltenham this Saturday!
You will be transported back to the 1920s as you sleuth your way across town interrogating witnesses, eliminating suspects and weapons, and competing with other teams to catch the killer.
Grab your friends and family and form a team, then get to the streets of Cheltenham to crack the case in time. Tickets are selling out fast so grab your team place today!
---
Event | Dachshund Diner, Jessie Heywoods Remarkable Gin & Food Emporium, Manchester
Sun 9th Feb | Tickets: £6.80 
Okay, stay calm. We may have just found the best weekend event ever: A sausage dog dinner party! Faints. Yes friends, Barkers Brunch's Dachshund Diner is coming to Jessie Heywood's Remarkable Gin & Food Emporium, in Manchester for a Valentine's special: Puppy Love!
If you are a proud Dachshund owner, make sure you come along to this unique pop-up drinking and dining experience, with new friends for you and delicious doggy-themed treats for your little sausage. Even if you don't own a Dachshund, don't worry. Dog lovers are welcome.
Expect lots of doggy-theme stalls and every Dachshund will receive a free Puppuccino! As for the humans, Jessie Heywoods will be offering their specially prepared brunch menu, plethora of cocktails and craft gins. Woof woof.
---
Cinema | Kinky Boots, Magic Lantern Cinema, Tywyn, Gwynedd
Sat 8th Feb | Tickets: £11 – £13.75
Filmed live at the Adelphi Theatre in the heart of London's West End, Kinky Boots is strutting onto the big screen in Gwynedd this weekend! With songs by Grammy and Tony award-winning pop icon Cyndi Lauper, Kinky Boots takes you from the factory floor to the glamorous catwalks of Milan.
The plot goes a little like this: Charlie Price is struggling to live up to his father's expectations and continue the family business of Price & Son. With the shoe factory's future hanging in the balance, help arrives in the unlikely but spectacular form of Lola – a fabulous performer in need of some sturdy new stilettos.
Inspired by true events, this joyous story of Brit grit to high-heeled hit is the 'Freshest, most fabulous, feel-good musical of the decade'. It's the ultimate fun night out so get ready to experience the energy, joy and laughter of this dazzling show.
---
Workshop | Sourdough Bread Making, Stroud, Gloucestershire
Sat 8th Feb | Tickets: TBC
It's a carb-filled kinda Saturday! In this a three-hour practical workshop in Stroud, you'll
learn how to grow and maintain your own yeast starter and how to make your own sourdough bread. You'll also learn all the top tips you'll need to know for future sourdough making at home.
There are only a limited amount of spaces, so booking is essential to avoid disappointment! it's a great gift idea for yourself or a loved one – especially now in the month of luuuurve!
---
Exhibition | Leonardo Da Vinco, A Life in Drawing, The Queens Gallery, Edinburgh
Frid 7th Feb – Sun 9th Feb | Tickets: £7.50
This year is the 500th anniversary of the death of Leonardo da Vinci, one of the greatest artists and scientists the world has ever known.
To mark this anniversary, the Royal Collection Trust has collaborated with twelve museums and galleries to stage exhibitions of Leonardo's drawings across the United Kingdom, in an initiative designed to give the widest-ever UK audience the opportunity to see the work of this extraordinary artist.
The Edinburgh display at the Queen's Gallery will feature twelve drawings which reflect the full range of Leonardo's talent, including anatomy, botany, engineering, and cartography. A must-see for anyone in the city this weekend.
---
Want to see your event here?
Do you have an upcoming event that you'd like promoting to our readers? Email us and tell us about it!