You may be forgiven for not knowing Alsace, a region tucked away in the east of France, sandwiched between the borders of Germany and Switzerland.
After all, it doesn't quite have the glamorous reputation of the 'Cote d'Azur' or 'Three Valleys.'
This France is understated, down-to-earth, a region more famed for tractors, than Ferraris. The locals are friendly, you can feast on dinner for less than £10 a head, and buy a bottle of wine for less than €5.
The region is also crammed full of quaint, medieval villages surrounded by stunning scenery. So fairytale is it, that the turrets of Alsace would be at home on the pages of the Pied Piper of Hamlin; the gabled, colourful gingerbread cottages an ideal backdrop for Hansel and Gretel; and the many woodland forests, housing hidden castles and churches, a perfect scene for the Magic Faraway Tree.
Many people come to Alsace and follow its famous 'wine route' the Route du Vin' – an evocative drive that snakes through 170km of foothills in the Vosges, characterised by endless vines clinging to lush green hills and the occasional scattering of snow.
And it's this route that we took during our recent roadtrip weekend in Alsace.
PIN FOR LATER: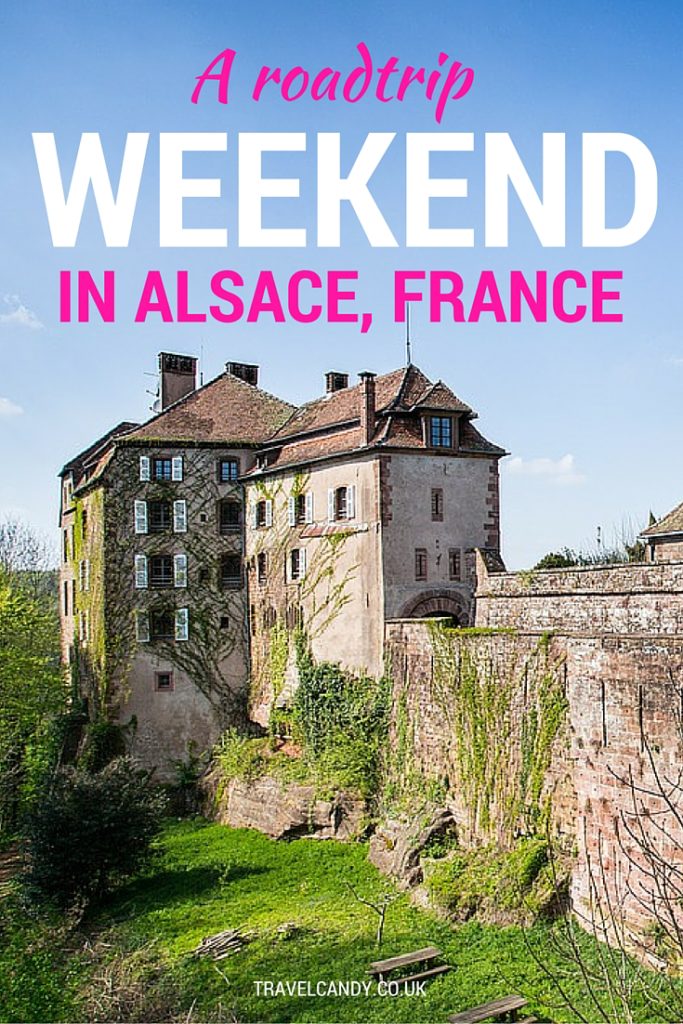 Friday night 
1. Fly to Strasbourg or Basel
Bag an evening flight to either Strasbourg or Basel. The top places to visit are equal distance between the two, so simply pick whichever suits you best for price and timings. We opted for Basel on a direct flight with EasyJet from Manchester, arriving late at night.
Pick up a car – you are going to need it – then book yourself into an airport hotel to avoid driving late. That way you'll be lovely and refreshed for a busy day ahead. We stayed at the Airport Club Hotel in Bloxheim, France, which is a modern property with fabulous portraits lining the walls, showcasing the diversity of young and old around the world.
The hotel has a tiny bar, which we were delighted to discover 'never closes', and a stunning pool. It's just 4km from the airport so you can be there in time for a few nightcaps – although you might want to avoid the Alsatian beer if you are a lightweight like me. Just two of those babies had me waking a little worse for wear!
Stay: At the Airport Club Hotel in Bloxheim, France, just 4km from Basel airport.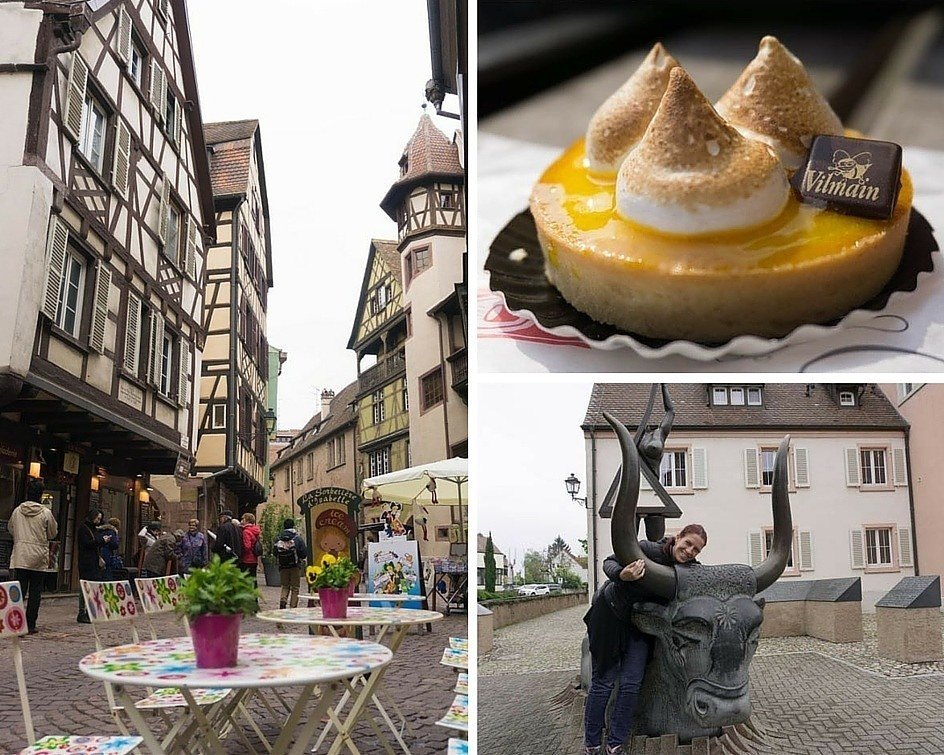 Saturday 
1. Cruise to Colma
Whizz up the main highway (direction Strasbourg) straight to Colmar. It's less than an hour's journey so even after a swim you can be there by mid-morning.
Like many towns, Colmar looks a bit of a concrete jungle as you approach, but don't be deceived; inside the ring road is the old town of cobbled streets, gabled buildings flush with vivid geraniums, and the stunning La Petite Venise, where restaurants cling to the banks of tiny canals flowing past medieval houses dating from the sixteenth century.
Do: Take to the water in a Venetian style gondola or relax in one of the coffee houses or restaurants lining the banks of La Petite Venise.
2. Gingerbread village
Head north on the motorway from Colmar for an eye-popping smorgasbord of villages to charm even the most hardened of travellers.
First to Ribeauville, with its crooked old buildings and where, reminiscent of a Game of Thrones setting, the imposing castle of Haut-Koenisburg stands guard above the small town. Prepare to be seduced by the wafts of gingerbread and Alsatian biscuits, as boulangerie doorbells ring magically.
Be sure to check out the roofs of the buildings for huge stork nests, the symbol of Alsace. If you aren't lucky enough to see the real deal, don't worry: you'll be accosted by storks at every turn, whether it be fridge magnets, postcards or fluffy toys.
Do: There's a selection of walks from Ribeauville if you are feeling active. You can head directly up into the forest immediately behind the town by turning right onto the little cobbled path towards Thannekirch at the top of the village.
You will need sturdy walking shoes and hardy calves. Somewhere in those woods, is a tiny little church only accessible on foot, a true secret enclave that I loved visiting when I was younger but I'll be damned if we could find it this time. Maybe the forest has reclaimed it, lost forever more.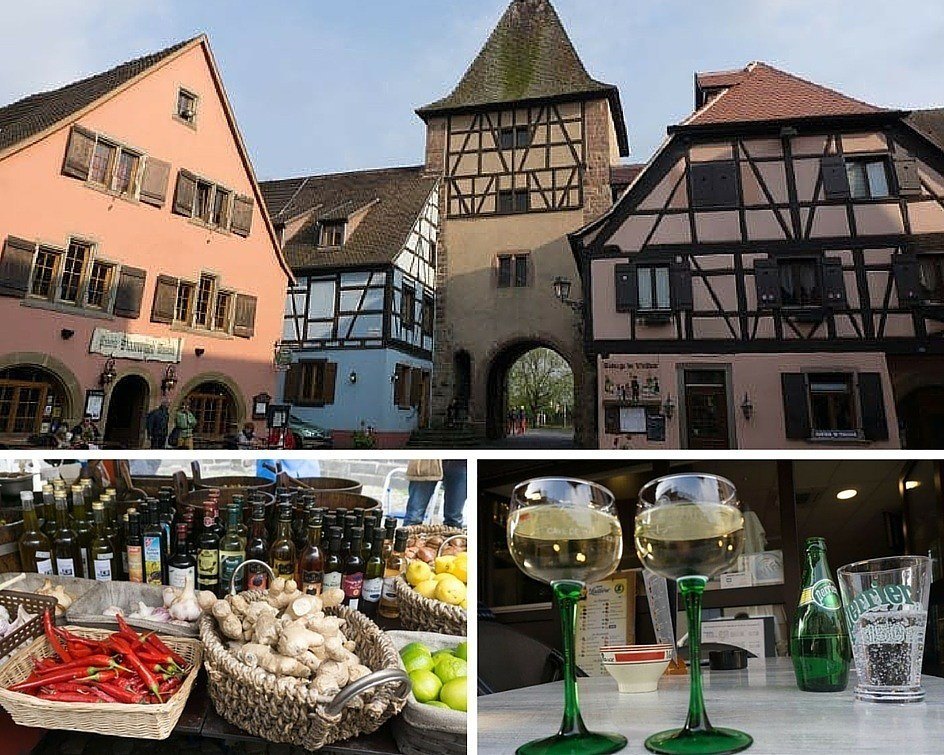 3. Liquid lunch
From Ribeauville, head south, this time following the Route Du Vin towards Turckheim, an even tinier village, little more than a cobbled street of higgledy-piggly buildings decorated in every colour of the rainbow.
Traditional cafes greet you with a selection of local wines served in distinctive round wine glasses with green stems. Many are engraved with the names of the vineyard from where they were sourced and the Alsaciens take great pride in pouring the wine straight from bottles of local wine merchants.
If you don't fancy an alcoholic refreshment, you can admire overhanging windows a la Romeo and Juliet, whilst enjoying an ice cream, crepe or espresso.
Do: Be sure to park opposite the train station to get a truly fabulous first impression of Turckheim as you pass through the brightly-coloured town arch with its rickety staircases leading up into unseen chambers.
These arches will have witnessed much drama over the years, protecting villagers from scavengers on the hunt for wine, offering a refuge to young maidens stealing a moment with a local farmer's boy, or perhaps even a haven for witches creating potions to ward off evil.
4. Sunset in Eguisheim
Last stop for the day is Eguisheim, a true delight just a few miles further south on the wine route. These villages are ideal contenders for wine hopping given their proximity to one another, of course, you may have to ditch the car. Park up by the entrance to the town and wander the pedestrianised streets admiring the finely groomed flowerbeds.
Eguisheim is another walled town, albeit a small one. If you have ever seen the Grinch, I swear that village was modelled on Eguisheim. Interestingly, the walls in many of these medieval villages were built not to protect the people, but to protect the wine! The wine merchants here were incredibly wealthy and lived in colourful homes with inner courtyards.
The outer ramparts in Eguisheim house every conceivable size and colour of building in an assortment of shapes and sizes. They somehow manage to stay upright, clinging to one another for support like a bunch of hens on a night out. Faded gables and crumbling bricks intertwine with ivy and wisteria, in a poignant melange of decay and blossoming life.
Do: Visit the rapunzel-style tower which is the focal point of the square, but don't miss the circuit around the walls either. It is truly charming, made even more so by the lack of tourist hoards.
Stay: Head further south and check in at Les Violettes Hotel et Spa in the hamlet of Jungholz, tucked into the foothills of the Vosges.
Rooms overlook the main building, where the restaurant and spa are located, and have ample balconies with views over the hills and forest and also down to the outdoor pool – which is heated to a delicious 29 degrees.
There's also a hot tub, offering the most enthralling views of the valley below, as well as  walking trails to lead you straight into your very own enchanted forest.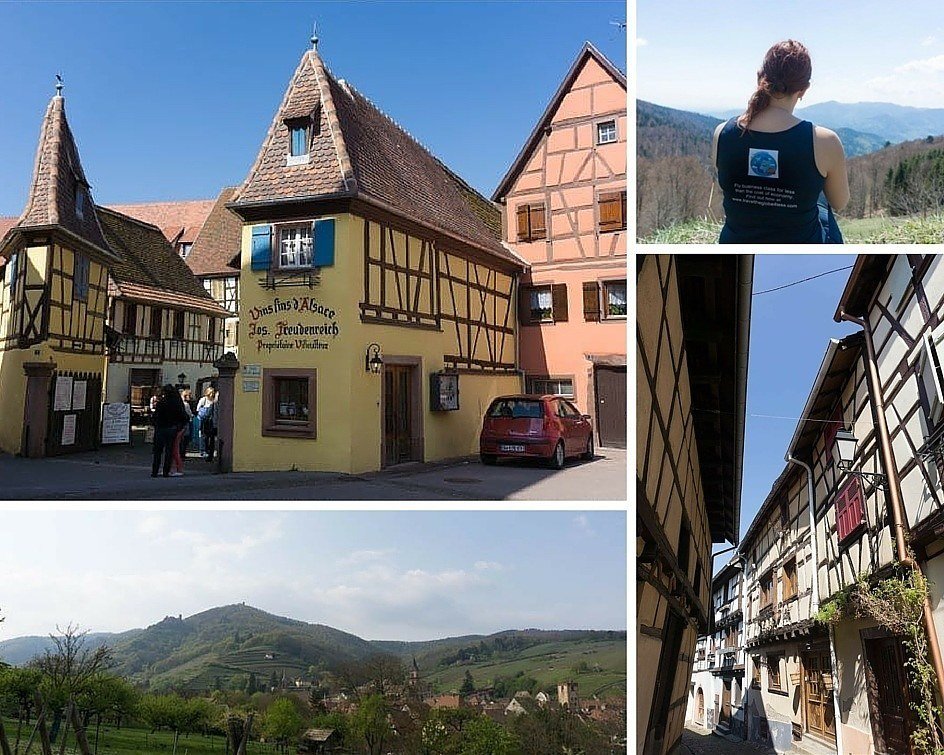 Sunday
1.  Jacuzzi start
Allow yourself some relaxation time to enjoy the spa at the hotel, with facilities that include indoor and outdoor pools, jacuzzis, Finnish sauna, aromatherapy and salt rooms, a laconium, relaxation room and refreshment area. Checkout time at Les Violettes Hotel et Spa is 11am, but guests can continue to use the spa until 12.30 – which is the perfect time to head up into hills.
Do: Bask in the tropical waters of the outdoor pool listening to twittering birds, rustling leaves and children playing in the valley.
2. Mountainous views
Leave the valley behind and head deep into the heart of the Vosges for spectacular views of pine-clad hillsides sprinkled with snow glittering in the sunlight.
Whilst the Vosges lack the height of the Alps, they are nevertheless higher than anything in the UK and we ascended over 1200 metres on our scenic drive, stopping to pose in lazily melting snowdrifts, in no rush for summer, before dropping back down into the valley to Munster.
Do: Detour to Le Markstein, one of the many ski resorts scattered throughout the Vosges, where you can drink in untainted views of hazy blue hillsides.
3. Frighteningly beautiful fortresses
From Munster, follow the valley road to the tiny hamlet of Wintzenheim where you can admire remarkably well-preserved fortresses.
The Chateau of Hohlandsbourg is one such example tucked away high on the hilltop overlooking Wintzenheim and Colmar. The 5km drive up takes you through a sun-dappled forest that emerges onto a plateau with far-reaching views over the local towns. (Be warned, it is closed on a Monday.)
Make it a long weekend? If you're only here for a short weekend, then that's about all you will have time for before rejoining the motorway back to the airport.
However, if you manage to fit in an extra day, you can also hop over the border into neighbouring Germany for a few more treats…
4. Border hop
Steal away to Breisach – another chocolate-box village where flags float in the crisp air, coffee aromas waft from street-side cafes and rainbow-coloured houses line the lanes, a feast for the eyes.
The real attraction is, however, St. Stephansmunster – the romanesque cathedral – growing out of the rocky outcrop and overlooking the town. It's free to enter and has fabulous stained windows in shades of boudoir red.
Do: Check out the sculpture of a rather feminine looking bull to the left of the Rathaus when you leave.
5. Black Forest dash
Freiburg is a busy market town nestled in the Black Forest. It has a fabulous Saturday market where the bustling square teams with stalls selling honey, juices, oils and brightly coloured flowers.
Enjoy a coffee or local wine in one of the many cafes around the square and marvel at the many street performers, including mind-baffling levitating mannequins.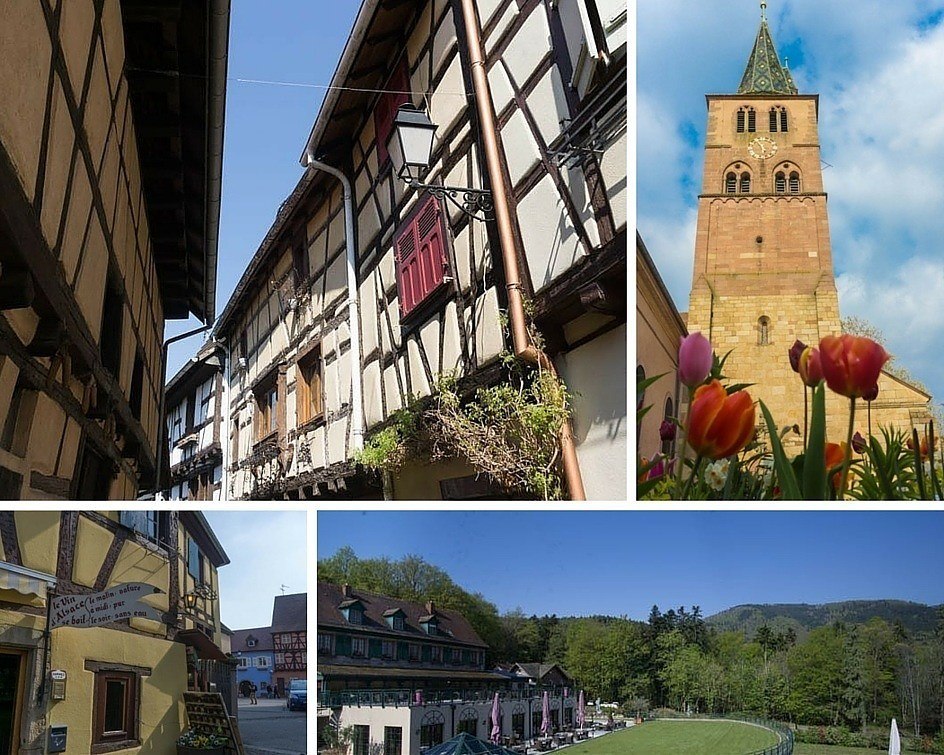 ---
In conclusion
My Alsace weekend left me feeling like I had been reunited with a long lost lover; someone I could fall madly, deeply in love with all over again. Without doubt, Alsace has captivated my heart once again (half a lifetime ago, I spent a year here during my degree and was enchanted by the picture-perfect villages lining the wine route). Nothing in its beauty or charm has diminished through the passage of time. In fact, the region, for me, just gets better with age.
So if Alsace isn't already on your hit list, it definitely needs to be and if you want to know how we managed to bag this Alsace weekend, including flights for just £200, check out my Luxury Spa Weekend in Alsace for £200'.
---
A Roadtrip Weekend in Alsace was written by the
Anne's superb blog shows you how to build up bags of airline and hotel reward points so you can enjoy free hotels and flight upgrades!  You can also follow Anne on Twitter or Facebook.
---
Looking for more French weekend inspiration?
Check out: A Sticky Sweet Sunday in Paris; A VIP Weekend trip to Versailles and A Millionaire's Weekend In Monaco