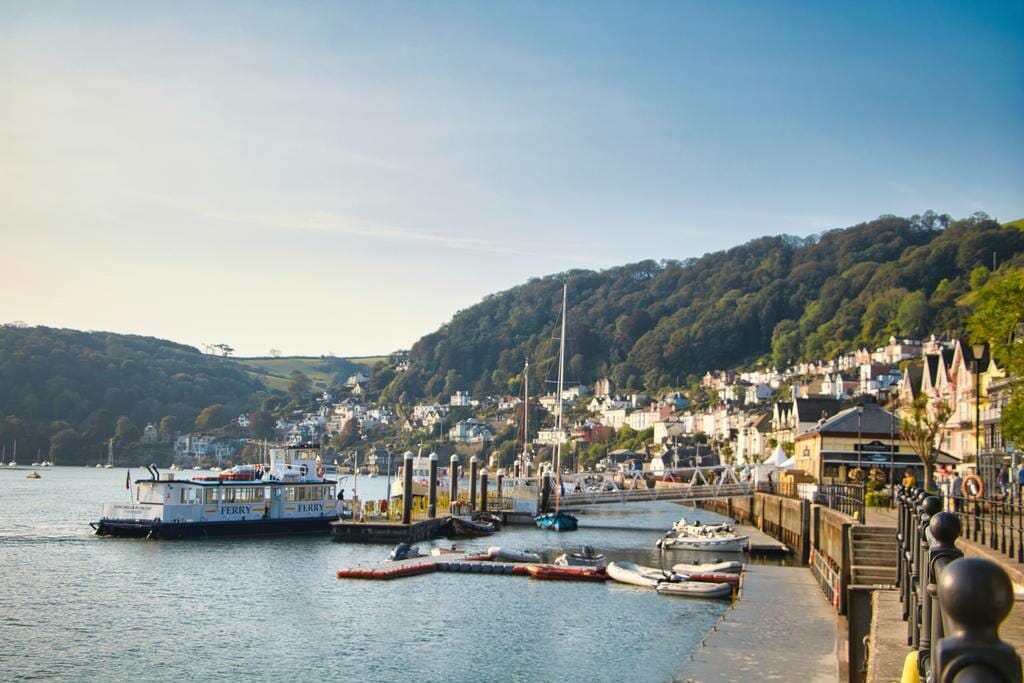 Super-boost your Vitamin Sea with these 7 boat trips from Dartmouth 
A popular weekend destination, Dartmouth is located in South Devon, at the mouth of the River Dart, with easy access to some beautiful beaches. The town is pretty as a picture, and when it comes to messing about on the water, there are plenty of options.
The River Dart flows for 47 miles, from Dartmoor to the sea at Dartmouth, and there are several boat trips available so you can get on the water to explore.
From kayak and dinghy hire to sailing boats and ferry trips, here are our favourite boat trips to book in Dartmouth for the next time this gorgeous slice of Devon calls. 
---
1. The Fizz Boat | TQ6 9BH
This cruise is very aptly named, offering fun, friendships and fizz when you hop aboard. You can hire the boat (along with a 'corks crew' consisting of a skipper and host) for 1.5 hours, for a maximum of 12 guests, and 2 glasses of house fizz per person.
Of course, you could also upgrade to their 'Bottomless Bubbles' for £25pp – so there's no fear of running out.
There are a range of drink and dine cruise options available (with different price-tags), including a Fizzy Afternoon Tea (£65pp), Sunrise Sharing Board (£60pp), and By The Sea (£65pp) which gives you a range of seafood delights.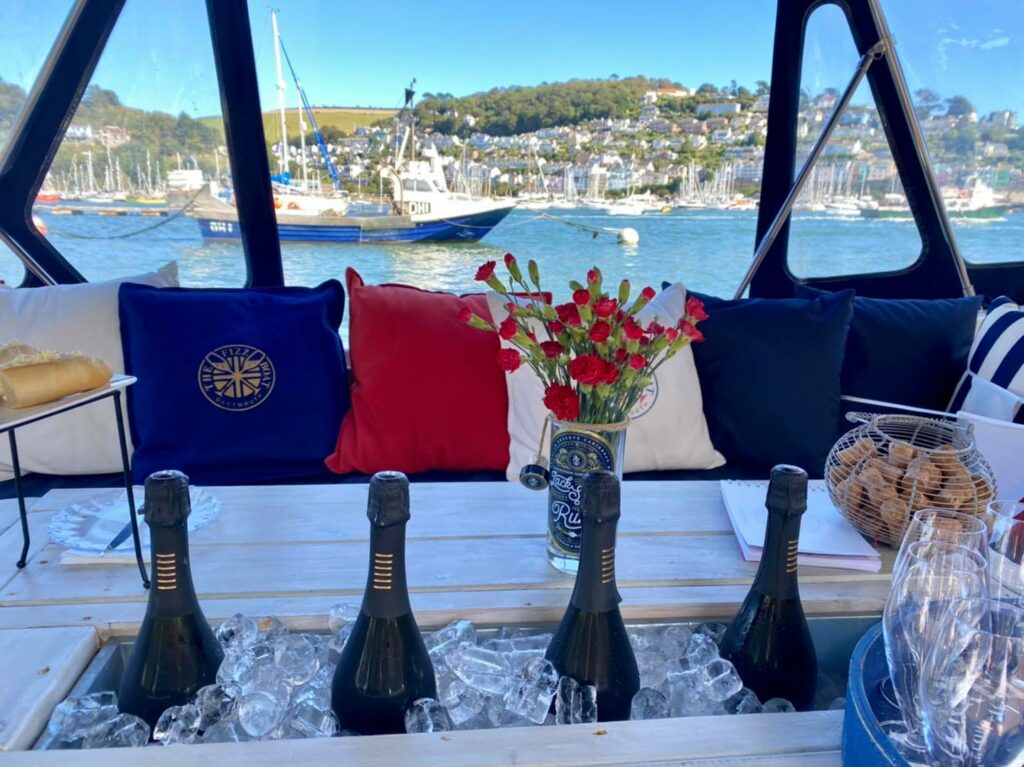 Pic Credit: The Fizz Boat | Book here
---
2. Greenway Ferry Cruise to Agatha Christie's Home | TQ6 9PS
Agatha Christie's home, Greenway House, overlooks some of the most stunning views of the River Dart. And this 30-minute exclusive cruise will take you right to it, arriving at Greenway Quay – a private quay on the river and location for the film of Christie's novel, 'Dead Mans Folly'.
Kick back aboard either Christie Belle or Hercule – twin-decked passenger ferries with toilets and licensed bars – as you sail up the majestic river passing some of the most picturesque scenery Devon has to offer. Ferries sail to and from Greenway House every hour, a return adult fare costs £9.75, but price doesn't include entry into the property.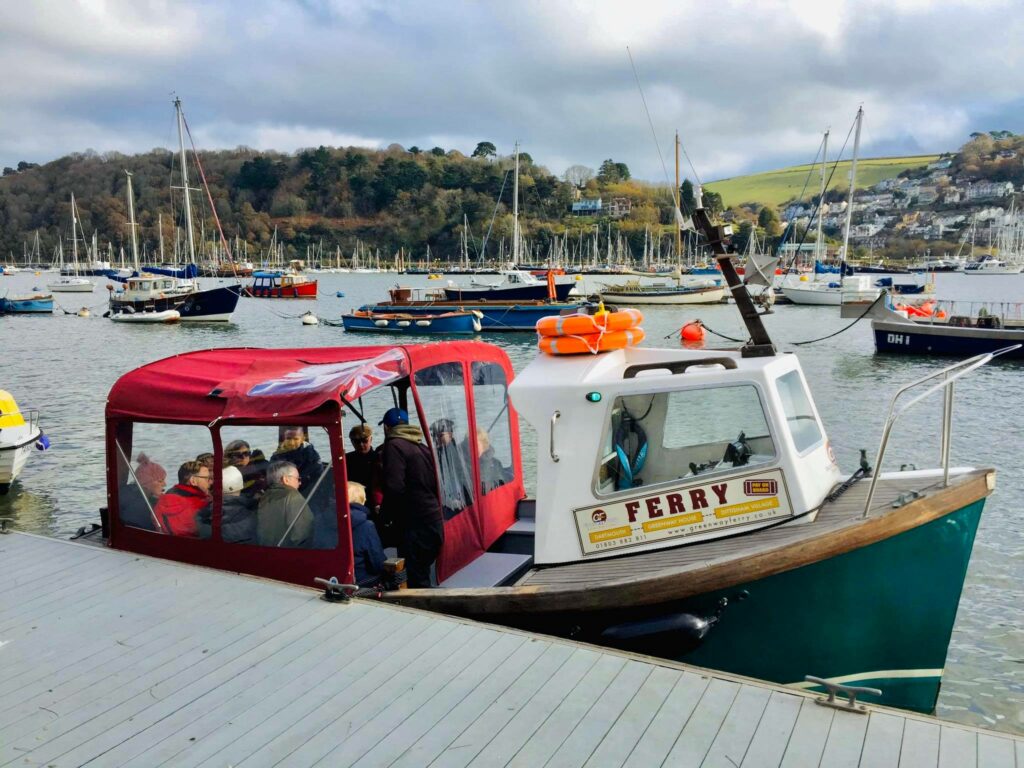 Pic Credit: Greenway Ferries | Book here
---
3. Sail Your Own with Dartmouth Boat Hire Centre | TQ6 9SW
You'll find the Dartmouth Boat Hire Centre kiosk right in the heart of the town. There are several boats to choose from, including cabin cruisers, fisherman boats, and sailing day boats. Aspiring skippers don't need a licence but do need some experience.
Prices vary depending on the vessel you go for but expect to pay from £40-£70 for 1 hour and between £140-£150 for six hours. You get life jackets, a river chart, and a detailed information pack in with the hire fee and there's a safety briefing along with guidance on how to navigate the river. Bon voyage!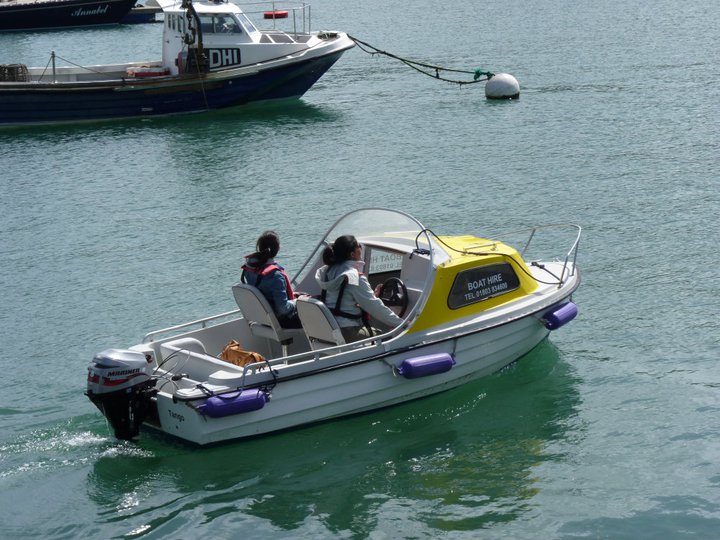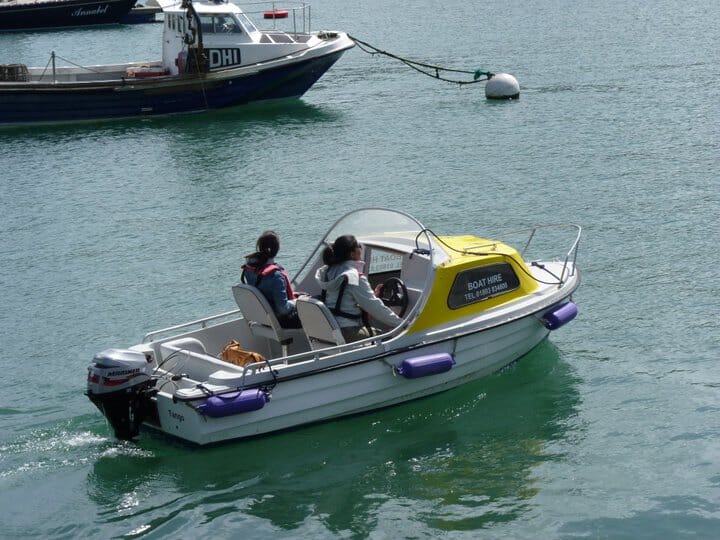 Pic Credit: Dartmouth Boat Hire | Book here 
---
Need a Place to Stay in Dartmouth?
---
4. The UK's Only Coal-Fired Paddle Steamer | TQ6 9NJ
Boasting a paddle steamer, steam trains, and offering boat trips galore, the Dartmouth Steam Railway & River Boat Company offers a range of tours when you're looking for fun things to do in Dartmouth.
We suggest hoping aboard the historic Kingswear Castle Paddle Steamer – the only coal-fired paddle steamer in operation in the UK today, dating back to the 1920s. She runs a 1¼hr cruises between Dartmouth and Totnes, and can be included as part of the all-inclusive Round Robin excursion that includes a steam train, a bus, connecting ferry and river cruise.
Ticket fares for the paddle steamer: adults £8.50, children £5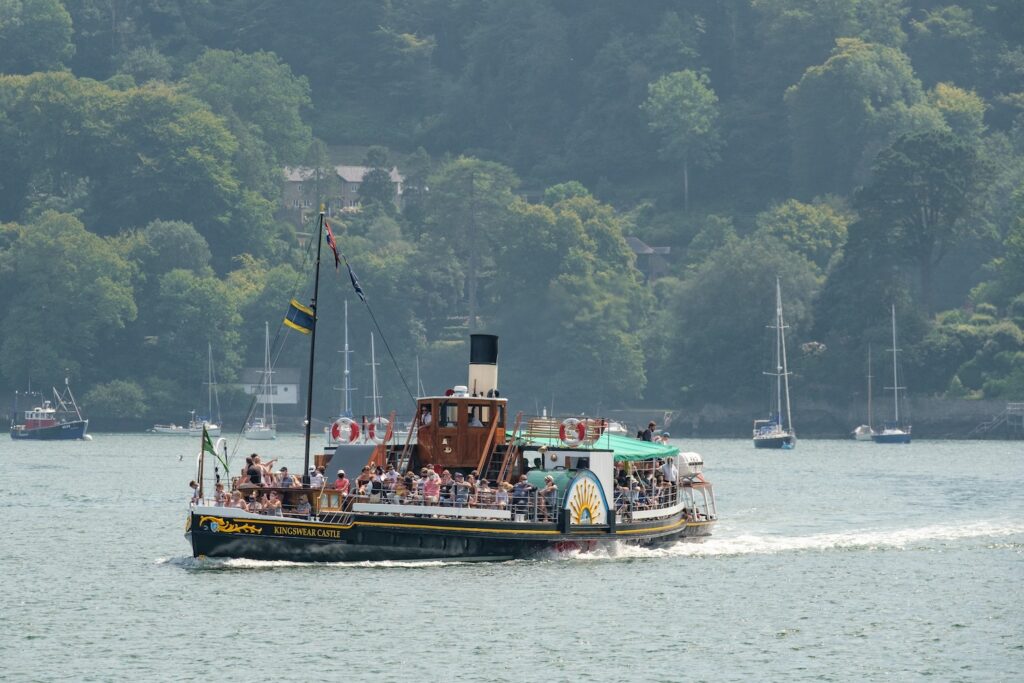 Pic Credit: Kingswear Paddle Steamer | Book here
---
5. Short and Sweet Trip to Dartmouth Castle | TQ6 9BH
To see Dartmouth Castle there's no better way to approach than by water. And for that, climb aboard Dartmouth Castle Ferry for the 10-minute trip. It runs every day, from Easter until the end of October from Dartmouth's south embankment to the stumpy steps of Dartmouth Castle.
The journey passes ancient Bayards Cove, with its cobbled quay and fort and waterfront houses and there's a good chance of spotting one of Dartmouth's resident grey seals or even a leaping Dart salmon.
The first boat from south embankment departs at 10:00 and the final boat departs at 16:45. The first boat from stumpy steps departs at 10:15 and the final boat leaves at 17:00 (16:00 during October). Fare wise, it's £2.50 for adults and £1.50 for under 14's (each way). You don't have to pay for your four-legged friend (you can walk your dog on the estate but can't take fido into the building).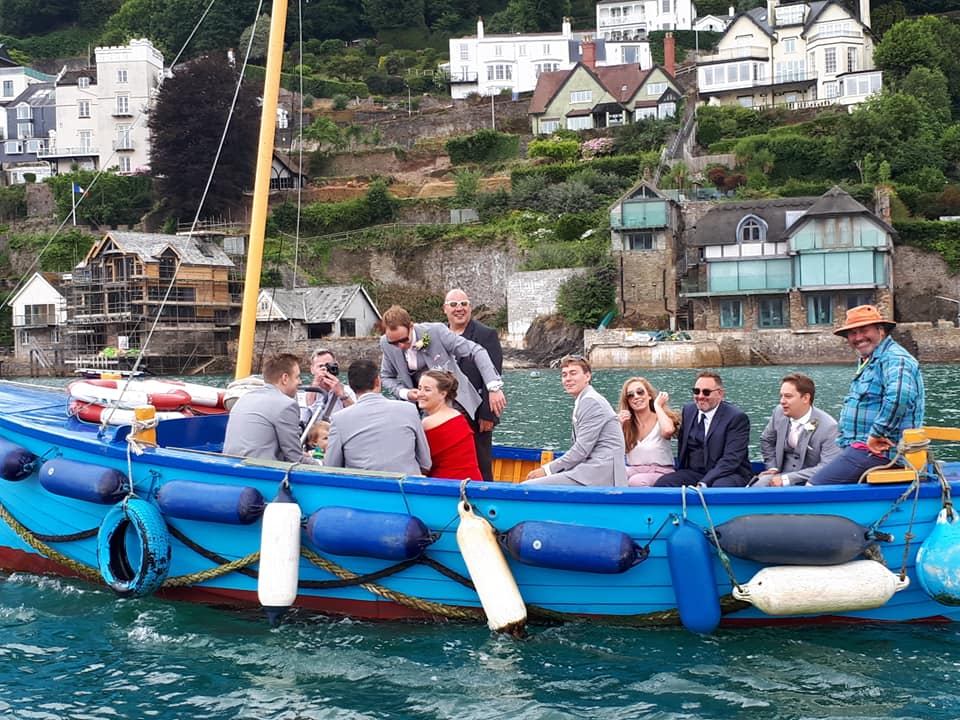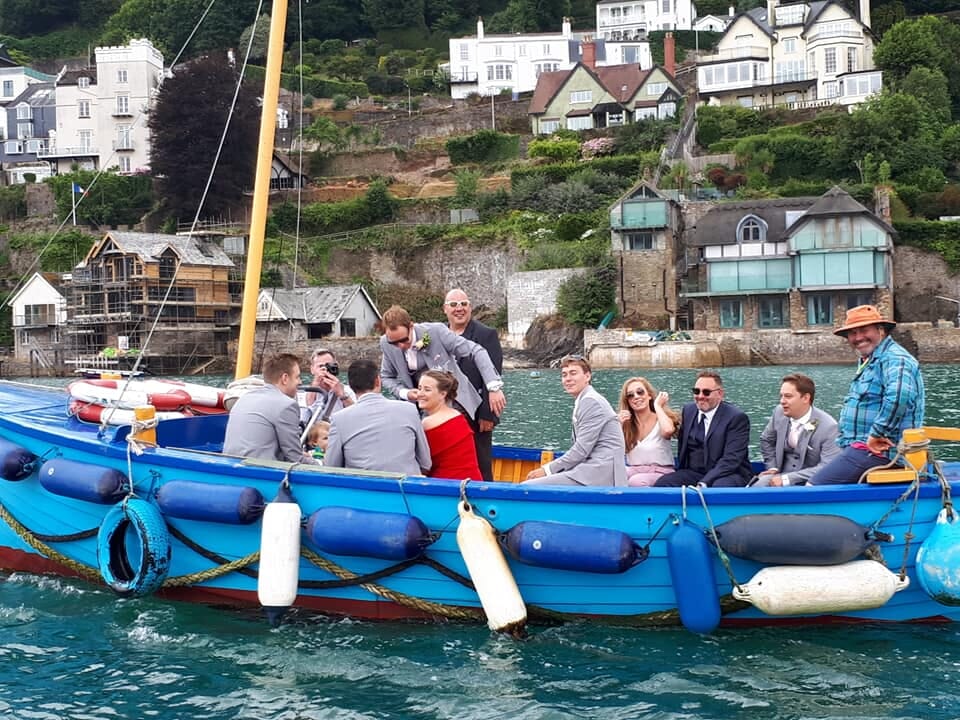 Pic Credit: Dartmouth Castle Ferry
---
6. Wildlife Spotting with Saltwind of Dart | TQ6 9NR
A 40ft Aquastar cruiser based in Dartmouth, the Saltwind of Dart can carry up to 12 passengers. Providing sight-seeing, wildlife watching, and fishing trips, the Saltwind travels around Dartmouth and Start Bay. Further afield (around a two-hour cruise) lie the popular towns of Torbay and Salcombe and you can even book a trip to the Channel Islands.
Boat hire prices range from £80 for 1 hour up to £330 for 8 hours. You can also buy individual tickets, which range from £10 for 1 hour up to £35 for 8 hours. You can take your own food on board and charter hires can be catered for on request.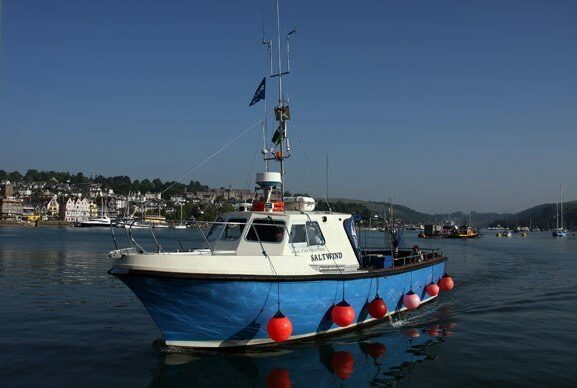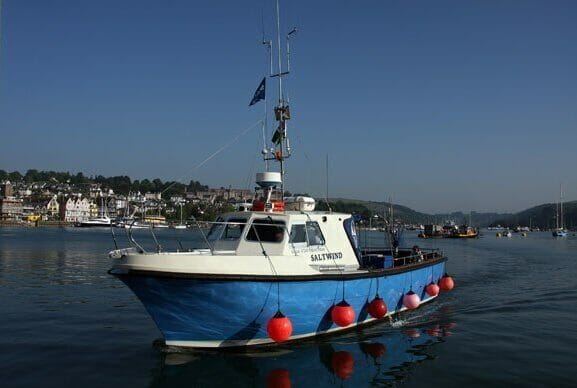 Pic Credit: Saltwind of Dart | Book here
---
7. Heritage Sailing Cruises on the Pilgrim of Brixham | TQ5 8AA
Head 35 mins out of Dartmouth to Brixham for a sailing experience on a beautiful heritage sailing trawler, Pilgrim of Brixham BM45.  Built in Brixham back in 1895, the Pilgrim celebrated her 125th anniversary in 2020 and is a member of the National Historic Fleet.
This stunning wooden ketch-rigged boat proudly flies its sails and offers a sea of options for solo voyagers, couples and groups, and you can book just one berth or take over the whole trawler.
Choose from morning or afternoon sails and day cruises to short breaks, weekend voyages, and bespoke charters. Travel around the South West and visit all of the coastal hotspots, such as Devon, Cornwall, and Dorset. Or go one further with a trip aboard Pilgrim to the Scilly Isles or even Brittany.
Prices vary but a half-day cruise will set you back around £59, a day-long sailing trip is priced around £115, and overnight trips costs around £225 (depending on the season). There are also sailing holidays available, again these vary in price but to give you an idea, an 8-day 7-night Channel coasts and Islands Cruise costs £775.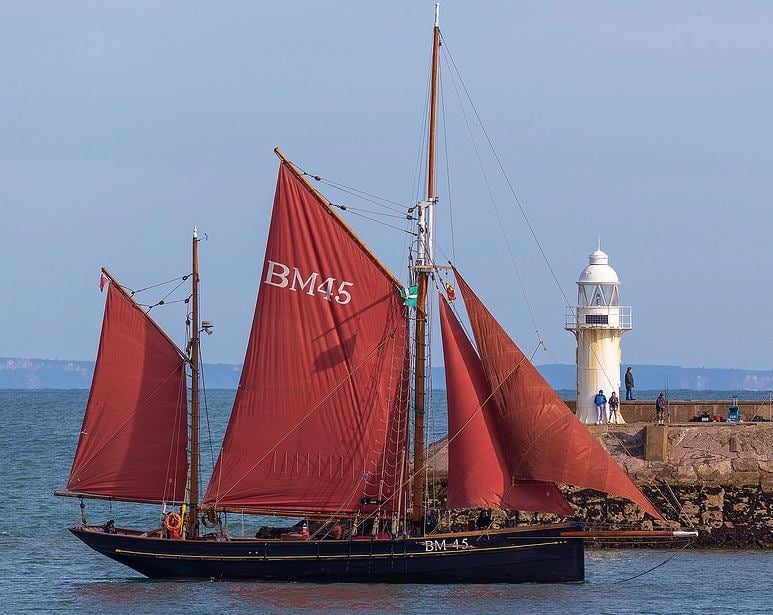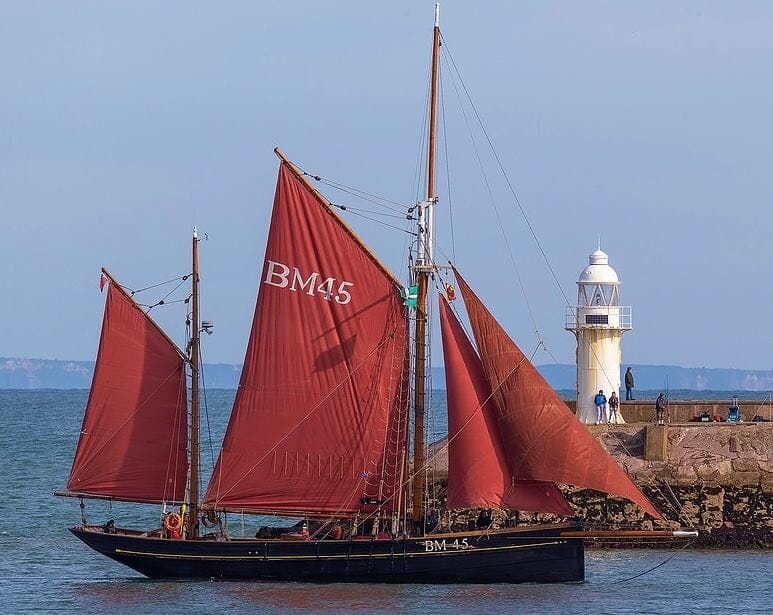 Pic Credit: Pilgrim Of Brixham BM45 | Book Here
---