🛌   Sleeps 2 adults, 2 children  | 🛁  Hot Tub | ⏰  Open All Year | 🥂 Weekends from £330 (2 night min) | 🌳 Off-grid
Why we love Woodcutter's Cottage for a weekend
 Like stepping into a fairytale, where it rains natural sunlight and the birds, butterflies and bees soon become your friends. Light the log-burner, make a bowl of porridge and relax in the woods – without a bear in sight. 
Woodcutter's Cottage, as it has been christened, certainly lives up to its name. Custom-made by local carpenters and woodsmen using locally-sourced timber, this glamping cabin (that's only a 13-minute drive from Rye) is one of six enchanting places to stay at Swallowtail Hill in East Sussex. Like its siblings, Woodcutter's Cottage has been thoughtfully created as a countryside escape from worries and strife; and made deliberately off-grid to help you sink fully into nature.
Find it hidden away in a dell at the end of coppiced woodland; its rough-cut timber cladding and crooked chestnut shingle roof merging seamlessly with the oak, hazel and chestnut trees. Its lemon-framed windows adding pops of spring to the setting.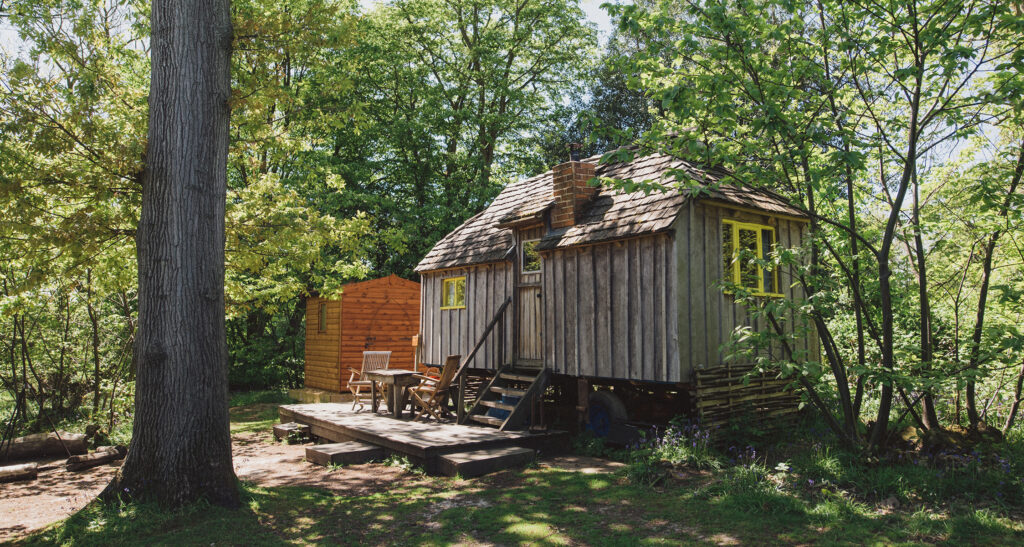 The Inside
Open the door to a enchanting single room where a family of four can sleep comfortably. There's a soft double bed dressed with cotton linen and a downy duvet for the grown-ups and two seating areas that convert to (narrow) single beds at night for the children.
The mini, timber kitchen is perfectly formed and has all the tools you need happily cater for hungry tums, including a gas hob, a mini fridge, a microwave and a sink with hot and cold running water. As any self-respecting Goldilock's cabin should have, there's a log burner too for chilly evenings and a couple of luxurious touches to remind you this is the 21st-century: electric lighting and a usb charging point.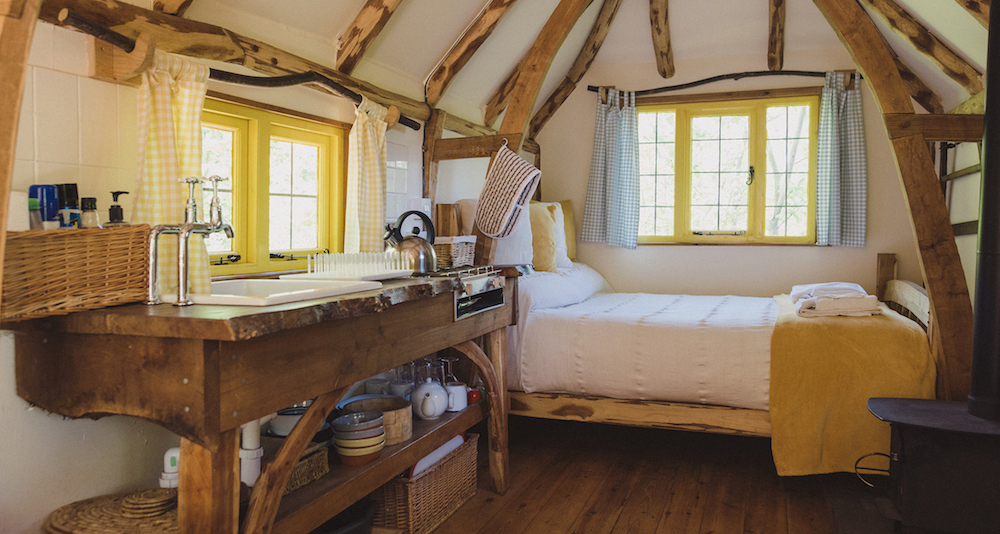 The Outside
Totally serenity awaits in this secluded Sussex glamping spot tucked away in the wood near the pretty town of Rye (there are plenty of things to see and do in Rye). Settle down alongside your own firepit to cook under open skies with the BonFire cooking kit. Then enjoy your campfire food sat at the outdoor dining area watching squirrels and birds come and go. If you don't fancy catering, book a home-cooked from the on-site farm shop.
Best of all, there's a wood-fired hot tub that you can book as an added extra. Built just for two, it's the perfect way to relax.
The Essentials
Sleeps 2 adults and 2 children
A 2-night stay at Woodcutter's Cottage starts from £330 (high season)
Find it on Swallowtail Hill, a 40-acre stunning farm (run entirely for conservation)
All bedding, towels, cooking equipment, crockery and cutlery are provided along with a large cooler box for your food and drinks.
Next door to the cabin, there's a separate little unit with a gas-heated shower, basin and modern compost loo
Self-catering (tea, coffee, sugar, milk and cereal and kitchen condiments are provided, and you can order Breakfast and BBQ Boxes before you arrive, featuring locally sourced produce)
Due to Swallowtail Hill being a working farm, dogs are not allowed
Parking available on site
The historic town of Rye is just 6 miles away where you'll find a range of cafes, restaurants and shops
Reviews
"To say it is picturesque is an understatement! So unbelievably cute inside and out. Equipped with absolutely everything you could want. We didn't use the outside space as much as we would have liked because we were there for a short while and it was too chilly for us to sit around outside in the evening. Inside was so well equipped and had a log burner. They provided some logs to use for nowt. Then you could buy more if you needed from their little on site shop.Fantastically environmentally conscious business also appealed massively when I was looking for somewhere to stay.The only thing wrong was we weren't there long enough. I would go back in a heartbeat." Rebecca (Stayed in Nov 21)
Eye Candy