🏕  2 Cabins | 🛌   Sleep 2 – 4 | 👨‍👩‍👧‍👦  Great for Family Groups | 💡 Off Grid | ⏰  Open Easter – October | 🥂 Weekends from £280 (2 night stay)
Why we love Penfold and Wood log cabins for a weekend
Come to this wonderful Sussex glamping site to run barefoot through the grass with your kids or friends, with joy in your heart and fresh air filling your lungs. Then settle down under the timbers of your own Swiss-style log cabin, knowing the people you love are sleeping nearby. 
Penfold and Wood Cabins may look like they belong in the Swiss countryside but are very much at home in leafy green East Sussex. This dynamic duo are just two of the six glamping boltholes on 40-acre Swallowtail Hill glamping (where the meadows and woodlands are run purely for conservation). And they've been hand-built for one reason: to give you and those you love the chance to slow down and plug yourself into Mother Nature for the weekend.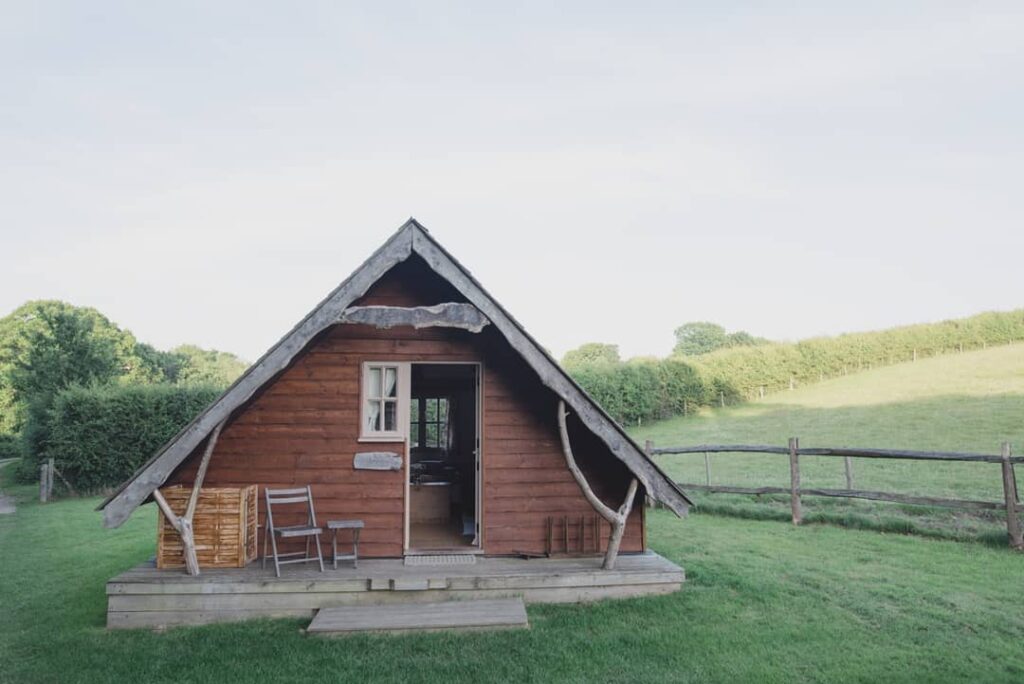 Both entirely off-grid, Penfold and Wood log cabins are private enough to be booked individually or as a pair for girls weekends, family mini breaks or getaways with friends. Each of these sweet East Sussex log cabins sits in a private paddock in the centre of Swallowtail Hill oozing country charm thanks to their low Alpine-style sloping roofs and wooden verandas.
We love the delightfully charming, open-plan interiors that are prettily dressed with countryside furniture crafted from local wood, upcycled apple crates turned acting as bedside tables and the antique trunks for storage.
There's a kitchenette work bench with a 2-ring gas-hob for your morning cuppa (plus cups, plates, cutlery, useful kitchen tools and food cooler box), a woodburning-stove to keep you toasty on those chilly nights and two sofas that turn into single beds. The bedroom space comfortably sleeps four people (2 adults in the soft double and two more on the single beds) and all organic cotton sheets and duvets are provided.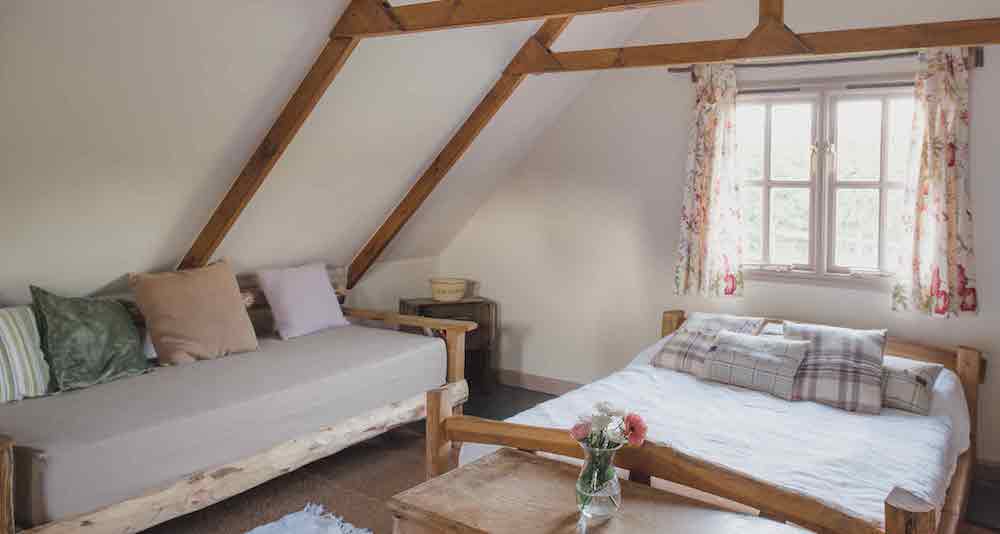 The Outside
As an off-grid experience, a stay at Penfold or Wood gives you a chance to disconnect from everyday life and take things slow. There's no running water within either log cabin and you won't find any WIFI. Hot and cold water can, instead, be sourced from the shared covered kitchen and washing up station in the paddock (where you'll also find a proper oven and dining area).
There's a private bathroom for each cabin, tucked away discreetly in the woods, complete with a gas-fired shower and your own compost loo. Soft, clean towels are also provided along with rechargeable lanterns to help you navigate without electricity. Additionally, the log cabins each have their own fire-pit with full BonFire BBQ cooking kit outside in the paddock, deck chairs for lounging around in, and there's even a pond.
The Essentials
Sleep 2 – 4 so these East Sussex log cabins are ideal for couples, friends or a family of four (each can house 1 additional camp bed/cot at an extra charge)
A 2-night stay at either Penfold or Wood starts from £280 (high season)
Self-catering (tea, coffee, sugar, milk and cereal and kitchen condiments are provided, and you can order Breakfast and BBQ Boxes before you arrive, featuring locally sourced produce)
Available from the Easter holidays through to October half term
Due to Swallowtail Hill glamping being a working farm, dogs are not allowed
Parking available on site
The historic town of Rye, East Sussex, is just 6 miles away where you'll find a range of cafes, restaurants and shops
Eye Candy