🌳  Two Distinctive Cornish Treehouses | 📍 Gweek, Nr. Helston  |  🛌  Sleeping 2 Adults  | 👙 Dutch Loveseat Hot Tub | 🐶 Kalmynsi is Dog-Friendly | 🥂 Ideal for a romantic weekend | From £178pn (2 night minimum stay) | 🌊 Near Cornwall Beaches
"In Cornwall, there are two unique treehouses that grin at you from behind ash and oak trees. Their sleek cedar bodies curl like sleeping cats amongst the straight lines of the tree trunks. They are Skapya and Kalmynsi – freshly-built treehouses that are rooted in the Cornish earth and curve against the Cornish sky. With a smile."
Skapya and Kalmynsi are proof of that there is more than one reason to smile. Even if the weather is against you when you arrive here, as soon as you step inside one of these curved treehouses in Cornwall it won't matter.
Under a hand-laid cedar-shingle roof, with the log-burner crackling, the vintage record player turning and your wine chilling, the outside will fade away. And any desire you have for wandering will dissipate; the furthest your feet will want to travel is to your private balcony, which rests eye-level with the trees outside your bedroom.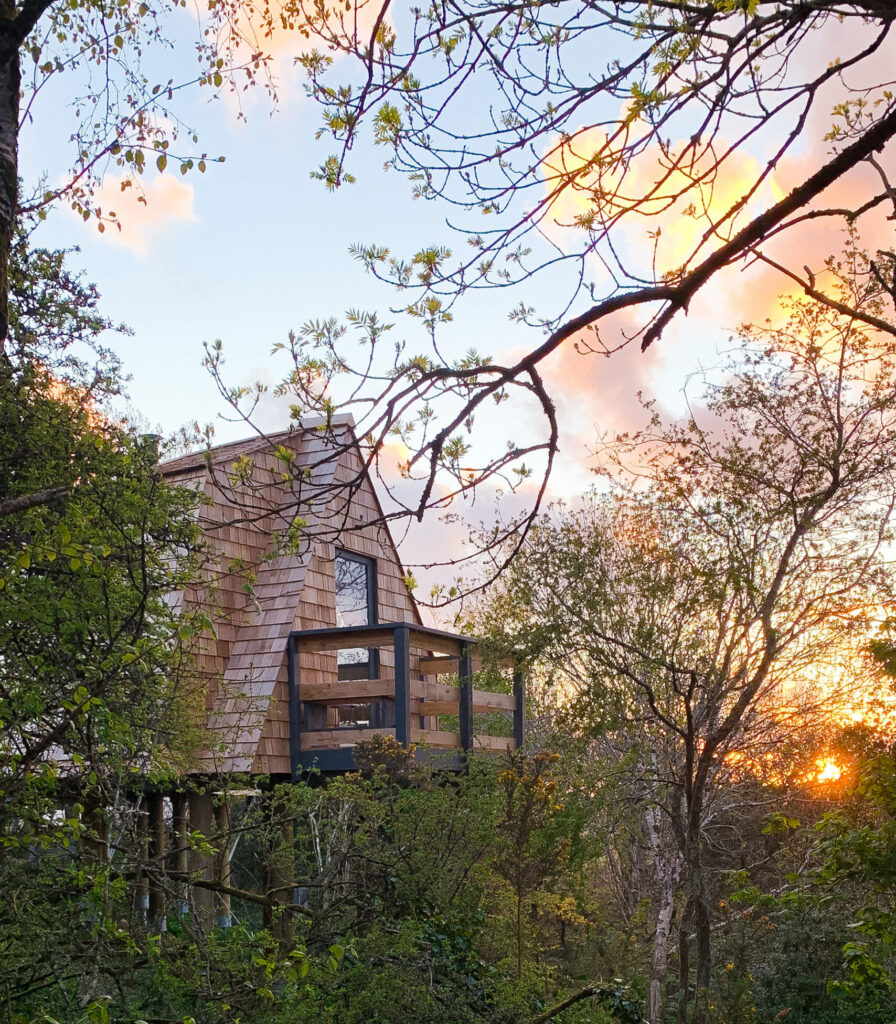 About
Skapya (Cornish for 'escape') and Kalmynsi (Cornish for 'calm') make up Kosel Treehouses. They are the result of many years' hard work; a labour of love created by their owners, Maddie and Patrick, who moved to Gweek, a fishingboat-bobbing village in Cornwall, back in 2014.
The young couple built the treehouses behind their Cornish home, on 2-acres of their land. Slotting the crescent-like structure into a patch of trees next to a bluebell wood.
Their curved structure is unique – a one-of-a-kind build – that stands apart from other treehouses. Designed by Maddie's dad to melt into the woodland and be invisible from a distance.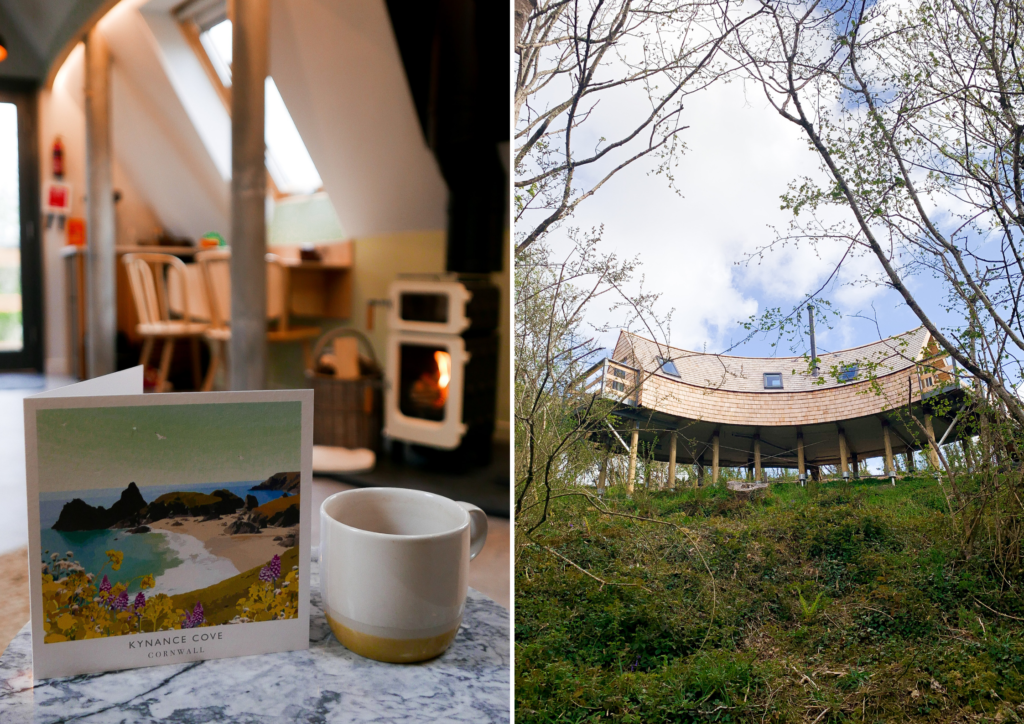 The Living Space
Reach these two Cornish treehouses by crossing their respective wooden bridges to a private balcony (one of two) and a porch. Unlock the glass front door and you're greeted by a long, open-plan space that arcs gently from one end to the other.
On one side, a beautiful Scandi-style kitchen bends against the wall, lit up with a strip of white light.
It's more spaceship than treehouse; the sleek black Neff induction hob and combi-oven are the only really clues that you cook here – and not operate the craft.
The rest of the living space is cosy and compact, furnished for hygge comfort with natural materials and muted hues and colours. There's a sofa for 2, a beanbag and foot-bean for one, a small dining table and chairs, and a reading chair being pondered over by a giant anglepoise lamp.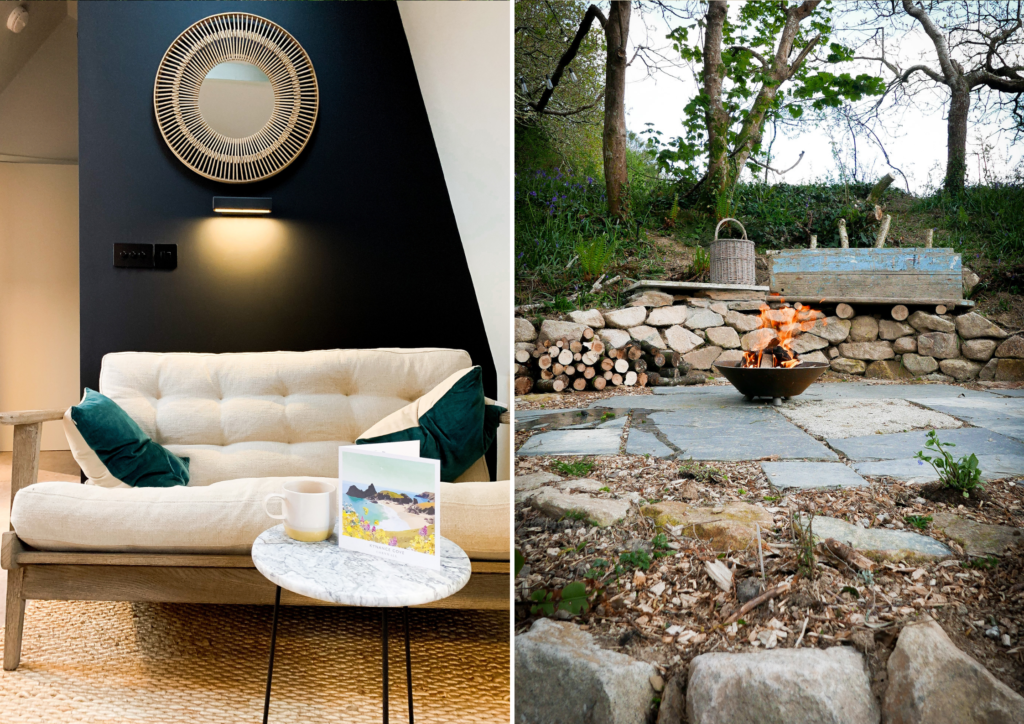 The Bedroom and Bathroom
The clean Nordic interior style of both treehouses also fills the large wet room, which boasts a powerful rainforest shower and heated towel rail. On into the bedroom, the minimal look sweeps over the double bed making this space feel calm and restful. Here, you can bed down under linen bedding as the treehouse moves ever so softly underneath you – in time to the branches outside.
Evenings at Kosel Treehouses in Cornwall pass as restfully as the rest of a day. There are books to read, a smart TV to watch or the modern log-burner to light. Best of all, the log burner doubles-up as a woodfired pizza oven, so you can easily fire up another cosy reason to stay in.
Should you want see the sun set, head to your own little clearing – both treehouses have them – where you can spark up a firepit and toast marshmallows as the stars blink to life.
In the morning, the full-pane glass door draws the outside light in, like a deep breath. Make the most of it by wrapping yourself in a warm Kosel dressing gown, stepping out onto the balcony and letting the sounds of the chiffchaffs stir you awake.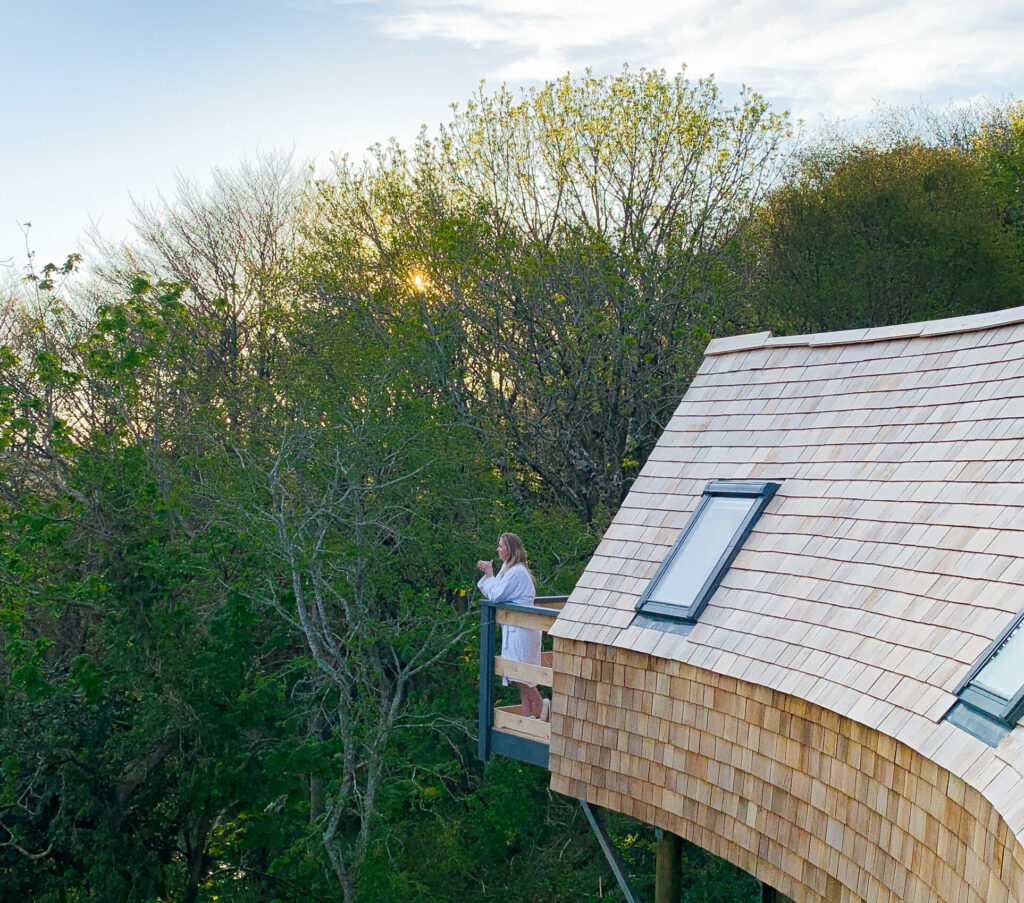 It's clear that Skapya and Kalmynsi are treehouses in Cornwall built to matter. The family have created them not simply as a base to explore Cornwall. But to be a destination in their own right.
Yes, you can head down into the friendly, community village of Gweek to visit the local pub, the shop or the wonderful seal sanctuary. Or you can explore the nearby beaches and coves, like Kynance and Gunwalloe.
But if you don't stray from your treehouse, that's ok too. Kosel Treehouses were designed to be a space where you are calm, relaxed and happy.
Maybe that's why they smile?
Good to knows
From £178pn for two adults, not suitable for children
Off-road parking provided, as well as a welly and wetsuit wash
Kalmynsi is dog-friendly, Skapya is not
Although the treehouses are next to one another, they're separated from one another by trees and vegetation, and feel very private
Welcome hamper on arrival
Modern log-burner and pizza oven, all firewood provided
Good WiFi and 4G
Complimentary organic toiletries and dressing gowns
Firepit and BBQ
Eye Candy