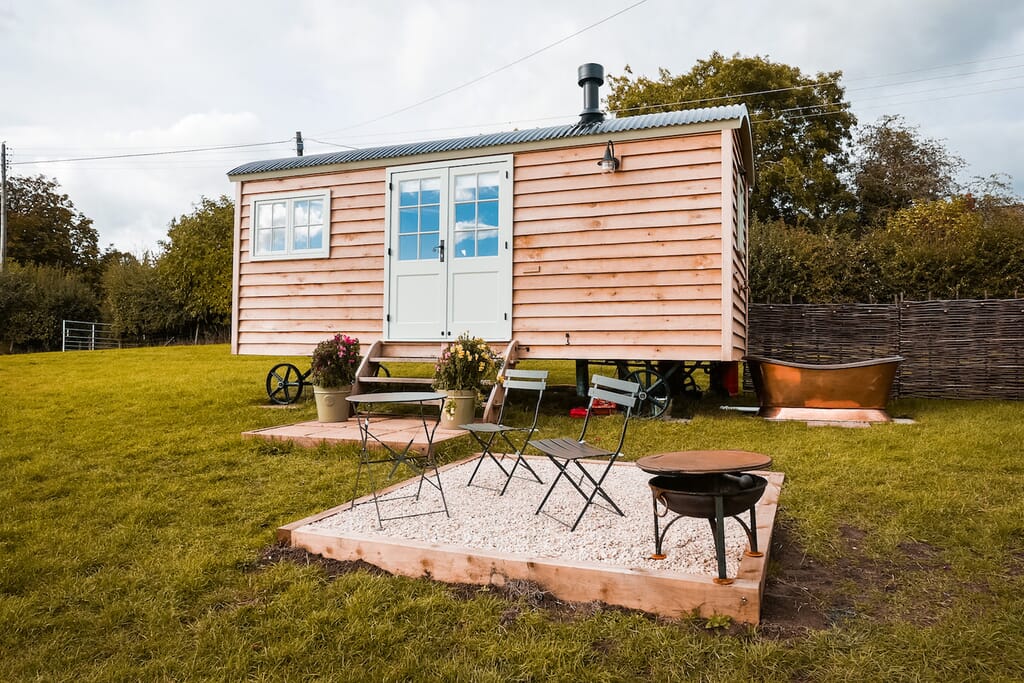 The Short and Sweet
Ewe Glamping is a canal-side glampsite in Braunston, Northamptonshire, run by Claire Morris and her husband, Matthew, from their family farm, Home Farm. Grace is the pretty hand-built oak shepherd's hut (or shepherdess hut, as we like to call her) who makes up Ewe Glamping, sitting proudly in the field next door to the farm overlooking Bottom Lock.
She's open all year round, is fully insulated and double glazed, and comes with mains electricity and hot running water. Well-behaved pooches are welcome, too.
Secretly, we're hoping Grace remains an only child. With acres of field all to herself and no other guests to bump into whilst climbing into the outdoor copper bath (yes, we'll get to that shortly), she's a lovely rural glamping nook for a romantic weekend for two.
---
The Location
You'll probably have to Google Braunston. We did. If you've a passion for narrowboating, however, you may have chugged through it at some point. Braunston sits at the heart of the Northamptonshire waterways, you see, on a hill just above the junction of the Grand Union Canal and the Oxford Canal.
It's an historic English village, filled with listed blush-red buildings, thatched cottages, halfmoon canal bridges, and atmospheric pubs. Tow paths, ancient foot paths and working locks also dominate here, where the pace of life matches that of the boats: slow.
There's a great community spirit, too, recognised officially in 2019 when Braunston was named, 'Best Northamptonshire Village'. It certainly has the quintessential village amenities to match: including an excellent fish and chip shop (which was a lifesaver on a blowy autumn evening), butchers, general store and post office.
Ewe Glamping's place here is quiet and set away from the main hubbub of village life. Follow the road as it snakes through the village heading towards Bottom Lock (the first of six locks that take boats to London). A few metres down Dark Lane (which is much more uplifting than it sounds) turn right into a south-facing field. You'll find a gravelled park space waiting – big enough for two small cars – marked by a simple 'Ewe Glamping' sign.
To your left is Grace, in front of you (at the bottom of the hill) the Grand Union Canal slips sleepily by carrying narrowboats on her back. From this spot, you've views towards the cow-studded hills beyond, over Bottom Lock and the little Boat Shop next to the canal, selling incredibly good ice-cream – or so we're told.
There are two friendly Braunston pubs in walking distance of Ewe Glamping along the tow path (The Admiral Nelson to the east and The Boat House to the west). And the village itself is easy to reach on foot, too.
---
The Hut
Countryside elegance certainly are the bywords here. Inside, Grace is a beautifully-neat, sparklingly clean package that's as lovely as a Fortnum & Masons hamper. Yes, all 20-foot of Grace has been appointed to a very high standard by her owner, Claire, and clearly furnished with the brands she loves.
Sophie Allport curtains and blinds keep life inside private, Tommy Hilfiger towels keep outdoor bathing luxe, Denby crockery and Salter cutlery keep dinners classy.
At one end of Grace is a gorgeous springy double bed slotted into a daisy-white den space that you step up into. Draw the thick Sophie Allport curtains, closeting you off from the rest of hut, and you'll feel all Cathy from Wuthering Heights. Moonlight falls in through the window at the end of your bed at night, and in the morning, you can wake up watching the cows as they play on the hill opposite.
Believe us, this den is so comfy and cosy (piled with pillows and cushions and fresh with cotton linen) that you may struggle to get up. There's also a Smart TV poised for action in the corner – although with no internet access or WIFI you may find it frustrating (like we did) that you can't watch Netflix.
Beyond the bed-den, calming mints, blues and whites run the length of Grace. Colours that perfectly complement the real oak wood of her doors, work surfaces and floors (which are fitted with underfloor heating – toasty). The open-plan dining, cooking and living space is nicely laid out, with a cornflower blue two-seater sofa, a small dining table and chairs, and a log burner that heats up in no time (although you can flick the heating on if you're impatient).
The French doors to the front of the hut are a splendid touch; fling them open in the spring or summer and let the countryside rush in as you sip your morning coffee.
Resting against the back wall of the hut is a well-equipped kitchenette. It's fitted with a two-pan hob, a microwave, a fridge/freezer and all the utensils you need to self-cater happily. We were delighted to find a fresh farmhouse loaf on arrival, real butter in the fridge, tea bags and coffee in the caddies, and a complimentary bottle of fizz and ice-bucket ready to chill out our evening.
Finally, there's is a sunny little en-suite bathroom at the other end of Grace; not that this an afterthought. Like the rest of the hut, the bathroom has been carefully considered; slumming it is not required: there's an Edwardian rainfall shower, a heated towel rail, flushing WC, bijou basin, plus complimentary Sophie Allport toiletries. And hanging on the door are two heavy velvet robes, ready for you to use – oh, yes – in the outdoor copper bathtub.
---
Facilities and extras
Did we mention the outdoor copper bathtub? Sitting on the far side of Grace, it's the final romantic flourish you need to cement your love of this sweet shepherdess hut. To preserve your modesty, there's a willow screen running around the tub area, strung with fairy lights. Although the tub isn't as secluded as some others that we've soaked in, once night falls privacy really descends – and the only stares will be from the owls in the trees.
Of course, an outdoor bath without a bottle of something fizzy is, in our opinion, not a bath at all. Fortunately, Ewe Glamping offers a selection of feasts and treats to order ahead of your stay, including prosecco, breakfast packs and BBQ kits (to cook over the outdoor firepit).
We ordered both breakfast and a BBQ pack and we were bowled over by the size and selection. The breakfast pack was positively bursting with farm-fresh goodies: eggs, sausages, black pudding and bacon (the bangers, by the way, were the best we've had on a staycation, hands down).
The BBQ kit was also stuffed with meaty perks (vegetarians look away now): chicken breasts, steaks and burgers for 2 – all from the farm's own animals. Winner.
---
The Cost
Short breaks at Ewe Glamping start from £125pn (low season) – £160pn (high season). They also occasionally offer one-night stays for £175pn. Well-behaved dogs are welcome for an extra £25 per stay, and if you're heading to Ewe Glamping for a special occasion, let them know and they'll help you make it extra perfect.
The Verdict
You couldn't wish for a comfier shepherd's hut than Grace, whatever the time of year. She is a belter, especially if you're ready to detach wholeheartedly from the rest of the world (don't expect 4G and WIFI here) and sink into the slow life of the Northamptonshire waterways.
She also comes with loads do on her doorstep: you can fish at the bottom of the field or hire a boat from Braunston Marina. The walks around Ewe Glamping are abundant, too – Ewe Glamping leave a great selection of walking guides for you to use when you stay.
For weekenders who crave hermit-like seclusion (the kind where you never see a living soul) Ewe Glamping probably isn't for you. But for those looking to explore an under-the-radar county and get to know a village that's as friendly and enchanting as they come, Ewe Glamping is perfect.
---