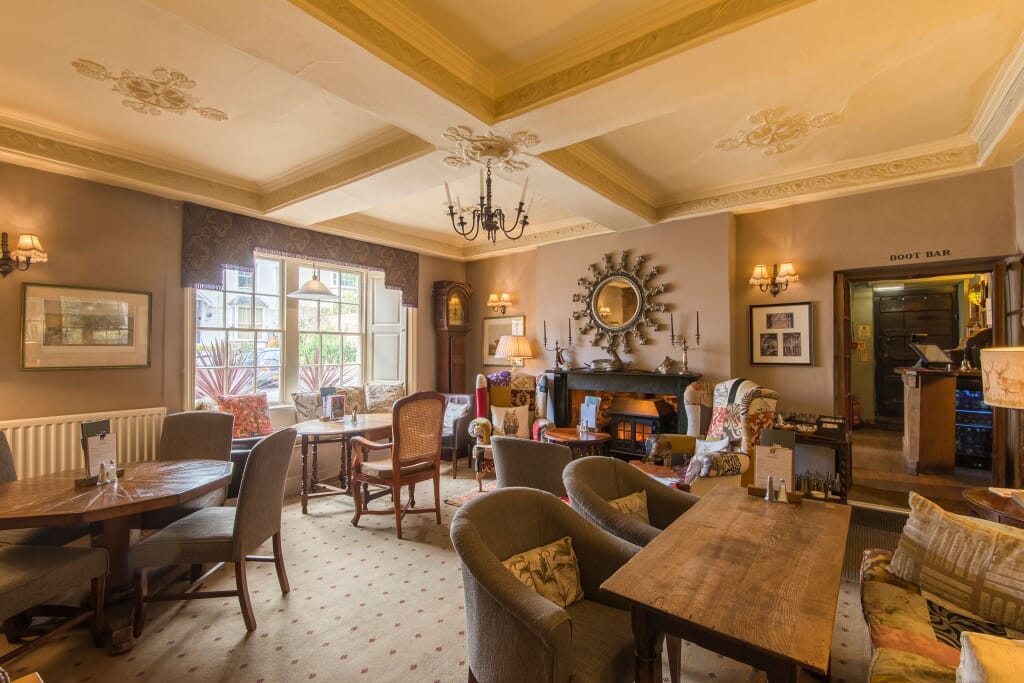 Like a good friend, the Luttrell Arms Hotel is difficult to leave
The fire popped reassuringly in the grate. Around us, the gentle babble of conversation ebbed and flowed. A soft wisp of steam from the tea that had just been served rose between us. I glanced up at my mum – she was smiling at me. "Isn't this wonderful?", she beamed.
We'd just checked into The Luttrell Arms Hotel in Dunster, Somerset, for a weekend break. Cosy and historic, The Luttrell Arms Hotel sits in the heart of Dunster, which is famous as one of England's prettiest medieval villages. It's a privately-owned, dog-friendly hotel that's loved by visitors and locals. And we were about to discover why.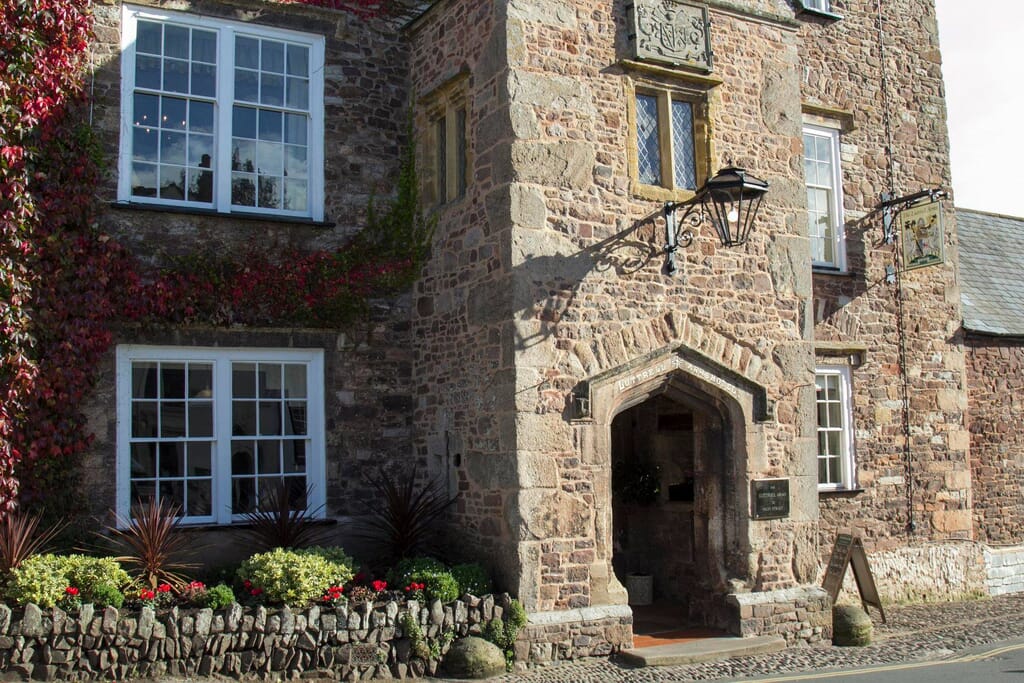 ---
The Atmosphere
We were sitting in the intimate lounge of the Luttrell Arms Hotel in Dunster, Devon – our coats were off, our bags crumpled at our feet, and a fresh pot of tea was warming the table in front. The M5 had been kind – but still – we needed bacon sandwiches and they were on their way.
It had been a tough year for my mum; the disappointment of a cancelled family holiday and 2 long, stressful weeks in hospital had weighed heavy in her eyes since the summer. But when I glanced up at her in that moment – as we sat on beautifully upholstered patchwork tall-backs – all that my mum had endured over the last 3 months (blood tests, medication, scans) was gone.
And it wasn't just my mum who was relaxed. Everyone in the room was as contented as she was – as if the weight of the world had burst like a soap bubble the moment they stepped over the threshold: the middle-aged couple behind her were more sofa than the sofa itself. The older gentleman to our right peered happily at the paper, like a cat who'd got the cream.
Behind me, spilling black over the carpet and shifting every now and again with an untroubled sigh, was a labrador. His sanguine master occupying the window seat. The whole place was laid-back. People were at ease here and it was impossible not to feel the same.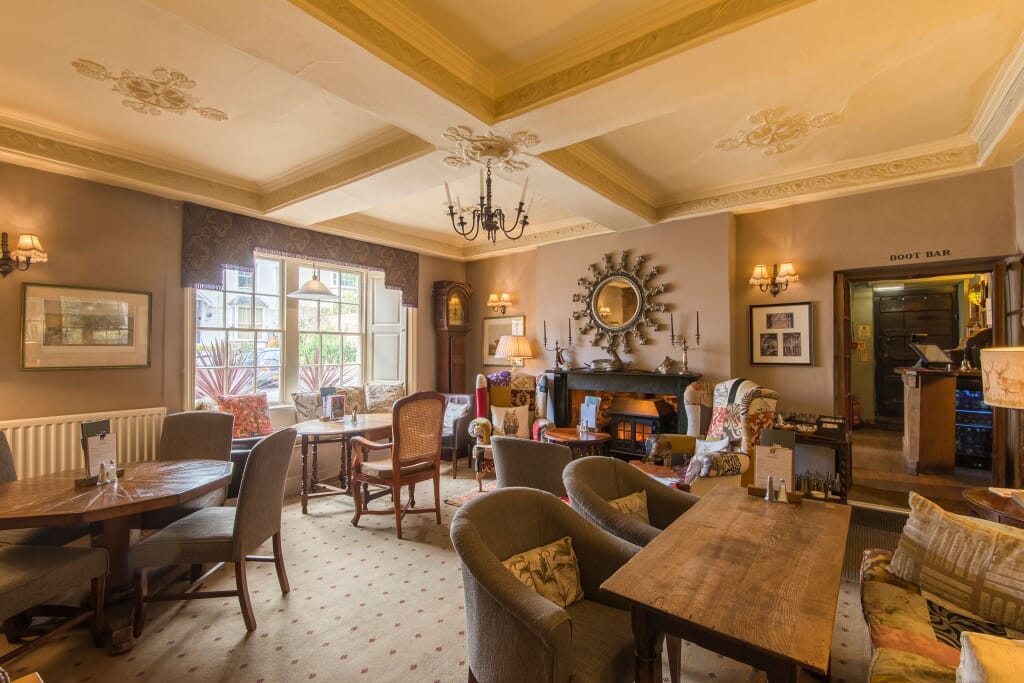 ---
The History
The Luttrell Arms Hotel has always been at the heart of Dunster, a handsome medieval village in Somerset famous for its castle, yarn market and deer park.
When Dunster village was a sea-port, sometime in the 12th-century, the Luttrell Arms was known as the Ship Inn. In those days, the sea lapped its weathered doors and its arms provided comfort for sailors who were keen to wash the salt from their blistered lips. (Look closely at the inky panelling in the lounge bar and you can see their presence crudely carved into the wood.)
In 1443, it was made the property of Richard Luttrell of the Luttrell Family – who, at the time, owned Dunster castle and did so right up until the 70s. Today, it fits into the modern world comfortably and still retains its historical charms.
In the Luttrell Bar, for instance, there's a long, thin window through which priests gave out bread and water to the gathering lepers of Dunster village. Upstairs rooms 18 – 22 are named after the dances that took place there when a ballroom, not beds, made guests swoon. Glance up at the original ceiling and you'll see four large plaster roses with vent holes in them – clever thinking, which allowed the heat from sparkling crystal chandeliers to escape unnoticed.
With so much hospitality unfolding within its walls for the last 600 years, it is not surprising that a stay at the Luttrell Arms feels like walking into the arms of a long-lost friend. And this spirit of cordiality is reflected, not just in its history, but in everyone who works there too.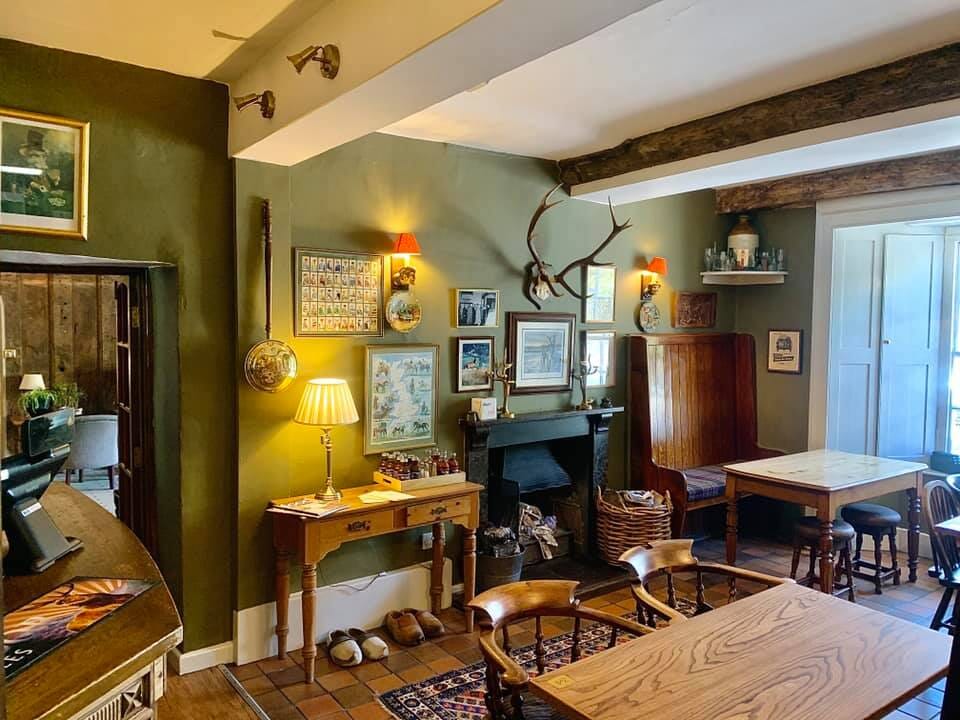 ---
The staff
I'd come to The Luttrell Arms with my mum to enjoy the hotel's 2-night Red Stag Safari package. This included breakfast, 1 night's dinner, 2 nights in a standard room, and 2 outings with Red Stag Safari tours: the first, a 4-hour safari around Exmoor, the second, a stag rut experience following early the next morning.
But, I'd completely forgotten the most important thing for tramping around the red Exmoor mud: my wellies. The suede boots I'd packed just weren't going to cut it. So I asked a girl at reception if she could help. Five minutes later she rang our room – the hotel didn't have any wellies for guests, but her manager had some at home and she was on her way to collect them for me.The wellies would be in reception in time for my Red Stag Safari the next morning.
Despite my protesting, the girl on reception insisted it was not a problem – it was her pleasure, really. And I genuinely think she meant it. The next night, as my mum and I were eating a delicious dinner, the owner of the wellies came to ask how our Red Stag Safari had been. I had no idea she'd been the owner of the boots until I mentioned it.
"They were mine", she'd said. "It was my pleasure." And I genuinely think she meant it also. This warmth wasn't a one-off.
Ann Way – owner of The Luttrell Arms, The Royal Castle in Dartmouth, and The Seven Stars in Totnes – came over to me and Granny as we were enjoying a drink on the Saturday evening. She could not have been more welcoming, honestly.
Then there was the sunny lady who'd served our breakfast on Sunday morning.
She was effervescent with stories: how Anne's husband, Nigel Way, had phoned her and her colleagues after a snow storm to see if they'd all got home ok; how coming to work was always a pleasure; how they were like one big family, and how she'd never been happier during her 16 years of working in the hotel. (How our toast managed to stay warm as she chatted, I don't know. I can only think had something to do with her.)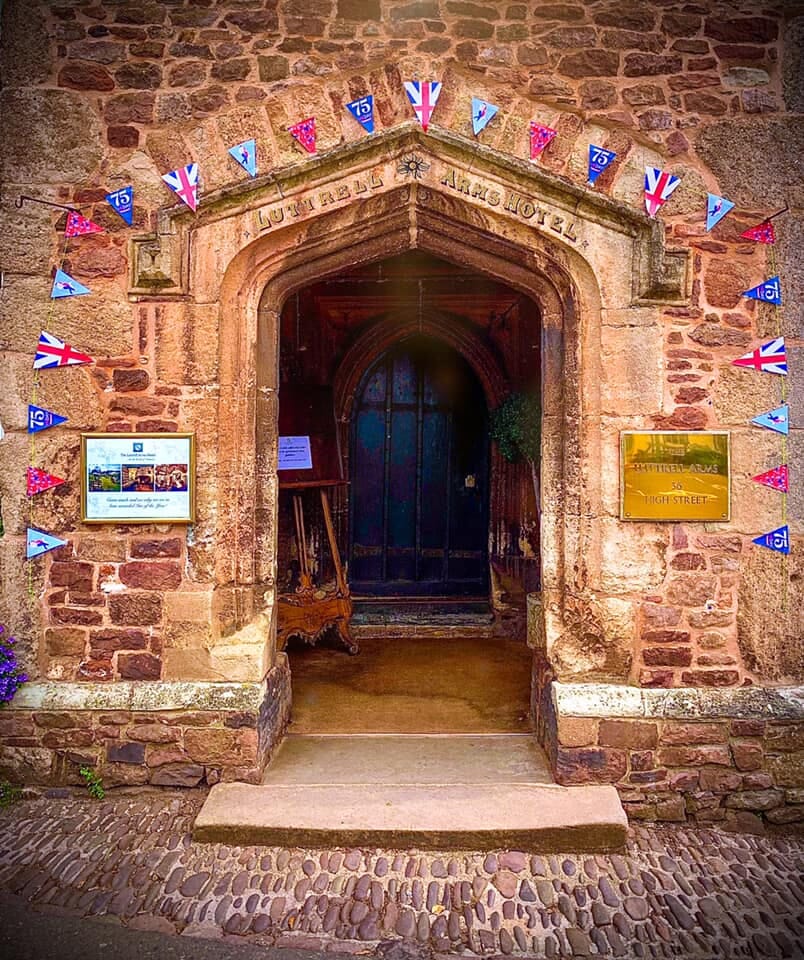 ---
The Room
The Luttrell Arms Hotel has 28 rooms – although you would never guess it was so sprawling from the outside, or from within. 4 rooms have the luxury of a four-poster bed and a hammer and beam ceiling. 8 rooms have the thrill of a king-size bed, a private terrace and garden access. Whilst 16 rooms have the bliss of both double and king-size beds and bundles of individual character.
We were staying in one of the hotel's Superior Doubles, on the second floor. And 'superior' is exactly the right word.
It was like walking into a spring meadow. The burnt orange of autumn's colours, which had accompanied us on our journey into Dunster, were now a distant memory. Daisy-white curtains fluttered by the window. Sapling-green shoots stretched, as if for the sun, up the walls. Wild-budded cushions perfumed the vista. Whilst a beach-kissed pine bed cradled a huge slice of a mattress. Getting comfy was not going to be an issue.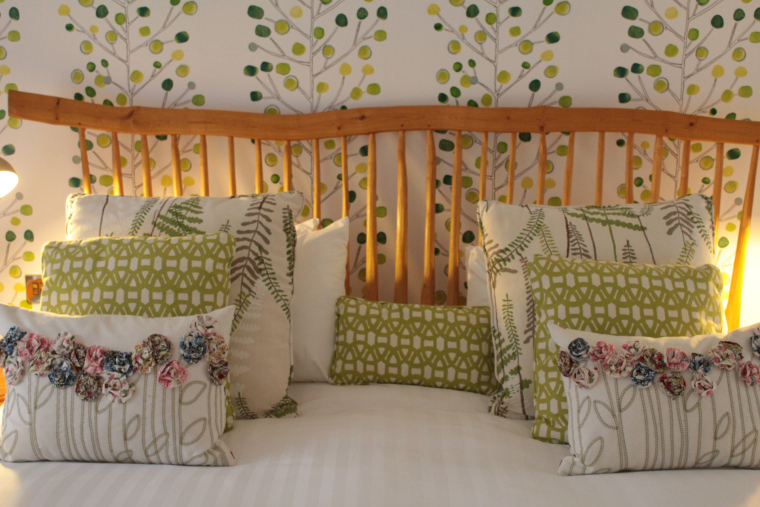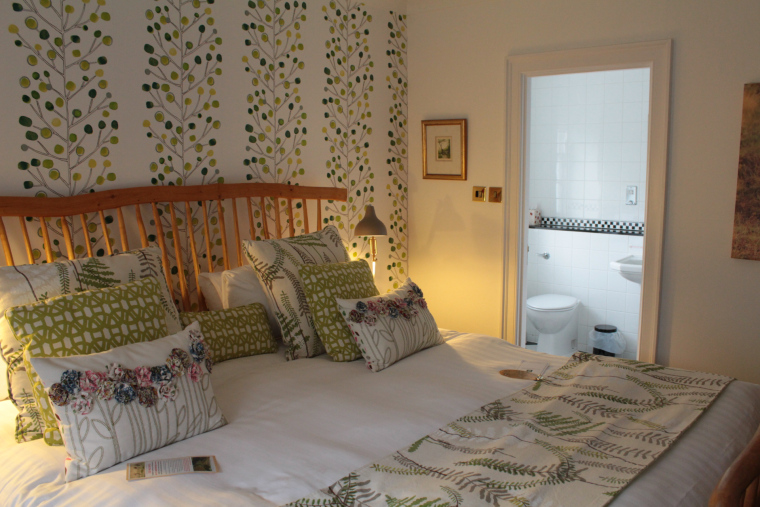 Then there was the cool mint of the bathroom. Large enough for my mum and I not to stumble over one another, complete with a deep bath and fat-headed shower, and as clean as an early morning breeze.
Best of all, slide down the frosted glass of the bathroom window and, across the rooftops, standing like Gregory Peck in profile, was the handsome outline of Dunster Castle.
---
The Food
As part of our 2-night Red Stag Safari package, we were lucky enough to enjoy breakfast on the Sunday and Monday, and dinner in the elegant Psalter's Restaurant on the Saturday night. After being a guest at The Royal Castle Hotel in Dartmouth (and eating there, too), I knew what to expect. My mum didn't.
She smiled widely as we were shown our table, the cutlery sparkling under the light of the candle. She settled herself down and picked up the heavy, leather-clad menu.
In friendly silence, to the paternal ticking of the grandfather clock, we chose our courses, my mum clearly delighted at the food on offer.
Our starters, Velouté of Wild Mushrooms and Leeks and Beetroot Tarte Tartin came swiftly and skilfully – just like last time. And, just like last time, it tasted divine. We shared obligatory mouthfuls of one another's food, accompanying each with groans of delight (apologies to the other guests).
Then it was time for our mains. For me, Fennel and Lemon Risotto. For Granny, a Chargrilled 10z Steak; her favourite. My risotto looked like it should've been hung in a gallery – and I was almost too shy too disturb its presentation, until hunger got the better of me.
My mum's steak was the thickest she'd ever seen. "There's almost half a cow here!", she exclaimed jubilantly. The sheer thickness of this incredible beast of a meal overcome her and she had to apologise to the waiter about not finishing it all. Full to the brim, unable to even glimpse the dessert menu for fear we'd explode, Granny and I climbed to our room to float amongst the stars.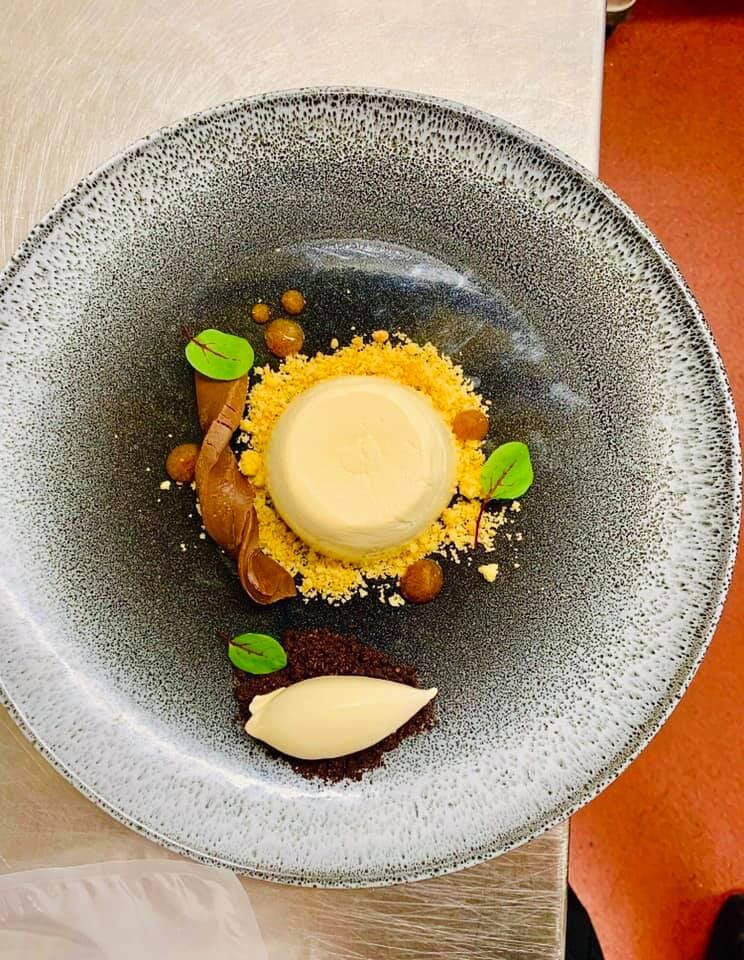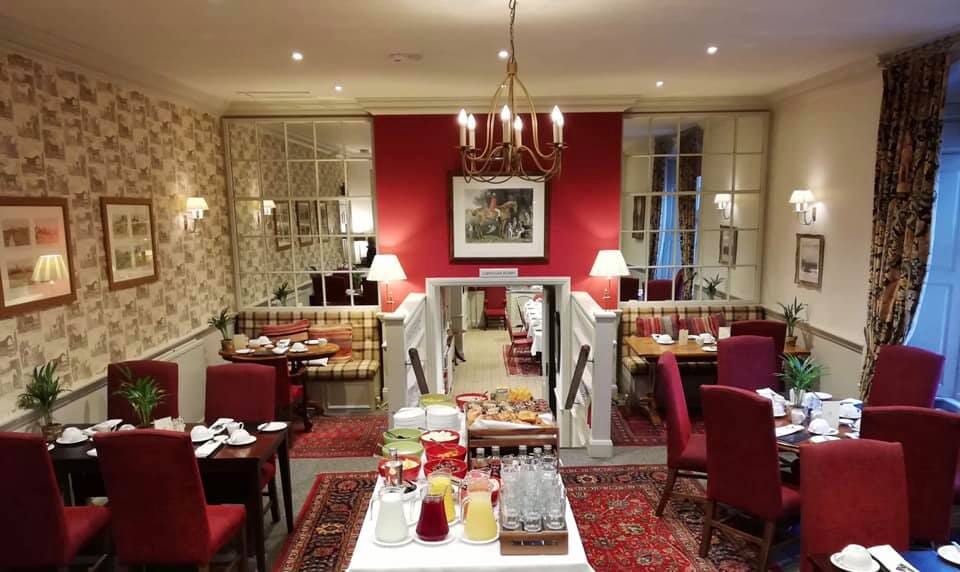 ---
The Conclusion
If it's possible to fall in love with a hotel, then I have fallen for The Luttrell Arms. Hook. Line. And sinker. It's not just because The Luttrell Arms serves wonderful food in chic surroundings. It's not just because The Luttrell Arms staff are so genuinely happy to help. It's not just because The Luttrell Arms rooms are a breath of fresh air or because the hotel is a hop, skip and a jump away from Dunster Castle and the Dunster yarn market.
I think the reason I have fallen in love with The Luttrell Arms is because of what it did for my mum. It was soul tonic for her after a difficult year. In one, simple weekend away, The Luttrell Arms brought back my mum's untroubled smile. And, because of that, The Luttrell Arms will always have a special place in my heart.
What: The Luttrell Arms Hotel
Where: Exmoor National Park, Dunster, Nr. Minehead, Somerset, TA24 6SG
Budget: Rooms start from £95 for a standard room single
Our Ed-in-Chief, Claire, stayed at the Luttrell Arms Hotel for 2 nights on a Red Stag Safari Package, with the hotel's compliments, in order to produce this review. However, this review is an honest reflection of her stay and opinion of it.