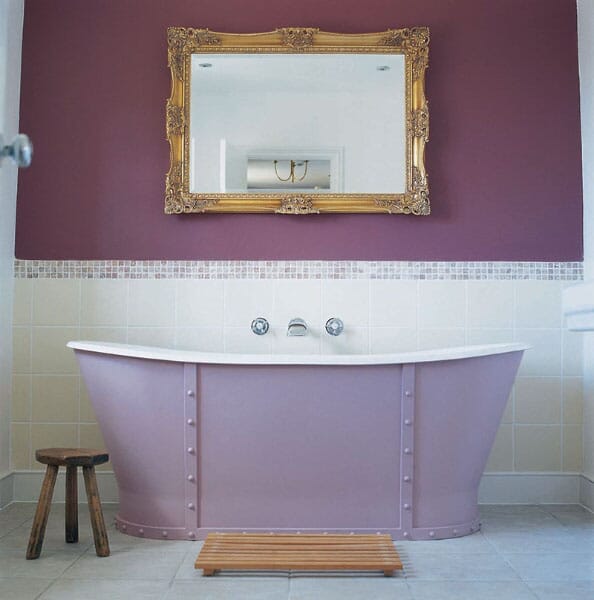 Gordy, as the landlord of the Queens Arms in Corton Denham is known, seems very amused by my sudden swoon. "Oh yes", he gestures nonchalantly, "We've had all sorts of celebrities drink in here – even Daniel Craig."
I right myself on my mum, as she gently closes my jaw with a finger, and smile politely at Gordy. Wait, what? Daniel Craig. THE Daniel Craig? James bleedin' Bond? I kick myself, why the hell didn't I visit sooner!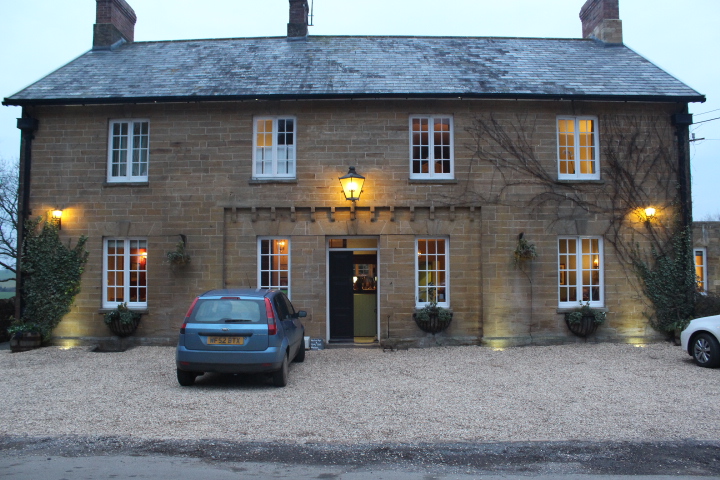 My mum and I are stood in one of the Queens Arms' five effortlessly stylish Executive Rooms on a spontaneous morning tour of this stylish  bolthole on the Somerset/Dorset border. According to Gordy, Daniel Craig didn't stay at The Queens Arms for the night, unlike Granny and I; but he did enjoy two impromptu lazy Sundays by the pub fire with Mrs Bond, Rachel Weisz.
In fact, on one of the Sundays when heavy snow set in, Mr Bond rolled up his sleeves and helped Gordy free trapped cars from the pub car park. He even came to the rescue of one of the stranded bar maids, giving her a lift home in his, I'm presuming, bullet-proof 4×4.
I know, I'm thinking it too: Thunderballs.
Mind you, it's not hard to figure out why an A-list superstar like Daniel Craig would slink into The Queens Arms on Corton Denham for a pint of West Country Ale and the pub's now famed pork pies and spicy home-made chutney. This place is 00-heaven.
This 18th-century pub, in the tiddly-quiet village of Corton Denham on the Somerset/Dorset border, has enough Chelsea 'pop' to ensure James Bond is stirred not shaken.
Best of all, for the likes of Mr Craig, it comes with a huge chunk of countryside charm and anonymity. Which means you can just be plain ol' Daniel on the weekend and the locals at the bar – for there's a thriving local ale trade – will happily give you your quantum of solace. (Couldn't help it, sorry.)
Clearly my mum and I are not multi-million pound megastars (although we live in hope), but despite our lack of Gucci, we didn't feel out of place amongst the well-heeled Joules' crowd when we arrived for Mothering Sunday at The Queens Arms in Corton Denham. Just the opposite.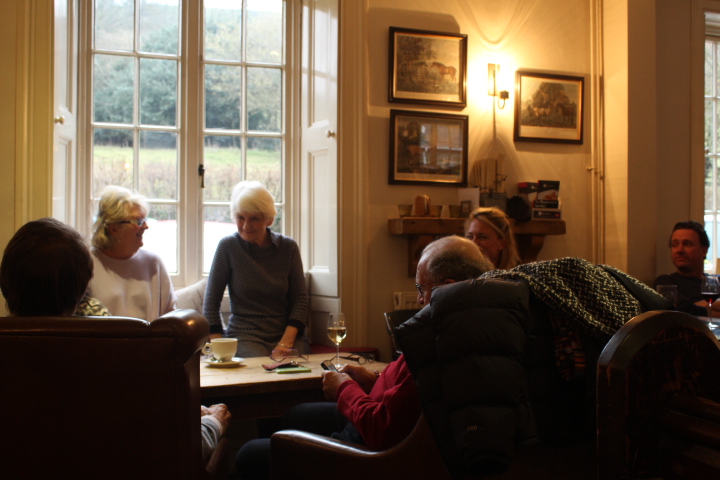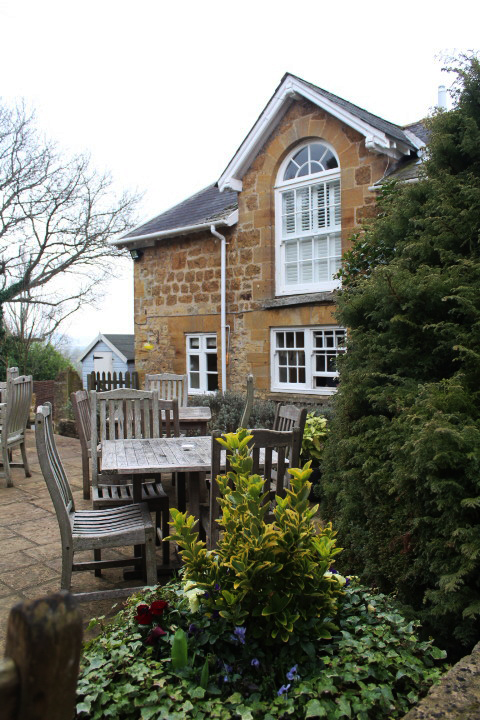 "Live and let live is definitely the spirit here."
Megastars are welcome, dogs are welcome, kids are welcome, and mums and travel writers are welcome, and the general rule seems to be, grab the Sunday papers (which are provided for you) and don't move until you've reach a Buddha-like state of nirvana – even if that takes you all flaming day and you've only enough change for one of the 17 gins on offer.
In fact, a feeling of ease and being 'at home' permeates the whole of The Queens Arms – even the décor sighs with repose.
The lounge is a super-chillaxed hub: flagstones give way to wooden floors, sinkhole leather sofas rest alongside lazy long oak benches and cream-coloured walls, whilst a marble fireplace stands cucumber-cool with a grate crackling idly below. Things only get formal when you head upstairs to one of the 8 rooms. Shall we, Mr. Bond?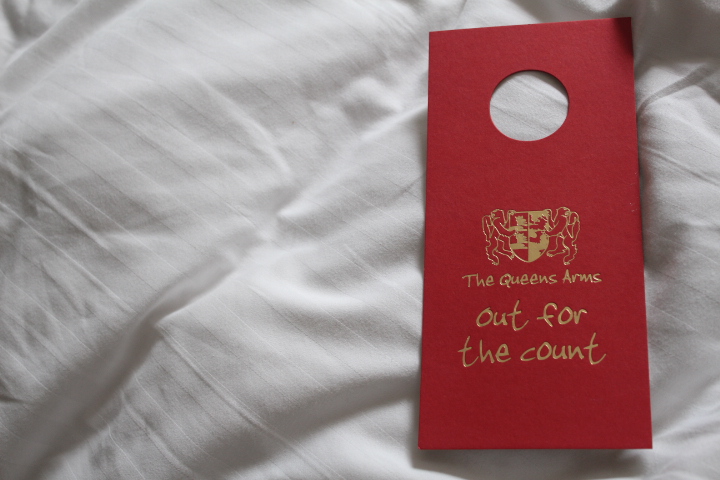 Another superstar secret Gordy divulged that morning was this: every month his staff look for 22 things that rival local pubs do not do; if they see a gap, they make sure The Queens Arms fills it – brilliantly. If they spot something the competition is doing that they are also doing, then The Queens Arms completely changes it.
It's not about being one step ahead; it's about knocking the living daylights out of the competition. (Again, I apologise.)
One of those 'moments of magic' has to be the 8 rooms of The Queen Arms. Every single one of them is decorated to individual perfection – by that I mean every room is unique from its brother or sister room. Take room 2, for instance – my pad for the evening. Christened by me as Le Lady of the Manor, this elegant Executive en-suite gives Versailles a run for its money.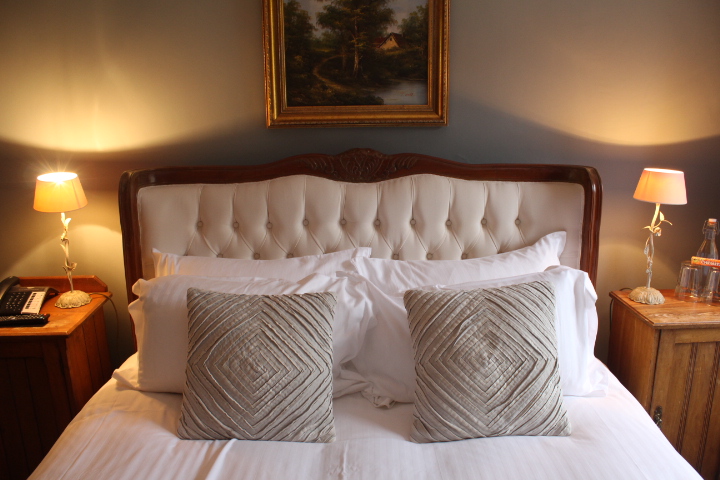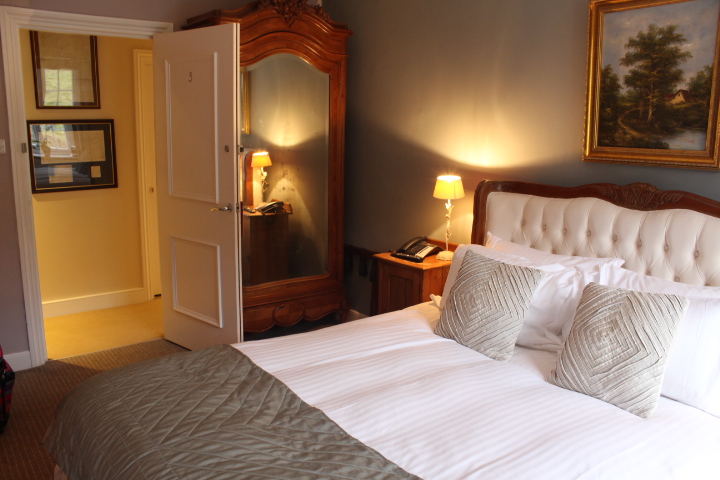 As you'd expect the duvet was goose-down divine, the sheets Egyptian crisp, and the carpet sink-soft; but the crowning glories were the antique French oak bed, which dominated the space, and the camelback two-seater, for one to recline upon presumably, (another Martini, Daniel?).
The view of the Dorset (or were they Somerset?) hills opposite made you switch off and forget your mobile, and the finishing touch of the packet of Chewits showed a cheeky side to the Queens Arms.
My mum's room next door was an altogether different experience: splashes of art-deco glitz were set within an impeccable plumb colour scheme, and to complete the razzle-dazzle: an ultra-violet bathroom that would easily double as a nightclub. The remaining rooms – 3 Classic and 3 Executive – which Gordy kindly showed us on the Monday morning, were just as extraordinary, with the awards to prove it.
The rooms have received AA 5 star Inn rating and 4 star silver accolade Visit Britain award. And that's not all: the pub recently won Silver in the Best Tourism Pub and B&B/Accommodation categories in the South West Tourism Awards 2014-15.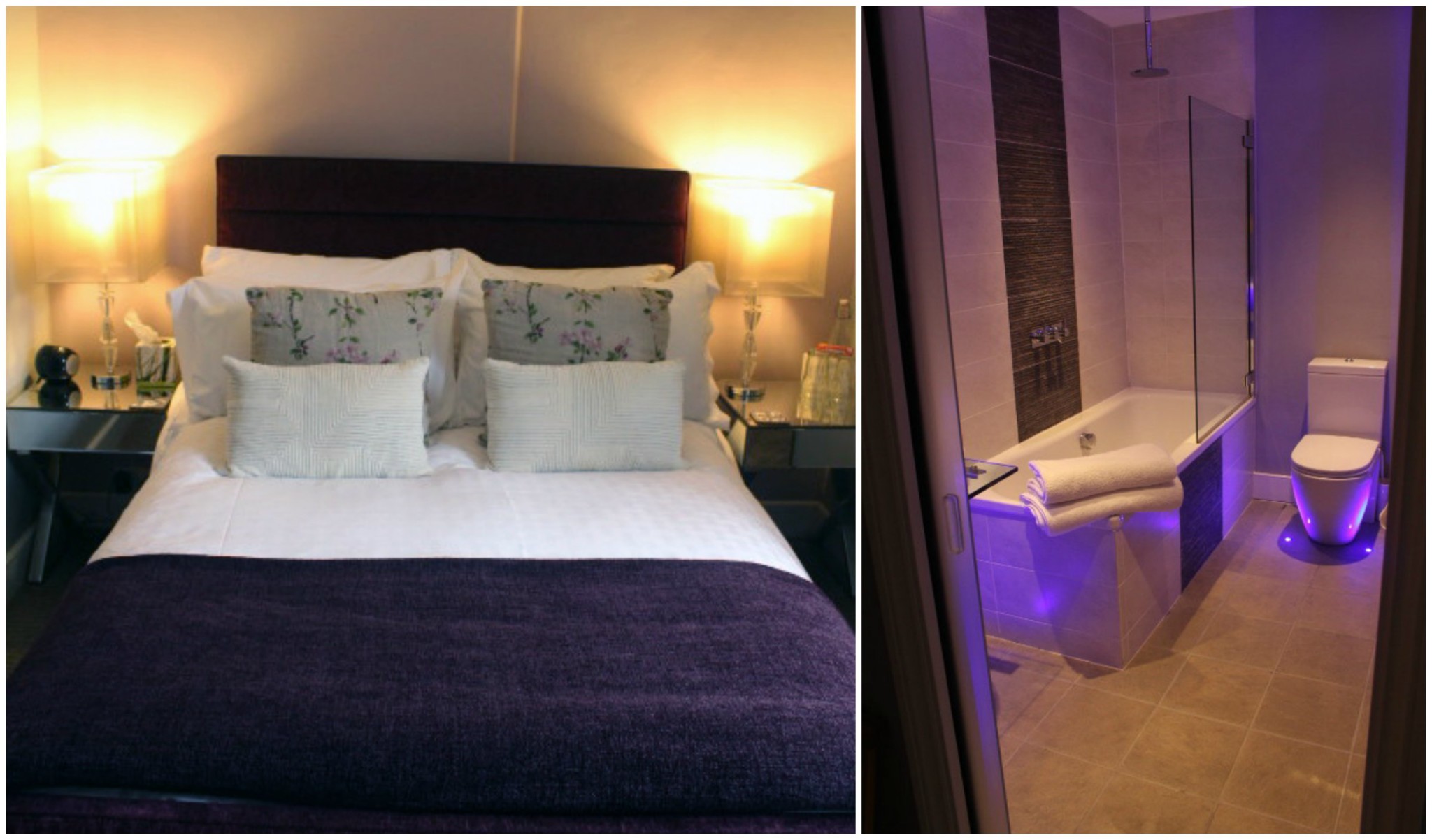 There are two restaurants in The Queens Arms. The main restaurant, where we ate, and a newer, larger dining area where breakfast was served. The principal restaurant is a highly polished affair; no muddy Hunters and wet spaniels in here. Just soft light bouncing off the orderly glasses and candles flickering gently.
Thankfully, the menu complimented the rest of the pub's easy-breezy, 'take it or leave it' style: no gastronomic pretentions, this was honest, hearty grub, with excellent provenance, that made our eyes bugle euphoric at the size of the portions.
 "The Queens Arms is the only pub in Sherborne to be awarded 2 AA rosettes."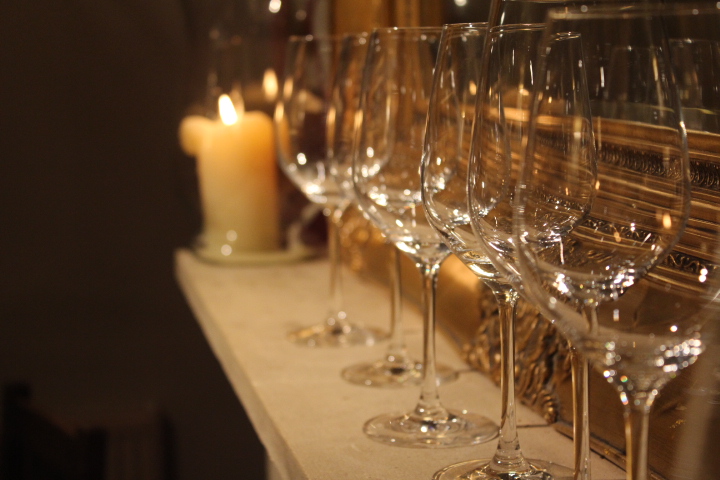 My mum's Mothering Sunday roast was a blissful feast – the roast sirloin of beef was provided by a local Dorset herd, whilst the veg was provided by the farm owned by Gordy and his wife, Jeanette, (where they also raise chickens, and keep a mix of Gloucester Old Spot and Saddleback Cross pigs).
My chicken with chorizo and leek risotto was spring in a bowl, as fresh as a newly laundered April day and, again, came from Gordy's farm with love. Pudding met all our expectations: chocolate delice with poached rhubarb and a champagne sorbet was lighter and sweeter than a fluffy May cloud. And to top it all, we enjoyed a glass of prosecco each as part of the special Mother's Day menu, which we drank "for England".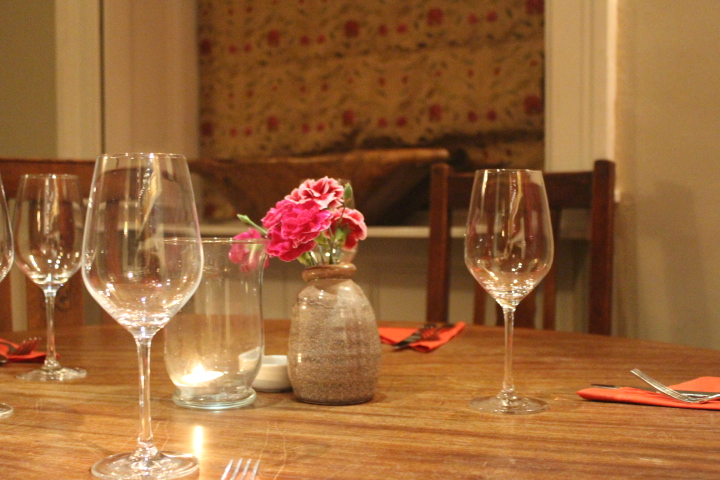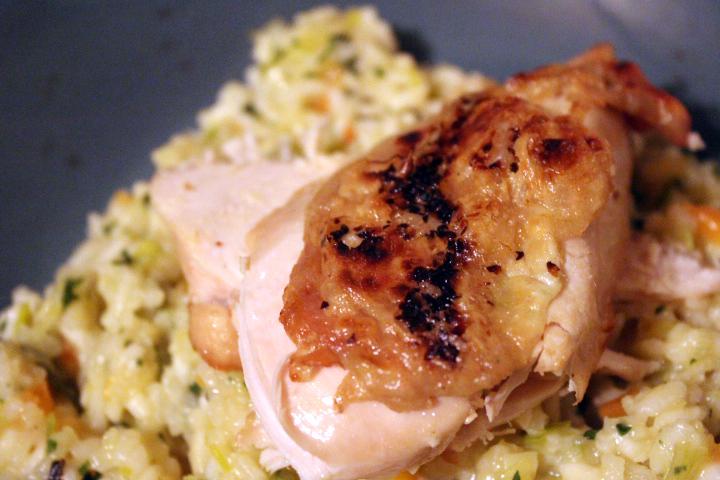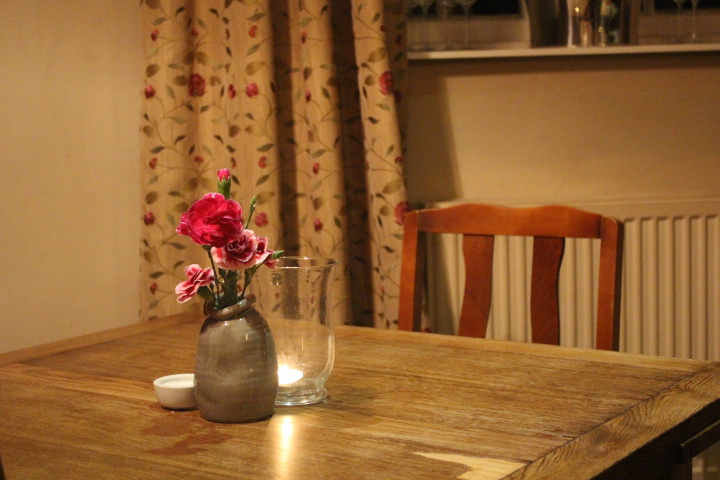 Breakfast the next day was equally as rise and shine: home-made granola, followed by Bloody Mary Crumpets – oh my. And for my mum the full monty, of course – and farm fresh, naturally.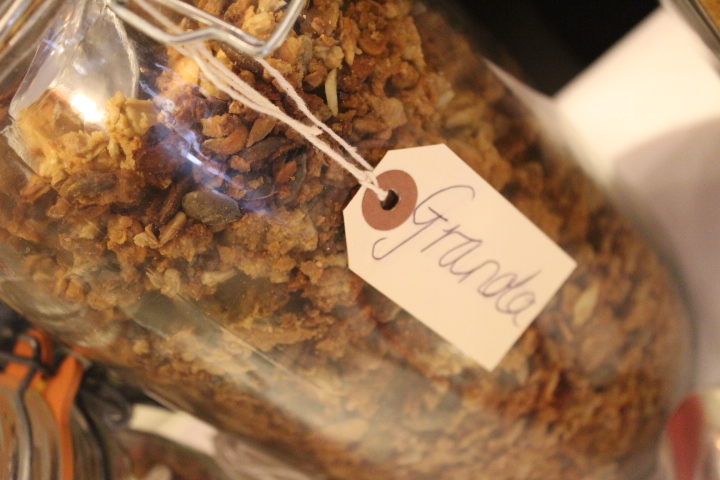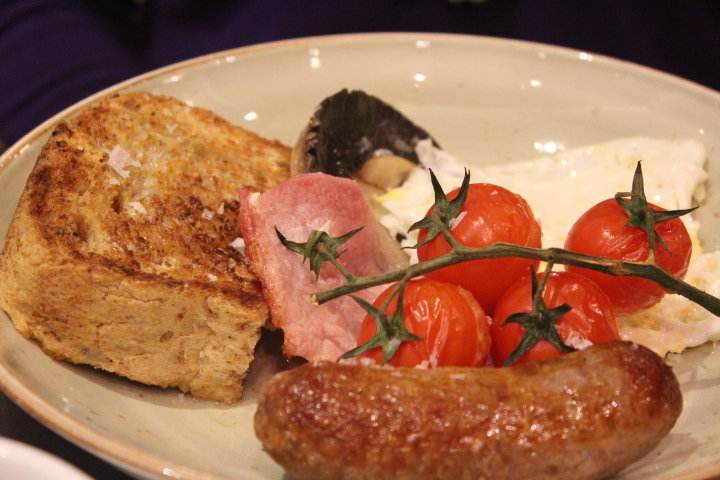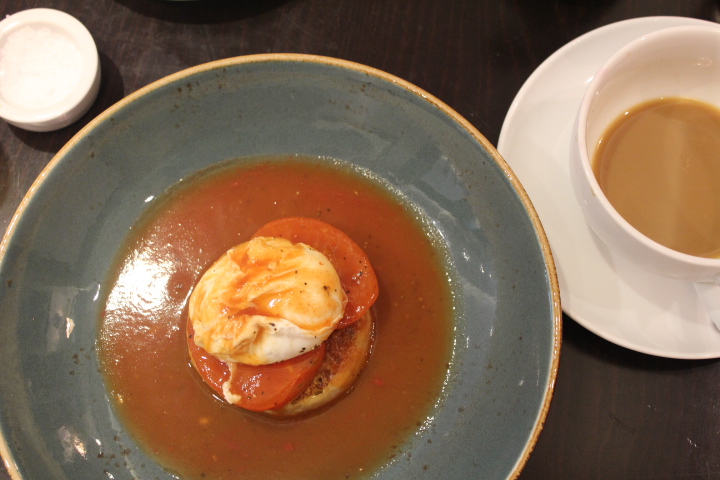 We left an overcast Corton Dehnam the morning after Mother's Day; our minds tingle-fresh, tummies full, and spirits restored. What on our first arrival had appeared to be a very normal English stone pub had, in the end, delivered something way beyond the norm.
The Queens Arms is a place that actually feels like home; from the warmth of the staff who let you sit and chat for as long as you want, to the quirks that accessorise the bar and rooms – all added by Gordy's perennial passion for antique-hunting.
Thanks to 22 individual touches a month (including a dining club and cinema night), a laser-smart business vision, and the natural enthusiasm of Gordy and his wife, The Queens Arms is the indisputable goldfinger of this slice of Dorset/Somerset.
Which is why, before we left, I made sure Gordy had my business card; after all Daniel will probably stop by again in the future.How can I be so sure? Because diamonds, like The Queens Arms, are forever.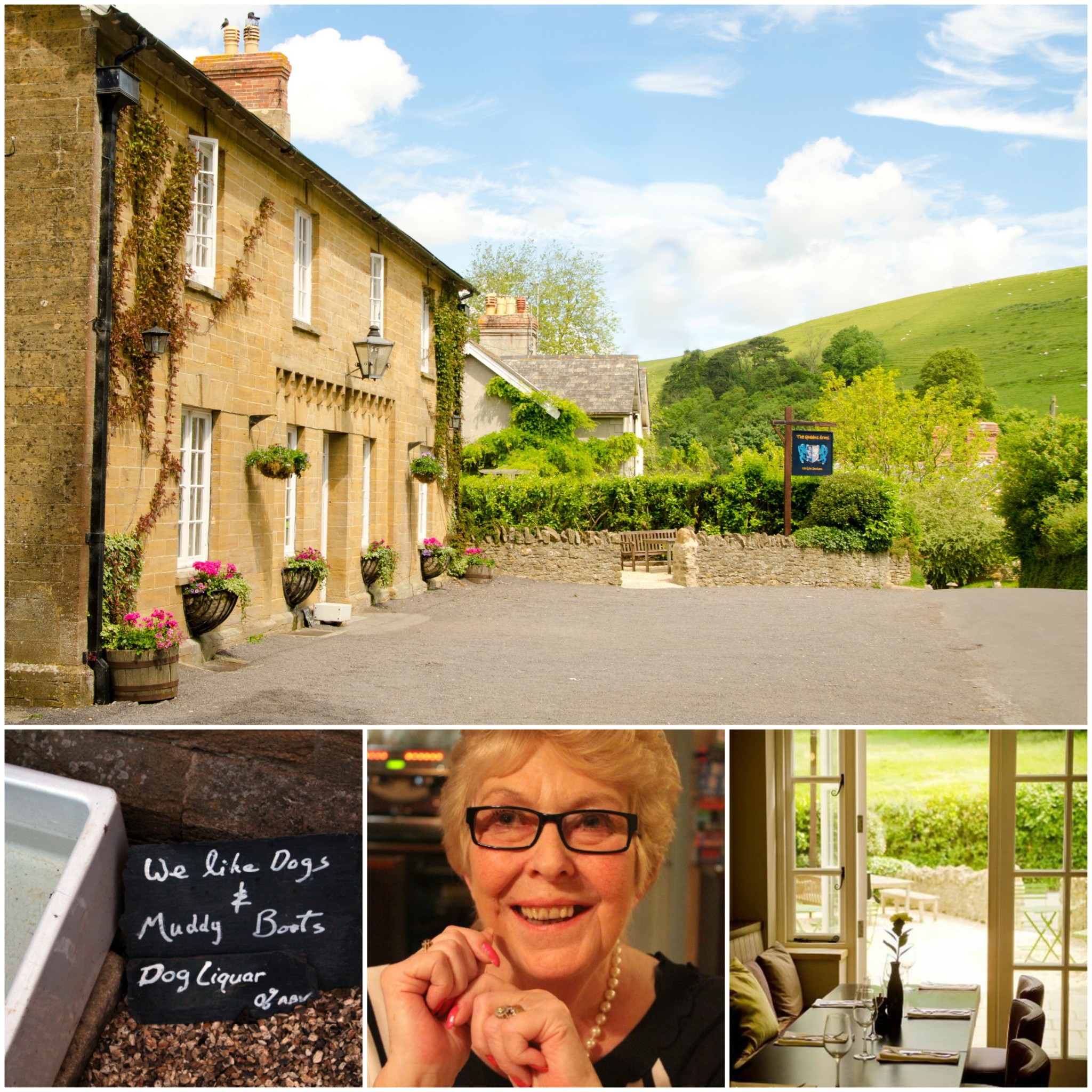 Disclosure
Our Editor-in-Chief, Claire, enjoyed a one night stay The Queens Arms, Corton Denham, courtesy of Gordon and Jeanette. This review is an honest reflection of her stay at the pub and her opinion of it.