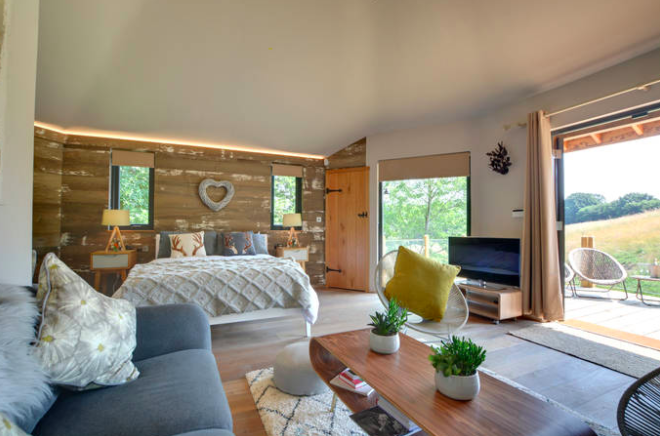 "If ever there was somewhere to come to recoup, to feel safe, to immerse in nature and put the corona days behind us, it's Downash Wood Treehouses in East Sussex."
As we emerge into the world after corona, we'll be craving a different kind of weekend away than we've had before.
No doubt, we'll want somewhere free from crowds, yet not too isolated. A staycation that's simple and affordable, yet comes with all the comforts of a five-star hotel. A break that's safe, yet wildly uplifting. And with European travel possibly off the cards for a while, it's highly likely we'll look closer to home for a holiday.
One such place that's right on our doorstep here in the UK and promises a restorative, slower-paced staycation is Downash Wood Treehouses, in East Sussex.
---
Where are Downash Wood Treehouses?
Downash Wood is a private woodland sitting in 33-acres of land in an Area of Outstanding Natural Beauty brushing the Kent border, just an hour outside of London.
It's here, knitted into 5-acres of remote woods, that you'll find the two treehouses and one cabin that make up Downash Wood: Tinker's Treehouse, The Oakey Koakey Treehouse and Willow the Wisp Cabin. Each treehouse rests intimately amongst the Sussex trees in its own remote setting, shielded from the other, whilst the cabin sits secluded in its own grassy nook, sheltered by mature oaks and willow trees.
At the end of the field adjoining Downash Wood is Bewl Water Reservoir – a popular country park where you can walk, cycle, kayak and swim. But despite the park being busy in pandemic-free times, the only noise you'll hear whilst resting in the treehouses are the sounds of the birds. And the only neighbours you'll see are deer – or, if you're lucky, badgers.
Should you wish to branch out from your treehouse stay, the seaside towns of Hastings, Rye and Camber Sands turn the volume up with their salt-air zip and zing. Head north and you'll reach the elegant town of Royal Tunbridge Wells.
Ad: This article has been produced in collaboration with Downash Wood Treehouses.
---
---
What's the backstory to Downash Wood Treehouses?
Having being raised on a farm in Sevenoaks, Stephen, the owner of Downash Wood, was always keen to swap his city life for the countryside again. So, when a much-loved spot of woodland 1-hour from London came up for sale in 2013, he snapped it up.
At first, Stephen and his wife, Jane, weren't planning to start a treehouse business. That changed when their son asked them to build one in the grand oak tree on the land and Stephen starting googling designs and plans. From that moment on, he was hooked and the family's unique treehouse stays were born.
---
What can we expect when we arrive?
Tinker's Treehouse sleeps 2 adults and was the first treehouse Stephen and Jane opened in 2017. It's a hideaway resting peacefully amongst large Oaks, Aspen and Silver Birch, set on sturdy legs over wood chipped ground.
Wooden stairs take you up to the secluded sun deck, whilst glass doors usher you inside. And once inside, the sense of calm is equally abundant.
The warm handcrafted wooden interior is neat: it's a smartly-furnished and cleverly used space, with apartment-like dimensions (6 metres wide, 6 metres long, 4 metres high).
At one end, there's an airy fitted kitchen with everything you need to dine in, at the other (tucked into a wood-panelled alcove) there's a downy king-sized bed.
There's also an open-plan living space, complete with fur rug, wool throws and doughy leather sofa, as well as a separate modern bathroom, which floods with sunlight and boasts a waterfall shower.
This is quite clearly a treehouse for romantic grown-ups. A wood-burner keeps it cosy in winter, a 32" TV keeps you occupied if the endless star-views don't, and a firepit keeps the sparks alive with a flicker.
But don't just take our word for it, ask the five couples who became engaged here, the 12 honeymooners who chose it for their special celebration, or the lovebirds who keep coming back year after year.
---
---
The Oakey Koakey Treehouse sleeps up to 4 (2 adults & 2 children) certainly knows how to make an impression on the young at heart. A rope-style walkway leads you up to this cantilevered family retreat in true treehouse fashion. The sprawling sundeck and glass balustrade give you the first 'wow' moment – and if you can peel yourself off the comfy sundeck chairs, you'll get the second when you head indoors.
Inside, Scandinavian-style beauty awaits: distressed Oak wooden walls blend seamlessly with the Oak wood doors and smoked Oak flooring with fresh walls painted with Farrow and Ball. The warm open-plan interior is dressed like a boutique hotel with contemporary furniture, wool throws, fluffy rugs, oak detailing and an oak leaf chandelier.
And thanks to three floor-to-ceiling windows, the bedroom, kitchen and living space of this beautiful treehouse see eye-to-eye with the clouds at all times. It is, at once, vast and intimate.
There is a sense of playfulness here, too. The separate children's bunk room is hung with bird boxes and a silver birch ladder takes little ones from bottom to top bunk in a few childlike steps. There are colour-changing lights above the beds and there's even a bluebell backdrop in the bathroom; so you can shower knowing Mother Nature has your back.
Outside, a private meadow swims with grasses and wildflowers making it the ideal playground for the whole family. Then when night falls, you can gather around the outdoor BBQ fire pit, toasting marshmallows and counting your lucky stars.
---
Willow the Wisp Cabin sleeps 2 adults and joined the family in 2019. Since then, it's been luring friends, couples and loved ones month after month. More bucolic burrow than cabin, it has handsome Hobbit looks and a cwtch-up interior that will set hearts racing.
The soft, thick double bed fits snugly yet leaves plenty of leftover space for a kitchenette and shower room. But the real gem is the Hikki out door hot tub, fired by freshly chopped wood and powered by the sounds of laughter and the recurring gentle 'pop' of corks.
---
What else do we need to know?
Included
Breakfast hampers provided on request
Complimentary logs, towels, linen, toiletries and essential kitchen provisions provided
Fully-fitted kitchens with all utensils, pots and pans, crockery and cutlery to cook up a treat
Good to knows
The village of Ticehurst is just a short walk from the treehouses
Minimum stay 3 nights at weekends, 2 nights midweek
Free parking available on site
Gift vouchers available
---
Book Your Stay at Downash Wood
– Gift Vouchers Available
---
PIN FOR LATER: