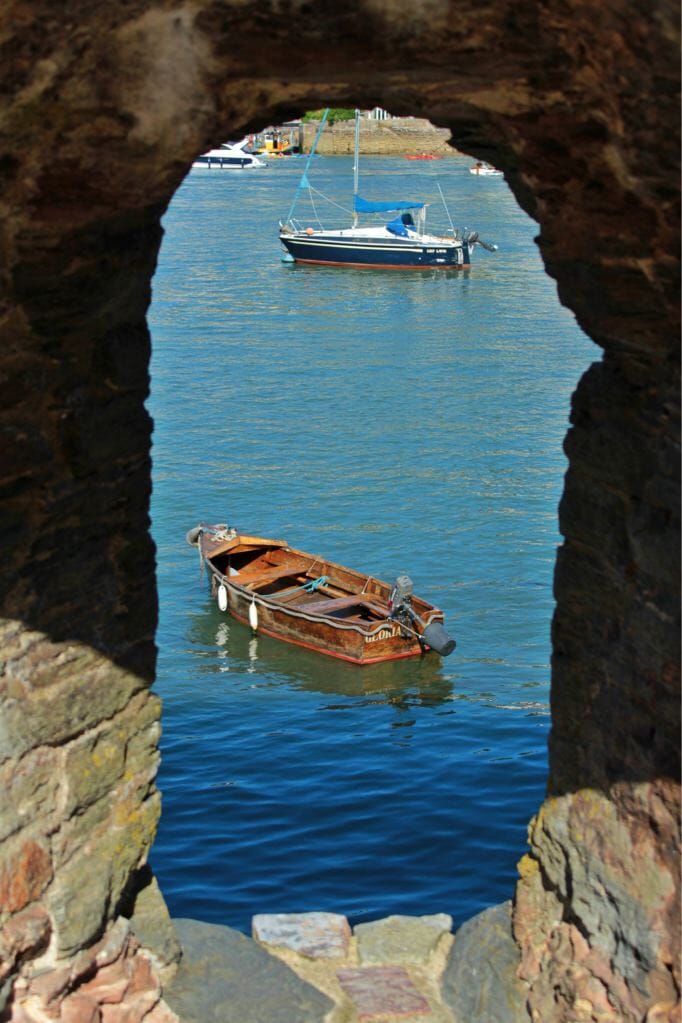 COMPETITION NOW CLOSED
Ladies and jellyspoons, I've teamed up with JustB Dartmouth and the Dart Marina Hotel and Spa to offer you and a lucky guest a 2 night stay and champagne tea in one of my very favourite coastal towns, Dartmouth.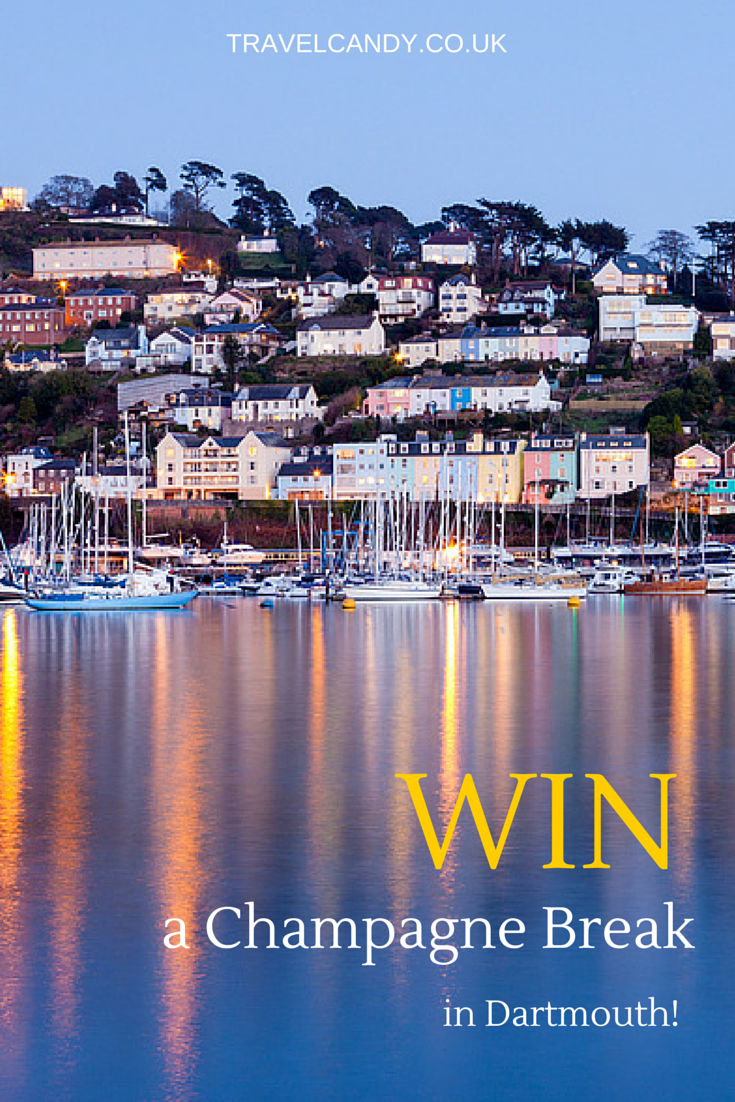 It's to celebrate Travel Candy turning ONE! And I want to share the love with you, because you're simply ace.
As you know, I've enjoyed some wonderful time in this lovely town.
I spent a sublime 12 hours in Dartmouth last year, with a wonderful stay at the Royal Castle, and then went back again to Dartmouth this year for the Delicious Dart Trail.
Those visits sealed my opinion: Dartmouth is one of the friendliest places you can visit for a weekend on the south coast, with so much to do and see.
For instance, you can explore Dartmouth by boat, cruising down the might River Dart with a picnic by your side, or mooch around its cobweb of Elizabethan streets enjoying independent shops and art galleries.
Added to that there's the town's vibrant year-round calendar of festivals to soak up, as well as historical sites to thrill you, including Agatha Christie's former home and the Royal Naval College where the Queen met Prince Philip.
WIN 2 EPIC nights with JustB Dartmouth!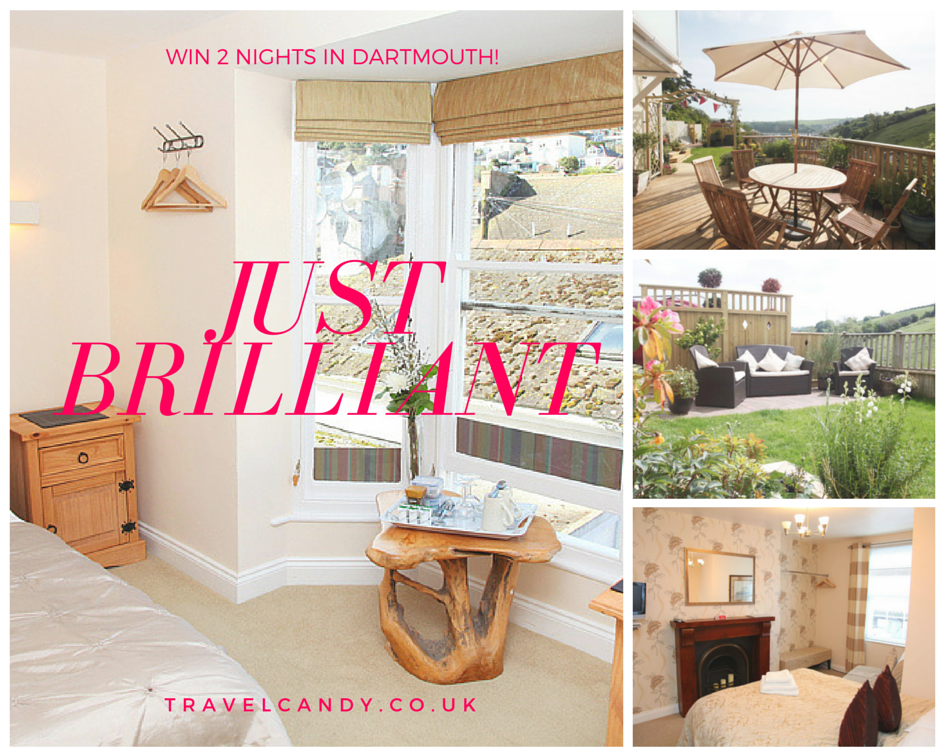 JustB Dartmouth is the unique bed without breakfast company and a stay in one of their wonderful rooms gives you the sweetest base to venture around the town.
Each room is beautifully presented, with stylish furniture and immaculate en-suites, and is located in central Dartmouth, so the town and all its goodies is easy to get to.
What's more, the beauty of a stay with JustB is that there is not complicated check-in or check-out procedure – instead, you get maximum freedom for maximum enjoyment. 
My stay at JustB's St Elmo Cottage was just bloody marvellous, as you can see – so I have no doubt that yours will be, too.
WIN Champagne Tea at the Dart Marina Hotel and Spa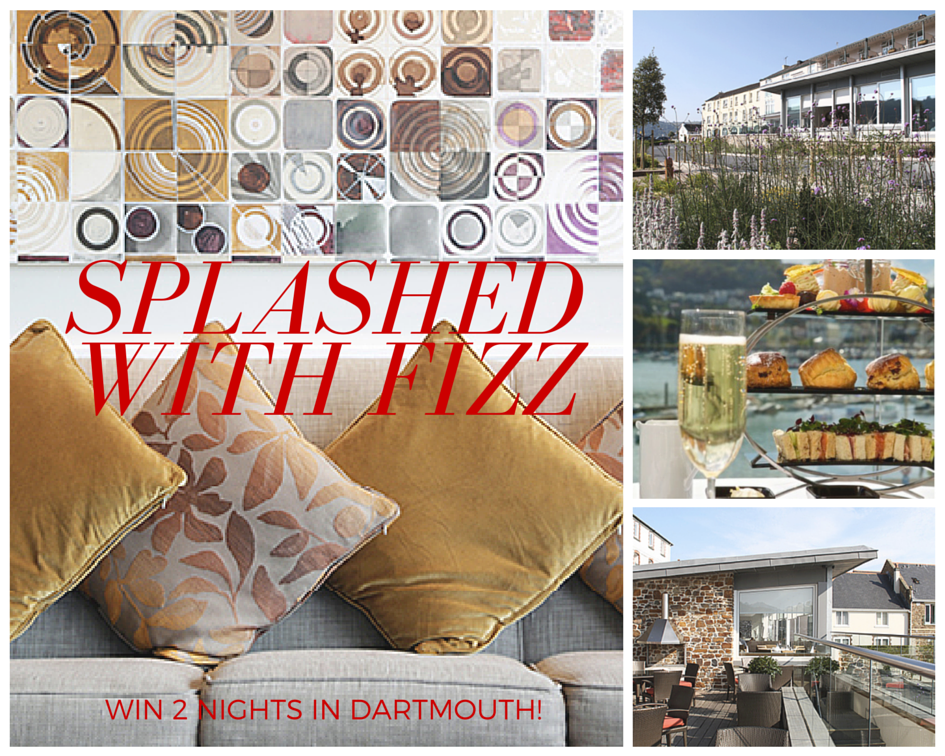 As well as an epic stay in Dartmouth, you'll enjoy a champagne tea compliments of the Dart Marina Hotel and Spa. *moonwalk*
This chic hotel overlooks the magnificent River Dart and is just 2 minutes from the Kingswear ferry terminal and 9 minutes from the main town.
Your champagne tea includes delicate sandwiches, freshly baked scones with jam and Devon Clotted Cream, and pastries and cakes.
You'll also enjoy a fresh pot of tea and, more importantly, a glass of Champagne, which you can sip on the terrace in the sunshine. Sweet as.
Enter now – it couldn't be easier!
Simply subscribe to Travel Candy for epic weekend updates, exclusive discounts and unique giveaways by entering your email in the sidebar box – scroll up a bit and its to your right (it takes two mins to subscribe). Then leave a comment in the section below saying who you'd like to take with you on your 2 night stay in Dartmouth! (So I know you want to win!)
If you are one of the incredibly clever people who've already signed up for weekend inspiration and giveaways, then thanks – you are epic. All you need to do is leave a comment below telling me who'd you'd bring to Dartmouth if you win. (If you've signed up, I will have your email you see)
EXCLUSIVE – Extra chance to WIN!
I'll pop your name in the draw twice when you follow me on one (or all) of my social media channels. You'll find me on Facebook, Instagram, Pinterest and Twitter – so take your pick!
By hanging out with me socially, you'll get live inspiration and updates as I travel the UK and Europe searching for epic weekends away. You can also send me recommendations, tips and as live questions as I go.
If you already follow me on all those channels, simply share my competition post and let me know you have and you too will have two chances to get luck. Sweet.
Terms and conditions
Entry is limited to people with a UK postal address.
One entry per email address.
Employees of JustB Dartmouth and the Dart Marina Hotel and Spa and any of its associated companies, as well as members of their families, are excluded from participating.
The winner will be chosen at random from the eligible entries and contacted via email. My decision is final and I reserve the right to change the competition or offer at any time. No cash alternatives can be offered. The winner must respond to the email within 72hours, otherwise the prize will be reallocated.
The prize is for a 2 night mid-week stay (Sun – Thurs, inclusive) with JustB Dartmouth, subject to availability and excluding August and Dartmouth festival and event days.
The competition will run until Monday 13th July 2015 and the one lucky winner will be picked out completely at random and notified by Sunday 19th July 2015.
Remember, you have to leave a comment AND sign up with your email to be eligible to enter!
Sign up now and keep your fingers crossed!
Good luck!