Foxhills Country Club:
The short and sweet
You'd think that a Surrey hotel with 2 championship golf courses, 11 tennis courts, 4 swimming pools and a luxury spa would have the biggest ego in the neighbourhood.
Not so with Foxhills Country Club. Yes, it's only 10 minutes from M25. Yes, Windsor is on the doorstep. And yes, many of the cars in the carpark look like bankers' toys. But in-between the sportscars, there are second-hand motors carrying families of four, spa day trippers and friends with cocktails on their mind.
By some sleight of hand, this four-star manor house has the art of universal appeal down to a tee. I went for a Surrey spa day to find out more.
"It's hard not to feel unworthy as you roll up Foxhill's drive, flanked by lawns that look like they've been laundered by a butler. Thankfully, any hint of country club haughtiness has come out in the wash, so a spa day here is ideal for mere mortals like us."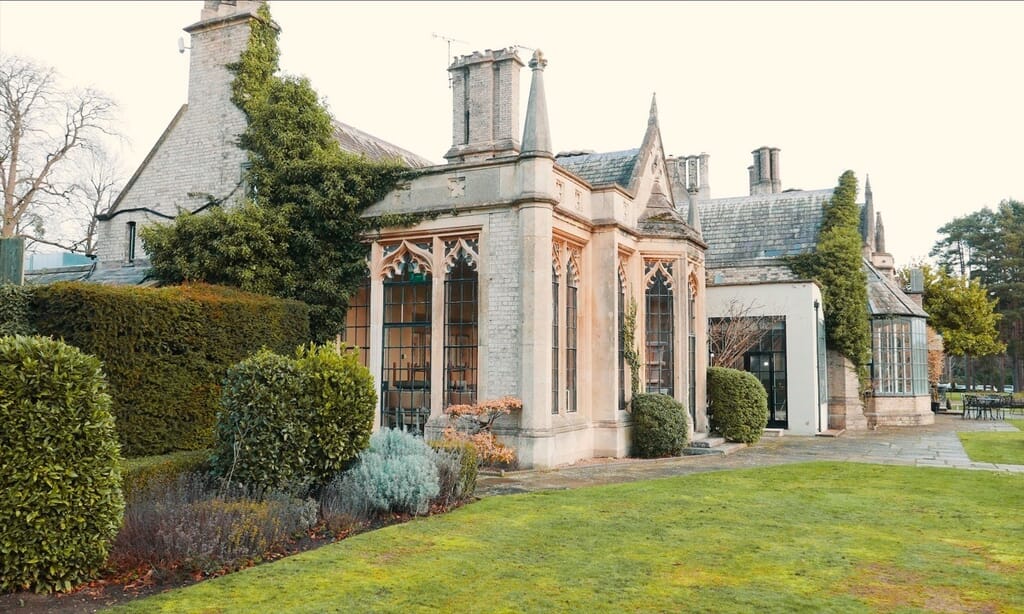 Foxhills Country Club:
The location
Head 20 miles out of west London and brake when the houses bulge in size and the sat nav reads Ottershaw.Foxhills sits at the western end of the village in the Runnymede district of Surrey, rooted to its own 400-acre patch of juicy-green countryside.
Virtually next door is Lego Land, Thorpe Park, Mercedes Benz World, and Woking. Not that you need any additional distractions on a spa break at Foxhills, mind you: this Surrey spa hotel is a resort where you can pamper, play, pig out and party without ever having to step outside its gates.
"This Surrey spa hotel is a resort where you can pamper, play, pig out and party without ever having to step outside its gates."
You may also like:
Foxhills Country Club:
The Manor House
The nerve centre of Foxhills Country Club is the resort's 19th-century manor house built in the gothic-revival style.
It's here you'll find the hotel's reception, the Manor Lounge Bar (refined enough for a spot of afternoon tea), The Manor restaurant (which was closed for refurbishment during my visit), the Summer House, and 8 of the hotel's 9 meeting rooms.
Once upon a time, Foxhills estate was the country play pad of Charles James Fox, a colourful MP known as a gambler, womaniser, debtor and dandy.
He escaped to the area after some trouble in London and spent his remaining years recuperating here, although the house you see today actually sprung up after his death.
Inside, Foxhills Manor House has all the old-world swagger you might expect to make a London gentleman feel at home: oil paintings loom over grand marble fireplaces, wide oak-banister stairs sweep you upwards to bed, pine-clad rooms sit mannerly with well-bred carpet and noble chandeliers.
Should you want to play lads or lasses of the manor, you really couldn't be in better surroundings. Word of caution though: the thick banister may look easy to slide down, but it is in fact not. Ahem.
Foxhills Country Club:
The spa packages
With 8 spa breaks to choose from, those hungry for a spa day in Surrey are well served by Foxhills Country Club.
The packages are meaty enough to make it worth the weighty price tag: most include a two-course lunch, a 40-minute treatment, full use of the facilities, slippers, towel and robe.
Spa day breaks start from £80 per person (Sunset Spa, 2pm – 6pm) and rise to £360 per person when you throw in a bottle of Moet and extend your pampering visit for the whole day.
If you prefer to make a weekend of it, the Wish You Were Here Spa Break costs £190 per person per night, including accommodation, breakfast and dinner, a 55-minute treatment and full use of the rest of the exceptional facilities.
"Should you want to bolt-on a day of golf to your Surrey spa break, you're spoilt for choice: there are 3 golf courses, as well as golf lessons with a PGA-qualified coach."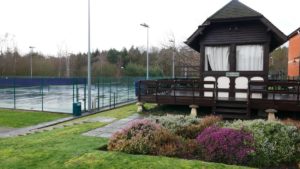 .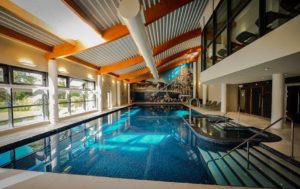 Foxhills Country Club has every right to puff out its chest when it comes to its spa facilities – they are outstanding: a 20m indoor swimming pool, hydropool with massage jets, steam room,relaxation room with Le Corbusier chaise lounges, Spa Garden(featuring one of England's first natural swimming pools, chemical-free water purified by plants and minerals), outdoor hot tub, two Finnish saunas, al fresco relaxation bays with loungers and deck chairs, state-of-the-art gym and a good selection of scheduled including yoga and spin.
Added to that is a huge menu of spa treatments, including Elemis facials and massages, bespoke treatments tailored for you and introductory spa treatments for younger guests (family-friendly is woven into the Foxhills' DNA, another reason it's not as stuffy as you might suspect). Should you want to bolt-on a day of golf to your Surrey spa break, you're spoilt for choice: there are 3 golf courses, one of which Golf World put on its 'Top 100 Golf Courses in England' list, as well as golf lessons with a PGA-qualified coach.
We spent over an hour being put through our golf paces by the ever-lovely, ever-patient Ashley, one of Foxhills' Golf Professionals. Despite Ashley's brilliant, comprehensive coaching I discovered I'm more suited to spa-ing than I am par-ing and so headed back to the pool to drown my sorrows.
60 minutes' golf coaching with Ashley costs £70 for adults £50 for juniors.
Foxhills Country Club:
The rooms
Stay at Foxhills Country Club and you're in for a treat.
The hotel's 70 rooms sit outside of the main manor house (in a neatly packed suburb of brick cottage-style buildings) and are made for all tastes – from a holidaying family to the busy corporate executive.
Choose from standard rooms, executive rooms, junior suites, family suites, or deluxe suites – each with a different vista over Foxhills' ample green grounds.
My room was one of the hotel's executive double rooms, overlooking the outdoor swimming pool and tennis courts, but it could well have been a family room given the 425 square footage of space. Large enough to swing a golf club in and stylish enough to host a soiree, it made my Surrey spa break extra special.
Gone was the old-era charm of the manor house and in its place came soft biscuit shades, velvety soft furnishings, White Company toiletries and quirky artwork.
Foxhills Country Club:
The food and service
You can't fault the feasting options at Foxhills. Whether you want a sumptuous afternoon tea, AA Rosette evening meal or a fast bite after your spa day, you can.
We ate in the hotel's Nineteen Brasserie on the Saturday evening and enjoyed breakfast there every morning.
With a relaxed, sports' bar vibe, Nineteen offers light meals (sandwiches, salad, barbecue dishes, cocktails and jugs of beer) and is a Mecca for families staying at Foxhills or those strolling in off the nearby greens.
Sadly, the food was under par during my visit, but the friendly service made up the slack. Also, Foxhill's main restaurant, The Manor, was closed and staff were juggling a lot of orders with one kitchen down.
Clearly, they'd hit a bunker and I expect my tastebuds would be rewarded by a return visit when The Manor is open again.
Foxhills Country Club:
The verdict
For a spa day in Surrey, Foxhills definitely fits the bill. It has the spa facilities and treatments to keep you well-pampered for more than a day and the handsome country club looks that'll make you feel like a VIP.
But it also has something else that I think is extra special: it's decidedly unspoilt in attitude and manner for a club of its size, location and ranking.
Everyone fits in here and everyone is catered for. Day guest or club member. Corporate visitor or fun-lover. Families are especially well looked after. This healthy mix of demographic means no-one is going to scoff at your paper slippers. Or judge you if you snigger at the word bogey.
And I for one, am very on par with that.
Now read: