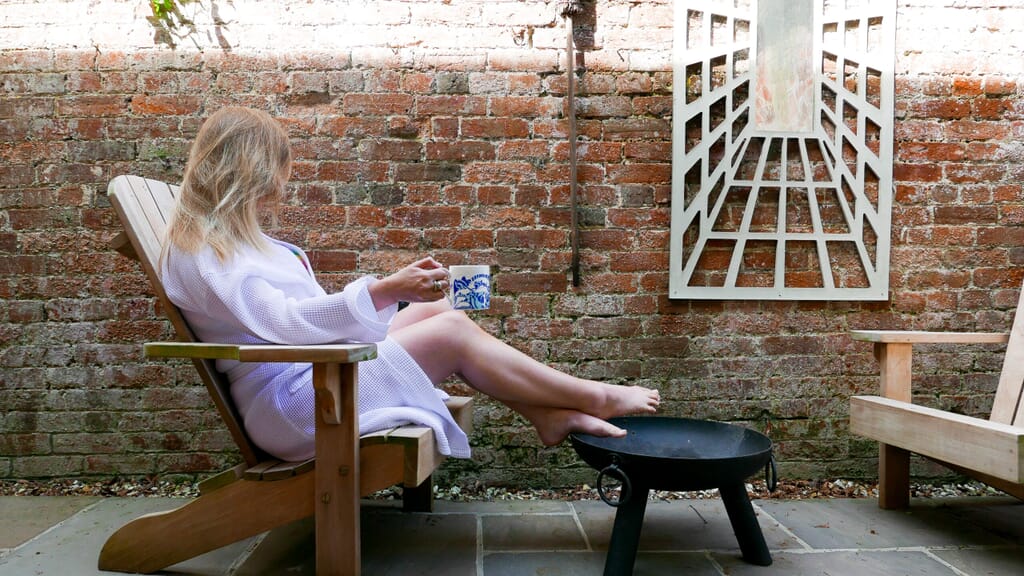 Tried & tested (and given the thumbs up) by our Ed-in-Chief
Thomas Hardy's Dorset comes with enough beauty to fill a novel – or eleven, if you're Hardy. But it can also come with crowds. Fortunately, there is one Dorset town that's still not on the radar of most visitors; a bucolic corner of Hardy country known for its Abbey, castle and uber-posh school: Sherborne – the ancient capital of Dorset.
We slipped into Sherborne for the weekend and bedded down at The Eastbury Hotel & Spa. Here, inside the walls of this classically English hotel, with the quaint streets of Sherborne just outside, we discovered a quieter Wessex. It was far from the maddening summer crowds who flood Dorset's coastal towns and beaches – and far removed from the staid hotel experiences that you might expect in a sleepy town such as Sherborne.
This article has been produced in partnership with The Eastbury Hotel & Spa
---
About The Eastbury Hotel & Spa
The Eastbury Hotel & Spa is not a new kid on the block. Since 1740 this elegant townhouse has stood in the same quiet side street in Sherborne, pumped with pride in its red-brick façade and as striking as a Chelsea Pensioner.
A former Gentleman's residence, it once swam in 27 acres of grounds which were subsequently sold to pay for the upkeep of the house. It became a hotel in 1930s and, in February 2018, was snapped up by veteran luxury hotelier Peter de Savary (who also owns the wonderful Beachcroft Hotel & Beach Huts in West Sussex).
A luxury 21st-century makeover followed De Savary's purchase and what stands as The Eastbury Hotel & Spa today is everything you could want from an English country house hotel: old fashioned attention to detail and service, without the whopping price tag or stuffiness.
26 homely rooms and suites are split across the townhouse and the beautiful walled garden. There's an award-winning conservatory restaurant serving some of the finest local food, a cocktail bar (stocked with the local – and delicious – Viper gin), a snooker room, a resident's lounge and library, and a quirky woodland spa tucked away between the trees, should you need another reason not to leave the Eastbury's handsome arms.
---
The Location of The Eastbury Hotel & Spa
You'll find the Eastbury Hotel & Spa off the beaten track down a quiet residential street in Sherborne, just moments away from the town's honeyed attractions. The road it sits on isn't busy with traffic or pedestrians, so the pace here is distinctly laid back.
A short stroll takes you into the town's sleepy and friendly West Country heart where you can browse the independent boutiques, grab a strong coffee, peruse the antiques shops or simply marvel at the medieval buildings and almshouses.
Should you arrive by train into Sherborne station and need a lift to the hotel, the Eastbury's 1960s Beardmore London Taxi ferry guests around for free.
Sherborne Abbey is a must-do: it features in Thomas Hardy's novel, The Woodlanders, and was the setting for his fictional Casterbridge in the 2015 movie, Far From the Madding Crowd. Plus, it's got 1,000 years of history to boot, so not one to miss if you're in the area.
Another attraction just a hop, skip and jump away from The Eastbury Hotel & Spa is Sherborne Castle and Gardens. The latter were designed by Capability Brown and are a refreshing way to indulge a few lazy, summer hours.
Then, of course, you've the rest of Dorset to enjoy: within an hour's drive there's the vibrant seaside towns of Lyme Regis and Bridport, as well as the glorious beaches of Durdle Door and Chesil Beach. And in just over 30 mins you can be in Dorchester, Thomas Hardy's hometown, where you can visit his birthplace and the house he lived in before his death, Max Gate, both of which are definitely worth the detour.
---
Accommodation at The Eastbury Hotel & Spa
Of all the hotels we've weekended in, The Eastbury Hotel & Spa is at the top of our comfort and character list. Cleary, there hasn't been a stone unturned when it comes to ensuring the 26 rooms are on point, so guests feel relaxed and tended to whatever room they choose.
There are two distinct styles of room to pick between: Classical Georgian (set within the main townhouse building) or charmingly contemporary (and rooted as stand-alone suites in the award-winning walled garden). And all rooms are named after traditional English flowers and trees.
There's quite a range, too. From Executive Single and Superior Luxury Double to Family Suites and Dog-Friendly Garden Deluxe (yes, kids and dogs are well-looked after at The Eastbury).
For guests who want a self-catering cottage-style short break, the Eastbury has another surprise up its well-tailored sleeve: Eastbury Cottage, an immaculate 17th-century pet-friendly cottage a few doors down from the hotel itself. Sleeping 6 in 3 bedrooms, the cottage is awash with rural charm, character and style.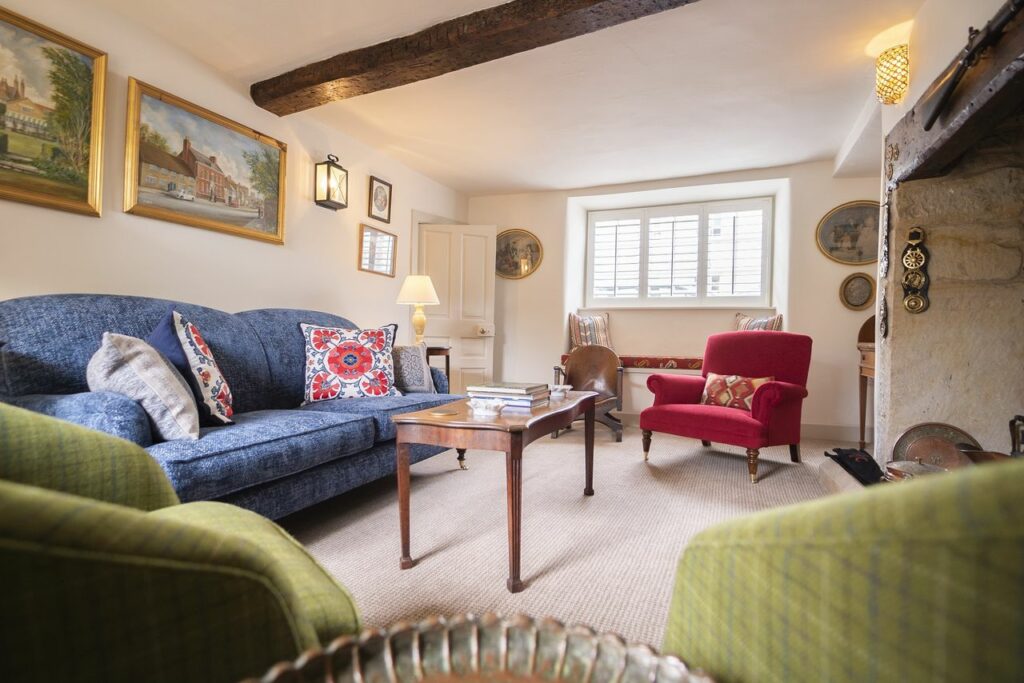 Our base was Sage, one of the five Victorian Potting Shed Suites offering real seclusion at the back of the hotel and accessed from the car park through a 'secret garden' style archway. On the surface, 'potting shed' could be misread as 'small and pokey'. But nothing could be further from the truth. Sage was an utter delight – and we inhaled with surprise when we unlocked the door.
Much larger IRL than the online pictures denote, the suite was light and airy with sun pouring in through the skylight and the tri-fold doors that run the length of the room, like a glass wall. It was full of chic botanical style, with vegetal prints hanging on the walls and potting plants dotting the patio and porch, to compliment the eco moss and sedum roofs that top all of the Victorian Potting Shed Suites.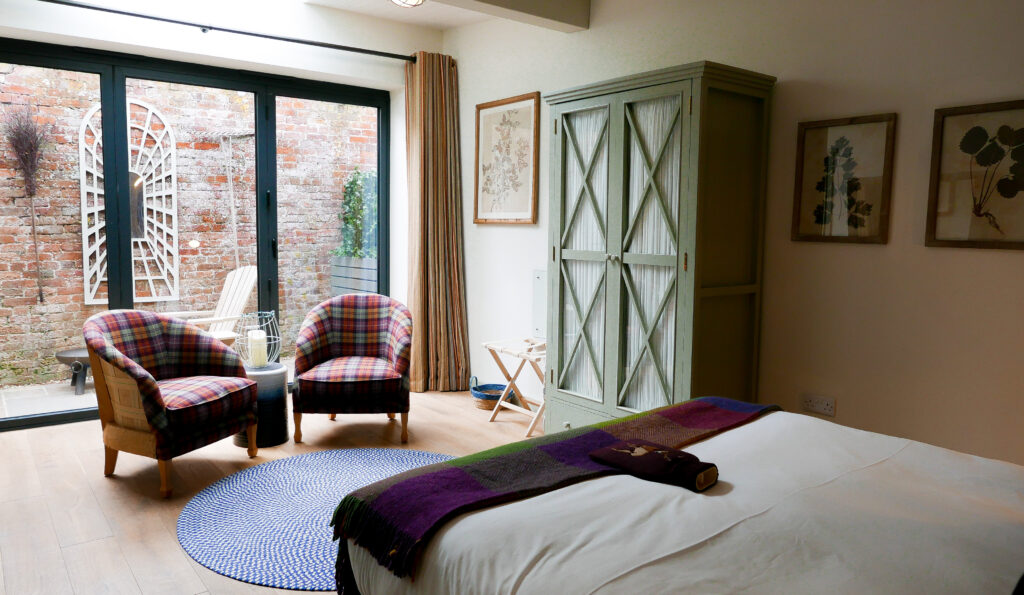 The attention to detail and thoughtful touches in Sage were second-to-none, also. From the welcome decanter of sloe gin on the dresser and the woollen hot water bottle on the bed, to the fire bowl on the private patio and complimentary fire logs for you to use. Even the smart TV was set up and playing Classical FM when I arrived, which may be a small touch but it does make a big difference to how welcomed you feel.
Added to the hotel's gold standard hospitality was the deeply comfy double bed, loaded with luxe pillows and bedding, where I slept like a log. The corner 'welcome station' complete with a Nespresso machine, Smeg kettle and fridge, and gorgeous Arthouse mugs. And a large, elegant wet room gleaming with high-end kit and stacked with soft fluffy towels and complimentary White Company toiletries.
---
Food at The Eastbury Hotel & Spa
Sleepy Sherborne feels miles way when you eat at Seasons, the hotel's fabulous 2-AA-rosette restaurant that comes with long views over the walled garden and croquet lawn. Head Chef Matthew Street is a local lad and one-time Masterchef: The Professionals finalist who's kept his talents firmly in the West Country – and we're all richer for it.
His inventive, accomplished menu is a masterclass in British fine dining, with dishes inspired by blending world flavours with traditional West Country tastes, and heavy with local ingredients and fresh herbs from the kitchen garden.
We took advantage of the competitively-priced seven-course tasting menu, but left the accompanying wine flight for more sophisticated diners. To say every dish was a joy sounds like an over-exaggeration, but – genuinely – it was.
There wasn't one culinary weak link in the chain served up by Matthew and his hard-working kitchen team; although we did find ourselves eating the butter with a spoon at one point confused by its plant-pot presentation. But that's our fault for being dim, not Matthew's.
Our high points were the truffled ricotta tortellini served in a porcini broth; the whipped goats cheese with a chilled beetroot soup; and the charred monkfish served with baby leeks, romesco, toasted almond, and leek oil.
Every dish came with added warmth thanks to the friendly waiting staff who took the time to introduce the course and answer our questions. And despite the fact we ate late, the team didn't make us feel rushed. We waddled to bed, heady with satisfaction and making promises to return soon with family and friends.
---
Don't think of The Eastbury Hotel & Spa as simply a base for a weekend in Sherborne. Think of it as the main event itself, because this hotel gives you plenty of good excuses not to venture beyond its front door.
For instance, walk around the one-acre walled garden and you'll spot plenty to keep you rooted: deckchairs for lazing, table tennis with bats and a ball, a badminton net, a giant chess set, and a croquet lawn – on a sunny day, you won't wish to be anywhere else. Head to the end of the garden and there's the fabulous garden spa waiting with its indoor hydrotherapy tub, sauna, steam cabin and range of treatments to soothe away any desire to leave.
Then you've the restaurant serving up lunches, afternoon teas and incredible dinners, as well as the outdoor dining pod that you can book for drinks or food or both. And let's not forget the indoor billiards room and resident's lounge when all you want to do is sit by the fire and read the paper.
Yes, thanks to the hotel's reinvention by Peter de Savary, and the brilliance of his hotel staff, The Eastbury Hotel & Spa is a 21st-century terminus. It's a place to make for when you wish to see the rest of Hardy's Dorset, but it's also a place to come to when you want to just sit back and let the best of Hardy's Dorset to come to you.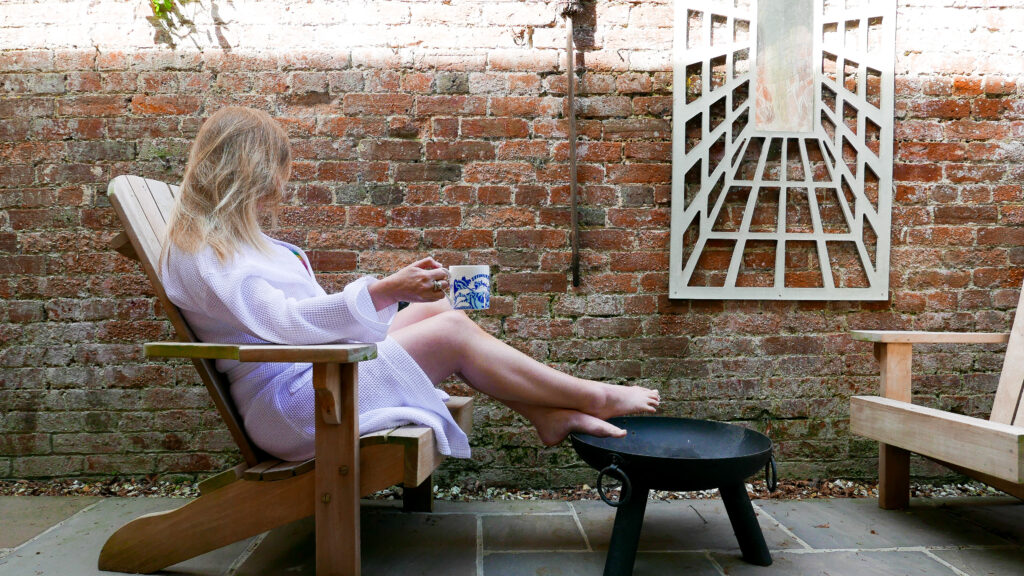 ---
---
26 rooms
Four poster beds and suites available
Children and dogs welcome
5 – 10 min walk to Sherborne train station
2 AA rosette restaurant serving home grown and local produce
Beautiful garden spa
Alfresco terrace
Perfectly placed to explore West Dorset and Somerset
Unique chef's table dining experience pod
Surrounded by the beautiful Dorset Countryside
Find The Eastbury Hotel & Spa
The Eastbury Hotel & Spa
Long Street
Sherborne
Dorset
DT9 3BY
Comments