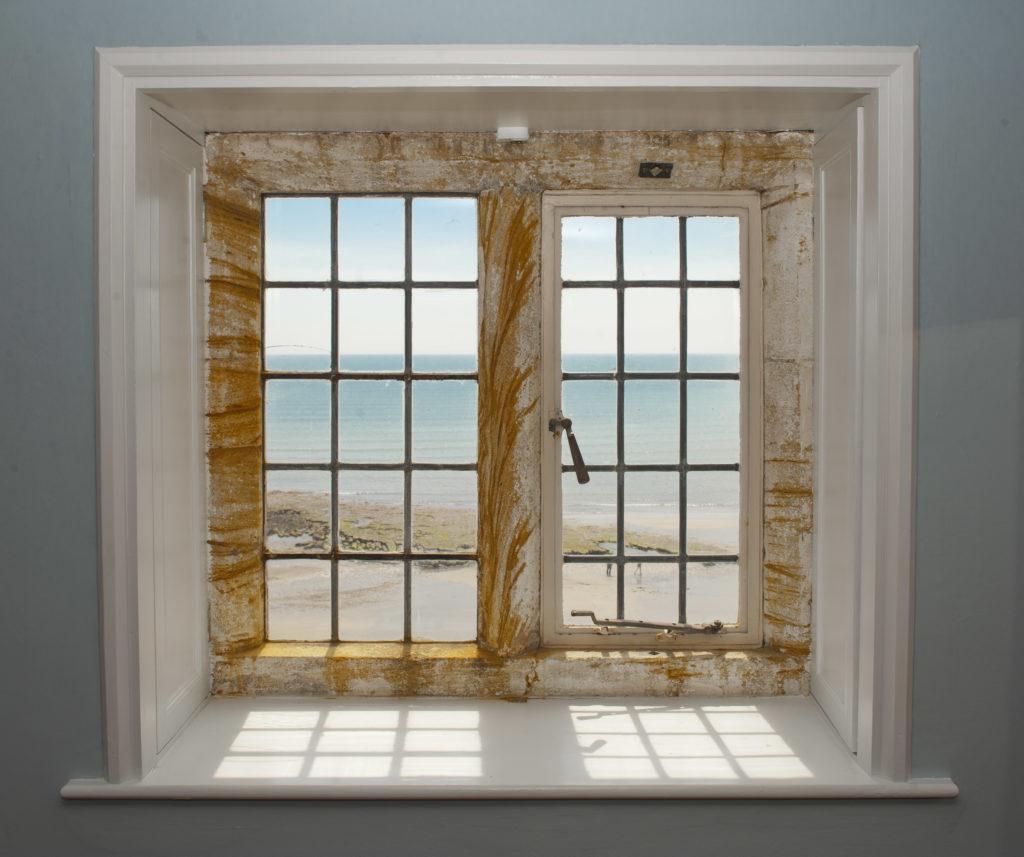 Accommodation in Lyme Regis comes in many shapes and sizes, from self-catering cottages to fancy-pants hotels and down-to-earth B&Bs.
To help you make your choice of where to stay, we've handpicked our top 6 places that will make a weekend break or week-long staycation special.
All of them have something unique to offer and are here because we wouldn't hesitate to lay down our hats in any one of them.
---
All places are independently selected by our editor. If you book something through the links on this page, we may earn an affiliate commission.
---
1. Sundial House, Marine Parade
Sleeps: 9 | On the Seafront | Family-friendly | No pets| Cost: From £600
If there is one property in Lyme Regis that always turns heads – and has done since the 1800s – it's the beautiful Sundial House on Marine Parade. Towering 4 storeys up over the surrounding houses, casting its striking honeycomb good looks out over the pebble beach that's a few simple steps away, Sundial House is a place where you will not only feel at home, but you'll feel like royalty.
Why so? Well, inside this big old house you've enough room and Farrow & Ball style for an illustrious entourage to stay: 5 bright, fresh double bedrooms. Two sizeable bathrooms. One enormous lounge and equally grand kitchen. Plus, three sets of huge bay windows that lay views of the stunning Jurassic coast at your feet. Best of all, it's all set behind a castle-like battlement wall and locked gate, giving you a sense of complete privacy and exclusivity despite the property sitting on the main Lyme Regis seafront.
Why we love it: Not only do people stop to take photos of Sundial House, but they come back specifically to the town to stay here. Such is the magnetism of this unique Lyme Regis accommodation.
We also love the ammonites set into the walls, in true Mary Anning fashion. And the fat, grinning sundial on the outside of the property that watches life sweep by.
Ad: This inclusion has been kindly sponsored by Sundial House.
---
2. The Little Seahouse, Monmouth Beach
Sleeps: 3 | By The Beach | Pet-friendly | Cost: From £439pw
Fancy drifting off to sleep with the sound of the waves breaking a few feet away? Of course you do! Well, The Little Sea House accommodation in Lyme Regis is right on the famous Monmouth Beach in Lyme (a shingle and sand beach known for its fossils and site of the Duke of Monmouth's landing in 1685).
This sweet and stylish coastal is open year-round and perfect for the two of you, a small family or BFFs. Inside, it's cosy and comfy, decorated with a modern beach vibe and dressed with all manner of homely touches to help you settle in.
Open the double doors and you'll find a new kitchen, shower room, 3-seater daybed and a mezzanine level with 3ft single bed, accessed by a fold-away loft ladder.
Why we love it: There's a private deck terrace with sweeping views across Lyme Bay made for sundowners, sunbathing and spectacular al fresco seafood suppers.
Pic Credits: The Little Seahouse
---
3. The Wainhouse, Uplyme
Sleeps: 6 | Tucked Away | Child-friendly | Dogs welcome | Cost: From £120 pn
Housed in what used to be the courtyard of an old dairy house, The Wainhouse is not like your traditional farmhouse accommodation in Lyme Regis. Instead, the owners have created a stunning eco-friendly getaway that has more in common with Scandinavia than Dorset.
This timber-framed, cedar-clad house, with its simple exposed plywood walls and a smooth poured resin floor, is effortlessly cool as it sits hidden away above the hamlet of Uplyme.
The inside is a vision: the open-plan ground-floor space floods with light from the clerestory windows in the evenings and from the sliding doors at the front in the mornings.
To get to Lyme Regis, simply follow a dappled woodland walk – alternatively, stay indoors snuggled around the log burning stove playing boardgames or reading books.
Why we love it: This place is such a refreshing break from traditional seaside accommodation options. It's an easy house with a laid-back vibe, making it a quiet spot to return to after a day at the beach.
Pic Credit: The Wainhouse
---
---
4. Greenhill House B&B, Somers Road
Sleeps: 6 | Hilltop Views | Three Guest Rooms, sleeping 2 | Cost: From £150 pn
When you want to withdraw from the beach buzz, check into Greenhill House B&B. Built in the 1930s, this beautiful country house has all the elegance of the inter-war years both inside and outside.
Outside, you can settle into 1930s' wicker sun loungers and get lost in the views from the house's spectacular setting on a west-facing slope overlooking Lyme Bay. Inside, the 1930s' elegance continues in the 3 bedrooms with king-sized beds, all with en-suites (one of which has a roll-top bath, the other a balcony with wonderful sea views).
The rest of the facilities are just as on-point: an elegant drawing room with baby grand piano, a cream-and-blue dining room with coastal views where breakfast is freshly served, and a sun-lit terrace where you can take afternoon tea with your pinky raised.
Why we love it: The immaculate rooms are something else: comfy and decadent with a bygone atmosphere that makes this place a cut above normal B&Bs.
Pic Credits: Greenhill House
---
5. Dorset House B&B, Pound Road
Sleeps: 10 | In The Heart of Lyme | Five Guest Rooms, sleeping 2 | Cost: From £115 pn
The beauty of Dorset House, a stunning Regency home in the heart of the town, is that it gives you the best of both worlds for a staycation, depending on your needs.
You see, for most of the year it operates as a luxury B&B, but for a few weeks every year the owners make the whole property available as luxury self-catering accommodation in Lyme Regis.
Stay in one room or take over the whole house, whatever you choose you won't regret your decision when you're in the lap of luxury. Original Georgian features give Dorset House character, from the varnished wooden flooring to the open fireplaces, whilst design-led interiors give it the 'wow' factor.
Why we love it: Dorset House is beautifully spacious (with five en-suite bedrooms, a huge kitchen and dining room plus plenty of living space) and its sleek interiors look like they've walked off the pages of an interiors' magazine.
Pic Credits: Dorset House
---
6. Quarryman's cottage
 Sleeps: 2 | Adults Only | Dogs Welcome | Cost: From £125 pn
There's an 'upside down' house waiting for you in a private patch of Dorset, some 600 feet above sea level. Not strictly accommodation in Lyme Regis (more accommodation just outside of Lyme Regis – but you'll forgive us when you see it), Quarryman's Cottage is a stunning, newly-renovated one-bedroom cottage with incredible views of Lyme Bay and Charmouth.
Upstairs you'll find the open-plan living and kitchen, with a large roof terrace just outside the French doors. Whilst downstairs you'll find the bedroom and large luxury en-suite bathroom.
And throughout, you'll find a carefully chosen furnishings and design, a mix of old and new, including a beautiful oak and steal spiral staircase from Italy.
Why we love it: This is a perfect romantic retreat where you can either isolate together hidden amongst the hills of Morcombelake or use as a base for exploring the area and heading into Lyme Regis at your own pace.
Pic Credits: West Bullen
---