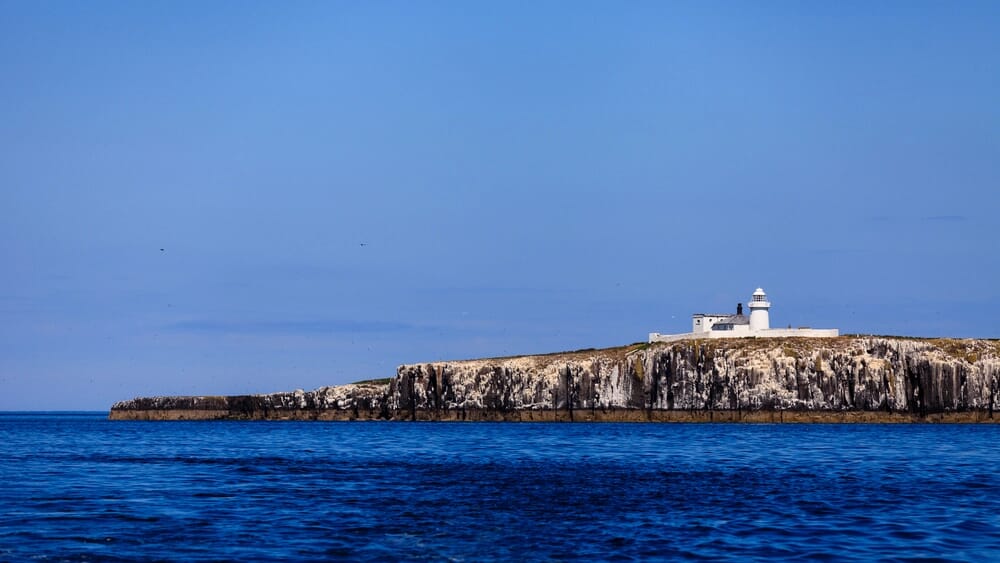 Setting sail to see the puffins, seals and dolphins that inhabit the Farne Islands is an absolutely must-do on your weekend trip to Northumberland. But don't just take our word for it.
Sir David Attenborough declared the Farne Islands his favourite place in the UK to see nature and every year thousands of people hop aboard a Farne Islands boat trip to get up-close with the wildlife that lives there. 
---
---
Lying a couple of miles off the coast of Seahouses in Northumberland, the scattering of islands are a National Trust-owned archipelago in the North Sea. They are 28 islands in total, split into two distinctive camps – the inner islands and outer islands.
The main inner islands include Inner Farne (which was home to St Cuthbert who lived there in solitude), Knoxes Reef, Megstone and West and East Wideopens. The outer group includes Brownsman, Big Harcar and Staple Island, amongst others. And the two groups of islands are separated by a long stretch of water known as Staple Sound.
Various boat trips take you to the islands from the harbour at Seahouses during March – October, offering a range of excursions for all ages. Here we look all the Farne Islands boat trips on offer so you can decide which one to book for an unforgettable weekend of wildlife watching
---
Seahouses – The Gateway to the Farnes
Seahouses is a coastal town that lies about 15 miles North-East of Alnwick. Sandwiched between dramatic Bamburgh and tranquil Beadnell, Seahouses has pragmatic fishing port roots, but shares the heady aspirations of a bustling seaside resort.
Take a wander around the town, and you will find a selection of shops, along with restaurants, pubs and takeaways (so you certainly won't go hungry or thirsty). You can also take it easy on Seahouse's Beach, with its undulating dunes and spectacular views.
The town is also known as The Gateway to the Farne Islands and it's here in the harbour that the Farne Islands boat trips sail from.
Constructed in 1889 in a bid to enhance the local lime and fishing industries, the harbour (also known as North Sunderland Harbour) is still considered the beating heart of the town. It has a long and celebrated history and is a bustling port. There's less in the way of commercial fishing nowadays, but there's no shortage of boats and Farne Islands boat trips.
Head down to the harbour and book your trip at one of the little wooden kiosks that line up next to one another.
Pic Credit: Seahouses Development Trust
---
The Wildlife on the Farne Islands
Of the 28 islands, only three are accessible – Inner Farne, Staple and Longstone. In the past, the islands have played host to all sorts of residents, from soldiers to monks, but nowadays the only permanent island dwellers are the National Trust assistant rangers.
There might be a distinct lack of people, but there's no shortage of wildlife. The Farne Islands are a haven for our feathered friends. Look up, and black-headed gulls whip and turn above you like a kitesurfer's sail. Look down, and Eider ducks slide past self-consciously in the flat harbour waters, chests blushed with pink and tails dipped in green.
In fact, the Farne Islands are home to around 23 different species of birds, including puffins, terns, razorbills and guillemots.
The Farne Islands also provide a home for massive seal colonies and on a Farne Islands boat trip you're sure to see the grey seals (known as Atlantic Seals) lazing on the rocks or bobbing in the cool waters, curiously near your boat.
There are thousands living here, and every autumn hundreds of pups are born, bolstering the numbers further. The National Trust keep a close eye on the population, counting the seals every year.
---
---
Billy Sheil Farne Islands Boat Trips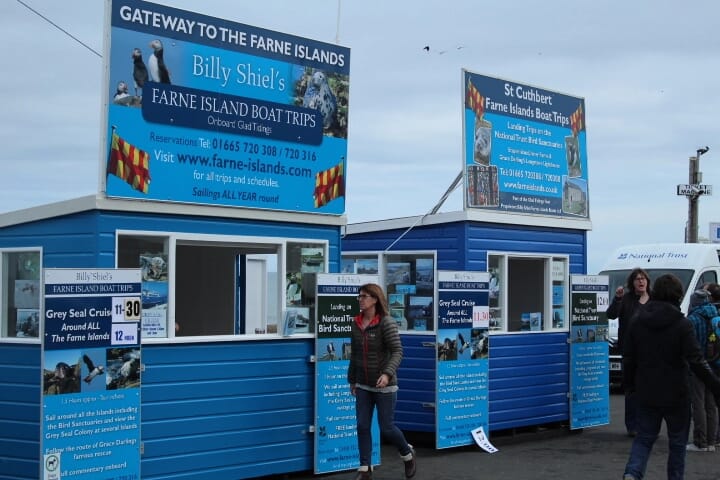 As Farne Islands boat trips go, this one is almost as legendary as the islands themselves. Billy Sheil's Boat Trips is a family-run firm with a long-standing reputation. Bobbing people out to the islands for over six decades, the company was managed by William Shiels MBE until his death in 2011.
The boat trip booking office is right by Seahouses harbour, and there are plenty of trips to choose from. This includes the Sunset Cruise, which involves a relaxing voyage around the Farne islands, enabling you to get a great view of the varied birdlife and seals. You can watch the sun set over Bamburgh Castle, and if you're lucky, you might even see a dolphin or two.
Alternatively, you can take a four and a half hour trip departing from Seahouses and sailing around the Farne Islands to view the birds and seals. The trip takes you to Holy Island (you reach the Island at high tide, just as it becomes cut off from the mainland), which allows you to find out the true meaning of island dwelling.
You'll spend two hours at Holy Island/Lindisfarne, providing ample time to discover its rich history. There's the Priory Museum, Lindisfarne Castle, St Aidan's Winery and the Museum of Island Life. Sight-seeing is thirsty work, but luckily the Island also boasts shops, pubs and cafes. The return journey allows for more sightseeing and you must keep an eye out for dolphins!
Billy Sheil also run other excursions, including one to Staple Island Bird Sanctuary, another to Inner Farne and a Grey Seal Cruise, as well as trips aboard a twelve seater boat known as the Ocean Explorer. Expect an exhilarating (but faster and bumpier ride). Dive charters, and private hire charters are also available from Billy Shiel. Dogs are allowed to accompany you on the boat trips (but not onto the islands).
The Nautical Nitty Gritty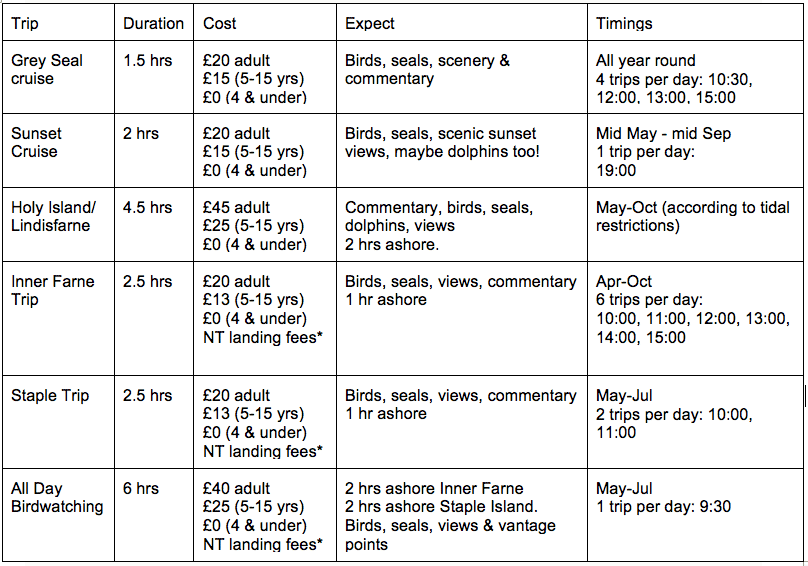 ---
Serenity Farne Islands Boat Trips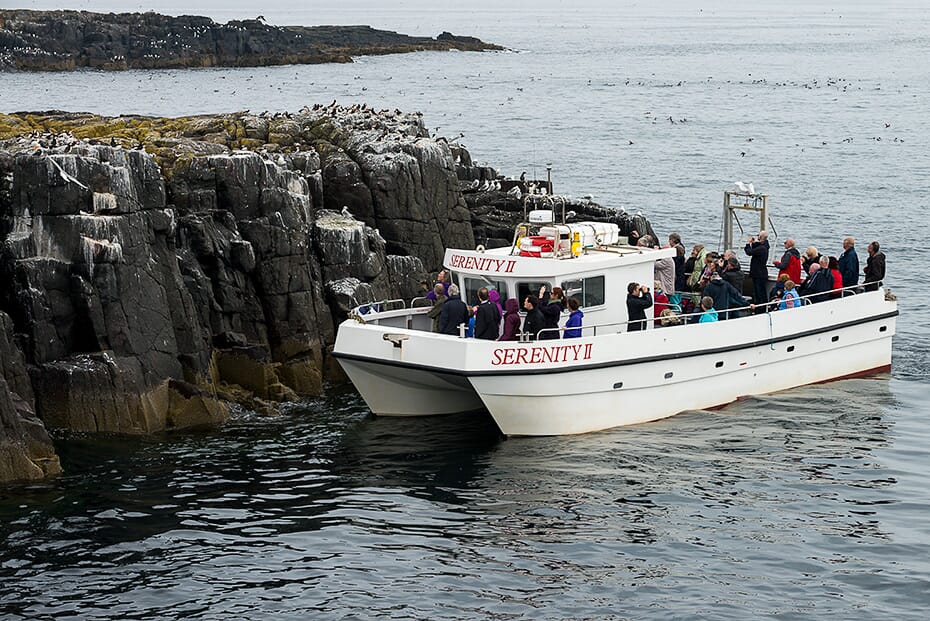 Serenity Farne Island Boat Trips offers three modern and well-equipped catamarans – Serenity I, II and III. All have been purpose-built, the decks are all one level so its easy to walk around, and there are wildlife guides on hand to answer all your questions and needs.
Serenity offer all-year-round tours of the Farne Islands and all kinds of excursions, from landings on the islands so you can explore on foot, to trips designed with photographic opportunities in mind. There are also whale-watching trips on offer, too, along with sunset cruises and wildlife photography trips.
You could head to the Inner Farne with Serenity Farne Islands Boat Trips and take photographs of the wildlife (the particular tour takes around two and a half hours, with around an hour on Inner Farne).
Alternatively, you could visit Staple Island and take in the dramatic views of the Northumberland coastline. On both trips, you will see a wide range of seabirds including guillemots, razorbills and puffins. You can even combine the two with an all-day bird trip.
Pic credit: Serenity Farne Islands Boat Trips
The Nautical Nitty Gritty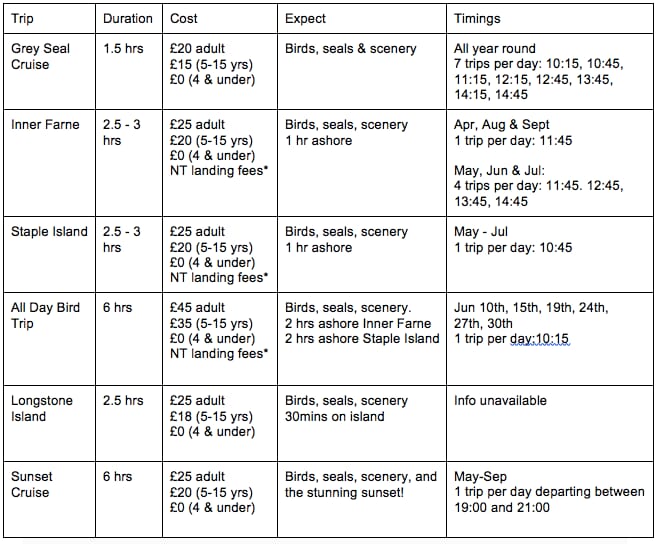 ---
Golden Gate Farne Islands Boat Trips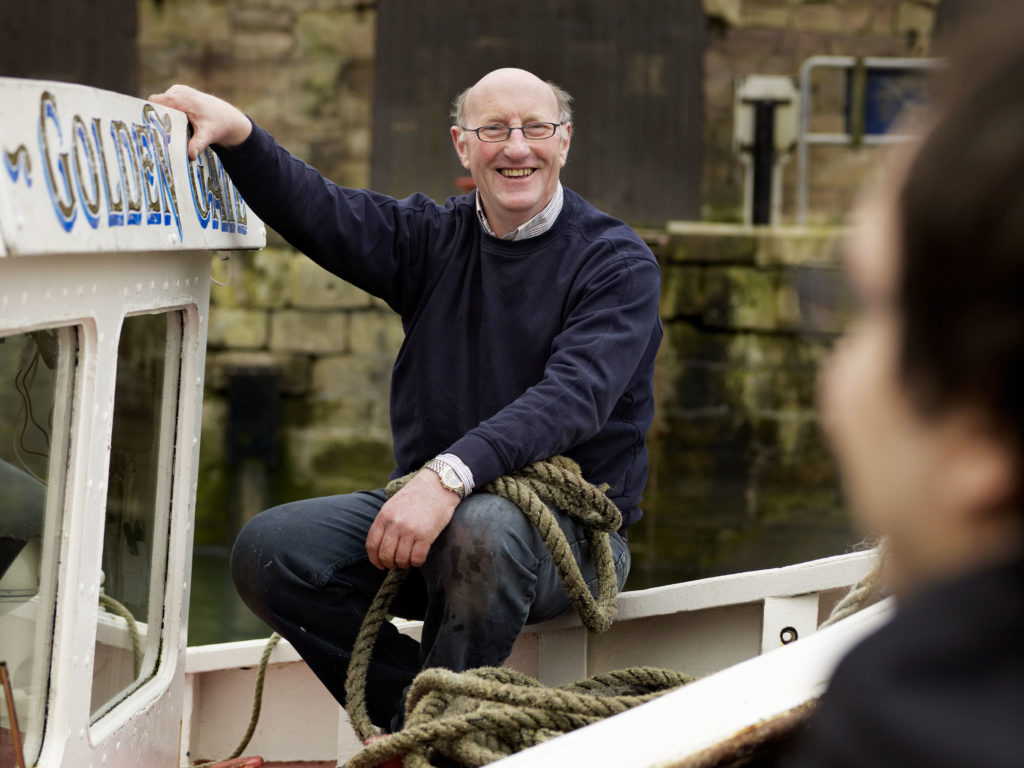 If you're interested in learning more about Grace Darling, then a trip aboard Golden Gate Boat Tours is for you.
Golden Gate offer the only boat trip to visit Grace Darling's home in the Longstone Lighthouse, thanks to their skipper, George, who is the Trinity House lighthouse keeper – and, indeed, the only skipper licensed to land on the island of Longstone itself.
As well as a trip to Longstone Island (and tour of the lighthouse which is free), you can visit the bird sanctuaries on Inner Farne and Staple Islandswith Golden Gate Boat Tours.
There's no additional landing fee to pay if you land on Longstone Island, and the views from the lighthouse itself are nothing short of spectacular. Golden Gate Farne Island Boat Trips also offer sunset cruises to Longstone Island and Lighthouse, and guests can book a private charter for more intimate events.
Pic Credit: Visit Nothumberland
The Nautical Nitty Gritty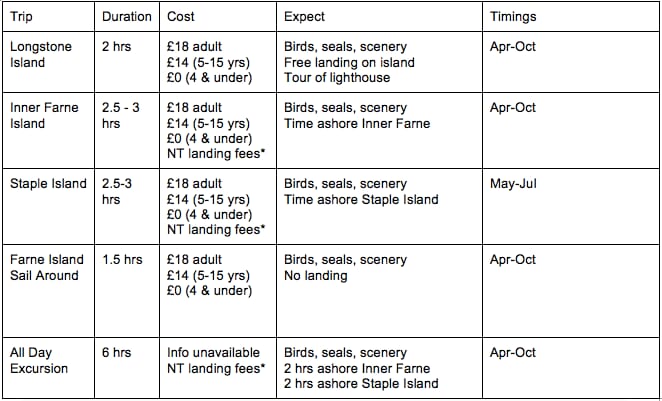 ---
St. Cuthbert Farne Island Boat Trips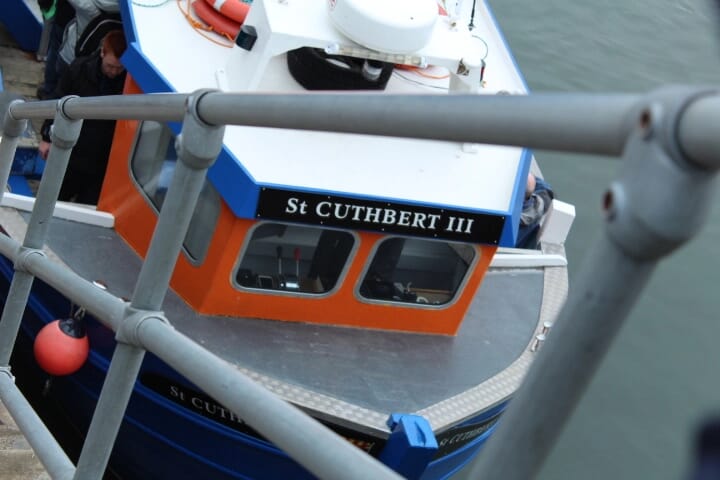 Operating trips to the Farne Islands since 1974, St. Cuthbert Farne Island Boat Trips have run four boats in total over the years. At the moment, they have two on the go: St. Cuthbert II and St Cuthbert III offering trips to both Inner Farne and Staple Island.
Inner Farne was the home of Saint Aidan and, latterly, Saint Cuthbert who lived and died on the island in 687 AD. There is a church on Inner Farne, which is thought to have been built around 1400 on the site where Saint Cuthbert lived the life of a hermit.
Staple Island is the main bird sanctuary for people who want to see guillemots, razorbills and puffins. Staple Island's cliff faces afford fantastic views of the birds in their natural habitat and is an excellent site for nature photographers, but as one of the most exposed rocks, landing may not always be possible and are at the discretion of the skipper.
St. Cuthbert's Farne Islands boat trips normally take around two and a half hours, and guests typically enjoy an hour on land. As the islands are owned by the National Trust, there is a landing fee to pay on arrival, but it's worth it to enjoy the bird sanctuaries.
They also offer an excursion to Longstone Island. There's no landing fee for this one and no bird sanctuary, but it's a nice place for a stroll, or sit on the beach and enjoy a picnic.
Trips to Longstone Island normally last about 2 hours including 20-30 minutes on the Island.
The Nautical Nitty Gritty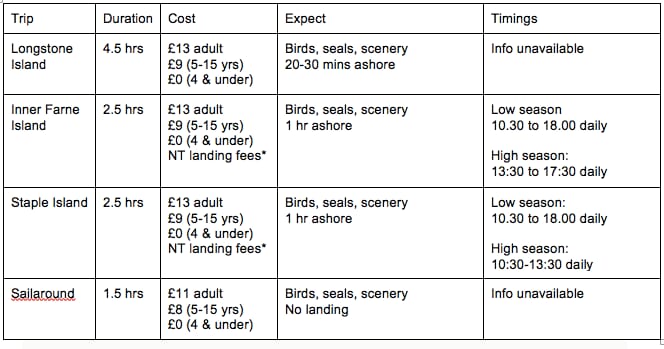 ---
National Trust Farne Island Landing Fees 2020 – 2021: 30th Mar to 30th Apr & 1st Aug to 3rd Nov – Adult: £7.70 Child: £ 3.90 Family: £19.30 | May, Jun & Jul – Adult: £11.60 Child: £5.80 Family £29.00 (Free landing to under 5s & N.T. members).
---
---
Comments