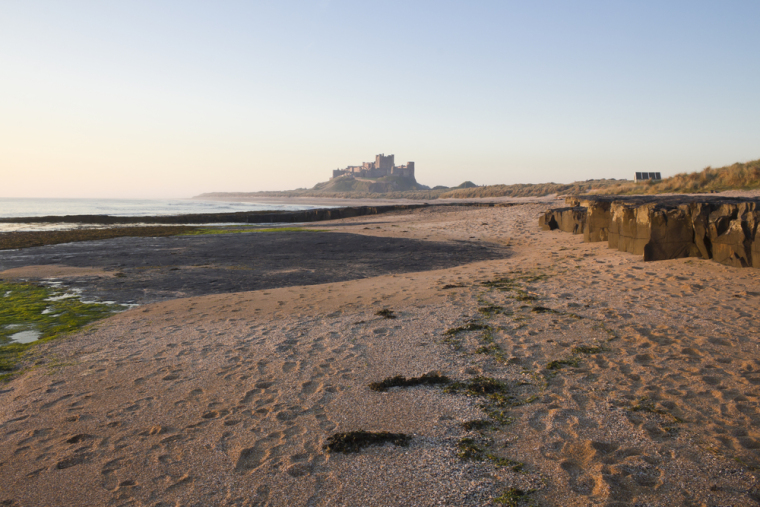 Alongside its beautiful must-see romantic castles, Northumberland is home to more than 30 miles of the most beautiful beaches in the British Isles – almost all of them are dog-friendly.
From hulking curved slices of sand and rock, to sheltered coves of folding dunes and dancing grasses, Northumberland's beaches have enough to keep you entertained for a weekend or longer. But whichever Northumberland beach you choose, be warned: keep your heart guarded at all times. For if you don't, it'll be lost amongst the wild sands, and you will never want to return home.
Best Beaches in
Northumberland for Families
1. Seahouses Beach
Bubbling with families during the summer, Seahouses Beach is popular thanks to the town on its doorstep – idea if you've toddlers who need feeding or need the loo.
The town lies on the Northumberland coast approximately mid-way between Bamburgh Castle and Beadnell with stunning views of the Farne Islands in the distance.
The beach itself is a gently sloping, sandy beach stretching north of the harbour backed by low, grassy dunes and rocky outcrops. Sit on the rocks eating fish and chips or, if you fancy a walk, you can trot up the coast to Bamburgh before heading back to enjoy a barbecue as the sun goes down.
Postcode

:
NE68 7SU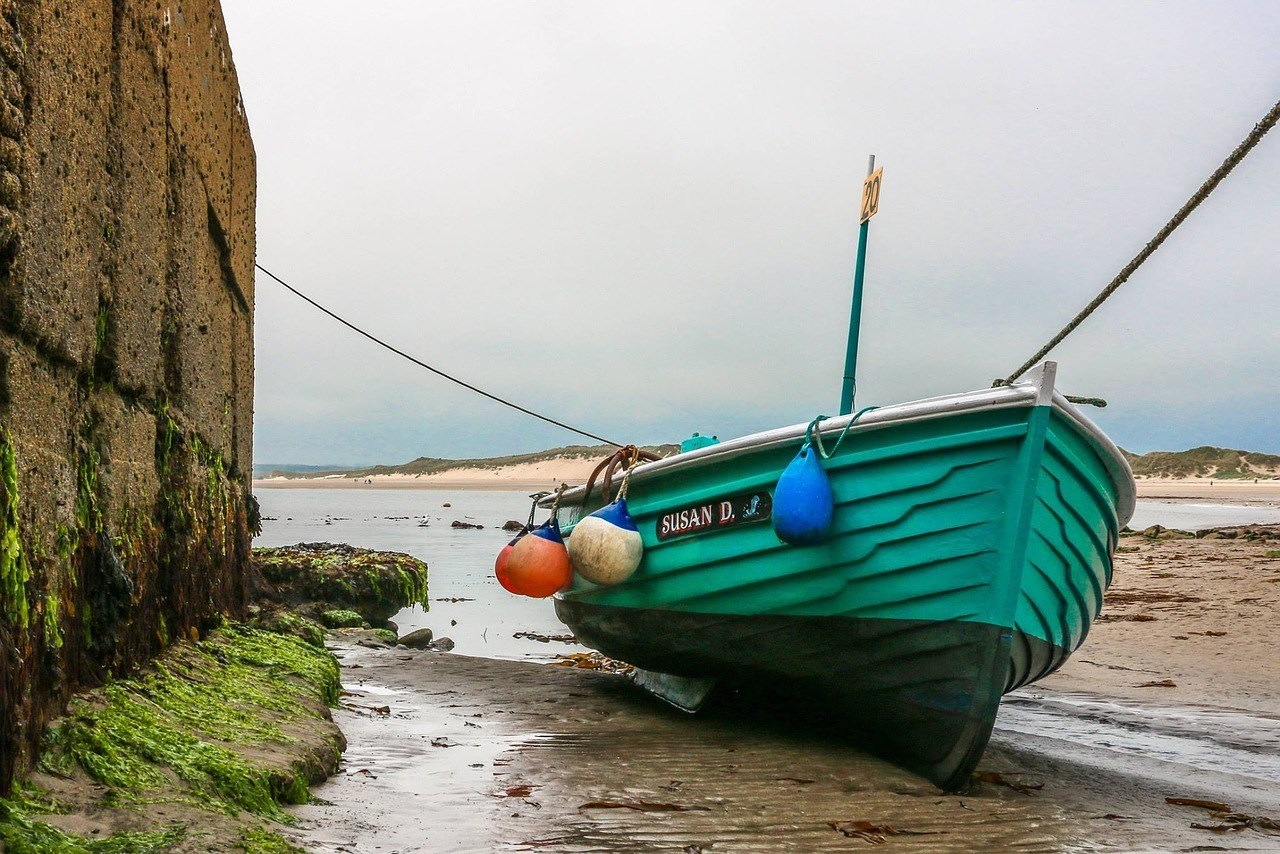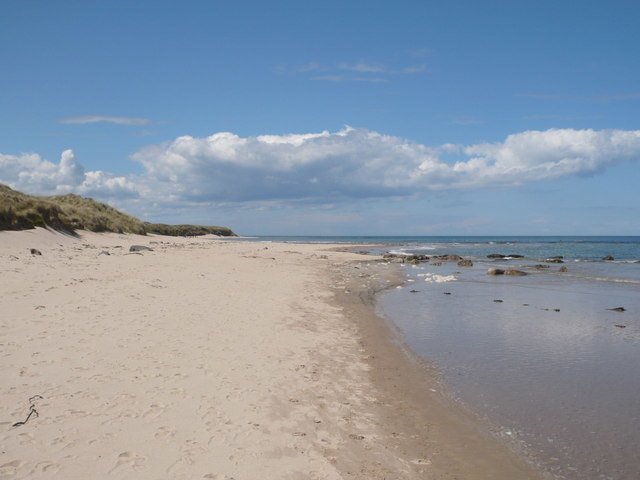 2. Craster Beach
More a stretch of rocky coastline than a place to build sandcastles, Craster beach is nonetheless a great spot for families to explore.
Park behind the Tourist Office and set off rock pooling, collecting shells and stones, and wildlife spotting along the coastline.
Look out for seals, eider ducks and a variety of other wading birds – dolphins have been known to play in the waters just off Craster.
As well as the beach, the small harbour of Craster itself is worth a detour. Make sure you try Craster's smoked kippers whilst you're there – the village is famous for them.
Postcode: NE66 3TR
3. Warwork Beach
Just a short walk from Warworth village is a lovely sandy beach that stretches for over 5 miles from the southern side of Alnmouth Estuary to the north, right down to the northern side of the Coquet Estuary at Amble.
Fringed with huge sand dunes, which are great for kids and dogs to explore, it also has plenty of rock pools, it is also home to the Northside surf school offering lessons every day of the year for all abilities.
If a dip in the sea takes your fancy, the water quality is good and the beach slopes gently with no hidden shelves or drops.
Postcode: NE65 0SW
Best Beaches in
Northumberland for Adventure
1. Beadnell Bay
With the only west-facing harbour on the east coast of England, Beadnell Bay is the place to come for thrills a-plenty.
This breeze-filled bay, which arches protectively up from the tip of Dunstanborough Castle to Beadnell's unusual harbour and its two historic limekilns, is a mecca for surfers, windsurfers and wakeboarders.
In the town, there is a sailing club as well as shops where you can buy or rent water sports equipment. Snorkelling and scuba diving is also popular here too with some excellent wrecks to explore off shore.
Postcode: NE67 5BN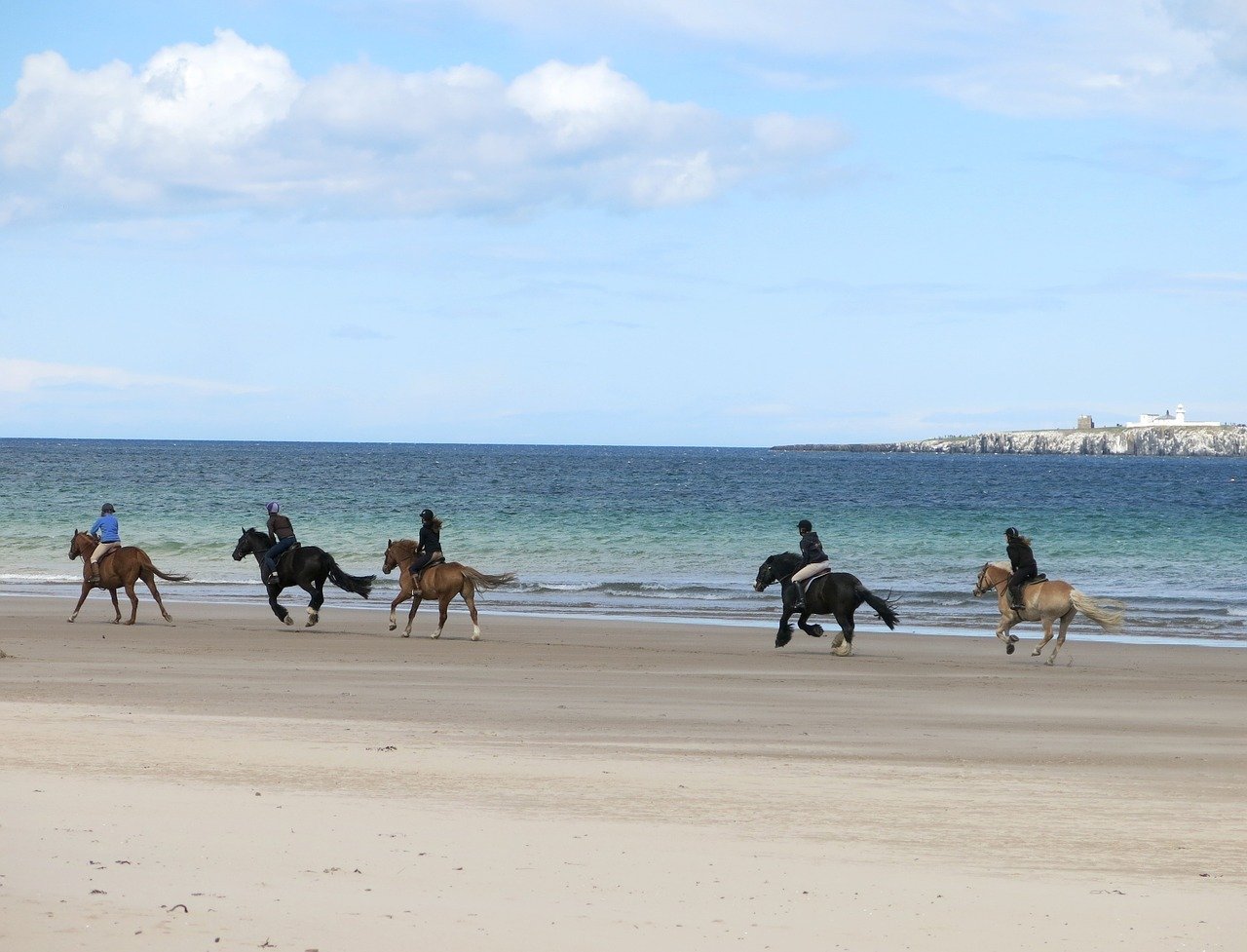 Need a place to stay in Northumberland?
2. Alnmouth Beach
Another mighty beach awaits you at Alnmouth. It's easily accessible with a car park right on the sea front as well as a golf course running the length of the beach.
If golf isn't your thing, the beach offers plenty more opportunities to get active. During winter runners and dog-walkers pace its vast sands soaking in the quiet atmosphere.
It's also becoming increasingly popular with surfers and kitesurfers. Sea fishing is another popular activity, as is horse-riding.
Postcode: NE66 2RW
3. Amble Links Beach
Amble is commonly known as the friendliest port in the North of England and is well-appointed for adventure. South of town, you'll find a mostly sandy beach, with some shingle and rocks, known as Amble Links Beach.
The Coquet Shorebase Trust is based in Amble, providing watersports training and courses powerboats, canoeing and kayaking for anyone that is interested.
Bird-lovers are well catered for too: Amble Links beach looks out onto Coquet Island, home to a large colony of puffins.
Although you can't land on the island, you can get a boat trip out to see it.
Postcode: NE65 OJT
Best Beaches in
Northumberland for Peace and Quiet
1. Lindisfarne's Beaches
Cut off from the world twice a day as the thumping North Sea rolls in, Lindisfarne (also known as Holy Island) has a shoreline of haunting solitude. Although this tidal island is known mostly for its medieval religious heritage, it is also home to these unspoiled beaches where you can sense the ghosts of centuries passing by:
The Links Beach – a heart-thumping sweep of gold flats where, on a clear day, you can see all the way to the cliffs on the Scottish border. Coves Haven – a cosy quiet, remote nest of a beach, backed by high sand dunes. Keel Head – a secluded scoop of sand overlooked by the white navigation tower of Emmanuel Head. Harbour Beach – dotted with pebbles and boats, and probably the beach visitors see the most on their way to Lindisfarne Castle.
Postcode: TD15 2SF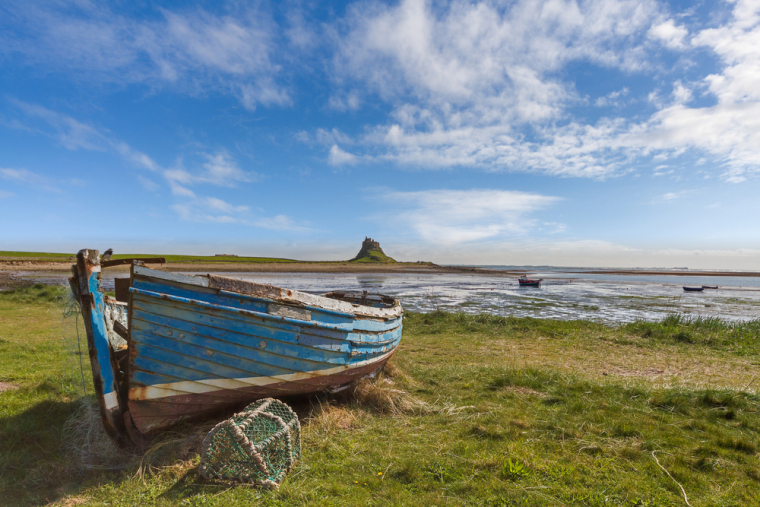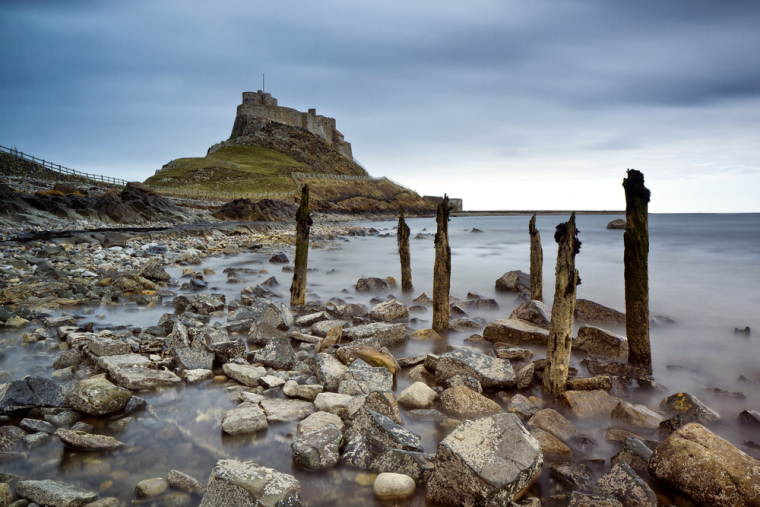 2. Ross Back Sands
One of the reasons Ross Back Beach is so deserted is thanks to the 1.5 mile walk you have to do, through a nature reserve, to get to its golden sands.
It's worth the effort though: 3 miles of unspoilt dunes and beach awaits you, bringing with it utter solitude – even on a Bank Holiday.
The isolation of this Northumberland beach does make it a popular spot with naturists – you have been warned!
To get to the beach, park your car at Ross Farm, follow the road on foot past the farm buildings and cottage, then head along the path through the fields, until you cross the dunes to the beach. 
3. Low Newton Beach
Consider to be one of the most attractive villages in Northumberland, Low Newton has as an open-ended square of beautiful cream-washed cottages looking out onto the glorious sandy beach. 
The village is almost completely National Trust owned and is home to The Ship Inn where you can sample some seafood delights before enjoy the peace of one of Northumberland's best beaches.
The beach is so vast, that even if the car park is full you'll feel as if its yours and yours alone.  
Postcode: NE65 3EW
Best Beaches in
Northumberland for Wildlife Spotting
1. Embleton Bay
Embleton Bay is a majestically wide sandy beach that stretches for miles into the distance, watched over by the ruins of Dunstanburgh Castle.
In 2017 it was voted Best Beach in the UK by BBC's Countryfile Magazine. As well as its natural beauty, wildlife is abundant here.
The Bay's nearby cliffs are a breeding site for seabirds, the dunes are home to all manner of flora and the local wildlife haven, Newton Pond, is located 80 metres behind Embleton Bay's huge sand dunes. 
Postcode: NE66 3XQ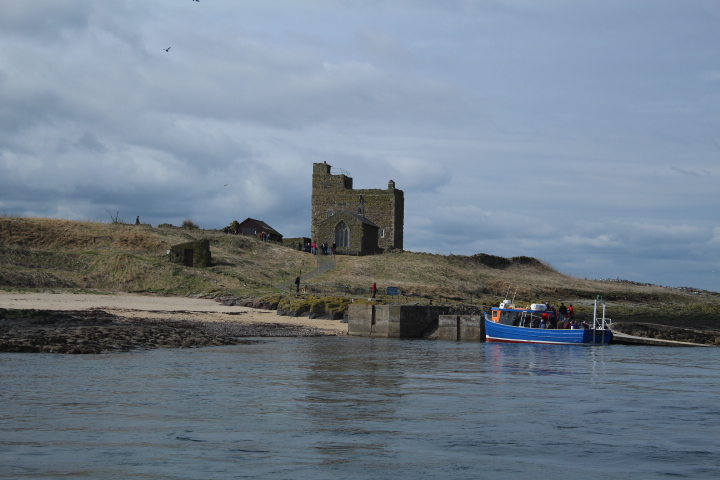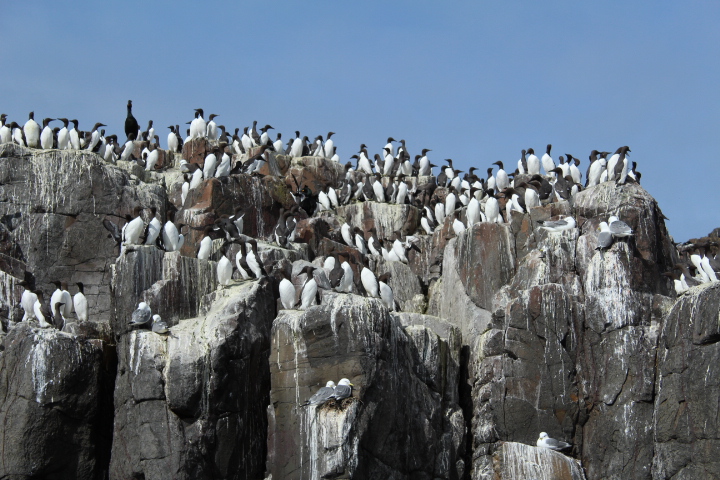 2. Druridge Bay Country Park
Reach the stunning 7-mile stretch of sand dunes and beaches of Druridge Bay, via Druridge Bay Country Park.
The park is home to a series of nature reserves where its residents include a herd of swans to rare birds like the Golden Eye Snipe.
It also features woodlands, a 100-acre lake and meadow. There is a visitor centre with toilets, a café, shop and children's play area.
Postcode: NE61 5EG
3. Newbiggin-by-the-Sea
This small seaside town in south-east Northumberland is famous for its revamped beach, which eroded badly during recent decades.
Today birdwatchers flock to the town to watch the spring and autumn migration of North Sea seabirds. 
Postcode: NE64 6PD
Best Beaches in
Northumberland for Long Walks
1. Cheswick Sands
One of the biggest beaches on the Northumberland coast, Cheswick Sands is a vast space of sand, black basalt rock-pools and dunes stretching as far as the eye can see.
For walkers it's perfect: not only do you have to walk to reach the beach, but there are then several miles of honeyed sands to explore. 
On a clear day you can see past Berwick-Upon-Tweed to the Scottish Border.  
Postcode: TD15 2RW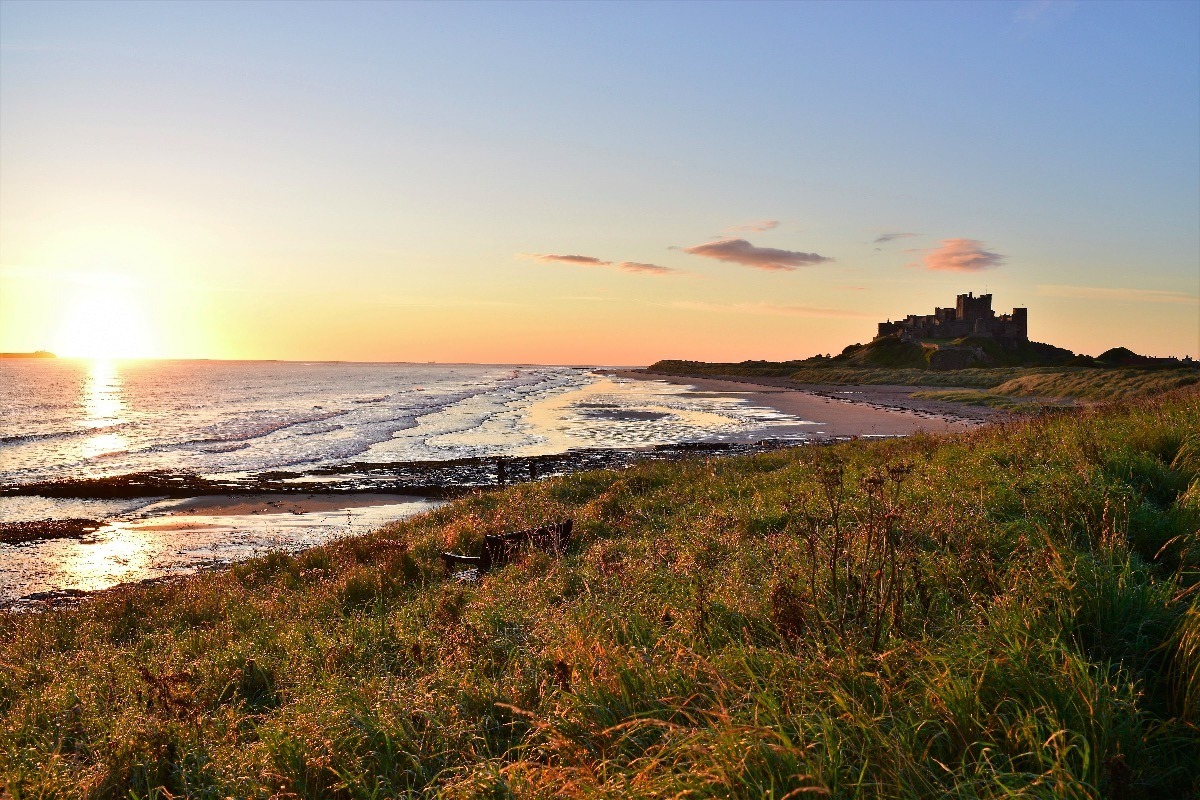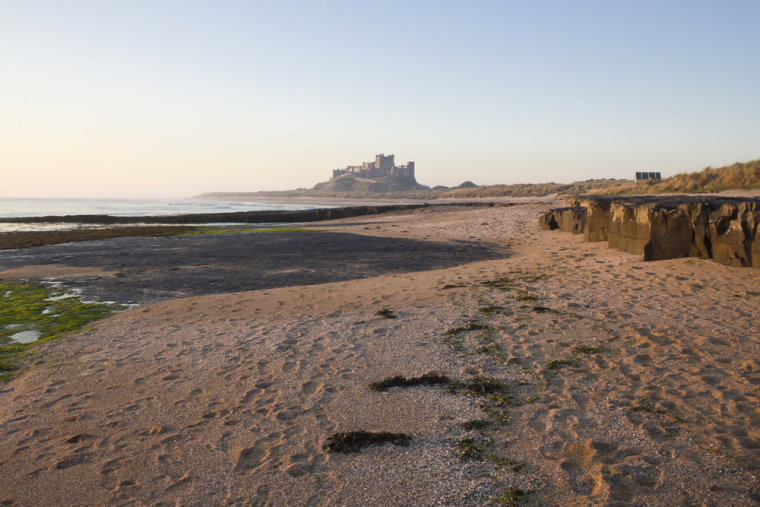 2. Bamburgh Castle Beach
Bamburgh Beach's heart-thumping size knocks the breath from your lungs as you come on to it from amongst the grassy dunes that keep it hidden.
A magnificent spread of honeyed sands, packed hard and flat by ferocious North Sea winds, it runs and runs until the sands turn into a thick smattering of rock pools at its far end, ideal for kids. And all the time it's watched by the majestic Bamburgh Castle.
Naturally, there are many walks you can do, including a walk along the beach to Stags Rocks, so named because of the white stag painted on the rocks. You can also follow trails that give you the best views of Bamburgh Castle and let you explore the town of Bamburgh itself.
Postcode: NE69 7DF
3. Cresswell Beach
Cresswell Beach is also the starting point for the 62-mile Northumberland Coastal Path, a long-distance footpath, that ends at Berwick-upon-Tweed.
If you don't fancy taking on the entire might of the coastal walk, then instead explore Cresswell Bay's flat sands: at low tide, the sandy beach is vast and rocks are revealed at the shoreline.
Postcode: NE61 5LA
Comments