Lyme Regis, on the historic and beautiful Jurassic Coast in Dorset, has four wonderful, clean and large beaches for families, dog-lovers and sunshine seekers. Most are pebble beaches (with one main sandy beach) but that's no reason to be put off. Each beach in Lyme Regis boasts individual charms and all of them, collectively, come with plenty of things to do for adults and kids alike for a sunshine-filled weekend.
As well as swimming, sunbathing or taking a boat trip around Lyme Bay, head to Lyme's coast and you can also try a little beach yoga or spend the afternoon hunting for fossils, just like famous local Mary Anning did back in the 1800s. In fact, Lyme Regis is home to some of the best fossil hunting in the world, primarily on the famous Ammonite Pavement, which you reach via Monmouth Beach – and is a must-see in Lyme Regis for all budding palaeontologists.
Elsewhere in Lyme Regis, you'll find a sandy beach perfect for paddling and sandcastles, a quiet pebble beach away from the crowds, and three dog-friendly Lyme Regis beaches you can walk your pet all-year round. Let's dive in!
---
Front Beach, Marine Parade, DT7 3JE
Sandy beach | Great for families and swimming | Dog Friendly Nov-March | Accessible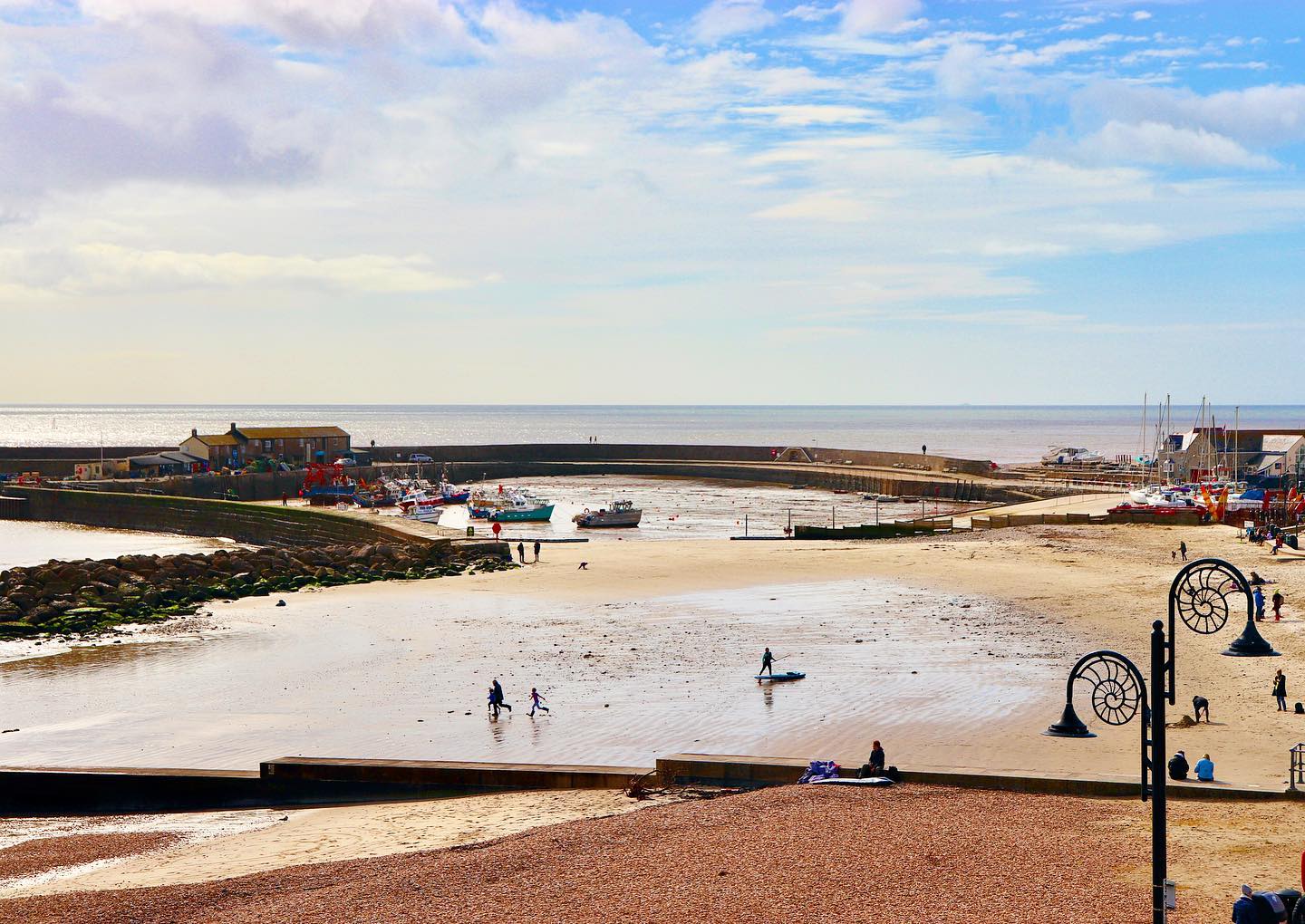 Front Beach is the main beach in Lyme Regis and adjacent to the promenade, the famous Cobb harbour and the South West Coast Path.
Because it is the town's only sandy beach it can get very popular in summer, but is great for families as it is safe to swim and paddle, with lifeguards patrolling the beach during peak season.
Next to the beach on Cart Road there is a long flat promenade suitable for pushchairs and wheelchairs, making it accessible. Beach matting allows wheelchair access to the beach and there are two beach wheelchairs and one floating wheelchair which can be hired for free in advance from the local council.
Colourful beach huts which dot along the pretty promenade can be hired at Front Beach from £55 a day.
Toilets, shops and all-day cafes and restaurants, such as Swim on the beachfront, can be found along the promenade, as can an array of pubs and beachside kiosks serving ice creams and fish and chips.
Parking is available nearby. Dogs are allowed on the beach on a lead from 1 November to 31 March. From April 1 to October 31 is it not dog-friendly.
Pic Credit: Jurassic Properties
Lyme Regis Front Beach on the map:
---
Monmouth Beach, DT7 3DH
Pebble beach | Great for fossil hunting | Dog-friendly year round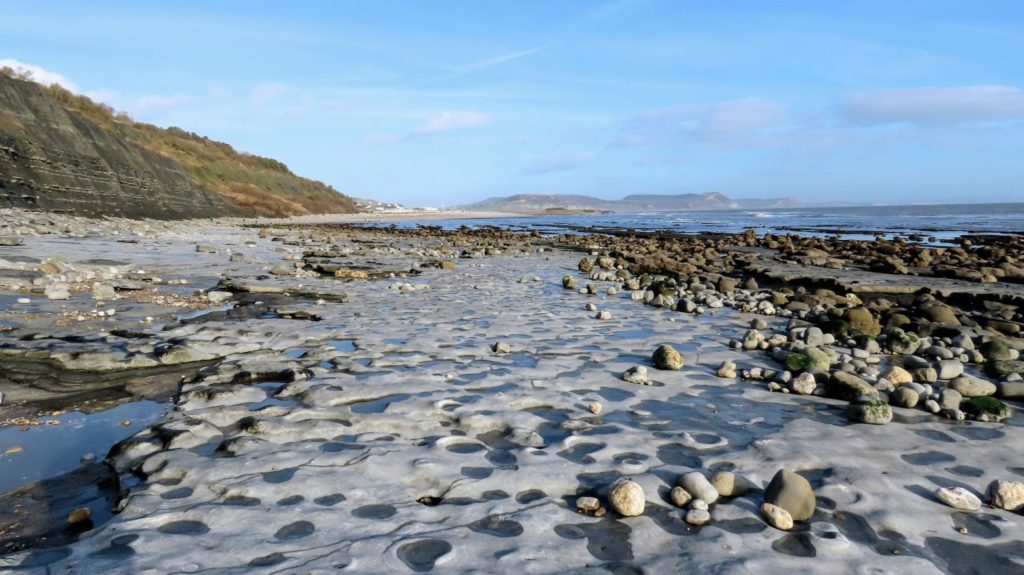 Beyond Lyme's famous harbour wall, The Cobb, you'll find Monmouth Beach: a sweeping pebble beach and one of the best places on the Jurassic Coast for fossil hunting.
Monmouth Beach tends to be a lot quieter than Front Beach in Lyme Regis, especially during the summer months. Although the pebbles can be hard underfoot, persevere. At the western end of Monmouth Beach, heading towards Seven Rock Point and Pinhay Bay, you'll find the Ammonite Pavement – a spectacular graveyard of fossils.
Here, embedded into the limestone ledge are the visible remains of thousands of ammonites, an extinct group of marine molluscs that that lived millions of years ago when the UK was covered by tropical seas. It's easy to lose hours here fossil-hunting, regardless of the weather, and there's a good chance you'll get lucky and bag yourself a fossil to take home.
There are no toilets or cafes once you start walking, so make sure you get refreshments beforehand. However, you can book chalets and beach huts. Parking is also available.
Monmouth Beach is the access point for the Undercliffs National Nature Reserve and the South West Coast Path towards Axmouth in Devon.
Be sure to check the tide times before setting out as the beach can get cut off at high tide. It's the perfect place for a dog walk, as dogs are welcome here off leads all-year round.
Lyme Regis Monmouth Beach on the map:
---
---
East Cliff Beach, DT7 3DH
Pebble beach | Great for rock pools at low tide | Dog-friendly year round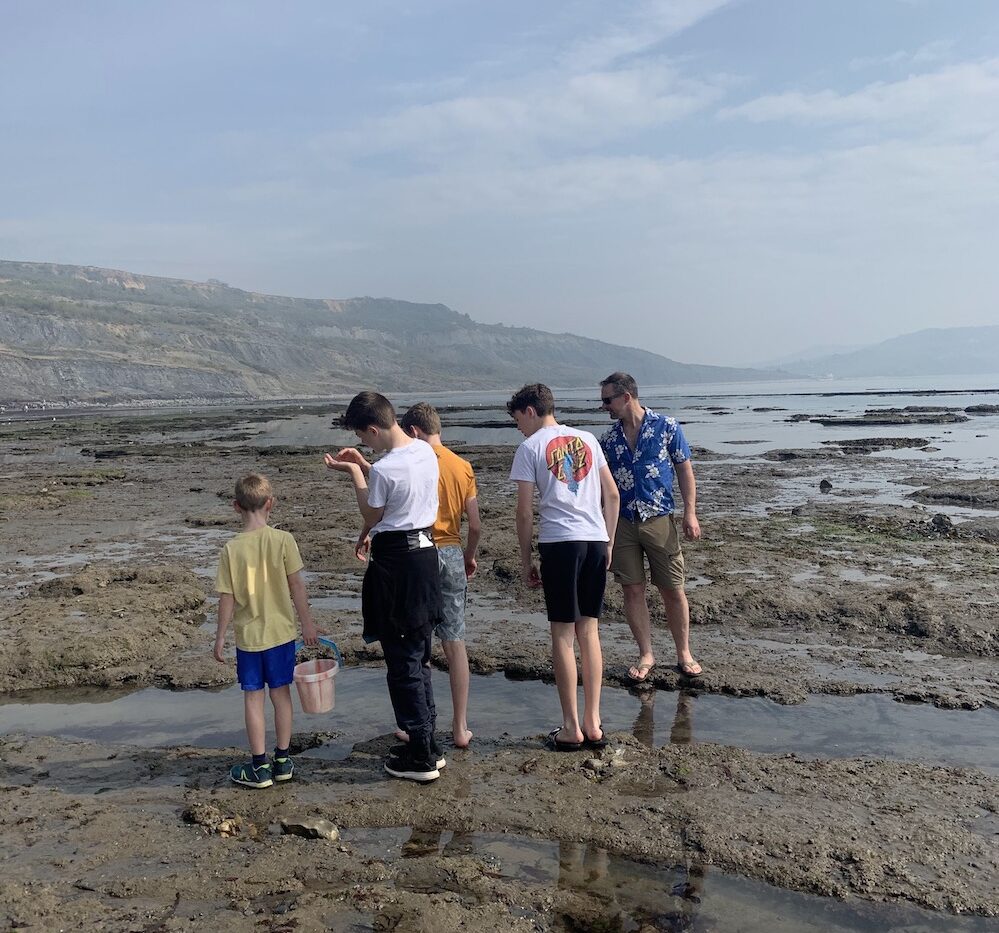 Known locally as Back Beach, Each Cliff Beach in Lyme Regis is another great beach for fossil hunting – and is where local palaeontologist Mary Anning made most of her significant dinosaur discoveries in the 1800s.
Follow in Mary's footsteps by going on a guided fossil hunting tour, organised either by the Lyme Regis Museum. They can be booked all-year round, with prices starting from £8.75 for children and £14.95 for adults. Or book a private fossil tour with a dedicated expert.
East Cliff Beach is great if you're visiting Lyme Regis in winter. It's actually the best time of year to find fossils, as rain and storms loosens soil in the cliffs, exposing more historical finds on the beaches below.
This end of Lyme Regis offers panoramic views of the Jurassic Coast, including Golden Cap – the highest point on the south coast – and is a great spot for rockpooling.
It is also where you'll find Black Ven, the largest mudslide in Europe which is constantly releasing fossils from the Blue Lias and Charmouth Mudstone formations. But please be careful: these cliffs are very unstable and should be admired from a distance, so only pick up fossils you find on the beach.
East Cliff Beach is around a 10-minute walk from Front Beach and can be reached through the town centre via Church Cliff Walk. Be sure to check tide times before you set out as it can get cut off at high tide. The nearest car park is Charmouth Road, connected to the promenade by 114 steps.
There are no shops, cafes or toilets, so make sure you take refreshments. Dogs are allowed on the beach off leads all-year round.
Lyme Regis East Cliff Beach on the map:
---
Church Cliff Beach, DT7 3BY
Sand and pebble beach | Great for rockpooling | Dog-friendly year round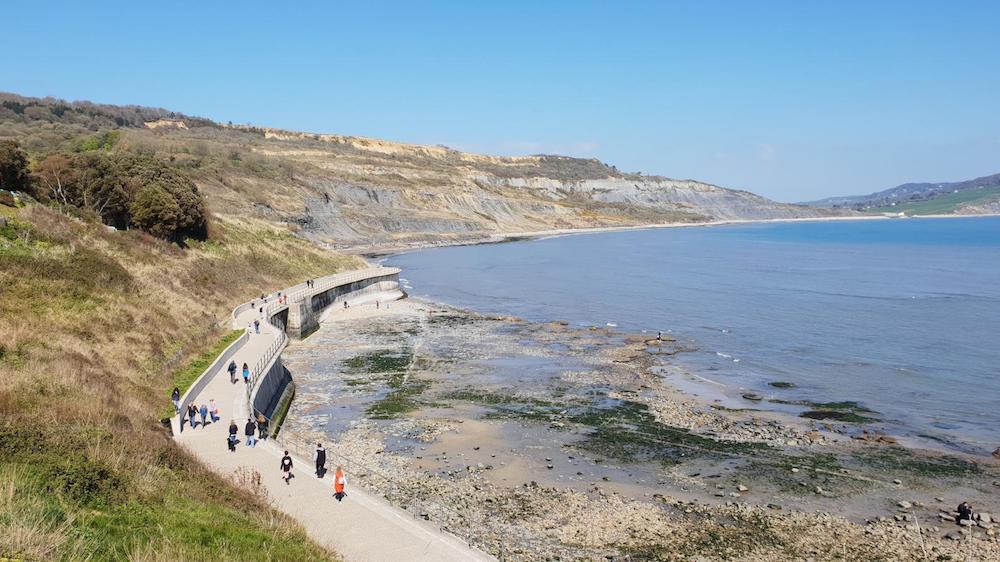 Church Cliff Beach is to the east of the town of Lyme Regis, in front of Gun Cliff Walk and near the Marine Theatre.
Film buffs will like the fact that it was one of the locations for the award-winning movie 'The French Lieutenant's Woman' starring Meryl Streep, that was filmed in and around Lyme Regis.
A mixture of sand and pebbles, this relatively secluded beach is often quiet and at low tide is great for visiting with kids, as countless rock pools are exposed. Be sure to check tide times for safety before you set out, as the beach is completely covered at high tide.
Note, the River Lim flows into the bay on this beach, so you will have to paddle if you want to walk along the sand. Water here is not great for swimming, so you are best to stick to Front Beach for that.
However, the beach offers wonderful views of The Cobb – another movie filming location – and the surrounding coastline.
Just a few minutes' walk from Front Beach, toilets, shops and cafes can be found along the promenade and in the town centre. Parking can be found in local car parks, such as Cobb Gate 100 metres away. Pitthouse car park is around 200 metres from the beach and usually less busy.
Dogs are also allowed on this beach, off the lead, at any time of year.
Pic Credit: Love Lyme Regis
Lyme Regis Church Cliff Beach on the map: