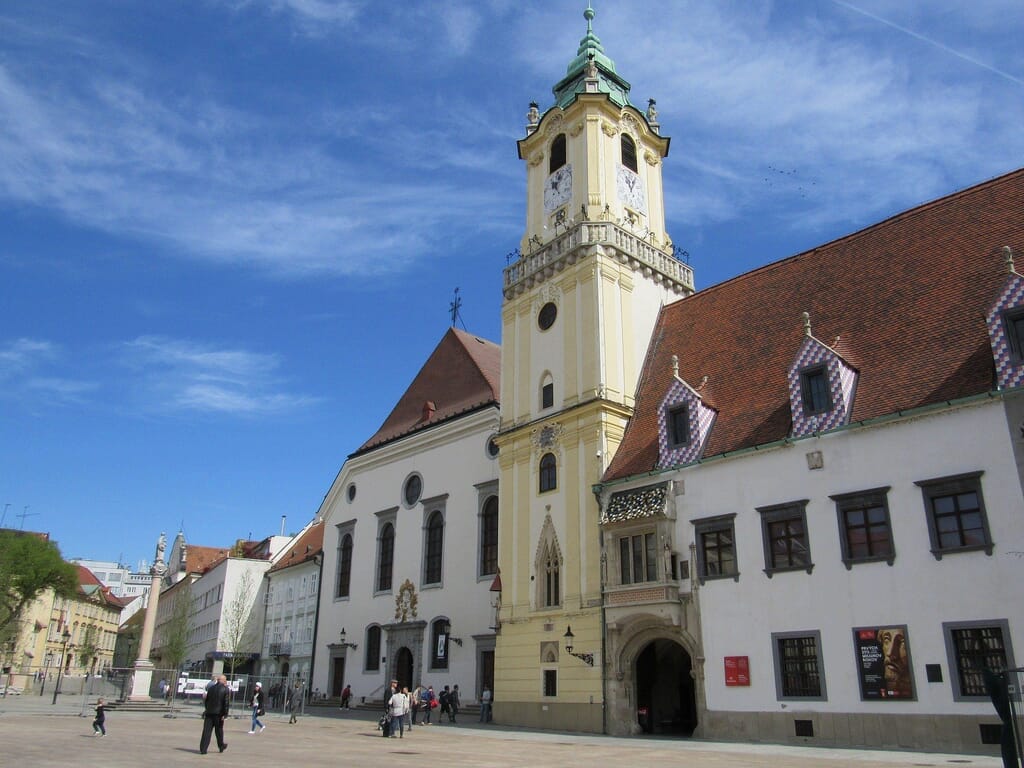 Bratislava – tell me, have you ever considered it for a weekend? Nope, me neither. But it recently came to my attention and I've got to admit – it looks like a city worthy of a weekend trip.
The city itself is small with a population of about 450,000, but offers a heck of a cultural punch for the unsuspecting weekend visitor. Not only does Bratislava have a rich history, its beautiful landscapes, magnificent castles and affordability are sure to set your pulse throbbing.
Bratislava is the small capital city of the Slovak republic or Slovakia (not Slovenia), in the heart of Central Europe. Bratislava lies in the Western end of the country, very near to the borders with Austria and Hungary.
In fact, it is the only European capital that borders with two other countries. Running through the middle of Bratislava is the River Danube and just behind the city are the Carpathian Mountains
What is Bratislava like as a weekend city?
Bratislava has a charming medieval inner city with narrow, winding streets, a hill-top castle next to the river Danube, and many historic churches and buildings to visit.
The old town known as Stare Mesto is split over on two squares, Hlavne namestie (main square) and Hviezdoslavovo namestie. It's also very compact, so it's easy to explore by foot during a 48-hour trip there. Smaller than Prague and around the same size as Zurich, Bratislava is very doable in just 2 days.
What language do they speak in Bratislava?
Whilst most young Slovaks now speak English, the older generation tend to only speak Slovak, or German or Russian as their second language.
Restaurants in most of the tourist areas offer menus in English or German, but further afield in the smaller towns of Slovakia menus are still in the mother tongue.
Read more about the Bratislava language
When is the best time to go Bratislava for a weekend?
Bratislava is particularly pretty in the spring when the trees are in full flower. If you love snow sports, winter is another great time to visit Slovakia and make Bratislava your base: ski resorts open, ice skating springs to life and the city looks great under a blanket of snow. The hottest months in Bratislava tend to be July and August.
Read more about Bratislava weather
How do I get to Bratislava?
Slovakia occupies a central position in Eastern Europe, which means Bratislava is easy to get to and makes an ideal multi-city break on the way to other historical European cities like Budapest, Vienna, and Prague. Getting to Bratislava is also relatively inexpensive, whether you choose to commute through the rail network or fly.
By plane: to reach Slovakia by plane, fly to M.R. Stefanik Bratislava International Airport which is situated only half an hour drive by bus from the centre of the town. RyanAir flies direct from £100 return.
Another option is to fly into Vienna International Airport, which is located only 50km from Bratislava. You can take a shuttle bus line to Bratislava from there.
By train: to get to Bratislava by train, take the Eurostar to Bratislava via either Cologne-Vienna sleeper train or via Brussels and Prague.
Read more about taking the train to Bratislava
What is Bratislava famous for?
Bratislava is known for many things but these days it is especially known for romantic terraces in the historical center, fairytale castles, colourful buildings, street artists, street food, beautiful views, beaches (by the banks of the Danube) and amazing green spaces to just chill-out.
It's also known for being home to the most beautiful women in the world!
What should I budget for a Bratislava city break?
Bratislava is more affordable than many other European City Breaks. You can enjoy a decent meal for less than €5 and a quality beer for just €1.50. Plus, on the first Sunday of the month there are no entrance fees for all public galleries and museums – perfect if you're interested in learning about the history of the city.
Read more about budgeting for Bratislava 
How do I get around Bratislava?
All towns have a network of public transport. Bratislava's network of public transportation consists of tram lines, trolleybus lines and bus lines and provides the cheapest and most convenient means of getting around.
Top tip: buy a Bratislava Card for €25 for 3 days. It gives you free public transportation, access to 15 museums and galleries and more than 120 other attractive discounts of up to 50 % including museums and galleries, music concerts, and food and drink.
See this:
The Danube is the second longest European river (after the Volga) and flows from southwestern Germany to the Black Sea, appearing majestically in the city of Bratislava.
Take a leisurely stroll during the evening and head for the Novy Most Bridge (commonly referred to as Most SNP or the UFO Bridge) for the best views. There's also a restaurant in the flying-saucer shaped main structure of the bridge.
Do this:
Bratislava is an old European city and, like most historical cities in Europe, is brimming with art galleries and museums. Any lover of history should visit the Bratislava City Museum, and art lovers should make for the Slovak National Gallery.
Other cultural hotspots worth a detour are: the quirky Museum of Clocks and the Pálffy Palace, a Baroque-style palace in the old town.
Go here:
Cutting an imposing profile on the skyline, the 9th-century Bratislava Castle stands overlooking the city on a hill called the Little Carpathians.
This massive rectangular building, with its four striking towers, can be see far away, even over the border in Austria, and offers breath-taking views over the Danube. Like many European castles, it has had a tumultuous history – destroyed, ruined, and eventually reconstructed – and today serves primarily as a museum.
Eat this:
The local cuisine of Bratislava has many fans all over the world and a weekend is perhaps the best time to find out what the fuss is all about. One of the most famous food items, also the national dish of Slovakia, is Bryndzove Halusky (Sheep Cheese Dumplings in English), served with bacon.
Then there are Bratislava Schnitzels – deep-fried breaded veal cutlets – to try, plus traditional Goulash – a rich meat stew highly seasoned with paprika. The local wine and beer is also very tasty, especially Corgon draught beer.
Where to stay in Bratislava
I may earn some commission if you click on a link in this article and buy a product or service, but I never allow this to influence my coverage.
Vienna is only 64km away from Bratislava, making them one of the closest capital cities in the world. Both cities are connected by the Danbue so a boat trip excursion to Vienna is a great way to spend one of your days in Bratislava.
It is possible to see Budapest during a stay in Bratislava. You can either take a private tour or take the train (more affordable). They are frequent (departing every 2 hours), comfortable and take only 2 hours and 30 minutes to get you from one capital to another.
Take yourself to Devin Castle, which was once known as Dowina. It towers out of rock at a secluded but picturesque location right next to the Danube River, on the outskirts of the city of Bratislava.
The castle is the remains of an 8th century castle which was blown up by Napoleon's army and is popular with many walkers and picnickers. Go for a breath-taking view of the city of Bratislava itself as well as neighbouring Austria, on the opposite side of the river Danube.
Small Carpathian Wine Route
This beautiful route is located on the south-eastern slopes of the Small Carpathian mountains, stretching from Bratislava to the neighbouring town of Trnava, and is one of eight major wine-making regions in Slovakia.
Treat yourself to a tour of the vineyards and wine cellars that thread the mountain-range in rural towns and cities along the way. But make sure someone else is driving!
Need some extra help? I recommend
---
PIN FOR LATER: