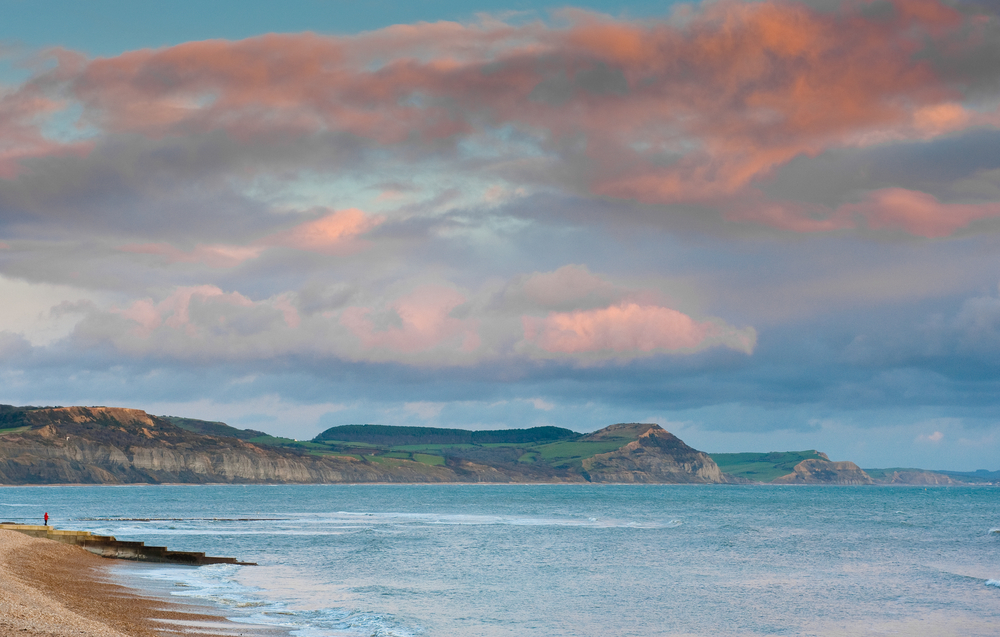 LYME REGIS, Dorset – I'm a bit ashamed actually. When I was an anst-filled teenager my friends and I would sneer at the thought of spending any more time in Lyme Regis than we had to.
To us, it was 'Slime Regis'. An irritating place we had to go because our school was there, but with little else to endear it.
But what I found when I headed back to Lyme Regis recently, with my (soon-to-be) teenage daughter and her (mad-as-cheese) grandparents, was not the cheap 'n cheerful seaside Lyme that I used to mock when I was 15.
I found a town with its hands on its seasalt hips, its eyes sharply fixed on prosperity, and a look on its face as if to say, 'What the hell took you so long?'.
SATURDAY
1. Wake up! | 10am
Start things off with a burst of sea air and a saunter down Lyme's sea-front promenade.To your right, pastel-coloured Georgian houses and cafes hem Lyme's wide promenade.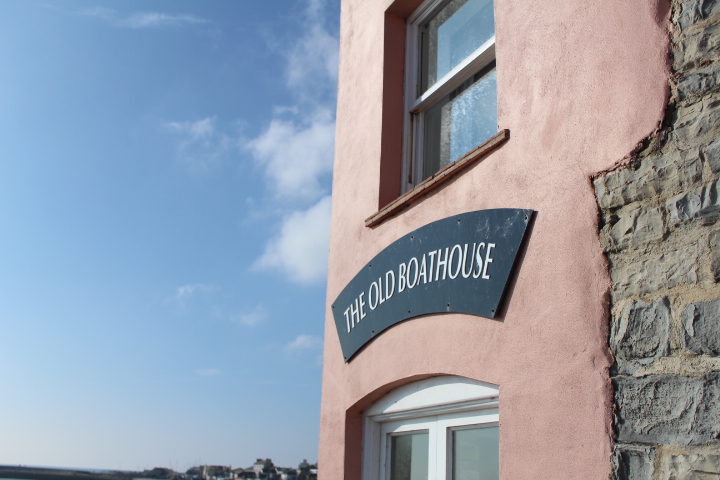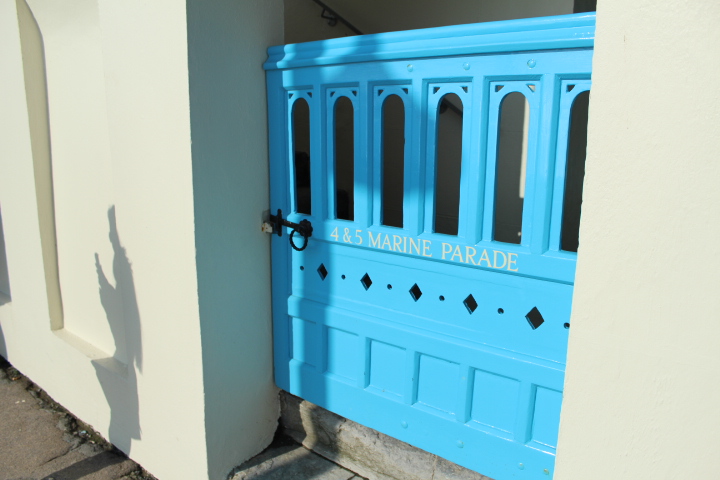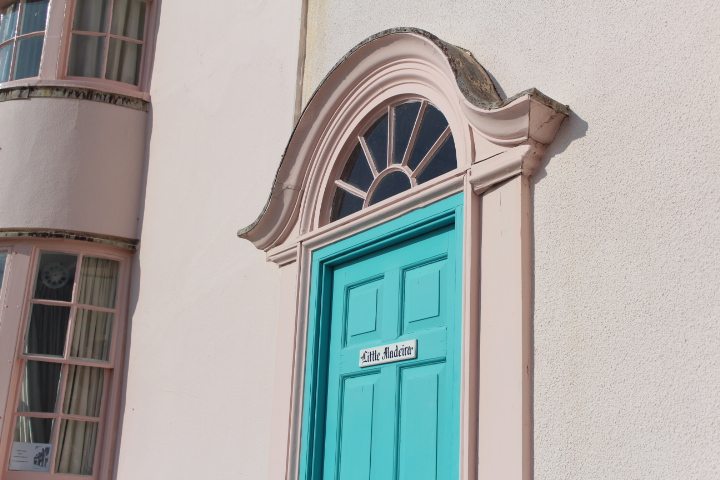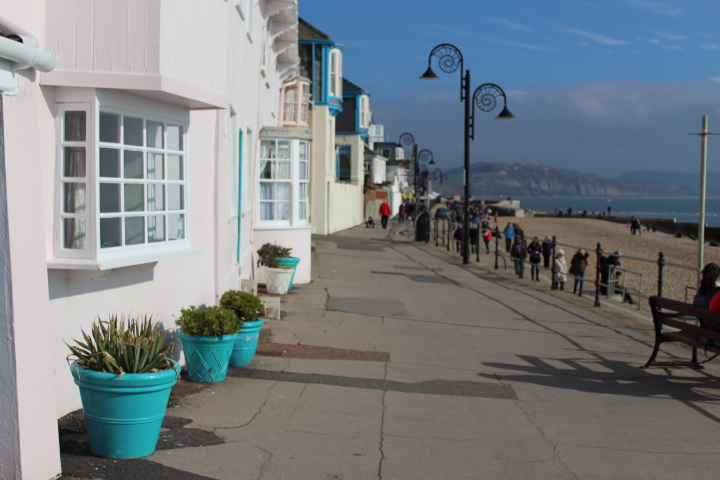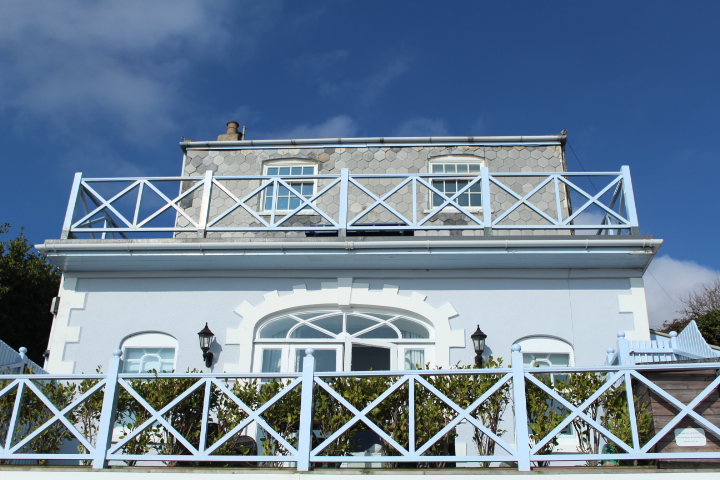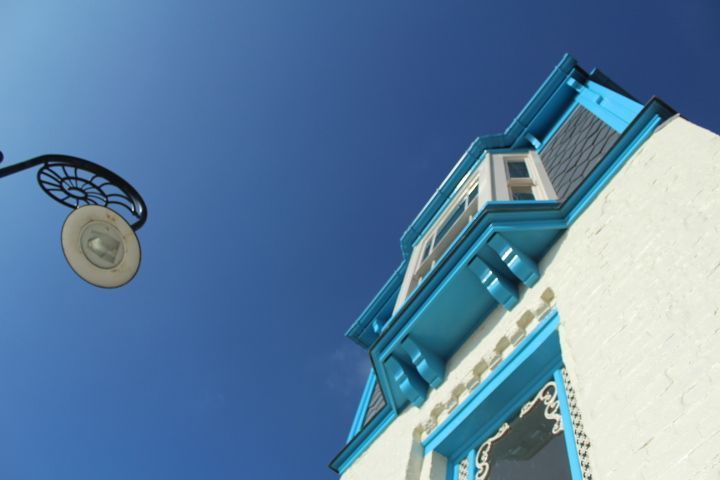 On your left, you're blessed  nearly 95 miles of dramatic Jurassic coastline. This multi-shaded coast runs directly from Lyme, climbs the bulk of Golden Cap, dips briefly for West Bay – aka Broadchurch – then trickles away to become the shadowy point of Portland.
A certain Miss Austen would've enjoyed similar views some 150 years earlier as she strolled the promenade. Persuaded?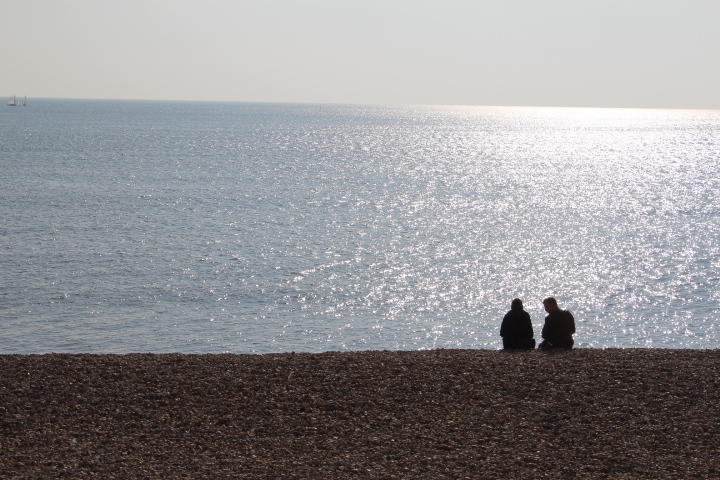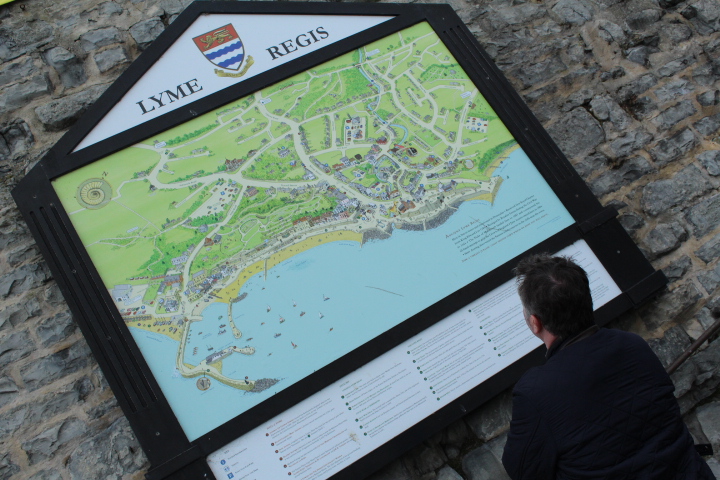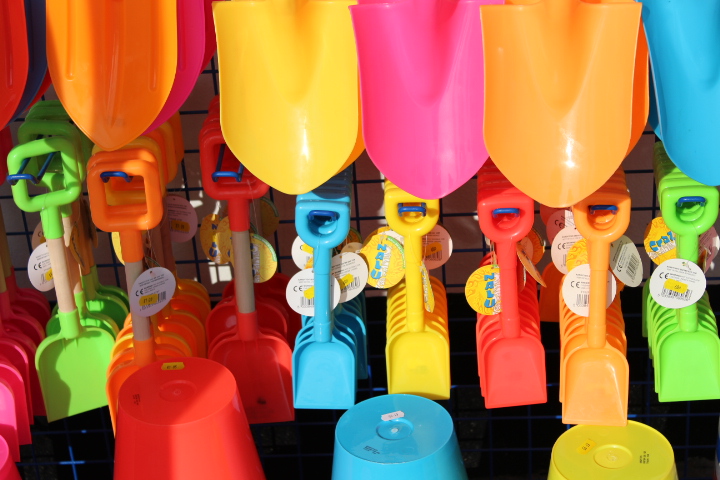 2. Cuppa sea breeze? | 11:30pm
As Lyme's seafront promenade gives way to sand, Jane's cafe is the first one you'll reach. Sure, there may be more sophisticated coffee pit stops around, but Jane's delivers a hug in a cup, friendly staff, and a cracker of a view over this pebble-free slice of Lyme.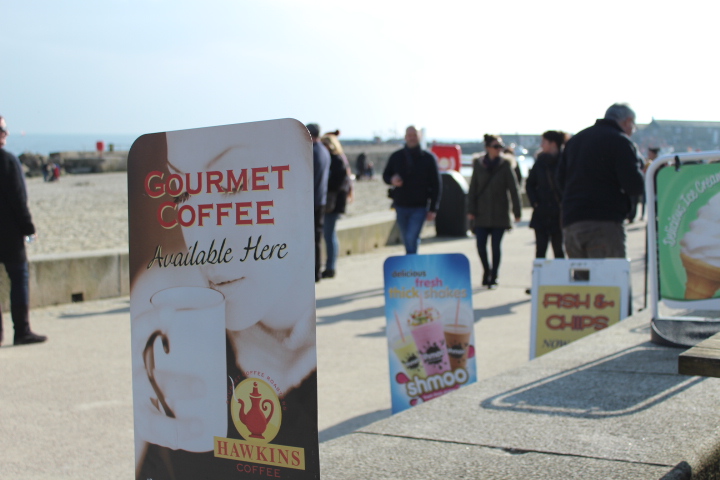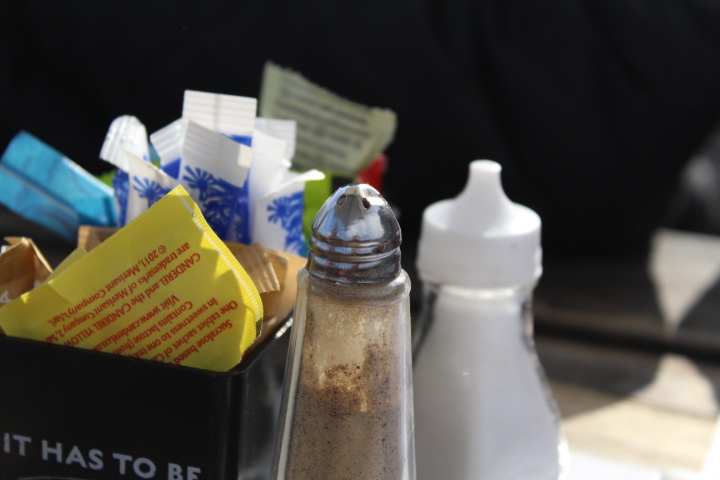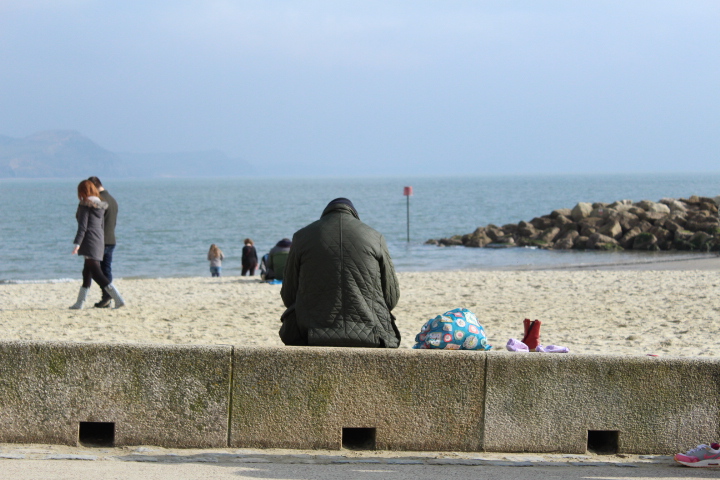 So pick a table on the terrace and grab a cuppa tea or coffee. If the sun's warm, you can easily lose 45mins soaking up the good vibes as families, couples and friends buzz around you.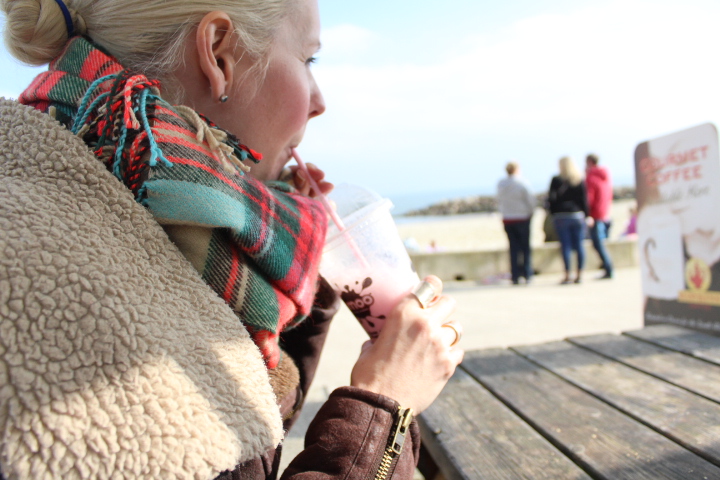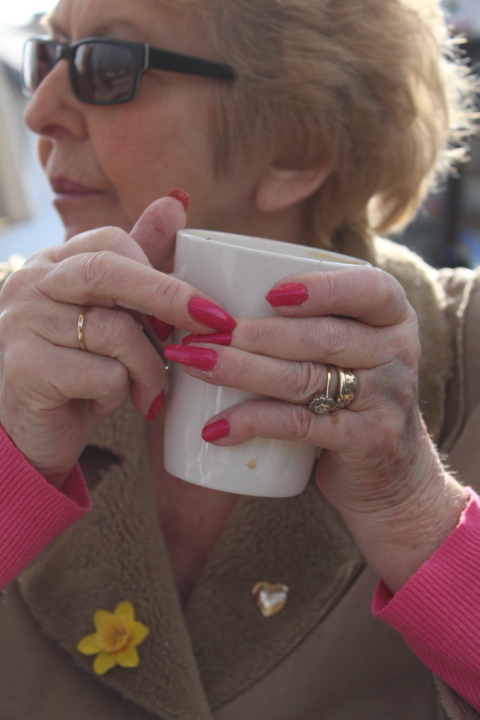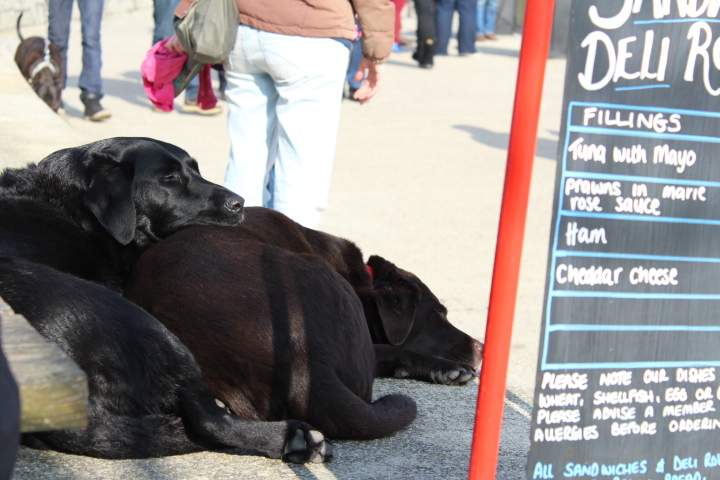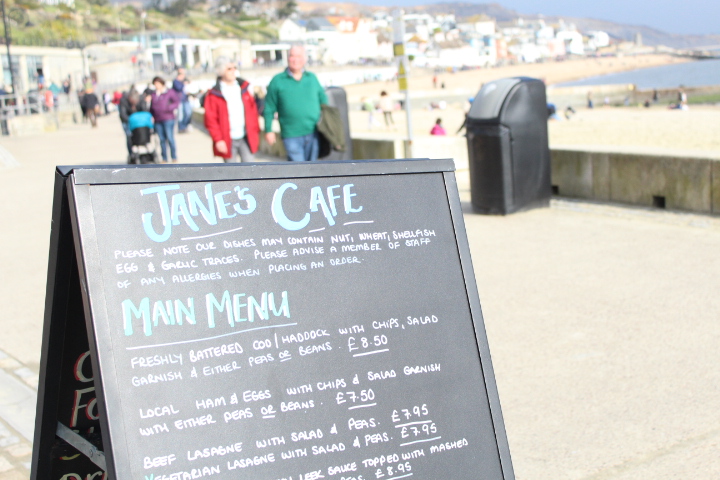 3. Pennies and pounds | 12:15pm – 1pm
You can't miss the whistles and dings of Lyme's one and only arcade. It's been flashing away on the 'front' since I used to hang out there with my friends, and hasn't changed much – it's large enough to hold a good variety of holiday cash-grabbers, and isn't as scruffy as some arcades (the Peppa Pig ride outside perhaps a nod to middle-class aspirations?).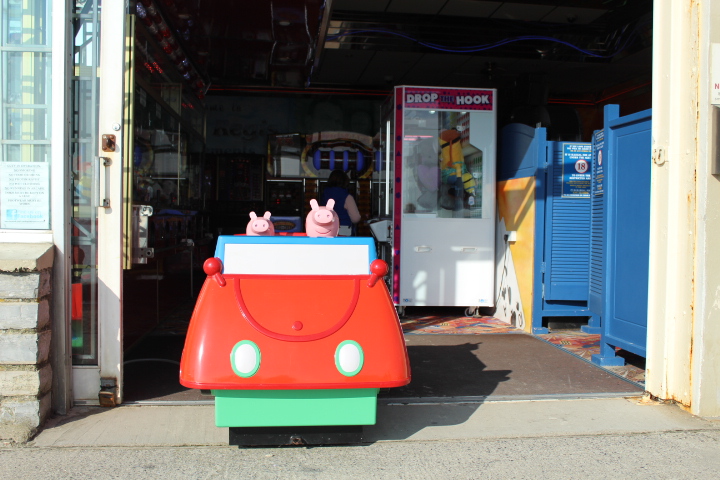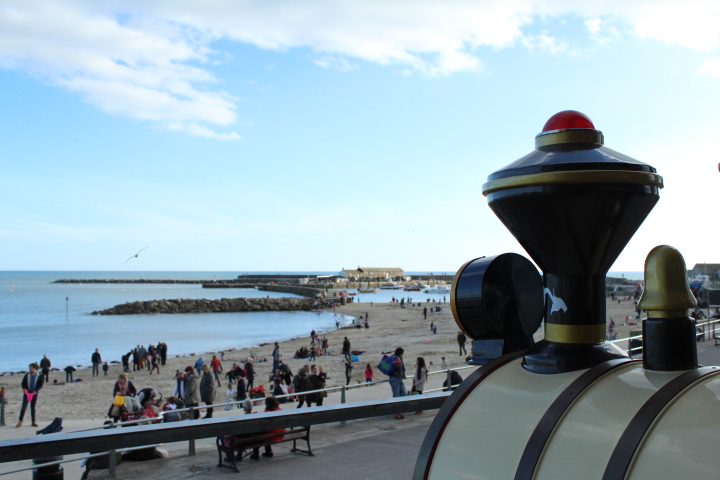 If you've kids, Lyme Regis amusement arcade will keep them happy until the small change runs out. If you've a 67-year-old granny with you, be warned: like shiny is to a magpie, an arcade is to the older Irish lady. I speak from my personal experience; give my mum a bag of 2ps and she'll battle the slots and shelves of the Flip 2 Win machine like a woman possessed.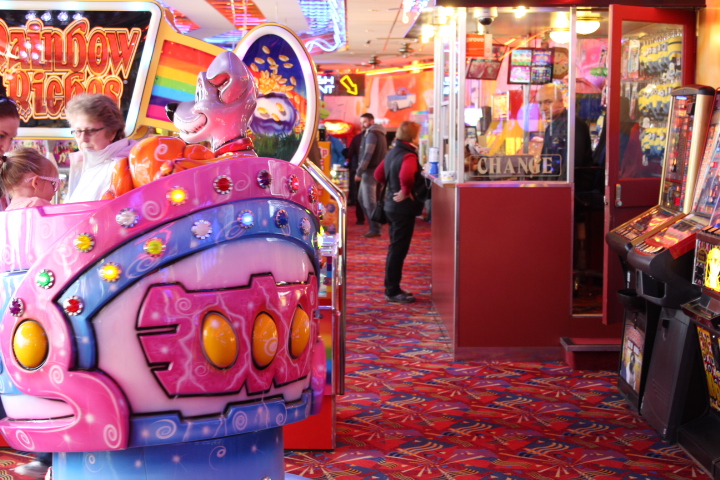 4. Ruffles and rummaging | 1pm – 2pm
With your pockets jingling with newly won cash, swap the arcade for antiques and head next door to Lyme Regis Antiques and Craft Centre. Your eyes will bulge with the amount of yesteryear knick-knacks they've skilfully fitted into this tiny cave.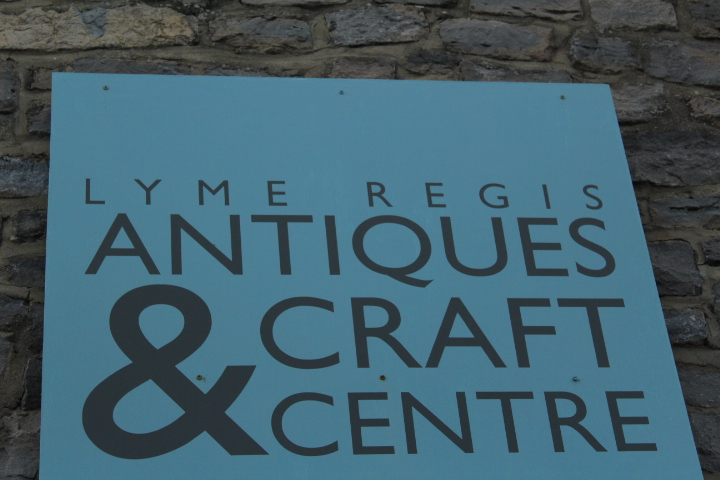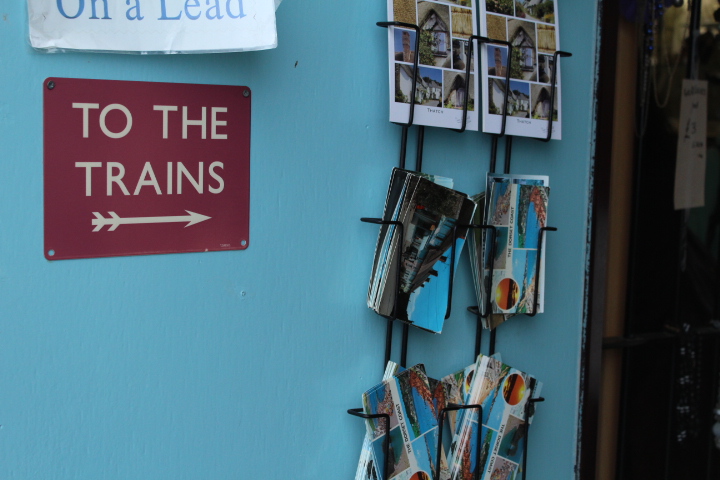 Bygone books, retro records, classic clothes, coins and jewelry – hanging from every inch of brickwork, making this antiques centre a great little detour when you're in a treasure-hunting mood. We came away empty handed, but we did have fun trying on the vintage jackets and hats.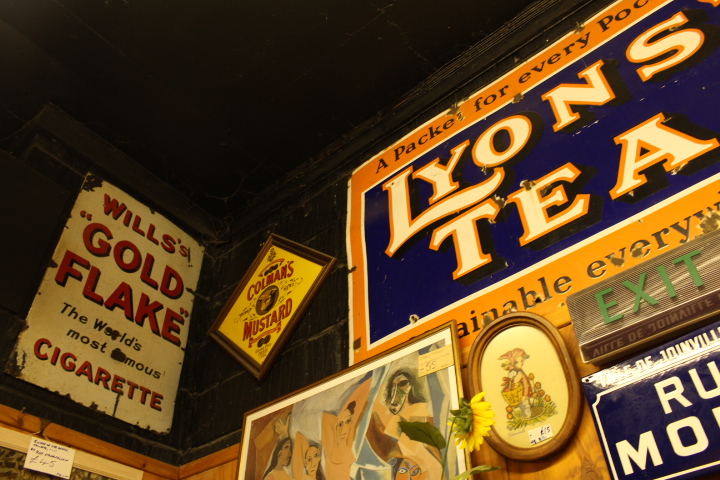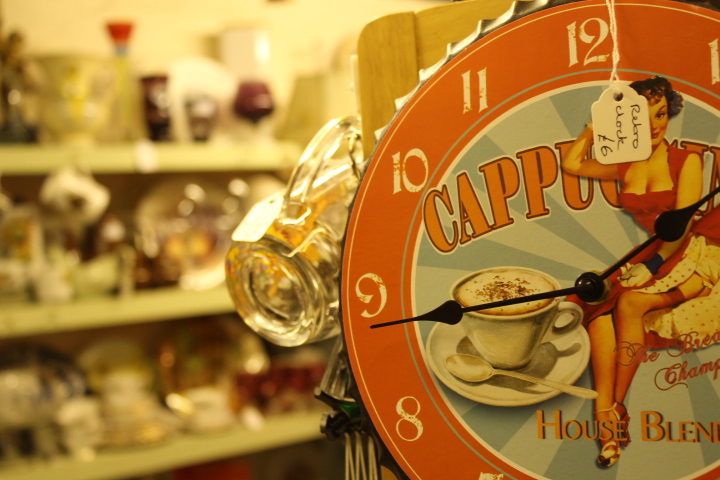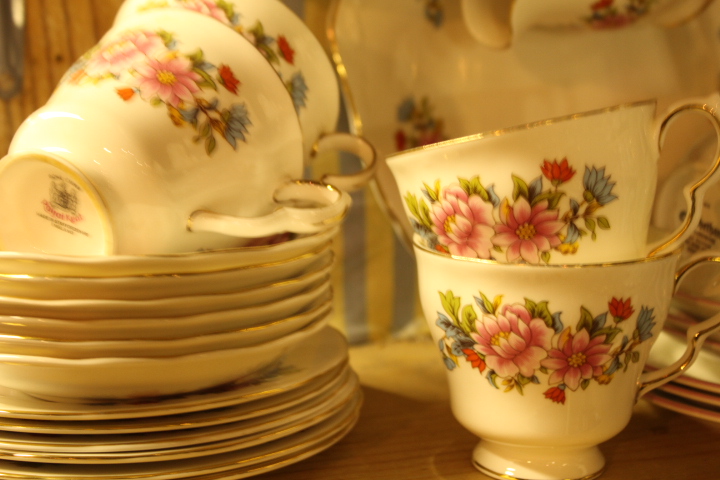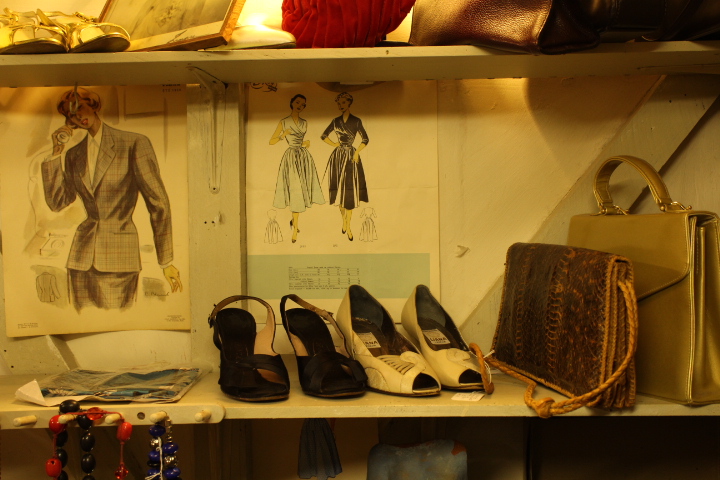 5. Deliciousness By the Bay | 2 pm – 4pm
Long gone is the squeezy-bottle style of cafe that used to grace this section of promenade. In its place, a more grown-up (but very warm and welcoming) dog-friendly eatery called By the Bay,  just along from the antiques centre and arcade.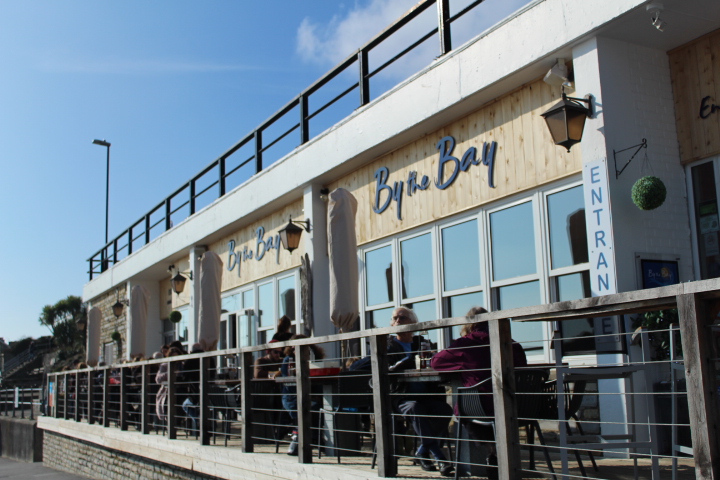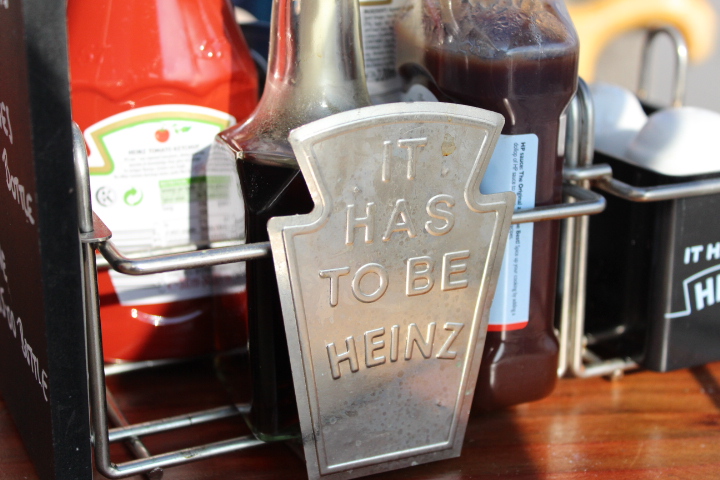 With a deck of al fresco tables and a suite of freshly-cooked, locally-sourced family meals, it'll leave tummies full and hearts très happy to be beside the seaside, beside the sea.
My choice: the biggest bowl of moules I have ever seen, alongside a crispy-delicious bowl of frites (£14.95). All washed down with a hot toddy because I had bird flu (sob). The grub was perfecto – and the service spot-on. I'd go back in a splash.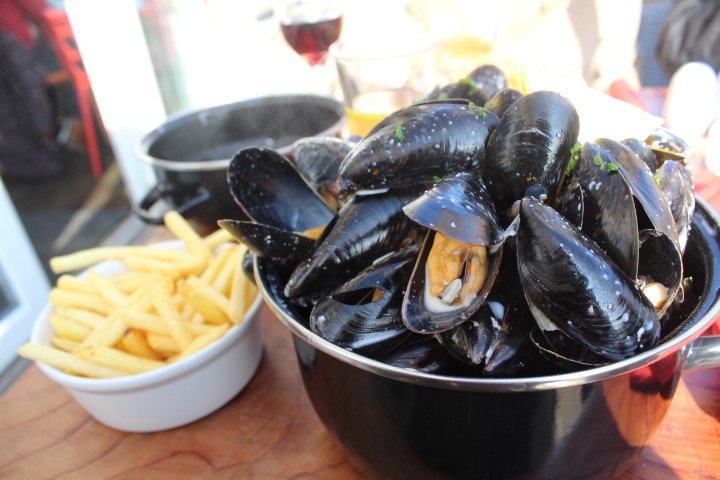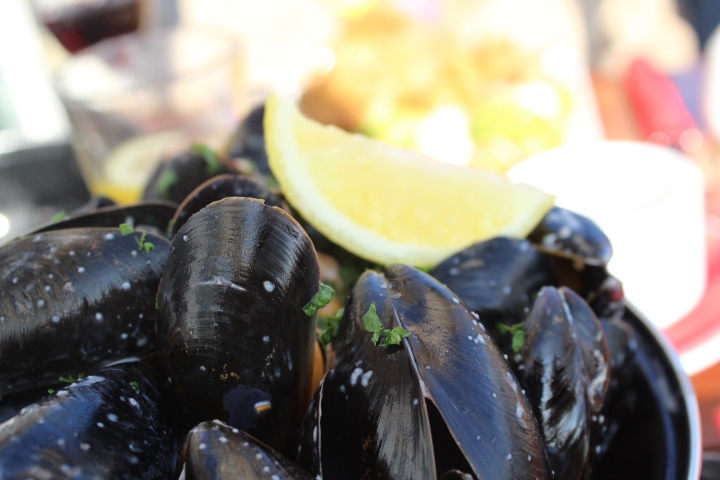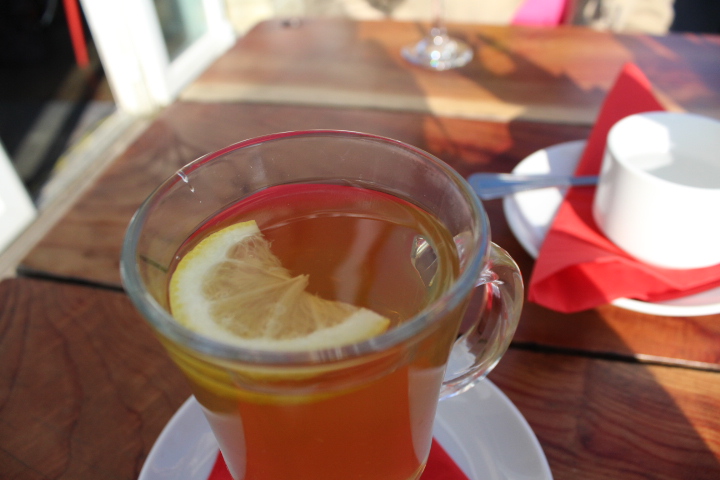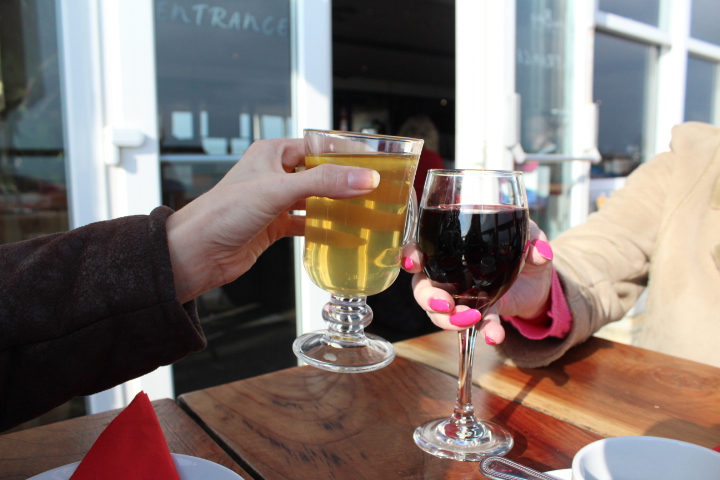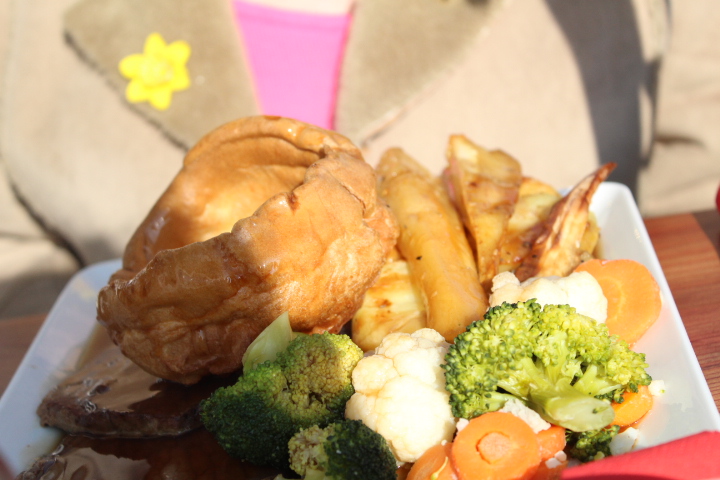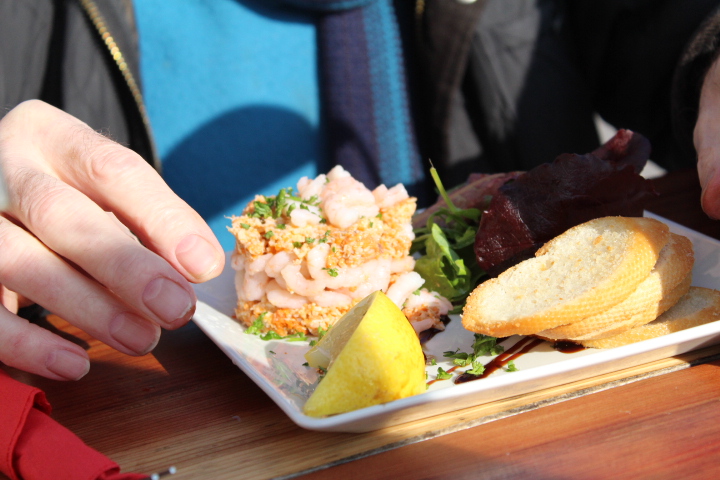 SUNDAY
1. Walk the Cobb | 10 am
No visit to Lyme is complete without a hair-raising walk to the end of Lyme's famous man-made harbour wall, the Cobb. Famed by John Fowles and Meryl Streep in The French Lieutenant's Woman and Louisa Musgrove in Jane Austin's Persuasion, the Cobb curves around Lyme harbour and out into the open water.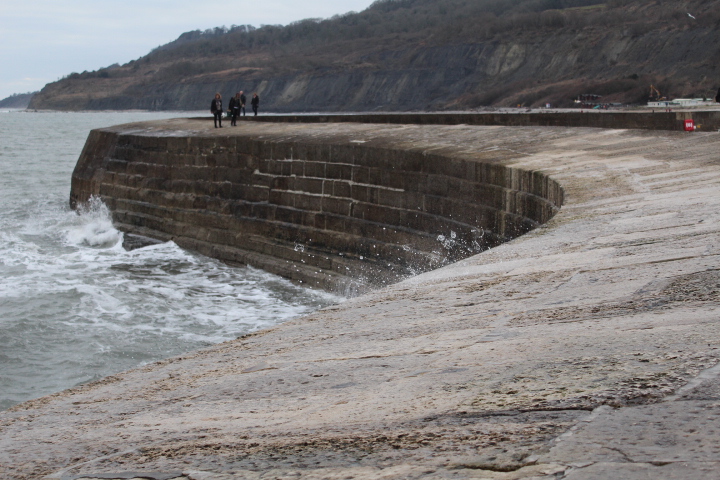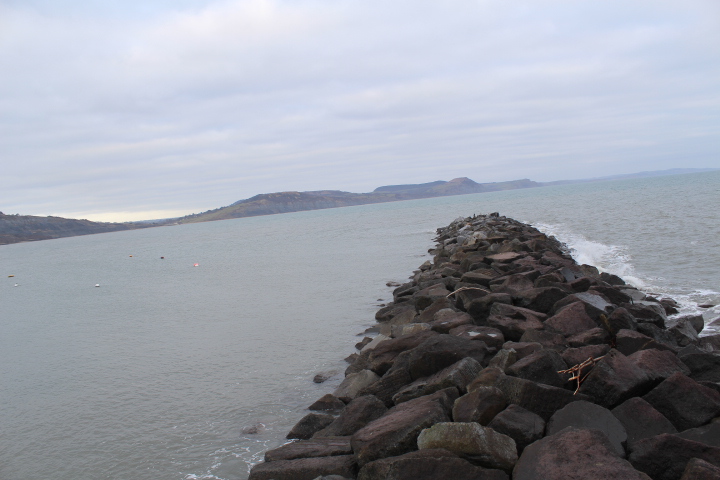 Sloping slightly to the right, like it's casually trying to tip you into the sea, it is not a walk that I'd recommend on a blustery day – as the gaudy Health and Safety signs will concur. But when the weather's calm, it's a must.
Once at the end of the Cobb, you're rewarded with the panorama of Dorset coastline stretching all the way to Chesil Beach; behind you is the thickly pebbled Monmouth beach and its untamed section of cliffs.
On your way back, find the steps known as 'granny's teeth' and tip-toe down them – but be careful not to do a Louisa Musgrove and fall onto your bum.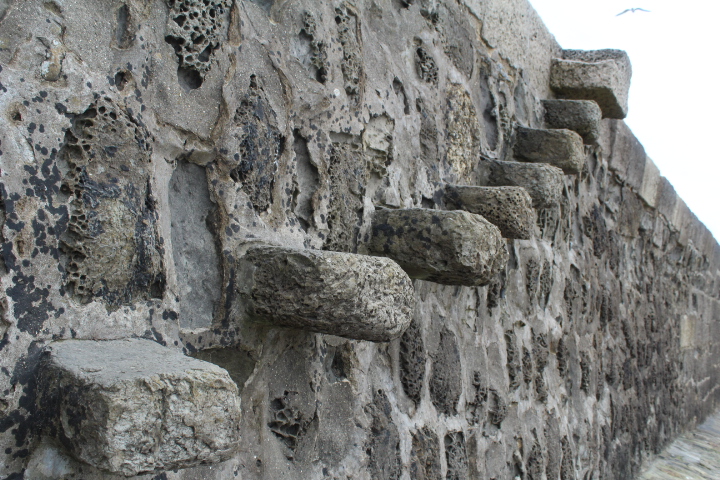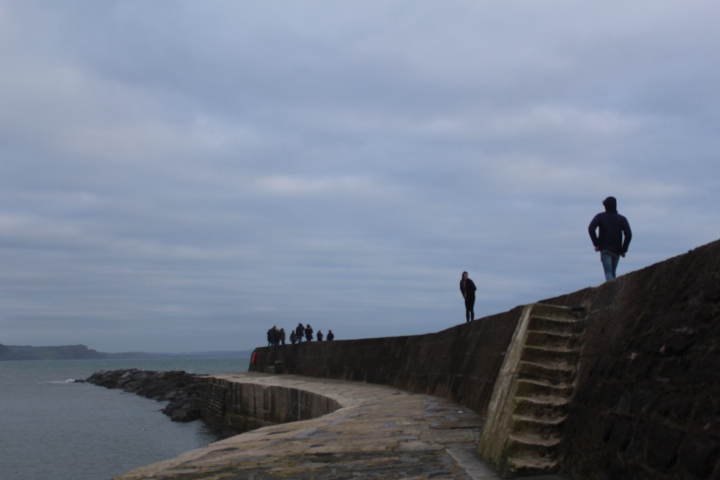 2. Cockles and mussels | 11:00 am
Elevenises come in a styrofoam cup with lashings of vinegar and pepper. Get your cockles, whelks, or prawns just a slip away from the Cobb on the corner of Monmouth Beach car park. Don't be put off by the location; the seafood here is as fresh, the choice excellent and the prices won't leave you crabby (couldn't resist, sorry).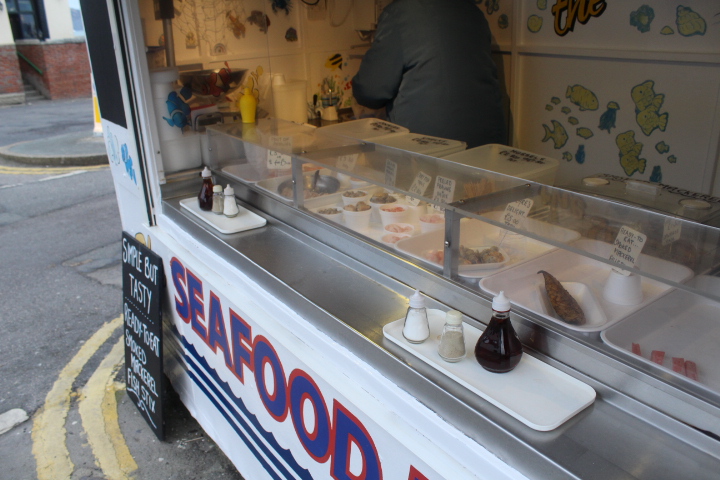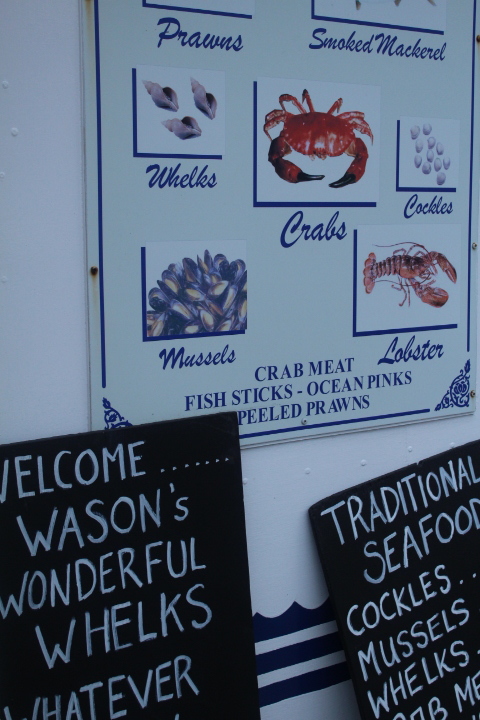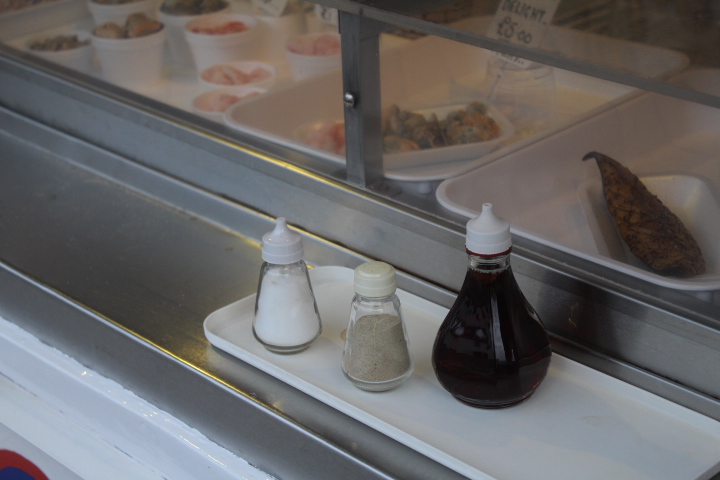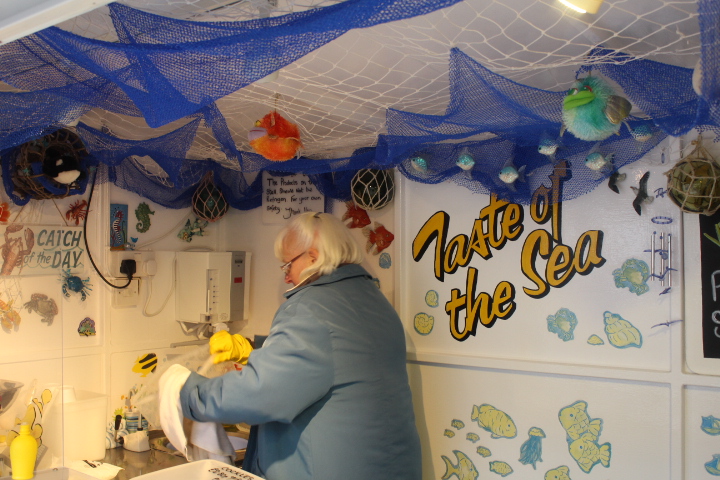 Take your mini catch on a short walk past the RNLI lifeboat station to the harbour wall to watch the boats coming in and going on out again. If you fancy a date with more fish, a brief stroll alongside the harbour take you to the Marine Aquarium. I didn't go on this trip, but I've heard reports it's a hip plaice (sorry, it's an affliction).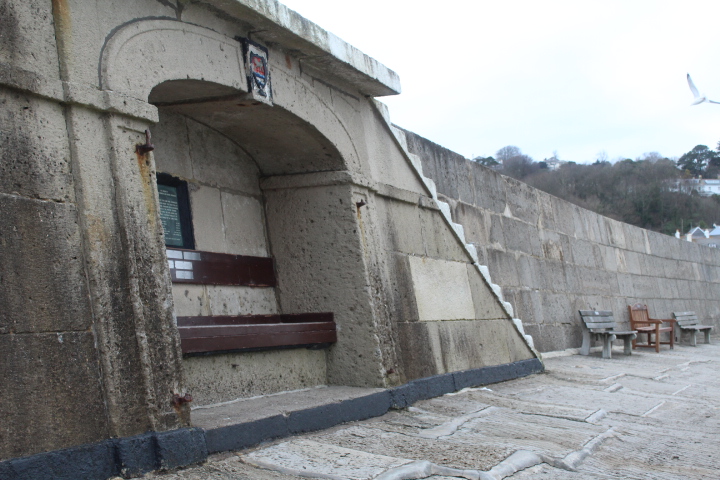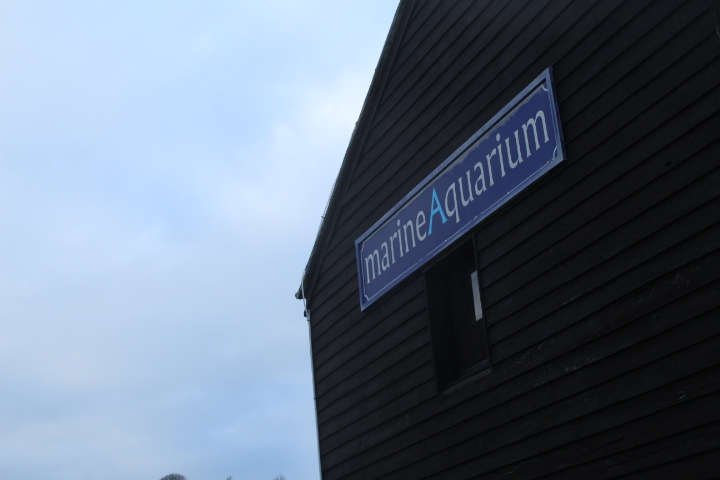 3. Fossil fame | 12pm
Lyme Regis is world-known for its fossils. And local girl Mary Anning is the town's much-lauded paleontologist. Her ichthyosaur and plesiosaur finds in the early 19th-century brought her much acclaim. To swot up on Mary Anning and her fossil finds, take a trip to the Lyme Regis Museum (built on Mary's former home).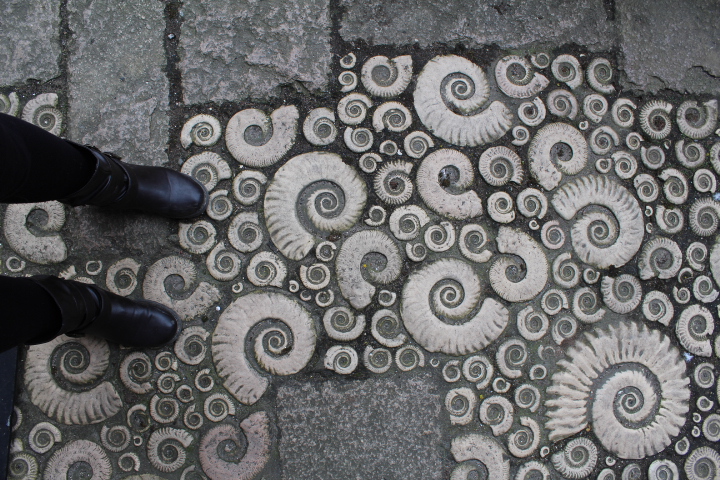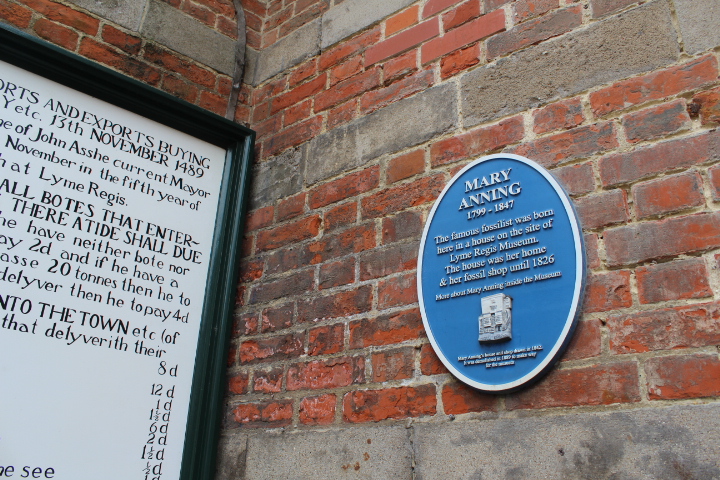 Although I was unsure at first – how good can a small town museum possibly be? – I was delighted afterwards. Lyme Museum is three floors of total brilliance. Excellent displays sweep you through Lyme's fascinating (and rebellious) early history, past heart-wreching stories of sea disasters, into a world of crumbling cliffs and dusty dinosaurs, before lifting you up and into the 20th century with its local writers, artists and poets.
Hand on heart, it was the best £3.95 I've spent in a long time.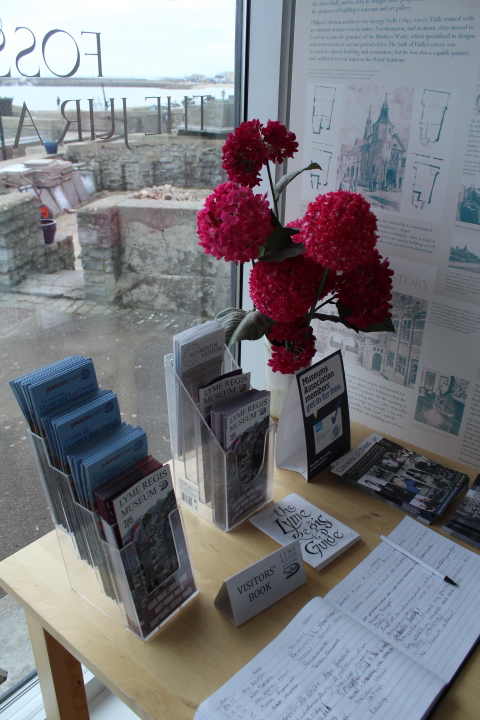 4. No trouble at' Mill | 3pm
After 10 years of restoration, plus the sweat and tears of local volunteers, Lyme's 700-year-old watermill is turning once again. It now houses more than just grain and flower; the outbuildings are home to artisans, activities, and an altogether too-good-to-be-true coffee shop.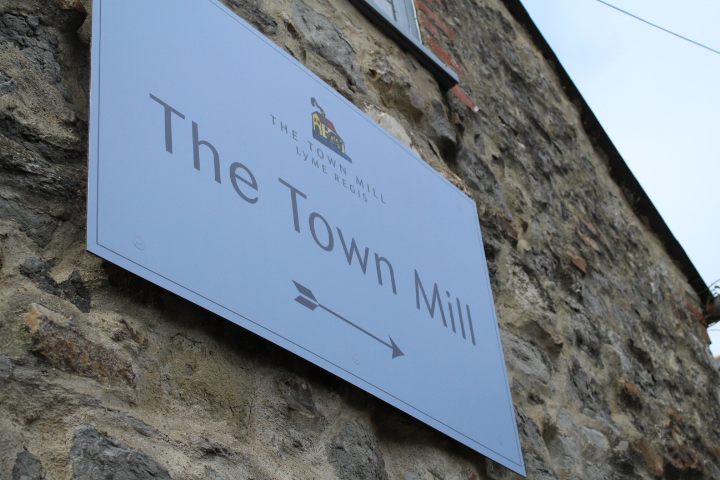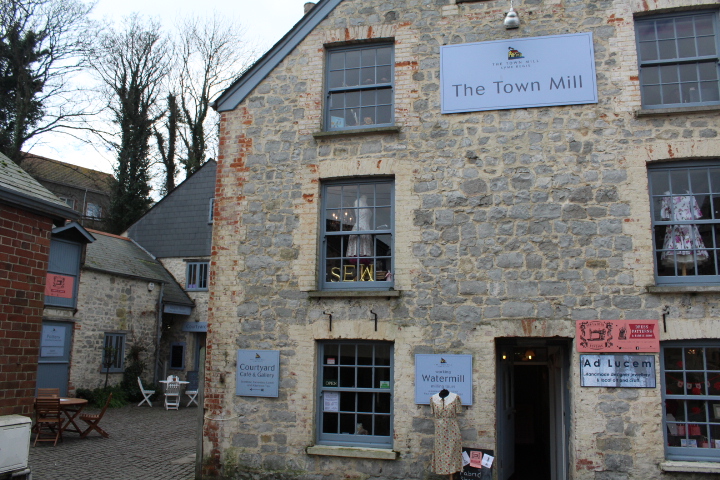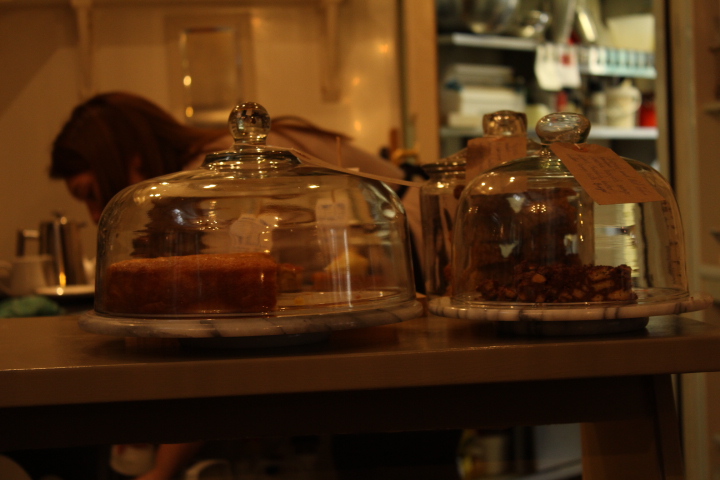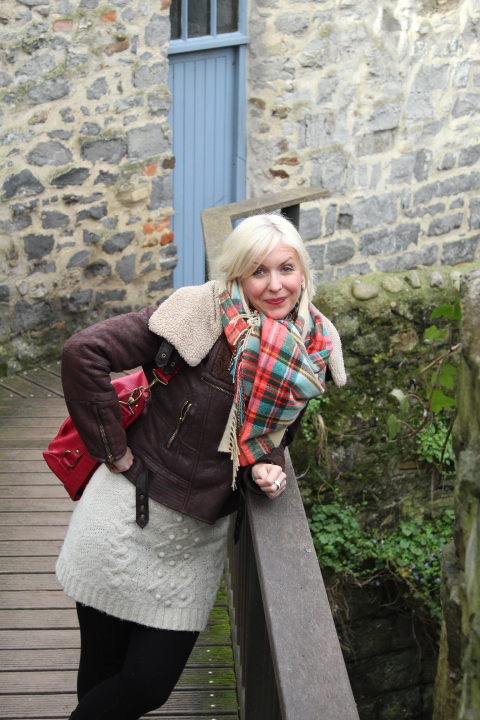 (If you see this woman on your travels, please approach with caution.)
Finding The Town Mill is half the fun; set back from the main town and behind a tumble of cutesy cottages. Once there, you can potter in the pottery shop, nibble Dorset's dairy wares in the cheesemongers, strike up chit chat in the silversmiths, and settle for a scone in the Courtyard Cafe.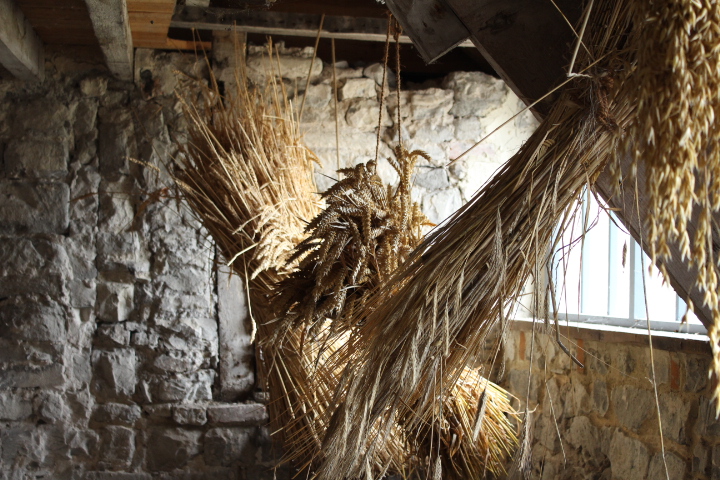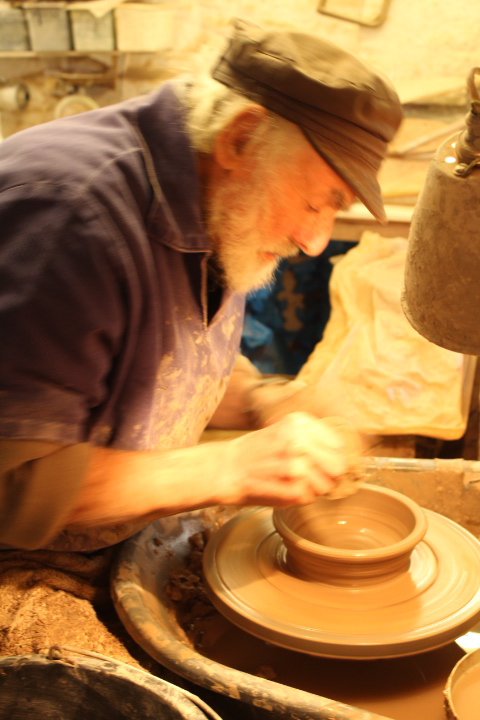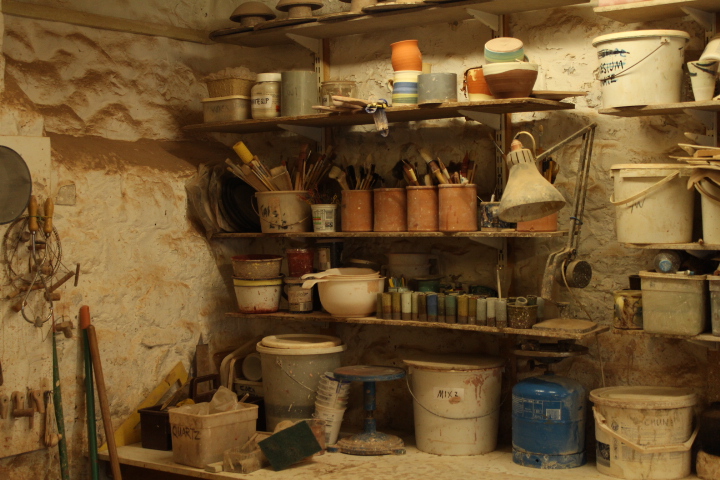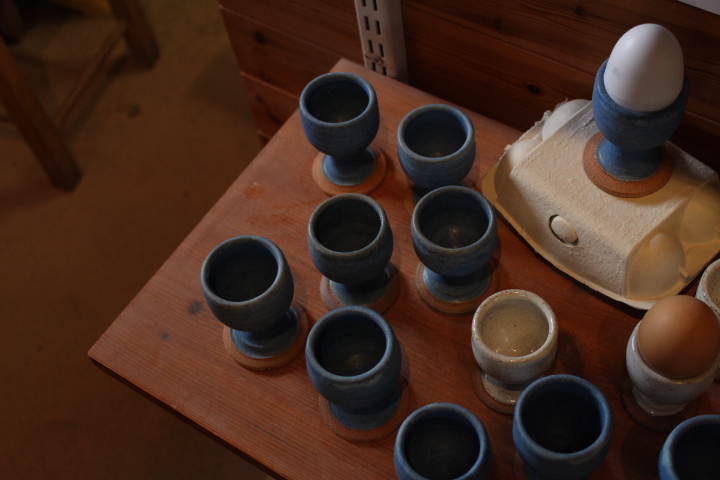 My top tip: head upstairs in the Stable Block to Sew La Di Da – a vintage dress boutique with a difference. Not simple dresses for sale, these are dresses you can make yourself thanks to gorgeous off-the-shelf patterns and to-die-for fabric.
It's a veritable sewing sanctuary for anyone into this kinda glamour, and even offers classes, workshops and parties for those needling to spin their skills.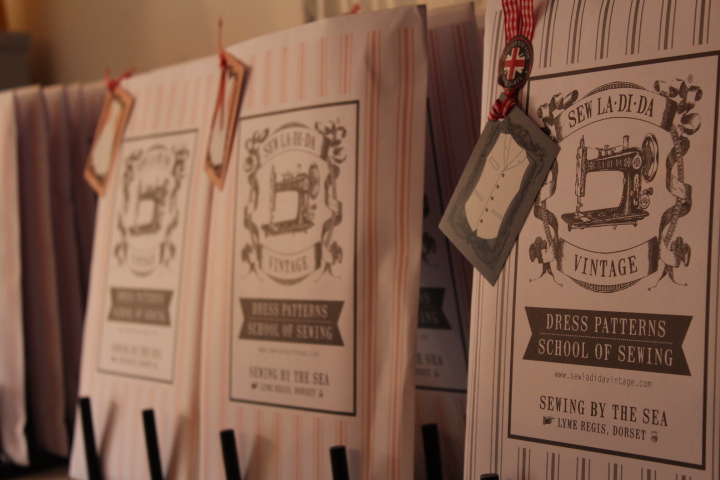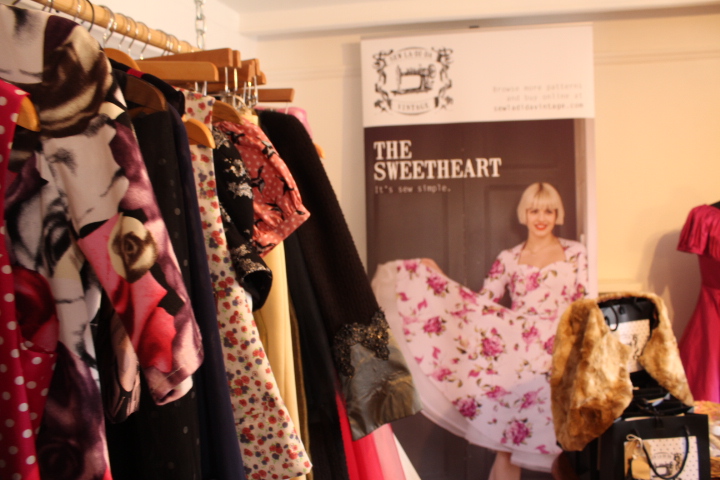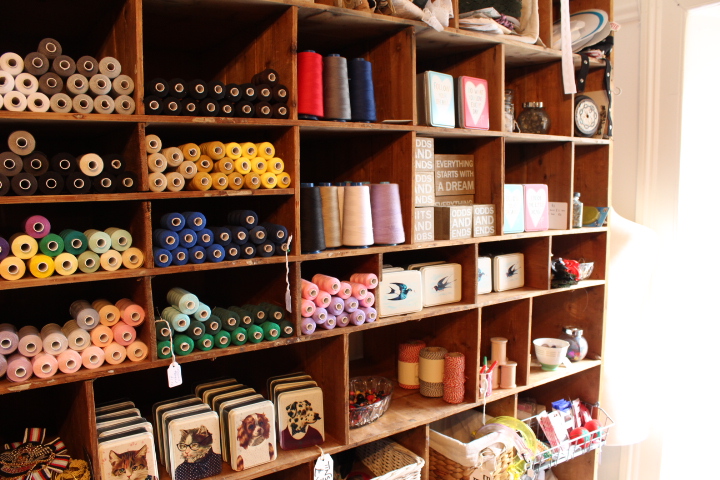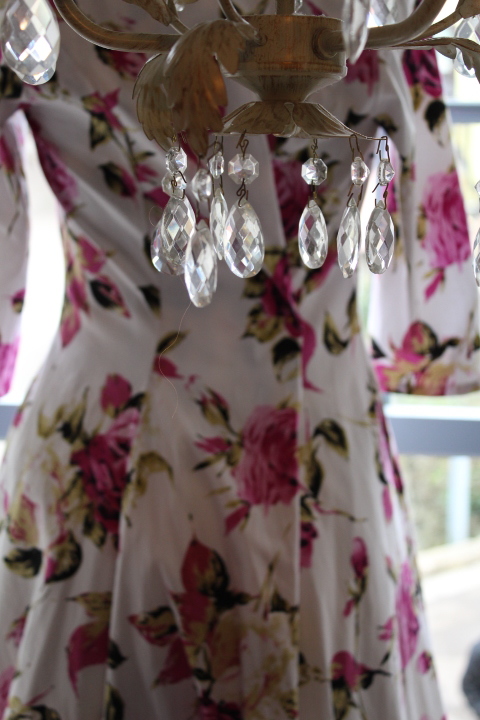 5. Fudge it | 4pm
The only thing better than feasting on fudge is watching it being made. Steer yourself to Roly's Fudge Kitchen then where they make melt-in-the-mouth golden fudge in the shop before your very peepers.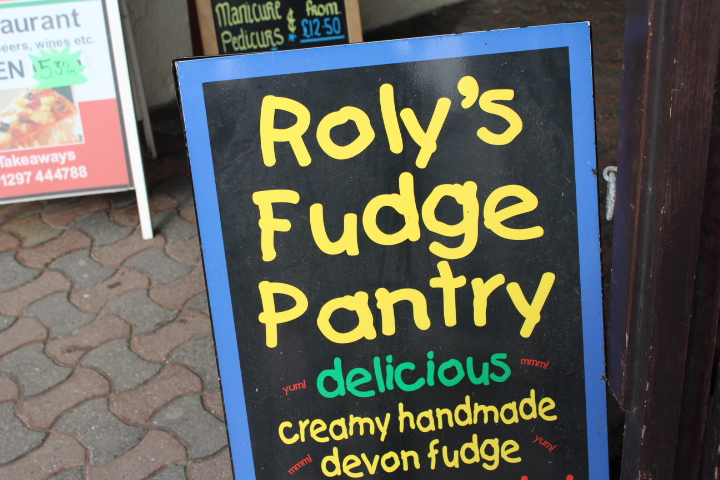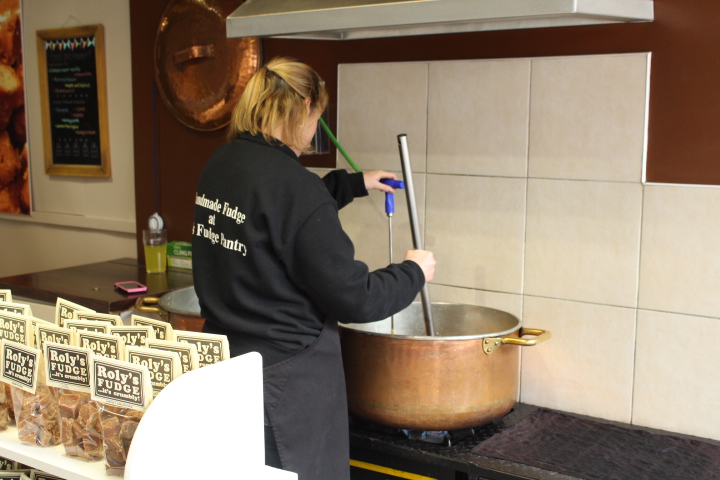 OMG. The smell. The choice. By the power of Grey Skull, if you leave empty handed there is something seriously wrong with you.
I left with a face stuffed with free sample fudge pieces and two boxes of seasalt fudge, beautifully wrapped and ribboned. Not for me you understand; gifts for others – although I did nearly buy a couple of extra boxes to keep my hips happy.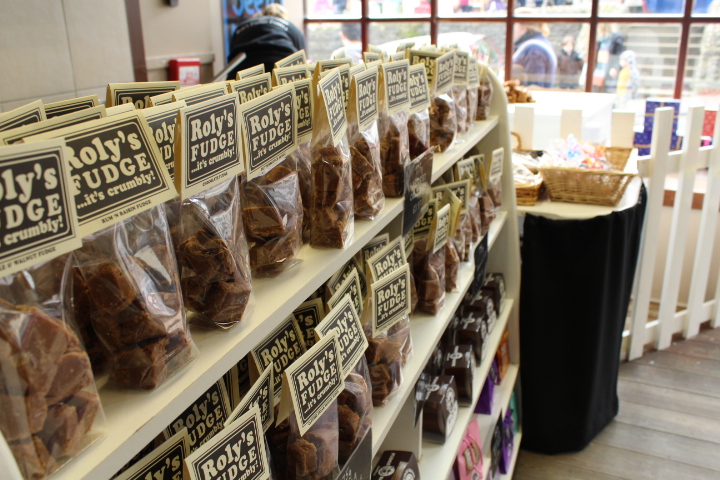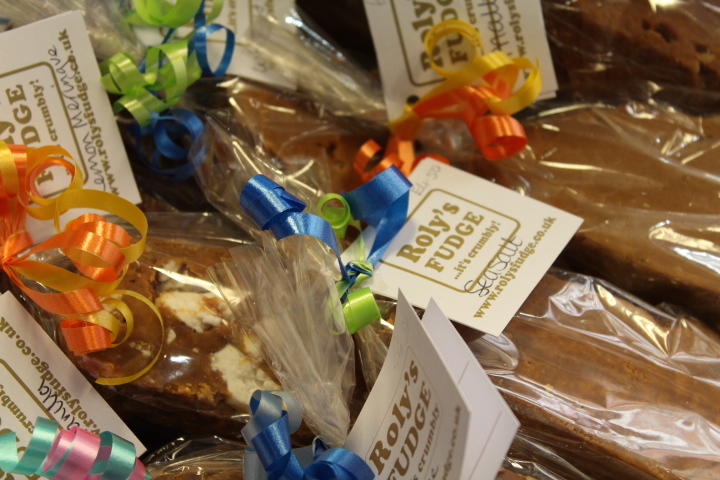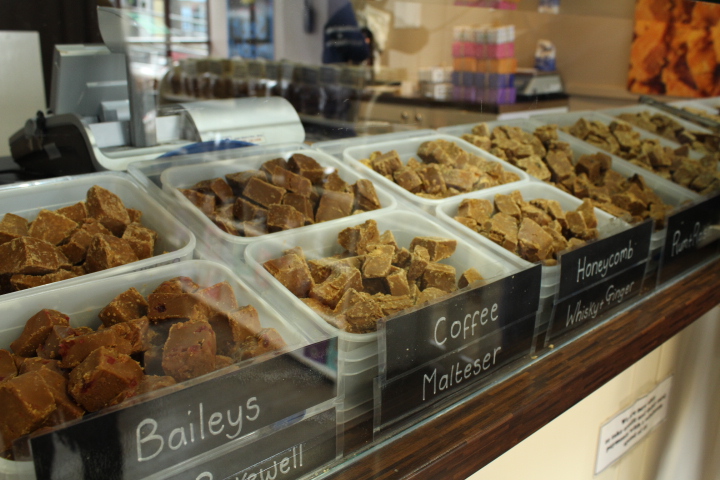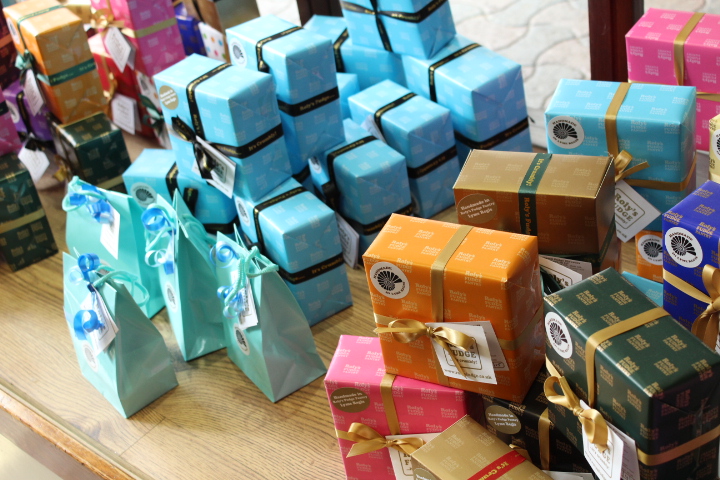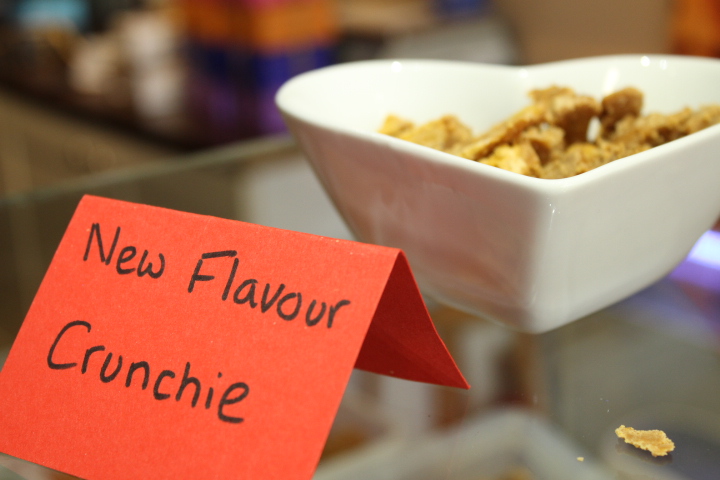 6. End it with chips | 5pm
You may have gathered from my 'West Bay: Looking for Lunch' post, I like my chips – with enough salt and vinegar to sink a ship.
So what better way to end a long weekend in Lyme Regis than with fresh, hot chips served in the paper and dripping with no nutritional goodness whatsoever?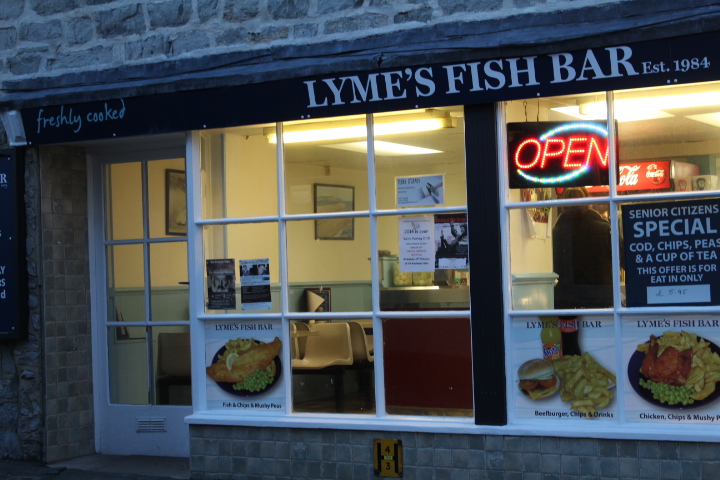 Two places that float my boat are: The Cobb Gate Fish Bar and Lyme's Fish Bar. Both plate up portions that are easily the size of a hamlet – one portion is enough to feed a few thousand hungry tummies. Two portions will leave you with enough chips to start your own chippy.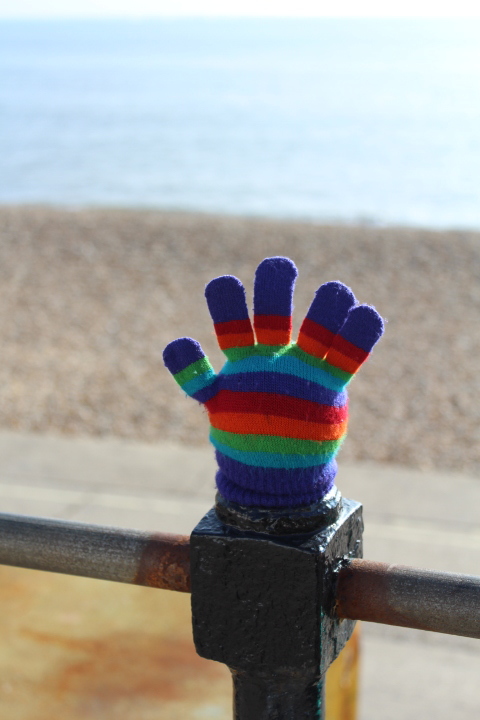 Until next time Lyme Regis, I've been Travel Candy – you've been swell.
What do you think of spending a weekend in Lyme Regis?
Has my post inspired you to try it? Or have you already been?
 I'd love to know what you think – I always reply!
Comments