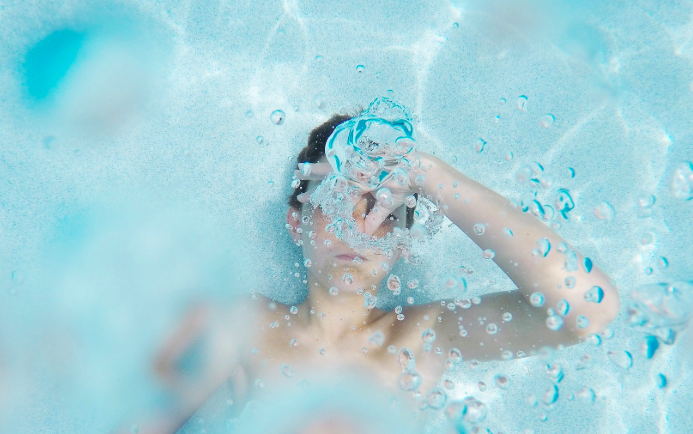 If, like me, you're ready to slip into something a little healthier this year, then this guide to Detox Retreats in the UK is for you.
I've hand-plucked all the retreats listed here from the thousands of detox retreats online because I think they've definitely got the muscle to get us (me) back in shape physically, mentally and spiritually. So pack your wholemeal flip-flops, snap your chat to 'laters' and go nurture yourself – I'll meet you in the steam room.
YOGA RETREATS UK
1. Rural Yoga Weekend, Yorkshire
COST: £295PP | FRIDAY – SUNDAY
Overlooking the North Yorkshire Moors National Park, The Orange Tree Relaxation Centre and B&B has plenty to woo your soul.
For this yoga retreat you stay in farmhouse-style accommodation (with 8 clean, comfortable and quiet rooms) from Fri evening – Sun afternoon, your days are then filled with meditation, yoga, free use of the jacuzzi and sauna, and the chance to unwind further with therapeutic treatments of your choice.
Meals come home-cooked and vegetarian, served with the other guests – like-minded spirits – in a beautiful dining room overlooking the moors.
Included: Breakfast, vegetarian lunch and dinner; 2 nights accommodation; yoga and meditation instruction; full use of sauna and jacuzzi on this detox retreat.
What to pack: 
Padded yoga mat – Get one here
Yoga socks – Get them here
Discover more: The Orange Tree
2. Yoga & Sound Healing Weekend, Dorset
COST: from £299PP | FRIDAY – SUNDAY
Symondsbury Manor in Dorset is your beautiful home for a weekend on this yoga retreat with a difference, run by Mellulah Yoga.
As well as 5 classes of Vinyasa Yoga and meditation to soothe your mind and body, the retreat also includes sound healing – a wonderfully powerful cleanse for your entire spiritual wellbeing using the vibrations of a gong and crystal bowels.
I've experienced sound healing with Mellulah myself and it was quite something. It's an holistic detox retreat that's worth putting your weekend aside for.
Included: 5 Vinyasa Flow Yoga classes, plant based meals plus juice and raw treats, Kundalini sound healing, silent meditation, double or single room.
What to pack: 
Stretchy yoga pants – Get them here
Yoga bra – Get one here
Discover more: Mellulah Yoga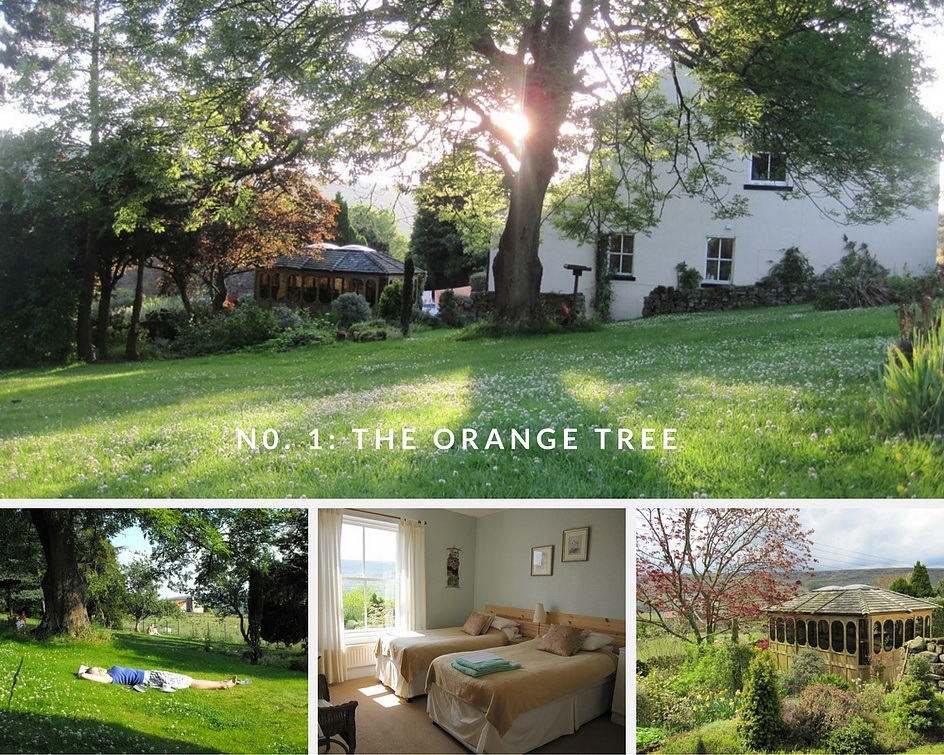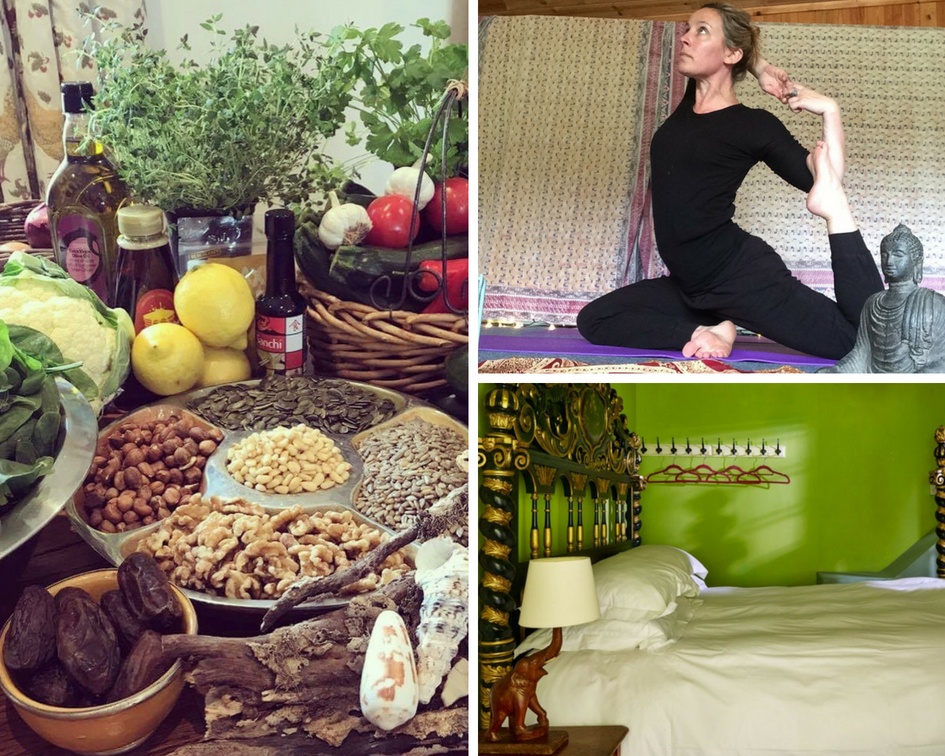 You might also like this:
SPA RETREATS UK
3. Luxury Spa Weekend, Cornwall
COST: From £835PP | 3 or 4 nights
The Scarlet Hotel in Cornwall takes luxury spa retreat to a whole new drool-fest level. Classing itself as an 'environmentally sensitive' hotel, it's won many gongs for its sustainable luxury.
Very well-deserved they are, too. Five-stars doesn't even cut it when you see the curved wooden walls and the floor-to-ceiling windows revealing gobsmacking views of the beach.
Inside, 37 rooms – all with sea-views – Michelin-starred food, and an Ayurvedic-inspired spa awaits.
Speaking of which: tented treatment rooms, cliff-top hot tub, retreat terrace, morning and evening yoga classes, indoor and outdoor pool, plus your own mysteriously-titled, totally bespoke 'Scarlet Journey' – it's all yours to enjoy on a 3 or 4 night spa break.
Go on, blow the budget – The Scarlet is a detox retreat worth every penny.
Includes: B&B; Dinner on 2 nights; full use of spa; 4hr tailored Scarlet Journey programme; relaxation tips to take home.
What to bring:  
Weekend holdall – Get one here
Bikini set – Get yours here
Discover more: Scarlet Hotel
4. Historical Spa Weekend, Bath
COST: From £184PP | 2 nights
Bath is one of the world's greatest known spa cities and was voted as the world's favourite British spa destination by TripAdvisor. So a detox retreat in Bath for a weekend is a must.
The Bath Thermae is a day Spa mixing beautiful new architecture with historic buildings. It is also the original and only natural thermal spa in Britain.
The Royal Hotel in Bath offers a couple of weekend wellness retreat packages in partnership with Bath Thermae, but the Classic spa retreat package is the most affordable in my view.
Includes Three-hour weekday session* or a two-hour weekend session, 2 night's accommodation in a standard double or twin room, breakfast both mornings with a wide choice of healthy options, Champagne afternoon tea – scones, jam and clotted cream, tea with a refreshing glass of champagne after your visit to the Spa.
What to bring:  
Cosy slippers – Get some here
Sarong – Get one here
Discover more: The Royal Hotel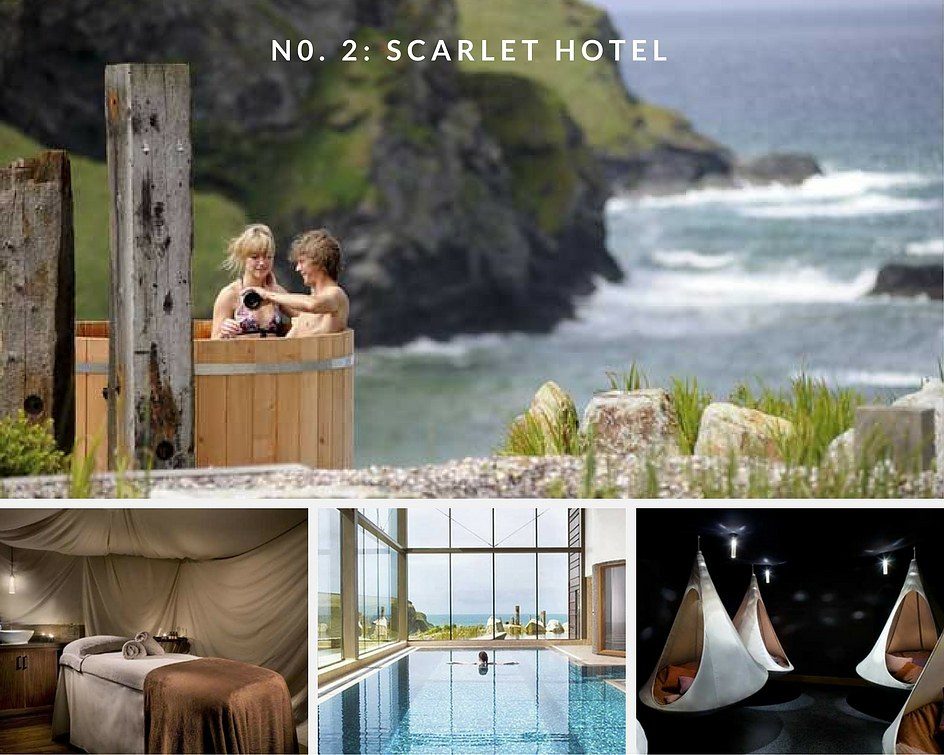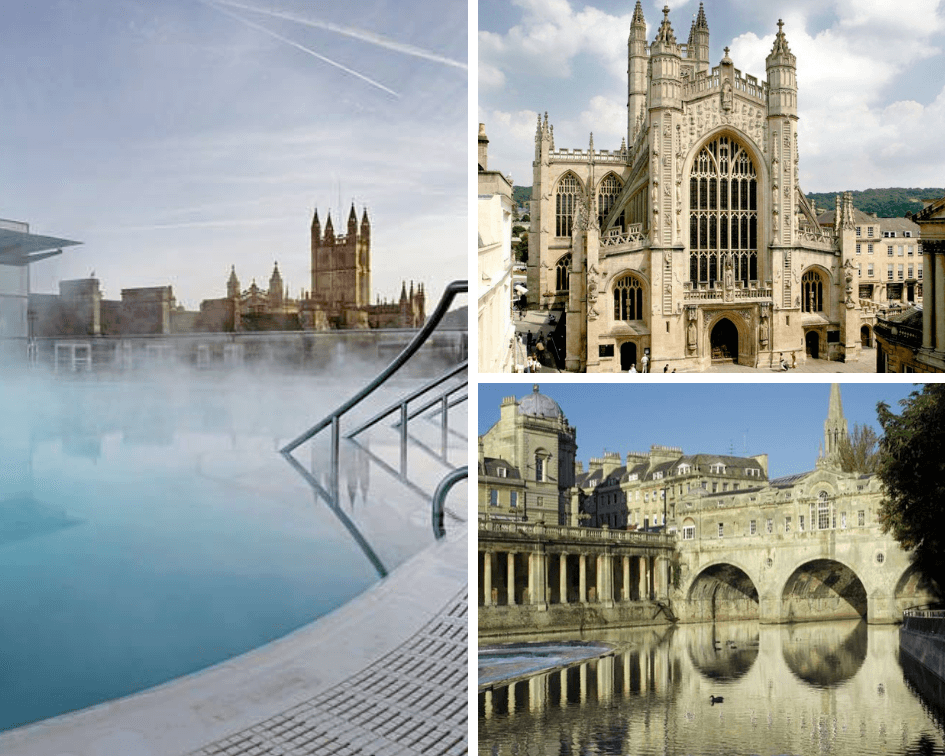 5. Sunday Sleepover Weekend, Northampton
COST: From £350 | MON – FRID
Homefield Grange in Rushton Northampton is not your average kind of spa. It's a 5-star experience designed so you can utterly retreat from the outside world and nurture yourself from the inside out.
We arrived late one Sunday afternoon after a long drive, but as we drove gently into the carpark, fields unrolling beside us and the beautiful honeyed walls of the converted farmhouse retreat just to our right, we instantly felt the stress of the motorway melting from our bodies.
Warmly welcomed, we were checked in to our twin room – elegant, luxurious, it was clear that not a penny had been spared with the decor or furnishings.
Our snow-white robe and towels were waiting, as was complimentary sleep mist by the side of our beds, individual schedules of events and treatments, and a map of the spa – with instructions on how to use all its facilities for maximum health benefits.
The spa itself was one of the best I've been to. Every inch has been designed to be of use to your body: magnetic loungers to ease muscles, deeply relaxing water beds to cocoon yourself in darkness and peace, infra-red benches to work goodness into your core, a herbal sauna for dry-heat bliss, a salt steam room, aroma showers, ice trough, infinity hydro pool.
It is a spa lover's heaven, without doubt. And all of this is beautifully and ergonomically wrapped in a Scandinavian stone, slate and cedar-wood design
You will easily lose yourself to Cloud Nine in the spa, but if you can tear yourself away the treatments on offer at Homefield Grange are just as special.
We enjoyed the Top-to-Toe treatment, which is complimentary as part of the Sunday Sleepover Package, as we'll as a Rasul Ritual with Full Body Massage for two. Both were excellent – the therapists were well-mannered, polite, and respectful and the treatment rooms were perfectly peaceful and private. You won't hear a pin drop, but you will hear your soul breathe a very large sigh of relief.
That night, we dinned on freshly-made Miso soup (all the food, drinks and juices here are made in the Homefield Health Kitchen) and we slept like doormice.
We woke the next day desperate not to leave. But leave we had to, but only after we'd roused our bodies with yoga, collected our Homefield Grange Goody Bag, and given the owner a huge hug for creating a very special, warm, nourishing spa and wellness retreat.
Includes:  All juices, foods, motivational health talks and movies, exercise classes, full use of the grounds and spa, Nordic Walking, Top-to-Toe Therapy, and one-nights' accommodation.
What to pack: 
Walking shoes – Get some here
Swimsuit – Get one here
Discover more: Homefield Grange
---
---
Fitness Retreats
6. Wild Swimming Weekend, Wales
COST: £495 (Twin room, shared) | Frid – Sun
Get set to make a big splash into healthy living with this incredible UK fitness retreat with The Zest Life Retreats. Your base? Plas Cadnant, a stylish, secluded country house on the Isle of Anglesey.
From here, you'll head out to some of North Wales' most beautiful wild swimming locations where you'll dive into the crisp, clear waters under the expert supervision of experienced wild swimmers. All levels of ability are welcome and all equipment is provided.
Afterwards, warm up with a herbal tea and wholesome cake, whilst listening to waves lapping against the shore before heading back to the 21-acres of private parkland that you can call home for the weekend.
Alongside the swimming, there are a variety of yoga sessions, ranging from more challenging sessions in the morning to more relaxing, meditative sessions in the evening. And, of course, every day is filled with healthy, detoxing, delicious meals.
Includes: 2 nights' luxury accommodation with shared bathroom; twice daily yoga and meditation instruction; 2 guided wild swims; wholesome breakfast, nutritious lunch and vegetarian dinner. Unlimited fruit, tea, coffee, and fruit water.
What to pack: 
Swimming cap – Get yours here
Wild swimming book – Get it here
Discover more: The Zest Life
7. Run Retreat, West Sussex
COST: From £295PP (Day Retreat) | Frid – Sunday
Get set to smash your exercise goals with the Girls Run the World high-energy Run Wild Trail and Yoga Weekend.
You'll get to explore the stunning surroundings of West Sussex by trail, while restoring the mind, body and spirit with sunrise and sunset yoga.
You'll stay in a beautiful restored farmhouse on the outskirts of the village of Amberley, sharing in a dorm with the rest of your run crew. The vegetarian food is homemade and breakfast is fresh fruit, muesli and Greek yoghurt with fresh breads and jams.
Includes: B&B on a bunk bed dorm basis, vegetarian meal on Friday and Saturday night, unlimited tea and coffee, 3 or 4 trail runs and yoga sessions, GRTW top.
What to pack:
Running belt – Get one here
Running top – Get one here
Discover more: Girls Run the World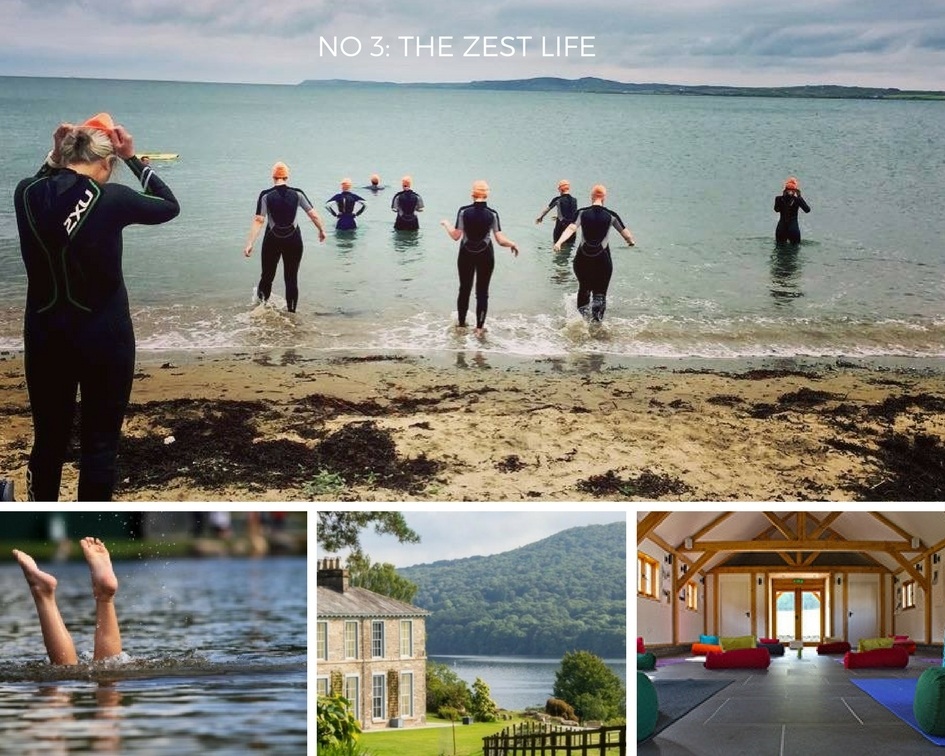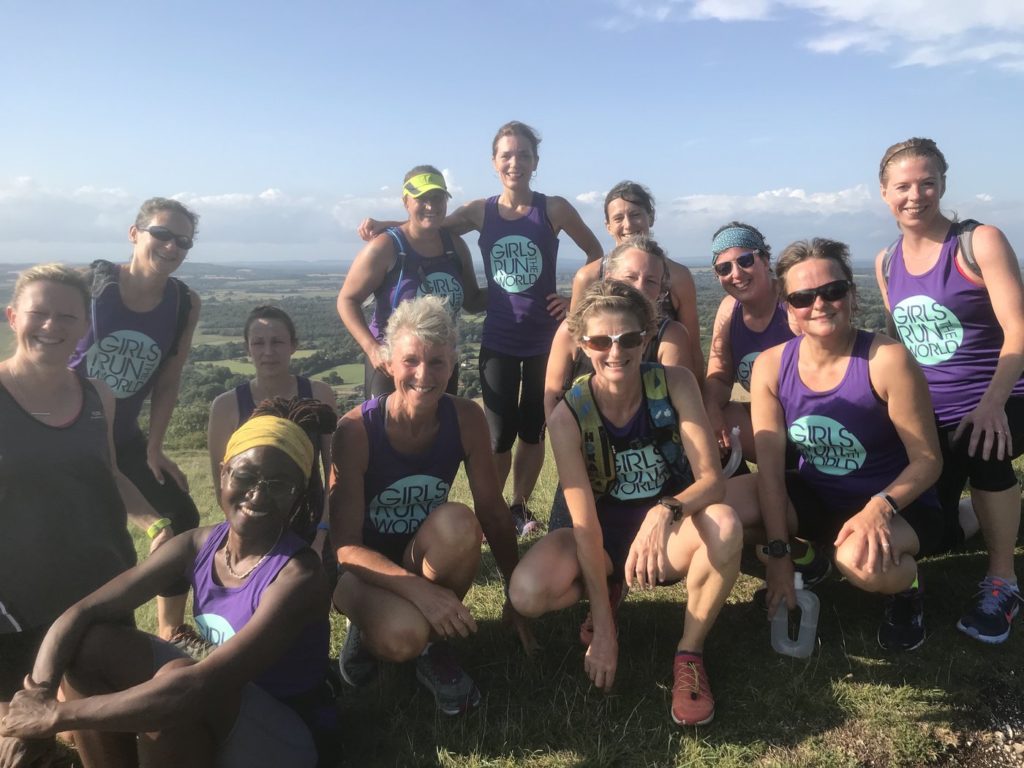 Healthy Retreats UK
8. Sugar Detox Retreat, Somerset
COST: From £1600 (Twin Room PP) | Mon – Frid
If you're ready to say 'goodbye' to the white stuff forever, then this 5-day women-only UK detox retreat will hit your sweet spot. Your detox is held in Somerset in a beautiful wooden house, surrounded by 3 acres of farmland.
Each day comes with a carefully-structured programme of activities, including group behaviour, NLP workshops, hypnotherapy and cookery. There's also a complimentary body treatment and plenty of time for R&R or swimming in the on-site pool.
Includes:  pre- and post-detox support; between 4- 6 hours activities per day, group behaviour, hypnotherapy and cookery workshop, 1 complimentary body treatment; ensuite accommodation with power shower or bath, luxury bedding, bath robes and towels, all meals and snacks and drinks prepared to your dietary requirements.
What to pack:
Case Against Sugar Book – Get it here
Comfy Slipper Socks – Get them here
Discover more: The Body Retreat
9. Juice Fast Detox, Sussex
COST: £599 (Twin Sharing Room PP) | Mon – Frid
This detox retreat pivots around the idea of rebooting your health and vitality with a juice programme. It takes place in the beautiful Sussex town of Arundel in a converted barn.
Run Platinum Healing, the retreat is said by the organisers to "awaken the body's powerful cleansing and healing abilities, helping to cure and prevent disease, restore health, balance emotions and prolong life."
As well as the juice programme, you can add additional therapies to your detox, including  2-4 yoga classes daily, meditation sessions, NLP, medicinal herbalism and acupuncture.
Includes:  All juices, talks, therapies, classes, supplements, full use of the grounds and swimming pool, and accommodation.
What to pack: 
Workout leggings – Get yours here
Book of Juices – Get it here
Discover more: Platinum Healing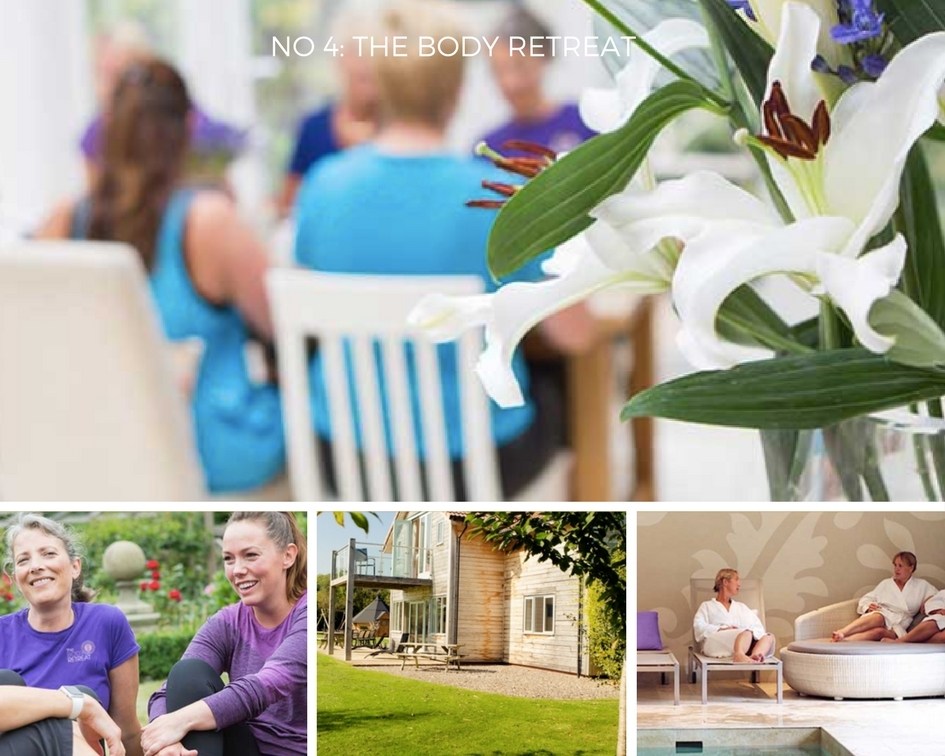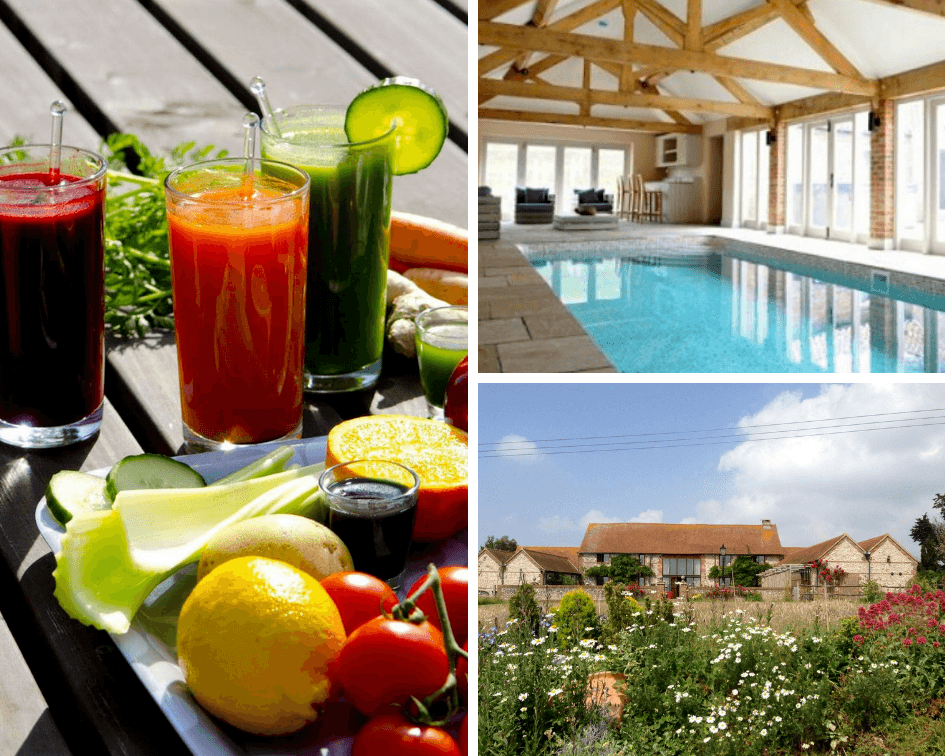 Emotional Healing Retreats UK
10. Social Media Detox Weekend, Sussex
COST: £299 (For 1 person) | Frid – Sun
Man, I love social media. But it is draining staying up-to-date with all of my accounts. Feel the same? Then say 'howdy' to Gayles, a small retreat centre on the South Downs, fifteen miles from Brighton.
Set in ten acres of tranquil countryside, this weekend escape is about re-discovering clarity and focus in your thoughts, getting a personal perspective on your digital life, reconnecting with real human beings (not virtual ones), and embracing the power of single-tasking once more.
You stay in a comfortable dormitory, eat healthy, vegetarian food, and enjoy a suite of guided relaxation classes to restore your inner harmony, including 2 daily yoga sessions and daily meditation sessions.
Your morning yoga practice and meditation is dedicated to boosting your metabolism and immune system. In the afternoon, your practice is about restoring the bliss of your body and mind. You'll also join mindful walks, where the only twitter will be that of the birds.
Includes: 2 daily yoga classes, daily meditation sessions, mindful walks, 3 vegetarian meals daily, accommodation in a shared dormitory.
What to pack: 
Mobile phone prison – Get it here
Comfy pjs – Get some here
Discover more: Social Media Detox
11. Let Go of Loss Weekend, Somerset and Scotland
COST: £2950 PP with a companion | 5 nights/6 days
For those who've experienced loss, The Bridge is a 5-night healing retreat that aims to heal your hurts, help you let go of traumas, and give you a fresh new perspective on life.
Indeed, the idea behind the weekend is to help you cross a metaphorical 'bridge', so you'll leave the past behind you and step into a positive future. Held a few times a year in Somerset (amongst 42 acres of ancient woodland) and in Scotland (on the breath-taking shores of Loch Lomond), the Bridge is run by co-founders and exceptionally-qualified life coaches and healing experts, Donna Lancaster and Gabi Krueger.
They use therapeutic techniques, including movement and music, alongside group work and personal reflection and enquiry to help you heal and transform.
For both locations, you stay in beautiful farmhouse accommodation with all the trappings of a boutique hotel. As you'd expect, first-class recovery comes with a first-class price tag – but this is 5 days of high-intensity healing and saves you splashing out on years of therapy.
Includes: Food; accommodation; refreshments; course materials; all individual and group sessions.
What to pack:
It's Ok not to be Ok Book – Get it here
The Orphaned Adult Book – Get it here
Discover more: The Bridge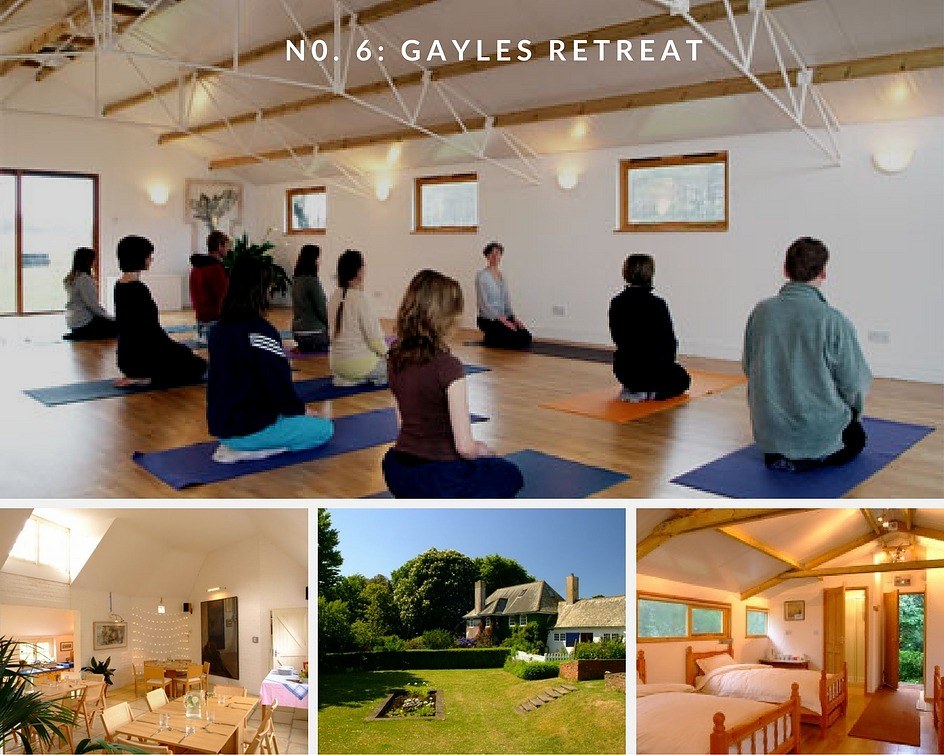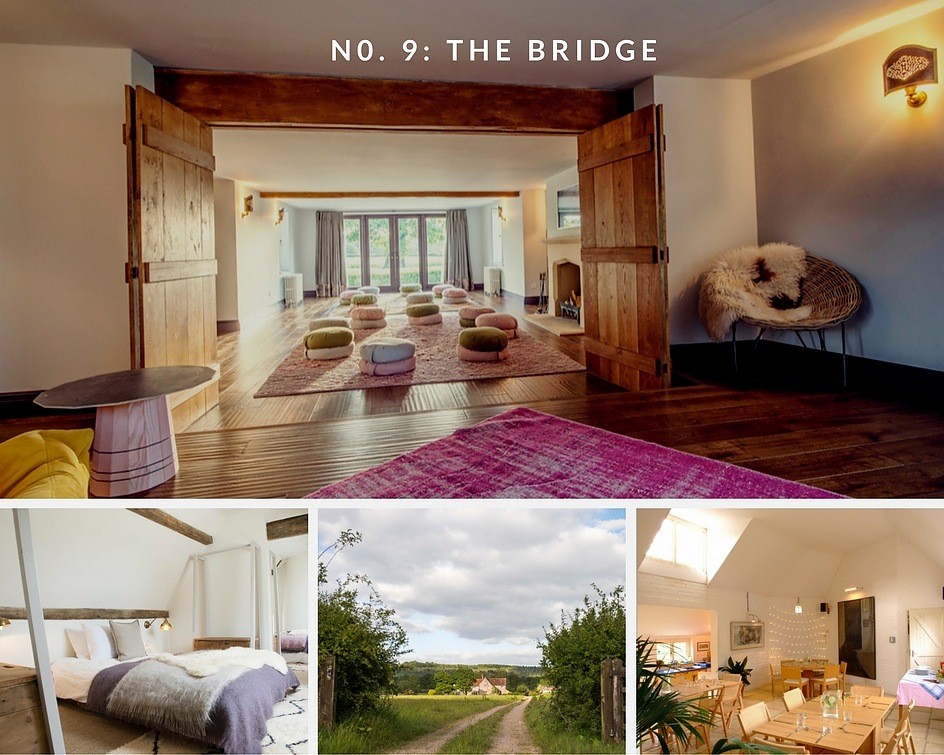 General Wellness Retreats UK
12. Eco-treehouse, Wales
COST: £379 (for two people) | 2 nights. Extra night free if you arrive on Sunday
This slice of high-living heaven comes to you from Living-Room – a remote self-catering forested detox retreat where you take up a weekend's residence in one of six state-of-the-art eco-pod style treehouses, 30 feet up in the tree canopy.
Each treehouse blends beautifully into the thick branches of the trees; as charming and quaint as a Hobbit's home with a rope bridge, spiral wooden staircase and striped-branches balustrade to complete the picture.
Come here and forget the world you know: there's no electricity so light is au natural – lanterns, tea lights, and lamps. As for comfort, be in no doubt, you won't find finer: luxurious double beds, wood burners, and thick insulation mean escaping to Living-Room all year round is possible.
Who needs yoga classes when there are babbling streams nearby and whirling red kites overhead? Let nature be your teacher.
Includes: treehouse accommodation; fully-equipped kitchen; logs for wood burner; eco hair and body wash; all linen.
What to pack: 
Living Naturally Shampoo Bar – Get one here
Eco-friendly toiletry bag – Get it here
Discover more: Living Room
13. Gypsy Caravan Weekend, Scottish Borders
COST: From £270 (2 people) | Fri – Sun
Recharge, rejuvenate, restore – for that, there's this: Roulotte Retreat. It's an über-romantic Scottish escape where home is a exquisite Romany caravan (known as a roulotte in France) and your neighbours are the sounds, smells and earthly pleasures of a 3-acre wild meadow near the Eildon Hills. Choose from six French roulottes and one Dutch roulotte, individually named with their own quirks and character and unique interiors.
In Rosa Bella you're bedazzled by deep jewel colours reminiscent of the Orient Express. Step inside Karlotta and seduction comes with exotic Moroccan vibes.
Whilst Gitana enchants her guests with hidden fairies, butterflies and leaping hares – and if that's not temptation enough, this saucy mistress also boasts a Japanese-style eco hot tub if you'd like to bubble cares away under the stars. There's even the choice of adding yoga classes, massage and beauty treatments to your weekend break.
Includes: All roulottes come with kitchen with Baby Belling cooker, fridge, kettle, toaster and kitchen utensils; showers, toilets and washroom facilities; all bed linen and towels provided; wood burning stoves; electric sockets; outside garden furniture.
What to pack: 
Joules Wellies – Get them here
Base layers – Get some here
Discover more: Roulotte Retreat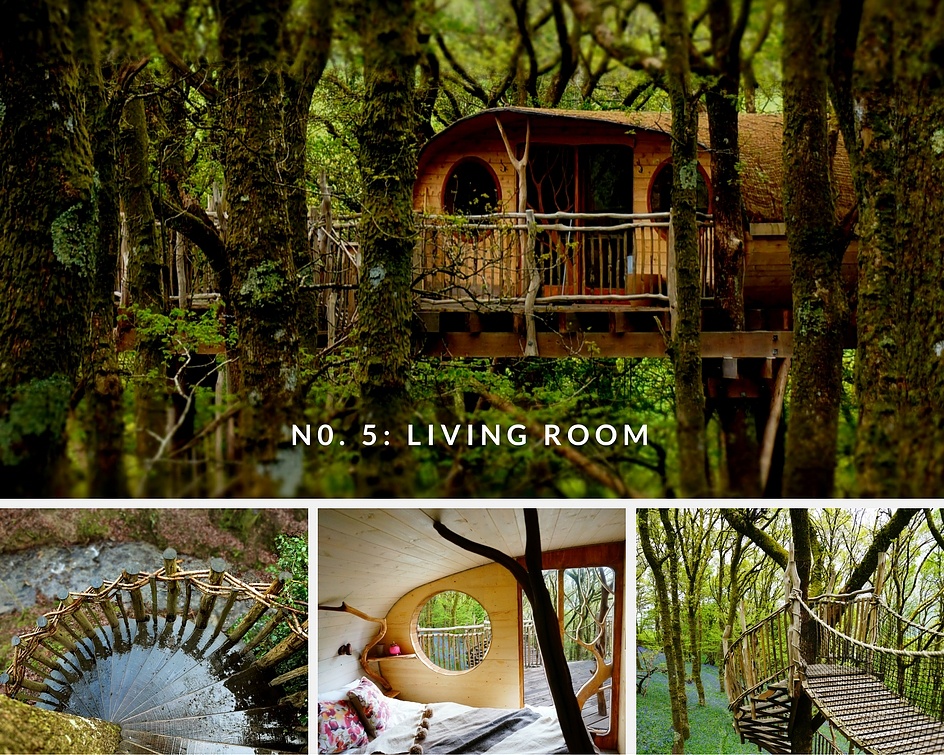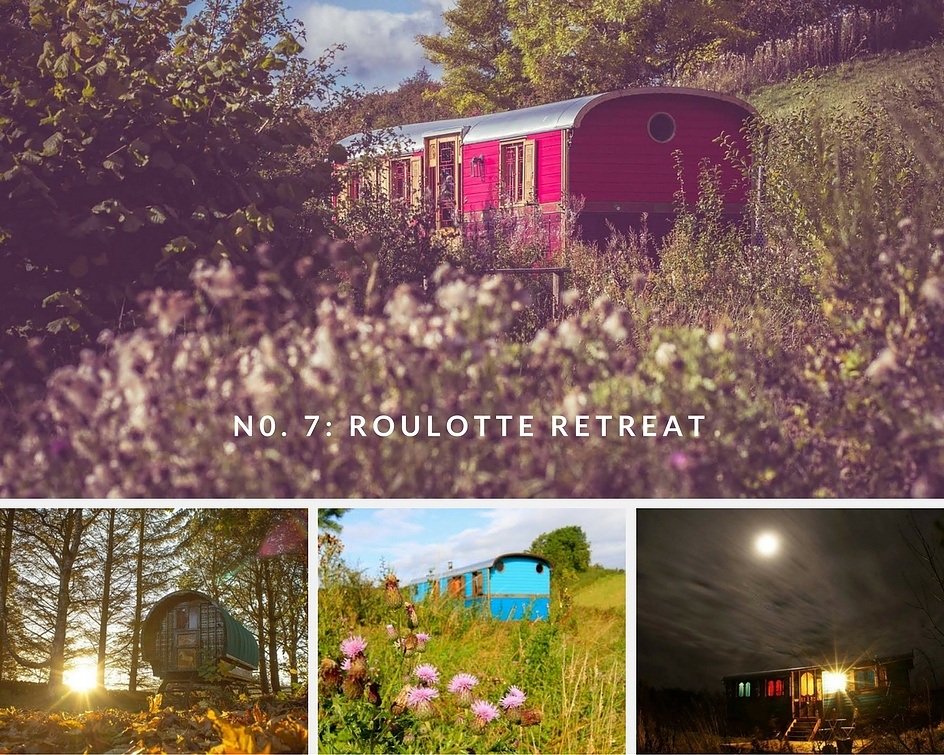 EXTRA BONUS: SURF RETREAT UK
14. Surf & Yoga Retreat Weekend, Cornwall
COST: £390 (shared twin/double room) | 2 nights
Founded by Surf Sistas, which runs women-only surf holidays in the UK and abroad, this ingenious weekend wellness retreat – called All The Good Things – mixes yoga and surf with wild swimming, foraging, Polaroid photography, hiking and wine tasting.
On arrival you're loaned a Polaroid camera for the weekend and have to pick a word from a hat. Under the expert guidance of professional photographer, Kate Czuczman, you're encouraged to capture each word you picked in a relevant shot.
The hilarious, brilliant and inspired results are displayed in your base for the weekend: a beautiful contemporary two-storey eco-lodge at The Park in Mawgan Porth.
It's here you bond with the rest of your soul-seeking companions and enjoy blissfully good food. On the Saturday night your dinner is made and delivered by local food and wine expert Debbie Warner, formerly a sommelier at Jamie Oliver's Fifteen Cornwall.
Yoga comes in the mornings and early evenings, taught by the retreat's co-host, Hayley Johns, and surf's up on Saturday morning, followed by beach foraging in the afternoon. Sunday it's back to the beach for swimming or more surfing before you head home laden with good things: new friends, inner calm, and a salt-kissed soul.
Includes: healthy wholesome breakfasts and evening meals; wine-tasting evening with a sommelier from Jamie Oliver's local Fifteen restaurant; 4 or 5 yoga classes; surf lesson; foraging afternoon; Beach & Wild polaroid photography project; beach hikes and wild swims (wetsuits provided).
What to pack: 
Dry bag and waterproof phone case – Get it here
Wet suit boots – Get some here
Discover more: Surf Sistas
Disclosure: Weekend Candy is a participant in the Amazon Services LLC Associates Program, an affiliate advertising program designed to provide a means for sites to earn advertising fees by advertising and linking to amazon.com.
---
PIN FOR LATER: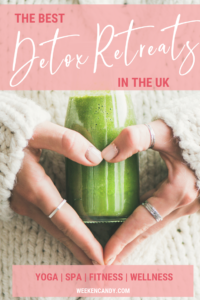 .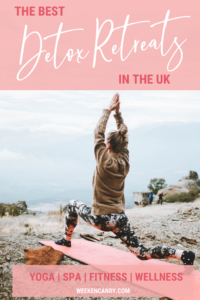 Comments